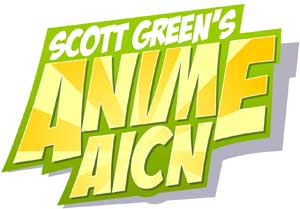 Logo handmade by
Bannister
Column by
Scott Green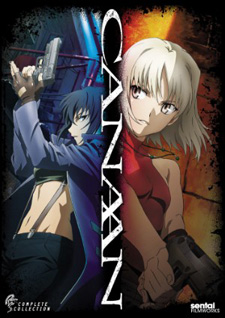 Anime Spotlight: Canaan – Complete Collection Released by Sentai Filmworks
I would have marketed Canaan using the nom de guerre of its heroine, Iron Army of One. For one thing, IAOO evokes kung fu movies and Jack Kirby's OMAC. And, beyond that, it ensures the distinction between this and the sound alike Key work Kanon. While Canaan and Kanon are on the same plane, there is a key distinction. See... Kanon is a relationship story based on a visual novel (interactive fiction games) adaptation with plenty of tropes familiar from visual novels and anime, where as Canaan spins off Kinoko Nasu and Takashi Takeuchi of Type-Moon's (legendary warrior conflict Fate/stay night, horror conflicts Tsukihime, Melty Blood and Garden of Sinners) Wii visual novel 428: In a Blockaded Shibuya. (The game connection sets up some character backgrounds and is a point of interest, but doesn't actually affect the enjoyable of someone who hasn't played the game. Canaan can be approach with a complete ignorance of the earlier work.) It's the "Iron Army of One" bit that sets Canaan apart. This is anime that throws down with exceptional girls with guns violence. In Canaan, sunny, and sullen and sadistic types that are far from foreign from anime and related media get plugged into an action fest along the lines of post-Asian influence Hollywood movies. And, the results are recommendable to action fans. Canaan isn't going to be accused of elevating these character types, but what can be said for the series is that Canaan is unlikely to exhaust a deficit of patience in them. Sci-fi conceits, globalism and global terror and a dizzying array of operatives and agencies get juggled as Canaan start putting together the type of set piece that Hollywood employed after movie makers started watching John Woo. The anime settles a bit after early spasms, and suffers for the diminished velocity, but the 13 episode series remains a solid choice for action media fans, regardless of their love on anime's general take. Slick, guns drawn, bodies flung, leaping from helicopters action is something that anime can do exceedingly well, but can't be counted on to deliver on with any frequency. Anyone who'd you follows anime for the Kites and Spriggans would likely have their interests starved before long. But, if you've been waiting in the wings for the occasionally anime that does satisfy a hunger for gun-fu, Canaan is a release well worth seeking out. It's a shame that Sony has had the opening credits sequence of Canaan pulled from YouTube (presumably on music credit grounds), because the action sequences really sells the series. Cannon manages to deliver on that promise. The first and last episodes feature one of anime's top fight animators, Sword of the Stranger's Masahiro Ando (key animator on the Cowboy Bebop movie, Fullmetal Alchemist, and Ghost in the Shell, as well a storyboard artist on the Fullmetal Alchemist movie, and an episode director on Rahxephon and Fullmetal Alchemist). Yoshiyuki Asai (Street Fighter Alpha) contributed some spectacular work full of exploding vehicles and a fabulously choreographed scene of an unarmed woman slamming and sweeping her way through a squad of adversaries. Toshiyuki Yahagi (Ghost in the Shell: Innocence and Stand Alone Complex) puts together a great bathroom set duel, full of sudden, violent reactions, real weight to the bodies of the combatants as the fight gets dirty, and interesting shots to frame the confrontation. Told through multiple, concurrent narratives, 428: In a Blockaded Shibuya was driven by the kidnapping of Maria Osawa, daughter of one of the game's five protagonists, virologist Kenji Osawa. Maria Osawa is brought into Canaan, traumatized by her kidnapping and another violent encounter, but also emanating a bright, hopeful disposition. Taking up work as a photographer, Maria, along with 428 protagonist/reporter Minoru Minorikawa, travels to Shanghai to cover an Anti-Terrorist Conference. Fueled by China's global emergence almost as much as the particular events of the anime, Shanghai proves to be quite the hot spot. Among the agitators pushing into the city is "Canaan," the bleached haired lone survivor of a Middle Eastern massacre, trained to be an elite killer and unstoppable thanks to her ability to experience the world through synesthesia. Canaan previously crossed paths with Maria under, for Maria, desperate circumstances, and came away a bit less emotionally faded. Then, there's Alphard, another deadly young woman, also once called "Canaan," moving into Shanghai at the head of the terrorist organization with her sadistic lieutenant Liang Qi and underling/head of private military company Daedala, Cummings. There's the representative of the NGO employing Canaan, the local girl who always seems to be working odd jobs where the action is set to go down, a bartender who seems to know what might be happening despite being a foreigner, a cab driver lacking a sense of restraint and numerous strangely behaving people who show the flower shaped scars of having suffered from the Ua virus. There's a fantastic bit of Jojo's Bizarre Adventure set outside Cairo. That horror/super powered action anime/manga often came down to the heroes and villains trying to outwit each other, and in this section the teenage tough protagonist matched his cold intelligence against a soul stealing gambler. Facing off across the table in the corner of a small village gather spot, it quickly becomes apparent that everyone from the establishment's manager to the boy called over to shuffle the cards are colluding with the gambler in a complicated gambit. That's kindof what's going on in this anime series. Set in a location depicted with more than a bit of exoticism, Maria, Minorikawa and Canaan enter into a complicated gambit set up by devious players and enabled by complicit walk-ons. A spirit of stirred up chaos works well for the anime, especially in its early episodes, before the unfamiliar becomes familiar as the who's who and what's what of the events become apparent. The streets of Shanghai are crowded with local festival celebrants, plenty of whom are masked, plenty of whom are lighting off fire crackers. Heavily armed soldiers are moving a captured Alphard, while her operatives close in to intercept. Canaan takes position with a sniper rifle. Apparent agents slump over leaving trails of blood. With a disease spreading, some people on the streets are dangerously out of control and others dangerously in control. Insanity reigns as onscreen observers lose the ability identify the blood and dead bodies and can't identify the attackers. Before Maria and Minorikawa can begin investigating in earnest in the middle part of the series, this confused volitility sets the stage for the anime's set pieces. Maria behaves inappropriately for the situation and endangers herself. Meanwhile, Canaan is martially dominant, but morally handicapped. So, the tension in the spinning events is Maria in peril and Canaan on the verge of overkill in her response. With Canaan acrobatically vaulting from the tops of cars and buses, dancing around her foes to return their attacks with her own lethal responses and Alphard's close quarter dismantling of an armed squad while her hands are bound, the potential energy being coiled is put on display. Writer Mari Okada has penned some solid works with well realized characters whose reactions are credible, such as New York based horror Red Garden and surprisingly good relationship dramedy Toradora. Here, the works a bit unpleasant and a bit underdeveloped. On one hand, its view of how events are shaped is cynical and it ascribes a lot of human relationships to sadomasochism (love and love of hurting and being hurt is conflated for a number of characters). On the other hand, the proceedings are explicitly illuminated by the "awesomely" optimistic Maria. There has been anime that has effectively delt with this dynamic of dark circumstances and a luminescent hero, one of the must-see examples of which is Akitaro Daichi's powerful Now and Then, Here and There about an irrepressible school boy transported to a barren landscape in which children are conscripted into military series. Canaan just feels like it sprinted out of the gates with little notion of where the opposing energies should take it. Rushing in these different directions doesn't quite trip up the anime, but the reason underachieving wasn't too problematic isn't actually a positive. The series' ending affirms that it didn't really have more in it. When it caps everything with an intelligence insultingly obvious post final credits coda, Canaan offered a reminder that it thrived on confusion rather than solid ideas. While 13 episodes is not too wrong lengthed for the series, these issues probably would have been less pronounced if it could have been shorter. It was probably produced as a TV series simply because that's how most anime is produced, but distilled into a movie or OVA, that condensed action anime would have been even more thrilling. Set in ascending China and dealing with global terrorism, Canaan gets some points for being current. And, it scores a lot of more points for showcasing some medium-highlight action set pieces. There's certainly more room in anime to go this route. While Canaan is unlikely to be a contender for favorite status, its entertaining enough to satisfy active anime watchers as well as give lapsed ones reason to pay attention.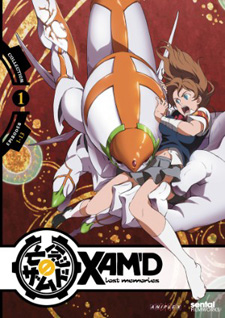 Anime Spotlight: Xam'd: Lost Memories Collection 1 Released by Sentai Filmworks
Xam'd can claim a decidedly particular, perhaps even dubious, history. The Aniplex/Bones production had the distinction of being the first anime to be made available on Sony's PlayStation Network (Aniplex is a subsidiary of Sony Music Entertainment Japan), launched in North America (in July, 2008) prior to its Japanese premiere ( in September). Even before the questions of whether the series was properly promoted or the right material to capture the interest of an international audience could crop up, there was its priced-to-ignore rental fee. While Xam'd topped PlayStation's charts, I don't know anyone, die-hard anime watcher or casual, who took Sony up on the offer of $2.99 for Standard Definition or $3.99 for High Definition to rent a single episode for three days. And, the release didn't exactly inspire emulation. Anime continued to be offered on the PlayStation Network, but not first run titles priced like Xam'd. Distribution was not the extent of Xamd's peculiarities. Coming out of Cowboy Bebop: Knockin' on Heaven's Door, Bones seemed to be splitting their productions between work that appealed to audiences in through conventional means and works that ventured into newer territory. For example, Full Metal Alchemist was balanced with Kurau Phantom Memory - FMA animation director Yasuhiro Irie's series about a binary, energy life form living as a woman employed as a trouble shooter, and that woman's younger sister. Ouran High School Host Club also had a sci-fi complement, Jyu Oh Sei - a shoujo series about a penal colony whose dominant plant life forms helped shaped a unique social structure. Xam'd: Lost Memories was produced in 2008, during Soul Eater's run, and was definately the odd sibling. The key, promoted image for Xam'd prominently feature a white, orange banded, foreign, buggy shaped thing, a bit like the Scub Coral from Bones' Eureka 7 (designer Seiichi Hashimoto was on the Eureka 7 staff), but definitely not a direct clone. The metaphor works for the series as a whole. It kindof looks like something you've seen before, but it also possesses its own pronounced distinctions. Director Masayuki Miyaji knows from whom to borrow... the best and most influential. He worked on Gundam creator Yoshiyuki Tomino's not widely watched, but well liked, less mal-adjusted mech series Overman King Gainer - about a competitive videogamer turned mech pilot in a post wretched-environment future. Elements of Gundam are unmistakable in Xam'd. Like Gundam, teens are swept up by events into the military. Like Gundam teens are taken away from home to live shipboard. Though here, despite the rigid organization of the air ship in question, the teens on board and the teens in the military aren't one and the same. Xam'd even carries on the Gundam tradition of having a few young children living on board the ship. And, Xam'd makes obvious overtures towards Hayao Miyazaki's ecological epic Nausicaa of the Valley of the Wind. Again, Xam'd's director has a connection to the legend in question. A graduate of Studio Ghibli's Higashi-Koganei Sonjoku, Miyaji worked on the production of studio co-founder Isao Takahata's water color-styled comic strip adaptation, My Neighbors the Yamadas, was an assistant director on Miyazaki's Spirit Away and was again an assistant director on the Totoro spin-off short Mei and the Kittenbus. Engaged with the series' rampaging bugs, running experiments with organisms that others don't understand and leaping into a glider, Xam'd has a character who might not be the same kind of messianic figure, but that girl with a rod, flight cap, goggles and distinctive garb is inevitably going to call to mind Miyazaki's Nausicaa. The face of Nausicaa's devious antagonist Kurotawa, and the sort of haz-mat suited Wormhandlers are similarly evoked. Anime has been prone to getting caught in iterative loops. Especially when it's being produced for older audiences, anime is often the product of anime fans creating anime for other anime fans. It doesn't help that the conditions in the industry are such that only a zealot would work in it. Far from continuing the progression towards a hikikomori medium, Miyaji's influences weren't just Tomino and Miyazaki. He told the Japan Times Ken Loach and French nouvelle vague director Jean-Luc Godard were influences. "I think of anime as part of the film industry. I wanted to use an almost documentary style for parts of it, where the camera follows one character until something happens." Miyaji did managed to work film-like framing into Xam'd. There are shots that do look to war documentaries or movies informed by war documentaries. A scurrying, ground level pan across a battle field calls to mind the effect's use in Child of Men. A lot of Xam'd takes place in the air and, with attention to comparative velocities and altitudes, it manages to look like aircraft being filmed from other aircraft. Beyond this horizon broadening, Xam'd features plenty of animation that is simply what anime typically does, done well. While the colorful detail of its sets and backgrounds has proven to be a praise magnet, its attention to nuance is especially effective. The plasticity as a film is stretched, the way bodies fill out clothes, the way a character puts a pencil in their mouth, then thumbs through stacks of bills to tally up a count. Intricacies in the animation establish a sense of reality, and that reality affectingly holds as the anime ventures in to less mundane territory. When an extra set of baby-like arms reach out from the torso of a humanoid creature, these are the details that direct thoughts to the implications of the strange spectacle and not whether to suspend disbelief. Xam'd opens in Sentan Island, a relatively peaceful land, where, never the less, conflict has been rather normalized. Xam'd tries to be naturalistic, so characters do discuss personal background information, but, don't go out of their way to explain the parameters of the conflict. It's not that the background is presented as a mystery. It's that these people have no reason to explicitly spell out what is shared history. The central figure here is Akiyuki Takehara, a overly outgoing teen, with often misdirected charisma. The conflict around Sentan has lead to pervasive security. It's basically a check-point procedure to get onboard a school bus. However, it's apparent that the long standing guardedness has worn thin. Akiyuki lines up for the bus with a pale foreign-ish girl who doesn't have her security pass, and impulsively decides to sneak her on board. A stressed normality falls over the group as it arrives at its destination, and as Akiyuki and his peers begin to step off the vehicle, the pale girl sets off her suicide bomb. Where Akiyuki had been a likable card before, Xam'd establishes the crushing consequences of his action with a scene of shredded metal and bleeding victims. A strange object flies out of the wreckage and imbeds itself in Akiyuki's arm. An odd infection rushes through his body, but no sooner does that spasm pass than Akiyuki's body seems to liquefy and reshaped into the white and orange "humanform weapon" showcased on the cover. In the chaos, Akiyuki is rescued and returned the his human form by the Nausicaa-ish Nakiami, a distant girl possessing an affinity and fierce compassion for humanform weapons. The pair end up travelling away from Sentan on the Zanbani Postal Airship. For older anime viewers, this will be a highlight of the show. What's special about the Zanbani is that it affords the anime the opportunity to go into under presented territory. The crew of the ship are adult characters who deal with other adult characters like adults. There's willful captain Ishuu Benikawa, runner/bachelor Akushiba, Yunbo - single mother of one of the ship's child passengers and confidant to Ishuu, Ahm - a quiet veteran pilot and, when needed, gunner and old mechanic Kisel. As their names suggest, these are people from different cultures. They have different histories and different perspectives. And, they're living and working together. These adults aren't the focus of the show. They're tertiary, behind Akiyuki and Nakiami, and behind Akiyuki's peers who get caught up in the military back on Sentan, childhood Furuichi Teraoka, who is an uneasy fit in the army, but who gets leveraged through her desire to help her bad injured sister and Akiyuki's self control focused rival/foil Fusa Takehara . The Zanbani gets a bit more screen time than a few other interesting adult relationships, such as Akiyuki's separated parents. The presence of complex characters who lived a bit is welcome for the frequently youth focused medium. Anime might be "not just for kids," but most of it is actually produced for them. And, most of the rest places a high value on youth, with moe, an emphasis on recapturing child-like thinking and the like. Even the teen side of Xam'd exhibits maturity. It's not just about Akiyuki understanding his powers and becoming stronger, it's about him reconciling with who he is and what he needs to do. That's a sentiment more in line with seinen than shounen (the manga adaptation ran in Shonen Ace, which tends to feature adaptations of anime, especially mecha and tends to be borderline seinen). As solid as the animation and the characterizations can be, Xam'd also has a propenity for being only as honest as it needs to be. With characters leaping from aircraft to aircraft and being battered by massive humanoid weapons, the anime often only allows the consequences that plot necessitates. As such, being swatted by a humanoid weapon can be lethal to a faceless adversary, or it could be harmless to a protagonist. Falls that should crush bones and tugs that should pop joints routinely happen with no effect. As far as the series composition goes, it has adults, but it also has a couple of children and a far too intelligent Popple-like rabbit thing. It's notions of teens in the military appear far more informed by other anime like Gundam than reality to the extent that, emphasized by her long hair, Furuichi's friction with her role becomes laughable. While Xam'd's early episodes are impactful, curiously for anime that was being serialized for American audiences before simul-streaming took off, the anime doesn't really chug along. Like Bones' production Eureka 7, it moves at its own pace; a pace not focused on pulling the viewer along. While it is built on a violent conflict, and while it does showcase exciting action, it is not driven by that action. Willing to observe and not just climb or sprint, Xam'd wasn't going to leave a viewer needing to rent the next episode, and as a box set, it's a chunk of anime that can be slow for stretches. That said, with the push towards season or complete series boxes of anime, fewer releases end in a cliffhanger, and yet, ironically, Xam'd first collection closes on a nice one. Miyaji told the Japan Times "I was looking to do something different, but at the same time if it was too unique, it could fail... But then if it fails, that might even be more fun." Unfortunately, Miyaji does not succeed in creating a great, cinematic work of anime. It's an interesting mix of Nausicaa, Gundam, well established characters and nice design, but not transcendent. There is vision here. There is lush animation. There is distinctive work. But, a few too much indulging in conventional concepts and failure to really capitalize on its deliberate pase mutes the work. A lot of it is literally not memorable. Rewatching it, I found myself realizing that I'd forgotten how gorgeous some scenes were.
Upcoming in Japan
Promos Wolverine Secret Society Eagle Talon's Hybrid Deka Iron Vendetta Fullmetal Alchemist: Brotherhood movie Level E Anime The staff on late director Satoshi Kon's Yume-Miru Kika (Dream Machine) confirmed that feature has resumed production. - Staff status includes character designer and chief animation director Yoshimi Itazu (Denno Coil) serving as "acting director," while Toshiyuki Inoue (Blood: The Last Vampire, Blue Submarine No. 6, Denno Coil, Magnetic Rose, Paprika) is now serving as joint animation director. Susumu Hirasawa (Millennium Actress, Paprika, Paranoia Agent, Berserk) will compose the music. Animation Enterprise's (Mushi-Shi/Galactic Heroes) new work will be Angel Scandies Manga The December issue of Ulta Jump will publish a one-shot side story spin-off to Oh!great's Tenjo Tenge The rumored new Dragon Ball series has confirmed to be a super deformed children's series in Super Strong Jump. Naho Oishi will created the manga following the adventures of Son Goku and Krillin Live Action Alisa Mizuki will be reprising the title role in a third live action special based on comic strip Sazae-san The makers of the live action adaptation of yakuza heiress turned teacher Gokusen will be adapting hostess turned teacher manga Misaki Number One. Hikaru Utada's "Show Me Love (Not A Dream)" will be the theme for the live action adaptation of classic boxing manga Ashita no Joe.
Event News
The Oscar qualifying run for Summer Wars includes Dec 3-8 Chicago,IL- Siskel Film Center Dec 10-16 Los Angeles, CA – AMC Covina 30 Dec 24-30 San Francisco, CA- Landmark Bridge Theater Dec 29-Jan 4 New York, NY- IFC Center Jan 5-12 Boston, MA- Museum of Fine Arts Jan 7-13 Denver, CO- Starz Film Center Jan 7-13 Santa Fe, NM- CCA Cinematheque Jan 14-20 Los Angeles, CA- Laemmle Sunset Jan 21-27 Philadelphia, PA- Landmark Ritz at the Bourse Jan 23-Feb 3 Honolulu, HI- Academy of Arts, Jan 28-Feb 3 Seattle, WA- Landmark Varsity The movie is among the 15 that will contend for three nomination spots in the Best Animated Feature Oscar category.

Alpha and Omega Cats & Dogs: The Revenge of Kitty Galore Despicable Me The Dreams of Jinsha How to Train Your Dragon Idiots and Angels The Illusionist Legend of the Guardians: The Owls of Ga'Hoole Megamind My Dog Tulip Shrek Forever After Summer Wars Tangled Tinker Bell and the Great Fairy Rescue Toy Story 3 Portsmith New Hampshire's Museum of Art is running SugiPOP! anime, manga, comics and their influence on contemporary art October 13, 2010 - January 16, 2011Sunday, 2:00 pm

related events include Kamishibai Free admission Japanese Storytelling Performance One Thousand Cranes Dec 5th Sunday, 2:00 pm Kamishibai Free Admission Japanese Storytelling Performance One Thousand Cranes Dec 6th Monday, 7:00 pm Anime Film Series Spirited Away $5/$3 Museum Members Seacoast Repertory Theatre Dec 8th Wednesday, 6:00 pm Discussion Group Reserve your spot rsvp@portsmouthmfa.org Dec 13th Monday, 7:00 pm Anime Film Series Ghost in the Shell II $5/$3 Museum Members Seacoast Repertory Theatre Dec 15th Wednesday, 6:00 pm 3rd Wednesdays Artist Series SugiPOP! Artist Talk
Upcoming in North
Issue 7 of 80's animation fan magazine cereal:geek has been released Issue seven showcases the many animated movies of the eighties; both series-based and studio-produced. Who Framed Roger Rabbit and The Last Unicorn are just two of the animated movies covered in this issue. Other articles, including one on GoBots: Battle of the Rock Lords, examine how certain animated shows translated to the big screen. There is an in-depth examination of the promotional trailer for Transformers: The Movie, as well as a look at the episodic sequel. Also in this issue Robert Lamb writes the second part to his He-Man episode "The Ancient Mirror of Avathar". The sequential pages from the IDW Ghostbusters pitch by James Eatock and Dan Schoening are also on show! Other shows featured include BraveStarr, He-Man, The Real Ghostbusters, ThunderCats, and many more An English version of volcaloid singing program/character Hatsune Miku is coming soon FUNimation Upcoming FUNimation live action releases include Higanjima: Escape from Vampire Island – a horror film from Shobox Rights: Home video, cinematic, broadcast, digital, mobile Estimated street date – Spring 2011 Drop – an action film acquired from Kadokawa Pictures, Inc Rights: Home video, broadcast, digital Estimated street date – Summer 2011 The Sword with No Name – a beautiful live-action drama also from Showbox Rights: Home video, cinematic, broadcast, digital, mobile Estimated street date – Summer 2011 Tajomaru - live action action/adventure from RAMACO Entertainment LLC Rights: Home video and broadcast Estimated street date - Summer 2011 Treasure Hunter - Taiwanese action film from Eleven Arts, Inc. Rights: Home video, broadcast, digital, merchandise Estimated street date – Fall 2011 February releases include 2.1 Chobit Complete Box Set - DVD and Blu-ray Initial D - Second Stage Love and Honor (live action, re-priced for $14.98) Trinity Blood - Complete Series - Blu-ray - repriced for $49.98 2.8 Afro Samurai - Director's Cut - Blu-ray - repriced for $14.98 Afro Samurai: Resurrection - Director's Cut - Blu-ray - repriced for $19.98 Chrome Shelled Regios - Part One Chrome Shelled Regios - Part Two Chrono Crusade - Complete Series Dragon Ball - Four Movie Pack - Remastered FLCL - Season set (DVD and Blu-ray) Sgt Frog - Season One 2.15 Case Close - Movie Six - The Phantom of Baker Street (repriced for $14.98) Celestial Films - The Lady Hermit One Piece - Season Three Fifth Voyage Summer Wars (DVD and Blu-ray) 2/22 Alien vs Ninja (live action DVD and Blu-ray) Dragon Ball Z - Dragon Box Five Gairei Zero - Complete Series (DVD and Blu-ray) Goemon (Live action, DVD and Blu-ray) Gungrave - Complete Series Ichi - Live Action (DVD and Blu-Ray, repriced for $19.98) NIS Restaurant based anime working will be released in March as Wagnaria!! About Our Home's Fox Deity Volume 1 Premium Edition has released been released The Takagami brothers are protected by a supernatural, mischievous fox named "Kugen" and the common sense deficient shrine maiden "Ko." The adventures revolving around this dysfunctional family are full of action, comedy, and mystery. Battle sequences often use fantastic and mythological ideas or set pieces from Japan, such as the Onmyoudo. Extraordinary things happen in their ordinary lives, tangling so many characters with so much personality together in one epic story. Section 23 TAISHO BASEBALL GIRLS is newly released Age Rating: TV PG Language: Japanese with English Subtitles CAT: SF-TBG100 UPC: 814131019707 Published by: Sentai Filmworks Distributed by: Section23 Films Street Date: 11/16/2010 Format: DVD SRP: $49.98 SYNOPSIS: 1925 - six years since the end of the Great War, four years since women were allowed to join political associations and one year since Emperor Hirohito assumed the throne. Only thirteen years after the death of the Meiji Emperor, Japan is a nation re-inventing itself, swept by wave after wave of wars, disasters and political unrest. War looms in China, males over the age of 24 are about to receive the right to vote and a strange new type of school uniform called the "sailor suit" is being introduced. But at least the national pastime, baseball, remains bound by tradition, the exclusive realm of men and boys. Until now. When a local player arrogantly states that girls should become housewives instead of going to school, teenage firebrands Koume and Akiko respond by forming their own baseball team. It's shocking. It's scandalous. And yet, in a nation in which almost anything seems suddenly possible, it may just be the start of something greater than any nine girls can imagine. It's not just a game, its history in the making in TAISHO BASEBALL GIRLS - COMPLETE COLLECTION! Shout! Factory The Marvel Knights Animation: Iron Man – Extremis will be released November 30th Special DVD Bonus Features include: • A Conversation With Adi Granov • Behind-The-Scenes Look At Marvel Knights Animation • Marvel Super Heroes™: What The —? Starring Iron Man • Visual History Of Iron Man • Exclusive Music Video Tokyopop Amazon is listing a Tokyopop release of the manga version of fantasy Sacred Blacksmith UDON Mega Man™: Robot Master Field Guide - due in March 2011 The MEGA MAN: ROBOT MASTER FIELD GUIDE is your ultimate handbook to the classic Mega Man universe. Inside you'll find profiles of every major Mega Man® character, including all the Robot Masters from Mega Man® 1-10, Mega Man and Bass, the Mega Man Gameboy series, plus important special characters like Proto Man, Rush, Roll, Duo, and more. Each profile features classic CAPCOM® artwork, and includes bios, quotes, likes & dislikes, weapons, and of course each Robot Master's secret weakness!

Viz Media NURA: RISE OF THE YOKAI CLAN Volume 1 • Rated 'T' for Teens • Shonen Jump • MSRP: $9.99 US / $12.99 CAN • Available February 1, 2011 While the day belongs to humans, the night belongs to yokai, supernatural creatures that thrive on human fear. Caught between these worlds is Rikuo Nura. He's three-quarters human, but his grandfather is none other than Nurarihyon, the supreme commander of the Nura clan, a powerful yokai consortium. So, Rikuo is an ordinary teenager three quarters of the time, until his yokai blood awakens. Then Rikuo transforms into the future leader of the Nura clan, leading a hundred demons. BLUE EXORCIST Volume 1 • Rated 'T+' for Older Teens • Shonen Jump Advanced • MSRP: $9.99 US / $12.00 CAN • Available April 5, 2011 Raised by Father Fujimoto, a famous exorcist, Rin Okumura never knew his real father. One day a fateful argument with Father Fujimoto forces Rin to face a terrible truth—the blood of the demon lord Satan runs in Rin's veins! Rin swears to defeat Satan, but doing that means entering the mysterious True Cross Academy and becoming an exorcist himself. Can Rin fight demons and keep his infernal bloodline a secret? It won't be easy, especially when drawing his father's sword releases the demonic power within him! TENJO TENGE Volume 1 • Rated 'M' for Mature • VIZ Signature • MSRP: $17.99 US / $21.00 CAN • Available June 21, 2011 - previously released by CMX, now unedited By popular demand, VIZ Signature presents an all-new publication of a fan favorite—now 100% faithful to the original and in 2-in-1 editions featuring 16 pages of full-color art! Knuckle-busting brawls, badass babes, and the toughest student body ever to mix it up under one roof. Welcome to Todo High, where the only rule is: get strong or get schooled. Soichiro Nagi and Bob Makihara have always been the meanest street brawlers around. When they enter Todo High they plan on carving out a reputation as the strongest fighters in their new school—easier said than done in a place that's dedicated to training its students in the art of combat! LA QUINTA CAMERA • Rated 'T' for Teens • VIZ Signature • MSRP: $12.99 US / $14.99 CAN • Available July 19, 2011 A charming suite of linked stories from the acclaimed author of not simple and House of Five Leaves, set in an apartment in Italy. In four of the rooms live four single men with singular personalities. Into this peculiar ménage steps an exchange student, the new tenant of the fifth room. Brought together by chance, friends by choice, they pursue their dreams together as the days drift gently by. THE ART OF VAMPIRE KNIGHT • Shojo Beat • MSRP: $24.99 US / $28.00 CAN • Available September 6, 2011 Cross over into the world of VAMPIRE KNIGHT with the lush, full-color artwork of Matsuri Hino. This deluxe hardcover edition includes an extensive gallery with author comments, a how-to tutorial, and an exclusive poster. Haikasoru sci-fi prose includes THE OUROBOROS WAVE by Jyouji Hayashi

Price: $14.99 U.S. / CAN $19.99 • Available Now! Ninety years from now, a satellite detects a nearby black hole scientists dub Kali for the Hindu goddess of destruction. As human society expands to Mars and beyond, the generations-long project to harness the power of the black hole pits the retrograde humans of Earth against the imminently rational men and women of the Artificial Accretion Disk Development association. While conflicts simmer, a mystery within Kali itself tests the limits of intelligence—that of both human and machine. DRAGON SWORD AND WIND CHILD by Noriko Ogiwara

Price: $13.99 U.S. / CAN $18.99 • Available Now! The forces of the God of Light and the Goddess of Darkness have waged a ruthless war across the land of Toyoashihara for generations. But for fifteen-year-old Saya, the war is far away—until the day she discovers that she is the reincarnation of the Water Maiden and a princess of the Children of the Dark. Raised to love the Light and detest the Dark, Saya must come to terms with her heritage even as she tumbles into the very heart of the conflict that is destroying her country. The Light and Dark both seek to claim her, for she is the only mortal who can awaken the legendary Dragon Sword, the fearsome weapon destined to bring an end to the war. Can Saya make the dreadful choice between the Light and Dark, or is she doomed—like all the Water Maidens who came before her…?
Cool Figures News
Upcoming A KOTOBUKIYA Japanese imports include MARVEL COMICS PRESENTS KOTOBUKIYA COLLECTION X-MEN DANGER ROOM SESSIONS COLOSSUS FINE ART STATUE Inspired by Jim Lee's 1990's era X-Men, sculpted by Erick Sosa, the enormous Colossus stands over 15 inches tall! He's perfectly in scale (1/6th) with the other Danger Room Sessions members, and like them stands upon a unique Danger Room holographic environment with translucent parts that glow with a built-in LED light in the base. In Colossus' case it's the shattered remains of a torn up Sentinel robot! srp $249.99 Available in MAY

Marvel, Colossus: TM & © 2009 Marvel Entertainment, Inc. and its subsidiaries. Licensed by Marvel Characters B.V. www.marvel.com. All rights reserved. MANAKA DE IKUNO!! ~ TAMAKI RED ARMOR SAMURAI VER. ANI*STATUE After several appearances in the To Heart 2 Another Days line of Ani*Statues, the beautiful Tamaki joins her friend Manaka in the hit spinoff RPG parody Manaka de Ikuno!! FINAL DRAGON CHRONICLE GUILTY REQUIEM as TAMAKI RED ARMOR SAMURAI! Tamaki stands 8 ½ inches tall (1/8th scale) on a specially designed display base. srp $69.99 Available in MARCH

© 2009 Leaf/AQUAPLUS MANAKA DE IKUNO!! ~ MANAKA SAGE VER. ANI*STATUE From the hit RPG parody Manaka de Ikuno!! FINAL DRAGON CHRONICLE GUILTY REQUIEM, a spinoff of the To Heart 2 series, comes the class representative turned sorceress in an exclusive variant version, MANAKA SAGE VER.! Komaki is 8 inches tall (1/8 scale) floating on her specially designed base. Manaka Sage Ver. was only available at Kotobukiya direct shops in Japan, and her production will be strictly limited. srp $69.99 Available in APRIL

© 2009 Leaf/AQUAPLUS MANAKA DE IKUNO!! ANI*STATUES TAMAKI RED ARMOR SAMURAI VER. & MANAKA SAGE VER. A KOTOBUKIYA Japanese import! From the hit RPG parody Manaka de Ikuno!! FINAL DRAGON CHRONICLE GUILTY REQUIEM, a spinoff of the To Heart 2 series, come two more beautiful bishoujo girls. Tamaki stands 8 ½ inches tall (1/8th scale) on a specially designed display base. Available in MARCH Manaka Sage Ver. was only available at Kotobukiya direct shops in Japan, and her production will be strictly limited. Available in APRIL srp $69.99 each © 2009 Leaf/AQUAPLUS MAGICAL GIRL LYRICAL NANOHA THE MOVIE 1ST ~ FATE TESTAROSSA –EVERYDAY WEAR- ANI*STATUE Fate stands 6 ½ inches tall (1/8 scale) atop an exclusive base. srp $69.99 Available in APRIL

© ??? Kotobukiya is also announce dthat they have been nominated as the "Best Licensee of 2010" by the Hong Kong Trade Development's 7th annual Premier Asian Licensing Awards. Award winners will be announced during the Hong Kong International Licensing Show, January 10 – 12, 2011.
Digital Distribution News
Dailymotion and Crunchyroll announced a partnership that will bring Crunchyroll's catalogue content to Dailymotion Dailymotion's audience will have on-demand, ad-supported access to selections from Crunchyroll's library of high-quality, officially-licensed content from leading Asian media producers. The partnership also offers brands and marketers the opportunity to reach a highly-engaged and targeted audience. Crunchyroll recently launched GoLion source material GoLion Premium anime members and all-access members will be able to watch each series in its entirety in HD quality and without commercials immediately. Free users will get the first (1) episode for free, and the remaining 51 episodes 90 days from today under ad-supported streaming. The animation from GO LION was edited and trimmed to create the Lion version of the U.S. Voltron: Defender of the Universe series, with new names and dialogue, as well as several plot changes. Footage was heavily edited and re-assembled by World Events Productions (WEP) in the U.S. to create Voltron. Changes made to the series included rewritten dialogue, omitted character deaths, toned-down violence, and altered plot developments. The GO LION story begins in the year 1999, when the planet Altea is subdued and enslaved by the Galra Empire. Five space pilots return to Earth to find the planet annihilated by thermonuclear war. Eventually, the explorers are captured and enslaved, and forced to fight for their lives in Emperor Daibazaal's arena. The young pilots escape and eventually land on the planet Altea, where they discover the secret of the mighty sentient robot GO LION, the only weapon powerful enough to defeat Emperor Daibazaal's forces. Episodes can be accessed from Crunchyroll.com, tv.com, the free iPad and iPhone application, the Boxee application and affiliate partners. Crunchyroll also launched Ikku Tousen IKKI TOUSEN follows Kakufu, who gets turned on by nothing more than a brutal street fight. She shrugs off her shredded skirts and tattered tops with a flurry of busty badassery while fighting to unite seven rival schools. And with no shortage of enemies, why take on one guy when she can take on ten? In this adventure where teenage brawlers are guided by jewels infused with the spirits of ancient warriors, Kakufu is content to flash her panties and crack some skulls. But like any hero, she cannot escape her destiny – no matter how dark it may be. Bandai Channel Co., Ltd., announced that both episodes one and two of "Mobile Suit Gundam UC (Unicorn)" are now available on Zune® (an entertainment platform by Microsoft for Xbox 360 and other devices) in the following regions and formats: Schedule and technical specifications of "Mobile Suit Gundam UC (Unicorn)" episodes 1 and 2 on Zune •Distribution Details Video-On-Demand basis on Zune platform in HD (1080P) 5.1ch Audio, and also in SD 2.0ch Audio •Broadcast Availability Period From November 17, 2010 •Regions and Languages USA, Canada, UK, Ireland, Denmark, Finland, Norway, Sweden (English Audio) France, Belgium (English Audio with French Subtitles) Spain (English Audio with Spanish Subtitles) November 12 also marked the release of "Gundam UC" episode two on Blu-ray disc in the US, Canada, and Taiwan. Visit http://store.bandai-ent.com (US and Canada), or http://www.my-cartoon.com.tw (Taiwan) for more details. The Blu-ray will subsequently be made available in Hong Kong (November 19, http://www.hmv.com.hk), followed by France and UK later this month. Zeta Gundam is streaming on Anime News Network "WHITE ON RICE" is now available to watch INSTANTLY online at Netflix Love Hina creator Ken Akamatsu will be offering out of print manga, DRM-free on an ad-supported site. Kinokuniya will be launching a Kinokuniya Shoten BookWebPlus ebook service with an estimated catalog of over 1,200 ebooks, including titles from Kondansha and Kobunsha. Kinokuniya is hoping to have nearly 30,000 ebooks available for iPhones and iPads at launch 37 Japanese publishers announced plans to collaborate to set up a joint portal site for North American anime fans this
The Business
4Kids' third quarter 2010 included a $9.8 million loss on net revenues of $3 million The company shut down division related to the Chaotic collectable card game. The Tokyo Metropolitan Government is again attempting to pass a bill to restrict sexual depictions of children. The term "nonexistent youth" is no longer being used to describe the media eing covered.
On TV
One hour Young Justice special "Independence Day" premieres Friday, November 26 at 7:00 p.m. on Cartoon Network

Synopsis In Young Justice, being a teenager means proving yourself over and over — to peers, parents, teachers, mentors and, ultimately, to yourself. But what if you're not just a normal teenager? What if you're a teenage super hero? How much harder will it be to prove yourself in a world of super powers, super villains and super secrets? Are you ready to come of age in such a world? Are you ready for life or death rites of passage? Are you ready to join the ranks of the great heroes and prove you're worthy of the Justice League? That's exactly what the members of Young Justice — Robin, Aqualad, Kid Flash, Superboy, Miss Martian and Artemis — will found out … whether they have what it takes to be a proven hero. In the premiere episode, Robin, Speedy, Aqualad and Kid Flash are finally granted access to the headquarters of the Justice League. But when that access turns out to be little more than a glorified backstage pass, Speedy walks, and the other three sidekicks go on a mission of their own…to Project Cadmus, where they make a startling discovery…