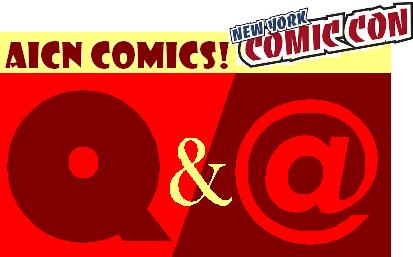 @@@@ What the #$%! is AICN COMICS: Q&@? @@@@
AICN COMICS: Q&@ is our interview column where some of your favorite @$$Holes interview comic bookdom's biggest, brightest, newest, and oldest stars. Enjoy this latest in-depth interview filled with @$$y goodness and be sure to look for more AICN COMICS as we gaze into the future of comics every week with AICN COMICS: SPINNER RACK PREVIEWS every Monday and then join the rest of your favorite @$$Holes for their opinions on the weekly pull every Wednesday with AICN COMICS REVIEWS!
---
Q's by Ambush Bug!
@'s by IDW Publisher/EIC Chris Ryall!
Transcribed by Lyzard!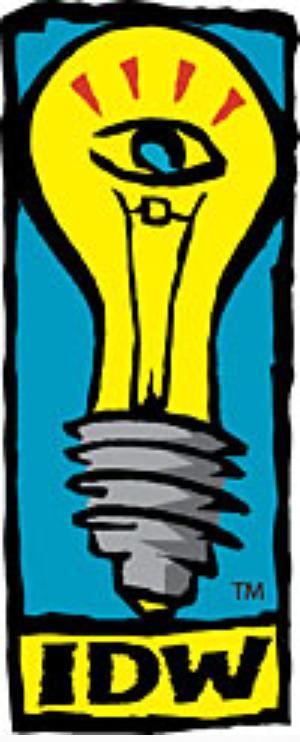 Hey folks, Ambush Bug here with another interview I took at this year's New York Comic Con. I was able to chat with IDW Publisher & Editor In Chief Chris Ryall about some of the new and exciting things coming out from IDW in the coming months. Here's what Chris had to say…
AMBUSH BUG: Do you want to talk about some of your exciting announcements you made at the con?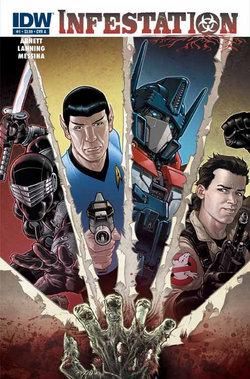 CHRIS RYALL (CR):
One of the big things we announced was that we are doing this thing called INFESTATION, which is something we have been trying to put together and working on for about a better part of a year now, which is finding a way to tell a story that weaves throughout Ghostbusters, Star Trek, Transformers, and G.I. Joe all in one. The way it works is it actually takes the ZOMBIES VS. ROBOTS property we have and that's the fulcrum point for the story that scatters zombies and robots into these different universes. It's a big event that affects all these stories, but they do not overlap. There is no Spock meeting Optimus Prime. I think we still found a unique way to involve all these stories in this one big storyline and give fans what they are hoping to see from this.
BUG: It sounds really cool. ZOMBIES VS. ROBOTS is your baby, so what's it like having those guys fall into the other universes?
CR:
The funny thing is I was all precious about it. ZOMBIES AND ROBOTS that's too…I can't hand that off to any other writers. Then Dan Abnett and Andy Lanning got involved and I could hand it off to them. They're good, they know what they're doing.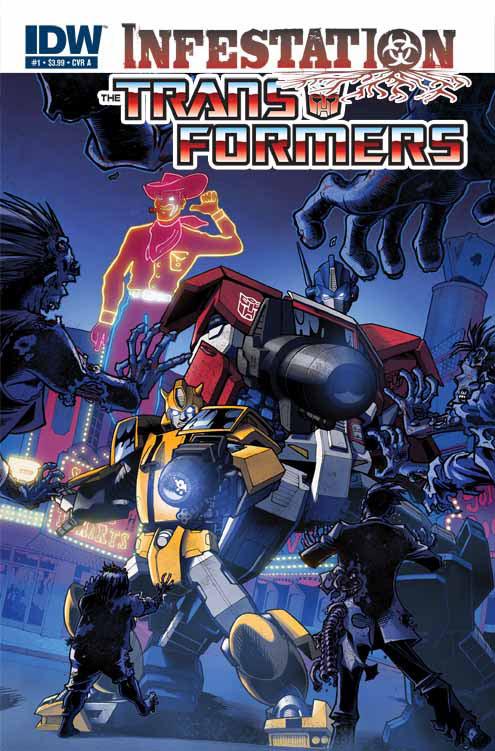 BUG: They're experts at doing that big, cosmic crossover thing, even though this isn't a crossover, it's still a pretty big story. How did they get involved in this?
CR:
We got the story to a certain point, but we needed a tipping point, we needed the one thing that would make it into what we envisioned it to be, so we started talking to them about some projects and this came up. How don't know anxious they were to get thrown right back into their next big, cosmic, huge event. But they fully embraced it and jumped right in. They came up with some great ideas and took it in directions that we didn't have in mind at the time. I just think it's going to make it that much stronger. So I am happy to have them write ZOMBIES VS. ROBOTS.
BUG: You said that some of those zombies and robots are going to be left over in some of these other universes. How will that affect the regular ZOMBIES VS. ROBOTS series.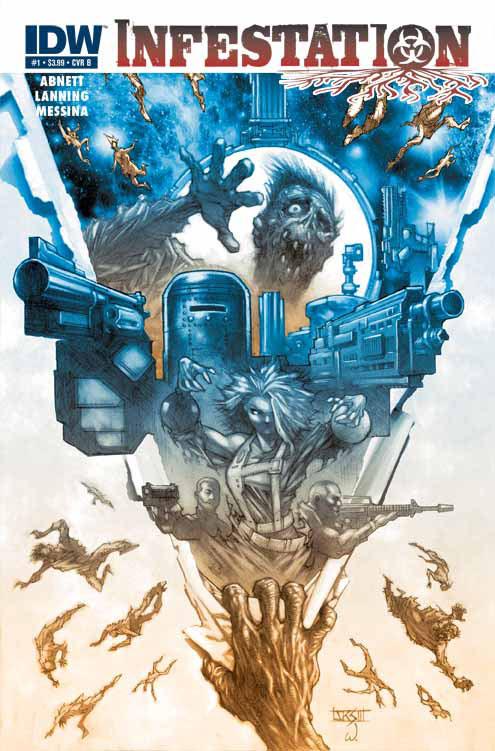 CR:
In ZOMBIES VS. ROBOTS we set up this thing a few years back. I had it in mind actually that I wanted it to be a thing that could spill into other universes if the chance ever came up. So Ashley Wood and I, who did the book with me, we created this basically this Stargate, an inter-dimensional gateway, that is sort of the point where these zombies and robots and everything get blasted into different dimensions. So they land in the Star Trek universe and the Transformers universe. In a way that makes sense that we don't feel is contrived. So then they each get a 2-issue storyline in INFESTATION that may overlap with the Transformers world because Abnett and Lanning will be writing a new TRANSFORMERS mini-series for us, which will then spin into some other ongoing Transformers thing we are going to do.
BUG: Do you have the art teams picked out for these series yet?
CR:
The artist working with Abnett and Lanning is Dave Messina, who does TRUE BLOOD for us. He's done STAR TREK: COUNTDOWN, he's done ANGEL. He's been a big IDW guy for years. Then each of the four series will have different artists, obviously. Nick Roach who is a big TRANSFORMER's artist will be drawing the two TRANSFORMER's issues. Kyle Hotz Who has done a lot of creepy things for Marvel and others. He's doing the GHOSTBUSTER book, which makes it a less comedic, more eerie sort of a book. G.I. JOE has a new artist working on it that I think people are going to be very impressed by and Casey Maloney Who drew GENE SIMMONS: ZIPPER for us will be doing STAR TREK. So it's going to be a really fun, dynamic project.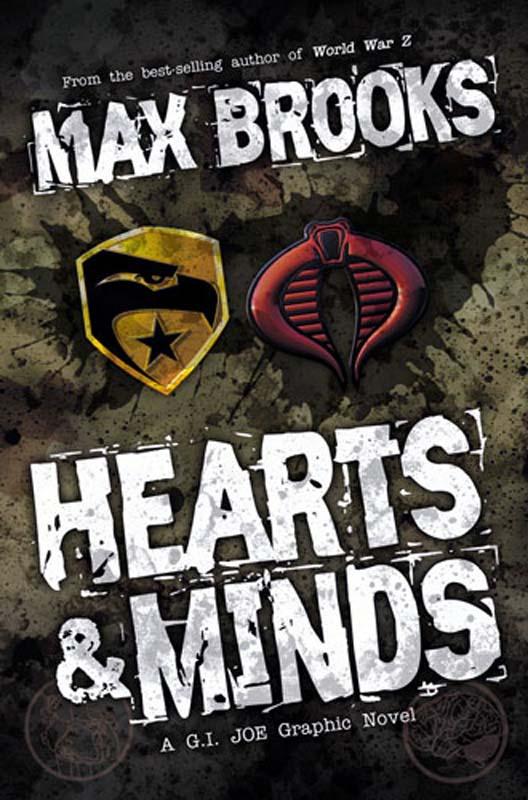 BUG: Speaking of G.I. JOE, I really love the series HEARTS AND MINDS. Are there going to be more of those?
CR:
I want to do more with Max (Brooks) and he's a huge G.I. JOE fan. We are actually doing a G.I. JOE prose book; we have the rights to do a prose anthology, so short stories. Max is editing the book, contributing a story to it, and then there are some good prose novelists are doing stories for it. That will feel a lot like HEARTS AND MINDS did and anything Max wants to do in that world I fully encourage.
BUG: Between that at the COBRA book that you do, they seem to take the G.I. JOE in a more mature, more sophisticated way. Was that decision, because you seem to have a book for every type of G.I. JOE fan out there?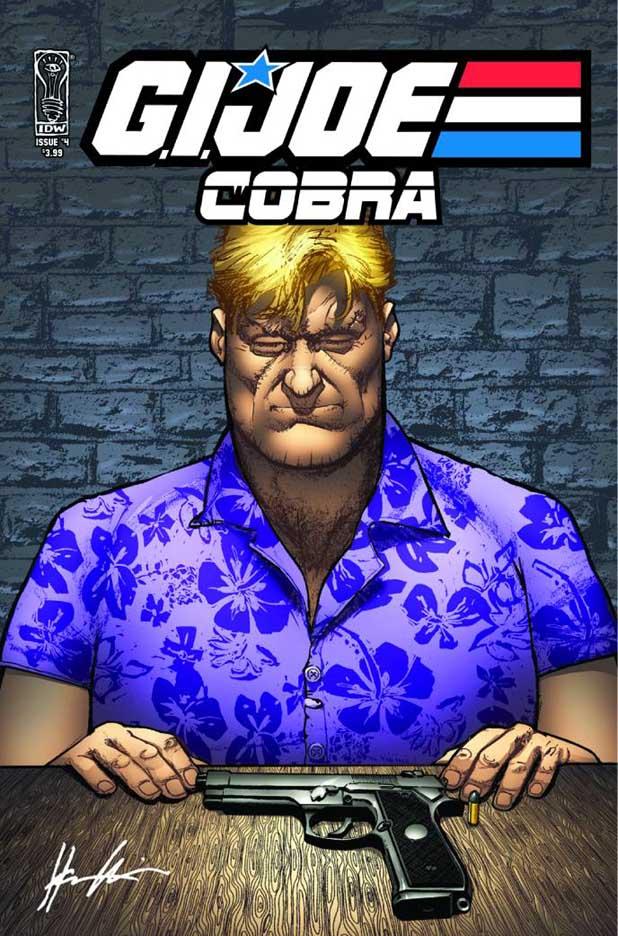 CR:
From the start, when we took up G.I. JOE I really wanted to make it a property that would please comic book fans, not just be a toy-based property or something that harkened back to what was done in the 80s. So we saw this as an opportunity to edge it up a bit, do some stories that felt more life spy books, I wanted something that felt like G.I. JOE's version of QUEEN AND COUNTRY. The great thing is that Hasbro has been completely open to us that has primarily been focused on younger audiences, to do something edgy and more risky with it. They have embraced it and the fact that critics and fans have liked it to is gratifying on all accounts, the fact that people have really liked what we have done. I have seen reviews that call it a good dark comic, not a good license comic or toy-based comic, just a good comic. Which is all I wanted to hear.
BUG: Some of the other projects you are working on, do you want to talk about them?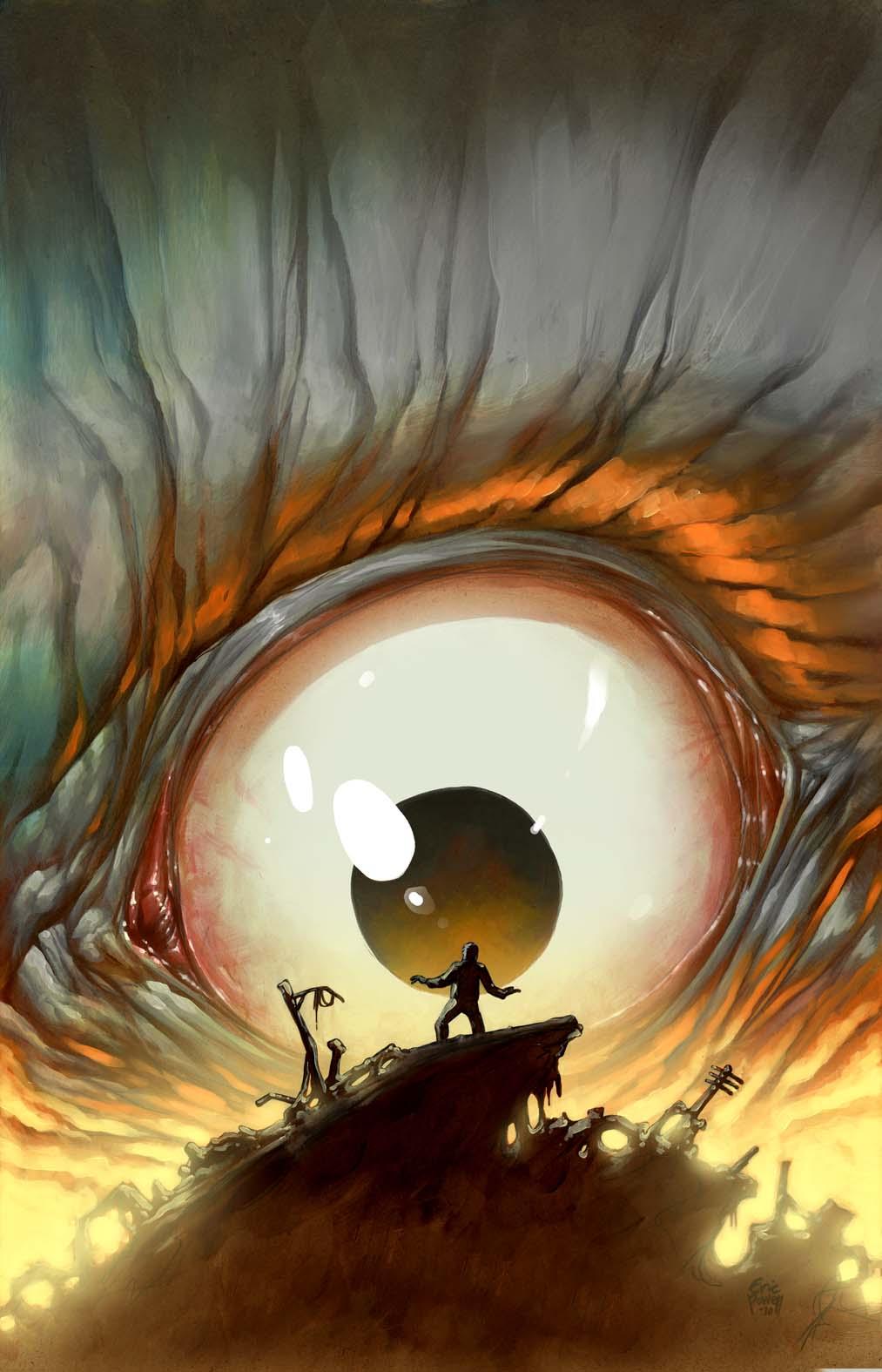 CR:
Another big thing we announced at the panel yesterday was that we are going to be doing GODZILLA comics. It's exciting to me for two reasons. One is that not only do we have access to GODZILLA but for the first time in comics' history we access to the other Toho monsters that have never showed up in comics before. Like Mothra, King Ghidorah, and Mechagodzilla, on and on from there. Not only can we put them all in a big storyline but the guy that will be steering that first storyline is Eric Powell, who does THE GOON, which is about a greatest choice I can imagine to work on GODZILLA, so he's going to be painting covers and writing books.
BUG: Who is going to be doing art for that?
CR:
That's still to be determined.
BUG: With this series, is it a mini-series or an ongoing series?
CR:
It'll be a number of books, but he's going to be doing an ongoing series that really finds a nice way to work in all the storylines into one big-ass storyline and then there will be a number of offshoots from there. So let's say you wanted a Rodan mini-series, or a Mothra mini-series, chances are you'll get that.
BUG: Can you talk about CLASSICS MUTILATED?
CR:
It's our mash up anthology where we are taking literary concepts and sort of doing the approach those Jane Austen/zombie books took and then taking them with more current pop culture references and different monster mashes. I actually contributed a story of the books called TWILIGHT OF THE GODS, which is a known phrase in Norse mythology but also TWILIGHT so I'm basically telling TWILIGHT with Loki as Bella and a frost giant and a valkyrie have formed a love triangle. It's much more twisted and ridiculous than TWILIGHT.
BUG: How nuts did you let the writers go on this?
CR:
They gave us the idea, and the editor Jeff Connor, let them run with whatever the wanted to do. I say the centerpiece story of the book is Joe Lansdale story DREAD ISLAND where it mashes up Huck Finn and Lovecraft.
BUG: Is that on the cover?
CR:
It is. Covered by Menton Matthews. Huck and Finn warding off demon tentacles.
BUG: Will there be art with this or just prose?
CR:
We did one chapter of illustration for each story.
BUG: What other projects do you guys have going on?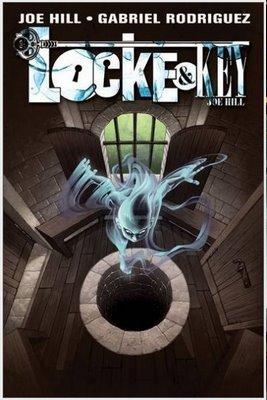 CR:
The big thing we also debuted was the Darwyn Cooke's Richard Stark: Parker novel, so the outfit came out at this show. TRUE BLOOD is rolling along nicely, it got off to a really good start and the fans seem to enjoy that. With these prose projects, we have a nice mix of licensed books and creator-owned books. LOCK AND KEY is still thriving as good as it ever has been.
BUG: Do you want to talk about that?
CR:
I can talk about LOCK AND KEY every day. It's really one of the greatest things I think we've ever published. The fact that we've had guys from creators and publishers come over here and praise the book and talk about how much they love it is very gratifying that this book is getting noticed and getting the attention I think it deserves.
BUG: How long as IDW been around, ten years?
CR:
Eleven now. Gabe, the artist on LOCK AND KEY, has pretty much from the start, longer than I have. He came in doing CSI, from there he and I moved on to some projects with Clive Barker and a couple other projects. Now LOCK AND KEY is just his masterwork. Joe Hill is actually doing, in full circle because the first story I've ever read from Joe Hill was a short prose story in his book called 20th Century Ghosts entitled THE CAPE. That is what made us noticed him and made us track him down to see if he had any comic ideas. Now we are adapting the Cape as a one-shot in December. It's nice that the first thing that put Hill on our radar is now going to be coming out as a comic. Zach Howard is doing the art and I adore Zack Howard, he did SHAUN OF THE DEAD with me. He was my first comic artist to work on a book with me.
BUG: WEEKLY WORLD NEWS, any more of those coming along?
CR:
God, I hope so. I would love to do more. It's one of those wait to see how the collected editions does. But I could write that book forever; it was so much fun and ridiculous. It allowed me to work in every stupid pop culture reference I've ever had. The artist was great with capturing all these stupid things I asked him to draw. Another thing we are doing for WEEKLY WORLD NEWS is we are collecting all of Peter Bagge's strips he did with the newspaper. He did a hundred strips over the last four/five years ago. So we are collecting those in one edition. They are as twisted as anything Peter Bag has ever done.
BUG: Thanks a lot for taking the time to talking to me. Good luck at the Con and I look forward to reading all of your stuff.
CR:
I appreciate it.
BUG: Look for all of these exciting titles from IDW Publishing over the next few months!
Special thanks to Lyzard for transcribing this interview!
Ambush Bug is Mark L. Miller, original @$$Hole / wordslinger / reviewer / co-editor of AICN Comics for over nine years. Support a Bug by checking out his comics (click on the titles for purchasing info)! MUSCLES & FIGHTS VOL.3 & MUSCLES & FRIGHTS VOL.1. VINCENT PRICE PRESENTS: THE TINGLER #1 and #2 (interview, interview, preview, & review). VINCENT PRICE PRESENTS #20 WITCHFINDER GENERAL (preview, review). NANNY & HANK miniseries #1, #2, #3, and #4(interview, interview, interview, preview, & review, Check out the NANNY & HANK Facebook Page!). Zenescope's upcoming WONDERLAND ANNUAL 2010. THE DEATHSPORT GAMES miniseries #1, #2, #3, and #4 (in September Previews Order #SEP 100860, in stores in November 2010! Check out THE DEATHSPORT GAMES Facebook Page!).
---
Editing, compiling, imaging, coding, logos & cat-wrangling by Ambush Bug Proofs, co-edits & common sense provided by Sleazy G
---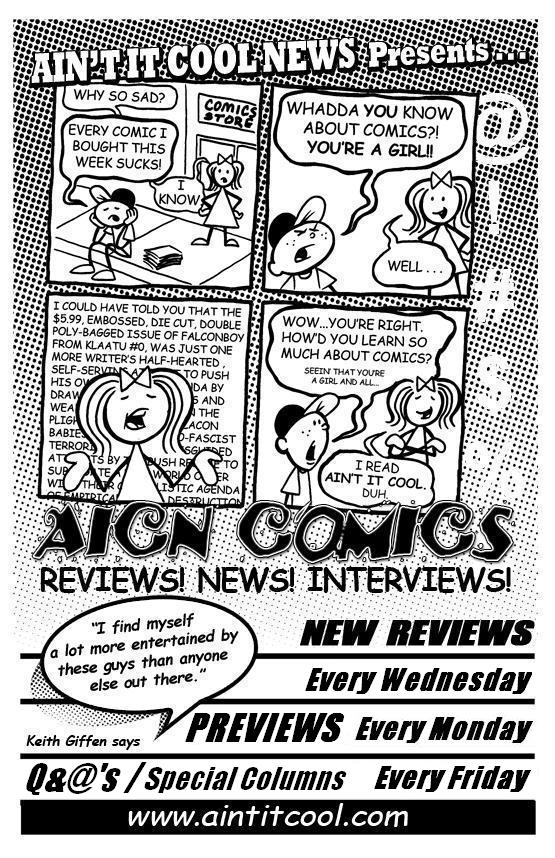 Ad by Prof. Challenger