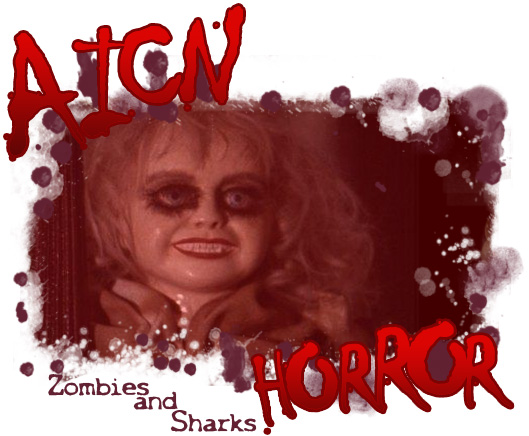 Logo by Kristian Horn
---
Greetings, all. Ambush Bug here with another AICN HORROR: ZOMBIES & SHARKS column. Why ZOMBIES & SHARKS? Well, those are the two things that I've had the most nightmares about. It's the reason I rarely swim in the ocean. It's the reason I have an escape plan from my apartment just in case of a zombie apocalypse. Now if you've ever had those fears or fears like them, inspired mainly by nights upon nights of watching films of the frightening kind, this is the place for you. So look for AICN HORROR: ZOMBIES & SHARKS every Friday for the foreseeable future, horror hounds, where we'll be covering horror in all forms: retro, indie, mainstream, old and new.
Hey folks, Ambush Bug here. To celebrate the coming of what looks to be an awesome and groundbreaking TV series, THE WALKING DEAD on AMC this Sunday night, AICN HORROR is going to be covering zombie films for the next six weeks while the show's six episode season is running. I'm working hard to get some more THE WALKING DEAD stuff and more zombie stuff in general to satiate your hunger. This week we look at the first episode of THE WALKING DEAD and a damn fine zombie movie from France called MUTANTS.
But before we unleash the zombie hordes, I've got a few horror-related tidbits to pass on.


---

Live near Iowa? The Second Annual Zombie Pride Parade hits the streets of Downtown Davenport, Iowa this Halloween, Sunday October 31st. The GATHERING PARTY is from 5-7pm, All Ages, free to the public at the Bucktown Center for the Arts 225 East 2nd Street Davenport, IA 52801. Then the parade itself starts at 7pm in Downtown Davenport, followed by a RAVE TO THE GRAVE official Zombie Pride Parade after-party at the Redstone Room 129 North Main Street, Davenport, IA with killer techno music, drinks, costume contest, Left for Dead 2 Competition, and other fun zombie activities. Zombies from the ZPP get in for $10, non-zombies pay $15 at the door. Join the costume contest and try for BEST ZOMBIE, SEXIEST ZOMBIE, or FUNNIEST ZOMBIE and win hundreds of dollars towards tattoos at O'Tool Custom Design Tattoo, a shoot with Joshua Ford Photography, and ZP art by That Kid Who Draws! Space is limited to this party, so don't be late! This event is all ages but they discourage small children. Find out more about this event here. Damn, I wish I lived in Iowa (never thought I'd say that).


---

Live near Westbury, New York? Professional wrestler, actor, and all around good guy, Brimstone and writer M.H. Carnevali will be signing their new comic BRIMSTONE & THE BORDERHOUNDS #1 at Borders Books at a pre-launch signing party tomorrow from 2-7pm at 1260 Old Country Rd, Westbury, NY 11590. Check out Brimstone's new book. We reviewed it here on AICN COMICS a few weeks ago and it looks to be a pretty damn cool horror comic. Find out more about BRIMSTONE & THE BORDERHOUNDS here.


---

In Chicago? I'm doing a book signing for my new old vampires comic NANNY & HANK(which was released this week!) at Graham Crackers Comics, 2562 N Clark St (one of the coolest comic shops in Chicago), in Lincoln Park, Chicago this Wednesday November 3rd from 5-7pm. I'll be signing copies of NANNY & HANK #1 (click the cover for a preview of the book) as well as copies of my VINCENT PRICE PRESENTS THE TINGLERS, VINCENT PRICE PRESENTS WITCHFINDER GENERAL, and Zenescope's brand spankin' new WONDERLAND ANNUAL 2010 (which includes a 10 page story written by me!). Be sure to stop in and say howdy and pick up some of my comics!


---

Last but certainly not least, I talked about this last week, but this is the weekend that The Colonial Radio Theater will be adapting my own direct comic book sequel to the cult classic film THE TINGLER on Saturday Oct. 30th at 5am & 5pm and Sunday Oct. 31st at 8pm Eastern, Sirius Channel 117 XM Channel 163. THE TINGLERS picks up right where the classic Vincent Price/William Castle film leaves off with Price's character Dr. Warren Chapin and his crew of scientists heading to Africa to seek out the origins of the beast which feeds on fear. You can pick up the comics here (#1) and here (#2) (you can see a preview by clicking the cover) and find out more about this podcast here.
Now, let the zombie apocalypse begin…
Today on AICN HORROR (Click title to go directly to the feature) THE WALKING DEAD Episode 1 (2010) MUTANTS (2009) And finally…
---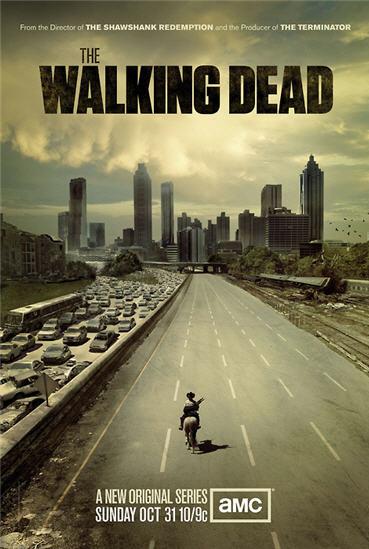 THE WALKING DEAD Episode 1 (2010)
Directed & written by Frank Darabont Starring Andrew Lincoln, Sarah Wayne Callies, Chandler Riggs, Lenny James, Jon Bernthal Review By Ambush Bug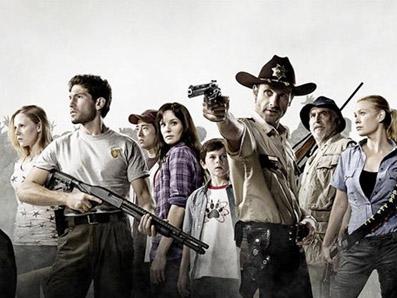 Having read the comic book series from issue one, I firmly believe that Robert Kirkman's THE WALKING DEAD has consistently been the best comic book on the shelves for about seven years now. Every new issue I buy, I must read immediately, and then I can't wait for the next one. This is a series that you can't trade-wait for. It's that good. When news that THE WALKING DEAD was coming to AMC hit, initially I was happy to hear about the adaptation. But I was also hesitant to get too excited because too many of my four-colored favorites have been massacred while going through the adaptation process. The fact that Hollywood can't even get a simple premise like THE PUNISHER right is proof that sometimes the Powers that Be just don't get comics.
So I've seen the first episode of THE WALKING DEAD, AMC's new television series, and I'm happy to say that it's a keeper! Scenes (even specific panels) are taken straight from the comic. Plus the new format of the story allows for details that the series original artist Tony Moore and writer Robert Kirkman couldn't really fit into a 22 page comic to be elaborated on for greater cinematic and emotional impact. This isn't the typical zombie story you usually see. The makers of this series seem to want to take their time with this story, grabbing the viewer by the throat in the first seconds of the show, then pulling back and explaining how our hero Rick became involved.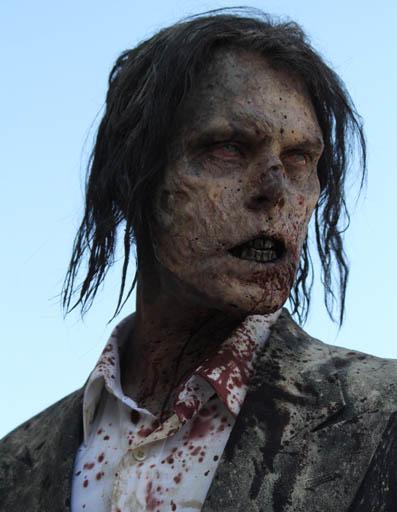 When I first saw the teaser trailer of THE WALKING DEAD at this year's San Diego Comic Con, I couldn't help but feel a little worried. I know you felt that way too. The preview seemed to have a lot of similarities to the opening of 28 DAYS LATER (in late 2002), Danny Boyle's zombie opus that gave new life to living dead films. Less than a year later, THE WALKING DEAD #1 was released from Image Comics. You can debate until the actual zombie apocalypse which came first (I tend to think that the coincidence is one of those happy accidents that often occur with ideas of sheer greatness), but I am happy to say that upon seeing this first episode, apart from maybe less than five minutes and, you know, the presence of zombies, the similarities are few and far between. TWD's Rick (played by Andrew Lincoln) is no bike messenger who spends the first fifteen minutes after his awakening screaming HELLO over and over. He is a police officer whose wounds that land him in a hospital were inflicted because he was both a headstrong leader and an often troubled, self-sacrificing person--a reoccurring theme in the comic. Assuming the point position in a shootout, Rick is shot and raced to the hospital and wakes up some time later to find the world overrun with "walkers."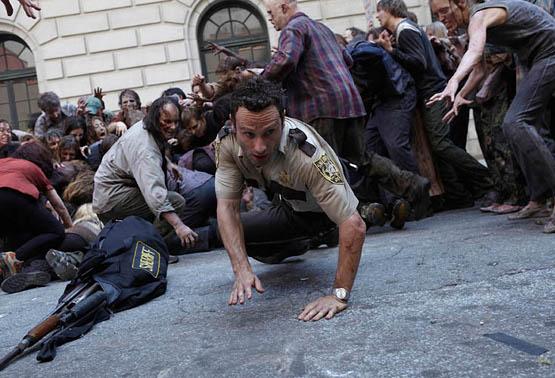 Whereas Danny Boyle's film hurries to get out of the hospital and into the streets, Rick wanders around the hospital. These scenes are absolutely horrific. Though apart from bony fingers you don't see much of the undead, the threat is ever present. Even a simple walk down a dark stairwell (which we've seen a million times in a million movies) is made into an extremely claustrophobic sequence. Though initial outbreak zombie stories are often repetitive, this series makes you care about the characters (something the comic does as well), so you can forgive some of the usual occurrences every zombie story of this kind has (i.e. having the main character wander around and initially run into one zombie, followed by a mass of them). The characters of this story are neither idiotic (in that they have never seen a horror film before) nor are they winking to the camera and acknowledging zombie films (which is equally annoying). Here the characters are realistically reacting to a tragic shift to all they know and had grown used to.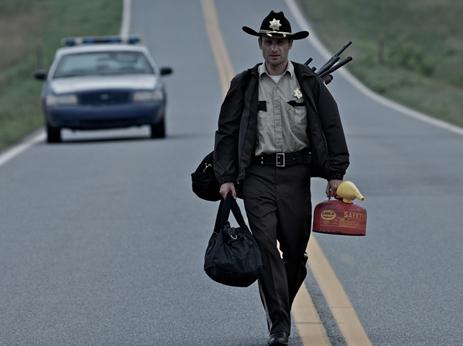 I asked Robert Kirkman how far into the series this initial six-episode run on TV will cover at SDCC this year. He didn't want to give too much away by stating an exact issue, but with the way things are set up in this first episode with Rick in the city and a group of survivors with ties to Rick's life outside of the city, I can make a guess. Maybe you can too. There's a revelation that kind of missed its mark toward the end mostly because you haven't seen these two characters yet and their relationship with Rick isn't known. The miss is mainly due to the subdued manner with which this revelation is revealed (I guess I was waiting for a "dun-dun-DUNNNNN moment), but for the most part this is a perfect adaptation. The acting is top notch with both Andrew Lincoln's Rick and especially Lenny James' character Morgan Jones (as a survivor who helps catch Rick up to speed after he wakes up) giving heart-wrenching performances. James' scenes (especially one toward the end) prove that this is not your typical zombie story, showing an attention to character and emotion that most films in this genre sorely lack.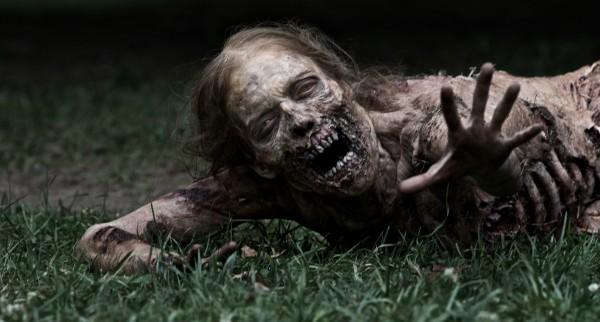 Just because there's an attention to character that doesn't mean that there's no gore. There's an especially gory scene toward the end that had me wondering how the filmmakers got it past the censors. But I'm glad they did because it highlights just how screwed up this new world Rick is lost in really is. Sunday night, if you're a fan of THE WALKING DEAD, you are going to be one happy ghoul. Frank Darabont and his crew have done the amazing comic book series justice and even made some tweaks to possibly make the story better. I can't wait to see the rest of this series. Finally, a high-scale TV series gore hounds and zombie heads can get behind.
---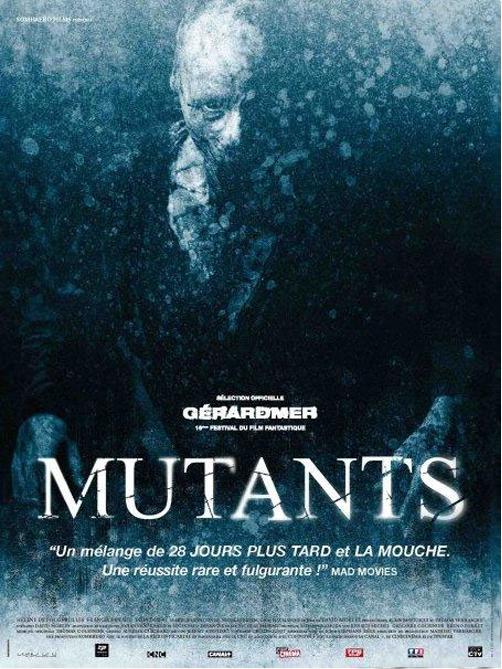 MUTANTS (2009)
Director: David Morlet Writer: Louis Paul Desanges & David Morlet Starring: Helene de Fougerolles & Francis Renaud Review By Ambush Bug
Too many zombie flicks start off with the initial outbreak. It's a story told over and over, where people are surprised the dead walk. Half the movie is chewed up establishing the stuff we already know: the zombie plague is passed through biting, best way to kill them is the headshot, blah, blah, blah…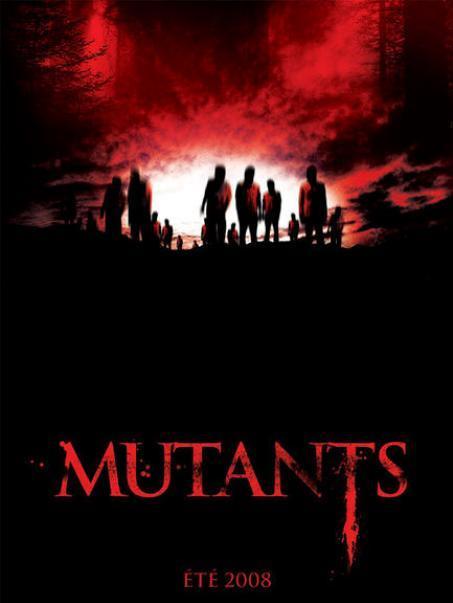 MUTANTS doesn't follow that well-tread path. At the beginning, there's a simple explanation concerning a virus. and then it moves on with a story of three survivors who seem to be well aware of the rules of how to survive a zombie apocalypse. Did the virus come from an asteroid? Monkeys? A school science project gone horribly, horribly wrong? Who knows? And who really cares? The best zombie films just happen without explanation. A surefire way for me to not be a fan (RETURN OF THE LIVING DEAD excluded) is to explain why the zombies are walking around and chomping brains.
To be precise, the creatures in this story are more "infected" than "zombies" although the virus kills the host then makes them run around in search for living flesh to gnaw on. I know to some there's no difference, but you'd be surprised at how true zombie-heads will flip their shit if you don't distinguish the two. As much as I have a fondness for the old school Romero-roaming zombies, the sprinting infected a la 28 DAYS LATER are pretty terrifying in their own right.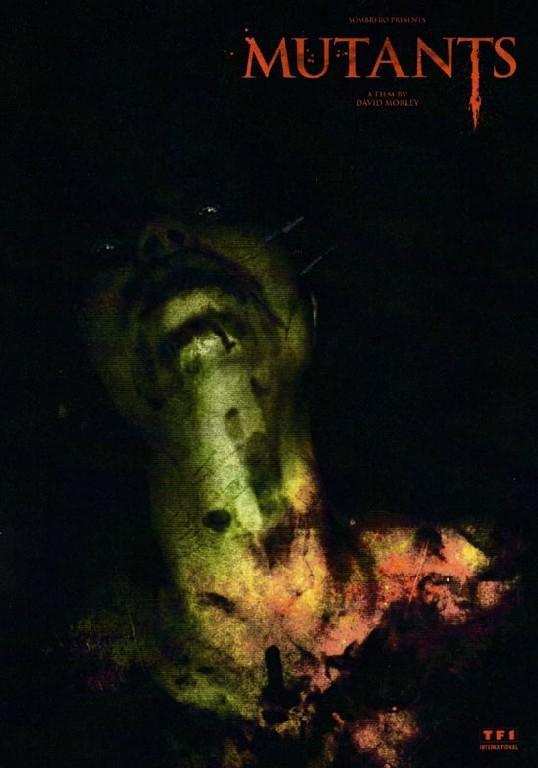 Speaking of 28 DAYS LATER, MUTANTS plays much more like a well-made sequel to that film, much more so than the larger-scoped 28 WEEKS LATER. While the sequel pulled back the camera to show more of a big picture of the outbreak, MUTANTS tells a much more intimate tale, even more intimate than the Danny Boyle classic. MUTANTS focuses on one couple fighting desperately to overcome the plague. It's a much more personal story. One (Marco, played by Francis Renaud) is infected; the other (Sonia played by Helene de Fougerolles) is apparently immune to the virus. Unlike most infected zombie films, the transformation is not immediate, which makes for a much more intimate and horrifying experience. Watching these two people who are very much in love try desperately to save their humanity proved to be tough to watch. Director David Morlet takes his time and really lets you get to know these two characters well. When Marco starts having fits of rage and chases Sonia through the hospital they've taken refuge in, the danger is twofold. First is the immediate danger, as Sonia is running for her life fleeing her blood soaked lover. Second, and more palpable, is the fear I experienced when the fit had subsided and Sonia opens herself up again to Marco. The strength of the two's relationship is more than this reviewer could handle, that's for sure, and while Marco's fate seems inevitable, I felt myself rooting for Sonia to find a cure and have the two spend a little more time together. The film crosses more into Cronenberg's THE FLY territory during this middle section as the patient turns on the one who has helped him through the whole film.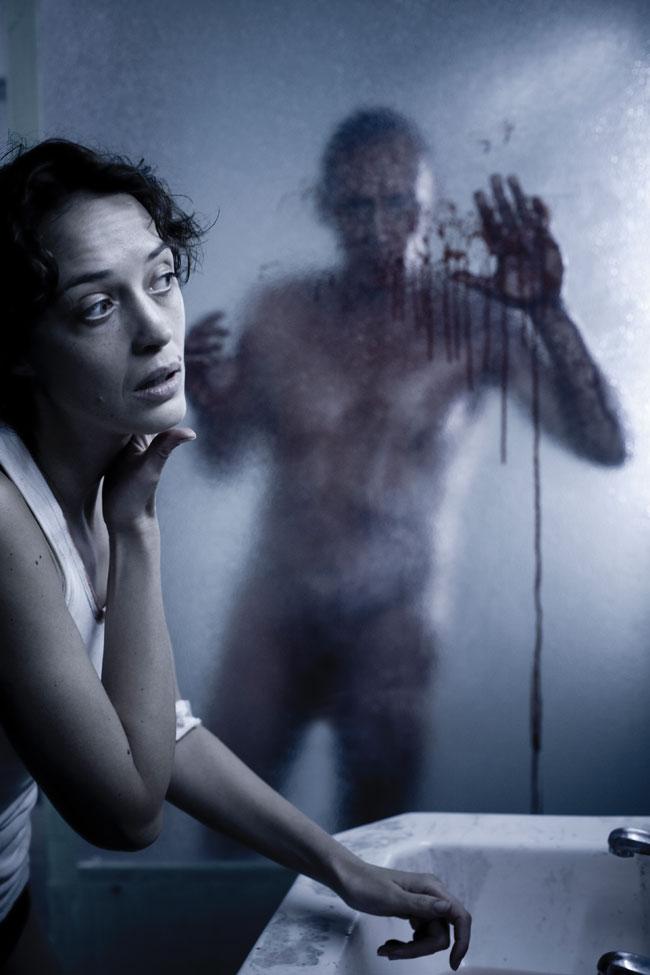 But fear not, the intimacy is soon shattered when a group of wandering nomads armed to the teeth break into the hospital. Of course, this being a zombie film, the true monsters are those left alive, surviving the zombie holocaust, but losing the humanity that made them alive in the first place. The final moments, though somewhat similar to the bone-chilling "In the House—In a Heartbeat" sequence from 28 DAYS LATER, is just as intense, with the library smoke bomb scene being the highlight scare scene in the whole film only comparable to the scene where the survivor with the machete cracks open a can of whupass on a slew of the infected.
I was really surprised by how good this film was. The acting is pretty fantastic and de Fougerolles is pretty easy on the eyes with that impish hotness French chicks often exude. The infected have a glazed donut look here with their features swollen, smoothed out and slick with blood, making them look more like walking open wounds--which would make sense since that's the way the virus spreads. For you folks like my inbred cousins who "don't like tuh read movies", I must warn you this is a French film and the subtitles I saw the film with were a bit off in the translation, but it didn't take away from the film as a whole. If you loved 28 DAYS LATER, you're most likely going to take a liking to this film. And for those who thought that zombie horror was overplayed, MUTANTS comes along and proves that there's life in the old sub-genre yet.
---
And finally, in the spirit of the season, I present, Donovan…
Happy Halloween, folks! See ya, next week!
Ambush Bug is Mark L. Miller, original @$$Hole / wordslinger / reviewer / co-editor of AICN Comics for over nine years. Support a Bug by checking out his comics (click on the titles for purchasing info)! MUSCLES & FIGHTS VOL.3 & MUSCLES & FRIGHTS VOL.1. VINCENT PRICE PRESENTS: THE TINGLER #1 and #2 (interview, interview, preview, & review) VINCENT PRICE PRESENTS #20 WITCHFINDER GENERAL (preview, review, in stores now!) NANNY & HANK miniseries #1, #2, #3, and #4 (interview, interview, interview, preview, & review, in stores October 2010! Check out the NANNY & HANK Facebook Page!) Zenescope's upcoming WONDERLAND ANNUAL 2010 (in stores in October!) THE DEATHSPORT GAMES miniseries #1, #2, #3, and #4 (in September Previews Order #SEP 100860, in stores in November 2010! Check out THE DEATHSPORT GAMES Facebook Page!)