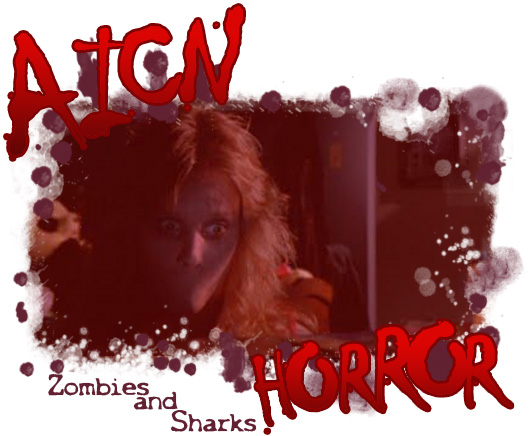 Logo by Kristian Horn
---
Greetings, all. Ambush Bug here with another AICN HORROR: ZOMBIES & SHARKS column. Why ZOMBIES & SHARKS? Well, those are the two things that I've had the most nightmares about. It's the reason I rarely swim in the ocean. It's the reason I have an escape plan from my apartment just in case of a zombie apocalypse. Now if you've ever had those fears or fears like them, inspired mainly by nights upon nights of watching films of the frightening kind, this is the place for you. So look for AICN HORROR: ZOMBIES & SHARKS every Friday for the foreseeable future, horror hounds, where we'll be covering horror in all forms: retro, indie, mainstream, old and new.
This week, we look at one of my favorite films of all time, MOTEL HELL. I'm sure I'm not the only one who has a soft spot in my black heart reserved for this movie. With a new comic book in stores now and a new film on the way soon, I figured this would be a perfect time to look at MOTEL HELL: Past, Present and Future! But first we have a couple of cool tidbits happening in the world of horror you should check out.


---

God I love Halloween. This weekend, the Horror Society and the Portage Theater, 4050 N. Milwaukee Ave. in Chicago, IL are hosting THE HORROR SOCIETY FILM FESTIVAL featuring, among others, the highly controversial A SERBIAN FILM, SLIME CITY, TERRORVISION, 25th Anniversary showing of DEMONS, and a premiere of the promising-looking SLICES OF LIFE with a Q&A with the cast and crew and much more. Film fests and awesome line ups like this are hard to find these days, so even if you have to travel, it's worth checking out. Buy tix here. I'll be there, will you?


---

Also this weekend is the world web premiere of THE DIABOLIKAL SUPER-KRIMINAL documentary along with screenings of the Italian dark comics from the 1960's such as DANGER: DIABOLIK! (1968), KRIMINAL (1966), SATANIK (1968), KILINK: STRIP & KILL (1967). The event is moderated by writer of the SADISTIK comic, Mort Todd. The screenings are today (October 22) and Sunday (October 24). Click here to view the films and find out more!


---

Last but certainly not least, next weekend The Colonial Radio Theater will be adapting my own direct comic book sequel to the cult classic film THE TINGLER on Saturday Oct. 30th at 5am & 5pm and Sunday Oct. 31st at 8pm Eastern, Sirius Channel 117 XM Channel 163. THE TINGLERS, which picks up right where the classic Vincent Price/William Castle film leaves off with Price's character Dr. Warren Chapin and his crew of scientists heading to Africa to seek out the origins of the beast which feeds on fear. You can pick up the comics here (#1) and here (#2) (you can see a preview by clicking the cover) and find out more about this podcast here.
And now, enjoy the down-home fritters!
Today on AICN HORROR (Click title to go directly to the feature) MOTEL HELL (1980) Retro-Review MOTEL HELL #1 Comic Book Review Q&@ with MOTEL HELL Remake director Steven C. Miller And finally…GRANNY!
---
MOTEL HELL: The Past
MOTEL HELL (1980)
Directed by Kevin Connor Starring: Rory Calhoun, Nancy Parsons, Nina Axelrod, Paul Linke, and Wolfman Jack! A Retro-Review By Ambush Bug
God, I love this movie. I mean, really love this movie. I remember as a kid, I would see the previews on Showtime and try my damnedest to stay up late to see it, but I would always fall asleep and miss it. When I did finally see the film, it blew my mind. This is one of those films where you ask your friends if they've seen it, praying the answer is no, so that you can sit and watch them experience it for the first time. MOTEL HELL is filled with so many cool ideas: the cannibal farmers, the human head garden, the hypnosis machine, the pig head chainsaw fight. This movie seems like a hodge-podge of good ideas from multiple movies all glommed into one. And the thing is, it works!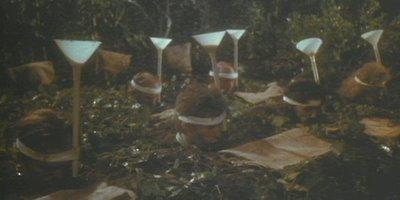 The best thing about MOTEL HELL is that it confidently knows that it is a horror film and never apologizes for it. Sure there are comedic elements to it, but most of the comedy in this film is of the blackest kind. The way Ida toys with the heads in the garden. The story Vincent tells at the picnic about grandma cooking and eating the dog. The confused S&M couple who finally realize that it isn't nitrous gas in the gas mask. These are dark, dark scenes, but at the same time, they make me laugh every time.
But I'm getting ahead of myself. I have to assume there are some of you who haven't seen this film. MOTEL HELL is the story of Vincent and Ida Smith, siblings who own the Motel Hello (the O in the sign is burnt out, you see) and Vincent has a side business selling smoked meats. His tag line, "All types of critters go into Farmer Vincent's Fritters!" has made the farmer a local hero. But right away, the movie lets us know that that friendly smile etched across Rory Calhoun's face hides the something quite sinister. Turns out the secret ingredient to Farmer Vincent's Spiced Meats is cattle of the two legged kind. Vincent and Ida keep a secret garden behind their hotel filled with people buried up to their necks. Their vocal chords are severed and they are fed a special vitamin concoction before they are processed and packaged in their barn for wholesale.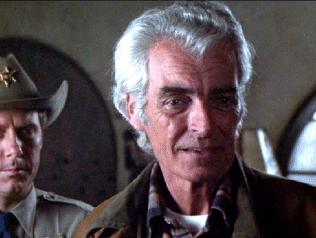 Incorporating elements of TEXAS CHAINSAW MASSACRE, PSYCHO and a ton of other horror films, MOTEL HELL is one of those hokey concepts that shouldn't have worked but it did. The main reason is due to the solid performances from Rory Calhoun and Nancy (PORKY'S) Parsons. Calhoun especially shows great acting range here, all at once giving off a Mr. Rogers vibe then switching on a dime to go completely Gary Busey on someone. There's a fantastic scene where two little girls have been scared after wandering too far into Vincent's barn. The girls run screaming out of the barn, past their parents, and straight to the backseat of their car. Vincent is the perfect salesman, never missing a beat in his pitch to sell a gift set of his famous smoked meats to the children's' parents, saying that he will take care of the kids then screaming as loud as he can in their faces to shut them up. This switch from gentle grandpa figure to menacing beast occurs in the blink of an eye, then Calhoun is again smiling at the frozen kids' parents as if nothing happened. Parsons herself gives a phenomenal performance as Ida, the childish kid sister of Vincent who doesn't want the careful balance of their twisted world disturbed and will kill to make sure it doesn't.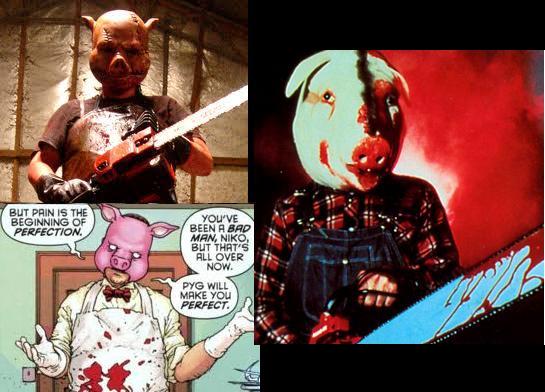 The iconic look of Vincent & Ida wearing the pig head is an image that one can't soon forget. Recently this look has been used in Grant Morrison's BATMAN & ROBIN comic as well as the torture porn THE BUTCHER (which I'll delve into in another column), but there's something about the fiendishly evil simplicity of a chainsaw wielding villain wearing a pig head that hits you on a guttural level. What's that head like on the inside? How do you see out of it? What's it smell like? God, just thinking of the answers makes me cringe a bit.
At its heart, MOTEL HELL is a romance, focusing on Vincent's advances toward a plucky blond victim. And though many dismiss this film as a goofy, gory yarn, the film does have an emotional core that is more complex than most horror films of its time. Ahead of the curve in terms of acting, dark comedy, heavy emotional themes, and especially scenes that touch one on a visceral level, MOTEL HELL is one of those classics that I can watch over and over. The chainsaw duel climax alone makes this one worth seeking out. Add that to the fact that it stars John "Cliff Claven" Ratzenberger and a guy who looks a lot like Jurgen Prochnow, but isn't. And then there's Wolfman Jack, playing an outspoken televangelist (oxymoron, I know), who lights up the screen for just a small time, but makes every moment he's in frame fun. There aren't too many films that equally disgust and entertain the way MOTEL HELL does. It isn't a mystery why it's a film that folks want to revisit and remake.
---
MOTEL HELL: The Present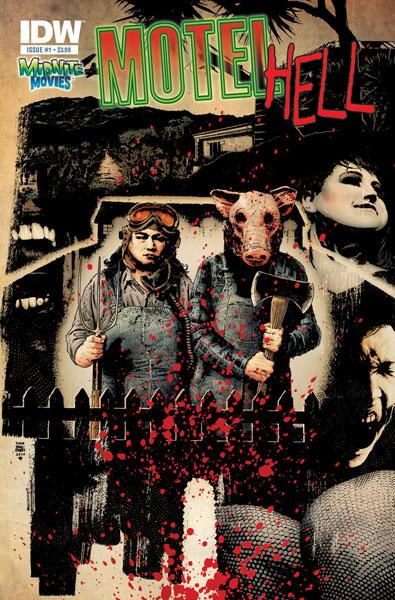 MOTEL HELL #1 Comic Book
Writer: Matt Nixon Art: Chris Moreno Publisher: IDW Publishing Reviewer: Ambush Bug
Imagine my surprise when I saw a MOTEL HELL comic book was coming out soon when I looked at the upcoming releases at my local comic shop. As shown above, I hold the 1984 film in high regard. It was officially on my radar. So as I was zombie-ing around the booths in the Artist's Alley at this year's New York Comic Con, my ears perked as I passed Chris Moreno's booth which sported a pic of a pig-headed chainsaw wielder in plaid. Upon further investigation, I found out Chris was the artist on the new MOTEL HELL comic. But he wasn't at the booth! I lingered for a bit, until finally, the guys next to Moreno's told me that he was signing copies of MOTEL HELL at the IDW booth. Well, I screamed "Thanks!" as I high-tailed it to the IDW booth for my copy of the book.
Moreno and writer Matt Nixon were at the booth. I chatted with both for a bit and we all geeked out about their chance to write a modern take on the cult horror classic. The two seemed to have a deep love of the film and I was looking forward to reading it when I got home from the con. Sure as shit, MOTEL HELL #1 was the first comic I read when I got back to my Bug Abode and it turns out it wasn't a bad read.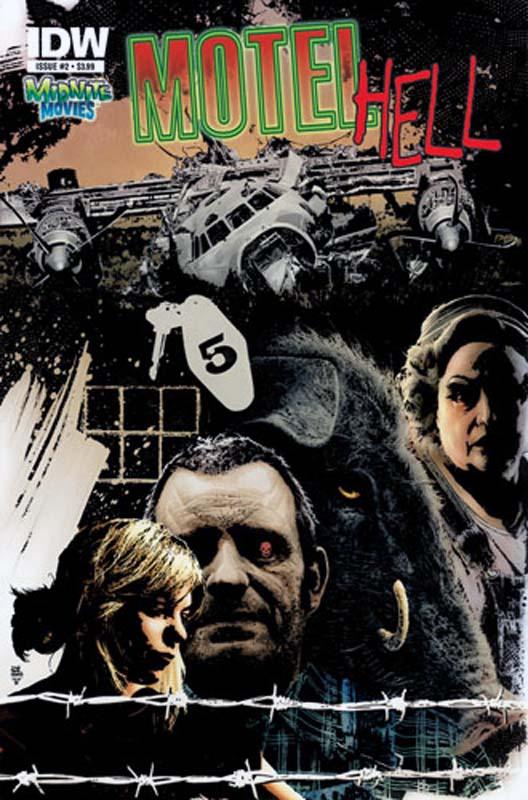 The basic premise of the story follows a group of people who receive an invitation to a spa and resort in wine country sent by Farmer Vincent Smith, the creator of a delectable wine that no one knows the secret ingredients of (you know where this is going, right?). Anyway, a group of pretty annoying folks are gathered together and we are introduced to Farmer Vincent and his portly sister Ida. Vincent has a cruel streak as exemplified in a scene straight from the film as Vincent scares the piss out of a pair of girls by screaming in their faces. The first issue ends ominously as our group of soon to be fritters spot the silhouette of a figure wearing a pig's head and carrying a chainsaw.
Though this comic didn't blow my socks off, it did have a lot of the elements that worked in the MOTEL HELL movie like the aforementioned scene where Vincent scares the children. The iconic look of Vincent in the final scenes of the original is utilized to full effect in this issue and there looks to be a promising set up for some of the other cool stuff from the film to make appearances in future issues of this four part series.
Some of the scene transitions are a bit jarring. Scenes change pretty quickly in this issue with not even a "Later" caption box to help set the timeline for the reader. The story is simple enough that I never lost my place in the story, but as one location changed to another, I found myself looking back to see if a page stuck together as I read through it a few times.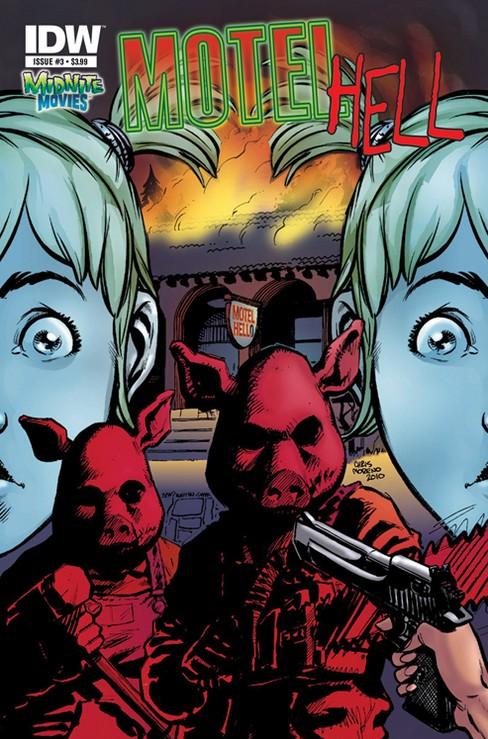 The characters are somewhat flimsy here, but hell, they were in the film, so I can't complain about that much. You end up kind of giving a shit about the reporter sent to investigate the secrets of Farmer Vincent's "special" wine, so the story does its job in establishing a protagonist to follow.
The amazing cover by Tim Bradstreet isn't really fair to interior artist Chris Moreno. Moreno's art is definitely good and creepy, but Bradstreet is a modern master of mood and dread. It made me long for a Bradstreet drawn series. But again, Moreno does a great job, especially in the creepy scenes toward the end as the danger looms closer in the shadowy form of a pig's head and a chainsaw.
Though not as good as the original, MOTEL HELL #1 from IDW does a good job of capturing a lot of the elements that made the original film unique while placating my hunger for more of the cult classic, at least until the new film can finally be made. The first issue is in stores now!
And speaking of the new film…
---
MOTEL HELL: The Future
Bug chats with Steven C. Miller, Director of the upcoming remake!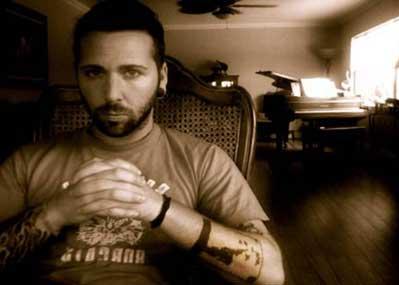 I had the pleasure of meeting Steven C. Miller at 2009's San Diego Comic Con when he sat in with a host of creative types who have made horror comics and film in a panel I cleverly called…HORROR COMICS & FILM. Steven also joined me and a new crop of horror masters in this year's San Diego Comic Con panel called HORROR FILMMAKERS DISCUSS THE ART OF FEAR. At the first con, Steven mentioned that he was set to direct the remake of MOTEL HELL. I had a chance to chat extensively about our mutual love for the movie and Steven promised to give me updates on the film as the production of it progressed. I didn't get to chat with Steven as much this year at the con, but when I saw that IDW was releasing a new MOTEL HELL comic, I emailed Steven and asked if he would talk about little bit about the future of MOTEL HELL and how the film was coming along. Here's what Steven had to say…
AMBUSH BUG (BUG): What first drew you to this project? Were you a fan of the original MOTEL HELL?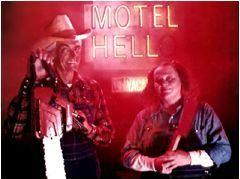 STEVEN C. MILLER (SCM):
MOTEL HELL has always been one of my favorite 80s horror flicks. It has such a great combination of camp and horror. Plus I felt it was a film that the main stream audience completely missed out on and deserved to be seen. This made it a perfect project for me to pursue.
BUG: Tell me a little bit about your background. What have you done prior to this film?
SCM:
My first feature was a small zombie film called AUTOMATON TRANSFUSION. I made it with some friends Mark Thalman and William Clevinger right out of film school. We shot the film in about 9 days with a 25k budget. Drove out to Hollywood and got lucky, we sold it to the Weinstein Company/Dimension Extreme. Recently I just finished directing a film called SCREAM OF THE BANSHEE for After Dark films which hits theaters in Jan 2011. Im also working a horror/comedy with Jamie Kennedy entitled GRANNY.
(Editor's note: See the short for GRANNY at the bottom of this column!)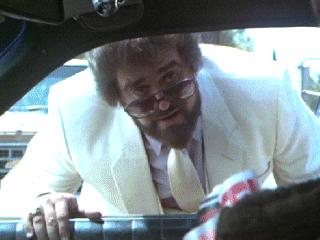 BUG: MOTEL HELL seems to be one of those films overflowing with weird and insane ideas. You have a pig-head wearing chainsaw wielding cannibal couple, a garden full of planted human crops, hypnosis machines, roadside death traps, S&M fetishes, and don't forget Wolfman Jack. What aspects of the original MOTEL HELL do you feel are necessary for a remake?
SCM:
In a weird way they are all necessary, just with a modern spin. You have cooler technology now to create some of these great toys in a much more elaborate fashion. On the flip side of that, technology also makes this are harder story to tell. I think all of these things are what make this challenging and ridiculously fun for a filmmaker like myself.
BUG: What do you think could be left on the cutting room floor?
SCM:
I would leave the preachy preachy stuff on the floor. Tired of seeing films that have backwoods people always using religion as reasons for murder.
BUG: What is going to be different about your MOTEL HELL compared to the original?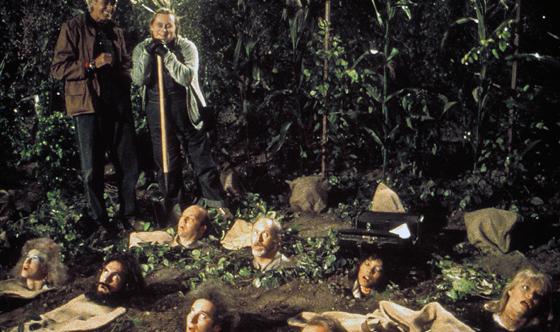 SCM:
In my version I would like to remove it as a small town business on a deserted highway. That itself feels way over played. I feel like Farmer Vincent is a household name. Maybe even has a wacky show on the food network. That's the approach I took when pitching my take on the film.
BUG: Every time I write them off, I remember that THE THING was a remake. PIRANHA 3-D was a fun remake. It is possible to make good and fun remakes even though a lot of them are shit. What are your thoughts on remakes in general?
SCM:
I think remakes are fun when they are re-imagined. I don't see the point in remaking something that is shot for shot with the exact same story. You have to put a different spin on it to really connect with today's audience. It's a really thin line and it has to be walked carefully. But at the end of the day, I think its very possible to make a great remake and I hope that's what we accomplish.
BUG: Do you have any dream casting choices for Farmer Vincent and Ida Smith?
SCM:
This one has to stay a secret for script reasons, but we have some great ideas.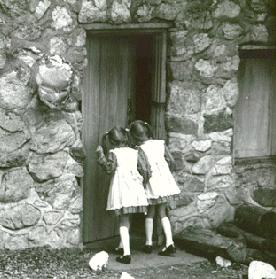 BUG: The first film mixed comedy and horror pretty masterfully. What's the tone going to be like with this version?
SCM:
The film is going to be more horror and scares than the original. I do love the campy nature of the classic and I think the new one will have some of that, but I also feel like there is a really terrifying story that needs to be told with some grittiness and brutality.
BUG: How far along are you with this project? Can you give us a guesstimation as to when the movie will hit theaters?
SCM:
We have a great script and Producer Craig Perry is hard at work, trying to get MGM to give us more info. Its really about what happens with MGM.
BUG: What other projects do you have going on at the moment?
SCM:
Working on a horror/comedy in the vein of DEAD ALIVE with Jamie Kennedy called 'GRANNY'. We have a script, but the problem was studio execs just did not get it. So we went out and created a short film/sales promo to show what I felt the tone of the film was going to be. Nothing crazy, just a 4 hour shoot with some friends and a few lights. Really more to show the style of the film than anything. Way over the top and fun.
(Editor's note: Again, see the short for GRANNY below!)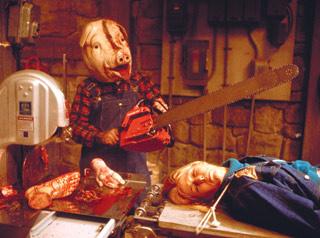 BUG: So what final comments do you have to say to the haters of remakes out there who will instantly log on below and start bitching about a MOTEL HELL remake?
SCM:
I would say watch the original and remember how much fun you had watching it. That's the feeling a new generation of horror kids deserve to have. And always remember-- It takes all kinds of critters to make Farmer Vincent fritters!
BUG: Thanks so much for answering these questions, Steven, and best of luck with the film. I can't wait to see it!
SCM:
No problem and thank you!
BUG: Well, hopefully the MGM stuff will work out so we can see Steven C. Miller's version of MOTEL HELL soon. Until then, we always have the original.
---
And finally, here's a special short by Steven C. Miller called GRANNY he made this year. It looks like twisted, bloody fun. See for yourself…
GRANNY from Steven C Miller on Vimeo.
See ya, next week, folks!
Ambush Bug is Mark L. Miller, original @$$Hole / wordslinger / reviewer / co-editor of AICN Comics for over nine years. Support a Bug by checking out his comics (click on the titles for purchasing info)! MUSCLES & FIGHTS VOL.3 & MUSCLES & FRIGHTS VOL.1. VINCENT PRICE PRESENTS: THE TINGLER #1 and #2 (interview, interview, preview, & review) VINCENT PRICE PRESENTS #20 WITCHFINDER GENERAL (preview, review, in stores now!) NANNY & HANK miniseries #1, #2, #3, and #4 (interview, interview, interview, preview, & review, in stores October 2010! Check out the NANNY & HANK Facebook Page!) Zenescope's upcoming WONDERLAND ANNUAL 2010 (in stores in October!) THE DEATHSPORT GAMES miniseries #1, #2, #3, and #4 (in September Previews Order #SEP 100860, in stores in November 2010! Check out THE DEATHSPORT GAMES Facebook Page!)