@@@@ What the #$%! is AICN COMICS: Q&@? @@@@
AICN COMICS: Q&@ is our new semi-weekly interview column where some of your favorite @$$Holes interview comic bookdom's biggest, brightest, newest, and oldest stars. Enjoy this latest in-depth interview filled with @$$y goodness and be sure to look for more AICN COMICS as we gaze into the future of comics every week with AICN COMICS: SPINNER RACK PREVIEWS every Monday and then join the rest of your favorite @$$Holes for their opinions on the weekly pull every Wednesday with AICN COMICS REVIEWS!
---
Q's by superhero!
@'s by TANK GIRL Artist Rufus Dayglo!
Hey out there in comic-land. It is I, superhero, here with an interview with the Tank Girl artist of the future...Rufus Dayglo! We all know that there've been lots of new Tank Girl happenings in the comic book landscape but I wanted to get a look inside the mind of the man behind the look of the new, and still awesome Tank Girl books. So I was able to get some e-mail time with Rufus and here's what he had to say!
SUPERHERO: How did you get into comics? Is this your first published work? How did you get approached to work on Tank Girl?
RUFUS DAYGLO (RD):
I was a professional animator/storyboard artist before doing comics, working on films, TV, and adverts. I'm responsible for destroying your children's teeth with cereal commercials.
I then worked for
2000 AD
, a British comic (Judge Dredd, etc.), before being asked by Ashley Wood to do work for IDW Comics.
Bizarrely, my connection with Tank Girl is via Ebay. Alan was selling chapters of his TG novel on Ebay, I bought one, we talked, I hooked him up with Ashley Wood, who then asked me to help, then I took over. So dream job for less than £5. Bargain.
SUPERHERO: What are some of your artistic influences? Where did you study…or are you self taught?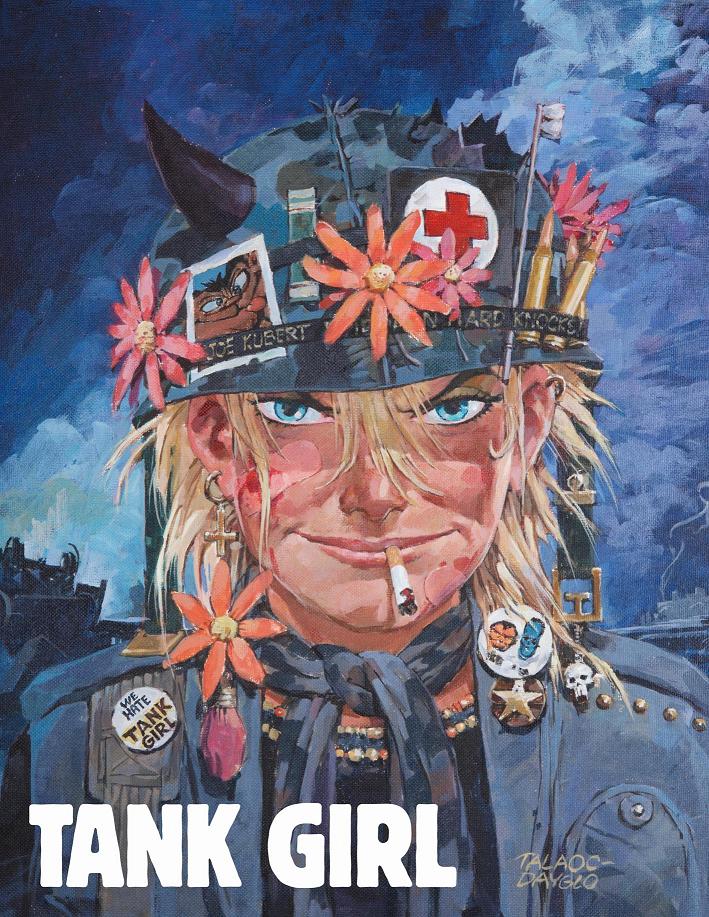 RD:
I didn't study anywhere, but I've drawn comic strips since I could hold a crayon. My Mum and Dad are both quite arty and supported me. As a teen I did my own fanzines with some friends.
Self taught but a lot of help from friends, Garry Leach, Ashley Wood, Simon Morse and others. Practice is the best schooling.
As for influences… Mad magazine, old war comics, Gundam toys, 2000AD, Star Wars figures, and the Ramones.
SUPERHERO: When you were asked to work on Tank Girl was there any directive to make your work look like Jamie Hewlett's? Your style is very much your own but there is an obvious similarity.
RD:
No…in fact Alan specifically didn't want it to look like Jamie's. I'm influenced by a lot of the same stuff as Jamie (Mort Drucker, Jack Davis, Ronald Searle, Brendan McCarthy, Mick McMahon) and of course I was a TG fan as well…I want it to look like TG…It always bums me out when a character changes just because someone wants to make their 'mark' on it.
My take on TG's not the same as Jamie's…as I'm not him…but I want the work to have a similar vibrancy…whether I'll ever achieve that is debatable…
SUPERHERO: Can you talk about your workflow at all? Are the Tank Girl pages you do just pencils or are you inking them as well? I ask because some of the pages look like rough line work…like pencil work. I was wondering if they are straight pencils or if there's another process you use to make them look that way.
RD:
The stuff I've done recently is just pencil…as I don't enjoy inking much...pencils are faster, and have more 'bounce'. I wish I could ink like Joe Kubert, or Guy Davis.
I've inked older stuff…and some of the covers are painted. But on the whole it's pencil and paper…pretty old fashioned!
SUPERHERO: What do you paint your covers with?
RD:
The painted covers were drawn in pencil, then I painted over them in black acrylic ink, so they're greyscale paintings...then I scan them, and colour in Photoshop!
SUPERHERO: Is there a lot of drinking involved to get a Tank Girl issue out? Just how smashed is Alan Martin when he's writing Tank Girl?
RD:
Erm…You'd have to ask Alan…but I think he only drinks petrol these days. He's a hard man. He killed a man once…but he prefers maiming them.
I've been known to drink and draw…it's still vaguely a democracy…alarmingly…it's hard to tell what I drew sober...now that's damning evidence…
SUPERHERO: How involved are you in the actual story development for Tank Girl? What about the coloring? Do you have any hand in that?
RD:
I work closely with the colourist…usually sitting on his head…like an annoying babbling hat.
Recently I've suggested some plot ideas, and Alan hasn't stabbed me. Sometimes I just make object/subject suggestions…ie…WW2, Western theme, or DeeDee Ramone. Alan's the writer… the fun is in collaboration!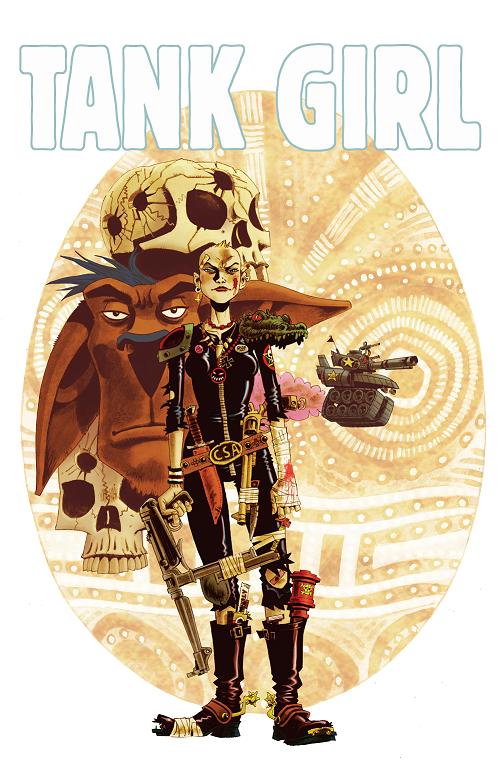 SUPERHERO: What are some the things that you are into right now? TV shows? Comics? Movies? Music? Do you listen to any music in particular when you work?
RD:
I love any Guy Davis comics…he's fucking amazing, and my friend Brendan McCarthy's doing comics again…he's fantastic.
I love old war movies…especially anything with panzers, and dying German soldiers.
I've just watched the boxset of 'Sons of Anarchy' so will be imminently joining a bike gang.
I listen to music non stop...The Fall, Ramones, Magnetic Fields, Violent Femmes, Morrissey, Butthole Surfers, Swell Maps, Jesus and Mary Chain…all sorts…
SUPERHERO: Do you have any projects outside of Tank Girl that we should know about?
RD:
I'm working pretty flat out on Tank Girl right now…(New series, work for Bizarre Magazine, designing the toy etc.)
I'm also helping design toys…so you'll see more stuff next year!
I am also working on a few ideas for stand alone projects/books/toys...I'll start releasing sketches later this year on my blog.
SUPERHERO: Is there anything else that you'd like the world to know about Rufus Dayglo other than that you are a kickass cartoonist?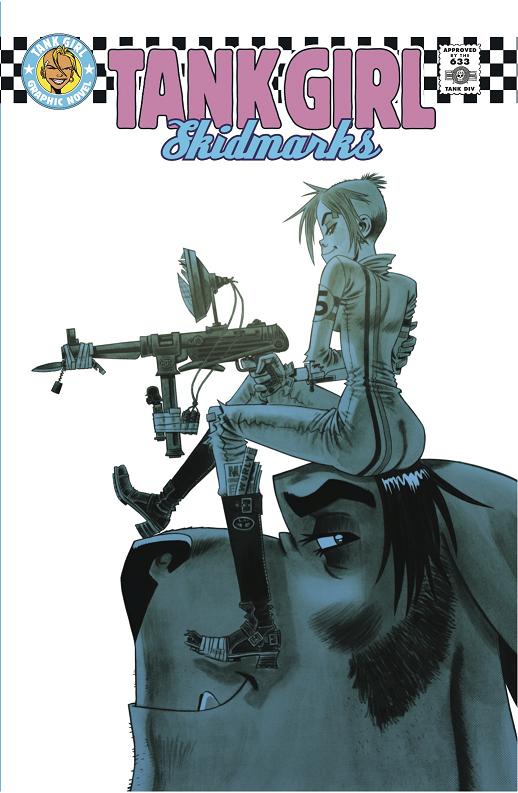 RD:
I love chocolate, and panzers, and Japanese robots…and girls who dress like Han Solo and sing like Lemmy.
So find me a chocolate flavoured Han Solo robot girl in a panzer tank who howls like Motorhead and I'll be your friend forever.
I also appreciate all the support we've had on our new Tank Girl stories. We really do pay attention and it is a labour of love.
I hope people will enjoy 'Tank Girl – Bad Wind Rising' our next series.
I'll be at NYCC…come say hello, get a sketch, and smuggle me in a beer.
SUPERHERO: Where will your booth be at NYCC?
RD:
I'll be kicking around a few places..Hopefully at the Image, IDW, Titan Books and 2000AD/Rebellion stands...I'll post times up on
our blog
and
Facebook
group as soon as possible! Come along and get a sketch!
SUPERHERO: What new Tank Girl material do you have coming out in the next several months?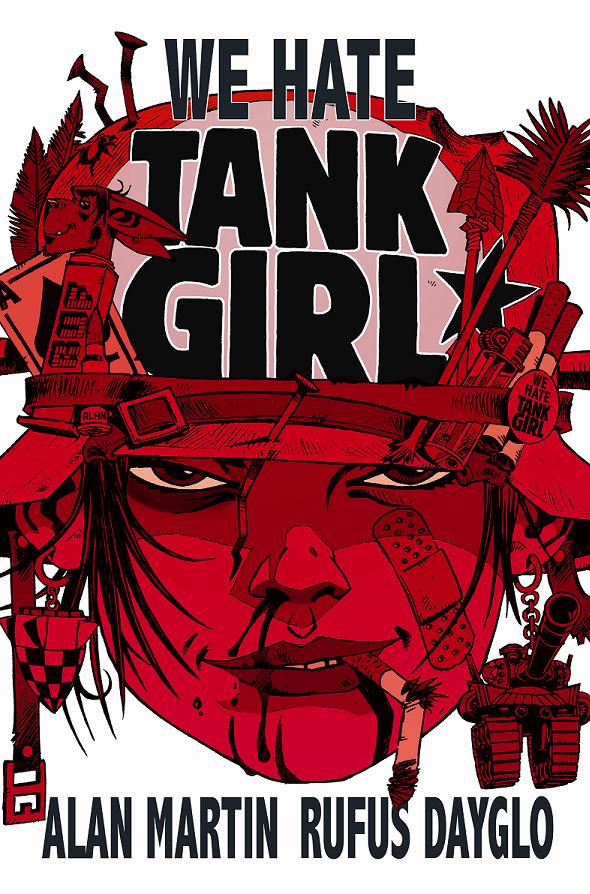 RD:
TANK GIRL - THE ROYAL ESCAPE is out as a TPB from
IDW Publishing
end of September.
TANK GIRL - BAD WIND RISING mini-series starts in November from
Titan Books
.
WE HATE TANK GIRL, 96 page TPB out Dec. 22 from
Image Comics
!
SUPERHERO: There ya have it! Straight from the twisted brain of one of the men behind the girl! Be sure to try and track down him down at the New York City Comic-Con! Alas, I will be in the NYC area that weekend but unable to attend the con. But you should go and when you do find Rufus Dayglo and get some of his great Tank Girls stuff!
Discovered as a babe in an abandoned comic book storage box and bitten by a radioactive comic fan when he was a teenager, superhero is actually not-so mild mannered sometime designer & cartoonist, Kristian Horn of Los Angeles, California. He's been an @$$hole for three years. Some of his work can be seen at www.kristianhorn.com and check out his blog at www.parttimefanboy.com.
---
Editing, compiling, imaging, coding, logos & cat-wrangling by Ambush Bug Proofs, co-edits & common sense provided by Sleazy G
---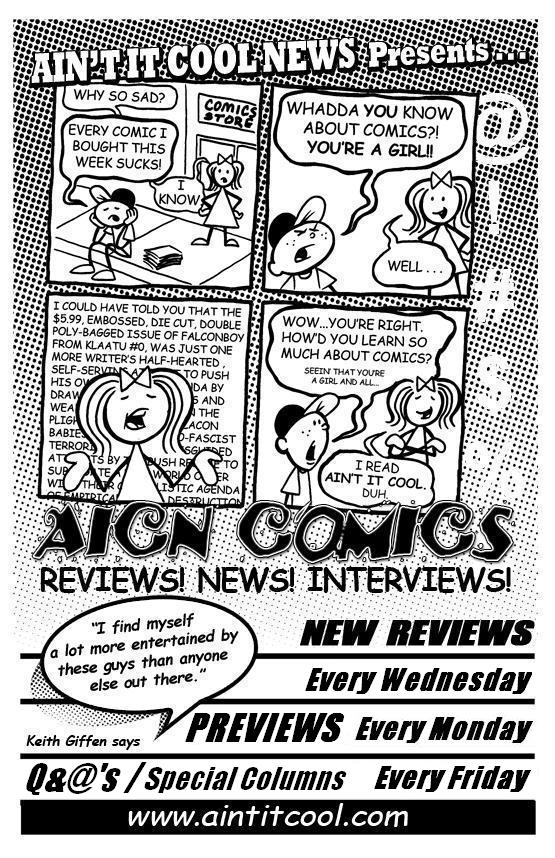 Ad by Prof. Challenger