@@@@ What the #$%! is AICN COMICS: Q&@? @@@@
AICN COMICS: Q&@ is our new semi-weekly interview column where some of your favorite @$$Holes interview comic bookdom's biggest, brightest, newest, and oldest stars. Enjoy this latest in-depth interview filled with @$$y goodness and be sure to look for more AICN COMICS as we gaze into the future of comics every week with AICN COMICS: SPINNER RACK PREVIEWS every Monday and then join the rest of your favorite @$$Holes for their opinions on the weekly pull every Wednesday with AICN COMICS REVIEWS!
---
Q's by Ambush Bug!
@'s by RETURN OF THE DAPPER MEN's Writer Jim McCann & Artist Janet Lee!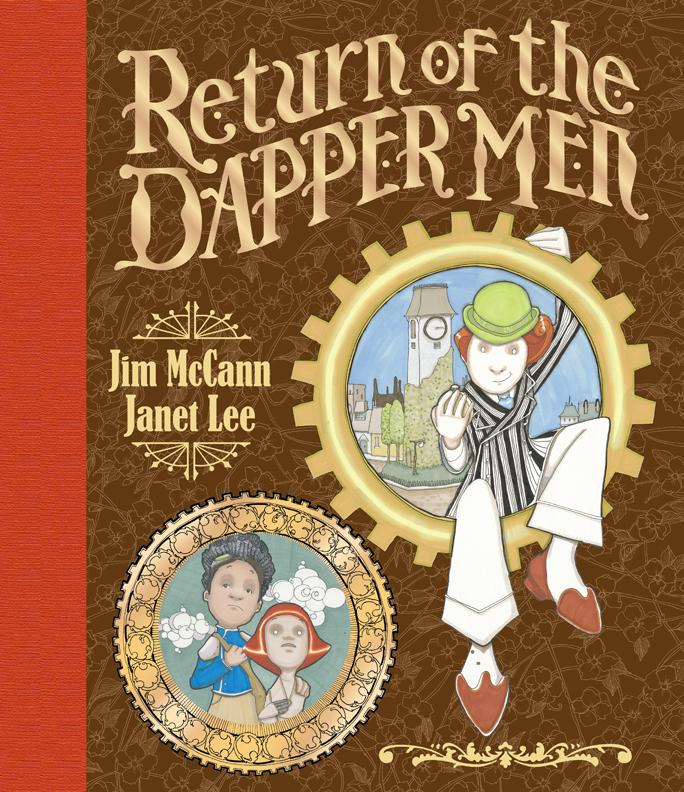 Hey all, it's Ambush Bug again with another special SDCC-related Q&@ (#13 out of 15 mighty interviews I took in and around SDCC this year). One of the coolest chaps I've had the pleasure of meeting during this stint here at AICN Comics is Jim McCann, who started out behind the scenes at Marvel and is now one of their top writers on HAWKEYE & MOCKINGBIRD. This interview originated at Chicago's C2E2 Comic Con from last spring. It was at that con that I saw preliminary pages and designs from Jim's new book RETURN OF THE DAPPER MEN. Anyone seeing Jim at one of these cons recently would notice that he was carrying around small planks of wood. Upon further inspection, these pieces of wood were actually pages to Jim's new book which is sure to be a classic and should be sought out by anyone with good taste and a special place in their heart dedicated to fairy tales. At SDCC, Jim had more pages to show me, and again we chatted about this new original graphic novel he had coming out from Archaia.
Well, with the release of the book on the horizon, I finally had a chance to talk with Jim and his uber-talented artist Janet Lee. So though this Q&@ didn't actually take place at this year's SDCC, the seeds for my excitement for this project were planted there. Here's what Jim and Janet had to say about RETURN OF THE DAPPER MEN, an original 128 page hardcover graphic novel masterpiece from Archaia coming to finer comic shops this November…
AMBUSH BUG (BUG): Congratulations on what looks to be an amazing book. Can you tell the AICN readers a little bit about RETURN OF THE DAPPER MEN?
JIM MCCANN (JM):
Thanks so much! RETURN OF THE DAPPER MEN is a classic fairy tale with some modern twists. It's equal parts Lewis Carroll and J.M. Barrie meets Tim Burton and Maurice Sendak. With a dash of steampunk for good measure. The artist, Janet Lee, and I set out to tell something inspired by our childhood and the stories that have been around for ages. I wanted something with universal themes, so I thought of this land, Anorev, a place where time has stopped and has stayed stopped for as long as anyone can remember. The only humans are children who have continued to play because there's no one to tell them to go to bed—there's no bedtime either because it's been 3:14 in the afternoon all this time. They've retreated underground to live among the gears that make up the world, living in the greatest treehouse pillowfort you could imagine.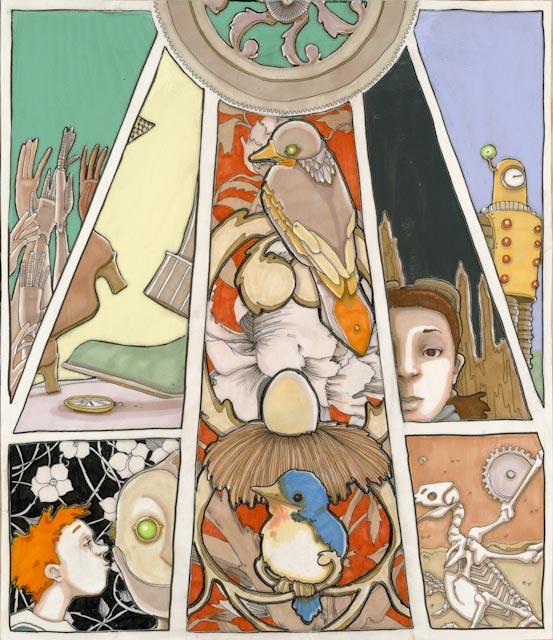 Above ground are robots who have taken up dwelling in houses and dressing as humans to become more like people. It's a stagnate land of no change and deep division where only one human boy- Ayden, the boy who still questions, and one robot girl- Zoe, the robot whom all others protect and believe to be special, are the only ones who interact. All of this changes, however, when 314 identical looking dapper men rain down from the sky, bringing time back with them. There is one among these Dapper Men who finds Ayden and Zoe and together the three of them set about changing the world, even if it scares and confuses everyone around them. They discover what it means to rediscover destiny, make choices, and move forward with time.
The universal themes of change and growing up, afraid of knowing what you must do and the sacrifices that come with it and the fear of not being sure of where you are in life are all central to this. It's a fairy tale for all ages, much like the classic ones are, so an adult can read it and get one message while kids can read it and experience something different, more on their level, like the anxiety that comes with sunsets and bedtimes and being told to put away your playthings for the night and if you'll be the same kid you were the day before when you wake up.
BUG: This is the first in what you're hoping to be a trilogy, is that correct?
JM:
That's the plan, yes. I've plotted out the themes of all three books and the last book in this trilogy introduces…well, let's just say that Janet & I have an entire universe we can play in that we've dreamed up. The wonderful thing about fairy tales is that you can end with "happily ever after" or you can go further down the rabbit hole and discover stranger new worlds and learn more about yourself.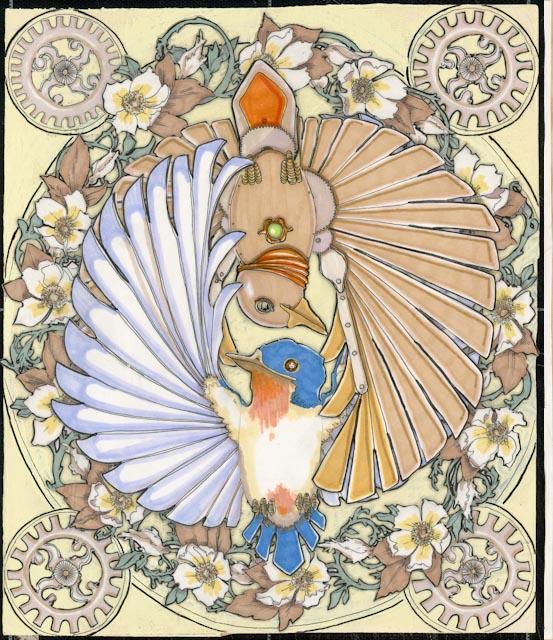 BUG: So has this been a story brewing in the back of your head for a while?
JM:
It's always been a dream to write a fairy tale, something that everyone could read and enjoy. But it wasn't until I saw three different pieces of art that Janet had done that the story gelled for me. Janet's a gallery artist with whom I've been friends for 15 years now. I visit Nashville, my hometown and where she still lives, and see her whenever I go back. In Christmas of 2008, I was at her house and among the pieces I saw were from three vastly different shows- one was a Christmas ornament of a steampunk boy, one a framed print of a robot girl floating alone in space, and the last was a six foot decoupage Magritte-inspired work of these sharp dressed men coming from the sky and landing in a very Victorian looking land. I couldn't get those images out of my head and about a month later, I wrote Janet an email with a paragraph of the opening narration and asked if she wanted to do a graphic novel. Fortunately for us all she said yes.
BUG: From the art I've seen, there are elements of fairy tale in this story. Can you tell me a little bit about your influences upon creating this story?
JM:
It's influenced by stories from Lewis Carroll, the Brothers Grimm, and J.M. Barrie, but also modern storytellers like Maurice Sendak and Shel Silverstein. I'm a big Joseph Campbell fan, so elements of The Hero's Journey are in there, as well as the thought of the World Machine, or Clockwork Universe Theory, where the world was created, wound up like a clock, and then we were left to our own devices to keep it going. In Anorev, they failed to do so, and that is where our fairy tale begins.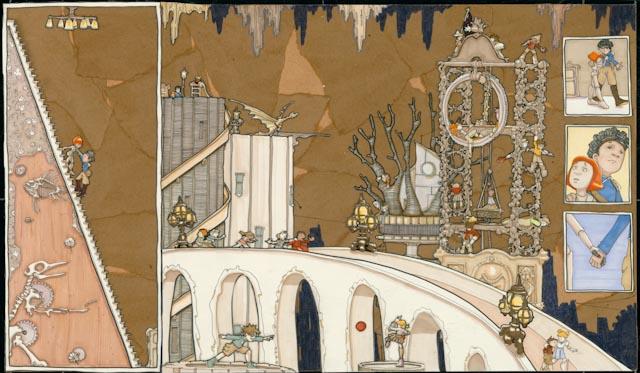 BUG: How did your work at Marvel prepare you for making comics on your own?
JM:
I learned over my six years there how comics are made, from storytelling to the production process to selling and marketing. Being in the room with some of the top writers and editors working in comics today was a huge asset and working in operations and sales helped prepare me for knowing what to do to get a creator-owned book going. I also had a lot of advice from people like Brian Bendis, Jonathan Hickman, Jeph Loeb, Brian Reed, Ed Brubaker, and so many more. They all gave me their individual advice based on their experience and also told me "Tell YOUR story, stretch your voice to write something you'd never be able to do with super heroes. " And so that's what I set out to do.
BUG: Was your intention upon getting the gig at Marvel to one day write comics?
JM:
My intention was always to work at Marvel, from the time I bought my first comic. My
dream
was to write for them, and Marvel was and has continued to be incredibly supportive of that and helped make that dream come true.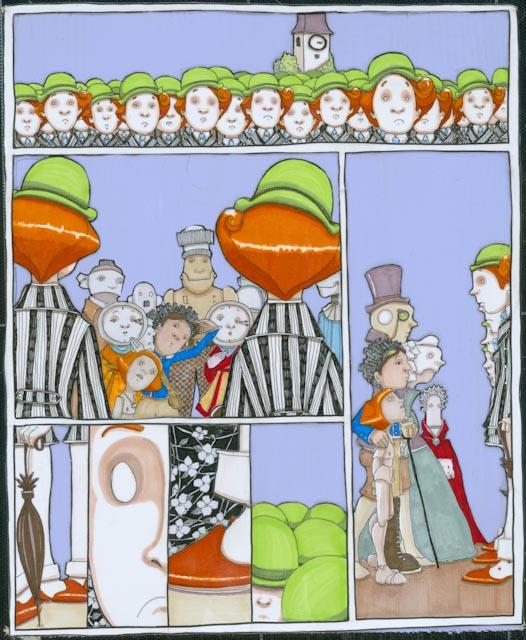 BUG: Archaia seems to be growing exponentially over the last year. What's it been like working with them?
JM:
They are definitely the company to watch, especially when it comes to original graphic novels. Their production quality is amazing and their catalog is possibly the most diverse out there. The roster of talent bringing creator owned work as well as their partnership with Henson makes me feel honored to be among that list. As a company, they are great. They're growing and willing to take risks on books like RETURN OF THE DAPPER MEN. They encourage people to bring their own unique talents to the table and are very open and welcoming to even the craziest of ideas like doing a fairy tale where the art is decoupaged on wood!
BUG: Janet, you have an amazing style like I've never seen before. Can you describe the painstaking process you go through to create these gorgeous pages?
JANET LEE (JL):
Thank you! I've been doing gallery art in decoupage for several years, and when we pitched RETURN OF THE DAPPER MEN to Archaia, that's the look they wanted for the book. Since I've never made sequential pages before, I just carried the gallery process through to DAPPER MEN.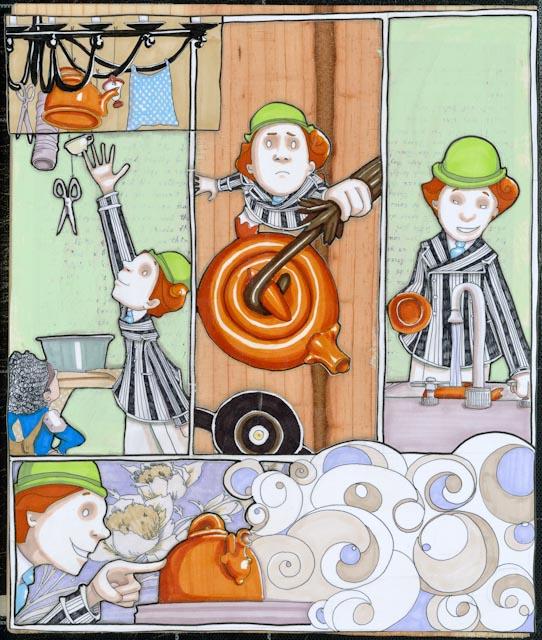 I think it all starts normally enough: I make a rough sketch of each page and send it to Jim for review. Once he gives it the OK, I'll ink it. I like to put the major, foreground elements on a heavy Bristol vellum, then I'll often draw a separate layer or two on lighter paper. After that I color the page with Prismacolor markers, and use scissors to cut out segments or elements of the page.
Because I construct the page in several layers, I like to use wood as a base. Because I like interesting texture, I like to use pine, knots and all. I'll layer on a background of art paper or paint, then I glue down the layers using a product called Mod Podge-- very popular in my 70's childhood.
After that, I'll often draw some additional elements in ink, and then, last step, I add a coat of varnish before taking the page to be scanned.
BUG: Janet, what's your artistic background in?
JL:
I'm actually completely self-taught. My degree is in British Literature. I think I got angry with my art teacher in the 8th grade when she picked another girl's landscape drawing over mine, and so I decided I was going to be a writer. THAT worked out really well for me, clearly. I honestly only started seriously pursuing art about seven years ago and started exhibiting oil paintings shortly after my son Ethan was born. As he got older and more mobile, I took a long look at my artistic medium and realized I was really more of an illustrator, that I enjoyed drawing more than painting, and I had this crazy idea to make decoupage art.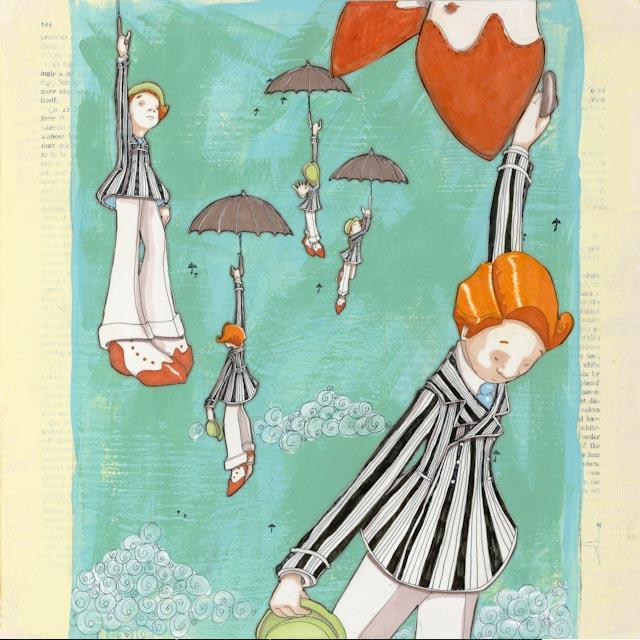 The decoupage was very well-received in Nashville. I picked up more and more gallery shows, started showing out of state, received positive reviews. And just as I was beginning to get inquiries from publishers about sending in my portfolio, Jim emailed me about DAPPER MEN.
BUG: So how do you both work together on this project? Jim, did you provide the script and have Janet go nuts with it for the visuals or was it more of a collaborative piece?
JL:
Jim gave me a wonderful script; it was probably more fully described than he might have provided to a more experienced artist, but was extremely helpful for me. And Jim gave me plenty of artistic pages where he let me interpret the script my own way. We talked a lot at first about the pages, to make sure I understood. But as I got more confident, Jim was wonderful about letting me make suggestions and changes. And on the flip side, I would draw something, and Jim would suddenly write an entire sequel based on it. The process, for me, seemed very equal, very collaborative.
BUG: Janet, will you be doing the sequels to DAPPER MEN?
JL:
Team Dapper, like Team Rocket, will stay together as long as there is a story to tell! This has been amazingly fun, and I'm excited to draw any script Jim wants to give me.
BUG: Jim, how are you squeezing your work on this project in with your work at Marvel?
JM:
It's been a fair balance for most of the process. These last few weeks, putting it all together and sending it to the printer, has of course meant it took up more time on a daily basis than when I was writing it and Janet was turning in pages, but that just meant less sleep for a while. There were times where I wished time COULD stop, but we've made it and it's been worth every moment!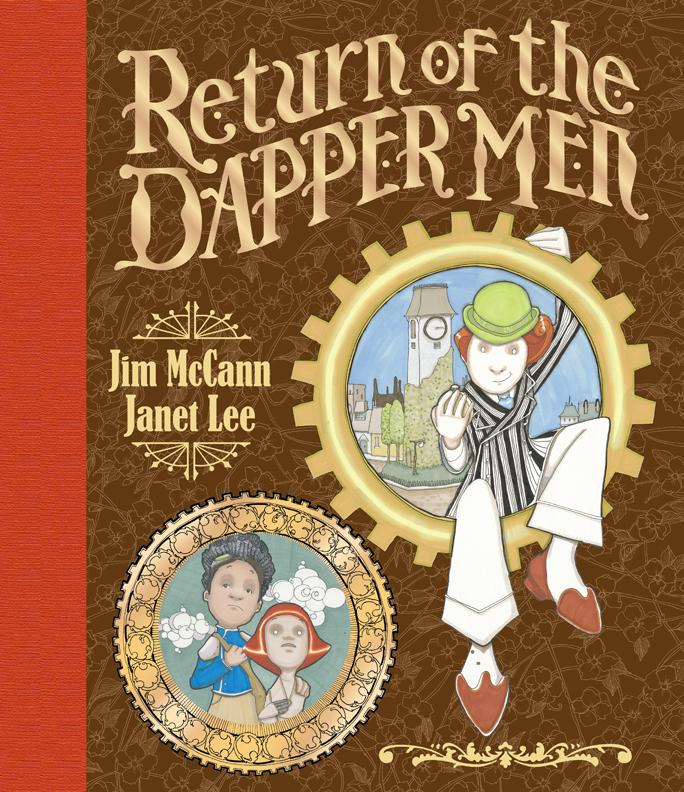 BUG: Last chance, why should every AICN reader order a copy of RETURN OF THE DAPPER MEN and when will it be released?
JM:
It's a story anyone can relate to, something you can enjoy and feel okay giving as a gift to anyone of any age to expose them to graphic novels, filled with wildly imaginative and gorgeous art by Janet, a fabulous introduction by Tim Gunn, a stunning gallery of pin-ups by some of the greatest comic book and graphic artists working today, all wrapped up in an awesome looking package. The book is like nothing you've seen before, I think. It's going to have a limited run available at New York Comic Con and then in stores everywhere in November. You can preorder copies now wherever books are sold. So, go! Make with the preorder and make the world a little more dapper!
BUG: Thanks, Jim and Janet for taking the time to talk with me and congrats on what looks to be a fantastic book. I can't wait to read it! Be sure to order your copy of this book now and look for it in stores in November from Archaia!
Ambush Bug is Mark L. Miller, original @$$Hole/wordslinger/reviewer/co-editor of AICN Comics for over nine years. Support a Bug by checking out his comics! MUSCLES & FIGHTS VOL.3 & MUSCLES & FRIGHTS VOL.1. VINCENT PRICE PRESENTS: THE TINGLER #1-2 (interview, interview, preview, & review) VINCENT PRICE PRESENTS #20 WITCHFINDER GENERAL (preview, review, in stores now!) NANNY & HANK miniseries (interview, interview, interview, preview, & review, still available to order in Previews Order #JUN10 0824, in stores Sept 2010!) Zenescope's upcoming WONDERLAND ANNUAL 2010 (in July Previews Order # JUL10 1200, in stores in September!) THE DEATHSPORT GAMES miniseries (in September Previews Order #SEP 100860, in stores in November 2010!)
---
---
Editing, compiling, imaging, coding, logos & cat-wrangling by Ambush Bug Proofs, co-edits & common sense provided by Sleazy G
---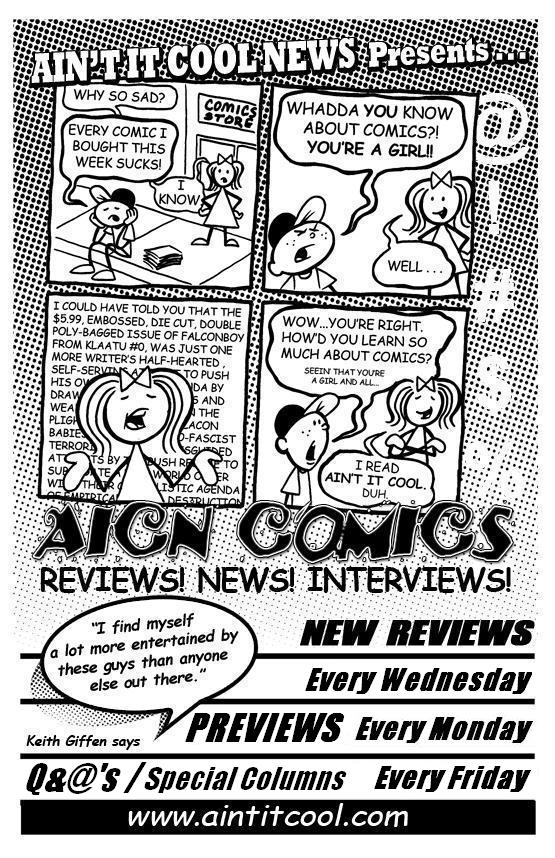 Ad by Prof. Challenger