@@@@ What the #$%! is AICN COMICS: Q&@? @@@@
AICN COMICS: Q&@ is our new semi-weekly interview column where some of your favorite @$$Holes interview comic bookdom's biggest, brightest, newest, and oldest stars. Enjoy this latest in-depth interview filled with @$$y goodness and be sure to look for more AICN COMICS as we gaze into the future of comics every week with AICN COMICS: SPINNER RACK PREVIEWS every Monday and then join the rest of your favorite @$$Holes for their opinions on the weekly pull every Wednesday with AICN COMICS REVIEWS!
---
Q's by Ambush Bug!
@'s by Writer Scott Snyder From AMERICAN VAMPIRE/DETECTIVE COMICS!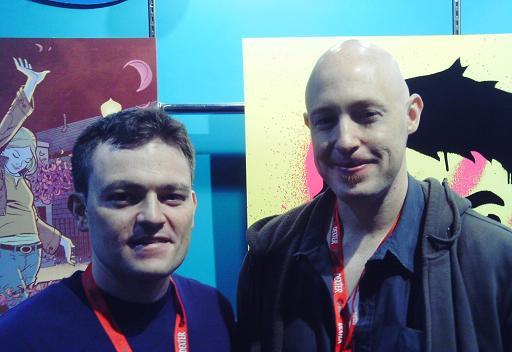 Hey folks, Ambush Bug here with another Q&@ from my time spent at the San Diego Comic Con. We're in the home stretch with interview twelfth of fifteen and I've saved the best ones for last. I had a chance to catch up with Scott Snyder, writer of one of the best things to come from DC Vertigo in a while, AMERICAN VAMPIRE. He also had just announced that he was going to be taking on DETECTIVE COMICS in November. Here's what Scott had to say about Batman, working with Stephen King, the TWILIGHT phenomenon and other stuff bat related…
AMBUSH BUG: I'm at the DC booth here in San Diego and in front of me I have Scott Snyder, the writer of a fantastic new Vertigo series AMERICAN VAMPIRE, and another project that was just announced here at the Con that we'll talk about in a second. Scott, hi, how are you doing today?
SCOTT SNYDER (SS):
Hey thanks a lot, I'm a big fan of Ain't It Cool.
BUG: Well, thanks. Let's start off with the big announcement that they just broke today. What was it?
SS:
I am going to be doing DETECTIVE COMICS starting in November. I'm over the moon about it. I'm terrified and very nervous and super excited and thrilled all at once.
BUG: It seems everyone wants to write a BATMAN story. What's it like for you to have this opportunity?
SS:
I feel like there's nowhere up for me in terms of my own personal fanboy-dom. If there is any character to work with who would it be for me and it's this exact story—this Batman story in DETECTIVE. I'm just so thrilled and honored to have a chance to do it. I mean, I've read BATMAN religiously since I was a little kid. So many of my favorite comics of all time are Batman stories. I know how high the bar is and I'm working really hard to deliver something really solid.
BUG: So what's the story going to be about?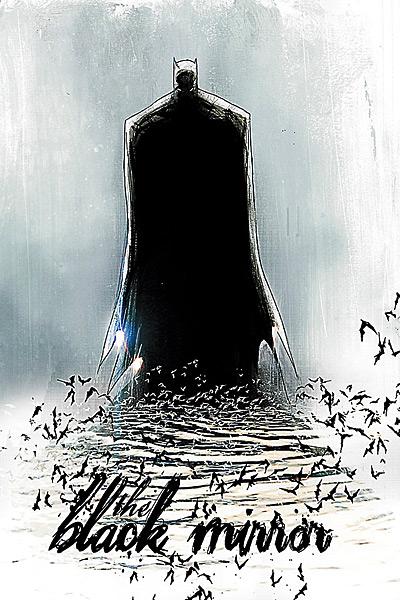 SS:
Yeah, well, I loved what Greg [Rucka] was doing with DETECTIVE, Batwoman and the Question, and I really like what he's doing with it now, but I want it to be back to basics and have it be anchored in Gotham. Batman solving mysteries as the greatest detective in the world. I wanted it to be street level crime, a couple new villains that are a little bit above the sidewalk level, but at the same time, it's going to focus on Batman solving crime in Gotham using new tech. It will be old fashioned in terms of its format, but high tech in terms of his gadgets for a new twist. And the backup is going to be a story about Commissioner Gordon and focus on a dark figure from his past coming back and causing a lot of problems with him. These two stories are going to bleed into each other. They're kind of simultaneously happening so you'll see Gordon walk off the pages of the feature and go right into the backup. I'm really excited about it. The mysteries at first are going to be in arcs, but there really is a cumulative storyline we're working on. They're going to build and build and it's going to be sort of one long story. I'm excited about the whole plan.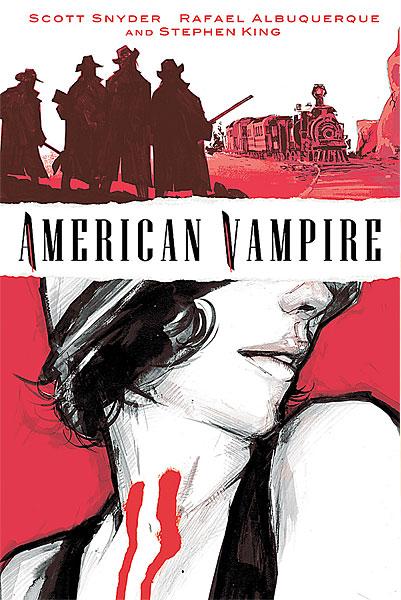 BUG: So you'll be on DETECTIVE for quite a while?
SS:
Yeah, twelve issues at least, I said. I have a lot of breathing room, so I'm really excited to be able to play around a bit.
BUG: Who's going to be the artist for this run?
SS:
We're just finalizing that now. I wish I could tell you about it. But I am extremely excited about the people we are discussing on working with for DETECTIVE. Hopefully, by the end of today we'll have something locked down.
Editor's Note: Since the interview it has been announced that uber-artist Jock will be doing the art for the main story while Francesco Francavilla will be handling the Commissioner Gordon backup.)
BUG: So I guess the big question is—is this going to be Dick or Bruce in your story?
SS:
It's getting hard for me saying Batman all the time and not saying Dick or Bruce. I can't say. I wish I could. I promise if I could I'd tell you in a second. I have to use the Batman pronoun for a while.
BUG: So some kind of Batman will be showing up…
SS:
Some kind of Batman. With all of the new developments with Grant's major arc and BATMAN INC. and all that, if you're a good detective you can probably piece it together as to which Batman it's going to be.
Editor's Note: Since the interview, DC has announced that it's going to be Dick Grayson in this story.
BUG: Let's switch gears to AMERICAN VAMPIRE. Congratulations on the success of this series. Can you tell people who may not have picked it up yet a little bit about it?
SS:
Yeah, sure. Thank you. It's been a big thrill getting it done. It's sort of a passion project for me. The series focuses on the concept that vampires—their bloodline, every time it hits someone new from somewhere new every once in a while it makes a new kind of vampire. There's an evolutionary jump. So there's this concept behind it that there's this secret genealogy—an evolutionary tree of vampires. Different species have appeared in different countries since pre-modern times. And specifically the series focuses on this new strain of vampire that forms in the American West. It's an American species that's stronger and kind of more badass than the vampires that have come before it. No sparkling. No twinkling. It's all big fangs and big claws and secret powers.
So that's the overview. We're just wrapping up the first cycle with issue five. We'll finish the cycle with Stephen King on the backup with Pearl and Skinner in the 1920's and the cycle we're about to start, which I am extremely excited about, is going to take place in Las Vegas in the 1930's. It'll be a murder mystery set in the town as it is just growing into the town we all now know it to be. It'll bring back all of the characters from cycle one in sort of surprising and fun ways.
BUG: What's it been like collaborating with Stephen King on this project?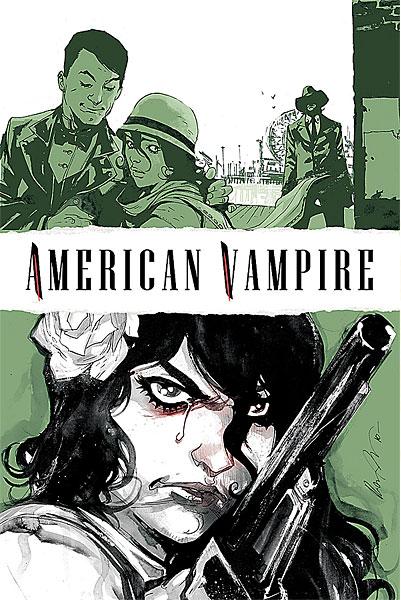 SS:
Oh my god. If only it wasn't dragging the sales of the book down. The guy's like an albatross around my neck. (laughs)
No, it's been one of the biggest thrills of my career. The thing about him is (and I could talk about him all day), but I only sent this concept to him for a blurb. I knew him from the literary world and I sent it to him to do a quote for it. And when he read it, he said, "You know I really like it. Maybe I'll write an issue some time." And I said, "If I tell them you'd like to write an issue, they're going to jump at it." And he's like, "Ahh, I don't know, I've never written a comic before." And I said, "No they'll jump at it. I promise." So he started just doing one issue that was pretty tightly outlined and by the end of that issue, which was really just the first issue as a backup, he took it and kept writing and kept writing and I kept getting these emails saying, "I want it to be a little longer." And "I want it a little longer." And pretty soon he's written these five issues of backups. It was inspiring to see how good they were, obviously. But it was even more inspiring to see someone as established as him, and you don't get more established than him, and seeing him work like a hungry young writer. We'd send back and forth these notes three times a day. And I'm really excited about the hardcover because we're going to include these notes and you can see his descriptions which are ten times as good as mine when it comes to atmosphere and detail. And he inhabits that world. It made me reach higher, not just because of his name, but to see another writer writing that hard on it. It was great.
BUG: So everywhere you turn you see vampire stuff, but your book seems to be standing out mostly due to the quality and the strong concept. What's it like trying to get a vampire story out there and noticed with al of the other vamp stuff out there?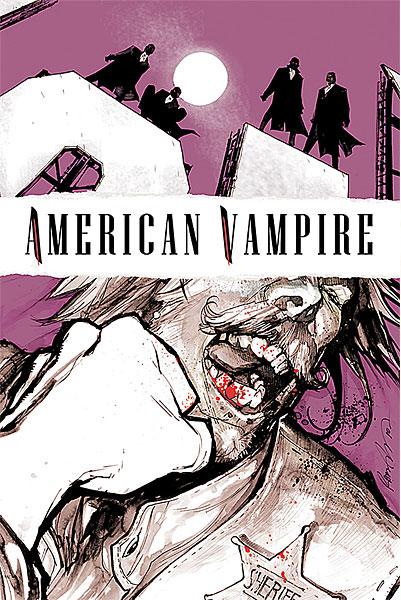 SS:
It's funny. I'm a huge fan of anything that takes vampires and does something new. A lot of people bash TWILIGHT and I tease about it, but vampires as Teen Beat/Tiger Beat boy band is a brand new idea and kudos to that. Same thing with TRUE BLOOD with vampires as sociological metaphors and things like that is a new idea. But for us, we really wanted vampires to be something that's scary and homegrown. Today, it seems like if vampires are scary at all it's because they are exotic and romantic and mysterious. When I was a kid, vampires are scary because your neighbors turned into monsters and wanted to kill you. Or it's your brother, like Ralphie Glick scratching at your window whispering, "Let me in, let me in." And so we wanted something that was frightening because of the familiarity of it, not because of the exotic nature of it. We really feel good about having something that's different. I really feel like, the more the merrier. I'm first in line, opening night to see DAYBREAKERS. I love seeing new vampire stuff. Obviously I'm the first to give credit to anything like that out there.
BUG: So tell me a little bit about the artist on the project, Rafael Albuquerque.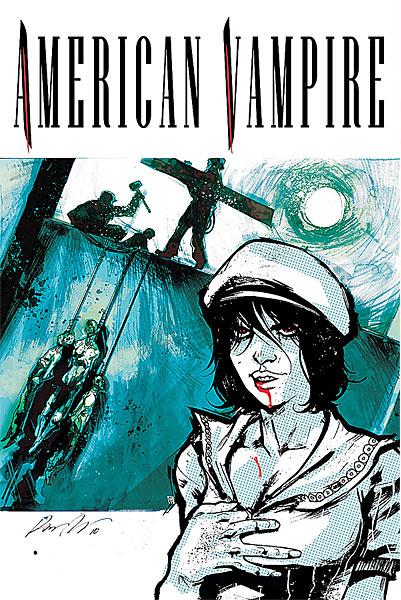 SS:
The funny thing is I just met Rafael for the first time here at the Con two days ago. And it's funny, I was really nervous. I felt like we'd been internet dating for like a year. We talk all day long with instant messages like school girls. Literally, we're on there like every day. We're like "What if this new vampire had green eyes?" "What if he had fangs like Nosferatu?" And it's been so much fun. But I was nervous meeting him for the first time. I was thinking to myself, "What if we don't get along in person?" But we've spent the whole con together. He's been such a huge creative force. If I could just clone him and use him on everything I would do I'd be happy. He's put so much into the series. I want to try to get him on as co-creator because he puts so much input in terms of—not just the artistic choices, which I give him a lot of room with the scripts, but he designed the whole idea of having two different styles of art. He comes up with a new style for each cycle. I'm so excited for people to see this new cycle in Las Vegas in the 30's. In the hardcover there's going to give a lot of development design where you can see how much work he puts into designing each character. I think it's just amazing.
BUG: So how long do you think AMERICAN VAMPIRE is going to last?
SS:
Well, I know the ending. I definitely do. But there's a lot of wiggle room in between. I kind of have this fantasy of it going 76 issues since it's about America. But there may be more, maybe less. We know where we're going, but there are a couple stops along the way where we can branch out. The next cycle really is about bringing back the characters and exploring them, but also exploring the mythology and showing you some species of vampire that came before that are surprising in certain ways. And exploring the idea that there's been a human group as well that's been trying to stamp out this bloodline since pre-modern times. They've been in existence in Europe and they come over here to America to stamp out the bloodline here. So we're starting to broaden the story with each cycle.
BUG: What type of research went into writing this series? It seems very authentic to the times you write about.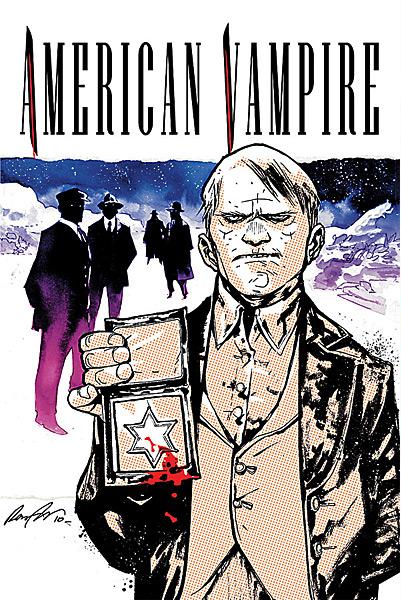 SS:
I did do a lot. I'm a big history nerd. The 30's one is a lot about the building of the Hoover Dam and Las Vegas and there's a lot of historical fact in it. We wanted these stories to be about American history in these decades. The American characters in the story are both very heroic and admirable some times and kind of monstrous sometimes. So we wanted the eras these are occurring in to be part of the story and not just window dressing.
BUG: So what else are you up to?
SS:
Right now, AMERICAN VAMPIRE and DETECTIVE COMICS is all I need. If I only do those two comics for the rest of my life, I'll be a happy camper. I'm working hard to keep the quality of AMERICAN VAMPIRE up there. We work way ahead, so we're up to issue 10 right now. It's going to be good. DETECTIVE the same thing. I've already finished the first script. I'm on to the second. That's all I need right now.
BUG: So how's the con been for you so far?
SS:
Oh, it's my first time San Diego. I've been to New York a number of times as a fan, but I never actually made it out here. It's definitely overwhelming. I think today, I'm going to try to make it off the little green island that is the DC booth and try to get out there and see some things. I'm about to venture out there to artists alley. I've been clinging to this area intimidated by it all.
BUG: It can be scary out there.
SS:
Yes, if I don't come back, this may be my last interview.
BUG: Well, I hope not.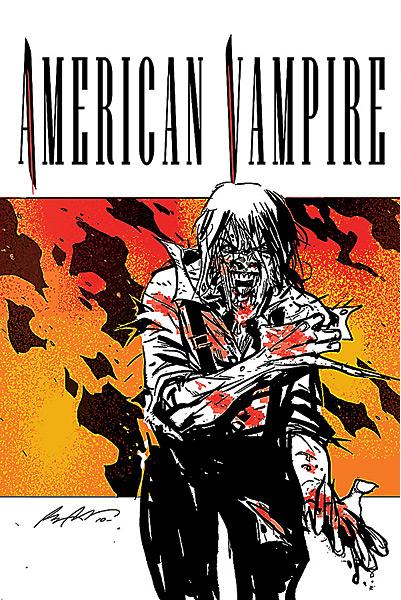 SS:
My one mission is to get a stuffed super hero doll for my son. He's three and a half and he already has a stuffed Batman that he sleeps with. He said he wanted a Flash, but he wanted him smiling because Batman looks kind of grim, so I had to cut the thread to make him look like he's smiling and now it looks kind of creepy, like he has this kind of demented smile.
BUG: A smirking Batman doll.
SS:
A smiling Flash is my quest this time.
BUG: Well, good luck. Thanks for taking the time to chat. I'm really excited to read the DETECTIVE stuff and keep on putting out AMERICAN VAMPIRE. It's a really cool series.
SS:
Thanks, man. I really appreciate Ain't It Cool. You guys have been so nice to us.
Ambush Bug is Mark L. Miller, original @$$Hole / wordslinger / reviewer / co-editor of AICN Comics for over nine years. Support a Bug by checking out his comics! MUSCLES & FIGHTS VOL.3 & MUSCLES & FRIGHTS VOL.1. VINCENT PRICE PRESENTS: THE TINGLER #1-2 (interview, interview, preview, & review) VINCENT PRICE PRESENTS #20 WITCHFINDER GENERAL (preview, review, in stores now!) NANNY & HANK miniseries (interview, interview, interview, preview, & review, still available to order in Previews Order #JUN10 0824, in stores Sept 2010!) Zenescope's upcoming WONDERLAND ANNUAL 2010 (in July Previews Order # JUL10 1200, in stores in September!) THE DEATHSPORT GAMES miniseries (in September Previews Order #SEP 100860, in stores in November 2010!)
---
---
Editing, compiling, imaging, coding, logos & cat-wrangling by Ambush Bug Proofs, co-edits & common sense provided by Sleazy G
---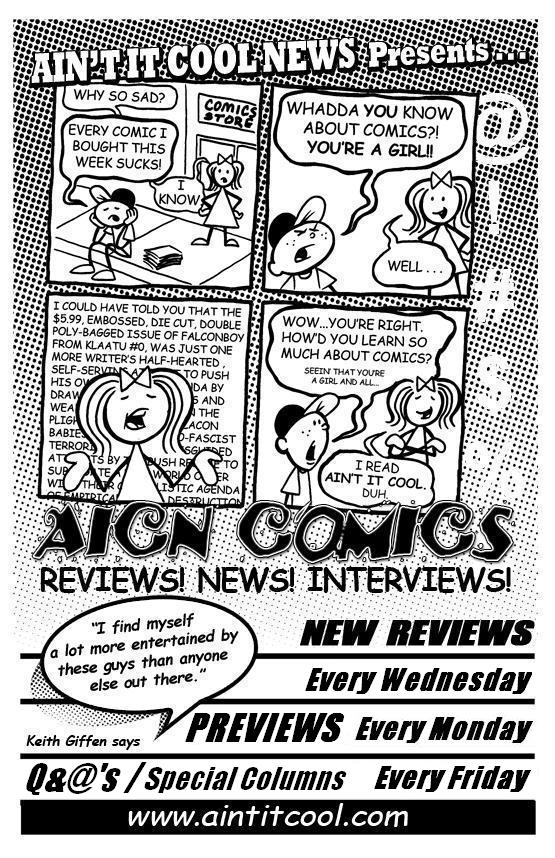 Ad by Prof. Challenger