@@@@ What the #$%! is AICN COMICS: Q&@? @@@@
AICN COMICS: Q&@ is our new semi-weekly interview column where some of your favorite @$$Holes interview comic bookdom's biggest, brightest, newest, and oldest stars. Enjoy this latest in-depth interview filled with @$$y goodness and be sure to look for more AICN COMICS as we gaze into the future of comics every week with AICN COMICS: SPINNER RACK PREVIEWS every Monday and then join the rest of your favorite @$$Holes for their opinions on the weekly pull every Wednesday with AICN COMICS REVIEWS!
---
Q's by Ambush Bug!
@'s by AXE-MAN OF NEW ORLEANS writer/artist Rick Geary!!!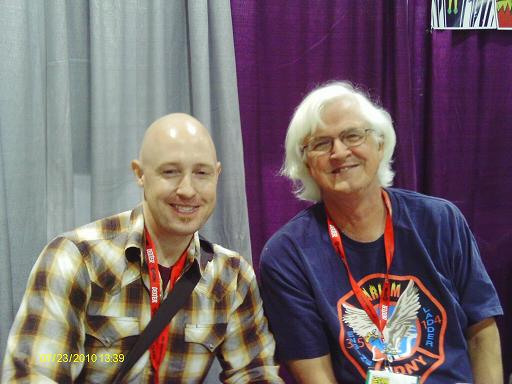 Hey folks, Ambush Bug here with yet another Q&@ from my time spent at the San Diego Comic Con. This is the eleventh of fifteen interviews taken at the con and probably one of my favorites because I got to sit down and chat with writer/artist Rick Geary and talk with him about his new book, THE TERRIBLE AXE-MAN OF NEW ORLEANS from NBM Comics Lit and his long career in comics. Mr. Geary was a fascinating man to talk to. Having read and reviewed a ton of his books (most recently AXE-MAN which can be found here), I was eager to talk with him and was glad he could take a few minutes away from his booth to talk with me. Check out the interview below and be sure to seek out all of his amazing books.
AMBUSH BUG (BUG): I'm here with Rick Geary. He's a personal hero of mine. I just wanted to let you know I loved THE TERRIBLE AXE MAN OF NEW ORLEANS. It really was a fantastic tale and you told it so beautifully.
RICK GEARY (RG):
Oh, thank you.
BUG: Can you tell the readers a little bit about the story?
RG:
Well it's the story of an unknown and mysterious murderer who operated just after the World War I era—1918-1919, and he chopped up twelve people total, six of whom died. And he was never found and it remains a mystery to this day. In fact there is speculation that it might have been more than one person--possibly a copycat sort of thing. His victims were primarily Italian grocers, which is an important aspect of this case. So these are the kind of subjects that I gravitate toward. The unknown mysteries. The unsolved crimes.
BUG: Yeah, that seems you've done a lot of them with THE LINDBERGH CHILD and FAMOUS PLAYERS. What is it about unsolved mysteries gravitates you toward them?
RG:
Well, I like questions more than answers is what it boils down to. I think it's important to gather as much information as possible and lay out the story as clearly as possible and maybe people can follow them and come up with their own solutions if they have such a desire. Or it can remain a mystery.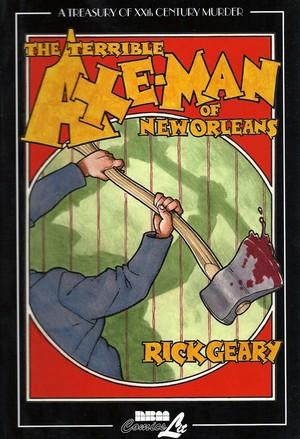 BUG: Yeah, you really do a good job of building it up to a point where you really do hope you solve the mystery because you do such a meticulous job of mapping the whole case out.
RG:
Well, I try to and unfortunately, some of these cases, people have been investigating them for decades and there are no answers yet.
BUG: When did you first start your interest in mysteries and real crime stories?
RG:
Well actually it dates back to the early seventies. I was living in Witchita, Kansas. I have this friend who was a former policeman and a former reporter and he had files on local unsolved crime going back decades. I had a lot of fun going through those and he also had a collection of mug shots. Just looking at the faces of these people was fantastic. It all kind of came together and mushroomed from there.
BUG: Do you have a case that you haven't been able to take on yet?
RG:
I have quite a few on my short list of things to do in the future. Actually, there's one from the 1920's—the Hall Mills Case, where a minister and a choir singer who were married to other people were both found murdered in the local Lover's Lane with their love letters strewn around. That was a big scandal in the 1920's . I'll be doing that one at some point.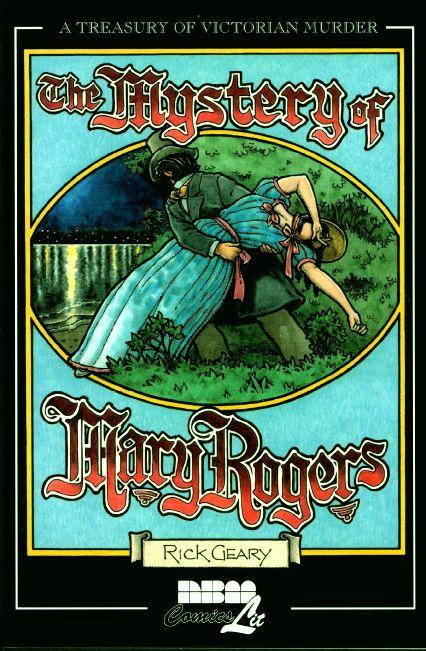 BUG: What's your favorite case that you've adapted so far? You've done so many…
RG:
That's hard. I gravitate towards the murder of Mary Rogers. That takes in a big swath of New York history, plus Edgar Allen Poe is connected to the story. So it has all of these ingredients that I really like.
BUG: Are you from New York?
RG:
Well, we lived in New York for several years. I really enjoy digging into the history wherever I live and New York is especially juicy.
BUG: Here at the booth, I'm eyeing your copies of THE BEAST OF CHICAGO and your JACK THE RIPPER books. I'm interested in seeing those two stories through your lens. Can you tell me a little about those books?
RG:
Well, Jack the Ripper is THE unsolved serial killer story of the nineteenth century and I tried to find out as much as I could about it. There's no end to the speculation to that one and that's the kind of things that people really like and I really like. THE BEAST OF CHICAGO is a whole different story. We know who this guy is and the book follows his whole career and life story from beginning to end.
BUG: You have a really unique artistic style. Can you tell me a little about how you developed it and how you started out?
RG:
Gosh, I've drawn pictures all my life. Like in the late seventies, when I started doing my own self published mini-books, I guess whatever style I have developed from that point. And those books excited the interest of the people of the NATIONAL LAMPOON and that's what started my career.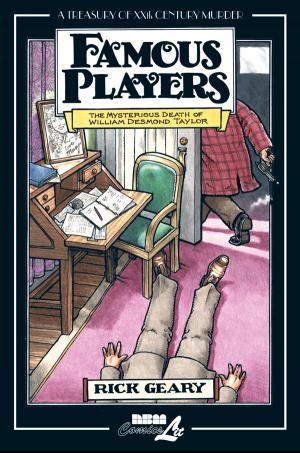 BUG: Your art seems sort of influenced by Edward Gorey. Was his work influential to you?
RG:
Oh, he was a big influence, I have to say. I saw some of his work in the early seventies and his work just blew me away. I discovered MAD MAGAZINE when I was a teenager and all of the artists in that book influenced me in a big way. Aside from that, you know, every artist I see is an influence.
BUG: How long does it usually take to make one of your books from start to finish?
RG:
A little more than a year. It takes a year to write the script and do the drawing. But before that I take about six months doing the research on the case.
BUG: Your books are so thoroughly researched. That's got to be a grueling process for you.
RG:
Actually that's the fun part. I love doing all of the reading and mapping out how the structure of the book is going to work. I usually allow about six months to do that.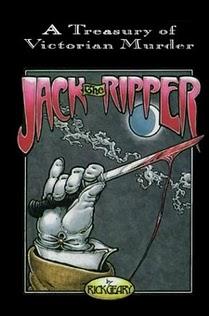 BUG: I comment in my reviews of your books about the tone of your stories. You tend to rely a lot on captions and narration. Is that a conscious choice?
RG:
Well, I try to be as authentic as possible and I only use dialog when the dialog can be authenticated. So I don't like to make up dialog for these non fiction stories.
BUG: Yeah, I think in AXE-MAN there's only one word balloon of dialog in the whole book.
RG:
I know.
BUG: There are folks who don't like that in modern comics, but in this type of story that is so based on fact, it seems to be extremely fitting and effective.
RG:
I love history and I love doing historical research and I love being accurate. Clarity and accuracy are my main goal in these stories.
BUG: Let's go back to AXE-MAN for a bit. What more can you tell folks about this book?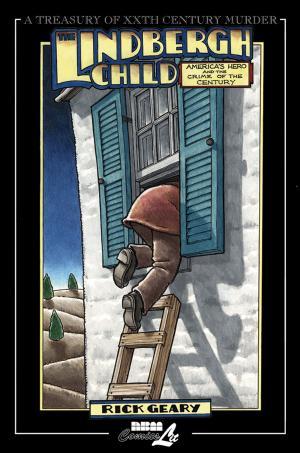 RG:
Well, for me it's kind of a gruesome story. There's a higher quotient of blood in this one. I kind of try to be restrained when it comes to the gory details. But with this, it's kind of hard to refrain. Some of the murder scenes were pretty graphic.
BUG: You paint a really chilling portrait of New Orleans. Did you go to New Orleans to research that?
RG:
I finally went to New Orleans as I was in the midst of drawing the pages. That really added to it. In fact I changed some of the buildings I had originally drawn once I went down there and kind of immersed myself into the culture of the city. I changes a few pages. But as far as the actual research of the story, I had that down before I went. It's a great city.
BUG: So what's it like at NBM Publishing? How did you come to this company?
RG:
Gosh, I'm trying to think. I had an agent back in those days and he hooked up with NBM and the first project I did for them was back in 1987. It was the first volume of TREASURY OF VICTORIAN MURDER and that has three separate cases in it. That was my first association with them and it sort of blossomed from there.
BUG: Well, I can't wait to read more mysteries from you. What's next after AXE-MAN?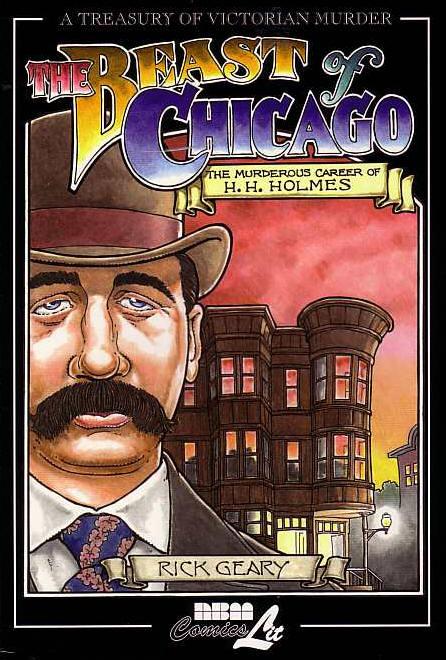 RG:
Well, I'm in the middle of working on the Sacco-Vanzetti Case. I don't know if you know about them but it was a big political cause in the 1920's. They were a pair of anarchists, Italian immigrants, and there was a lot of prejudice against them at the time. They were accused of robbery and murder in Massachusetts and they were kind of railroaded actually. It has a lot of twists and turns and there's still a lot of mystery behind it.
BUG: Have you had any reaction from classrooms regarding your books? It seems like this would be a great tool to use in learning about these cases.
RG:
Yeah, the publisher has got a lot of interest from high school and middle school libraries and that's where they've been pushing the books, more than the mainstream comic stores and book stores.
BUG: The visual storytelling here seems like it would be pretty popular with the high school kids.
RG:
The Junior Library Guild has selected my books for their annual list of Best Graphic Novels for the school libraries.
BUG: Wow, congratulations for that! Well, thank you so much for taking the time to talk. It really was an honor talking with you today.
RG:
Well, thank you.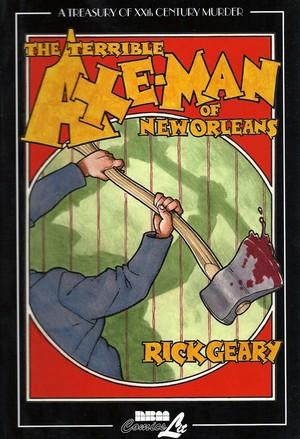 BUG: And best of luck with AXE-MAN, it's an amazing story. I loved every page of it.
RG:
Thanks so much.
BUG: Be sure to check out THE TERRIBLE AXE-MAN OF NEW ORLEANS, a truly amazing true crime graphic novel from NBM Comics Lit. You really can't go wrong with any of Mr. Geary's books, so once you read that one, check out his extensive library of murder mysteries. Be sure to check out the review below of Geary's latest book, THE TERRIBLE AXE-MAN OF NEW ORLEANS!
---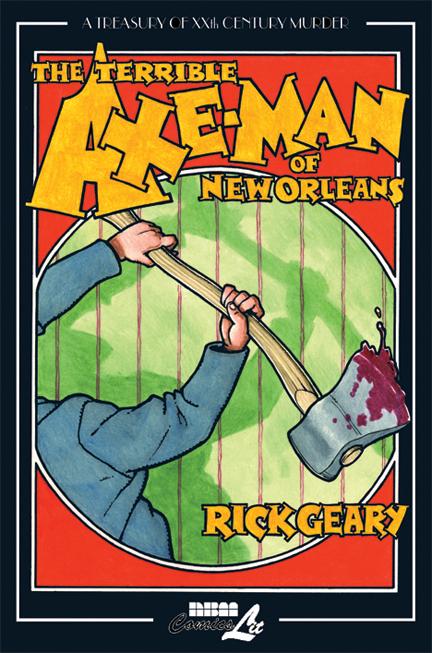 A TREASURY OF XXTH CENTURY MURDER: THE TERRIBLE AXE-MAN OF NEW ORLEANS HC OGN
I've been a huge Rick Geary fan since I read his LINDBERGH CHILD book which described in unflinching and heartbreaking detail the abduction of said child. Since then, I've tried to pick up everything Geary puts to page.
In 1918 through 1919 there was a series of murders in one of America's most mysterious towns, New Orleans. In the middle of the night, a man would chisel through a door of a house usually connected to a grocery, find an axe owned by the occupants of the house, and hack the occupants repeatedly and viciously in the head. The killer was never caught. The murders continue to be a mystery. It was a killing spree which frightened the entire town, usually known for joy and celebration.
Geary paints a amazingly vivid portrait of New Orleans at the turn of the century. He pulls the reader in with unblinking factoids about the town's rich history, and then dives right into the mystery of the Axe-Man. I've said this before in many of my reviews of Geary's work: Geary relies heavily on caption, which gives me the feeling of a documentary style narration. Scenes are played out, but there're very few word balloons. This may read to some as cold, but to me, the delivery makes the read all the more chilling. As I read, the voice narrating this book reminds me of the beginning of MAGNOLIA or the narration throughout THE ASSASSINATION OF JESSE JAMES BY THE COWARD ROBERT FORD. It was this inscrutable delivery that chilled me to the bone in as Geary describes step by step the Axe-Man's bloody rampage. By the time the Axe-Man sends a threatening letter Zodiac-style to the local newspaper describing himself as "a full demon from the hottest hell" my fingers clutched this book with all their might. Geary has mastered telling his stories in this documentarian manner, describing these mysteries as if reporting on them first hand. Geary's books are relentlessly researched and the proof shows that he is definitely in love with his work.
Geary's art is another plus for this book. Simple and stark lines and straightforward panels convey a tone of utter terror. The scenes of the killer in the shadows and the crime scene he leaves behind are absolutely bone chilling.
If you like a good mystery and want to check out a book that will make you have to stretch your fingers after reading because you're gripping the cover so hard and flipping through the pages at a lightning pace, you should do yourself a favor and check out THE TERRIBLE AXE-MAN OF NEW ORLEANS. This year, I've had the pleasure of reading JONAH HEX: NO WAY BACK, A GOD SOMEWHERE, and WEREWOLVES OF MONTPELLIER, three books that I rank as the absolute best of 2010. THE TERRIBLE AXE-MAN ranks right up there with these books as one of the best of the best. Check it out and soak in every page. If you don't find this to be one of the most chilling reads of the year, you're a stronger man than I.
Ambush Bug is Mark L. Miller, original @$$Hole / wordslinger / reviewer / co-editor of AICN Comics for over nine years. Support a Bug by checking out his comics! MUSCLES & FIGHTS VOL.3 & MUSCLES & FRIGHTS VOL.1. VINCENT PRICE PRESENTS: THE TINGLER #1-2 (interview, interview, preview, & review) VINCENT PRICE PRESENTS #20 WITCHFINDER GENERAL (preview, review, in stores now!) NANNY & HANK miniseries (interview, interview, interview, preview, & review, still available to order in Previews Order #JUN10 0824, in stores Sept 2010!) Zenescope's upcoming WONDERLAND ANNUAL 2010 (in July Previews Order # JUL10 1200, in stores in September!) THE DEATHSPORT GAMES miniseries (in September Previews Order #SEP 100860, in stores in November 2010!)
---
---
Editing, compiling, imaging, coding, logos & cat-wrangling by Ambush Bug Proofs, co-edits & common sense provided by Sleazy G
---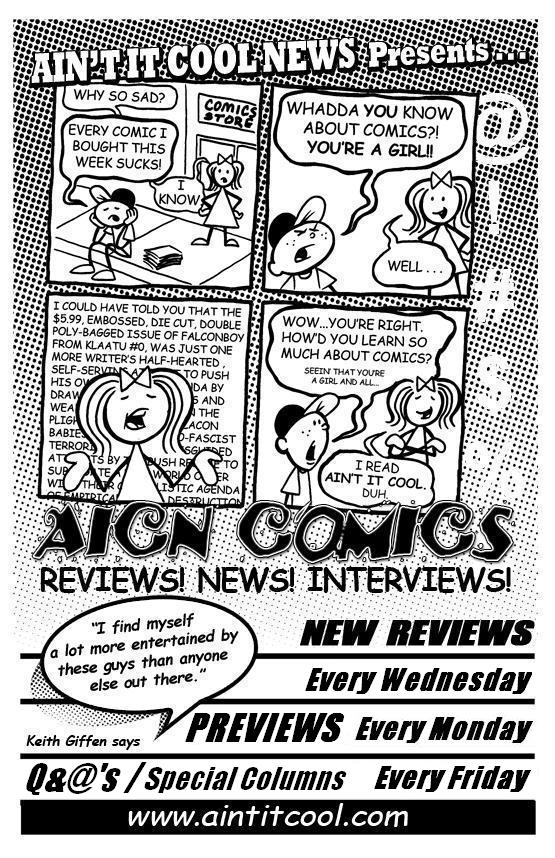 Ad by Prof. Challenger