@@@@ What the #$%! is AICN COMICS: Q&@? @@@@
AICN COMICS: Q&@ is our new semi-weekly interview column where some of your favorite @$$Holes interview comic bookdom's biggest, brightest, newest, and oldest stars. Enjoy this latest in-depth interview filled with @$$y goodness and be sure to look for more AICN COMICS as we gaze into the future of comics every week with AICN COMICS: SPINNER RACK PREVIEWS every Monday and then join the rest of your favorite @$$Holes for their opinions on the weekly pull every Wednesday with AICN COMICS REVIEWS!
---
Q's by Ambush Bug!
@'s by Archaia's AWAKENING's Writer Nick Tapalansky & Artist Alex Eckman-Lawn!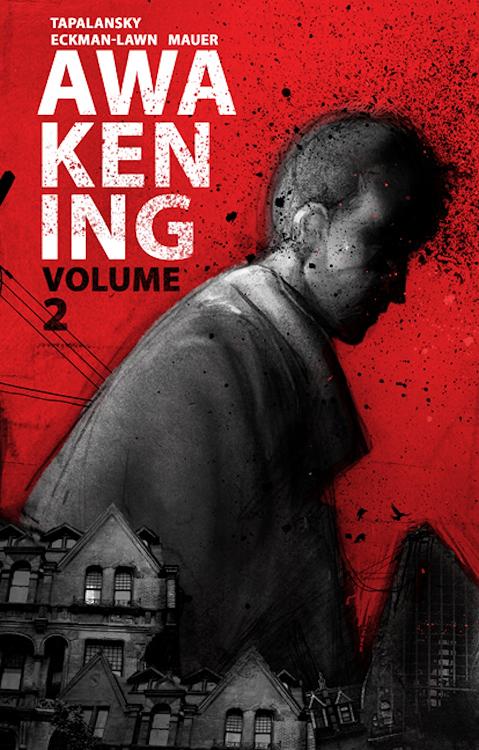 Hey folks, Ambush Bug here with the eighth of fifteen interviews I conducted at this year's San Diego Comic Con. We're over the half-way point of these interviews and the best is yet to come. In this installment, I had a chance to chat with Nick Tapalansky & Alex Eckman-Lawn the co-creators of Archaia's excellect graphic novel AWAKENING about Volume Two of their story. I found the original AWAKENING to be a smart, excellently paced thriller that kept you guessing until the last panel whether or not the book was a murder mystery or a zombie story. Anyone who read the original now knows that it was in fact an outbreak of zombies that is causing the ruckus. Let's see what Nick and Alex have in store for us with AWAKENING Vol.2…
AMBUSH BUG (BUG): Hey guys, good to see you.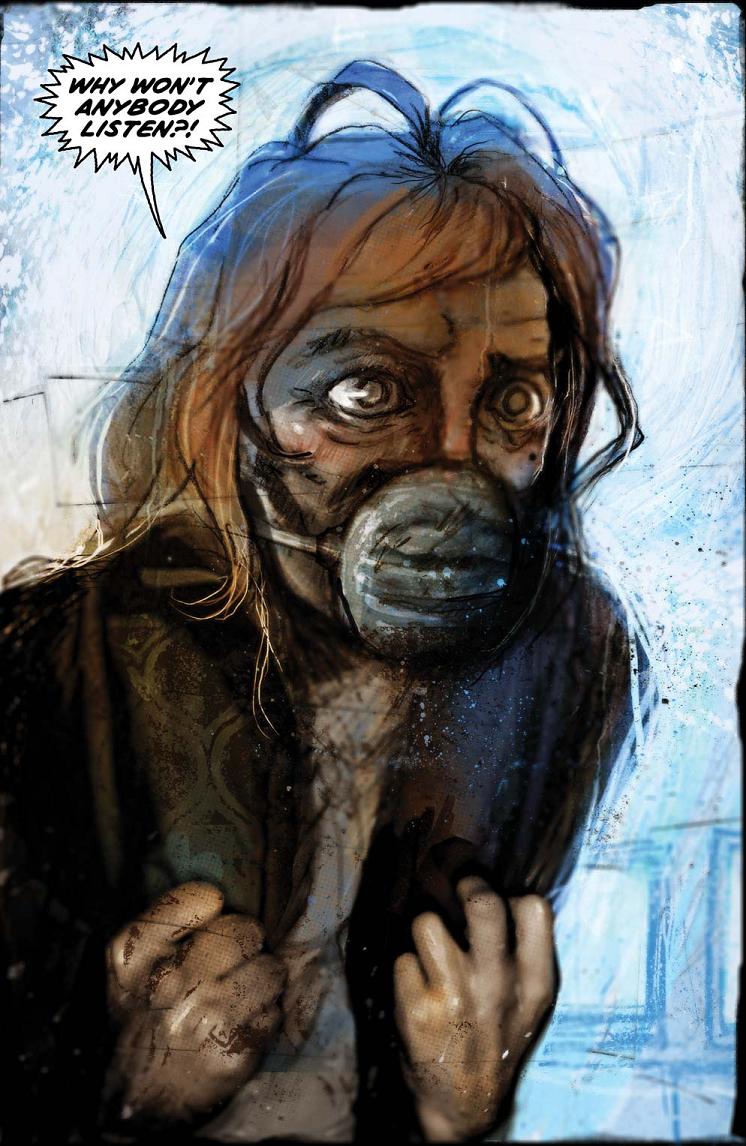 NICK TAPALANSKY (NT):
You too.
ALEX ECKMAN-LONG (AEL):
Yeah.
BUG: So you guys wrote AWAKENING and you have a sequel coming out in the fall, right?
NT:
Yeah, it's coming out in October. It's just listed in previews.
BUG: Great, can you tell me a little bit about that?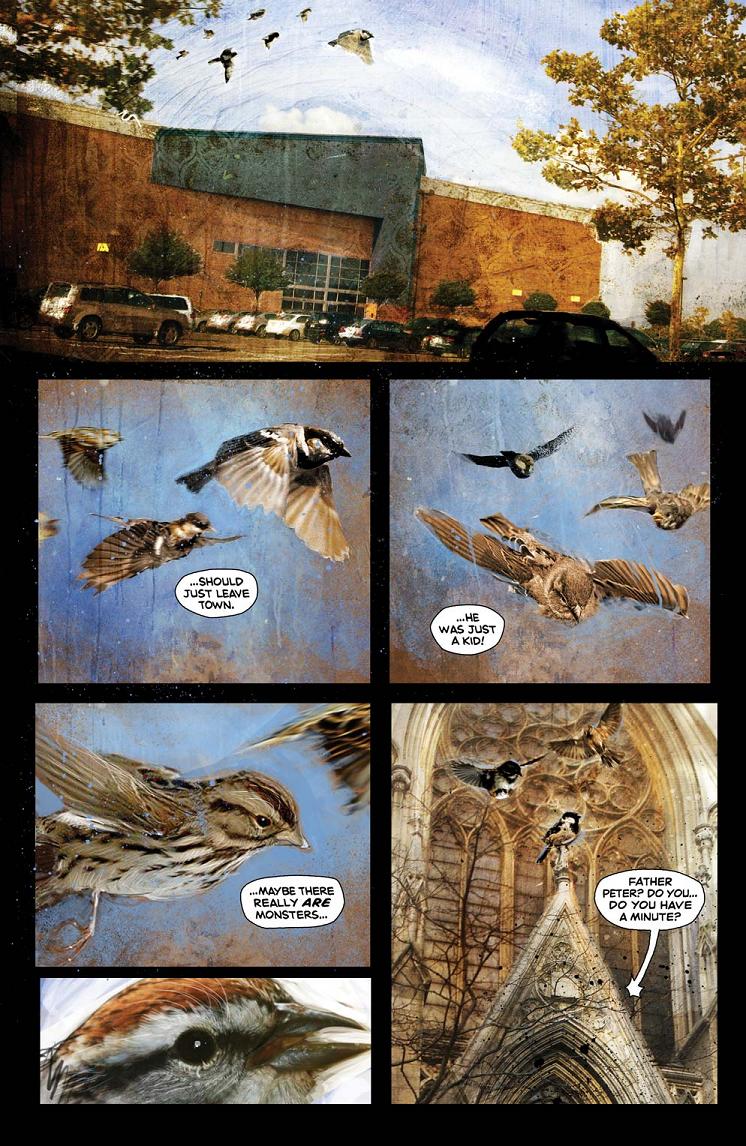 NT:
Yeah, you know, when you talk about the first volume, the way we pitched it was that it's a murder mystery that may or may not involve zombies. At this point, that may or may not be the worst kept secret in our comic…because there are zombies. And the pressure is starting to build in PARK FALLS. It's no longer about trying to find out what's happening. It's about trying to circumvent complete catastrophe.
BUG: That's one of the things that I really liked about the first book was that you weren't sure about the zombie outbreak…and it was more of a slow burn book. A lot of zombie books are in your face and all about zombies eating people and all of the money shots. Alex, was that a challenge for you to make a zombie book without all of the face chomping?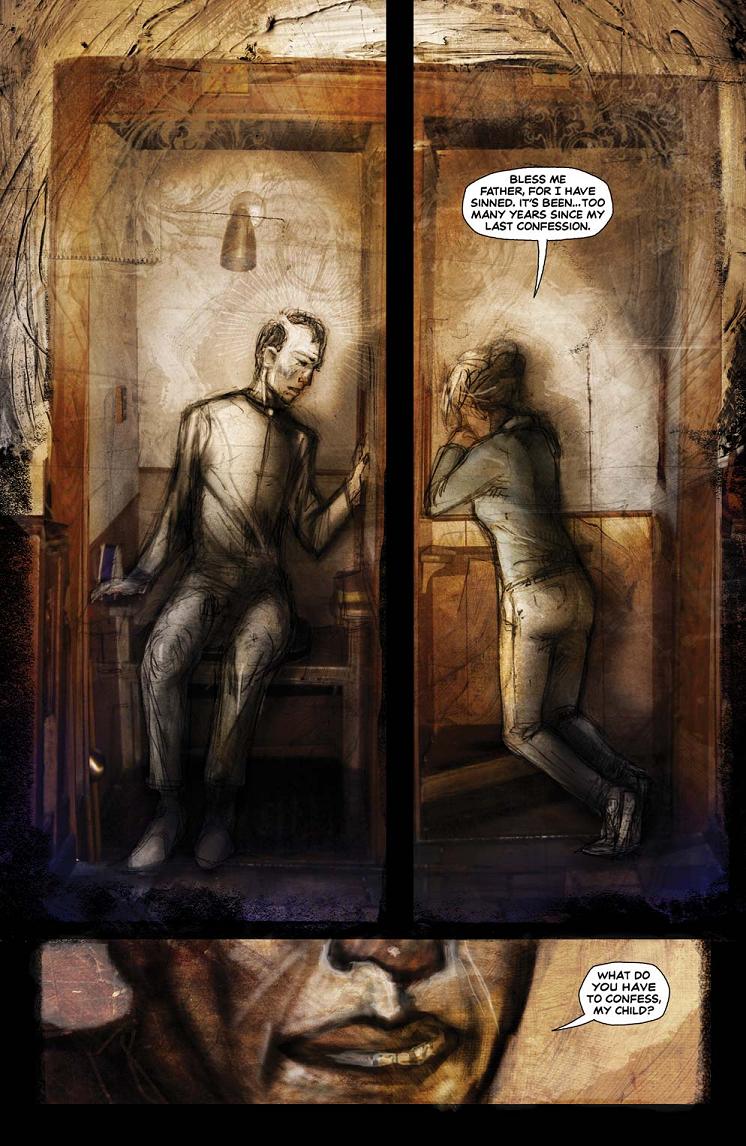 AEL:
Honestly, I'm more interested in what we had in the first volume than face chomping and that stuff. There's a lot of work we put into setting the tone and the pace of the story. And the architectural work. Just building tone…the whole volume, there's this like, nasty little tone in there that is right where I feel at home. The second volume is a little more action packed, but that's not what this story is. It's about character. We haven't turned into the zombie books that we've been trying to be different from before.
BUG: That seems to be what makes it unique. It was obviously a conscious choice when writing it…?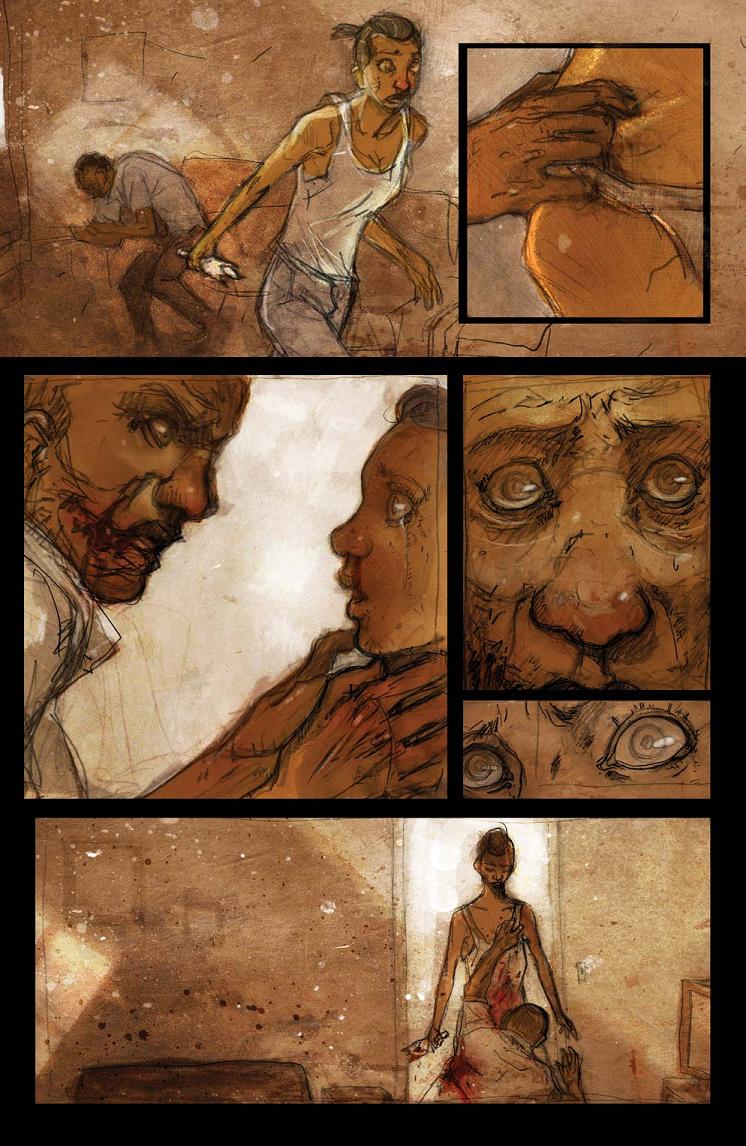 NT:
Absolutely. I'm a big genre fan, but it's all been done and done well. So what I wanted to focus on was exploring a conflict that maybe hasn't been explored too much in zombie fiction.
[the loudspeaker in the auditorium announces that they are looking for a lost child]
NT:
Man, that's loud.
BUG: I think a zombie got that kid.
NT:
It happens…well…we wanted to look at it in an introspective way. But we also wanted to explore each of these characters and their distinctive backgrounds and how they are each coping with the situation and maybe trying to resolve some past issues in the wake of what's happening.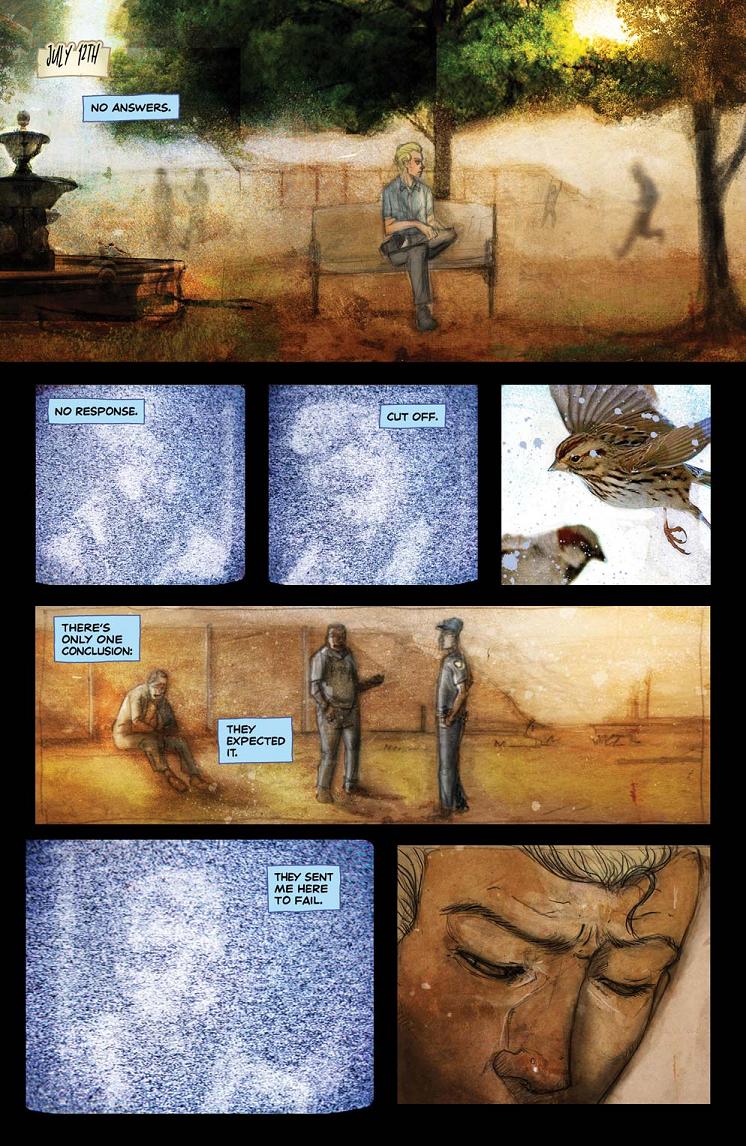 BUG: The first story kind of deals with the first fifteen minutes of most zombie movies where stuff is happening, but people either don't notice or don't realize what's happening yet. You're placing your story in those fifteen minutes. Is that a fair assessment of the first volume?
NT:
Oh absolutely. You actually said it was like the first fifteen minutes of SHAUN OF THE DEAD, where nobody really gets it--
AEL:
That's the best fifteen minutes of SHAUN OF THE DEAD.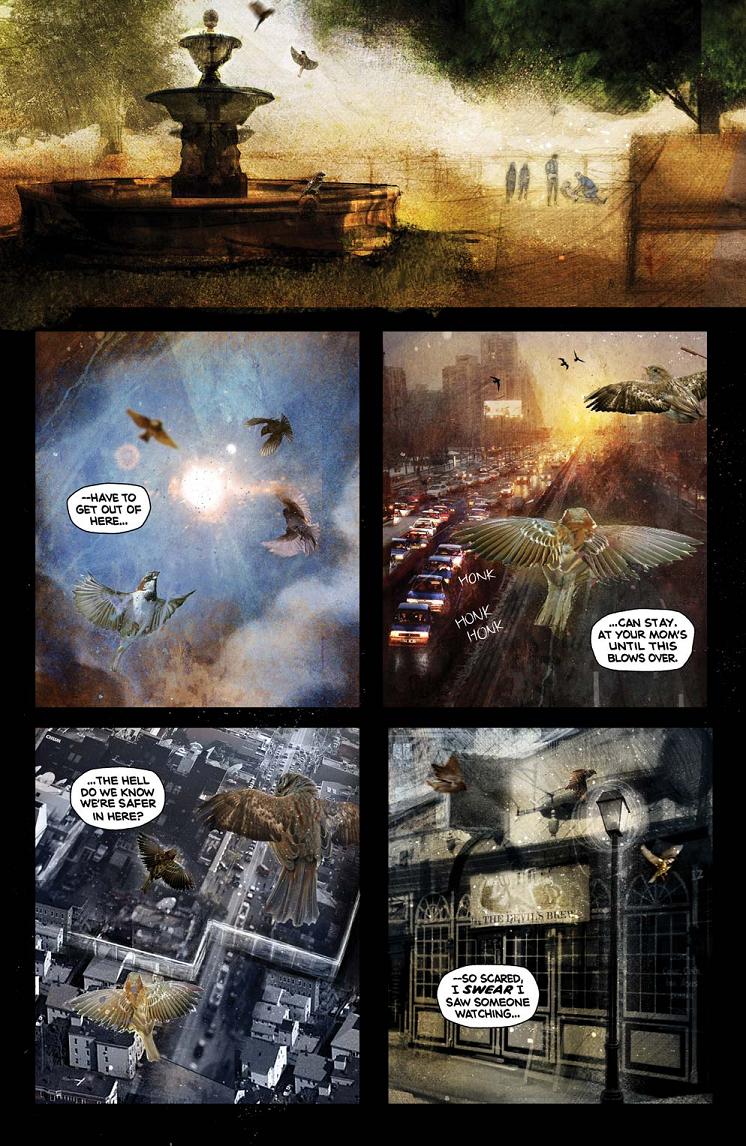 BUG: Yeah!
NT:
It's hysterical, but it's also a commentary on the oblivious nature of how people see everyday problems around us. You know, any zombie story has some type of societal commentary. This does fall into that vein. But we're following specific conflicts as a result of that.
AEL:
It's—well, I didn't write it, but I like how intimate the story is with its characters and it's much more about how they are feeling and how they are dealing with it rather than just the broad scheme.
NT:
Right, it's a very focused story.
BUG: How did you guys come together to make this story?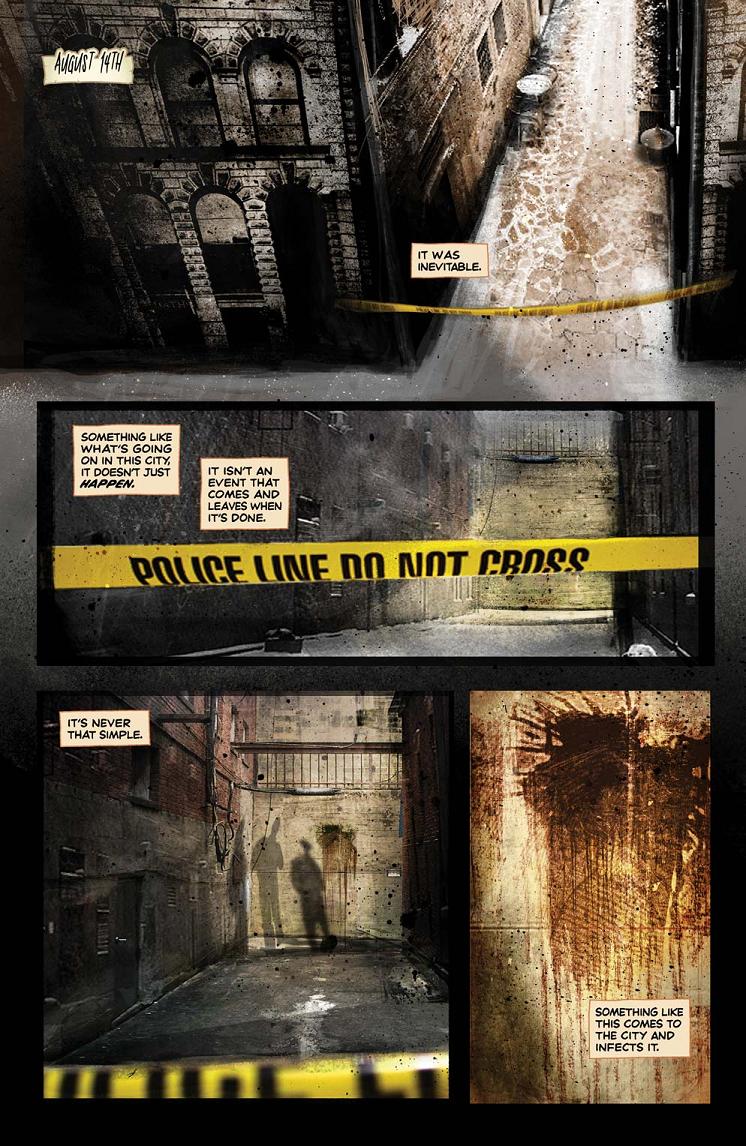 AEL:
(laughs) The internet…
NT:
Yeah, its embarrassing. It might as well have been a dating website. Sending each other winks like match.com for comic nerds. What was the name of the message board…Septagon?
AEL:
Yeah.
NT:
Septagon. Yeah, in Canada.
AEL:
I had just been posting like non-sequential art. I didn't know how to do stuff. I was in school at the time. I was just looking for a place to get feedback. And Nick sent me a script and pretty much bullied me until I was willing to do it.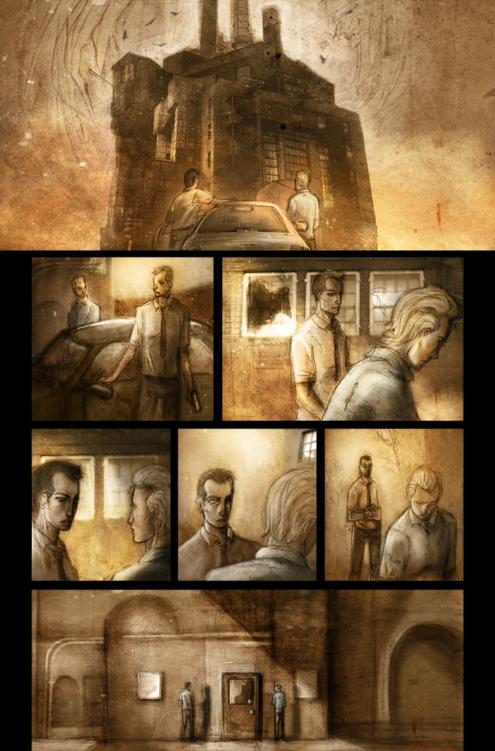 [Loudspeaker booms again looking for a lost kid.]
NT:
Wow…
BUG: Man, somebody find that kid.
NT:
Yeah. It was funny because he never did sequentials. But immediately when I saw his artwork, I knew that's what I had in my head. That was the story.
BUG: Cool.
NT:
I had to convince him to try sequentials because he had never tried them before really.
BUG: And how did Archaia find you?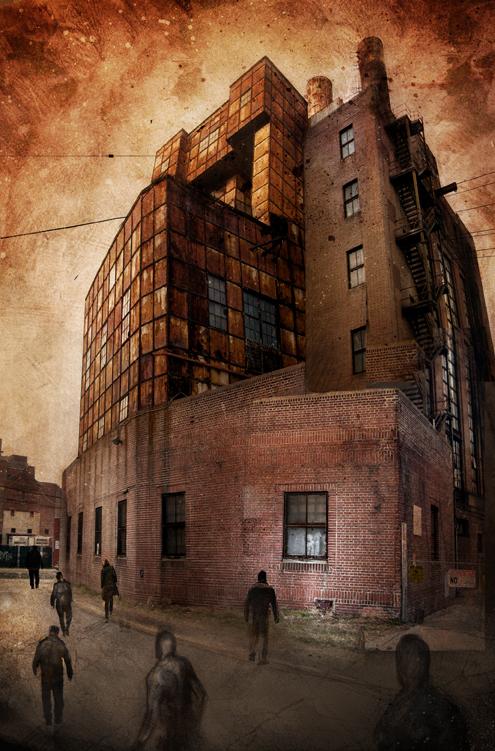 NT:
By accident…
AEL:
Yeah.
NT:
It's the funniest story in the world. You know, everyone breaks in differently. And then that door is closed. We were just walking around with the outline, the first page--
AEL:
Unlettered.
NT:
Yeah, unlettered. And some character sketches. And we were just asking people, "Hey, are we on the right track?" We weren't trying to submit it. We were just like, "Are we doing this right?" Because we'd never done it before. And we wound up at the Archaia booth and we ran into Mark Smiley and we asked him, "Are we on the right track?" And he said, "Yeah, ahhhh…this is pretty cool. Can I hang on to this?" And three months later, he had unofficially edited our first issue. And he said, "Yeah we like it. We want to offer you a contract."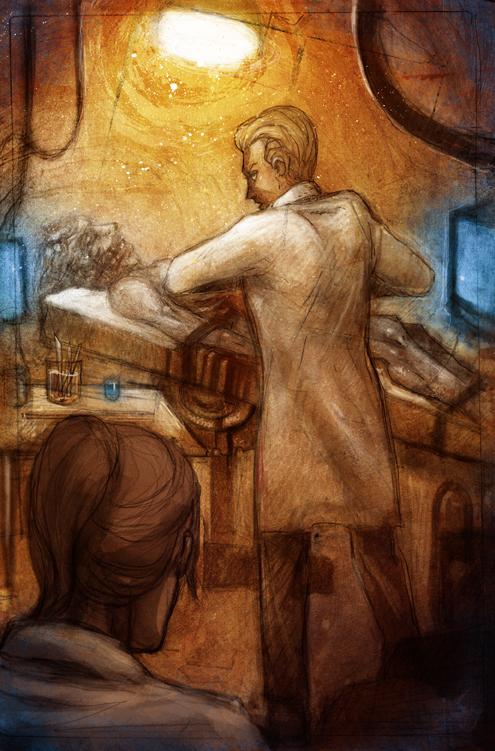 AEL:
It was amazing and also totally unfair because…that story is just going to make people mad.
NT:
It's just a Cinderella story.
BUG: So do you guys have any other projects coming out or are you focusing on AWAKENING right now?
AEL:
Yeah, we have a bunch of things. We're in MOON LAKE [Editor's note:
, another graphic anthology from Archaia from the cracked mind of Dan Fogler who I interviewed here about the project
]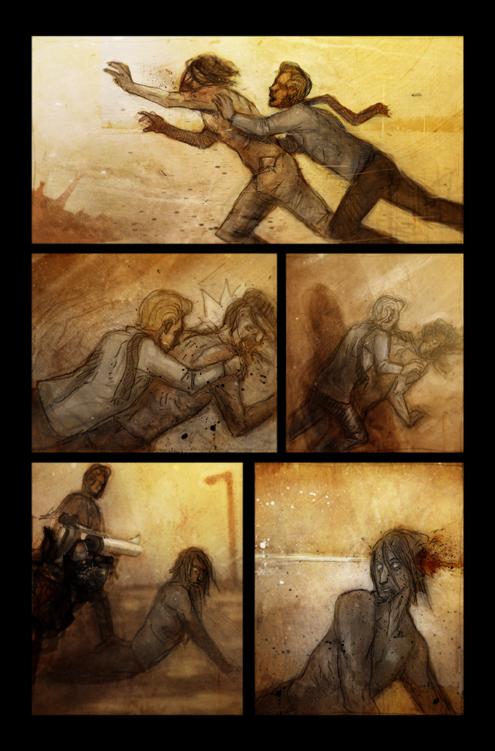 NT:
Yeah, it's coming out in October.
AEL:
We have a story in there.
NT:
And that story is kind of a short story that he [Alex] did in college and we plan on making that into an anthology of our own based in that world based on that story.
BUG: So what, without revealing too much because the mystery is a big part of that, can you tell me about the new volume of AWAKENING?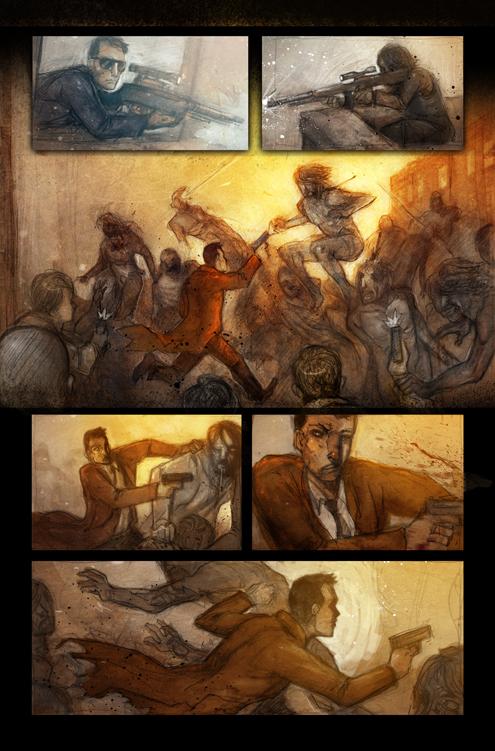 NT:
The book was originally planned as a ten issue series. And then it was released as one volume. And anyone who read the first book will realize that it leaves you kind of hanging.
BUG: Yeah, it ends on a cliffhanger.
NT:
So the second volume concludes that. There is certainly a definitive ending.
AEL:
Everything we're talking about is kind of the whole point of the book. It's kind of a hard book to tease with.
NT:
Yeah, we follow these characters further down their path. We have Derek, who is dealing with the return of his ex-partner, who has some…legal issues. And when a bit of crime, human based crime, begins to happen in PARK FALLS, he begins to investigate it instinctively. And he goes right after his ex-partner for it. And he might not be right about that…again, it's about his dealing with that conflict as well as everything that's rising up around him. We also follow the scientist Daniel who is desperately seeking some kind of solution to what's going on, but he's abandoned by the people who sent him there and so he is doing his investigation on his own.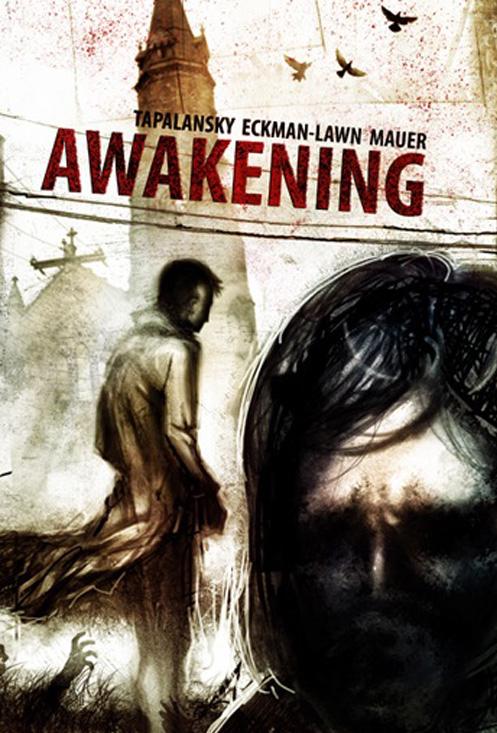 BUG: Well thanks for taking the time to talk with me. How's the con been for you so far?
NT:
We've only been here an hour and a half. We just flew in last night. But so far, not bad.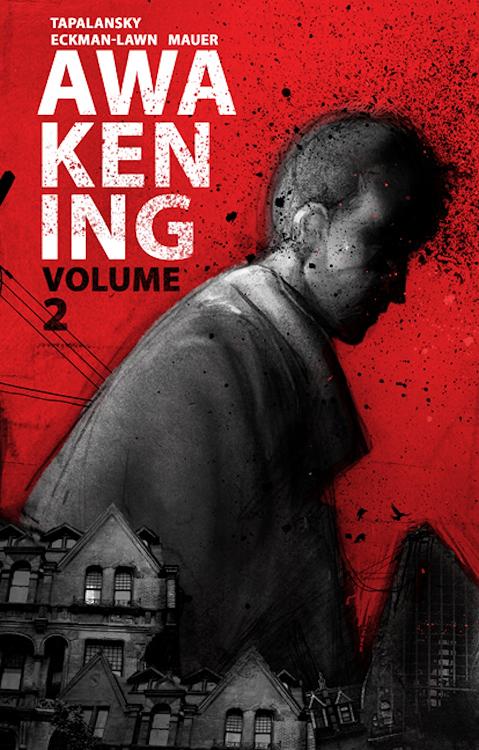 BUG: Well, thanks a lot guys.
NT:
Sure, thanks.
AEL:
Thanks man.
BUG: Look for AWAKENING Vol. 2 coming this October from Archaia. AWAKENING Vol.1 is available now!
Ambush Bug is Mark L. Miller, original @$$Hole / wordslinger / reviewer / co-editor of AICN Comics for over nine years. Support a Bug by checking out his comics! MUSCLES & FIGHTS VOL.3 & MUSCLES & FRIGHTS VOL.1 VINCENT PRICE PRESENTS: THE TINGLER #1-2 (interview, interview, preview, & review) VINCENT PRICE PRESENTS #20 WITCHFINDER GENERAL (preview, review, in stores Aug 25th!) NANNY & HANK miniseries (interview, interview, interview, preview, & review, available in Previews Order #JUN10 0824, in stores Sept 1st!) Zenescope's upcoming WONDERLAND ANNUAL 2010 (in July Previews Order # JUL10 1200, in stores in September!) ROGER CORMAN PRESENTS DEATHSPORT miniseries (in September Previews Order #SEP 100860, in stores in November!)
---
---
Editing, compiling, imaging, coding, logos & cat-wrangling by Ambush Bug Proofs, co-edits & common sense provided by Sleazy G
---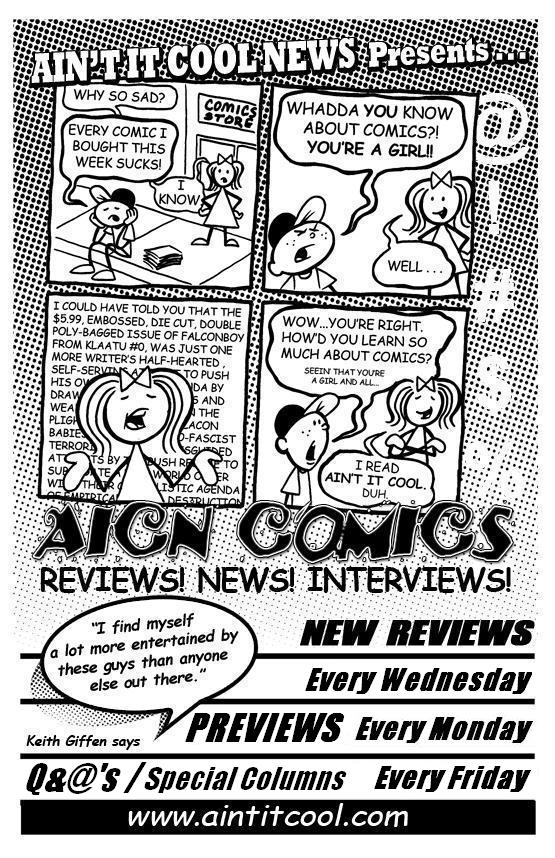 Ad by Prof. Challenger