Hey folks... heh... Have I got something for you. I have been working secretly on a set of nanobots, really small little suckers. Their job is to go out there and find me some very cool stuff, then hop it back to Geek Headquarters for debriefing and download.
Nanobot 1, has just returned. Ya see... last time I was at L.A.'s International Airport... I turned about 3000 of these buggers loose... Nanobot 1 made it's way to New Zealand by way of Japan. Originally, Nanobot 1 was programmed to go to Hawaii to gather FINAL FANTASY info, but... well... I still have programming work to do.
Here is the report that I have decoded from his C++ gibberish...
[BEGIN STATEMENT]
[NANOBOT 00001 REPORTING AS ORDERED SIR]
[SECURITY CODE: SQUA TRONT]
[ORIGINAL MISSION ABORTED. NANOBOT 00001 MUST SEE LORD OF THE RINGS. FINAL FANTASY IS OF SECONDARY IMPORTANCE. THERE IS BUT ONE FILM TO RULE THEM ALL AND IN THE DARKNESS OF THE THEATER TO BIND THEM.]
[ERROR IN LINE 5573951. ANALYSIS: GEEK CONCIOUSNESS OVERLOAD. SOLUTION: GO WITH IT]
[INFORMATION GATHERED: 1 PICTURE: SAURON'S LAIR. 1 BRIEF TEXT EXPLANATION. EXHAUSTED MEDIA STORAGE UNIT WITH SILICON SLOBBER]
[TEXT EXPLANATION: AN UNKNOWN JAPANESE DESIGNER HAS PRODUCED THE FOLLOWING PRODUCTION ROUGH OF SAURON'S LAIR. THERE WERE MANY OTHER VERSIONS. THIS WAS THE FIRST I GATHERED. RECOMMEND IMMEDIATE REDEPLOYMENT.]
[CONTINUED: THIS DESIGN WILL BE RE-INTERPRETATED INTO THE ALAN LEE DESIGN STYLE. THIS IS BUT A GLIMPSE AT THE DIRECTION THE PRODUCTION IS PURSUING FOR "THE EVIL SOURCE OF DARKNESS."]
[CONTINUED: THE DARKNESS OF IMAGE IS INTENTIONAL. THE DESIGN CONCEPT IS THAT YOU ARE DRAWN TO THE ILLUMINATION OF SAURON'S EYE. THE VIEWER WILL BE UNABLE TO COMPLETELY SEE THE SHAPE OF SAURON. YOU WILL DETECT MOVEMENT, BUT WILL BE UNSURE AS TO IT'S EXACT ORIGIN. WAS THAT AN ARM OR SOMETHING ELSE. OR PERHAPS IT WAS A MOVING APPENDAGE OF HIS THRONE LIKE THING. NANOBOT 00001 BELIEVES THIS TO BE BRILLIANT. SAME JAPANESE DESIGNER WILL WORK ON OTHER DARK CREATURES, THOUGH NOT THE BALROG]
[CONCLUSION: MUST SPEND MORE TIME IN NEW ZEALAND. SUGGEST MEMORY IMPROVEMENTS AS TO BRING MORE WITH ME NEXT TIME. NANOBOT 00001 SAW MANY THINGS OF GEEK INTEREST BUT MEMORY ALLOWANCE IS CURRENTLY EBBING]
[FILE ATTACHMENT: SAURON2.JPG]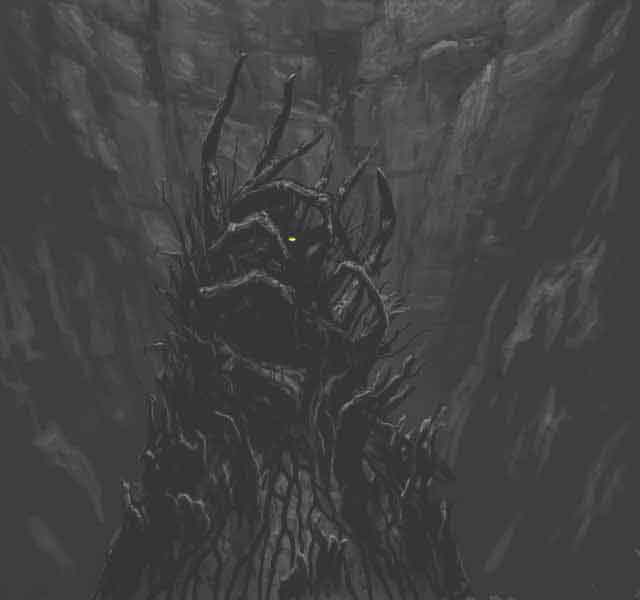 [END STATEMENT]