@@@@ What the #$%! is AICN COMICS: Q&@? @@@@
AICN COMICS: Q&@ is our new semi-weekly interview column where some of your favorite @$$Holes interview comic bookdom's biggest, brightest, newest, and oldest stars. Enjoy this latest in-depth interview filled with @$$y goodness and be sure to look for more AICN COMICS as we gaze into the future of comics every week with AICN COMICS: SPINNER RACK PREVIEWS every Monday and then join the rest of your favorite @$$Holes for their opinions on the weekly pull every Wednesday with AICN COMICS REVIEWS!
---
Q's by Ambush Bug!
@'s by Full Clip Productions / Radical's Michael Schwarz!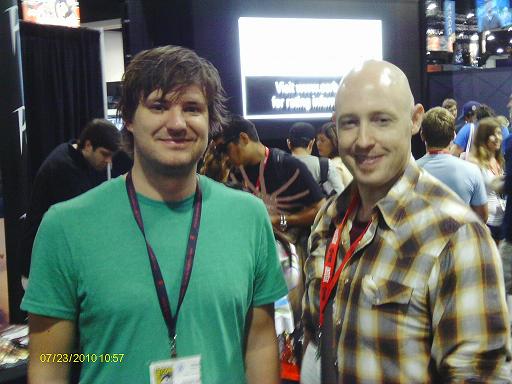 Hey folks, Ambush Bug here with the seventh of fifteen mighty interviews I conducted at this year's San Diego Comic Con. There were a lot of really big announcements from Radical Comics this year at the con. One of the bigger ones was the working relationship formed with Full Clip Productions, a production company out of Australia. Michael Schwarz is one of the founders of Full Clip. He's already working with Rick Remender at Radical to bring us the upcoming film version THE LAST DAYS OF AMERICAN CRIME (a fantastic sci fi crime caper miniseries out now) and at SDCC it was announced that Radical and Full Clip would be doing two more comics, DAMAGED and PATRIOTS. I had a chance to talk with Michael about all of these projects, plus the big announcement that Sam (AVATAR, CLASH OF THE TITANS) Worthington would be producing and starring in a film version of THE LAST DAYS OF AMERICAN CRIME. A big fan of AICN, Michael Schwarz was more than willing to chat with me. Here's what Michael had to say…
AMBUSH BUG (BUG): So you've got a couple of big projects coming out for Radical Comics soon. So you have PATRIOTS and you've got some other ones coming out too--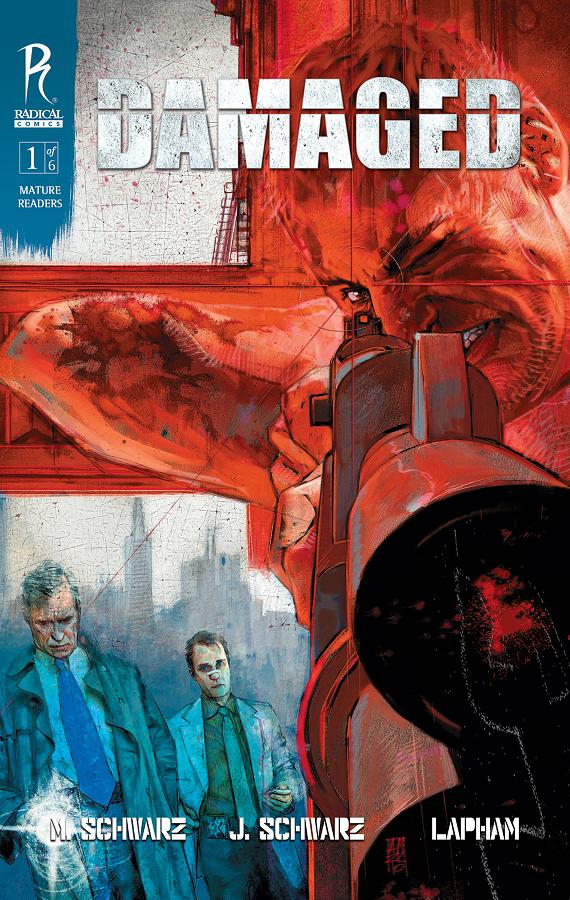 MICHAEL SCHWARZ (MS):
We've got DAMAGED first. Its going to be a six issue arc, it's created by my brother John and I, but it's going to be written by David Lapham of STRAY BULLETS. We wrote a short version of it and he sort of expanded it to comic book length. We're turning out the scripts now. It's about two brothers on two sides of the law. One of them's a cop the other is a vigilante. They're approaching their 60's. They're at the end of their careers and they haven't seen each other in 35 years. There was an incident that set them down different paths, and they've been training their replacements. So we go into what's been going down in the last 35 years and then it goes into what happens when they meet up again after all of this time.
BUG: Sounds great. So when is that one going to be coming out?
MS:
Spring of 2011.
BUG: So its being written right now--
MS:
Yeah, we've got a script for the first issue. David handed it in quick and we didn't have any notes for it. He gets it. It's our story but it's got David's distinct voice. And we are very, very happy for it.
BUG: I saw the cover for it in the panel yesterday. Who's doing the art for it?
MS:
Well at the moment, Alex Maleev is the only artist attached right now, but he's just doing the covers of the book. We are in the process of signing an artist, but right now we can't say anything yet. Maybe in New York. But we're just getting the contracts all worked out now.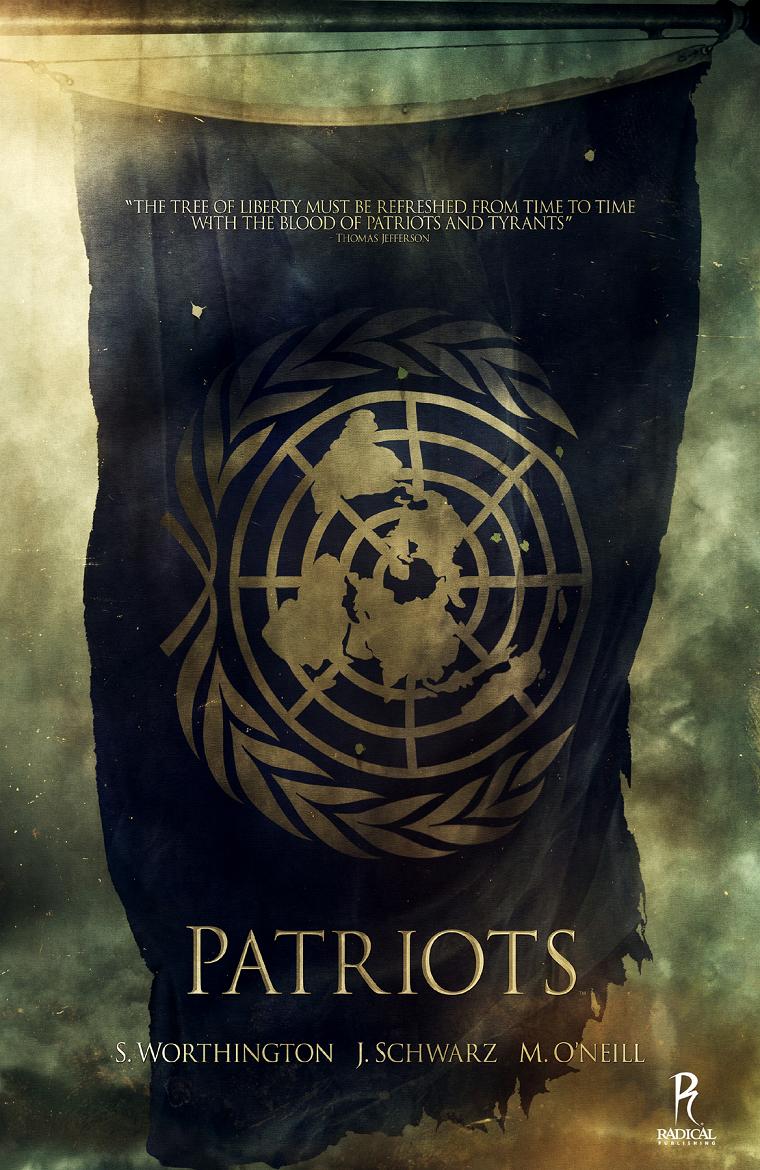 BUG: So tell me about your other project, PATRIOTS.
MS:
PATRIOTS was created by my brother (John Schwarz), myself, and Sam Worthington and another one of our friends Morgan O'Neil. And that one is much different in scope. It's much more epic. The only thing we can say about it is that…there are seven continents in the world. If you had to sacrifice one to save the other six, would you do it? Again, I hate to do this, but we just got a writer on board yesterday and I'm really excited about it, but I can't say who it is yet. But I'm really excited about it.
BUG: The poster of it is really iconic. I love it.
MS:
Yeah, cool. Initially, that was just going to be a teaser poster, but Radical always nail the visuals and…something that they just rushed together in a few days turned out to be so iconic. So we're going to use that as the cover now.
BUG: So what's comic book reading like in Australia?
MS:
What are comics like? We've got a few comics shops—I'll give a shout out to Kings Comics in Sydney. Yeah, we have the same shipping schedule. Wednesday over here is Thursday over there. But it's pretty much the same over there. We get the same stuff.
BUG: So tell me a little bit about Full Clip. How did that production company come about?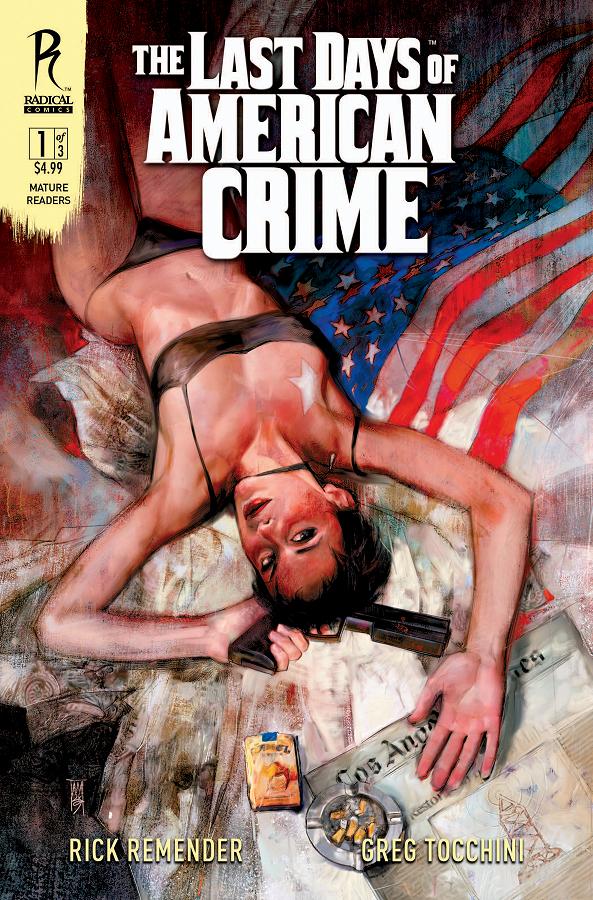 MS:
Yeah, Sam and I formed this company with my brother and originally it was going to be a film company. I was working with Barry on LAST DAYS OF AMERICAN CRIME and so while I had him, I pitched him some comics ideas and he really sparked to it. So he greenlit that to go ahead. In developing it with my brother and Sam, Barry said rather than do one comic for us, why don't you do a bunch of them. So he offered us this imprint deal, so now we're a comic company as well.
BUG: So obviously you've been a fan of comics for a long time?
MS:
Yeah, big time.
BUG: Any favorites you're reading right now?
MS:
Yeah, right now two of my favorites are WALKING DEAD and UNKNOWN SOLDIER. I'm really bummed that UNKNOWN SOLDIER is finishing up, but it's a great comic.
BUG: And we're missing THE WALKING DEAD panel right now, you know…
MS:
Yeeeeaaahhh…I've given up on all of these lines here at comic con. I'll see it sometime. I just like wandering around the floor here. It's funny, I get to meet a bunch of actors, but I get really, really star struck around comic writers. All of these actors, I could care less about, but anytime Robert Kirkman would walk past, I would freeze. And people were saying, "Go get a photo with him!" and I would say "No, I can't, I can't, I can't." I think there's a mystique around comic writers…I don't know.
BUG: What's it like working with Sam Worthington?
MS:
Oh, it's great. We've been best mates going on 12 years now. We are both creative guys, always talking about ideas to each other. You can't turn Sam off when he starts talking about these ideas. That stuff happens when you are around someone like that. And my brother's the same. We get a lot of joy from creating stories with each other. And now, thanks to Radical, we get a chance to put pen to paper and do it.
BUG: Are you guys stationed in Australia?
MS:
We go back and forth—back and forth. Eventually we will probably be in LA for a while, but ultimately Australia will always be my home.
BUG: So what else do you guys have coming out?
MS:
We've got another project coming up called AMELIA PLUMB; it's quite dark. Its family oriented. It's being written by John's wife Jeannie Schwarz. I don't know if I'm supposed to talk about that yet, but there's a scoop. That's going to be an illustrated novel. So along with that, we're working really hard on LAST DAYS OF AMERICAN CRIME.
BUG: Do you want to talk a little bit about LAST DAYS? It's such a great book.
MS:
Its set in the not-so-distant future and the American government, after a bunch of dirty bombs have gone off, a new wave of terrorism, develop a broadcast signal that after they set it off, it will completely inhibit crime throughout the entire American population. So that's what's going on in the world. But the story follows a thug trying to go straight who is trying to put together the very last big heist in American history. SO it really is a heist film, but it's got these subtle science fiction trimmings that set it apart. I'm so excited about it.
BUG: And what's your role in making this film?
MS:
I'm going to be producing it with Barry. I met Rick Remender last year—another guy I got star struck from when I first met him. I responded to the story and when I told Sam about it, he got really excited about it. Everyone loves a heist film, but add that sci fi touch to it and it becomes a very fun story.
BUG: So Sam is going to star in it?
MS:
He's going to be playing Kevin Cash, the safecracker that the main character hires to help him with the heist.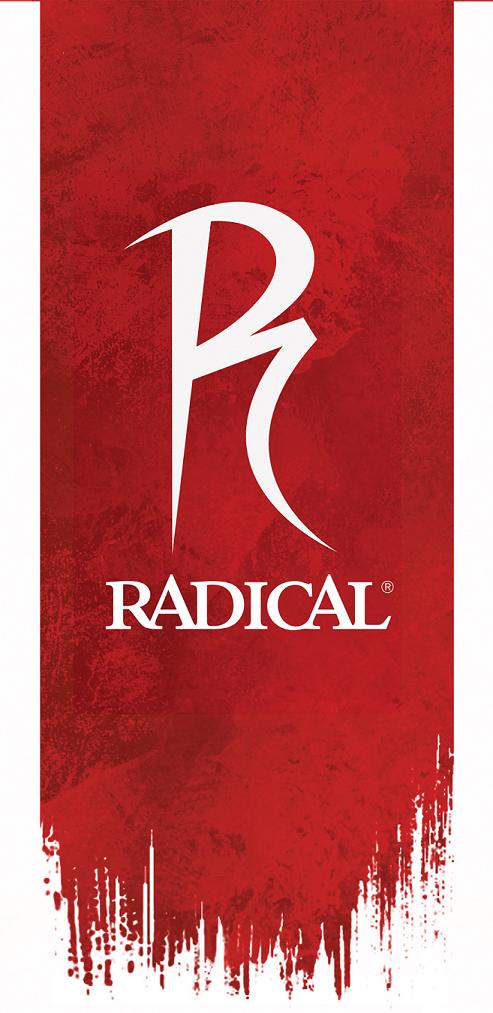 BUG: Is there anyone else on the film yet?
MS:
At this point, it's still in the early stages. We're just working on the ins and outs of it right now. So nothing yet.
BUG: Anyone attached to direct it yet?
MS:
Not yet, but I'll call you first when we announce it.
BUG: Well, thanks for taking the time to talk with me. Maybe I'll see you again next year and we can see how these projects have developed.
MS:
And I'll have some comics to show you. Thanks, man. It was great to meet you.
BUG: You too. Thanks.
So it sounds like Full Clip and Radical have a lot of very cool projects coming up in the next year. Be sure to stay tuned to AICN Comics to see further developments on Radical Comics' exciting new series.
Ambush Bug is Mark L. Miller, original @$$Hole/wordslinger/reviewer/co-editor of AICN Comics for over nine years. Check out his ComicSpace page for his entries the MUSCLES & FIGHTS VOL.3 & MUSCLES & FRIGHTS VOL.1 anthologies. Bug was interviewed here & here (about AICN Comics) & here & here (on VINCENT PRICE PRESENTS: THE TINGLER #1-2). Bug's latest comic is VINCENT PRICE PRESENTS #20: WITCHFINDER GENERAL (available in June's Previews Order # JUN10 0825) on sale in late August. Bug was also interviewed here & here about his upcoming original vampire miniseries NANNY & HANK (available in June's Previews Order #JUN10 0824) due out in late August. Bug also has a 10 pg story in Zenescope's upcoming WONDERLAND ANNUAL 2010 (in July Previews Order # JUL10 1200). Support a Bug by checking out his comics!
---
---
Editing, compiling, imaging, coding, logos & cat-wrangling by Ambush Bug Proofs, co-edits & common sense provided by Sleazy G
---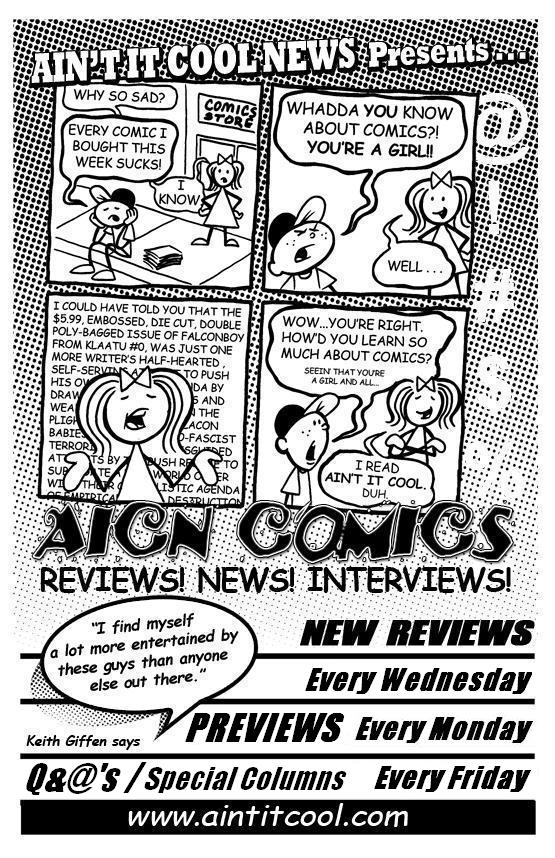 Ad by Prof. Challenger