@@@@ What the #$%! is AICN COMICS: Q&@? @@@@
AICN COMICS: Q&@ is our new semi-weekly interview column where some of your favorite @$$Holes interview comic bookdom's biggest, brightest, newest, and oldest stars. Enjoy this latest in-depth interview filled with @$$y goodness and be sure to look for more AICN COMICS as we gaze into the future of comics every week with AICN COMICS: SPINNER RACK PREVIEWS every Monday and then join the rest of your favorite @$$Holes for their opinions on the weekly pull every Wednesday with AICN COMICS REVIEWS!
---
Q's by Ambush Bug!
@'s by CHEW writer John Layman!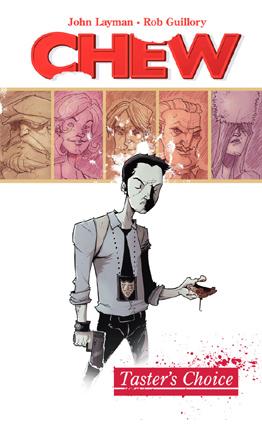 Hey folks, Ambush Bug here with the fifth of fifteen mighty interviews I conducted at this year's San Diego Comic Con. I had a chance to catch up with John Layman who was basking in the afterglow of winning an Eisner at the Con this year for his book CHEW from Image Comics. John was sitting right next to Rob Guillory at the Image booth, but Rob was busy with some fans. But here's what John had to say about CHEW…
AMBUSH BUG (BUG): Congratulations on winning the Eisner. What was that like?
JOHN LAYMAN (JL):
It was surreal. I was in shock. I was never prepared for the success of CHEW, so this is the capstone of weirdness. We had cameras on us too. We were followed by a film crew, so that made it even weirder. This whole con has been spectacular, but it's been surreal.
BUG: You mentioned CHEW and its success. Did you ever think it would catch on like this?
JL:
Rob was hired on for five issues. We had a contract and suddenly it got big. I thought it would go for five issues…you see, I invested, I saved and financed this thing because no one wanted to do it and I was like, "Fuck it, I'm going to do it." Can I swear on AICN?
BUG: It's Ain't It Cool, you can say whatever you want.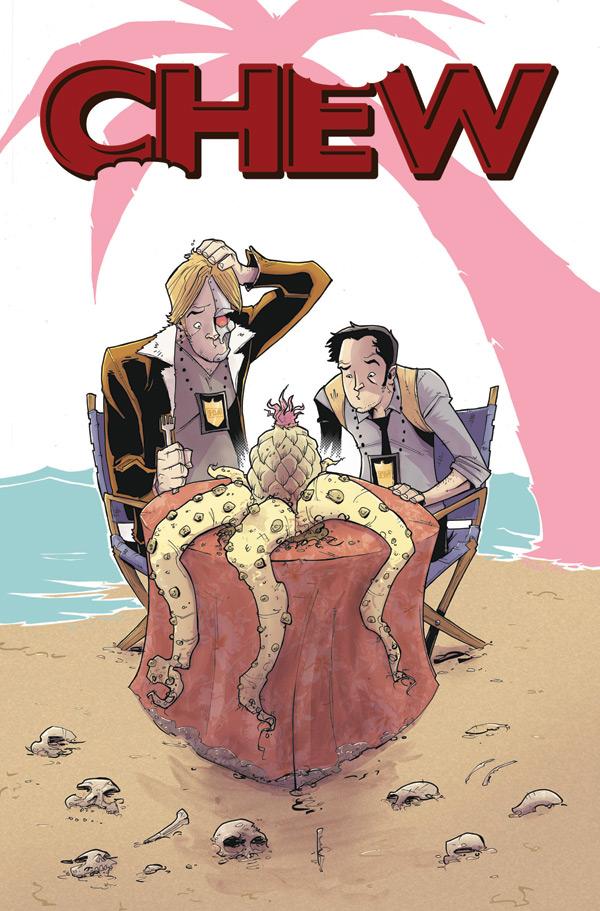 JL:
Oh yeah, I don't know what I'm talking about. So I hire him [Guillory] and all of a sudden it starts blowing up and we're like "we have the numbers to do this." In my wildest dreams I wanted a TRANSMET or a PREACHER or a Y or a sixty issue length graphic novel. And Rob was like, cool let's do it. So that's what we're doing.
BUG: Well congratulations with all of the success. It shows that the Eisner's do have taste.
JL:
I thought it would have a cult following. Like there would be fans, but it would be a smaller appeal. But it's had this weird appeal, almost like a viral appeal. All of these people want to share it with people who don't read comics.
BUG: So you're going for about 60 issues with this series?
JL:
Yeah, that's what it is. Even if sales collapse, I mean, it's on the New York Times bestseller list, so I kind of doubt things will collapse unless I really make things shitty. So I think we're ok. Rob's into it. I'm into it. I know where the story is going and how it ends. We know all of these milestones.
BUG: Can you go into a little more detail about the unique power that the main character has in CHEW?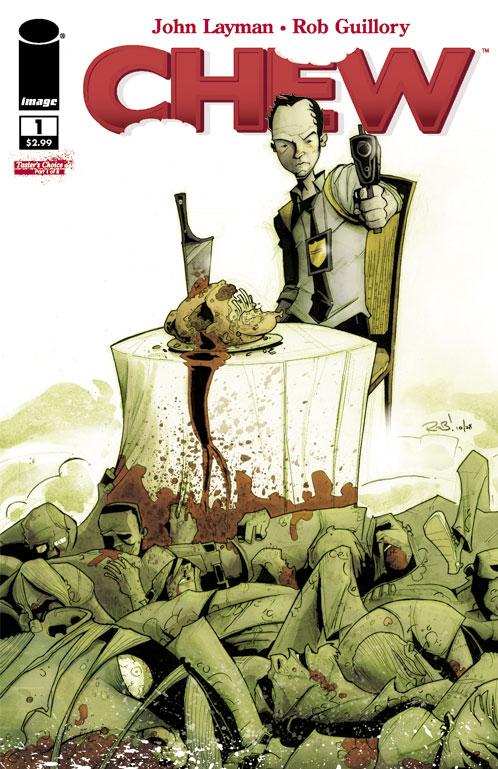 JL:
I pronounce it every time differently, just to screw with people. He's a cebopath [see-bo-path] or a cebopath [sy-bo-path] or a cebopath [cje-bo-path], which is the ability to get psychic impressions of what you eat. So he can eat a hamburger and you can see a cow being slaughtered or pick an apple and he can witness it being harvested or pesticides or he can go to a murder scene and nibble on the corpse and find out who murdered him.
BUG: Such a cool concept. Now, is this rooted in some type of fact? Any type of sense memory theory or something?
JL:
No, I don't think so. It's just cannibalism for a good cause. You know?
BUG: Do you have any spinoffs in mind for CHEW?
JL:
No. Rob, the artist, can only work on one thing at a time. Writers have more time. And people are approaching me and saying "Well, what do you want to do?" and I want is to write a book and swim and play video games all day. So I've been just kind of lazy and non-ambitious. Kirkman is like, "Get another book out there!" And I guess I have been jaded because I've been in comics for so long. On any other book I'm going to do is going to flop and prove that CHEW is just a fluke, so I don't want to do it. I have my successful book rather than having my successful book and my next flop.
BUG: Is there any research involved in this book or does it all just spill out of your cracked skull?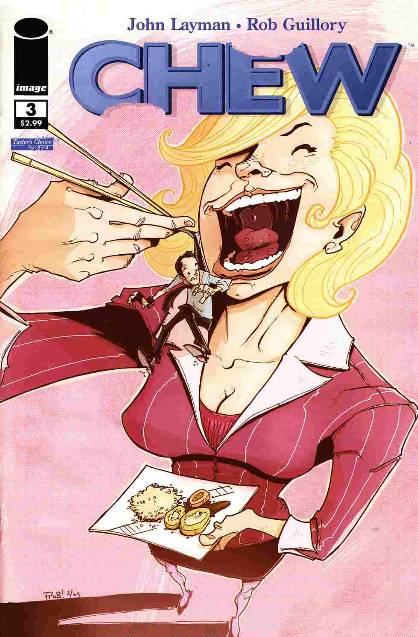 JL:
My scripts are very dense. And there's a lot of weblinks. Like I provide a ton of reference. So I'm like, I am like "You know, Rob, he's wearing this type of hat." But I'm not one of those writer pricks who's like "No! You have to have the watch on the right hand!" I'm like, "Here's a link to the North Korean flag." And stuff like that. I google everything and just provide length. My scripts are like 40 pages long, but any idiot with google can do what I'm doing.
BUG: What issue is CHEW on right now?
JL:
We're getting issue #13 to the printer.
BUG: I don't know why, but I guess it premiered last San Diego con…
JL:
Yeah.
BUG: But it seems like it comes out at such a rapid rate.
JL:
Rob's a machine. This guy pencils inks and colors and gives me a page a day.
BUG: Wow!
JL:
That just does not happen in comics. He's got a crazy work ethic. But that means that he still can't catch up with the workload, so we're doing five issues on. Every arc is five issues. And then a month when the trade comes out. And the five issues more. Basically, we want ten issues and a trade each year.
BUG: And you're planning on having Rob on for the entire time?
JL:
And it always will be. At this point, no one else.
BUG: Stay healthy, Rob.
JL:
Exactly. Thirteen is going to the printer. I've written up to sixteen. I've written number 18 and then I skipped to 27. I need to do 17 next. We're going to do a "One Year Later" story and it was so clear in my head, I was like, I'm just going to skip ahead and write this down on paper cause this is going to go fast and now that it's done, why not have Rob draw it? So after issue 18 we're going to jump ahead and for the floppy readers they're going to see where everyone is in 9 months. And then the fun will be watching them get there. And then the trade-waiters will have to wait. We're not going to collect 27 until the 26-30 vol.6, so they're going to have to wait a year and it's going to fit in seamlessly. It's going to be strange.
BUG: Well, congratulations again on all of your success. It's very well deserved.
JL:
Thanks to Ain't It Cool. You guys have been great to us.
BUG: Well it's well deserved. Thanks for your time.
JL:
See ya!
BUG: Look for the Eisner Award Winning CHEW monthly from Image Comics!
Ambush Bug is Mark L. Miller, original @$$Hole / wordslinger / reviewer / co-editor of AICN Comics for over nine years. Check out his ComicSpace page for his entries the MUSCLES & FIGHTS VOL.3 & MUSCLES & FRIGHTS VOL.1 anthologies. Bug was interviewed here & here (about AICN Comics) & here & here (on VINCENT PRICE PRESENTS: THE TINGLER #1-2). Bug's latest comic is VINCENT PRICE PRESENTS #21: WITCHFINDER GENERAL (available in June's Previews Order # JUN10 0825) on sale in late August. Bug was also interviewed here & here about his upcoming original vampire miniseries NANNY & HANK (available in June's Previews Order #JUN10 0824) due out in late August. Bug also has a 10 pg story in Zenescope's upcoming WONDERLAND ANNUAL 2010 (in July Previews Order # JUL10 1200). Support a Bug by checking out his comics!
---
---
Editing, compiling, imaging, coding, logos & cat-wrangling by Ambush Bug Proofs, co-edits & common sense provided by Sleazy G
---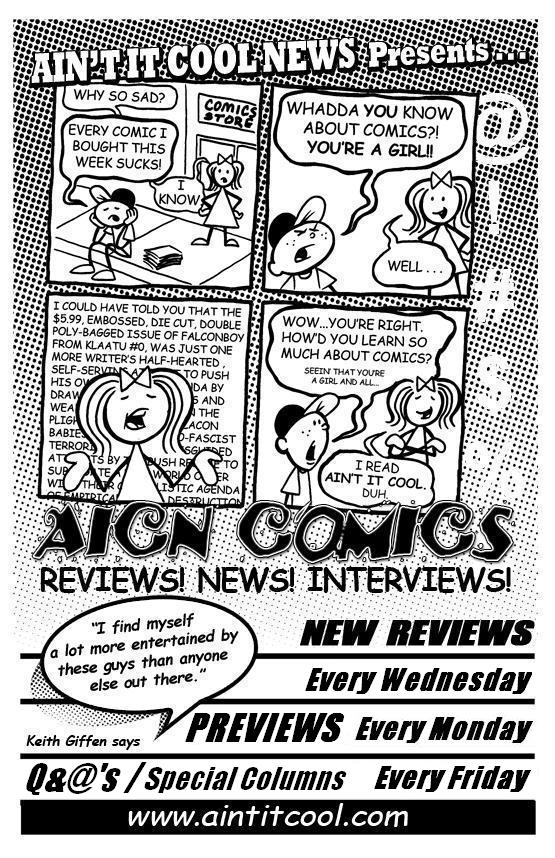 Ad by Prof. Challenger