LATAURO DOES MIFF #5: Disney Wars, Rhythm Sticks, and Epic Epicness!
The Event: The 2010 Melbourne International Film Festival
The Protagonist: Latauro (AICN-Downunder)
The Mission: To survive seventy films long enough to write them up, and provide you with a guide of what to look out for in the coming year.
Today's Lesson: With 2010's MIFF coming to a close, it's becoming easier to assess it as a whole. This year's festival was an odd beast, and there was a slight feeling of disappointment that I discovered many others also shared. There were fewer event films, and a lot of noticeable absentees like A SERBIAN MOVIE, HUMAN CENTIPEDE, ANOTHER YEAR, THE LAST TIME I SAW MICHAEL GREGG, UNDER THE MOUNTAIN and GASLAND. I understand there is a lot of politics involved with getting hold of these titles (particular ahead of Toronto), but so many of the programmed films felt like filler. WORLD'S GREATEST DAD (which should have screened a year ago) played at MIFF only days before coming out on DVD; similarly, films such as THE SPECIAL RELATIONSHIP, SCOTT PILGRIM VS THE WORLD, THE DISAPPEARANCE OF ALICE CREED, THE GHOST WRITER and many others are very shortly to receive a cinema release, some in only a few days. Add to that fewer parking venues and jacked up prices -- Closing Night ticket is now $100, transaction fees, the fact that you can now no longer purchase a passport without a memership -- and there is a palpable sense that the festival is not all it once was. It is still a fantastic experience, and I wouldn't miss it for the world, but those of us who have attended MIFFs in the past know what it is capable of, and it is to those high standards we hold it.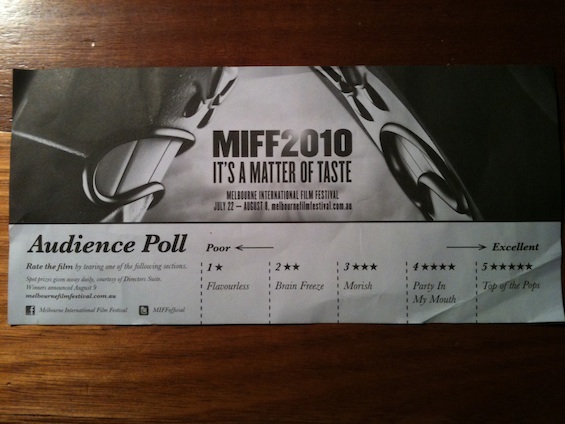 ELEANOR'S SECRET: The late finish of the previous night's ENTER THE VOID, plus my finishing of the fourth MIFF column (complete with sleeplessness-induced grammatical and coding errors!) made it a very late one. Five hours of very cold sleep on a friend's sleep half my length left me ill-prepared for the following day's (wait for it) seven sessions. With the first of what at time of writing I assume will be a criminal amount of coffees today, I trundled in to my only un-booked walk-in of MIFF: the French animated film ELEANOR'S SECRET. The story of a child whose late aunt leaves him all of her books is a charming one, if a little hokey. The dubbed English voices are a bit over-the-top, but it reminded me of the French animated TV shows I grew up on, so there was a bit of nostalgia at play. It's a sweet film, and the crowd (including a few kids) responded well to it. Worth seeing, but see if you can find the French language version.
DESERT FLOWER: Having forgotten whichever details about the film I read in the MIFF guide, I found myself so unprepared for this English film that when its opening scene began in Somalia, I though, "Cool, I guess I'm seeing an African film". Then we cut to London and Sally Hawkins appears, and Meera Syal, and Timothy Spall, and Juliet Stevenson, and that guy who looks like Rhys Ifans, and it turns out to be something entirely different. This adaptation of fashion model Waris Dirie's autobiography is a surprising one if you don't know the story, and unfolds in a very clever and considered manner. It's great stuff up until the two-thirds mark, when the film falls victim to the inexplicably-ubiquitous Late Film Lag. It feels as if all the interesting stuff has been and gone, and the script is running purely on fumes. It picks up at the end, but in a strange manner: it stops being a rags-to-riches tale, and turns into an Issues Movie. It's odd that the two parts of this film should feel so unnaturally bifurcated given they could easily be melded into a united whole. That dichotomy also applies to at least one of the characters, who runs hot and cold without there being any real consistency between his two modes. I'm focusing a lot on the film's problems, but only because the film is so damned good, its flaws are all the more noticeable. It is problematic, but very, very good.
STRANGE BIRDS IN PARADISE: A year after MIFF premiered the flawless BALIBO, about the Indonesian invasion of East Timor, comes this documentary about the Indonesian invasion and occupation of West Papua. The story of West Papua is one that's barely known internationally, and this fantastic documentary knows it. It is gritty and straightforward, explaining the situation clearly without any hand-holding or patronising. It tells larger stories and personal stories, blending them brilliantly into one of the most refreshingly uninhibited documentaries I've seen all year. An absolute must-see.
ZOO: This short accompanying the next feature (MY DOG TULIP) was not, thankfully, the other more beastiality-themed ZOO I'd caught at MIFF three years back, but a 1962 short comprised of footage shot at Amsterdam's zoo. It's very funny and clever, and played perfectly before the main event.
MY DOG TULIP: My fourth session at ACMI was also my last in this venue for the festival. MY DOG TULIP is based on the memoirs of the English writer JR Ackerley, and his time with his German Shepherd. It's essentially OF TIME AND CITY, but with a dog instead of Manchester. Christopher Plummer narrates as Ackerly, and it's a stunning piece. Handmade and gorgeous, it genuinely feels as if it could have been made in the 1960s. A massive crowd pleaser, and that rare treat: an animation for adults.
LOURDES: If you're experiencing both sleepiness and fatigue, each competing to exhaust you the most, then the start of LOURDES is concerning. It is slow, very slow, and if you don't know where it's going, it's very easy to get impatient. What amazes is how LOURDES manages to build and build dramatically without ever getting out of first gear. The story of the physically infirm travelling to Lourdes in the hope of experiencing its lauded miracles, LOURDES peels back its characters layer by layer so that even in the final five minutes your opinions on everything change about a dozen times. It's an exceptionally intelligent film that handles its subject matter so well, I suspect that devout Catholics and die-hard atheists could both emerge from this film with the satisfaction that their world view has been confirmed. A wonderful, extraordinary, slow-burning film.
LEAP YEAR: I blindly stumbled down the Greater Union steps to Cinema 3 to see the mysterious LEAP YEAR. This is one that's caught the attention of many Australian film people: a Mexian-based Aussie no one had ever heard of got into Cannes with his Spanish language debut. I suspect that both sessions sold out purely on the basis of this curiosity factor. The film itself is about a Mexican woman who seems to feel her life is slipping away. If you can't relate to this feeling, you will upon watching LEAP YEAR, a 90 minute film in which nothing happens. It was odd watching it directly after LOURDES, a film that earns its inertia brilliantly. I feel that LEAP YEAR did not, and even after searching for (and, I feel, finding) the film's point, the adjective I'm gravitating towards is still "pointless". After the session, someone described the point of the film, who the character was and what she was doing. It was the same conclusion I'd arrived at, yet I did not feel that the film justified its own existence based on this: describing what a film is about should not be a more compelling experience than the act of watching it. I tried challenging myself during the film: if this was a Bergman film in Swedish and black & white, would I think it to be a work of genius? There's no way of knowing, but I'm confident the answer is no. An interesting subtext is no substitute for a good film. After LEAP YEAR, I was forced to skip out on the 11:30pm session of DOWN TERRACE, the film I'd been most looking forward to that day! I'd already done six sessions since 10am on only a couple of hours of sleep, and whilst I'm confident I could have survived the film, I wasn't sure I'd had survived the subsequent drive home. So, after confirming that DOWN TERRACE had a local distributor in place, I headed home to recharge for the festival's final weekend.
CATFISH: After a good night's sleep back in my own bed, a relatively relaxed drive back into the city, and a big breakfast at ACMI, I returned to MIFF on Saturday morning more than ready to get stuck back in. The now-notorious CATFISH was my first session, and I suspect it suffered a bit from the hype. It's still an amazing story, and astonishingly touching in places. Having avoided the reportedly spoiler-filled trailer, it all came as a big surprise to me. My big problem with the film is that I can't shake the feeling these guys knew more than they were letting on, and those first few scenes have a distinct feeling of staginess -- which would be ironic if true, given how the film unfolds -- as if recreated for the sake of the film. The leads themselves also veer on the grating: for documentarians trying to uncover a mystery, they have strangely non-inquisitive natures. These problems aside, the twists and turns are genuinely shocking, and there is an admirable amount of sensitivity shown when the human drama hits. It is an amazing documentary that you really should seek out.
HAHAHA: The high expectations I had from CATFISH came from friends and colleagues, but the expectations for HAHAHA came from its Un Certain Regard win at Cannes. Award winners are always a mixed bag, so those expectations were relatively reserved, though still there. Described afterwards by my partner as Korean Mumblecore, this rambling, occasionally endearing nonsense tells two interconnected stories, like someone edited SHORT CUTS down to two of its least interesting strands. It drags like little else has at MIFF this year, and does nothing to justify the length. This is my feeling after the film: during the film, I found myself making excuses for it, so tried a reverse hypothetical from the one I attempted in LEAP YEAR: if this was an American film, for instance, would I feel differently about it? We often place a veil over foreign or older films that forces us to forgive things we otherwise wouldn't, and that's not necessarily a bad thing. Films are judged on merits both objective and subjective, and our reasons for forgiving elements in one film that we would not in another are usually quite reasonable. If HAHAHA was America, I concluded, I'd be quicker to attack, and must honestly call HAHAHA a pretty awful, directionless film that does not come close to living up to its hype.
NOSTALGIA FOR THE LIGHT: When this Chilean documentary begins, there is a palpable sense of concern that enters the moviegoer's mind. Film festivals are more likely to take a chance on something slow and ponderous, but for every LOURDES (which does it well) there is a LEAP YEAR (which does not). For every DREAMLAND, an ADRIFT. It's all subjective, of course, but NOSTALGIA FOR THE LIGHT is, at the beginning, one you suspect will squander its running time. Then, about halfway through, you realise exactly what it is you've been watching. NOSTALGIA begins as a film about astronomers who take advantage of Chile's astonishingly clear atmosphere to observe the night sky. It then switches tracks and looks at women who search the vast desert every single day for traces of loved ones who disappeared during Pinochet's regime. NOSTALGIA weaves the two narratives together so masterfully, so seamlessly, that I practically sat bolt upright in my chair when I realised what the film was doing. Unlike COOKING WITH HISTORY, which struggled to tie the themes of food and war together, even though they were interviewing wartime chefs, NOSTALGIA combines its subjects with a deftness that suggests there is something of a genius behind the camera. Chilean director Patricio Guzmán has quite a few credits to his name, and I'll be doing my best to seek them out. A terrific and surprising way to end the penultimate day of MIFF.
THE HOUSEMAID (1960): The final day began with a bookend of sort. Earlier in the festival, the 2010 remake of THE HOUSEMAID had screened, and now the original (also from South Korea) played, with a new restoration from Martin Scorsese's World Cinema Foundation. It's a fascinating film, and certainly puts the remake in a different -- and, arguably, more positive -- light. The term "Hitchcockian" is often misapplied to any thriller with twists, but it's more aptly used in relation to films such as this one, where music cues, camera movements, an unconventional focusing on tangental objects, and a deceptively-stunning title sequence, are all very reminiscent of The Silhouette. THE HOUSEMAID tells a very different story to its remake, and it's extraordinary as a snapshot of 1960s Korean morality. It is a melodrama, with emotions and inner thoughts displayed with an unashamed overtness. It is strange and even silly at times, with many inexplicable motivations and decisions, and an ending that has to be seen to be believed. Actually, scratch that. I saw the ending and I still don't believe it. It derails the entire film, and overwhelmed any attempt to discuss the rest of the film after the session. An amazing film, and definitely one that should be watched back-to-back with its remake.
WAKING SLEEPING BEAUTY: There's always a danger that docos such as this one will be either a sugar-coated puff piece, or a viscous hatchet job, as biases and prejudices overwhelm objectivity. Strangely, this film, made by Don Hahn and Peter Schneider (both of whom were heavily involved with the goings-on described in the film) is very objective, very fair, and very revealing. Perhaps the judgment of fairness is not for me to say, and maybe someone involved would feel a gross misrepresentation, but everyone gets a chance to speak, and the best and worst of everyone is on display in equal measure. The film uses a lot of archival footage -- including, at one point, a pre-Pixar John Lasseter filming the animators on BLACK CAULDRON, including a very young Tim Burton -- to tell the story of Disney's transition from turbulent failure to turbulent success. A brilliant documentary.
SEX & DRUGS & ROCK & ROLL: This biopic of Ian Dury was the Closing Night film (Closing Night now held, oddly, on the night before the final day of films), and since my invite seemed to have been lost in the post, I booked in to see it on the actual final day. Musician biopics are incredibly hard to pull off, as they mostly and inevitably condense down to the same basic story: rise to fame, cheat on spouse, do drugs, fall into stupor, find enlightenment. SEX & DRUGS doesn't exactly break this tradition, but it does enhance it with some nice stylistic choices. Writer Paul Viragh and director Mat Whitecross treat the material well, and there's a distinctly BRONSON-esque edge to it, with a broad Cockney taking to the stage to tell us his life story in an almost-pantomime form. It's a conceit that works well, though sparingly, and helps distract from the familiar story beats. Andy Serkis is brilliant as Dury, and the supporting cast is uniformly great, even if some characters disappear before you get a chance to really know them. Dury's success is glossed over too quickly -- one moment he's struggling, the next he's famous -- but centering on who the man is and what he does to the people around him is a wise move. Given so many of Dury's songs were appropriated for Australian TV commercials in the late 80s/early 90s, it's a bit jarring to hear these songs with an air of legitimacy, but ultimately this is a very good film that certainly stands a good foot or so above the likes of RAY and WALK THE LINE.
SCOTT PILGRIM VS THE WORLD: The final session of MIFF 2010 was SCOTT PILGRIM VS THE WORLD, and was attended by so many people I knew, I found it more efficient just to save seats for strangers. We piled into the Greater Union 6 and were first greeted by a message from Edgar Wright himself. It's a silly thing to get excited about, but we in Melbourne almost never get the personalised greeting, and it did nothing but endear us towards Wright even further. Then, of course, the film itself started, and there was a collective crunch as seven hundred people were thrust backwards in their seats for two hours straight. SCOTT PILGRIM is nothing less than a masterpiece, a paean to pop culture and modern teen angst. It destined to be misunderstood as the nadir of ADHD filmmaking, yet all this sound and fury signifies something: it is at once an endless visceral assault on the senses, yet every moment has intense creativity and thought behind it. It is also too much to take in on a single viewing. I knew I was missing at least four jokes because I was laughing at the one before them, but this is a boon. You want a film this enjoyable to improve upon multiple viewings, and such a thing is inevitable with SCOTT PILGRIM given how much I missed of it simply by enjoying it. It is an impossible film to break down: my favourite line is all of them; my favourite performance is all of them; my favourite moment is all of them. It is a triumph from beginning to end, and as such, it is both the best and worst film to end MIFF on. It's the best because you want to leave on a high such as this one, surrounded by friends who universally and unconditionally loved it. It's the worst because I want to come out of a festival like this proclaiming the best film to be something obscure and/or foreign, and for the best film to be a relatively high budget Hollywood comedy sort-of goes against the point of film festivals. But this is something I'm sure I can live with. SCOTT PILGRIM is a true work of genius, and represents a high point of popular culture.
After the final session, we filed out of the cinema and down Russell Street, past the recycling bins with the somewhat-depressing stacks of unwanted MIFF guides ready to be pulped, down into the depths of the Forum to the MIFF lounge for drinks and summations well into the night. What were the best and worst of the festival? Scroll down for the final tally...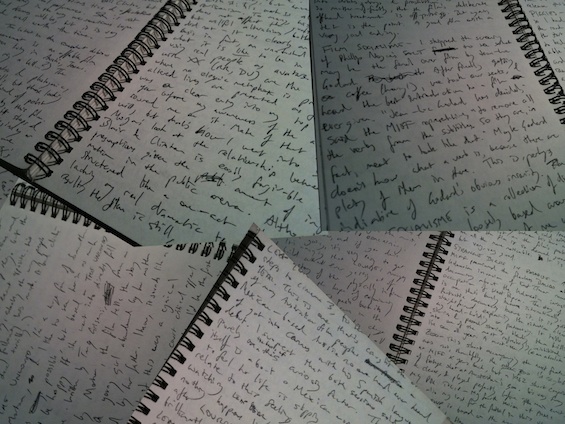 LATAURO DOES MIFF #1: THE WEDDING PARTY, OSADNÉ, AROUND A SMALL MOUNTAIN, TEENAGE PAPARAZZO, RED HILL, THE KIDS ARE ALL RIGHT, THE DELIAN MODE, THE FAMILY JAMS, MACHETE MAIDENS UNLEASHED, SPINE TINGLER: THE WILLIAM CASTLE STORY, RUBBER, VIDEOCRACY, MEDAL OF HONOUR, AND EVERYTHING IS GOING FINE, SILENT HOUSE and THE INVENTION OF DR NAKAMATS LATAURO DOES MIFF #2: GENIUS WITHIN: THE INNER LIFE OF GLENN GOULD, WORLD'S GREATEST DAD, THE HOUSEMAID (2010), THE GENIUS AND THE BOYS, THE SPECIAL RELATIONSHIP, BEESWAX, MAI MAI MIRACLE, BOY, THE TWO HORSES OF GENGHIS KHAN, DREAMLAND, SON OF BABYLON, CHLOE, ADRIFT and THE KILLER INSIDE ME LATAURO DOES MIFF #3: THE DREAMER, PIGGIES, FILM SOCIALISME, I LOVE YOU PHILLIP MORRIS, TETRO, THE ILLUSIONIST, THE TREE, BLANK CITY, FOUR LIONS, PLEASE GIVE, CARLOS PART ONE, CARLOS PART TWO, CARLOS PART THREE and AIR DOLL LATAURO DOES MIFF #4: WILD TARGET, THE UNLOVED, LEBANON, LE DONK AND SCOR-ZAY-ZEE, COLLAPSE, MATCHING JACK, 1981, KOSMOS, GARBO THE SPY, SUMMER CODA, THE BURBS, COOKING WITH HISTORY and ENTER THE VOID LATAURO DOES MIFF #5: ELEANOR'S SECRET, DESERT FLOWER, STRANGE BIRDS IN PARADISE, ZOO, MY DOG TULIP, LOURDES, LEAP YEAR, CATFISH, HAHAHA, NOSTALGIA FOR THE LIGHT, THE HOUSEMAID (1960), WAKING SLEEPING BEAUTY, SEX & DRUGS & ROCK & ROLL and SCOTT PILGRIM VS THE WORLD Despite seeing a decent portion of the festival, I did miss some which I'm assured would have made my best list (like I KILLED MY MOTHER), and others I'm told would have made my worst list (like TRASH HUMPERS). Nevertheless, here are my lists based on what I did see. The Best Narrative Films of MIFF: So much attention was given to opening night film THE WEDDING PARTY (which I largely enjoyed), oddly overshadowing the two best Australian films of the festival: RED HILL and SUMMER CODA, both of which are contenders for my favourite films of the year. I LOVE YOU PHILLIP MORRIS was blisteringly funny, as was the brilliant FOUR LIONS. The English drama THE UNLOVED was astonishingly good, and suffered only from being followed by the perfect LEBANON. Still in the Middle East, SON OF BABYLON was an amazing work, as was the New Zealand hit BOY, and Francis Ford Coppola's masterful return to form TETRO. Ending the festival with Edgar Wright's perfect SCOTT PILGRIM VS THE WORLD was a very good idea, and it's currently a nose hair in front of LEBANON for my pick of MIFF. The Best Documentaries of MIFF: The unexpected OSADNÉ was my first proper session, and is exactly the sort of film I hope to see at a film festival. MACHETE MAIDENS UNLEASHED may have been more of the same from Mark Hartley, but given how good NOT QUITE HOLLYWOOD was, this is no bad thing. STRANGE BIRDS IN PARADISE, WAKING SLEEPING BEAUTY and NOSTALGIA FOR THE LIGHT were all gorgeous, and TEENAGE PAPARAZZO was brilliant. My favourite goes to Steven Soderbergh's AND EVERYTHING IS GOING FINE, almost by virtue of being the most enjoyable documentary of the festival. But it was a very close call. The Worst Films of MIFF: It's probably no coincidence that Cannes awarded Un Certain Regard to HAHAHA and the Camera d'Or to LEAP YEAR, both of which certainly qualify for my worst list. However, neither beats the horrible documentary COOKING WITH HISTORY, which took an interesting subject and documented with no respect and no quality. The FANTASMA Award For "Does This Even Qualify As a Movie?": I last awarded this back in 2008 to WR - MYSTERIES OF THE ORGANISM. In 2010, the award goes to Jean-Luc Godard's FILM SOCIALISME, which would qualify as the worst film of the year if I thought it could reach the high watermark of "film". But I may let it through on a technicality when it comes to my best and worst of the year come December. And to think I skipped a media screening of SALT for this... The Tally: 70 films all up. I don't see that many in order to rack the numbers up, of course, but it's interesting to take stock at the end of it all. To be honest, that tally includes two double ups (a short film before a feature, and two shorter documentaries in the one session) and a media screening on the day of opening night. But all in all, seventy separate films over two-and-a-half weeks. And yes, it was more than worth it.