@@@@ What the #$%! is AICN COMICS: Q&@? @@@@
AICN COMICS: Q&@ is our new semi-weekly interview column where some of your favorite @$$Holes interview comic bookdom's biggest, brightest, newest, and oldest stars. Enjoy this latest in-depth interview filled with @$$y goodness and be sure to look for more AICN COMICS as we gaze into the future of comics every week with AICN COMICS: SPINNER RACK PREVIEWS every Monday and then join the rest of your favorite @$$Holes for their opinions on the weekly pull every Wednesday with AICN COMICS REVIEWS!
---
Q's by Ambush Bug!
@'s by Radical Comics Publisher Barry Levine!
Hey folks, Ambush Bug here with the third of fifteen mighty interviews I conducted at this year's San Diego Comic Con. Last year, I chatted with Radical Comics Publisher Barry Levine at San Diego and it was Radical's big debut at the con. With a year under their belts, Radical has become one of the most up and coming comics publishers in comics with major announcements in both the film and comics arenas. I had a chance to talk with Barry again this year. Here's what he had to say…
AMBUSH BUG (BUG): Hi Barry, good to see you again. How's the con going for you so far?
BARRY LEVINE (BL):
We're doing great. It's our second year…our official second year. Like anyone else, the first two years we're just trying to trudge our way through the publishing world and create a brand and find content and this year, content comes to us. People come to us. We couldn't be happier.
BUG: What is the biggest change from last year to this year for you?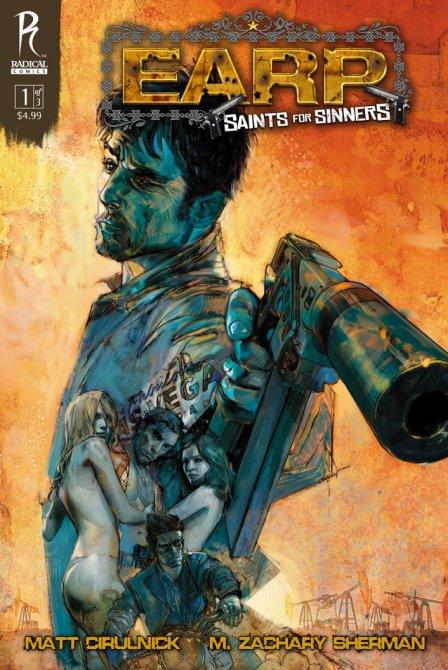 BL:
The biggest change is A) the amount of announcements that we are making in regards to adapting our stuff to films. As you saw this week, Sam Raimi came on to directed and produce EARP.
BUG: That's really exciting. How did that come about?
BL:
It came about that we have quite a few properties that have been setting up and quite a few that are ready to go out now. But I'm not going to go out with three or four properties a month like a used car salesman. We don't do that. We walk in when we're ready and we walk in with full attachments. And I changed agencies and we do these great portfolios that we present that are representative of the concepts and the characters we have. And they said, "You know, Sam's looking to do something like this. He loves Westerns." And I said, "Well, this is a contemporary Western." We've taken all of the classic icons--Wyatt Earp, Doc Holliday, Jesse James, etc.--and we've placed then in Vegas now, Modern Depression Era. So they called the writer Matt Cirulnick and said, "So we have interest from Sam Raimi." And Matt said, "Great!" And then they said, "But you have to get on the phone with him in nine minutes." And he said, "But I'm not prepared." And they said, "Nine minutes." They got on the phone and spoke for like an hour. Sam said "OK, let's meet tomorrow for two hours." That was on Friday. Then on Tuesday he called up and was committed. They said let's go forward with it.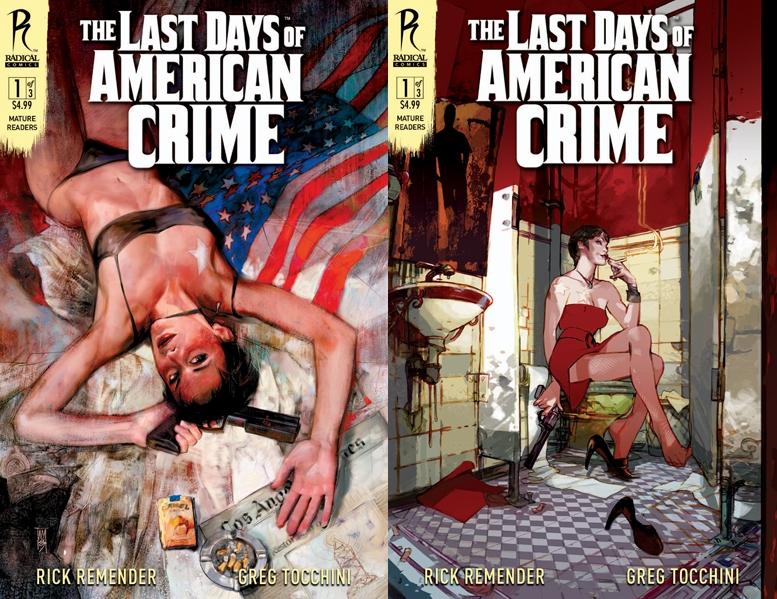 BUG: Is there a time frame set up yet for when the film will be out?
BL:
I'm never going to commit to a time frame. The thing is the better the package, the better the script, the better the opportunity to get your product made. I don't believe in bringing your comic book and a pitch and walk into a studio. Those days are over. You can do it. But 98% of the time they don't get made. And I've been there, with many in the past. Our whole new thing; we've got HERCULES with Spyglass, that's to go into production in March.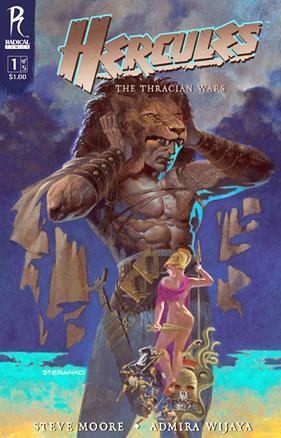 Bryan Singer and I are producing FREEDOM FORMULA. Sam Worthington and I are producing THE LAST DAYS OF AMERICAN CRIME. There's a lot of stuff. But I'm never going to say, this is our next film. It's all going to depend on the availability of the stars, the quality of the script, you know. You just got to believe that if you bring the best, you get the best. That's how I see it.
BUG: So you've got a lot of comics coming up this year. Let's go over a couple of them.
BL:
The one that I'm really excited about is called OBLIVION. We're giving away an incredible ashcan now. This is something we've already been talking with three major studios already. Joe (Joseph Kosinski) purposely didn't want to do a deal right now because he really wanted to focus on TRON and get it ready for Comic Con. And as of Monday, we go out to a couple of places and see what happens.
[Editor's note; Since this interview, Radical has announced that OBLIVION has been picked up by Disney to be made into a film directed by Kosinski and produced by Levine.]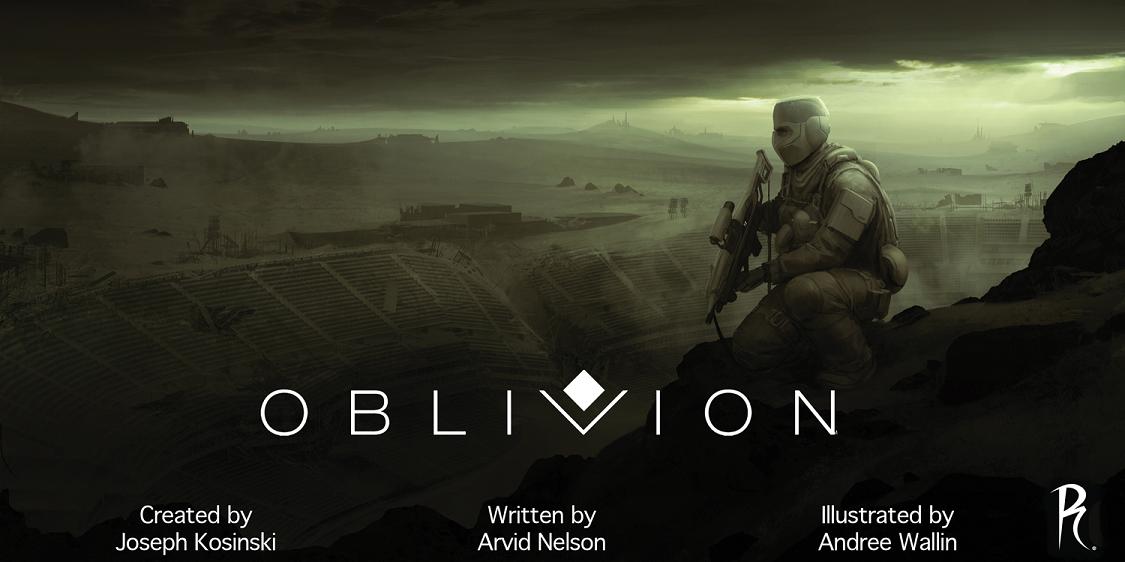 Bug: Can you tell me a little about OBLIVION?
BL:
No. I want you to read it.
BUG: I will.
BL:
I want to give you one of these to take with you.
BUG: I saw the concept art yesterday [at the Radical panel] and it looks amazing.
BL:
The reason why I'm not telling you about it…I can tell you it's going to be a part of our illustrated novel series. We're doing comics, we're doing illustrated prose novels with artwork. Our illustrated novels really excite me. We get artists who aren't comic book artists and don't want to do comics, not because they are highbrow, but because doing a comic takes a lot of work. And it takes a major commitment from an artist to do the kind of artwork that fits our style. It takes a commitment from them to meet the standards we've set here with our books and we keep raising the bar, so you've got these artists who would love to tell a story, so we came up with the illustrated novel, which is done in a portrait or landscape format in limited edition in hardcover and softcover in larger print runs. And the images are perfect for the iPad. It's gorgeous.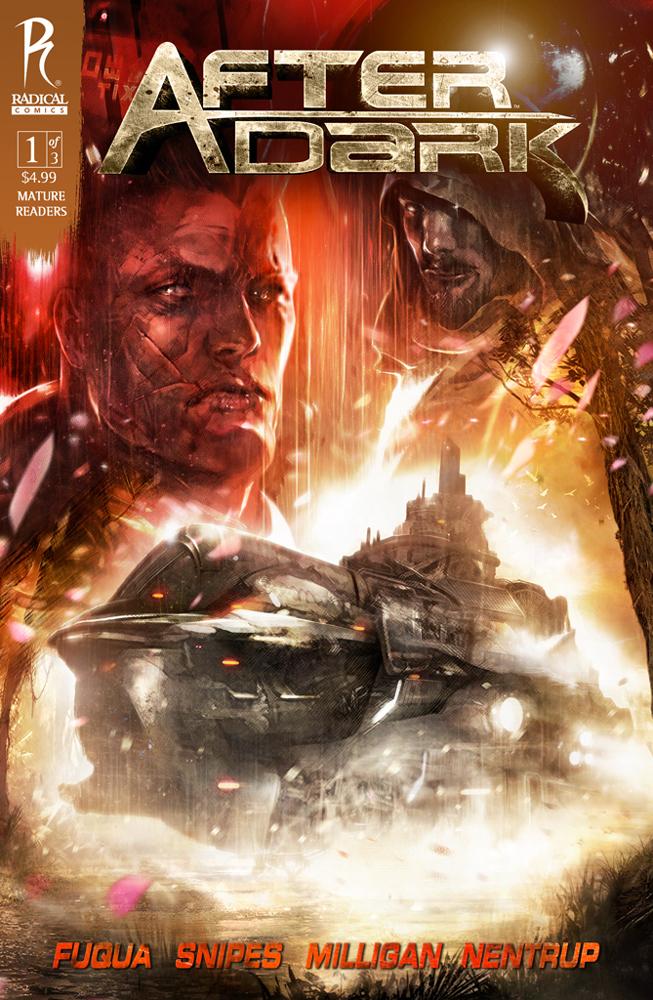 BUG: What else do you have coming up?
BL:
Big signing tomorrow with Antoine Fuqua and Wesley Snipes. Together they created AFTER DARK, which is being written by fan favorite comic book writer Pete Milligan. We have another project that we haven't announced yet from Peter that's creator owned, but he decided to write this book as a favor because he loved Antoine and Wesley and he loved the concept. It's like an APOCALYPSE NOW meets THE DIRTY DOZEN.
BUG: Nice.
BL:
It's a little bit futuristic. You don't see the sun anymore and this team goes on this voyage to find someone who society really needs to help maintain law in a lawless society.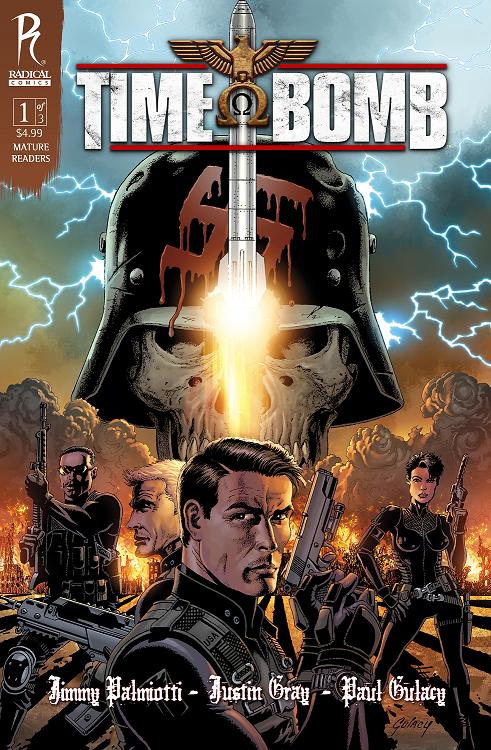 BUG: So what type of things do you have for the next year or is that too far ahead?
BL:
The kind of work we do, our illustrated novels takes 6 to 8 months to complete. OBLIVION's taken a year.
BUG: I just read DRIVER FOR THE DEAD. I love that one.
BL:
I love that one. We're pushing that one hard and heavy. That was brought to me by mega-producer Mark Gordon.
BUG: I can't wait to read TIME BOMB. It looks fantastic.
BL:
From my boy, Jimmy. Jimmy Palmiotti. Anything to do with beating Nazi's up, I'm there. If I could stick a 2x4 up Hitler's @$$, I'm there.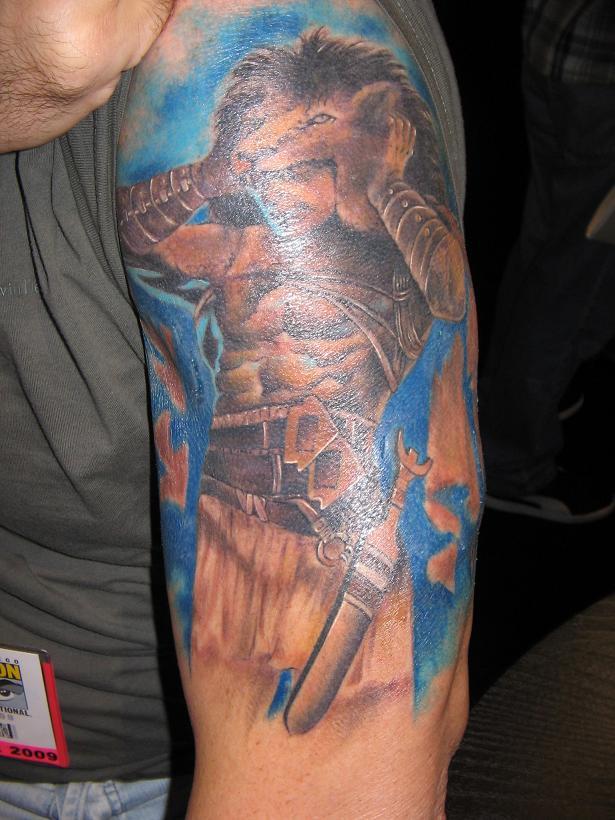 BUG: OK! Well, I know you're being called away, but I wanted to ask you one last question. Last year, you got your first tattoo [a full sleeve of Steranko's HERCULES cover, the first comic Radical ever published] and I wanted to know if you got any more for this year's con?
BL:
Yeah, but I can't show it to you. My wife would divorce me! (laughs)
BUG: OK. (laughs) Well, thanks for talking to me. Have a great con!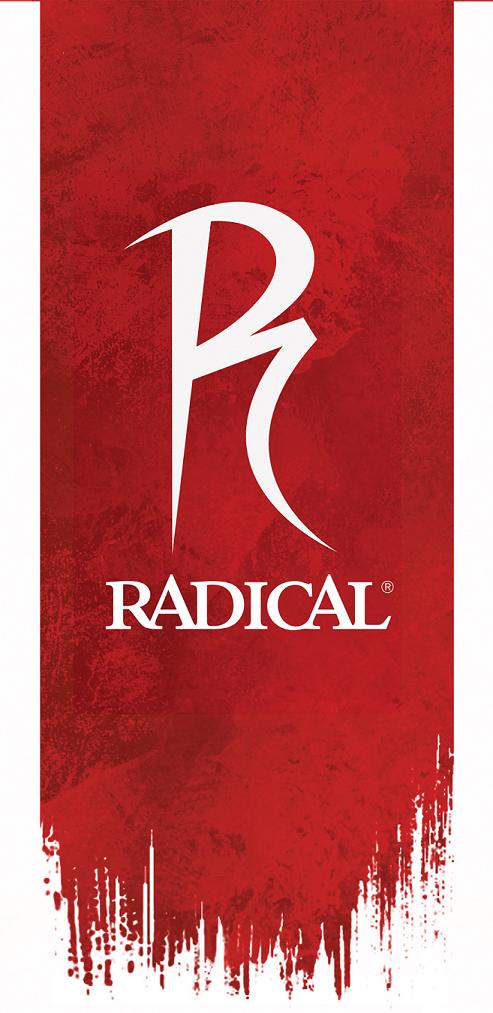 BL:
Alright man, cool. Thanks.
BUG: Be sure to check out all of Radical's new comics coming out in the upcoming year. They really do put out some of the most beautiful comics on the shelves today.
Ambush Bug is Mark L. Miller, original @$$Hole / wordslinger / reviewer / co-editor of AICN Comics for over nine years. Check out his ComicSpace page for his entries the MUSCLES & FIGHTS VOL.3 & MUSCLES & FRIGHTS VOL.1 anthologies. Bug was interviewed here & here (about AICN Comics) & here & here (on VINCENT PRICE PRESENTS: THE TINGLER #1-2). Bug's latest comic is VINCENT PRICE PRESENTS #21: WITCHFINDER GENERAL (available in June's Previews Order # JUN10 0825) on sale in late August. Bug was also interviewed here & here about his upcoming original vampire miniseries NANNY & HANK (available in June's Previews Order #JUN10 0824) due out in late August. Bug also has a 10 pg story in Zenescope's upcoming WONDERLAND ANNUAL 2010 (in July Previews Order # JUL10 1200). Support a Bug by checking out his comics!
---
---
Editing, compiling, imaging, coding, logos & cat-wrangling by Ambush Bug Proofs, co-edits & common sense provided by Sleazy G
---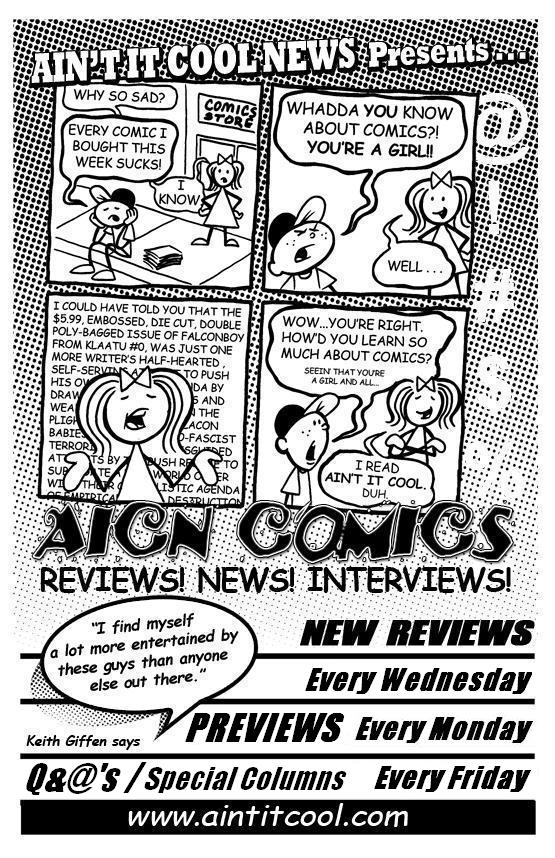 Ad by Prof. Challenger