@@@@ What the #$%! is AICN COMICS: Q&@? @@@@
AICN COMICS: Q&@ is our new semi-weekly interview column where some of your favorite @$$Holes interview comic bookdom's biggest, brightest, newest, and oldest stars. Enjoy this latest in-depth interview filled with @$$y goodness and be sure to look for more AICN COMICS as we gaze into the future of comics every week with AICN COMICS: SPINNER RACK PREVIEWS every Monday and then join the rest of your favorite @$$Holes for their opinions on the weekly pull every Wednesday with AICN COMICS REVIEWS!
---
Q's by Ambush Bug!
@'s by uber-artist Jock!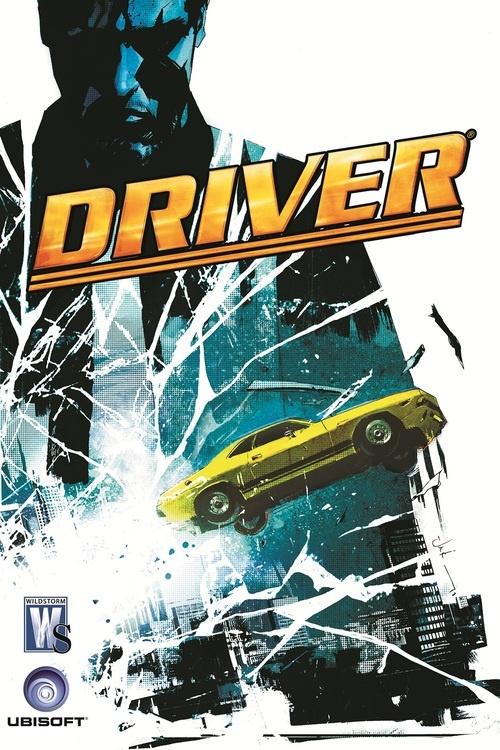 Ambush Bug here again with my first in a series of fifteen interviews conducted at this year's San Diego Comic Con. One of the coolest things to me about going to these cons is meeting with folks who you admire and have admired for years. I remember first seeing the artist who goes by the name of Jock in the first issue of THE LOSERS and I was automatically a fan. When I received an email stating Jock would be at SDCC, I made sure to find some time to chat with him. Here's what Jock had to say about THE LOSERS, the film adaptation, and his new work on DRIVER for WildStorm.
AMBUSH BUG (BUG): So I'm here at the DC booth with one of my absolute favorite artists today, Jock!
JOCK:
Aww. Thanks, man.
BUG: So I discovered you like many others on THE LOSERS. But now you have a new project coming out, DRIVER. Tell me a little about that.
JOCK:
Well, I'm doing the cover art for DRIVER. It's written by David Lapham. I think they saw something in my LOSERS work that kind of fit in what they had in mind for DRIVER and so they set a course for me to do it, and here we are.
BUG: You have such a unique style. What influenced you as you were growing into the artist you are now?
JOCK:
I really like to look outside of comics for influences, really. I think sometimes comics can be too insular. A lot of people who want to draw comics look to other comics. I like movie posters, magazines, skate magazines and the design of those. And then everything and anything that's interesting in the world. I try to bring some of that back into the comics work and try to make the comics covers that are distinctive.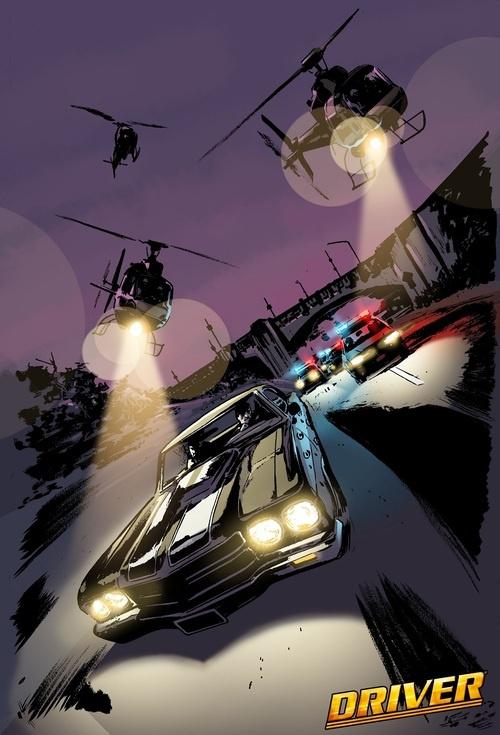 BUG: What was it about DRIVER that interested you?
JOCK:
It was lucky really. They liked what I did anyway. And some of the imagery they use like stark contrasts and silhouettes and these are all things that I quite often use myself. Yeah, so they sort of asked if I would be interested in doing it. Design-wise, I did things the same way I would do a normal comic book cover. So it was a lot of fun. I used to play the first DRIVER.
BUG: I was going to ask you that, are you a fan of the game?
JOCK:
Yeah, the first one in particular. I played it to death. I was in a band and we toured around Europe and that was the only game we had on the tour bus so we would play for hours and hours and hours. It's still one of the best games. And this one, the new one is coming out which the comic ties into, it supposedly refers back to that first game.
BUG: So you said you were in a band? What type of band was it?
JOCK:
Ahhhh, I don't know what you would call us, actually. What type of band were we? Sort of loungey, kind of I don't know.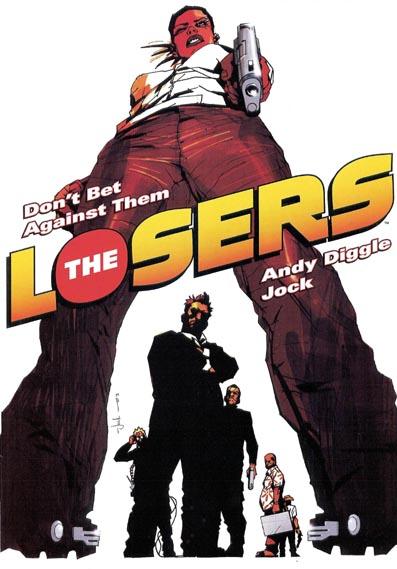 BUG: So I saw the film version of THE LOSERS. Can you tell me a little about your participation in the making of that movie?
JOCK:
Honestly, I couldn't believe how much of my stuff that they used. And I think that most that came from Sylvain (White) the director. When we visited the set he was talking about some ideas he had and what ended up in the film were the character shots of the guys at the beginning. He sent me a still frame of the movie and then I would match it with my art. We talked about doing things for scene transitions as well, but that didn't work out. And I think that is for the best. I think that when there is too much art in the movie it can take you out of the live action possibly, but none the less. But I did some new art for the character shots and the title card.
BUG: What'd you think of the film? Did you like it?
JOCK:
Yeah, it was a lot of fun. I was surprised by the tone of it. It was different than the comic. But my god, it was hilarious.
BUG: Yeah, you're right. The tone was a little different, but you can look at both as separate entities and enjoy both for what they are.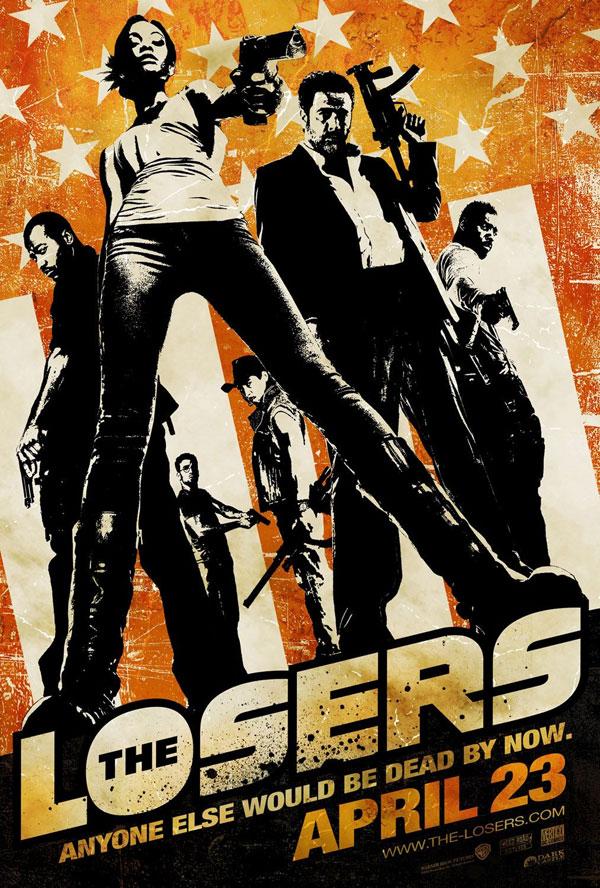 JOCK:
Exactly. It was a real thrill to see it. I mean, even the Warner Brothers logo had my art flying around it. I mean, all the guys, Sylvain and all the guys were spot on for the look compared to the comic. I mean, Chris Evans as Jensen. I couldn't believe it. When we were on set, it was so surreal. It was like, someone that only existed on paper and in my head was talking with me. It was the weirdest thing and he'd grown a little goatee and sideburns. And these are choices that I made pretty whimsically as I was coming up with the design to make the characters look distinctive and now that guy has to live with that look for three months. When I saw Chris Evans, I said to him I was sorry about the facial hair and the sideburns, and he said, "Do you know what? This is coming off (Jock tugs on his sideburns) as soon as we wrap!" (laughs)
BUG: (laughs) That's great. So for the design for the Losers, you said that you threw in these little details just to make them look different from one another? What was your thought process as you came up with each character's distinct design?
JOCK:
Well, I say whimsical, but with comics you have to make them look distinctive, particularly with a real world story like THE LOSERS. But also Andy Diggle is great at writing distinctive characters. They all have their own tone. I'm sure in the script about Cougar's hat and Clay was wearing the suit. You just look for iconic features that make them easily recognizable.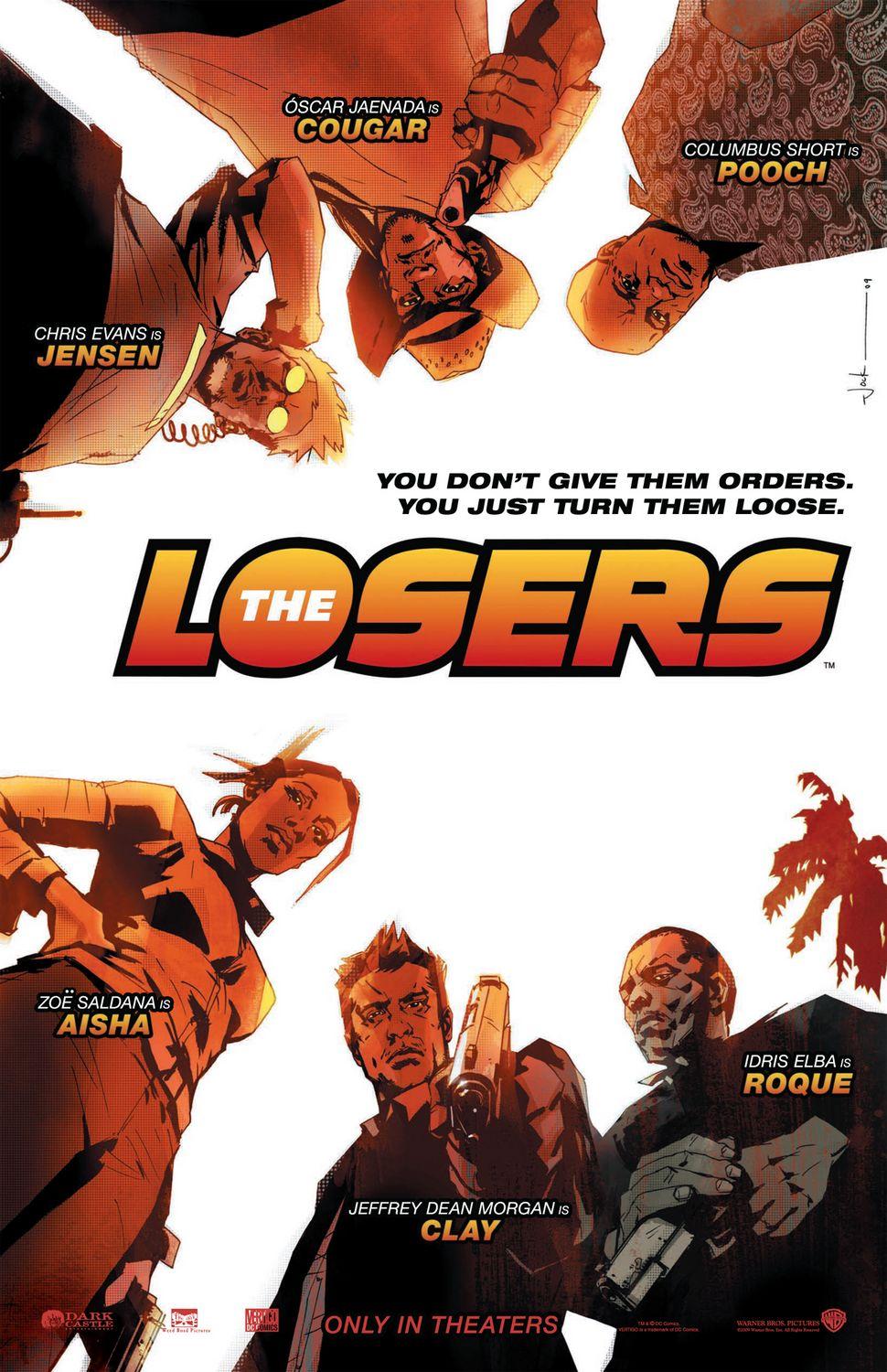 BUG: Last LOSERS question.
JOCK:
Oh I can talk about LOSERS all day.
BUG: Oh, I can too. Are we going to see any more LOSERS stuff coming out?
JOCK:
Comics or movies?
BUG: Well, both!
JOCK:
I don't think the film did well enough at the box office to warrant a sequel which is too bad because they all were behind it 100% and they wanted to do two more. They had been in Puerto Rico for like two and a half months and man, they were
tired.
I mean, Jeffrey Dean Morgan who played Clay, he looked so tired, but it actually suited his character. I mean, Jeff looked great, but the movie really took its toll on the actors. They'd all been through the ringer. Shooting an action movie in that heat. But they all had so much energy. They were cracking jokes in between takes. Chris Evans, Zoey, all of them called each other by their characters' names between takes. It was quite an experience. And they were all really into it. But I just don't think the box office did well enough. But who knows, maybe if everyone goes out and buys the BluRay or DVD they might do another. Who knows? But I haven't heard of anything right now.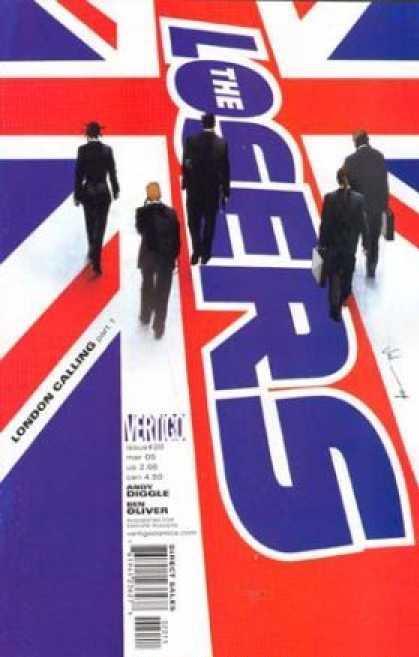 BUG: What about the comics?
JOCK:
Yeah, well we had an idea for a follow up miniseries. For those who haven't read the comic *SPOILER* some of the characters die at the end of the series. But some of them didn't. And some of them were left more ambiguous. And we had an idea to do a follow up miniseries with Aisha, basically. But the other guys would have been in there too. But literally, Andy Diggle has signed a Marvel exclusive and literally, one week later, Jeffrey Dead signed on as Clay for the film. And then Sylvain joined and they scheduled the movie to be shot that July. So it's a contract that he's still in now. Obviously ideally, with the movie coming out, it would have been a good time to tie in a miniseries with the movie.
BUG: Well, hopefully, you and Andy can do that once his contract is up.
JOCK:
There's always the future. THE LOSERS was our first major work in the US together and it's what we're known for.
BUG: So you've worked with Diggle before THE LOSERS, right?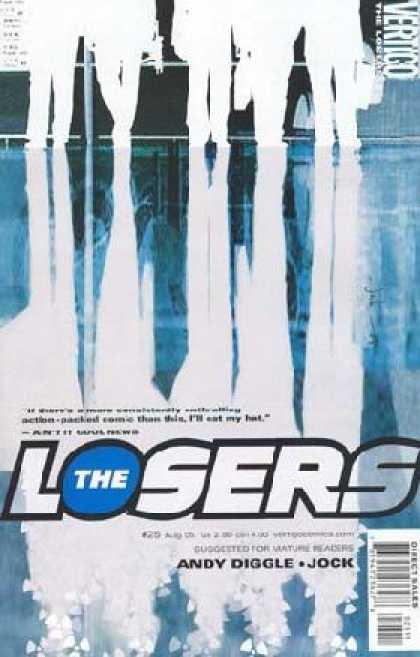 JOCK:
Yeah, Andy was the editor at 2000 A.D. It wasn't my first work, but when I started working there, he was the one championing me. We did a little short called LENNY ZERO, which was set in the JUDGE DREDD universe. That was our first thing together. In fact, it was that story that we showed to Vertigo in order to do THE LOSERS, and that got us our work there. Andy did a miniseries called LADY CONSTANTINE first. But then when THE LOSERS was starting up they said "well, these guys work well together. Let's put them on this book." And I love working with Andy. Something clicks.
BUG: Even the name, Diggle & Jock…
(both laugh)
JOCK:
Yeah…(laughs)
BUG: A little crude, but it's a name that sticks with you.
JOCK:
Yeah…(laughs)!
BUG: So what's next for you?
JOCK:
Right now, I'm doing another miniseries with Andy Diggle called SNAPSHOT. I'm honored to work on that book. Should be cool. I'm talking to DC about stuff this weekend. And I'm doing a lot of movie concepts as well. I'm doing concept art on the new JUDGE DREDD movie. Judge Dredd was my favorite character growing up, so it's a real honor to work on that one.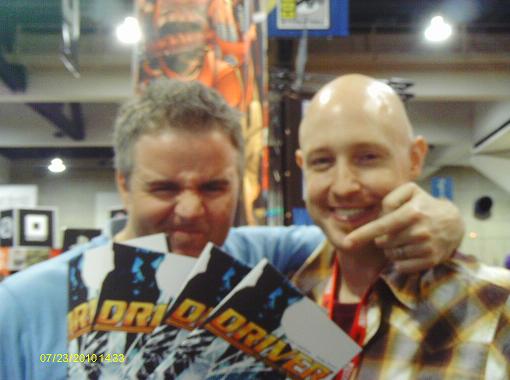 BUG: So are we going to lose you to Hollywood? There have been a lot of great artist who have gone on to work on movies and we don't ever hear from them again in comics.
JOCK:
(laughs) You know, comics are really special. Doing the movie stuff is a lot of fun, but you know, comics, that's your artwork there for all to see. I can't deny, the Hollywood stuff is great. But comics will always hold a special place in my heart. Awww, you can't end on that…(laughs)
BUG: Well I think we have to. Thanks a lot for taking the time to chat with me here.
JOCK:
Thanks, it was great!
BUG: Be sure to look for Jock's cover art for DC WildStorm's DRIVER book and you can always check out his amazing DC Vertigo work in LOSERS in trade, and I'll be picking up anything and everything that Jock will be doing in the future.
Ambush Bug is Mark L. Miller, original @$$Hole / wordslinger / reviewer / co-editor of AICN Comics for over nine years. Check out his ComicSpace page for his entries the MUSCLES & FIGHTS VOL.3 & MUSCLES & FRIGHTS VOL.1 anthologies. Bug was interviewed here & here (about AICN Comics) & here & here (on VINCENT PRICE PRESENTS: THE TINGLER #1-2). Bug's latest comic is VINCENT PRICE PRESENTS #21: WITCHFINDER GENERAL (available in June's Previews Order # JUN10 0825) on sale in late August. Bug was also interviewed here & here about his upcoming original vampire miniseries NANNY & HANK (available in June's Previews Order #JUN10 0824) due out in late August. Bug also has a 10 pg story in Zenescope's upcoming WONDERLAND ANNUAL 2010 (in July Previews Order # JUL10 1200). Support a Bug by checking out his comics!
---
Editing, compiling, imaging, coding, logos & cat-wrangling by Ambush Bug Proofs, co-edits & common sense provided by Sleazy G
---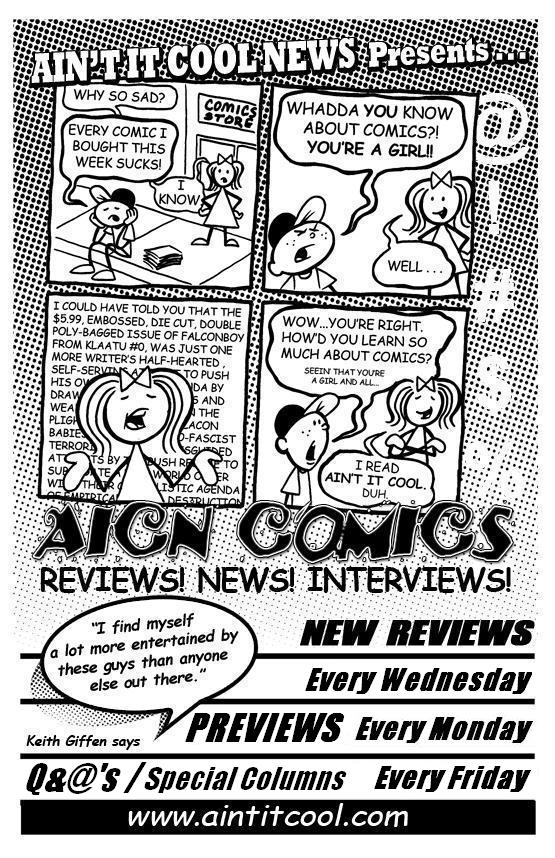 Ad by Prof. Challenger