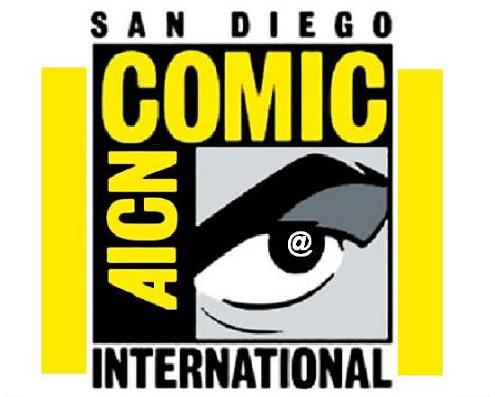 ---
Bug Hosts Another Horror Panel at SDCC!
Hey folks, Ambush Bug here with a very special SDCC Report. Last Thursday, producer Peter Katz and myself put together a panel for the Con entitled "Horror Filmmakers Discuss the Art of Fear." This is the second time I worked with Peter on one of these horror panels. You can check out my report on last year's Horror Comics & Film panel here. This year we gathered another group of horror-meisters to talk about what scares them, how to make it in Hollywood as a horror filmmaker, what are the common aspects of all horror filmmakers, and debate the fact that the horror film is in fact a form of cinematic art despite what snooty critics say. The panel went really well and we were lucky enough to have the event filmed and photographed by a very talented team (videographers Don Le and Paulo Ongkeko and photographer Jason David Raya). Before I show you the video, though, let's introduce our very talented panel.
Panelist #1: Ben Ketai, the writer / director of the sequel to 30 DAYS OF NIGHT: DARK DAYS (a movie I cannot wait to see when it hits DVD & BluRay later this Fall).

Panelist #2: Adam Gierasch, the writer / director of such cinematic treats as KILLER RATS, CROCODILE 1 - 2, MOTHER OF TEARS, MORTUARY, AUTOPSY, THE TOOLBOX MURDERS and the new NIGHT OF THE DEMONS remake set to be released next year.

Panelist #3: Jace Anderson (Adam's writing partner), who also wrote KILLER RATS, CROCODILE 1 - 2, MOTHER OF TEARS, MORTUARY, AUTOPSY, THE TOOLBOX MURDERS and the new NIGHT OF THE DEMONS remake and was our sole female horror-meister (or is that horror-mistress?) for this panel.

Panelist #4: Dan Myrick who wrote and directed THE BLAIR WITCH PROJECT and THE OBJECTIVE and wrote the sequel to BLAIR WITCH, BOOK OF SHADOWS.

Panelist #5: Steven C. Miller, writer / director of AUTOMATON TRANSFUSION, SCREAM OF THE BANSHEE, and connected to the MOTEL HELL remake.


Panelist #6: Todd Farmer, writer of MY BLOODY VALENTINE 3-D (Thanks, Todd, for the 3-D boobs!) and the new Nic Cage actioner DRIVE ANGRY in 3-D.

Panelist #7: Darren Lynn Bousman, director of SAW II, SAW III, SAW IV, REPO THE GENETIC OPERA, and the upcoming MOTHER'S DAY (which I am hearing very good things about).

Panelist #8: Kevin Grevioux, actor / writer of the UNDERWORLD movies, writer of ZOMBIES OF MASS DESTRUCTION and I, FRANKENSTEIN, and possessor of one of the scariest voices known to man or beast.

So that's our cast. Let's get on with the panel. Hope you enjoy it!

Chapter One:






Part Deux:






Part 3 In 3-D with Dream Warriors!






Chapter 4 the Squeakwel!





The Fifth and Final Chapter!





Again special thanks to Peter Katz for putting this whole thing together. It was a fantastic panel and I hope to do another at next year's con. I moderated another panel for Matt Pizzolo's Halo-8 Illustrated Films as well this year in SD with panelists Ben Templesmith and Tim Seeley. Look for more on that panel next week!
Ambush Bug is Mark L. Miller, original @$$Hole / wordslinger / reviewer / co-editor of AICN Comics for over nine years. Check out his ComicSpace page for his entries in Cream City Comics' MUSCLES & FIGHTS VOL.3 and MUSCLES & FRIGHTS VOL.1 anthologies. Bug was interviewed here & here (about AICN Comics) and here & here (on his VINCENT PRICE PRESENTS: THE TINGLER comics). Bug's latest comic is VINCENT PRICE PRESENTS #21: WITCHFINDER GENERAL (available in May's Previews Order # MAY100828) on sale in July. Fanboy Radio recently interviewed Bug about it here. Bug was also interviewed here & here about his upcoming original vampire miniseries NANNY & HANK (available in June's Previews Order #JUN100824) due out in August.
---
Editing, compiling, imaging, coding, logos & cat-wrangling by Ambush Bug Proofs, co-edits & common sense provided by Sleazy G
---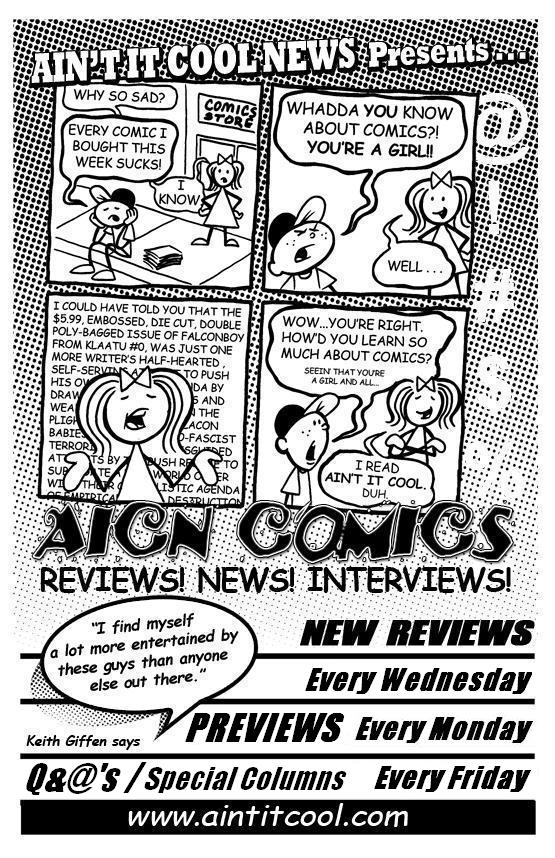 Ad by Prof. Challenger