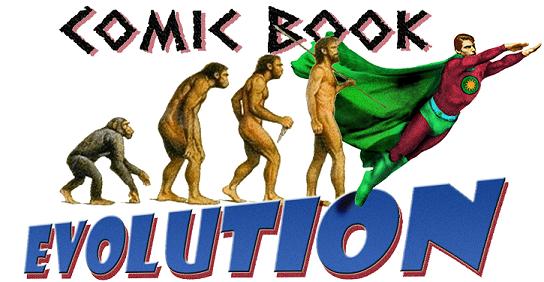 @@@@ What the #$%! is AICN COMICS: Comic Book Evolution? @@@@
AICN COMICS: Comic Book Evolution gives us a chance to pull back the curtain and take a look at the inner workings of how your favorite comics are made from the mouths of the artists and writers who conceived them.
Be sure to look for more AICN COMICS as we gaze into the future of comics every week with AICN COMICS: SPINNER RACK PREVIEWS every Monday and then join the rest of your favorite @$$Holes for their opinions on the weekly pull every Wednesday with AICN COMICS REVIEWS!
---
Ambush Bug talks with NANNY & HANK artist Steve Babb!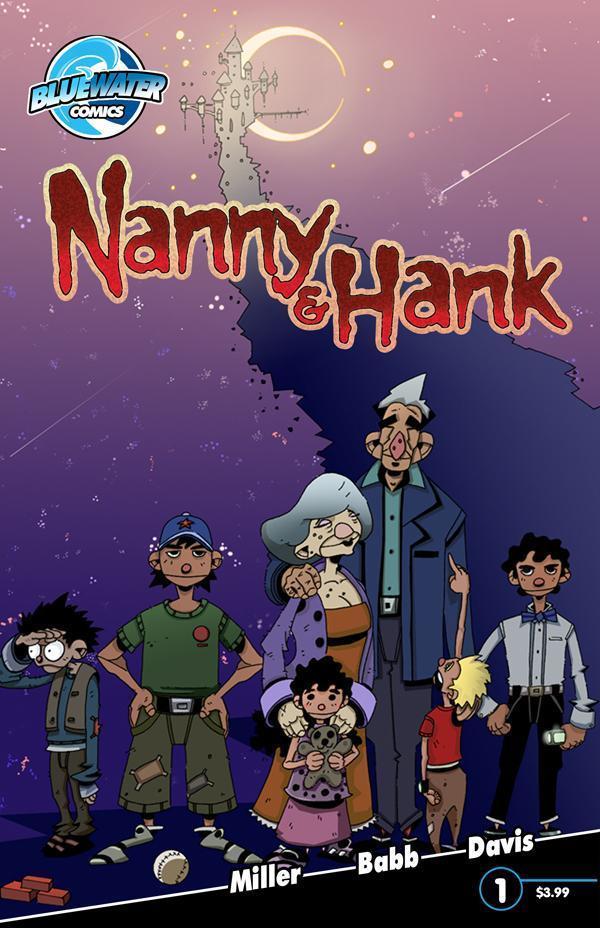 Hey folks, Ambush Bug here. I have no shame. I really want the Faithful readers of AICN to check out the first issue of my new comic NANNY & HANK, coming out in late August. You still have time to order, so tell your comic shop guy to order plentiful amounts because otherwise, you won't see it on the shelves. See a lot of retailers snub their noses at Bluewater Comics because they think all they do is bio comics, but turns out they publish some pretty fantastic original books too, but comic shops are a fickle lot, and comic readers are too, so something has to be pretty special to have them go outside the norm and order something new.
Breakout artist Steve Babb and I think NANNY & HANK is pretty special and we want folks to check it out to see if we are full of shit or not. I had a chance to speak with Steve about N&H and he was kind enough to share not only some preview pages from NANNY & HANK #1, but some pencils and inks for the pages as well. And to add to the fun, I tossed my original script pages into the mix too. Click on the images to see the whole comic book process in action. Here's what Steve had to say…


---

---

AMBUSH BUG (BUG): Tell me a little about how you were approached by Bluewater to work on NANNY & HANK.
STEVE BABB (SB):
Well, I actually approached Bluewater first. I was looking for work while another project was on hold and Darren Davis had some stuff for me. I didn't know what kind of work I'd get, but he said he had something that might be a good fit for me. That eventually was NANNY AND HANK. It really was the perfect project for me.
BUG: What was it about this story that attracted you to it?
SB:
I loved that the heros were elderly people. I think that's really rare to find in a lot of comics. The vampire thing is really cool too, but the family dynamic, Nanny and Hank's relationship and the grandkids is really what sold me. Mark did such a fantastic job writing those elements - especially in issues three and four of the relationship between the kids and Nanny and Hank. It was a total joy to get to draw that stuff. Plus, it just overall felt like a different kind of project in comics. Something that I'll be happy to have done and have on my shelf.
---
---
BUG: Tell me about your unique art style and how that developed. What were your artistic influences?
SB:
I think my biggest influence for NANNY AND HANK was Mike Mignola. But right when I started in on the first issue of NANNY AND HANK, I was looking at a lot of different stuff. Eric Canete, Skottie Young, John Paul Leon, and a lots of others. I think that first issue contains a sort of collision of styles. It was scattered, I think, and I feel like the first issue suffered a bit for it. I was trying all kinds of different things and taking on different influences as I saw fit. In some moments it was intentional, but in others I took things too far too quickly. However, it does make for artistically a interesting read and I don't feel like the overall intention of the first issue is lost or minimized. Anyway, after I got through the first issue everything sort of settled down and I found my groove. I'm really lucky that we had Ivan Plascencia on colors - he is amazing! Ivan saved me in some spots.
BUG: I can't believe this is your first published project. What did you do before this?
SB:
Before this I was working on a comic called DRAGONFIRE for Tom Akel. We had to put the project on hold for a while though. So, during the break I was looking around for something else and was fortunate to meet Darren and Bluewater.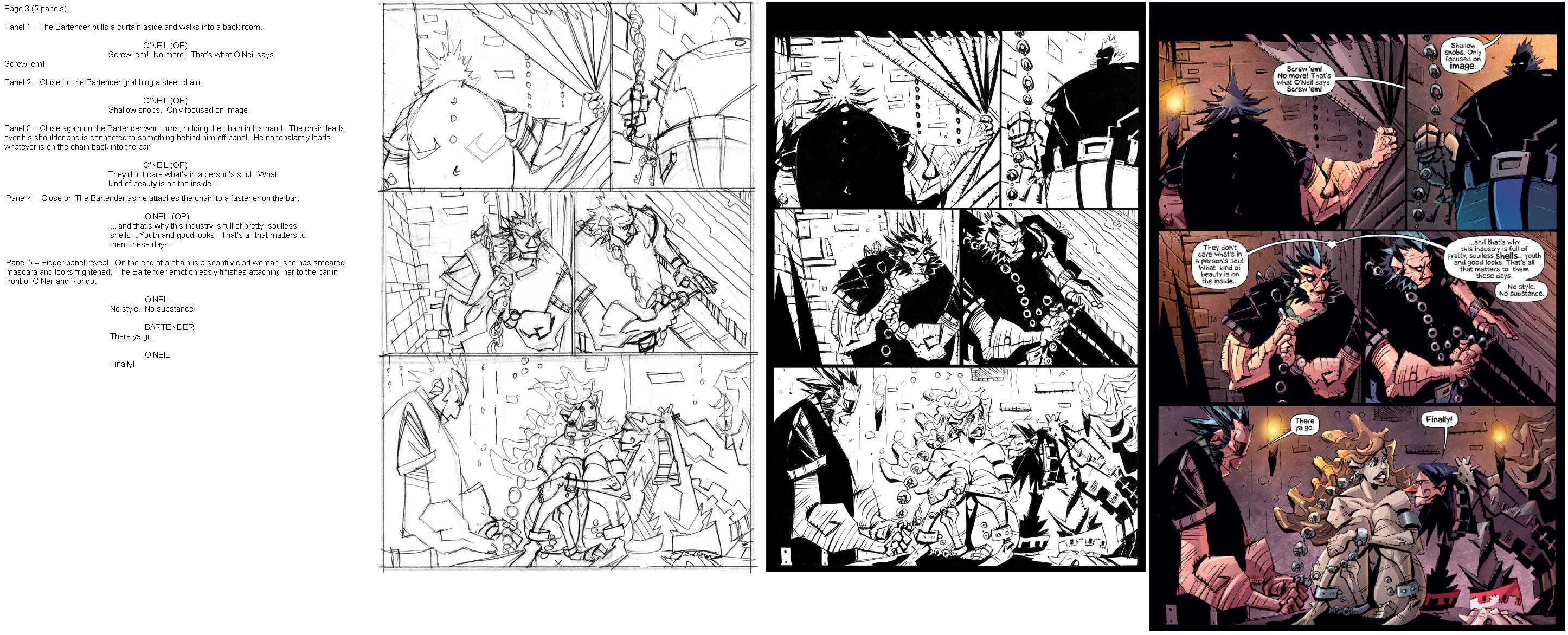 ---
BUG: Can you go into more detail about the unique anatomical design of your characters?
SB: Sure. For Nanny and Hank I actually got a picture of the real 'Nanny and Hank,' Darren's grand parents. I took that as my start and went from there. Hank looked long and lean, so he's just a bunch of tall cylinders and tall rectangles. I also wanted to give him slicked back, cool hair for an elderly guy. Kinda combs it, but maybe he has so much confidence he doesn't have to try too hard. Nanny was a little more round, so she got generous ovals and lots of curves. For the hair, Darren said to think of Betty White, so I did. I tried to make each of them stooped over a bit as well and throw in lots of wrinkles and liver spots! The wrinkles changed a bit once Nanny and Hank were turned into vampires. I tried to make them just a little, tiny bit darker in presence, but not much. I wanted them both to have distinctive silhouettes, even though I did very little silhouetting in the comic.
For O'Neil and Rondo, Mark gave me descriptions and I just went wild from there. O'Neil was a rock star sort of figure from a while back, so the first thing I thought was 'hair!' But I didn't do too much with it the first issue, in the second it gets very, very large. But a good large. I also thought 'heroin chic,' skinny, a little worn, but still good looking in that kind of way. And so, since he's kind of mean, spiteful, and fierce, I made his nose a projection of that. It's huge! A great big, long triangle right in the middle of his face. I threw on some kind of impossible leather coat and a black shirt and called it good. Rondo is probably my favorite character. Mark's description said, basically, 70's porn star/disco (think large mustache). That was fun. I gave him a white leisure suite, a full, swept back head of hair and a monster of a mustache that keeps getting bigger and bigger as the series goes on. By the fourth issue it covers most of his lower face!
With the rest of the family I only had ages, names and who they were. So, the kids ended up looking like string beans with beach balls for heads and Catherine, their Mom and Nanny's daughter, ended up looking like a businesswoman. However, with the kids I wanted the oldest, Craig, to have huge glasses, so he did. They take up most of his face. The other kids, Bobby and Janine, were a lot of fun to design as well.

---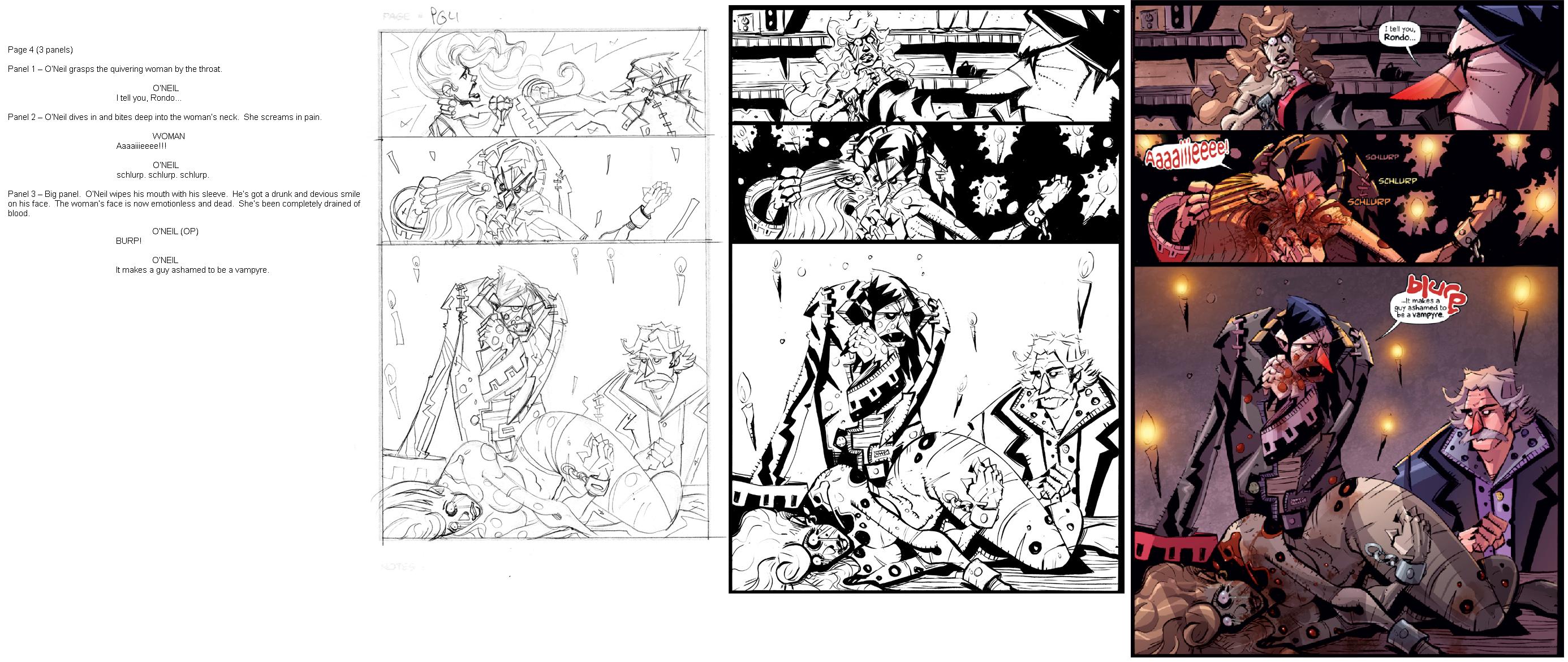 ---
BUG: Artists always have the coolest things adorning their desks or studios. What type of cool stuff do you have around your work space that inspires you?
SB: Honestly, I don't have anything too interesting around me. My walls are all white and blank except for a Kandinsky print and a Friedrich print. I only have them up because they're framed. I do have a lot of different kinds of pencils and inking tools to play around with, but mostly I'm so focused on the page that everything else becomes a distraction. This lesson took me a while to learn, but now I've pretty much got it. I don't even listen to the radio as much as I used to.

BUG: Now that you've seen the complete first issue of NANNY & HANK, what do you think of it?
SB: I love the writing, the plot, how it's paced and the color is just gorgeous. But again, I think my drawing is a little weak in spots. That being said, if readers are willing to pick up the first issue, the art only gets better and better! Plus, the whole story is so fun and enjoyable! Even if I'm my own worst critic, it's still a a great read and I'd pick it up regardless.

---

---
BUG: How were you able to balance the more comedic moments of this story with the more horrific ones?
SB: I mostly used the tried and true method of dark shapes and panels for horror moments and lighter in tone panels for the more light hearted moments. That seemed to work best for me (plus it's easy). I also tried to push each character's gesture relating to emotion as the script called for it to help support the feeling of the scene. Body language, mostly.

BUG: What other projects do you have coming up?
SB: Right now I've got a few things on the horizon, but nothing too specific. I am currently writing and designing a graphic novel and having a blast doing that, but I probably won't get too far before I have to go back to another project.

---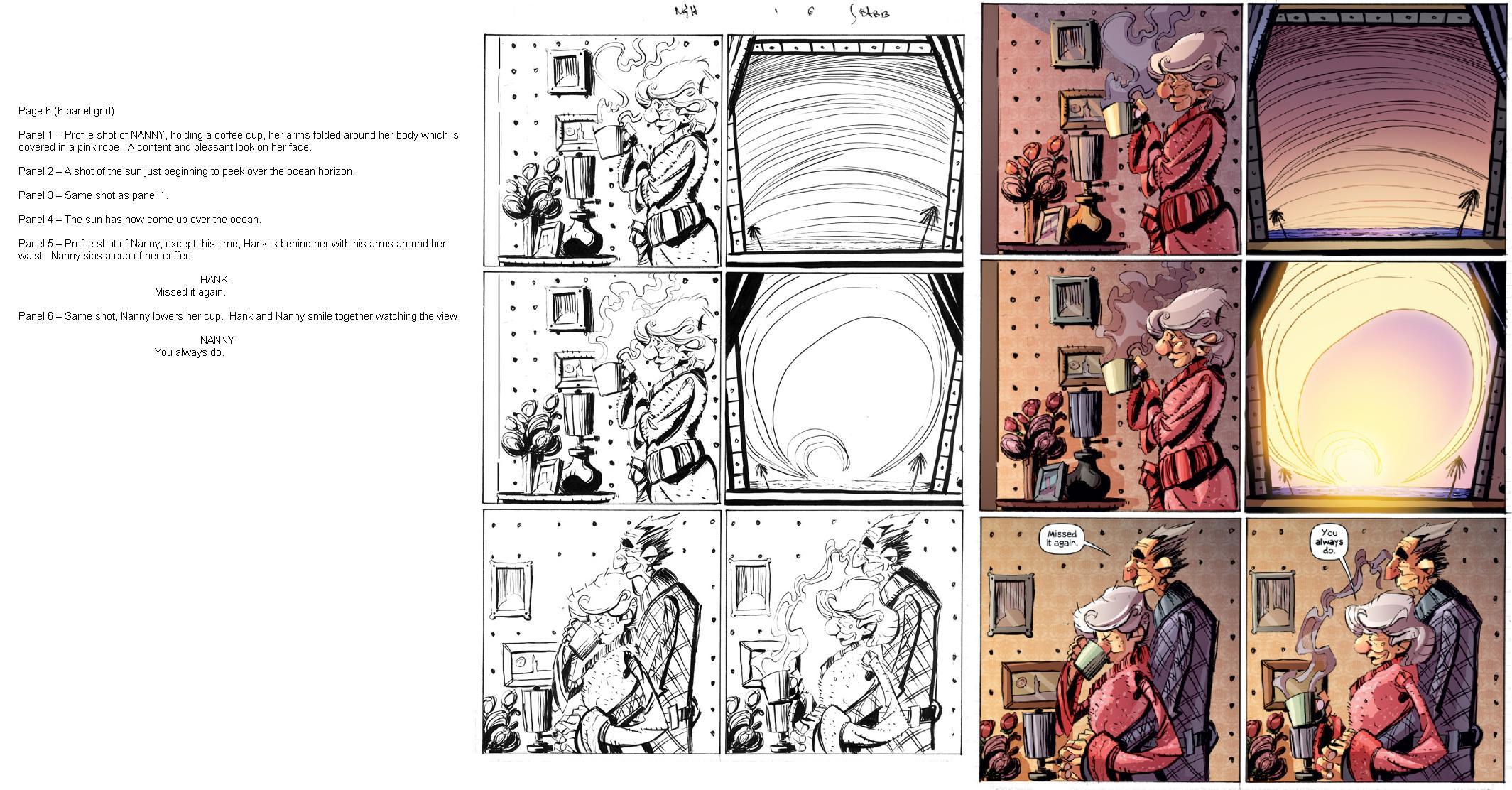 ---
BUG: Last chance, why should folks make sure to demand that their store order copious amounts of NANNY & HANK #1 (in Previews now Order #JUN100824 and in stores late August!)?
SB: NANNY AND HANK #1 is a great read and a lot of fun! The story is totally original and unique in the genre of vampire stuff. It'll be fun to follow Nanny and Hank and see what happens to 'em as the series progresses. They're easy to get attached to because they're so believable - and why not buy a comic about some older people? Why not try something a little different? And last but not least, help support some original creators doing our best to entertain and explore the medium. Thanks!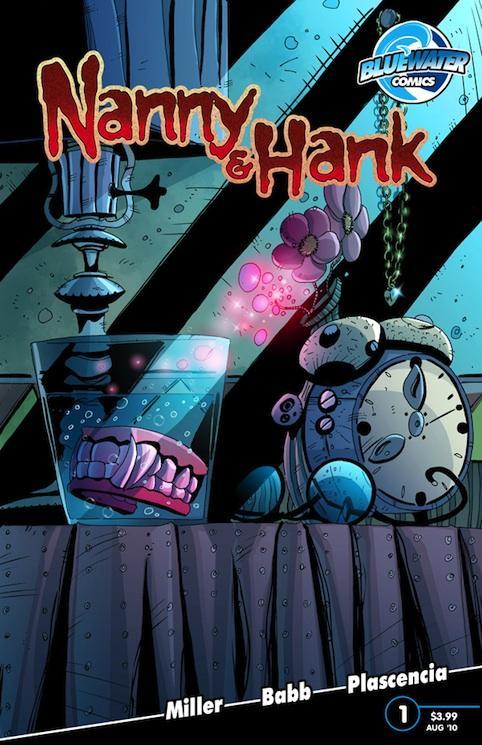 BUG: Thanks, Steve! No joke, folks. If you don't tell your stores to order this book, you won't be seeing it in stores at the end of August. So tell your LCS to take a chance on a book from your favorite Ambush Bug with amazing art from Steve Babb. I'm really proud of this book and Steve's work in it. So be sure to check it out. It's in Previews Order #JUN100824 and it can also be found here if you want to order directly! Not convinced yet? It's been getting some pretty positive reviews here and here and here and here and our own superhero said some kind words about it right here. I also was just interviewed at Comics Bulletin if you're thirsty for more!

Ambush Bug is Mark L. Miller, original @$$Hole / wordslinger / reviewer / co-editor of AICN Comics for over nine years. Check out his ComicSpace page for his entries in Cream City Comics' MUSCLES & FIGHTS VOL.3 and MUSCLES & FRIGHTS VOL.1 anthologies. Bug was interviewed here & here (about AICN Comics) and here & here (on his VINCENT PRICE PRESENTS: THE TINGLER comics). Bug's latest comic is VINCENT PRICE PRESENTS #21: WITCHFINDER GENERAL (available in May's Previews Order # MAY100828) on sale in July. Fanboy Radio recently interviewed Bug about it here. Bug was also interviewed here & here about his upcoming original vampire miniseries NANNY & HANK (available in June's Previews Order #JUN100824) due out in August.
---
Editing, compiling, imaging, coding, logos & cat-wrangling by Ambush Bug Proofs, co-edits & common sense provided by Sleazy G
---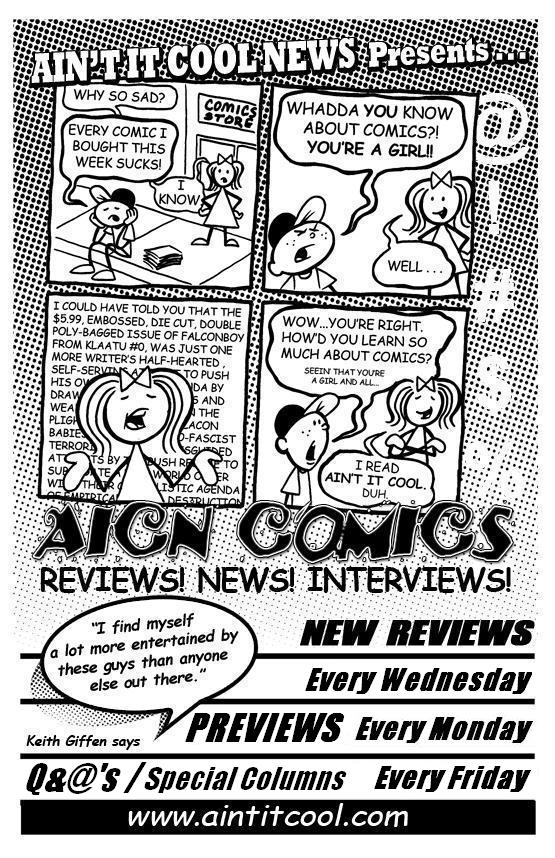 Ad by Prof. Challenger