@@@@ What the #$%! is AICN COMICS: Q&@? @@@@
AICN COMICS: Q&@ is our new semi-weekly interview column where some of your favorite @$$Holes interview comic bookdom's biggest, brightest, newest, and oldest stars. Enjoy this latest in-depth interview filled with @$$y goodness and be sure to look for more AICN COMICS as we gaze into the future of comics every week with AICN COMICS: SPINNER RACK PREVIEWS every Monday and then join the rest of your favorite @$$Holes for their opinions on the weekly pull every Wednesday with AICN COMICS REVIEWS!
---
Q's by Ambush Bug!
@'s by FLASH Artist Francis Manapul!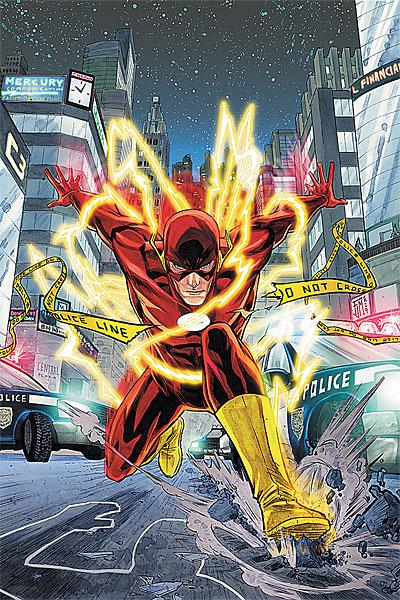 Hey folks, Ambush Bug here with another Q&@ with one of DC's top talent artists, Francis Manapul. Mr. Manapul has been thrilling fans starting with ADVENTURE COMICS and now he's the regular artist on the new Barry Allen, THE FLASH series. Let's see what Mr. Manapul had to say…
AMBUSH BUG (BUG): First off, having read the first two issues of FLASH, I have to say as much as I loved Wally West, I'm starting to like the idea of Barry Allen being back around. Having grown up watching Wally evolve into the Flash, it was a hard pill for me to swallow seeing Barry back in the red and yellow. What are your thoughts on the Flash and Geoff Johns' decision to bring back Barry?
FRANCIS MANAPUL (FM):
I grew up on Wally West as well so I do have a better understanding and love for the character. However I welcome the opportunity to learn about Barry and to me he feels fresh and new. Which is exciting I think!
BUG: Seems Barry hits the ground running in his new series (pun intended). What have been some of the challenges having to draw a character who is basically constantly in motion?
FM:
I think the challenge comes in thinking of new ways to portray his speed. I've been incorporating a lot of his environment to show motion aside from the Flash himself. From Barry catching Chinese food thrown in the air to putting money in the meter as he evades the villains. Geoff has also been upping his game by having Barry do different things with his speed from dissecting a car apart in mid air to learning and building an apartment in less than minute.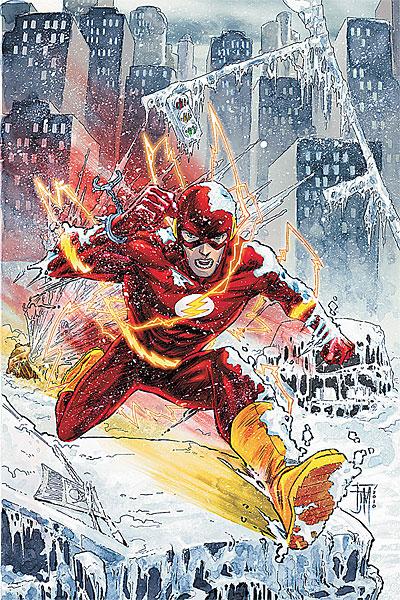 BUG: Have you adapted your art style to match the tone of this book very much? It seems to be somewhat sketchier in FLASH than your work in other books.
FM:
I'm sure to some folks' dismay my work on the Flash is a bit more sketchier. My previous work on ADVENTURE COMICS required more finesse and subtlety to portray the pastoral scenes as well as its dramatic nature. THE FLASH is in a large bustling city so it's more detailed and heavy, and I needed to draw Barry in a looser fashion to help sell the sense of motion in a static medium.
BUG: One of the biggest things Johns is known for is his treatment and revitalization of the Flash's Rogues. Next to Batman's villains and maybe Spider-Man's, Flash has to have the coolest arch-enemies. Do you have a favorite Rogue?
FM:
Absolutely that's what's so great about Geoff is his ability to take a group of rag tag villains and make you fear and care for them at the same time. My personal favorite is Captain Cold for his visuals and villainy but with just a tinge of honor.
BUG: It's every artist's dream to one day draw for DC. Can you talk about your road to becoming the artist on one of DC's top titles?
FM:
The very first time I spoke to Dan Didio I told him that the Flash was a dream gig for me but plans were already in motion back then for a relaunch so it wasn't to be. DC got me working on THE LEGION OF SUPER-HEROES. A lot of hard lessons were learned from that but it ultimately gave me direction on what kind of artist I did and didn't want to be. I got to work on SUPERMAN/BATMAN right after which accomplished a huge dream of mine. After that I expressed to Dan that I would love to work with Geoff Johns and from there we did ADVENTURE COMICS which lead to us teaming up on THE FLASH! So it was worth the wait being able to not just work on THE FLASH but to work on it with such a spectacular writer!
BUG: Any word of advice for up and coming artists that they may not have heard a zillion times before?
FM:
Perseverance, hard work, and the drive to succeed. Oh wait that's all typical but a must. What most artists forget though is to just be a nice guy. This is a collaborative medium; no one likes to work with jerks.
BUG: I always find it really interesting to find out what kind of stuff artists have adorning and surrounding their work area. Do you have any interesting toys, nick-knacks, or brik-a-brak around your art desk that provide inspiration for you?
FM:
My desk is quite messy it's usually littered with other pages and bills. Right now it's got a Flash statue that was designed by the late great Michael Turner along with a big Flash action figure which was a gift from Dan. Also my computer which is great for interacting with other artists which gets me going.
BUG: On average, how long does it take you to finish a complete issue?
FM:
Anywhere from 3-5 weeks. Situations always change so you just gotta keep up.
BUG: Can you talk about your collaboration with Johns? Does he just turn in the script and let you do your thing or are both of you involved in both the scripting and drawing process?
FM:
Geoff and I really established a good work flow on ADVENTURE COMICS. I feel we really understand each other and the stories we want to tell. I may have suggested a few things here and there at the start (nothing plot related more just things the Flash can do) but I pretty much just let Geoff do his thing and he does the same with me. I think we're so in sync that sometimes no words are necessary, it's quite freaky.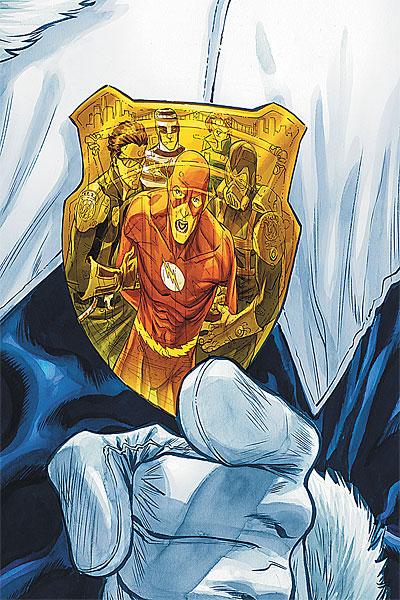 BUG: How much in advance do you know the path Johns is taking the Flash down (man these puns are just too easy)? Is there an upcoming storyline you are looking most forward to drawing?
FM:
I'm aware of the general area we're going in but I seldom know the roads we're taking until I read the script to draw it. It's more exciting that way! That said, I can't wait to do the next story arc! It's a kind of story that's a dream to do for any character!
BUG: Is there a character in comics you are just dying to draw?
FM:
I've already had the pleasure of working on The Flash, Superman, Batman, and recently, Wonder Woman, and a few other DCU characters. I'm one lucky dude! So what motivates me more is who I'm collaborating with rather than what I'm working on.
BUG: Do you have any other projects you'd like to talk about while you've got our attention?
FM:
Sure! Aside from THE FLASH, I did a 2 page story for the SUPERMAN/BATMAN anniversary issue with J.T Krul, as well as a piece for the WONDER WOMAN 600th issue. A few JLA covers here and there. I'm also doing another short story with J.T that will be in black and white, so I'm really excited about that. I've also been working on a TV show called "Beast Legends" which will start airing on the History Network in Canada next month, and later on on SyFy in the US.
BUG: Last chance, why should everyone race to their comic shops and pick up FLASH?
FM:
It's the perfect jumping on point for any Flash fans new and old. Our goal on the book is to make it as accessible and fun for everybody. And the Flash runs really really fast and does some really cool things!
BUG: Thanks so much for taking the time to answer these questions.
FM:
My pleasure!
BUG: Be sure to see Mr. Manapul's amazing art every month in THE FLASH!
Ambush Bug is Mark L. Miller, original @$$Hole / wordslinger / reviewer / co-editor of AICN Comics for over nine years. Check out his ComicSpace page for his entries in Cream City Comics' MUSCLES & FIGHTS VOL.3 and MUSCLES & FRIGHTS VOL.1 anthologies. Bug was interviewed here & here (about AICN Comics) and here & here (on his VINCENT PRICE PRESENTS: THE TINGLER comics). Bug's latest comic is VINCENT PRICE PRESENTS #21: WITCHFINDER GENERAL (available in May's Previews Order # MAY100828) on sale in July. Fanboy Radio recently interviewed Bug about it here. Bug was also interviewed here & here about his upcoming original vampire miniseries NANNY & HANK (available in June's Previews Order #JUN100824) due out in August.
---
Editing, compiling, imaging, coding, logos & cat-wrangling by Ambush Bug Proofs, co-edits & common sense provided by Sleazy G
---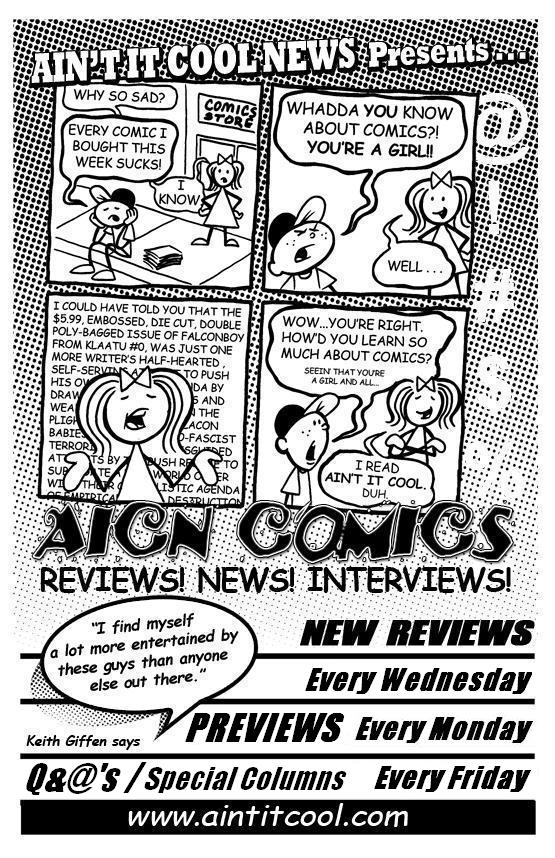 Ad by Prof. Challenger