@@@@ What the #$%! is AICN COMICS: Q&@? @@@@
AICN COMICS: Q&@ is our new semi-weekly interview column where some of your favorite @$$Holes interview comic bookdom's biggest, brightest, newest, and oldest stars. Enjoy this latest in-depth interview filled with @$$y goodness and be sure to look for more AICN COMICS as we gaze into the future of comics every week with AICN COMICS: SPINNER RACK PREVIEWS every Monday and then join the rest of your favorite @$$Holes for their opinions on the weekly pull every Wednesday with AICN COMICS REVIEWS!
---
Q's by superhero!
@'s by SHINJUKU writer Christopher "Mink" Morrison!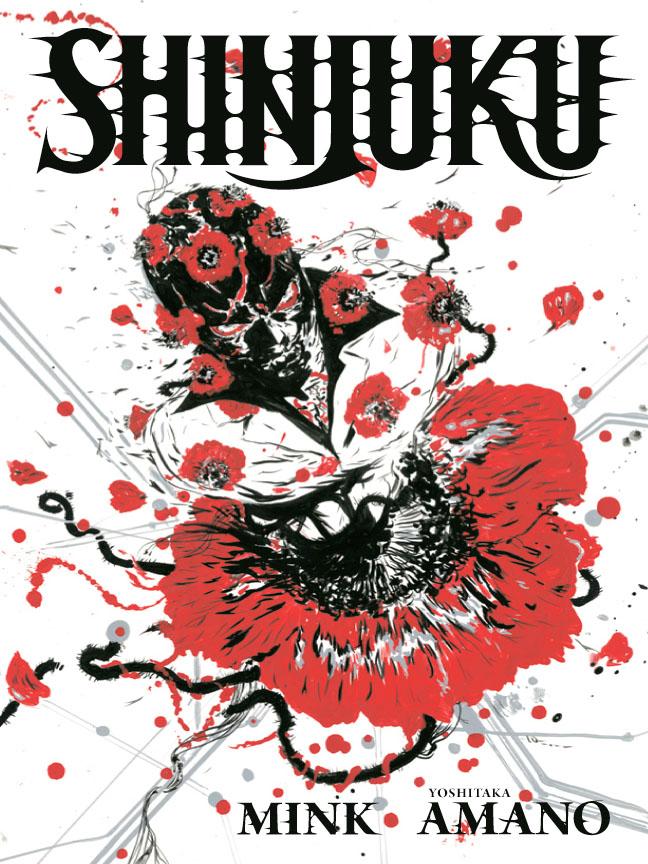 Hey out there in comic land! superhero here with a quick interview with writer and filmmaker Christopher "mink" Morrison on his latest and greatest project SHINJUKU from Dark Horse Comics. If you haven't had the chance to check this out I highly recommend it. Morrison has combined with legendary artist Yoshitaka Amano to create something really fantastic in the pages of this book. It's not strictly a comic and it's a bit outside of being a straight up novel. It's pictures and text combined to make something really unique and special and I suggest everyone give it a try.
OK, enough @$$ kissing on my part…on to the interview! Wait…before I forget…special thanks to Scott Green of AICN Anime for passing this on and to Jim Gibbons at Dark Horse for giving us this opportunity.
Alright…on to the good stuff!
SUPERHERO (SUPES): So what do I call you? Mink? Mr. Morrison? Christopher?
MINK:
You can call me Mink or Chris/Christopher/Minky/Unkle Mink/Minkster/Minkenstein or my favorite…"What did you say your name was?"... I get them all...it is sort of a personal call by the addressee. Mr. Morrison can be cool if you were Jim Morrison (lead singer of the Doors) and there was a harem of groupies at the front desk and the concierge was looking for you.
SUPES: Why Mink? Is it a nickname? If so...who gave it to you?
MINK:
My mother has a wicked sense of humor.
SUPES: Can you discuss the genesis for this idea?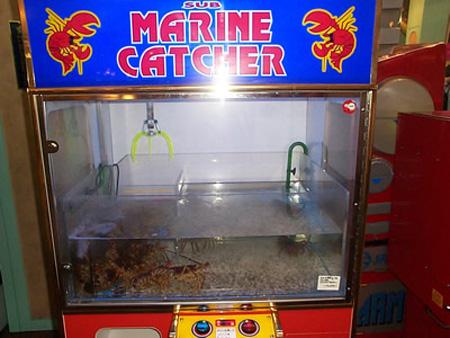 MINK:
The idea came while I was in Tokyo a few years ago directing a movie. Tokyo is an extraordinary place especially visually and the film had given me the opportunity to travel to Japan to work. We were shooting in Shinjuku and neighboring cities (Roppongi, Shubuya, Harajuku, etc) and as I went on scouts as well during the shooting process I began to write a little. The script I was shooting was straight forward so my crazy visual and story ideas I wanted to do did not really fit the script. So in my off time intrigued by these possibilities I would go out with some friends I met on the picture and check out the local haunts (toy shops, clubs, shops, temples, bars, themed restaurants, etc). Some of them like a claw game machine with a real crab in it as a prize is in the movie some other stuff like the underground city is not. The city in general really struck a chord with me. The quality of light and visual design is like no other place in the world. It felt like LA meets NY slammed into Paris. I remember my first night when the producer took me to tiny 2 table restaurant in an alley of Kabukicho to dine on some tapas style food and ice cold Suntory beer. The rain was pouring down as I watched 100's of multi colored umbrellas crossing massive intersections under two story neon signs. I thought to myself now I know what Ridley Scott thought when he first got here. So while I directed the movie I was quietly jotting notes of what would become SHINJUKU.
SUPES: Why not just straight prose or a full on graphic novel? What is it about this format that inspired you? How did you connect with the artist for this project? Do you know anything about his work process?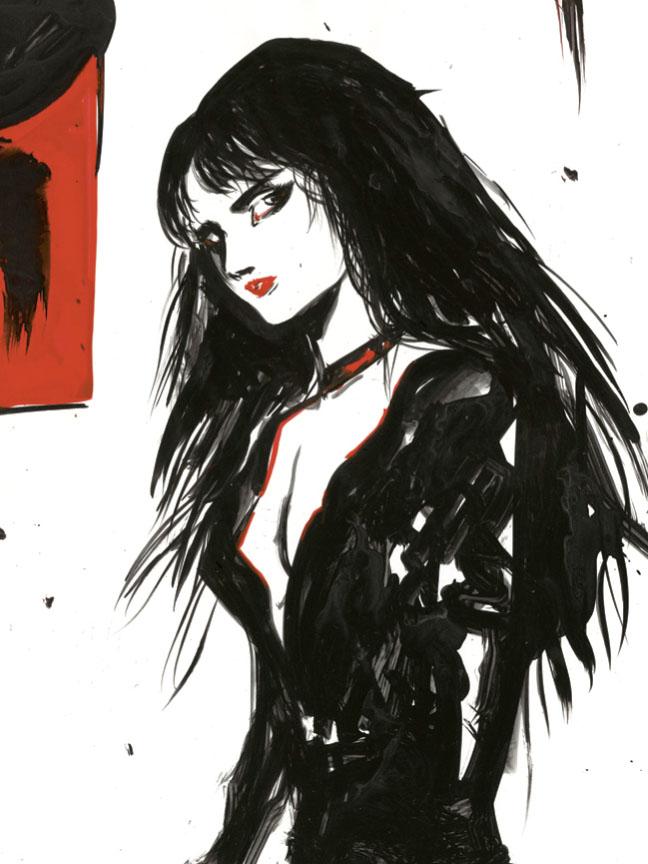 MINK:
The format of the book was a result of Amano's inspiration from the silly words I scribbled on the page. When the process started my sole intention was just to get him to do one or two drawings as a center post for the project. I met him in a social situation and floated the idea. He is so sweet and generous with his time that I think he tabled the thought regardless of what I was up to. Once he pseudo agreed (which is half the agreements in Tinseltown) I wrote it. The plan then was with his few drawings (like he had done for John Woo at Virgin Comics) I could take that and would proceed with the normal 4 issue mini series with a complementary artist which I had some experience with. I had the story completely done as Amano and I began to talk about ideas for the two drawings. Then one day the phone rang and it was him and he wanted to know if it would be ok if he could illustrate the whole thing. I said "Holy Moly!" Only the second word was not moly and the rest is history. This is the first of three volumes and the response so far has been overwhelming to say the least. So the format was an evolution from the original idea to what it is today much as the SHINJUKU project as a whole has been. Twenty short chapters and Amano's interpretations of my ranting fused together in a book that is a book. To understand this breathy statement you will have to read it. I labeled it Sci-Noir (science fiction noir). Again not as heady as it sounds. I grew up in Los Angeles so I have a love of Raymond Chandler and pulp LA. So I combined future science fiction as the story takes place in 2020 with the noir of LA I love. More than 1/2 the book takes place in LA so I merged a lot of my likes from the City of Angels. SHINJUKU is also a bright future where the human race is doing great things of course plagued by the human condition but as a whole you want to live there. As a creator I cannot really get into the fingerless glove, rebel force under attack huddled around a burning trash can for heat bleakness of a lot of future stories. I kind of like the world and all its beautiful faults. I have a lot of faith in mankind's ability to make a great cocktail, beautiful architecture, compelling argument, the internet, decent movie or the perfect love song to get you someone's special attention.
SUPES: So there are two more books? Will the format be the same? How will it be different or the same from what you've started with this first book? When are those books due? Will Amano still be supplying the art for those as well?
MINK:
Yes ... Yes and more Yes... The first book is completely self contained but the next two volumes will further the story. This was the red volume; there also will be a blue and green volume completing the trek of SHINJUKU. Amano is on board to do all three books. The second is rolling for this time next year and look for something special in between around this holiday season as well.
SUPES: How did Dark Horse come to publish it? Had they been wanting to work with you for a while?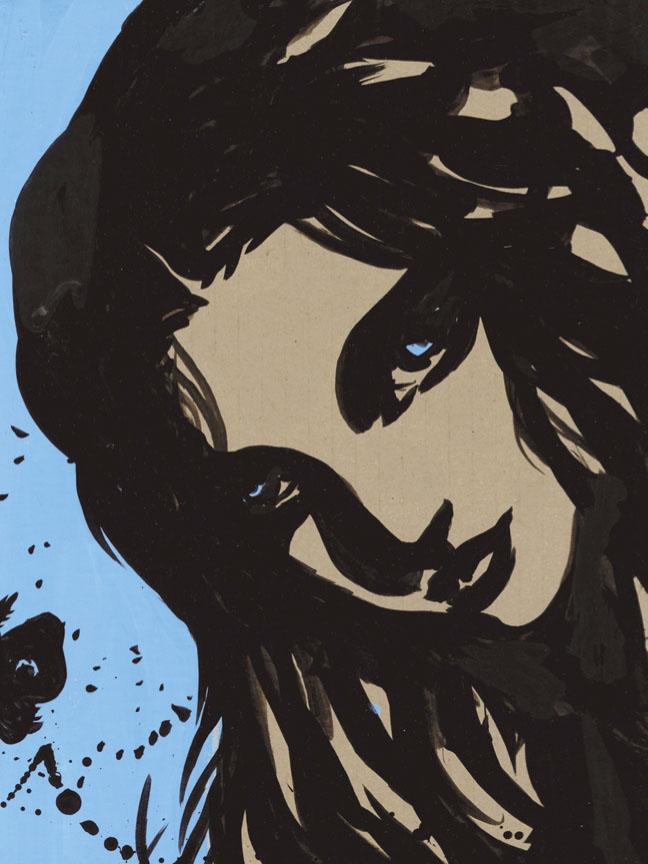 MINK:
I was well aware of Mike Richardson's (owner of Darkhorse) relationship with Amano on all the other work (VAMPIRE HUNTER D, FINAL FANTASY, art books). I had gone to many if not all the companies in the indy business prior to him. Most had their own both financial and story concerns about the project. I think my newness to the business set against the scope of what I wanted to do was not very attractive to most indy publishers. My Shinjuku project if it worked we would be a hit they all could take bows for. If it did not work (which is logical) we would have enough unsold copies of the book to build a Shinjuku miniature scale city as an homage. The business part of the rejections I understand completely having shopped another comic project DUST for a long time until the guys at 12 Gauge/Image comics came to our rescue gave us a home and we sold out the book in the first week. So with a lot of polite but firm "No thank you guy named mink with a really expensive book idea" I approached Mike under the impression that this was not going to happen but you live once and what is the worst he could say no. I gathered the courage for another "Can I get you a water? Did we validate your parking for you?" meeting. To my surprised delight he was receptive to the idea having been close business and personal friends of Amano for many years. So then my top floor Century City lawyers hammered out a deal and now the book is in its second printing in just 1 week of sales. For this I owe Amano and Mike the world for what they have done for me with my crazy self inspired tale. When I started this was certainly not a 14" $30 coffee table book with a 120 plus Amano drawings done in every medium(ink,pencil, acrylics, water color) bound like an antique book. It has become a journey that I could not have dreamed and continues to grow and grow everyday.

SUPES: Any plans to take this idea into another medium? You are a film director…any plans for a SHINJUKU film? Or any plans to expand this particular world in the format it's in now? Sequels? Spin-offs?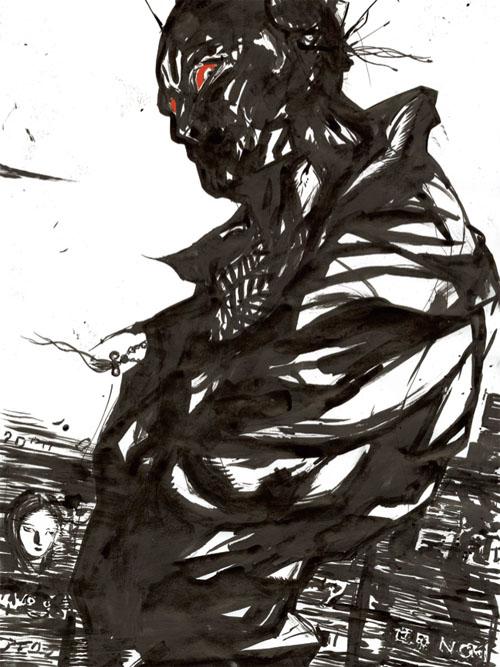 MINK:
I am a story teller in a lot of mediums. But for right now I am dedicated to finishing the thought in the next two volumes as well as some additional material that will come from those two volumes. I am a big believer in when the time is right the correct people will arrive and it will metamorphism into the next butterfly. For now I want to create the best three volume series that Shinjuku can be. I owe this to my dear and legendary friend Amano who has created genius from my ramblings with his art. Mike Richardson also took a chance on me in the minors and gave me a starting job in the bigs on team Dark Horse and for this I owe him a World Championship. We have only just started with the world of SHINJUKU. So far so good. I hope more fans pick it up. Thank you for the interview. By the way Harry your site rocks. Go Bevo!
SUPES: Thanks for doing this interview and look for SHINJUKU from Dark Horse Manga in stores now!
Discovered as a babe in an abandoned comic book storage box and bitten by a radioactive comic fan when he was a teenager, superhero is actually not-so mild mannered sometime designer & cartoonist, Kristian Horn of Los Angeles, California. He's been an @$$hole for three years. Some of his work can be seen at www.kristianhorn.com and check out his blog at www.parttimefanboy.com.
---
Editing, compiling, imaging, coding, logos & cat-wrangling by Ambush Bug Proofs, co-edits & common sense provided by Sleazy G
---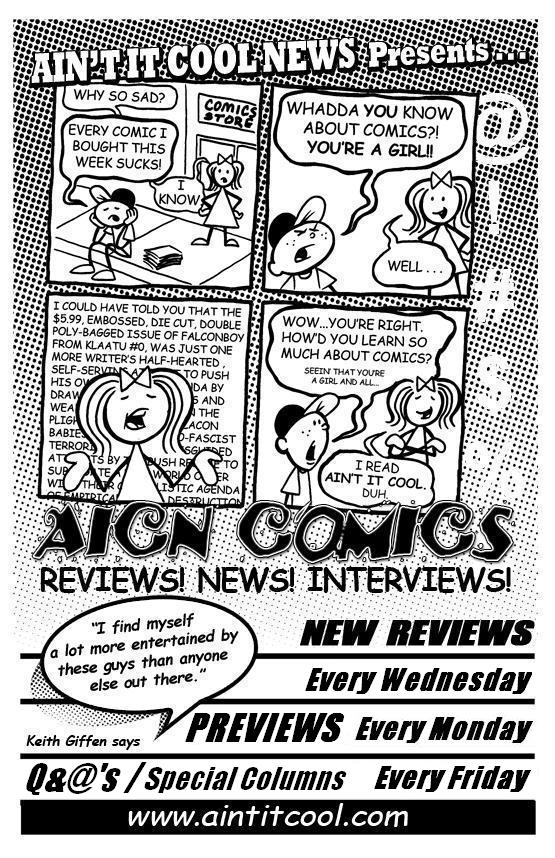 Ad by Prof. Challenger