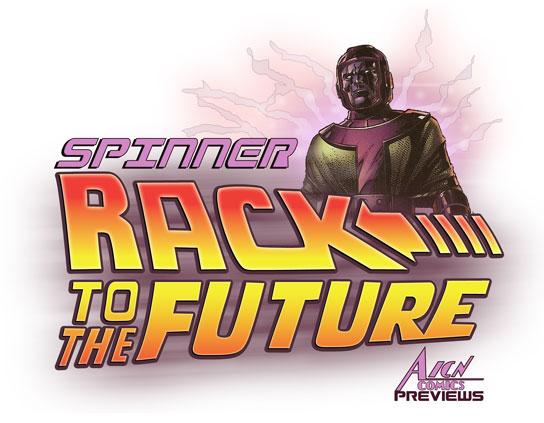 @@@@ What the #$%! is AICN COMICS: SPINNER RACK PREVIEWS? @@@@
AICN COMICS: SPINNER RACK PREVIEWS is our new weekly one-stop shop for previews of comics coming out in the upcoming week. Click on the pics below to gaze into the near future to read these extra special previews of comics varying from the heart of the mainstream to the tip of the edge of the fringe.
Be sure to look for more AICN COMICS as the rest of your favorite @$$Holes lend their opinions on their weekly pull every Wednesday with AICN COMICS REVIEWS and then more @$$y goodness can be found in our semi-regular interview column AICN COMICS: Q&@ now on Fridays!
---
Hey folks, Ambush Bug here. Before we head into this week's previews, I have a few items of note that y'all may be interested in. First ARCHIE COMICS gave us a scoop that they wanted us to pass along. Check out the big Archie News below!
ARCHIE COMICS INTRODUCES FIRST OPENLY GAY CHARACTER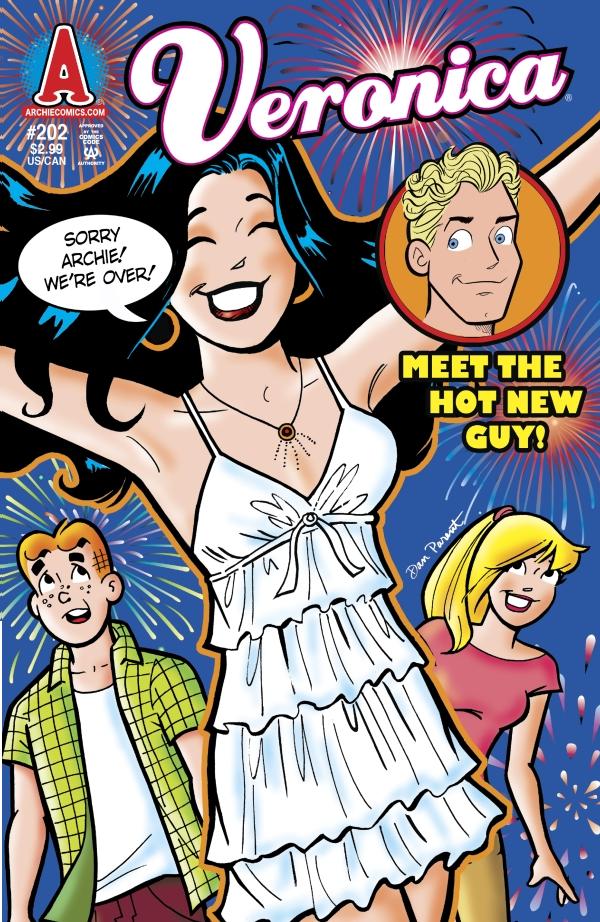 New York, NY (April 22, 2010): Archie Comics, home of the famous Riverdale High students Archie, Betty, Veronica, Reggie and Jughead, is about to welcome a new classmate this fall! On September 1st, Kevin Keller, Archie Comics' first openly gay character, will be welcomed into the town of Riverdale.


"The introduction of Kevin is just about keeping the world of Archie Comics current and inclusive. Archie's hometown of Riverdale has always been a safe world for everyone. It just makes sense to have an openly gay character in Archie comic books," stated Archie Comics Co- CEO, Jon Goldwater.
VERONICA #202 features the full-issue story, "Isn't it Bromantic?" that introduces Kevin, Archie Comics' first openly gay character. Kevin Keller is the new hunk in town and Veronica just has to have him. After Kevin defeats Jughead in a burger eating contest at Pop's Chocklit Shoppe, she desperately latches onto him. Mayhem and hilarity ensue as Kevin desperately attempts to let Veronica down easy and her flirtations only become increasingly persistent.

In addition to the new ongoing achievements at Archie Comics--the #4 iPad book app and most downloaded comics on iTunes, the launch of Stan Lee Comics, Archie's Red Circle superheroes at DC, and exciting new partnerships with Abrams, Dark Horse and IDW--the introduction of Kevin as an openly gay character is part of the commitment to keep Archie properties reflective of the current world of teens and teen media.
Kevin arrives in VERONICA #202's "Isn't it Bromantic?" this September, in comic shops 9/1/2010 and on newsstands 9/14/2010.
Our man on all things ARCHIE, Optimous Douche, will be interviewing the folks behind this issue in an upcoming AICN COMICS Q&@!
---
Next I wanted to guide you all towards a very cool website and a cool cause. I received an email from Tim Miner about a project he calls 5 Minute Marvels. I'll let Tim explain it to you in his own words.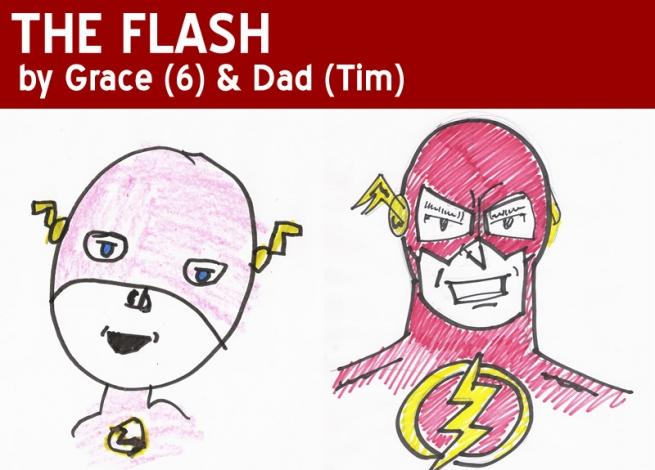 Hey Bug, Earlier this year, my daughters, Cate (5) and Grace (6), and I launched a kids comic art blog called 5 Minute Marvels. We started it after Grace started drawing superheroes after Christmas and invited her sister and I to join her. Then, she wanted to put them online. Here's how it works: The girls and I take 5 minutes (that's all) every night before bedtime. We pick a character -- superhero, cartoon character, original idea --and draw it. We talk while we draw, we share our work and then we post it. It's a very special time for us. But, the blog's not JUST for us. We want others to join us and send us their art to post. (And, many have ... as well as professional comic artists who have sent in drawings so the girls can draw with them.) Our ultimate goal is to get more kids and adults drawing together and having fun. And, to help children fall in love with comics. I would be appreciative of any suggestions or support you could give 5 Minute Marvels. And, if you want to draw with us ... the girls would love it. Best wishes, Tim Miner
Now that's damn cool. Can't wait to do my own 5 Minute Marvel. Be sure to follow the link to make yours.
---
Today on the Spinner Rack!
---
THE LAST DAYS OF AMERICAN CRIME #2 Creator and Writer: Rick Remender Artist: Greg Tocchini Publisher: Radical Comics In stores this week!
---
THE INCREDIBLES #8 Written by Mark Waid and Landry Walker Drawn by Marcio Takara Publisher: BOOM! Studios In stores this week!
---
MACK TURNER: SLAYER OF THE DEAD #2 Writer: Kevin Powers Art: Israel Gonzalez Publisher: Timeless Journey Comics In stores now!
---
GOLLY #5 Writer: Phil Hester Art: Brook Turner Publisher: Image Comics In stores this week!
---
SALEMS DAUGHTER #4 Writer: Ralph Tedesco Art: Caio Menescal Publisher: Zenescope Entertainment In stores this week!
---
THE DEADBEAT OGN Story and Art: Jeremy Massie Publisher: Alterna Comics In stores in May!
---
RANDOM ACTS OF VIOLENCE OGN Writer: Jimmy Palmiotti & Justin Gray Art: Giancarlo Caracuzzo & Paul Mounts Publisher: Image Comics In stores this week!
---
DO ANDROIDS DREAM OF ELECTRIC SLEEP? DUST TO DUST #1 Writer: Chris Roberson Art: Robert Adler Publisher: BOOM! Studios In stores May 26th!
---
THE WAKING #3 Writer: Raven Gregory Art: Vic Drujiniu Publisher: Zenescope Entertainment In stores this week!
---
INCORRUPTIBLE #5 Written by Mark Waid Drawn by Horacio Domingues Publisher: BOOM! Studios In stores this week!
---
ALADDIN: LEGACY OF THE LOST #3 Writer: Ian Edginton Illustrator: Stjepan Sejic Publisher: Radical Comics In stores this week!
---
INVINCIBLE #71 Writer: Robert Kirkman Art: Ryan Ottley & Fco Plascencia Publisher: Image Comics In stores this week!
---
Editing, compiling, imaging, coding, logos & cat-wrangling by Ambush Bug Proofs, co-edits & common sense provided by Sleazy G
---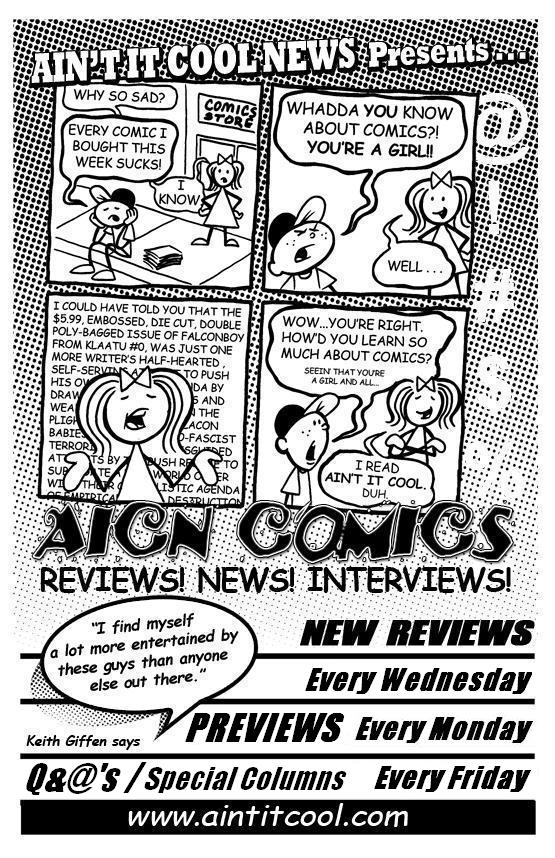 Ad by Prof. Challenger