@@@@ What the #$%! is AICN COMICS: Q&@? @@@@
AICN COMICS: Q&@ is our new semi-weekly interview column where some of your favorite @$$Holes interview comic bookdom's biggest, brightest, newest, and oldest stars. Enjoy this latest in-depth interview filled with @$$y goodness and be sure to look for more AICN COMICS as we gaze into the future of comics every week with AICN COMICS: SPINNER RACK PREVIEWS every Monday and then join the rest of your favorite @$$Holes for their opinions on the weekly pull every Wednesday with AICN COMICS REVIEWS!
---
Q's by Optimous Douche
@'s by Archie Comics' Michael Uslan and Norm Breyfogle!
Hey kids, Optimous Douche here with a real treat for Archie and Batman fans alike. Starting later this year the dynamic duo of Michael Uslan and Norm Breyfogle will be exploring what the future holds for America's favorite High School student with THE MARRIED LIFE: ARCHIE LOVES BETTY and THE MARRIED LIFE: ARCHIE LOVES VERONICA.
What will these two futures hold? Is Betty the better betty or will true happiness be found rolling around in the mad green of the Lodge fortune? Let's see if we can find out…
OPTIMOUS DOUCHE (OD): Mike & Norm, you both have a long history with Batman--both of you essentially defined the character for my generation (Norm comics and Mike movies)--how did the switch to the lighter side of Archie come about?
NORM BREYFOGLE (NB):
Last year, at a New York comics convention I was speaking with Joe Staton in Artist's Alley. While looking at his Archie work Mike Pellerito (Archie Comics' Managing Editor) appeared and we exchanged contact info. Mike offered me the "New Look" gig a couple of months later, just when another series of mine ("The Danger's Dozen," done for the publisher A First Salvo) was ending, so the timing was just about perfect.
OD: So if they offered you the old "frozen in amber" High School Archie would you have accepted?
NB:
I'd have worked on any version of Archie if the timing and my needs had coincided with an offer, no problem.
Michael Uslan (MU):
I always wanted to write an important Archie graphic novel or comic book. It was on my "Bucket List."
I learned to read from Archie comics, they formulated all my childhood pre-conceived notions as to what High School and dating would be like, and I co-wrote and edited the first ever hardback and trade paperback book collections of Archie comics circa 1980 for GP Putnam's Sons, THE BEST OF ARCHIE, which required my reading every Archie comic book ever made in that forty year period. So my progression to Archie was more of a circle.
OD: Mike, call it masochistic curiosity, how long did it take to read every ARCHIE? I've always wanted the time to do this and if I ever get the chance I want my wife to have forewarning.
MU:
It took Jeff Mendel and me over three bleary-eyed weeks to read about forty years of Archie Comics… including every Archie related title from PEP and JACKPOT to LAUGH AND LIFE WITH ARCHIE and LITTLE ARCHIE.
OD: Norm, how did you have to switch your style to emulate what we all know as Archie, while also bringing your own signature flair to the books?
NB:
I didn't have to change my style as much as one might think, or as much as I originally thought I'd have to.
I mostly did so in the faces. Actually, it's been very interesting to me (as I've discovered in my research in preparation for this job) how much variation there's already been in the traditional Archie cartoon style over the years.
I've found that as long as the faces and body proportions are in the traditional style, everything else can be more or less pretty "realistic" or dramatic, although perhaps a bit simplified. So, my own version of the Archie traditional cartoon style features the same faces and body proportions, but with my own storytelling layouts (page layouts), body language, and fold concepts (among other things).
The folks at Archie seem to like it, and I'm really enjoying the work. I've even shown some of it to some long-time Archie fans, and they really like it too.
OD: From the covers of the two titles it looks like life with Veronica is filled with creature comforts, but Archie looks miserable. Where with Betty he seems to be living inside a romantic fairytale – fair assessment?
MU:
No No No No No!!!!!!
NB:
Well, that might be fair if only judging from the first issues' covers, but as Mike said repeatedly, no. In both titles Archie and his respective wives have their specific types of difficulties, and future covers suggest this in their own ways. I've been submitting multiple cover designs for each issue, and the Archie editors make their choices from those designs.
In ALV, the problems stem from the stresses conferred by wealth and its responsibilities, and in ALB, the problems stem from struggling just to get by. Although just about everyone would prefer to be wealthy, each path can be difficult; each carries its own unique problems . . . especially for a character as ethically upstanding as Archie.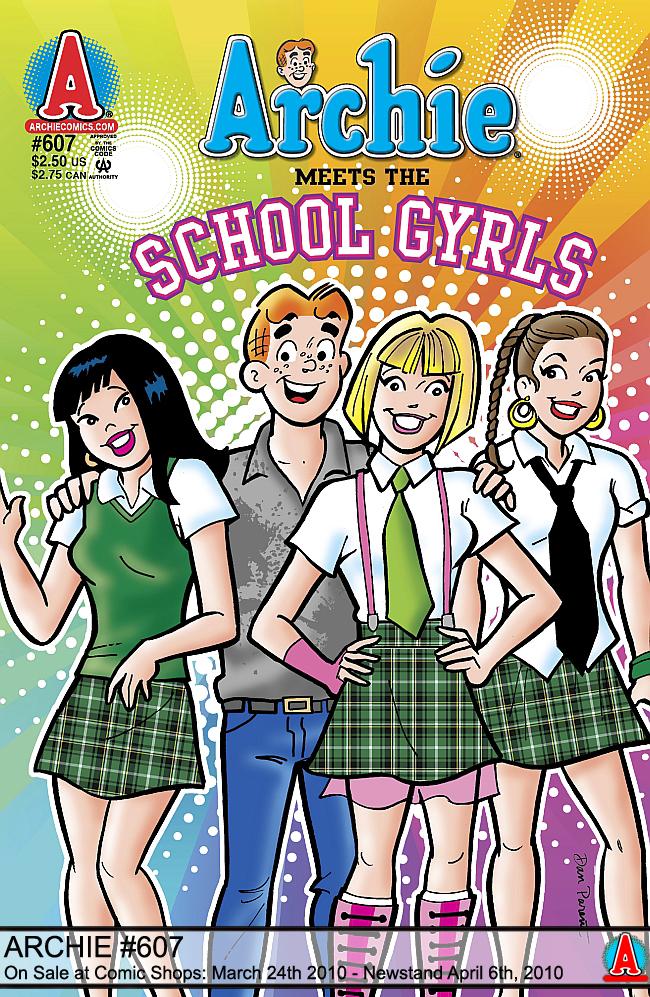 MU:
I don't want to give away all the surprises coming in just these first two stories alone, but there will be twists and turns, soap-opera and drama, comedy, mystery and romance, as well as unexpected turns in a few character arcs.
You'll be meeting a whole new cast of characters in New York with Archie and Betty, and will be learning how Archie's choices have dramatically impacted and changed the lives of all their friends and families in Riverdale. Riverdale will become an important character itself in these new series that take place just after the weddings and before the issue of children becomes a reality.
Do NOT think the Lodge fortune brings Archie comforts and has bought him happiness either! Do NOT think that with Betty love conquers all their very big struggles in the City trying to make ends meet. And wait till you see what, in each of the two scenarios, happens to Jughead, Moose, Dilton, Reggie, Mr. Weatherbee, Pop Tate, Miss Grundy, Mr. Lodge, Chuck and Nancy, Midge, Ethel, and the rest!
OD: Guys, I appreciate you conveying the overall themes, but I have a job to do here. One spoiler please, it can even be about the "gang." Hell, you can even give it to me in code, Gaelic chants…whatever. Just something. Please?
MU:
Mr. Lodge promotes Veronica over Archie, making her his boss! Cheryl Blossom gets a job in Hollywood that is shocking to anyone who knows her! Chuck Clayton gets his first pro job in comics drawing a newly revived "Steel Sterling" for MLJ Comics Group! And we have three big shocks for Moose fans!
OD: Archie has obliterated Moore's Law with how much he has changed over the past few years. Mike, as a comic historian, how do you feel about this transition?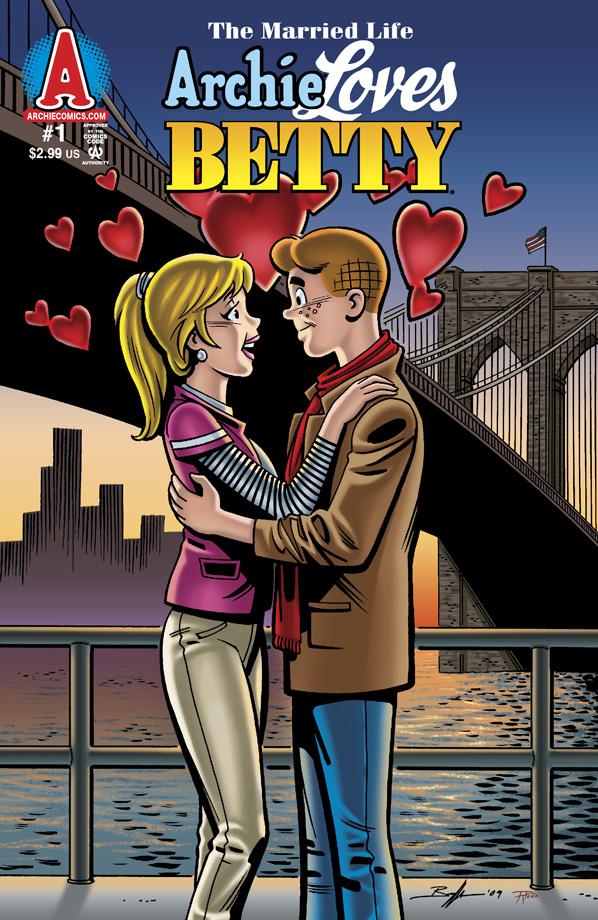 MU:
There's two parts to this answer:
Corporately, a sleeping giant has awakened. Archie Comics Group had traditionally been considered a mom and pop comic book company. Today, it is daring, adventurous, and pushing the envelope in every aspect of comic book publishing, mass media and delivery system platforms. That's great for the company, great for the characters, and great for the fans and the readers among the general public.
Creatively, they are wide open and encouraging of exploring new concepts and breaking old rules and generally "going where no man has gone before." As a creator or writer, I love this environment! As a comic book historian, I feel that as long as the essence of the characters are retained and their integrity is not violated, the exploration of alternate universes and time periods and big events will work as well for Archie as they have for DC and Marvel.
OD: So in your learned opinion (this isn't ass kissing, it's fact, go Wikipedia Mike) what is the essence of Archie?
MU:
Archie, after seventy years, is still at the same high school, dating the same two girls, on the same beach and malt shop, doing the same things he's been doing for seven decades, yet miraculously remains current and fresh for every new generation of reader. That's the core, the essence, or as my Grandfather would say, "the emmis."
OD: Mike you just said alternate universes a second ago. Are we going to be seeing ARCHIE FINAL CRISIS soon?
MU:
Keep a sharp eye out for the alum who has seemed to disappear off the face of the earth, Dilton Doily! What Doc Brown was to "Back To The Future," Dilton may well be to the Archie Universe!
Batman, for example, has already proven that there can be several different versions co-existing at the same time without confusing the marketplace. Thus, kids can watch "Batman: Brave & Bold" or "Batman Meets Scooby-Doo" while an older audience can savor the other animated versions and comic book versions, all leading to our live action "Dark Knight" movie version.
OD: Oh, different marketing universes. Sorry…please go on.
MU:
There are different visual styles and different merchandising lines designed to appeal to different segments of the world audience. Archie now will have the same starting with LIFE WITH ARCHIE featuring THE MARRIED LIFE looking at his two future married lives (one of which will become reality), ARCHIE FRESHMAN LIFE looking at his life at the very beginning of high school, PUREHEART'S EMERGENCY PATROL looking at Archie's soap-opera life as a super-hero in an ULTIMATE SPIDER-MAN-ish sort of way, THE MAN FROM R.I.V.E.R.D.A.L.E. looking at Archie caught up with spies, and even ARCHIE BABIES. This is great!
There are so many great stories yet to be told and character arcs to be developed in this period of his life! I'll personally be exploring that in my upcoming five issue story arc reintroducing Pureheart to today's marketplace in PEP COMICS #1, JACKPOT COMICS #1, BLUE RIBBON COMICS #1, TOP-NOTCH COMICS #1, and ZIP COMICS #1.
OD: Thanks guys and remember kids, ARCHIE: THE MARRIED LIFE hits stores this August.
Optimous is lonely and needs friends. Even virtual ones will fill the gaping hole, join him on Facebook or he will cry like a newborn kitten.
---
Editing, compiling, imaging, coding, logos & cat-wrangling by Ambush Bug Proofs, co-edits & common sense provided by Sleazy G
---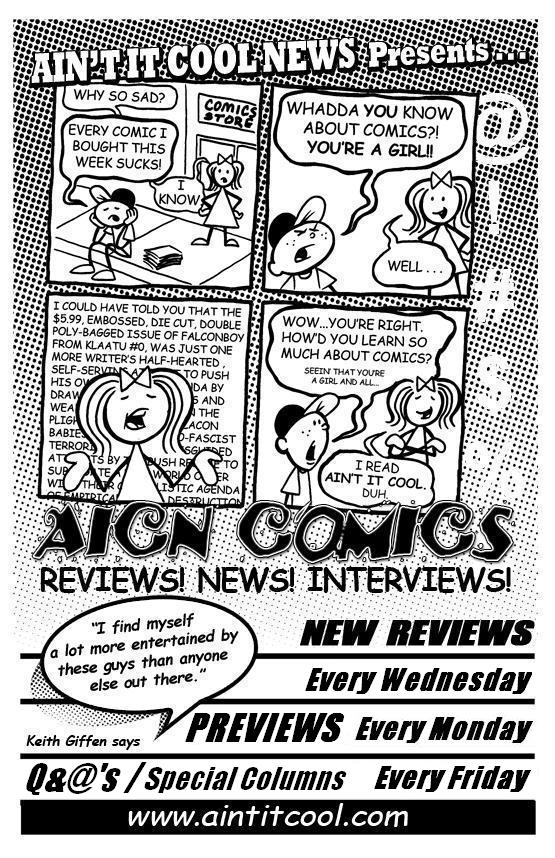 Ad by Prof. Challenger