@@@@ What the #$%! is AICN COMICS: Q&@? @@@@
AICN COMICS: Q&@ is our new semi-weekly interview column where some of your favorite @$$Holes interview comic bookdom's biggest, brightest, newest, and oldest stars. Enjoy this latest in-depth interview filled with @$$y goodness and be sure to look for more AICN COMICS as we gaze into the future of comics every week with AICN COMICS: SPINNER RACK PREVIEWS every Monday and then join the rest of your favorite @$$Holes for their opinions on the weekly pull every Wednesday with AICN COMICS REVIEWS!
Q's by Ambush Bug
@'s by MAD MAGAZINE Editor John Ficarra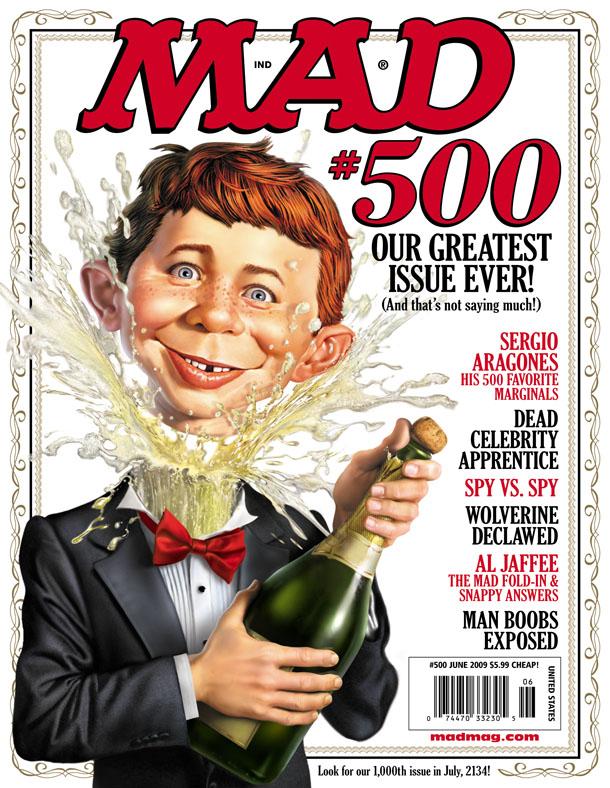 Hey all, Ambush Bug here with an off the cuff interview with MAD Editor John Ficarra. The 50 plus year old MAD MAGAZINE is switching from a quarterly schedule to bimonthly starting with its current issue (dropping this week, coincidentally). I had a chance to attempt to pry some information from the editor. Read on to see how successful that was…
AMBUSH BUG (BUG): MAD MAGAZINE recently announced that the magazine would move from a quarterly schedule to a bimonthly; why the change in schedule?
JOHN FICARRA (JF):
We wanted to impress management by offering to publish an additional two issues a year. Our plan was to put out all six issues in January and then take the rest of the year off. Unfortunately management nixed this innovative proposal -- a typical bone-headed decision from over-paid, corporate hacks. Don't print this last part, ok?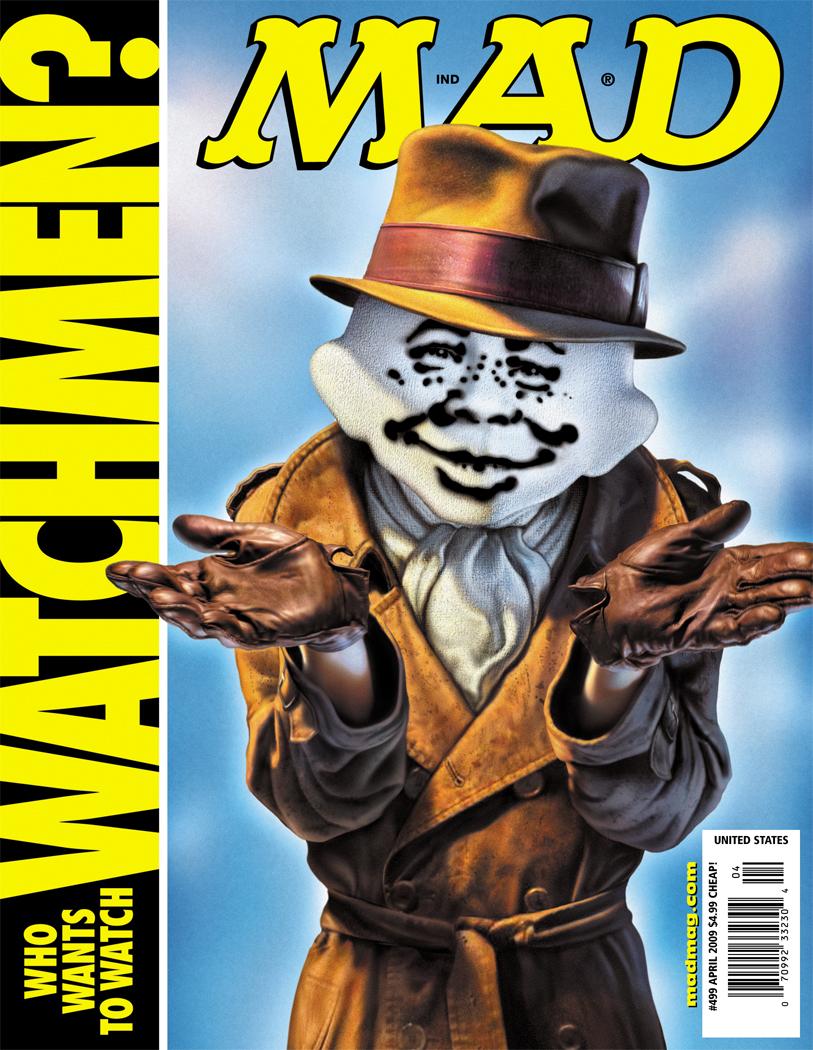 BUG: So how did you end up with the gig as MAD MAGAZINE editor?
JF:
That's a long story, but if you've seen AVATAR, you're already familiar with the basics of my inspirational journey to the editor's chair.
BUG: Can you give us an example of a typical day of being MAD MAGAZINE editor?
JF:
It varies. For example, today I spent most of the morning handling a Cease and Desist order from James Cameron demanding that I stop saying that my career at MAD was the inspiration for AVATAR. Later, I had a muffin.
BUG: A satirical publication like MAD needs to be on top of current events almost as they happen to be relevant. What type of research goes into making sure the comedy is fresh and most importantly funny every issue?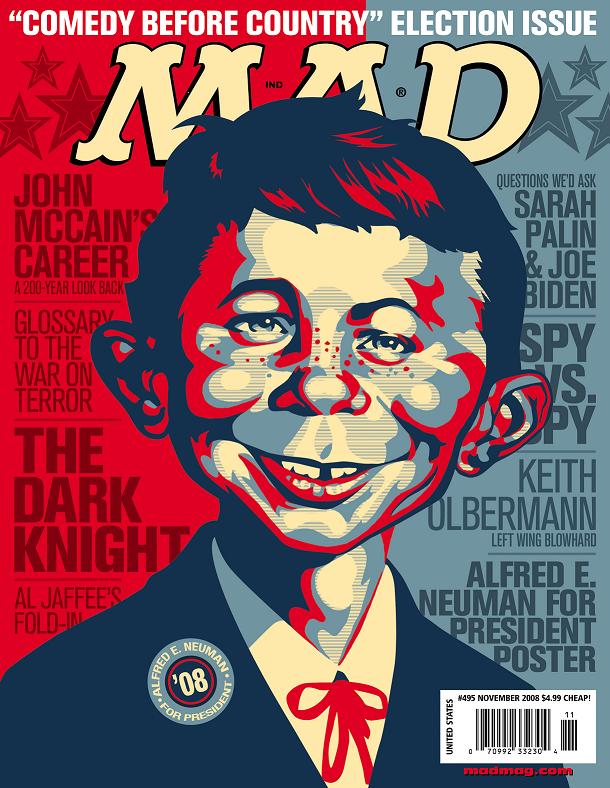 JF:
I think you're confusing us with The Daily Show and the late night talk shows. They have to be on top of current events almost as they happen. We work two months in advance. Did we mention that we're a bi-monthly? (see question number one)-- and try to pay closer attention for the rest of the interview, please! Is there someone else I can talk to?
BUG: Alfred E. Neuman's birthday is coming up (April 1st), what's the wily scamp doing to celebrate it?
JF:
He's going out to a strip bar with the New Yorker's Eustace Tilley. Is that the answer you're looking for? Seriously, is there ANYONE else I can talk to? An intern perhaps?
BUG: Is there a subject matter MAD won't spoof?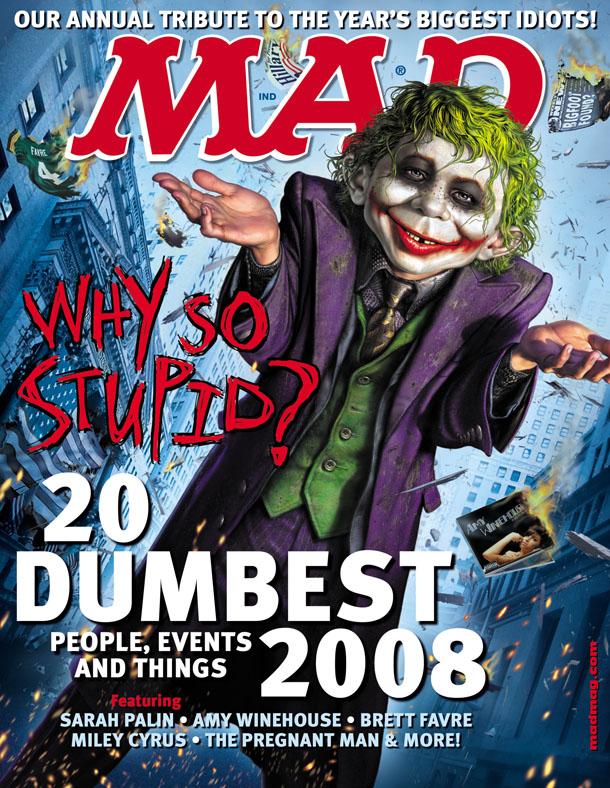 JF:
Idiotic, shallow, uneducated right-wing blowhards. We feel we owe them a modicum of respect.
BUG: Without committing the sin of explaining the joke, what do you think has made MAD funny and appealing to audiences for over 50 years?
JF:
Unquestionably, one of the main reasons for our success has been our use of the word "flubbernuts" in as many punch-lines as possible. Know what I mean, flubbernuts?
BUG: OK, so how do you see the rise in online FUNNY OR DIE and other YouTube comedy bits and programs affecting the world of published comedy?
JF:
As long as they don't use the word "flubbernuts," we're safe.
BUG: Do you have a favorite story from MAD that you'd like to share?
JF:
It's not from MAD, but the fable "The Mule and the Milliner" has always been a favorite of mine. There's not space here to print it, but I urge you to look it up. It's truer now than ever.
BUG: Last chance, why should folks go out and buy MAD MAGAZINE?
JF:
They shouldn't! They should go online to
madmag.com
and subscribe. That way they'll never miss an issue. And more importantly, we get all their money upfront. Ya follow?
BUG: I think I do. Thanks, John! And be sure to check out the latest issue of MAD MAGAZINE in stores this week on its new bi-monthly schedule!
Ambush Bug is Mark L. Miller, reviewer and co-editor of AICN Comics for over eight years and one of the original @$$holes. Check out his comic book shorts from Cream City Comics' MUSCLES & FIGHTS VOL.3 and MUSCLES & FRIGHTS VOL.1 on his ComicSpace page. Bug was interviewed here and here at Cream City Comics and here and here about his comic from Bluewater Comics, VINCENT PRICE PRESENTS: THE TINGLER #1-2. Look for more comics from Bug in 2010, including ROGER CORMAN PRESENTS DEATHSPORT in July, and the just announced vampire miniseries NANNY & HANK in August (and check out Jazma Online's new interview with Bug about NANNY & HANK here). Bug's latest comic is VINCENT PRICE PRESENTS #16: WITCHFINDER GENERAL on sale July 2010. Fanboy Radio recently interviewed Bug about it here.
---
Editing, compiling, imaging, coding, logos & cat-wrangling by Ambush Bug Proofs, co-edits & common sense provided by Sleazy G
---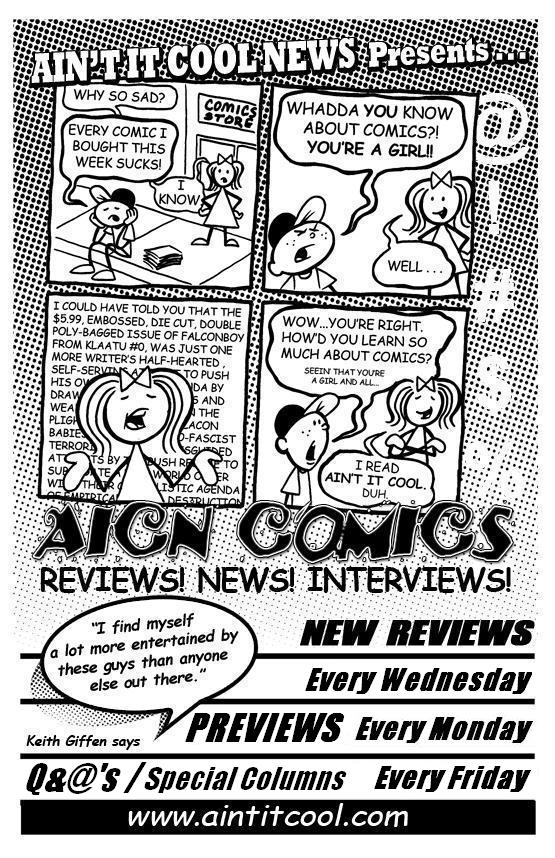 Ad by Prof. Challenger