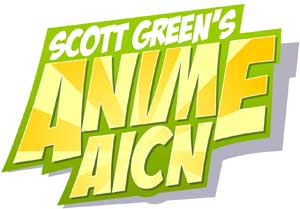 Logo handmade by
Bannister
Column by
Scott Green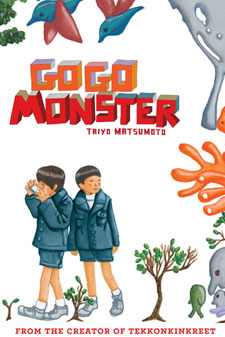 Manga Spotlight: GoGo Monster By Taiyo Matsumoto Released by VIZ Media
Manga frequently touts youth and nonconformity, but few treat the qualities as artfully or honestly as Taiyo Matsumoto's Gogo Monster. In North America, Matsumoto is most closely associated with his Batman by way of an urban variant on Steinbeck by way of Clockwork Orange, Tekkon Kinkreet. That work, adapted into an anime movie by Michael Arias and Studio 4C, follows child metro-avengers Black and White as they leap from roof tops and utility poles to smash the Yakuza and developers who encroach on their Treasure Town home turf. Black brings rage and dark impulses to the partnership. He's a kid who can best adult adversaries by virtue of his willingness not to stop. In contrast, White is the rare dreamer willing to plant seeds in a city that most residents gave up on, but whose childishness renders him barely functional. Gogo Monster shares conceptual DNA with the yin-yang partnership driving Tekkon Kinkreet. In this story, Makoto Suzuki transfers to Shinmei Elementary in what is the Japanese equivalent of first grade. He's given a desk next to Yuki Tachibana, a boy who scrawls fantastic beasts on his desk, sees faces in water drops and calls to uber-spirit "Super Star" for a metaphysical order. Yuki's problem is that he's intelligent, but not so genius that adults are willing to extend patience to his extreme eccentricities. Though he's not inclined to let it concern him, the strain is even more pronounced in regards to his peers, where his ostracism is socially crippling. Makoto is a child who has not lived under the same Darwinian desperation as Black. As such, he wouldn't express it in the same severe terms, but like Black's exasperation with White, Makoto wishes Yuki would get out of his own head and deal with the world in a sensible manner; one that would be less likely to leave him ground up by its workings. As with Black and White's old, homeless mentor, GoGo Monster offers a guru of sorts, present and willing to attempt to explain the situation to Makoto. One of Yuki's only confidants is the groundkeeper Ganz, and as this veteran school employee explains to Makoto, "I've been working here for 30 years. I've seen a lot of things in my time here. I've seen many children... kids who run fast, kids who draw well, kids who are good fighters, kids who are good students... and kids with a talent for seeing things the rest of us can't see and hearing things we can't hear." And, the gardener has observed a second pattern relevant to children like Yuki. They hit a pivotal age in which they are either consumed by their visions or they bloom. The point of contrast to Yuki is the boy known as IQ. This fifth grader wanders the school ground with a box masking his face, and yet, he speaks cogently and the teachers and administrators not only acquiesce to his peculiar behavior, but recognize him as a genius. No one is outraged by this and Gogo Monster does not frame it as an injustice. It's nothing personal. Yuki's abnormality is of a type that will be viewed as a disruption, where as IQ is seen to be operating on his own level. And, within the context of the manga, IQ has an authority. Like Ganz, he professes to understand Yuki. However, he has a more conventionally rational perspective on Yuki's spirit world. In IQ's coldly analytical view it's all metaphorical, with nothing extending beyond a scientific view of the world. Even if IQ is a boy with a box over his head, we, the readers are more inclined to agree with him. Yet, while GoGo Monster is grounded in realism, it conforms to Yuki's observations. Not only is it visually his world, his explanations of benign spirits under the guidance of Super Star and malevolent Others is a post hoc justification for the school's swing from order to disorder. Increasingly concerning events could seem like Super Star or whatever is supposed to wind the watch has gone absent. As Yuki tries to reconcile with the local god, patterns that govern the school would seem tethered to him as he plunges into the maelstrom. Nearly everything in the manga is filtered through that character. As such, there is ambiguity as to whether its world is operating how he describes it or operating how we accept our world to operate. If GoGo Monster is in fact capturing an elementary school microcosm thrown out of order by its missing Super Star, then it's not just a character study of Yuki and Makoto. It's a suspense story. Yuki would be the scary psychic kid, and he and the manga certainly work in that capacity. Events are walled into the school grounds. Locked into that environment, trouble is introduced, then amplified. In its unwavering progression, it establishes cause for then exacerbates the unease. GoGo Monsters opens with Yuki's map of Shinmei Elementary and its ground. It looks like a kid's drawing. It betrays unmastered manual dexterity. It's scratchy. And yet, it's precise and comprehensive. It's the work of someone who had gotten their mind around the whole space and worked that comprehension into a graphic representation. Bits of unreality encroach in. Nessie's distant cousin swims the bottom of the pool. A sasquatch drags its knuckles by the lunchroom. And, those are all outliers for the real frenzy that occurs on the unused fourth floor of the school building. Place and genre serve as foundations for Taiyo Matsumoto's manga. Tekken Kinkreet was a sort of street level crime fighting story set in Treasure Town, a city district gone feral, with buildings on top of buildings, cultural landmarks and billboard advertisements growing over each other without order. Lamentably poor selling, abbreviated No. 5 was a Seijun Suzuki hit man ascendency, taking place among a global Justice League, set in a world where both human culture and nature has been hybridized to a fantastic extent. Blue Spring, a one volume short story collection, also released by Viz, took teenage rebellion stories, particularly those focused on male delinquents, and de-romanticized them with boredom and huffing rotten teach. Matsumoto has presented his take on sports manga a number of times, including an entry in Adidas Fever - Lust for Life book for FIFA World Cup 2002, but the closest North America has gotten is the award winning live action adaptation of Ping Pong. In all these ventures, Matsumoto applied his own, specific vision to the subject. He wasn't only rewriting the story, but how the story was told. In terms of movies, think of There Will Be Blood. The tragedy of the driven man who ultimately proves self destructive is ancient. But, that film offers a unique view of the central figure's psychology, framed with a distinctive use of the medium. Matsumoto is not introducing new types of characters or stories to manga via GoGo Monster. He is presenting them in a way that is not only specific to Taiyo Matsumoto, but specific to GoGo Monster. The singularity starts with the books format. Rather than being serialized in an anthology, GoGo Monster was released in one, complete, 450+ page edition. This is not unheard of in the Japanese manga market, but it is uncommon. The result is that GoGo Monster is freed from the pacing of chapter serialization. The narrative is not meditated by the need to hook readers and move them from chapter to chapter. Instead, GoGo Monster proceeds from season to season through a school year. At points, especially climactic ones, the regular guard rails of manga/comics are torn off. Black's dizzying confrontation with the Minotaur has nothing on this. Many anime and manga stories exhibit a love for reductive explanations for how people develop. One specific catalyst molds how a person pursues everything thereafter. The anime/manga type capsule Taiyo Matsumoto explanation is that he visited France in the mid 80's and came away entranced by artists like Moebius. Rather than adopt the precision of Jiro Taniguchi, Matsumoto developed a willingness to go abstract and aesthetically unpleasing. To borrow some over quoted Doors lyrics "People are strange when you're a stranger. Faces look ugly when you're alone." Those around Yuki are asymmetrical or not entirely formed. His disconnect has a visual manifestation, as if he was seeing it all through a filter. There's an animator named Osamu Kobayashi. He worked on the anime adaption of rock shonen Beck, fashion shoujo Paradise Kiss and indie-flick-ish mecha Gad Guard. Gainax recently did an anime series adapting Hanamaru Kindergarten, a cutesy comedy for an older male seinen audience about a teachers and young children. In a jaw dropping movie, Kobayashi animated an end credit sequence inspired by Godard's Breathless. It's an evocative starting point for shaking up the familiar, Matsumoto's mind would appear to be in a similar French New Wave wavelength. He jumps away from predictable formality, rethinking the medium. GoGo Monster lends itself to being thought of as directed. Unlike with typical search bubbles, this manga does not always attach the words to a speaker. It feeds into Yuki's detachment, but it also allows for some deft editing. Matsumoto forces send looks to determine if we are really seeing the rules of reality being bent. Again, the aim could be described in terms of anime; The works of Satoshi Kon come to mind. In Kon's directorial premiere, Perfect Blue, an idol singer broke from that identity to reinvent herself as an actress, starring in a violent police drama to recast her public image. A stalker apparently targets her, and in her panic, her various identities tangle and spill into her life. In Kon's Perfect Blue, his Paranoia Agent and Paprika, the world as the mind sees it and the world as it concretely exists coinhabitate on the same plane. There's no visually discernable boundary. Though we see few fever dream creatures, Yuki retains ownership of his visions and those visions define GoGo Monsters. Matsumoto grapples with capturing Yuki's mind with all the tools that manga affords. The work is articulate when it should be. Ganz and IQ speak in manners that both fit the character in the moment in which they're speaking, and spell out an understanding of what is occurring. Matsumoto brings voice and meaning to the dialog, expressed in both content and style. However, Matsumoto is working in manga. He's willing to let images speak for themselves. Therein lies the manga's chief challenge. With the freedom afforded by the direct to graphic novel format, with the tools afford by the medium, Matsumoto can and does go into obscure territory. This is demonstrably divisive work. Taiyo Matsumoto and GoGo Monster are not universally adored and not only rejected on the grounds that the manga looks and works differently. Comics212 and Journalista memorably differed on Tekkon Kinkreet. Anime News Network's ANNCast was unimpressed by GoGo Monster. You can speak with authority and still reject GoGo Monster. Personally, I'd say that Gogo Monster is more admirable than enjoyable. It does work as a suspense, and it evokes that unease as well as any manga. Yet, I wouldn't recommend going into the manga to read well crafted tension. As effecting as it is in a number of its scenes and dialog exchanges, the thrill of GoGo Monster is how it stands apart. Manga is not as monolithic as some might suggests it is, but even among its diversity, even amount the distinctive works of Taiyo Matsumoto, GoGo Monster establishes its own identity. It becomes a difficult work, but it is not entirely impenetrable. If it were less narrative, I probably would not like it as much, but combining story with experimentation, the work enthralled me.
New and Upcoming in North America
The Hollywood Reporter revealed Warner Bros. has secured the live action rights to Shonen Jump action manga Bleach. Peter Segal is in negotiations to produce, though not direct, the adaptation with Viz Media, the anime publishing house that releases the books in English in the U.S. Michael Ewing, Segal's partner at Callahan Filmworks, will also produce. Hollywood Reporter's description of the title The story centers on a 15-year-old boy who has the ability to see ghosts and meets a female Soul Reaper, a member of an order that escorts the souls of the dead. A fight with an evil spirit causes the Reaper to transfer all her power to the boy, leaving her stranded in the human world and the boy taking over her job as a fighter of evil.

*

Wolfgang Petersen (Air Force One, Poseidon, Neverending story) told MTV Splashpage that the adaptation of Satoshi Kon's dream detective story Paprika (based on the Yasutaka Tsutsui novel) is proceeding. "We have a young writer on it, and he just delivered a very specific and detailed treatment that we're working on," Petersen told MTV News. "And then if that's a go then he will write the screenplay and that will go very fast because the treatment is already very detailed. So I'm very excited about that. I would say it's on the fast track." "The original one -- the anime that I saw -- my people here they came to me and said had a look at this," he explained. "And I saw it and bingo, I thought this is fantastic. This is a great piece. That will be a very very interesting movie." "We open it up a little bit more so it's more accessible for a wide audience, but it comes a little bit sort of "Matrix" feel," he said. "Not like Matrix but sort of the size of it all, the scope of it all. So that it becomes more of a film for a mainstream audience."

*

Sci-Fi Channel/Syfy's license of the Earthsea franchise end this year. Now, the rumor is, not only with the Goro Miyazaki (Hayao's son) directed Ghibli adaptation of the novel be released in North America, the animated film will screen theatrically July 30th. An English dub already exists, featuring a cast including Willem Dafoe & Cheech Marin, from the UK & Australia release in 2007.

*

IESB is reporting that Lucas is developing a Star Wars for a pre-school to kindergarten aged audience. 4Kids 4Kids has licensed Toei/KBS' Tai Chi Chasers. Anime News Network notes that this is first Japanese-animated children's series that 4Kids is adapting since it licensed Dinosaur King in 2008. 4Kids Chairman and Chief Executive Officer Alfred Kahn said during 4Kids' latest quarterly earnings conference call last week that "4Kids needs to return to its roots as a licensing and merchandising company [that] specializes in bringing wonderful Japanese programming and merchandising to the rest of the world." He added that 4Kids signed an agreement for "very important Japanese property" that the company would announce in the next few days, and that the new fall season will include a number of new "substantial Japanese hits." Tai Chi Chasers focuses on Rai, a young orphan, shocked to discover he's a secret descendent of the Tigeroids: an ancient race of peaceful beings locked in struggle with the ruthless and cunning Dragonoids. In a parallel universe called Suhn, the Tigeroids and Dragonoids are locked in an age-old race to recover 500 lost tai chi symbols. Whoever recovers these precious and potent symbols will possess the ultimate power to rule their realm…and destroy their enemies. Rai must now hone his innate tai chi card skills to fight the Dragonoids, find the lost symbols and battle to become one of the champion Tai Chi Chasers. ICV2 on 4Kids' recent losses and decision to return to licensing CMX

NYANKOI! VOL. 1 •On sale July 7 • 5" x 7.375" • 162 pg, B&W, $9.99 US • TEEN Written and illustrated by Sato Fujiwara CMX/FLEX COMIX. A boy who hates cats finds out what it's like to be one! When Junpei accidentally knocks the head off of a statue of a cat, he is cursed with a spell that will transform him into an actual feline! The only way he can avoid the curse is to complete a hundred good deeds for the cats of his town. The fact that he's also allergic to felines isn't going to help him with his mission either. But there is a cute girl in school who loves cats and who Junpei has a crush on. Maybe this won't turn out to be such a bad situation after all!

THE PHANTOM GUESTHOUSE • On sale July 28 • 5" x 7.375" 192 pg, B&W, $9.99 US • TEEN Written and illustrated by Nari Kusakawa CMX. A single volume manga from the author of TWO FLOWERS FOR THE DRAGON. Sasafune finds a mysterious manuscript at his grandfather's house. When he reads it, he is transported to the "Inn of the Imagination," a place that previously only existed in the manuscript! Things quickly get spookier from there and Sasafune has to determine whether he can afford the price for a visit to this inn!

SHISSO HOLIDAY • On sale July 21 • 5" x 7.375" 196 pg, B&W, $9.99 US • TEEN By OTSUICHI & Hiro KIYOHARA CMX. Young Nao's widowed mother marries a rich husband. Things are looking up until her mother unexpectedly passes away. Nao's situation turns even bleaker when her stepfather remarries with a younger woman. Concerned about her standing in the family, Nao tests their commitment with a daring scheme: she'll fake her own kidnapping! Comedy and suspense combine in this complete, one volume story!

MY DARLING! MISS BANCHO VOL. 2 • On sale July 7 • 5" x 7.375" 192 pg, B&W, $9.99 US • TEEN Written and illustrated by Mayu Fujikata

I HATE YOU MORE THAN ANYONE VOL. 10 • On sale July 14 • 5" x 7.375" 192 pg, B&W $9.99 US • TEEN Written and illustrated by Banri Hidaka

THE BATTLE OF GENRYU: ORIGIN VOL. 3 • On sale July 21 • 5" x 7.375" • 162 pg, B&W $9.99 US • TEEN PLUS Written and illustrated by Shouko Fukaki CMX/FLEX COMIX. Final volume KimStim Kino Lorber and KimStim have released three films (Twisted Path of Love, Sayuri Ichijo: Following Desire, and Yakuza Justice: Erotic Code of Honor) from Japanese Pinku director Tatsumi Kumashiro.

Considered "the most important Japanese director to emerge during the 1970s," (All Movie Guide), Kumashiro is "one of the most celebrated figures in the roman-porno movement" (Dave Kehr, The New York Times) in Japan, achieving unprecedented box office and critical success during the 1970s. His film, Ichijo's Wet Lust (1972) was a major hit in his home country and featured Japan's most famous sex performer of the time, Sayuri Ichijo. She played the title role in the film and won the important Kinema Jumpo prize for best actress. Media Blasts Robers Anime Corner Store lists a numbr of Media Blasters delays Ah My Buddha (Amaenaideyo!!) Complete Collection DVD Boxed Set (Eps #1-26) - Apr 6 to May 18 Gao-Gai-Gar Complete Collection DVD Boxed Set #2 (Eps #26-49) (Lite Box) - Apr 27 to Jun 14 Tweeny Witches Core Collection DVD Economy Box Set (Lite Box) - May 18 to Jun 29 NIS NIS' web site has launched a page for their anime offerings Toradora and Persona Otaku USA The May/June issue

Right Stuf Anime producer and distributor Right Stuf, Inc. and its Nozomi Entertainment division announced the license of the DIRTY PAIR television series. Two DVD box sets are planned, with the first currently scheduled for late Fall 2010. Each set will feature remastered video from the Japanese DVD release, as well as Japanese audio and English-language subtitles. The Dirty Pair TV series follows the action-packed, sci-fi misadventures of Kei and Yuri, operatives dispatched by the for-profit World Welfare Works Association to resolve crises throughout the universe. Their preferred codename may be "Lovely Angels," but their on-the-job effectiveness, which is only rivaled by the path of destruction left in their wake, has earned them a very public, very unwanted nickname – the "Dirty Pair." The television series, which consists of 24 episodes and two TV specials, is the first anime adaptation starring the iconic heroines of the long-running Dirty Pair novels and short stories. It features production by Sunrise (Gundam, City Hunter, Sgt. Frog, Cowboy Bebop,) and Studio Nue (Crusher Joe, Macross).

Section 23 BRIGHTER THAN THE DAWNING BLUE COMPLETE COLLECTION Published by: Sentai Filmworks Distributed by: Section23 Films Run Time: 300 min. Street Date: 6/1/2010 Format: DVD SRP: $49.98 SYNOPSIS: It's never easy when a stranger moves into your house, but if you have to host a foreign exchange student, Feena Fam Earthlight* would be almost the perfect choice… She's smart, kind, generous and attractive, BUT the problem is that she's the Sphere Kingdom's Princess, and tensions between Earth and our Lunar neighbors have been tense since the big war. So you might forgive Asagiri Tatsuya for having some reservations, but since his father IS the first assistant to the president, what better place to board the Princess so she can learn more about Earth culture? And, as mentioned before, Feena is VERY attractive. Unfortunately, the course of true love doesn't normally have to contend with either interplanetary diplomacy or Feena's bizarre entourage of assistants… and then there's the question of how the kids at Tatsuy's school are going to react. Get ready to see stars as two teens from totally different worlds collide in Brighter than the Dawning Blue – The Complete Collection! PAPILLON ROSE COMPLETE COLLECTION Published by: Maiden Japan Distributed by: Section23 Films Run Time: 175 min. Street Date: 6/8/2010 Format: DVD SRP: $34.98 SYNOPSIS: They're bold, they're beautiful and they're barely wearing anything as they save the world from sexual conquest! What began as a crazed experiment in anime fandom has escalated beyond the control of its otaku dojinshi creators, and now the underground fan phenomenon parodying a certain sailor-suited battle team leaps to home video in seven sense-exploding, skin-baring, "cover the kids' eyes quick" videos of utter animated insanity! Can high-school student and part time underwear model Tsubomi save Japan from the monstrous villainesses who seek to suck it's men dry of… um… sexual energy? How do her talking cat Rama and the mysterious stranger who calls himself "Dandy Lion" fit into the picture? And just how many magic girls who fight evil in their underwear does Japan have anyway? They're not knock-offs, they're knock outs, and they're fighting wrongs in their thongs in PAPILLON ROSE - The Complete Collection! CLANNAD COMPLETE COLLECTION (with English dub) Published by: Sentai Filmworks Distributed by: Section23 Films Run Time: 600 min. Street Date: 6/15/2010 Format: DVD SRP: $69.98 Tortured by his past and pained by an uncertain future, Tomoya drifts through life with an almost overwhelming anger and emptiness. But when he meets the mysterious, beautiful, shy Nagisa, his world seems to change. Drawn in by her gentle but lonely spirit, he begins to experience the joy life can bring. But as he discovers the reason for his newfound friend's loneliness, Tomoya also finds that life can be frighteningly fragile. Poignant. Compelling. Heartbreaking. Clannad is one of the most cherished anime of all time. Experience the wondrous and tender storytelling that has made Clannad an anime classic. The dub cast and crew includes Director & ADR Script (Ep 1 - 12) - Steven Foster Director (Ep 13 - 24) - Janice Williams ADR Script (Ep 13 - 24) - Clint Bickham Cast: Tomoya Okazaki - David Matranga Nagisa Furukawa - Luci Christian Kyou Fujibayashi - Shelley Calene-Black Botan - Melissa Davis Ryou Fujibayashi - Brittney Karbowski Tomoyo Sakagami - Kaytha Coker Kotomi Ichinose - Emily Neves Fuko Ibuki - Hilary Haag Youhei Sunohara - Greg Ayres Mei Sunohara - Serena Varghese Akio Furukawa - Andrew Love Sanae Furukawa - Kara Greenberg Voice of "I" - Shannon Emerick Girl - Melissa Davis Yukine Miyazawa - Maggie Flecknoe Misae Sagara - Elizabeth Bunch Naoyuki Okazaki - Chris Hutchison Kouko Ibuki - Stephanie Wittels Yusuke Yoshino - Illich Guardiola Junior Male (from Ep 24) - Josh Grelle A trade-in program is available for those who bought the Japanese audio only version To participate you must redeem Clannad Collection 1 (SFCL100) and Clannad Collection 2 (SFCL200). Send in the (4) DVDs, sleeve art and plastic cases along with $20 for the upgrade, plus [$3 postage within the USA / $6 for Canada]. LA CORDA D'ORO ~ PRIMO PASSO COLLECTION 1 Published by: Sentai Filmworks Distributed by: Section23 Films Run Time: 325 min. Street Date: 6/22/2010 Format: DVD SRP: $49.98 SYNOPSIS: Talking to invisible people that only you can see can get you into unusual situations, so when Kahoko Hino encounters a tiny fairy named Lili on the way to school, she is shocked to find herself entered in a competition for her school's elite music program! That might be wonderful, except Hino doesn't even play an instrument, let alone own one! But Lili has a solution for that as well, and he attempts to give her a magic violin. Hino refuses at first, but weakens, perhaps noticing how many good looking boys seem to be in the program. The problem is that now Hino is competing against a host of other talented students, and she really can't play a note! Now she'll have to work double-time in order to justify her place in the orchestra! Will Hino become the musical prodigy everyone thinks she is, or will she just end up playing second fiddle? One way or another, she'll have to face the music in 'La Corda d'oro' – Primo Passo – Collection 1! GINTAMA COLLECTION 2 Published by: Sentai Filmworks Distributed by: Section23 Films Run Time: 325 min. Street Date: 6/29/2010 Format: DVD SRP: $49.98 SYNOPSIS: Let's face it; a "typical day" in alien occupied feudal Japan is still going to be strange by any normal standards, but at Gintoki's Odd Jobs agency, the freelancers have learned to expect the weirdest of the weird when it comes to assignments. Of course, when your company specializes in doing the oddest of odd jobs, the odds are that that oddness is bound to rub off on you, but the really bad part about the job is that it pays so little for the near-terminal risk to life and limb that almost every mission inevitably ends up entailing. Unfortunately for our favorite group of Freelance Oddballs, they're usually underemployed, which besides making them UFOs, means that they have to take just about every job they can find. Escorting a runaway princess? Check. Driving a cab. Check. Cross-dressing samurai bar? Swallow the pride and check. If you thought the first collection of Japan's mega-hit series seemed like the bizarre love child of Akira Kurosawa and Monty Python, you won't believe the insanity that ensues in GINTAMA – The Second Collection! Seven Seas Seven Seas announced supernatural manga Vampire Cheerleaders and Paranormal Mystery Squad, written by Adam Arnold and illustrated by Shiei, the creative team behind Aoi House. Both original series are set to double-feature in Vampire Cheerleaders: Fang Service, a campy horror manga which leads off with the aforementioned bloodsucking teen comedy Vampire Cheerleaders, followed by Paranormal Mystery Squad, a ghostbusting spin-off directly from the pages of Aoi House. Vampire Cheerleaders: Fang Service will be released in January 2011, with a second volume set to be released later in the year. An ongoing webcomic preview and other promotions are scheduled for later in 2010. In Vampire Cheerleaders, the Bakertown High School cheerleading squad has a secret: behind all their pretty makeup and short skirts are five hungry vampires who sure know how to show their school spirit! When one of their own turns up missing, the vampire cheerleaders have no other choice but to induct one of the eleventh grade girls from B Squad into their vixenous ranks. Siring new recruit Heather Hartley may be the easy part, but keeping her from turning into a vamp-gone-wild and draining the entire football team on the eve of the big homecoming game is another matter! In Paranormal Mystery Squad, goth girl Stephanie Kane, her bratty sister Katie, and best friend Charlotte have a good thing going. They've made a name for themselves traveling the country in their trusty Winnebago hunting down cryptids and all manner of supernatural beasties. That is, until the organization known as PETM (People for the Ethical Treatment of Monsters) slaps them with a boatload of new regulations and places a court-appointed PETM liaison on their all-girl team: the enigmatic, albeit slightly anemic, J.C. Summerfield. When things go awry during the team's next case, it's Stephanie's kid sister Katie who finds herself in the hairiest situation of her life... literally!

VIZ Media VIZ Media announced ROSARIO + VAMPIRE. ROSARIO + VAMPIRE: SEASON II will be published under the Shonen Jump Advanced imprint on April 6th with a 'T+' for Older Teens rating and a MSRP of $9.99 U.S. / $12.99 CAN. In this action filled series, average teenager Tsukune accidentally enrolled at a boarding school for monsters – no, not jocks or the popular kids, but bona fide werewolves, witches and other unnamable denizens from of his wildest nightmares! On the plus side, all of the girls have a major crush on him. But on the negative side, all the boys are so jealous they want to kill him! And so do the girls he spurns, because he only has eyes for one of them – the far-from-average vampire, Moka. Still, on the plus side, Moka only has glowing red eyes for Tsukune. But on the O-negative side, she also has a burning, unquenchable thirst for his blood!

ROSARIO TO VAMPIRE SEASON 2 © 2007 by Akihisa Ikeda/SHUEISHA Inc. VIZ Media will be releasing the eighth and final volume of Naoki Urasawa's Pluto: Urasawa × Tezuka on April 6th Pluto: Urasawa × Tezuka is a modern reinterpretation of the work by the master of Manga, Osamu Tezuka. In an ideal world where man and robots coexist, someone or something is after the seven great robots of the world. Interpol assigns robot detective Gesicht to this most strange and complex case – and he eventually discovers that he is one of the targets! In the final volume Atom is back, and the fate of the earth is in his hands! Now that Atom has all the answers to the unsolved mysteries around Pluto, Bora and more, he's prepared to put everything on the line. With the memory of his fallen brethren – Gesicht, Mont Blanc, North No. 2, Brando, Hercules and Epsilon – etched deeply into his heart, Atom is headed for one last battle to save the world!

PLUTO © Naoki URASAWA/Studio Nuts, Takashi NAGASAKI and Tezuka Productions Original Japanese edition published by Shogakukan Based on "Astro Boy" written by Osamu TEZUKA.

*

Tanbishugi notes that Simon & Schuster is listing the a Viz release of Mitsuru Adachi's baseball manga Cross Game

*

VIZ Media has announced the English Dub cast for the Vampire Knight anime. Yuki Cross, the adoptive daughter of the headmaster of Cross Academy, is played by Mela Lee. Veteran anime voice actor Vic Mignogna plays Zero Kiryu, a student who is a year older than Yuki Cross and comes from a family of vampire hunters. and Ethan Murray portrays Kaname Kuran, a pure blooded vampire and the current Head of the Kuran Clan, the president of the Night Class.
New and Upcoming in Japan
Promos Gothicmade - the new anime from Five Star Stories' Mamoru Nagano Insect Story Honeybee Hutch ~Melody of Courage~ Welcome to the Space Show Legend of the Legendary Hero Onigamiden Studio Pierrot's adaptation of Takafumi Takada's novel Live action Gantz Anime Nausicaa.net translated the status of the Ghibli's The Borrower Arrietty

Layout: 984/997 cuts - 98.7% Key animation: 834 cuts - 83.7% Chief animator check: 664 cuts - 66.6% Animation: 615 cuts - 61.7% Painting: 525 cuts - 52.7% Background painting: 668 cuts - 67.0% Completed cuts: 490 cuts - 49.2% According to Nishioka, Yonebayashi (the director) is working until 3:00am every day. After some consideration by Miyazaki, Studio Ghibli now prohibits all-nighters in principle. Animators must return to their home at least once a day. "The Borrower Arrietty" Picture Book at Studio Ghibli's booth in TAF2010 The Blu-ray release Nausicaa has been confirmed, scheduled for July 14, 2010 at ¥7140 A translation of Toshio Suzuki's introduction can be read here

*

Toei is developing CG movies based on Space Pirate Captain Harlock and Daikuu Maryuu Gaiking. An international release is targeted for 2012. A pilot based Leiji Matsumoto's Harlock character has been completed. Mobile Suit Gundam UC author Harutoshi Fukui, Appleseed director Shinji Aramaki, Appleseed mechanical designer Atsushi Takeuchi, and Ninja Scroll character designer Yutaka Minowa worked on the new Space Pirate Captain Harlock pilot with Sega Sammy Visual Entertainment.

Light Stage, used for Avatar, was used for a Gaiking pilot. The mecha anime was aired in the US as part of the Force Five block.

*

Blogger Danny Choo has announced his anime project Chinka Since a few years ago, there have been many cases of arson. In the rural town of Kiyotaki, situated in a beautiful mountain valley, the town folks are talking about the legendary arsonist, Akaneko. The police have completely given up on Akaneko, who has slipped through their fingers every time. The town's only hope is its one and only firefighting team - the Mizuneko Fire Brigade. But because of their destructive fire fighting ways, they too are feared by the town folk. Almost every night, Akaneko and the Mizuneko Fire Brigade fight fiercely, taking down many of the town's buildings in the process. The Mizuneko Fire Brigade have depleted most of the town's financial resources so the town ends up on the verge of bankruptcy. The town was in a critical state when Chinka, a girl with a superhuman ability to smell out fires appears. With her powers, the Mizuneko Fire Brigade close in on the true identity of Akaneko...

*

Via Anime Nation Boys love/apocalyptic death match visual novels Togainu no Chi (Blood of the Reprimanded Hound) will be adapted into an anime series

*

The 5 episode "BLACK LAGOON: Roberta's Blood Trail" OVA series will premiere on DVD & Blu-ray July 17th.

*

Rumors is that Kimura Shinichi's adventure comedy light novel series Kore wa Zombie Desu ka? (Is This a Zombie?) will be getting an anime adaptation.

*

A second set of Mari & Gali educational, comedy anime is starting this month.

*

The cast of the Heartcatch Precure chapter of the magical girl franchise will get their own movie, schedule to hit Japanese theatres in October

*

Anime Innovation Tokyo (AIT) is producting new mecha anime Kihei Senki Legacies featuring the work of Story creator Shin Kibayashi (Bloody Monday, Kindaichi Case Files), mechanic designer Kunio Okawara (Mobile Suit Gundam, Armored Trooper Votoms, Yatterman), character designer Daisuke Nakayama (Tweeny Witches), and musical composer ReTurnTable (Transonic, Tanzmuzik)

*

A second set of Saint Seiya - The Lost Canvas OVAs has been announcedJuly 16, 2010

*

A FVO Zettai Karen Children OVA from the Chugakusei story arc will be released

*

via News Parade. Sakae Esuno's Mirai Nikki aka Future Diary will be adapted into a 20 minute OVA, packed in with volume 11 of the manga, on sale September 9th. Staff includes - Director: Naoto Hosoda (Shuffle!) - Writer: Takayama Katsuhiko (Full Metal Alchemist, Natsu no Arashi) - Chara-designeur: Hirayama Heiji (Shuffle!) & Ruriko Watanabe - Studio: Aslead (Shuffle!)

*

Manga creator Suzuhito Yasuda revealed that supernatural action Yozakura Quartet is setting a reset, second anime adaptation, packaged starting with volume nine of the manga. Ryoochimo Sawa is directing, designing the characters and overseeing the animation production. Tatsunoko Pro and KMMJ Studios are producing, and the studio Kusanagi is handling the backgrounds.

*

Toei Animation is creating an adaptation of George Akiyama's dark manga Ashura

*

Susumu Kudo will be directing three theatrical anime film adaptations of Tow Ubukata's Mardock Scramble science fiction novel series. Megumi Hayashibara will play the main character Rune Ballot. Conisch is composing the music, and GoHands is producing the animation.

*

Tatsuo Sato's (Nadesico, Stellvia, Shingu) adaptation of Yuichi Sasamoto's Mini-Skirt Uchu Kaizoku (Mini-Skirt [Space] Pirates) space opera has been confirmed for 2011. Akiman is responsible for the original character designs for the animation, and Starchild Records is handling the music.

Via ANN's description The story centers around a spirited high school girl named Marika. She keeps herself busy with the space yacht club and her part-time job at a high-class retro café. One day, two men suddenly appear and claim to be subordinates of her dead father. They demand that she assume command of the space pirate ship Benten Maru. A privateer ship's compact was made during a war of independence a century ago, and according to that compact, the ship must be inherited by the captain's next direct descendant. Marika finds herself embarking on a new life as a space pirate.

*

Hiromi Morishita's award winning Osaka Hamlet manga will be adapted to anime, scheduled for summer. Director Fujiro Mitsuishi had already adapted the manga into a live-action film which premiered in October of 2008.

*

Production I.G's adaptatopm pf Mizuki Nomura's "Bungaku Shojo" ("A literary girl") light novel series will be getting three direct to DVD OVAs

*

Lily Hoshino's yokai manga Otome Yokai Zakuro will be getting an anime adaptation

*

Akinari Matsuno and QP:flapper's light novel series MM!, about a teen masochism, will be adapted into anime

*

Risque fantasy Queen's Blade will be getting a new Utsukushiki Toshi-tachi OVA

*

The six discs of Ikkitousen: Xtreme Xecutor will feature original OVA episodes.

*

3D theatrical animated adaptation of Soo Yon Won's Full House manhwa will be opening in Japan and Korea in November

*

The seventh DVD volume of urban adventure Durarara!! will included a direct to video episode and an audio drama adaptation of side story from the original novels.

*

Kazuki Sakuraba's Gosick mystery novels are being adapted into anime

*

More shorts of the Doubutsu Kankyou Kaigi ~ Animal Conference on the Environment, educational/environmental picture book adaptation are being produced Manga Hisao Tamaki has started a new Dirty Pair no Daiboken in Monthly Comic Ryu magazine

*

Via News Paradise Kiminori Wakasugi's Detroit Metal City will be ending in Young Animal # 10 (On sale April 23). The manga will have run 10 volumes.

*

To commemerate the film adaptation of Solanin, Big Comic Spirits # 17 (On sale March 29) will be dedicated to manga author Asano Iniö Content includes The manga on the cover of the magazine A conversation between the mangaka, Aoi Miyazaki (actress) and Kengo Kora (Actor) chapter of Oyasumi Pung Pung (with Color Pages) Special Solanin called Haru yo Koi Iniö will also publish a One Shot in Gekkan Spirits # 05 (For Sale on March 27).

*

To commemerate its 10th anniversary, Sunday GX will launch new projects from Shin Takahashi (Author of Ultimate Tear), Suzuki nakab (author of Kongoh Bancho), Takashi Ikeda (Author of Fade Out), Mari Matsuzawa (Author of Inukami!) Kitakawa Tota (author of Sweet Sketch), Gosho Aoyama (Author of Detective Conan) and Iniö Asano (Author of Solanin). The first is a new series writer of Defense Devil & Le Nouvel Angyo Onshi's Youn In-Wan with illustrations by Kim Hee Sun. The series will start in Sunday GX # 05 (On sale April 19) and will be called Westwood Vibrato . In South Africa there is a young girl named Cornelia Washer Bobo who specializes in the repair of wind instruments.

*

CLAMP's xxxHoLIC will be moving from seinen anthology Young Magazine to Shounen Magazine Bessatsu, where it will run monthly.

*

Go Nagai and Dynamic Pro will launch Devilman vs Getter Robo in Champion Red # 06 (on sale April 19).

*

Kawaguchi Kaiji ( Zipang) will publish baseball short manga Winning Shot in Big Comic Superior # 09 (On sale April 9).

*

Katsuya Terada (Saiyukiden) will release two part story Rakuda Wara (Laughing with Rakuda) in Gekkan Comic Ryu # 06 (19/04) and # 07 (19/05).

*

Kazuto Okada (Sundome) launched new manga Ibitsu in Young Champion # 08.

*

Excel Saga's Rikdo Koshi new begin new manga Deathless in Young King # 09 (On sale April 12).

*

Hiroshi Motomiya's tough turned office work Shin Salary Man Kintaro will return in Young Jump # 18 (On sale April 1). Hiroshi Motomiya will also launch new series Yagyu Munenori in Business Jump # 09 (On sale April 7). The story takes place in 1593. Munenori, who at age 23 is unclear what will make his life. He wonders if it's worth it to continue to train at Saber, as more and more people use guns. At this moment, the Shogun Tokugawa Ieyasu, then visit Munenori and his father. Munenori's destiny is changing ...

*

Masakazu Katsura's Zetman will back him in Young Jump # 20 (On sale April 15).

*

Tomomasa Takuma's Code Geass: No Shikkoku Renyi will start in Shounen Ace # 07, on sale May 26

*

Atsushi Suzumi (author of Venus Versus Virus) will adapt the Kôhei AZANO : Tokyo Ravens novel in Shounen Ace

*

Betsuhana # 05 announced that Glass Mask will go hiatus, to be resumed in Betsuhana # 09, on sale July

*

Kikuni Masahiko's Ma Q Ken Otsu and Wisut Ponnimit's Blanco will end in Ikki this April

*

Shin Tobo Bengoshi - Makoto Narita (The New Fugitive Lawyer - Makoto Narita) will be back in Gekkan Spirits # 06, in time for a new drama based on the manga Live Action The adaptation of Hidenori Hara's Hoshi no Furu Machi is scheduled for spring 2011. The film will be directed by Koji Kawano's and Aoi Nakamura will play the role of Kotaro Tsutsumi.

*

Yoshio Inoue has been cast as the manga artist lead in the live-action film adaptation of Satoshi Karasuya's autobiographical Onobori Monogatari manga

*

Ryo Kurashina's hostess club manga Jotei Kaoruko has been adapted into a live action drama featuring model Mirei Kiritani in her first starring role for a TV series.

*

A live action film adaptation of Maria Watches Over Us (Maria-sama ga Miteru is due out in fall 2010 Misc Fukasaku Kenta and Oshii Mamori collaboration is

*

New stage adaptation of classic theatre based shojo manga Glass Mask is scheduled to be performed in mid July. It will be second collaboration between author Suzue Miuchi and producer Yukio Ninagawa This new collaboration will take place at Theater for the Arts - Sai no Kuni at Saitama Yukio Ninagawa will direct, based on a Aoki Gô scenario and Terashima Tamiya music. Mari Natsuki will play the role of Tsukikage Chigusa , Okumura Kae play the role of Ayumi Himekawa and Miho Owada will play the role of Maya Kitajima.

*

Voice actor/personality/Lucky Star character will be launching a spinoff series of live-action TV shorts called Lucky Racer on April 2. Shiraishi will compete in cart-racing with the staff and voice cast of the anime, and the winners can then debut products or publicize themselves.
Digital Distrobution News
the Black Rock Shooter anime will be streamed on the official site June 25 to August 31.

*

FUNimation has announced that Afro Samurai, Afro Samurai: Resurrection, Fullmetal Alchemist, Ouran High School Host Club and Samurai Champloo are now available in the Canadian iTunes.

*

New FUNimation digital offerings include FUNimation.com 009-1 ENG 5-6 Bamboo Blade ENG 22-23 Blassreiter ENG 23-24 Dragonaut: The Resonance ENG 20-21 El Cazador de la Bruja ENG 16-17 Gad Guard ENG 5-6 Initial D: Fourth Stage ENG 1-4 Initial D: Fourth Stage JPN 3-4 Last Exile JPN 7-9 Linebarrels of Iron ENG 3-4 Nerima Daikon Brothers ENG 1-2 Oh! Edo Rocket JPN 21-22 Pani Poni Dash! ENG 10-12 Sgt. Frog ENG 29-30 Shattered Angels ENG 9-12 Spice and Wolf ENG 11-13 UFO Ultramaiden Valkyrie: Princess Bride (S3) ENG 3-4 Utawarerumono ENG 14-16 X JPN 21-22 YouTube 009-1 ENG 5-6 Baccano! ENG 12-14 Baka and Test JPN 5-6, 10 Bamboo Blade ENG 17-19 El Cazador de la Bruja ENG 8-10 Fullmetal Alchemist: Brotherhood JPN 46 Initial D: Fourth Stage JPN 1-4 Nabari no OU ENG 20-21 Nerima Daikon Brothers ENG 1-2 Pani Poni Dash! ENG 10-11 Shattered Angels ENG 6-10 Shigurui: Death Frenzy JPN 9-12 Spice and Wolf ENG 3-5 X JPN 21-22 Also tomorrow on YouTube, Dance in the Vampire Bund JPN 7, 9 & the Special Episode will go live. And on Hulu this week: Baka and Test JPN 5-6, 10 Casshern Sins JPN 1-24 Fullmetal Alchemist: Brotherhood JPN 46 (Live today) Last Exile JPN 1-26 Linebarrels of Iron JPN 19-21 Ouran High School Host Club JPN 1-26 Pani Poni Dash! ENG 10-12 Spice and Wolf ENG 1-5 UFO Ultramaiden Valkyrie: Princess Bride (S3) ENG 1-6 UFO Ultramaiden Valkyrie: Happy Party Paradise (S4) ENG 1-2

*

When They Cry (Higurashi) is now on Hulu, as is Guyver and Jackie Chan Adventures

*

Sentai Filmworks's English dub of Clannad premiered on Anime Network VOD with a full English dub March 25, 2010, and on the Anime Network Online Player March 26, 2010 From the creators of AIR and KANON comes a sweeping new saga in which the sentimental, the surreal and the supernatural inexplicably become one: this is the world of CLANNAD. Prepare to meet the ambitious Tomoyo, who dreams of becoming class president; Kotomi, a troubled genius with a secret past; and most mysteriously, Fuko, whose disassociation with the world has become so severe that she is literally fading from existence!

*

Crunchyroll will stream DuRaRaRa 25-26 and SoRaNoWoTo 13-14 the same day as Japanese home video.

*

Netflix is streaming Rintaro/Katsuhiro Otomo's adaptation of Tezuka's Metropolis
Event News
Anime Boston is next weekend. I'll be there. Keep an eye out for me.

*

Cult Horror movie House (Hausu, 1977 re-release) will be shown by Salt Lake Film Society this Friday with a new print.

*

The NYCIFF announced that the Secret of Kells has been extended through the school holiday break - multiple shows daily through April 1. tickets can be bought here

*

Mecha Mania!, hosted by Otaku USA's Patrick Macias will be presented at VIZ Cinema @ New People

*

New York Japan Society's Mad, Bad, & Dangerous to Know: March 31 - April 18 A look at the lineup can be read here

*

Otakon's Otakorp Inc. is wokring with the Freer and Sackler Galleries and the DC Anime Club to present the 2010 National Cherry Blossom Festival Anime Marathon Cosplay Contest at the National Cherry Blossom on April 3, 2010 at 1:30 PM The contest is open to individuals or groups. Each individual or group will be given a maximum of three minutes to perform before an audience in the 300-seat Meyer Auditorium. A panel of judges will present awards at the end of the event. All costumes and performances must be family-friendly. For more information, see here

*

Seattle's Sakura-Con has added voice actors Ryo Horikawa (Vegeta in Dragon Ball), Rika Morinaga and Mai Kadowaki to the event's guest list.

*

FUNimation will be presenting a virtual FUNiCon 3.0 panel online at 6:00 p.m. CDT on Monday, March 29

*

Mamoru Oshii's Sky Crawlers is screening on UK theatres April 23rd ahead of the May 31st DVD release

*

Illinois' Anime Central will feature Soul Eater voice actors Yumiko Kobayashi (Black Star), Kouki Uchiyama (Soul Eater), Kaori Nazuka (Tsubaki) and Narumi Takahira (Patty)

*

From of South by South West's Japan Night

*

If you're in the Pittsburgh area, know that The Art Of Akira IS GO!
Cool Figures News
Giant Robot is carrying an exclusive Black Rock Shoot figure, baed on character design by Huke (featured in Giant Robot 64). The 9", 1/8th scale PVC statue will be released in June 2010 for $70.00

*

Dark Horse Deluxe announced that an exclusive Domo Qee figure wull be available at Chicago Comic and Entertainment Expo (C2E2), held at McCormick Place, located at 2301 South Lake Shore Drive in Chicago, Illinois April 16–18, 2010 The convention exclusive features Domo covered with a Hawaiian-style print. The release of the C2E2 variant closely follows the on-sale date of the second "mystery box" series of Domo Qee toys, which are scheduled for release on March 31, 2010.

*

Upcoming DC Ame-Comi Heroine Series releases include Ame-Comi Heroine Series: Catwoman (V.1) Purple Suit Variant Pvc Figure Sculpted By Jack Mathews Limited Edition. Manufactured to order.

Advance-solicited; on sale November 10, 2010 * Statue * $60 US Ame-Comi Heroine Series: Artemis Pvc Figure Sculpted By Jack Mathews Limited Edition. Manufactured to order.

Advance-solicited; on sale November 10, 2010 Statue * $60 US

*

Humping Robot Keychain

*

Halo's Master Chief mashed up with Gundam's Zaku PROJECT BM! AKIRA Shima Tetsuo

*

Figures at Tokyo International Anime Fair 2010 - more here

*

David Cabrera reviews Soul Of Chogokin Shin Mazinger Z

*
Anime x Games
a look at Fullmetal Alchemist: The Promised Date for the PSP Evangelion outfits in Phantasy Star Portable 2

*

The PlayStation news service in which a synthsized version of the Misato character reads the news is being shut down. The service cost ¥800 for a month pass. Crayon Shinchan iPhone picture stamp
The Business
According to The Research Institute for Publications sales of manga magazines and compiled book volumes dropped 6.6% to 418.7 billion yen (about US$4.63 billion) in 2009. This consistutes the largest yearly drop in sales in the market segment's history Sales of manga magazines fell 9.4% to 191.3 billion yen (US$2.12 billion).

*

According to ICv2's latest survey of manga publishers, planned releases for 2010 constitute 13% fewer volumes then 2009's releases. It appears likely that the number of volumes of manga released in 2010 will be under 1,000 for the first time since 2004. While most manga publishers told ICv2 that they plan to publish about the same or slightly fewer volumes (Yen Press, which continues to expand its list, is the major exception), a number of publishers such as Aurora, Go Comi, and Dr. Master have either pulled ou