@@@@ What the #$%! is AICN COMICS: Q&@? @@@@
AICN COMICS: Q&@ is our new semi-weekly interview column where some of your favorite @$$Holes interview comic bookdom's biggest, brightest, newest, and oldest stars. Enjoy this latest in-depth interview filled with @$$y goodness and be sure to look for more AICN COMICS as we gaze into the future of comics every week with AICN COMICS: SPINNER RACK PREVIEWS every Monday and then join the rest of your favorite @$$Holes for their opinions on the weekly pull every Wednesday with AICN COMICS REVIEWS!
---
Q's by Ambush Bug!
@'s by BATTLE AMONGST THE STARS' Martin Fisher!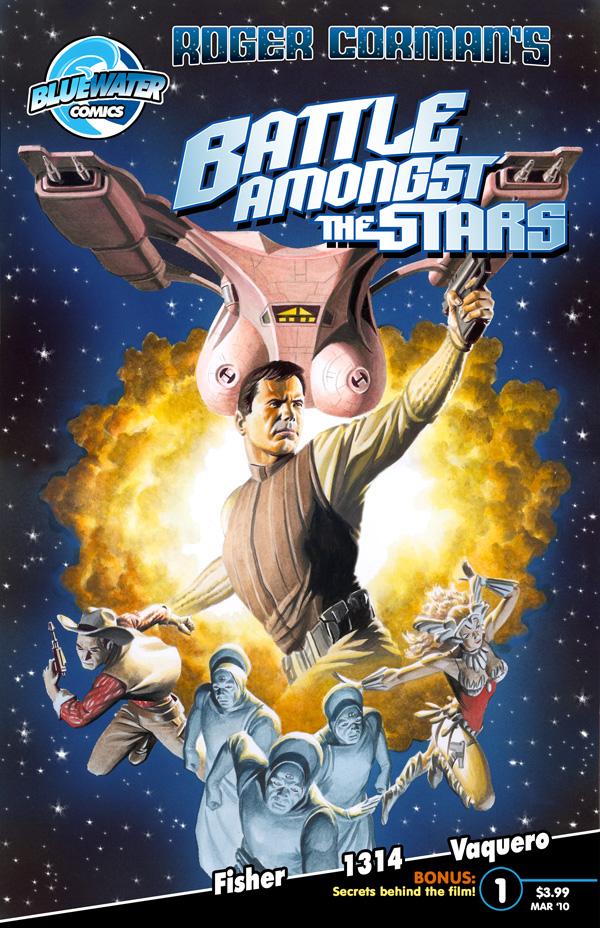 Ambush Bug here. We have another cool interview for you all to enjoy, this time on a miniseries that may perk up some ears. Martin Fisher (RISERS, DEPENDENTS) is going to be writing BATTLE AMONGST THE STARS, which is a prequel to the Roger Corman cult classic film BATTLE BEYOND THE STARS. The four issue miniseries is to be published at Bluewater Comics in March. Martin had a chance to answer some of my questions about the comic and the movie that inspired it.
AMBUSH BUG (BUG): For the readers who have never heard of Corman's classic sci-fi opus BATTLE BEYOND THE STARS, can you give us a brief description of the film?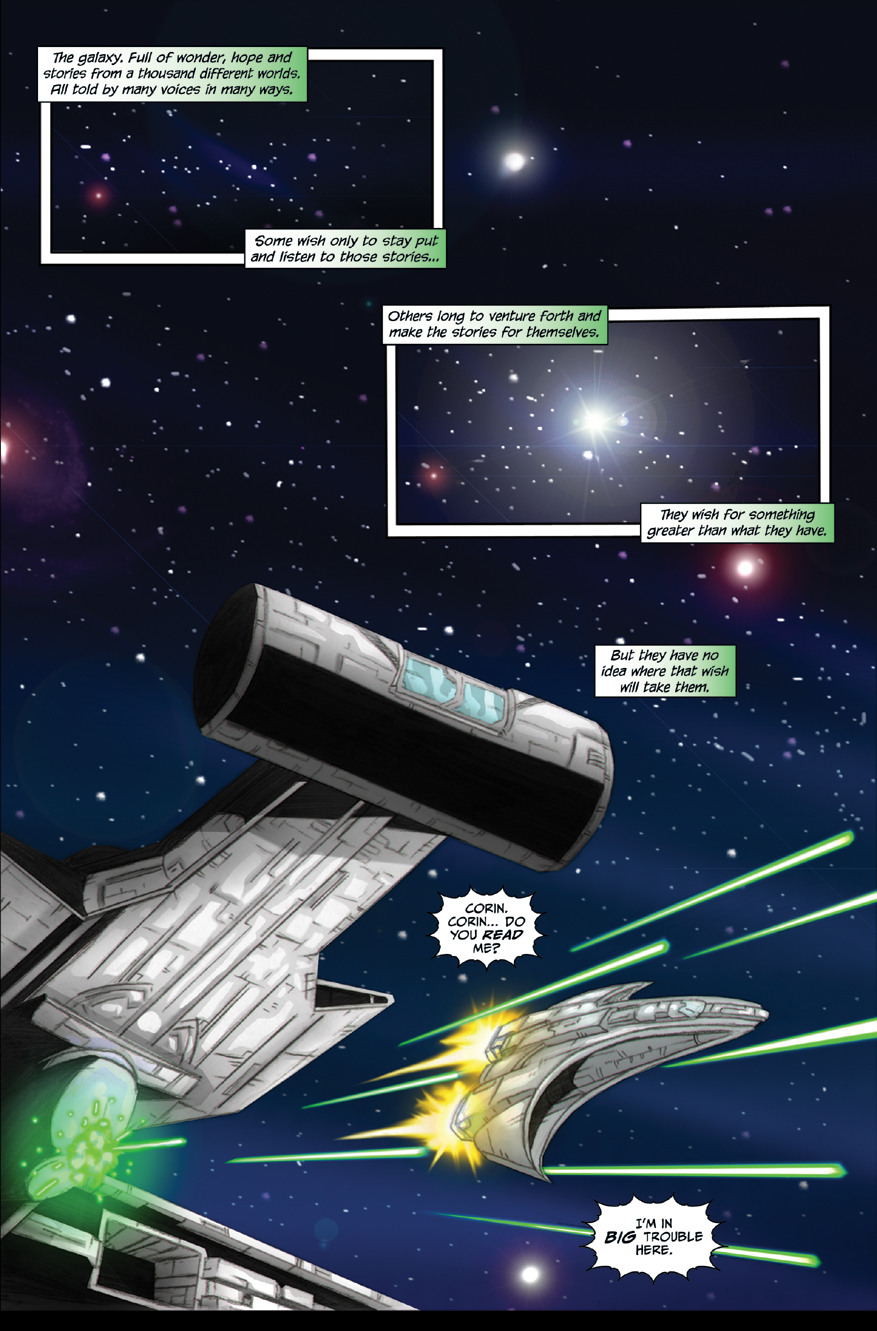 MARTIN FISHER (MA):
Basically stated, it is THE MAGNIFICENT SEVEN in Space. It has some big names in it as well, including Richard Thomas, John Saxon, George Peppard, Robert Vaughn and Jeff Corey who taught Jack Nicholson who to act. James Cameron was the art director on the movie, which I believe was a pretty big break for him.
BUG: What about this project attracted you to it?
MA:
The fact that no one else has done anything with it since the movie came out. And since I loved the movie this was my chance to contribute to the universe it had established. This was something I was NEVER going to refuse.
BUG: What's it like writing a continuation of a story that's more than thirty years old? As a fan of the film, was the pressure pretty high to get it right?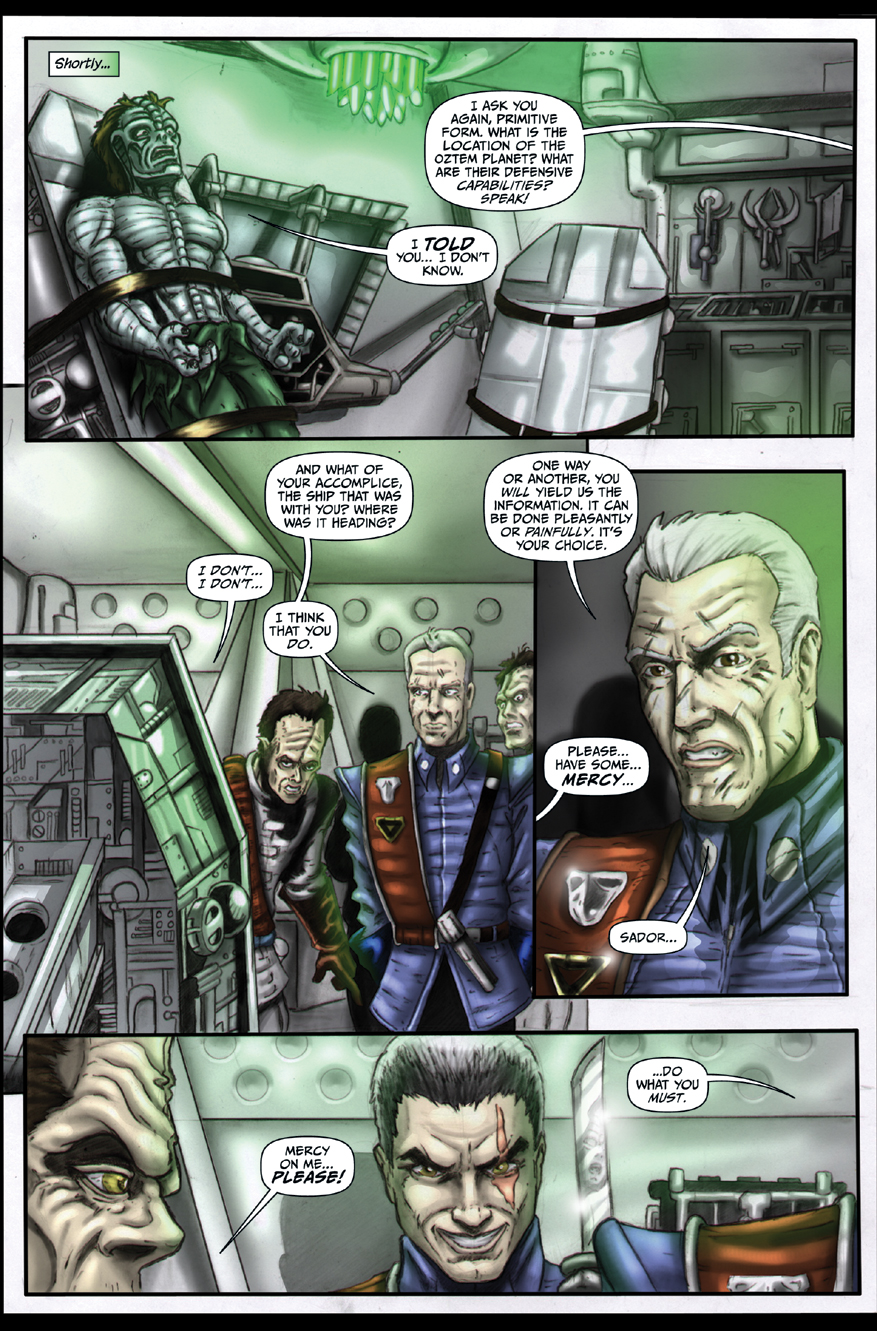 MA:
It's a great feeling, because you're going in fresh since the film hasn't been touched in 30 years. There was no pressure and I did what I felt was right in coming up with a story that could be a stand alone, but also make sense in the greater scheme of people watching the movie and then reading the comic, or visa versa.
BUG: You seem to be pretty passionate about sci fi. What is it about the genre that you find so appealing?
MA:
With sci-fi the possibilities are endless. There's always room to tell stories that no one has told before. That angle is something I've always found appealing.
BUG: Is BATTLE AMONGST THE STARS a sequel, a prequel, or a reimagining? What's it all about?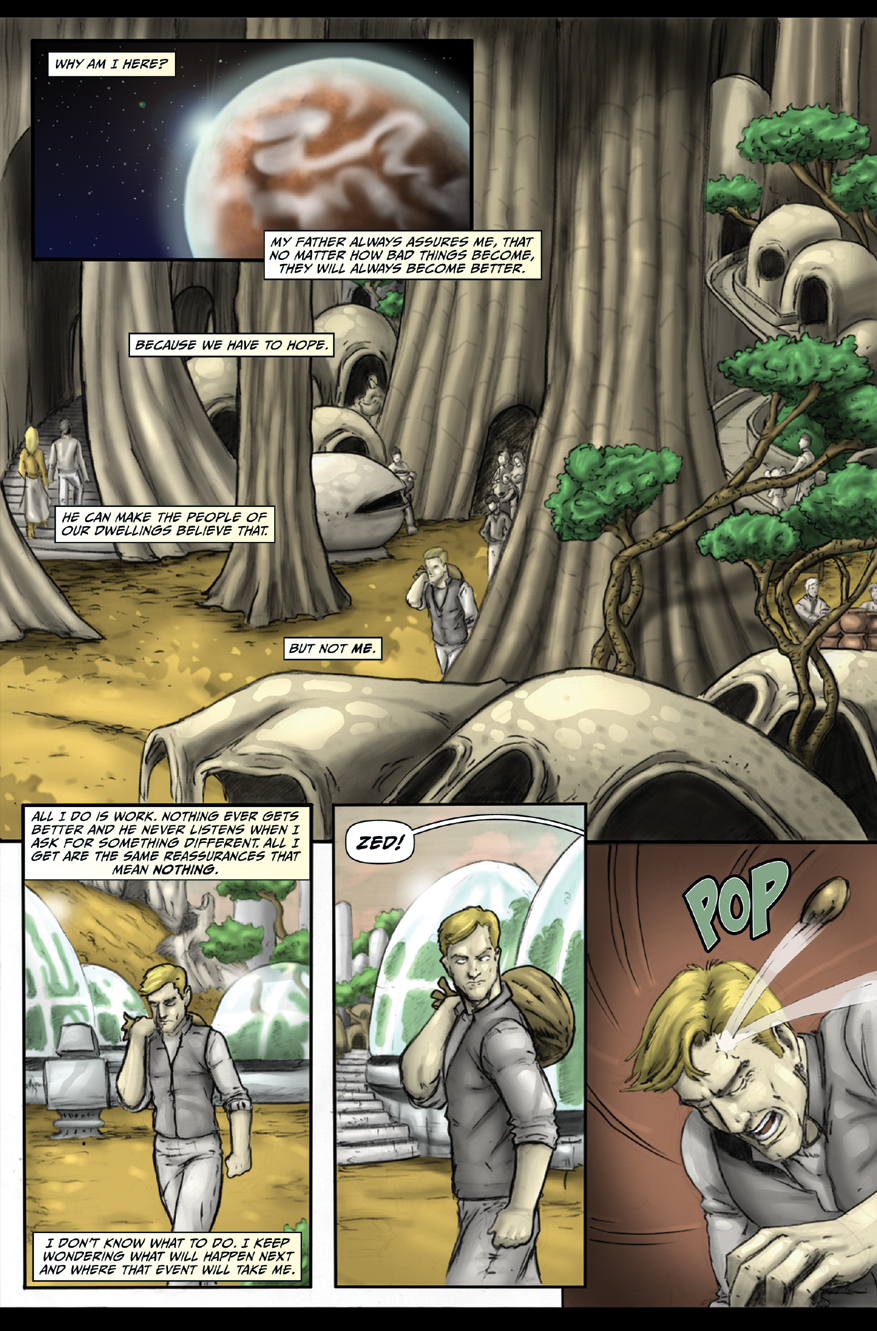 MA:
It's a prequel to BATTLE BEYOND THE STARS, and is set about 30 years before the movie. It's about a young man from the planet Akir called Zed, who longs for a better life outside of his simple existence. He promptly gets that but is forced to grow up pretty fast in a universe he clearly isn't ready for. This first adventure sets things up for many more adventures as one of The Great Ones, as mentioned in the movie. We also see three other characters from the movie: Sador of the Malmori (John Saxon) and what he was doing before he became the supreme tyrant, Doctor Hephaestus (Sam Jaffe) and what he was up to before he became a head at the top of a steam cabinet in the movie, and lastly there's Nell who's the AI of Zed's ship, a Corsair (the ship with the boobs as designed by James Cameron). We'll see what she was doing before becoming permanently allied with Zed and being blown up in the movie.
BUG: Tell me a little bit about the art on the book and the guy behind it.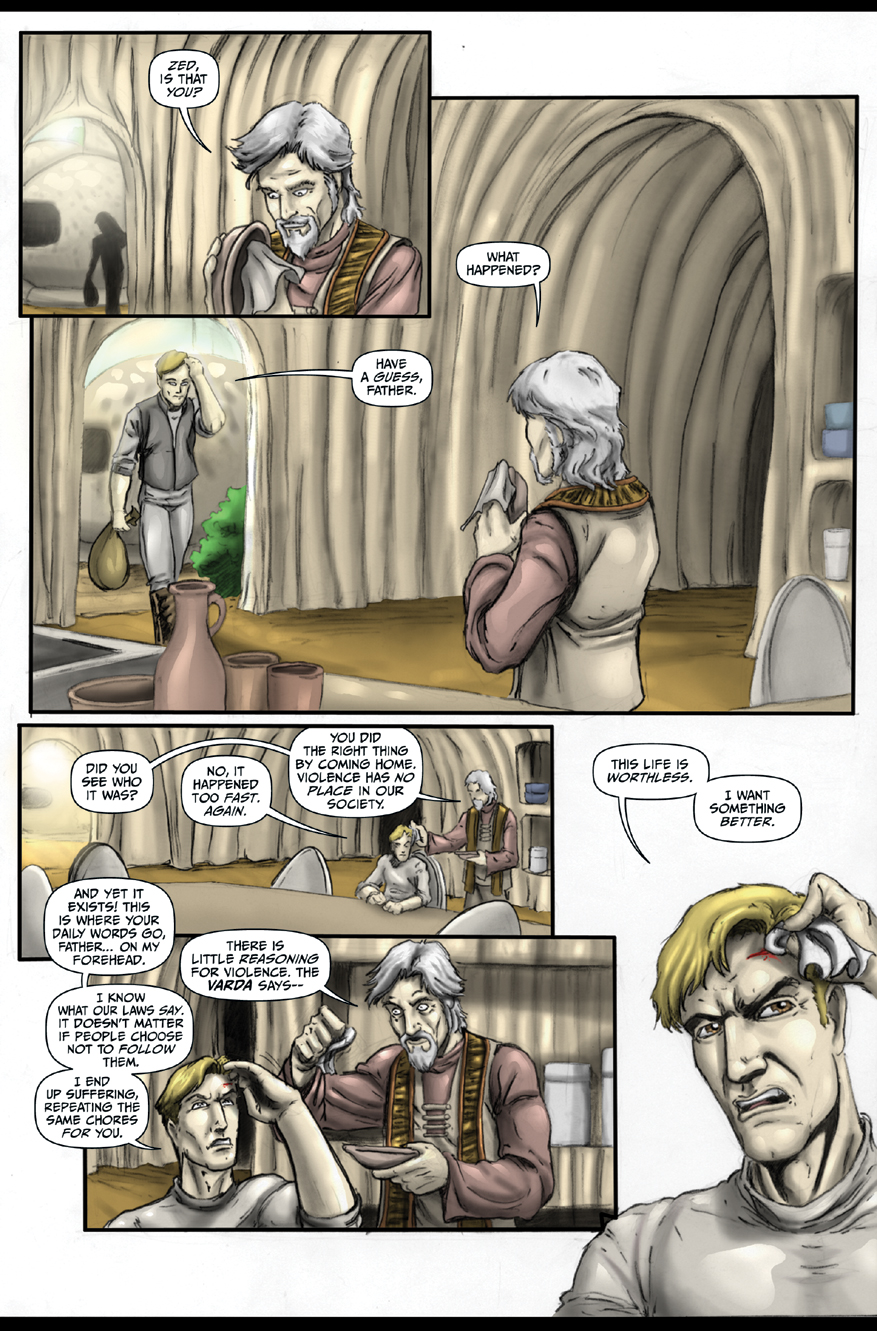 MA:
Ben Hansen is the artist and he's super! 3 years ago when I wrote the story and did the scripts, I asked Ben if he'd do 5 sample pages. My main instruction was to make it look like the movie, which he promptly did. I do read other licensed comics and get frustrated when the art doesn't match even closely what was represented on the screen. And I wanted to avoid this with BATS. Ben is also wonderfully creative and he's come up with some great character and original ship designs. I can't praise him highly enough for his work on the book.
BUG: Is there room for more stories told in Corman's BBTS/BATS universe? Are you interested in returning there?
MA:
There's tons of room and I have more I want to tell. All I need is a go and I'll gladly write some more stories that fill in more of what happened in Zed's past.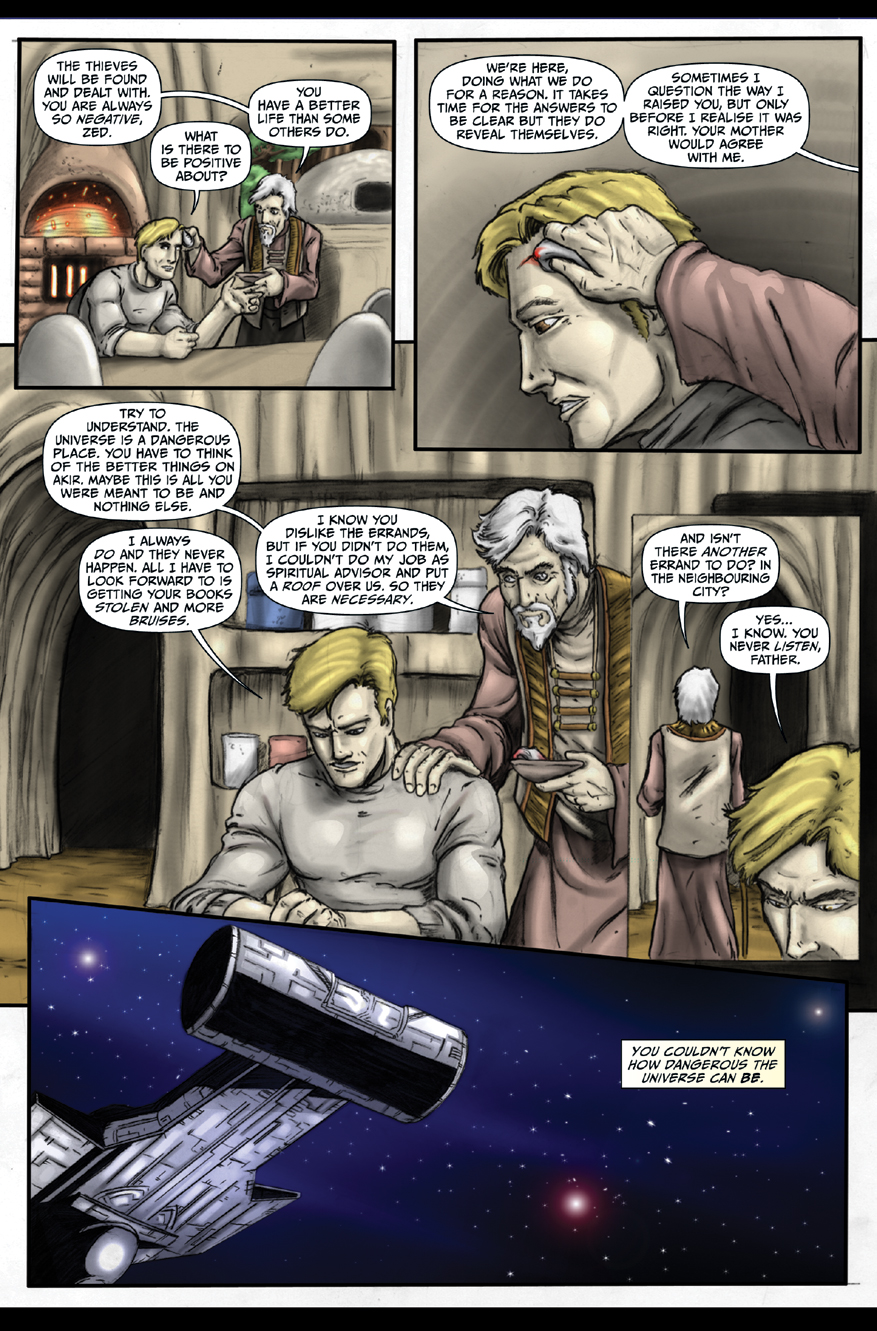 BUG: What other projects do you have going on at the moment? I hear you're collaborating with a pretty cool writer (Editor's note: That's me!) on a few projects.
MA:
Yeah, I'm collaborating with "some" guy and he's pretty cool (
Another Editor's note: Martin and I have been collaborating on a pair of projects that we can't really talk about yet…all I'll say is they are damn cool and I can't wait until they see print!
). Hopefully something will happen with that stuff. Apart from that there's a GN called THE DEPENDENTS which is going to come out through Arcana at some point. as soon as the coloring is done. Again that's been drawn by Ben Hansen, with inks by Levi Skeen.
THE DEPENDENTS is about a teenage girl called Tara who bonds with a "blob" of unknown origin. The blob gives Tara confidence while Tara allows the blob to "live" as a creature that kills. But she can convince it to kill only criminals. After almost killing a bully at her school, Tara runs away and gets involved with a local gang, with the intent of wiping them out. Only this becomes more complicated when she becomes friends with a woman called Jenni, and when the blob starts to demanding to live more often than it does.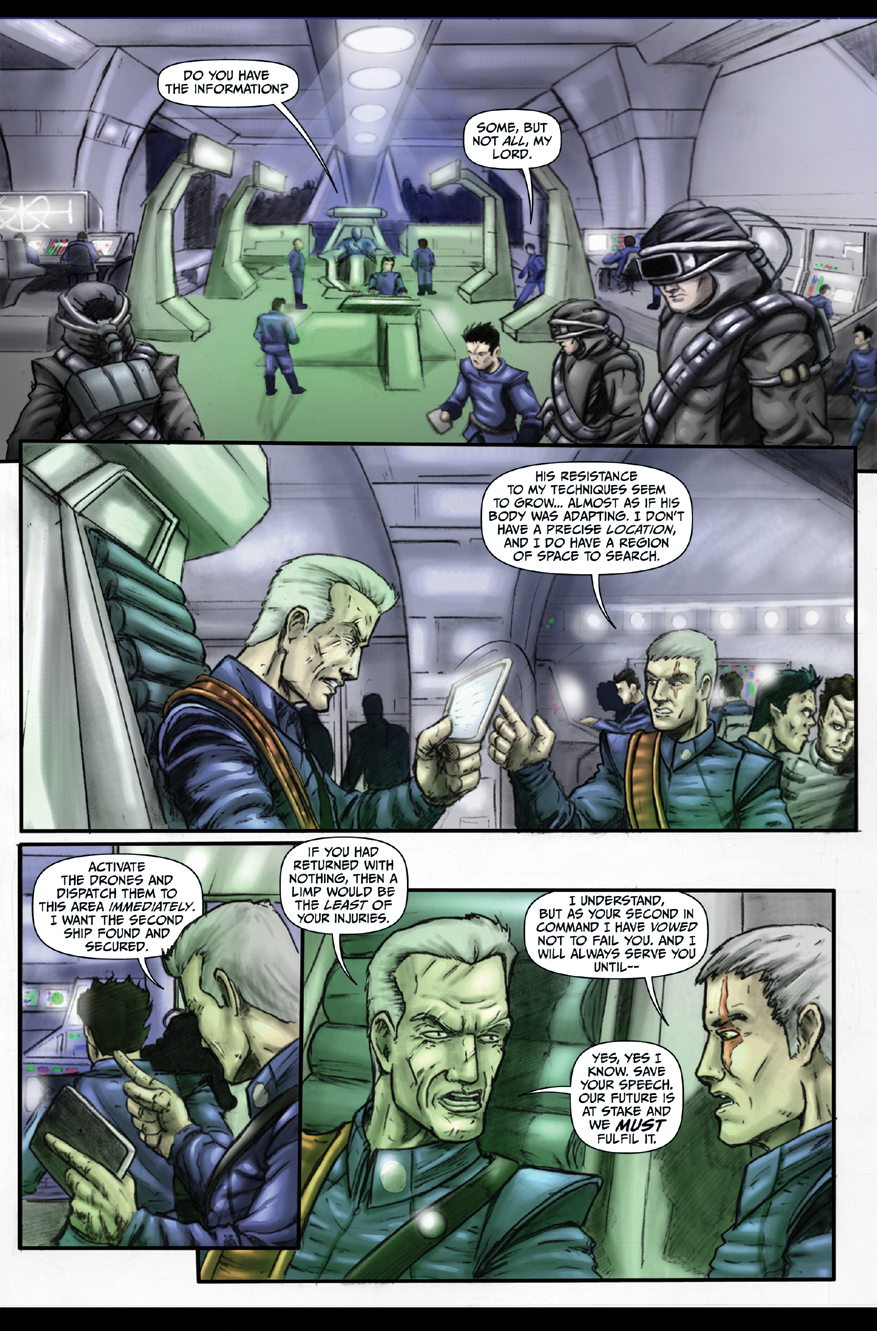 RISERS is a zombie book with a difference. All the zombies, or Risers, in the book are people who look like zombies, eat human flesh but still have their personalities and feelings from when they were alive. They have returned to reveal a hidden secret and be forgiven for what they've done before they can die. Annette Thomas comes back as a Riser, but she had no secret to reveal and has no idea why she's come back. It's about her seeing what life is like as a Riser and about those who want to help them and those who want to destroy them permanently.
Also wanted to add, I've got a short story being published this year in Accent UK's PREDATORS ANTHOLOGY with art by the great Javier Reyes.
BUG: Are there any other dream projects you'd like to get a hold of and write in comic book form?
MA:
Oh yes! There's about 20 odd franchises I want to write for, the main one for me being TRON. Everyone who knows me knows how much I LOVE that movie and I'm looking forward immensely to "TRON Legacy" when it comes out. My top 4 after that (in no order) are TRANSFORMERS, DOCTOR WHO, STAR WARS and STAR TREK.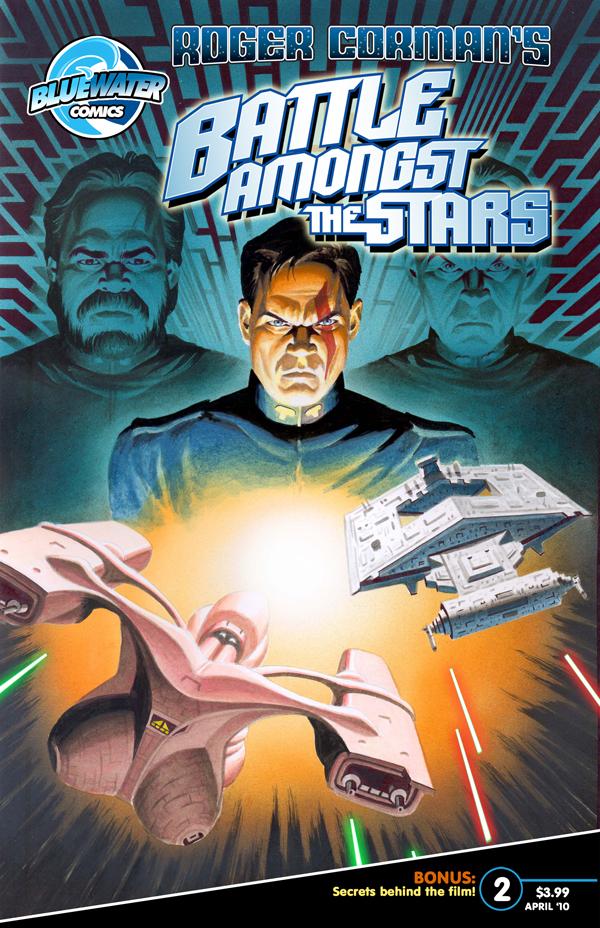 BUG: When can we all pick up BATTLE AMONGST THE STARS in stores and how can we order it?
MA:
BATS #1 is out in stores on March 31st with issues 2, 3 and 4 following in April, May and June. To order it, give your LCS a call and ask them to get it. It has been listed in Previews.
BUG: Last chance, why should everyone check out BATTLE AMONGST THE STARS when it comes out in March?
MA:
Because it's a return to a sci-fi classic and fills in some of the back story as told in the movie. And it's a cool story about a man finding his place within the universe, thinking he has an idea about what it's like out there in the vastness of space and finding something different than what he bargained for.
BUG: Thanks so much for talking with me about BATTLE AMONGST THE STARS from Bluewater Comics. Look for a preview of this book in the next few weeks in our AICN PREVIEWS: SPINNER RACK TO THE FUTURE column running every Monday.
Ambush Bug is Mark L. Miller, reviewer and co-editor of AICN Comics for over eight years and one of the original @$$holes. Check out his comic book shorts from Cream City Comics' MUSCLES & FIGHTS VOL.3 and MUSCLES & FRIGHTS VOL.1 on his ComicSpace page. Bug was interviewed here and here at Cream City Comics and here and here about his comic from Bluewater Comics, VINCENT PRICE PRESENTS: THE TINGLER #1-2. Look for more comics from Bug in 2010, including ROGER CORMAN PRESENTS DEATHSPORT, and the just announced vampire miniseries NANNY & HANK (and check out Jazma Online's new interview with Bug about NANNY & HANK here). Bug's latest comic is VINCENT PRICE PRESENTS #16: WITCHFINDER GENERAL on sale February 24, 2010. Fanboy Radio recently interviewed Bug about it here.
---
Editing, compiling, imaging, coding, logos & cat-wrangling by Ambush Bug Proofs, co-edits & common sense provided by Sleazy G
---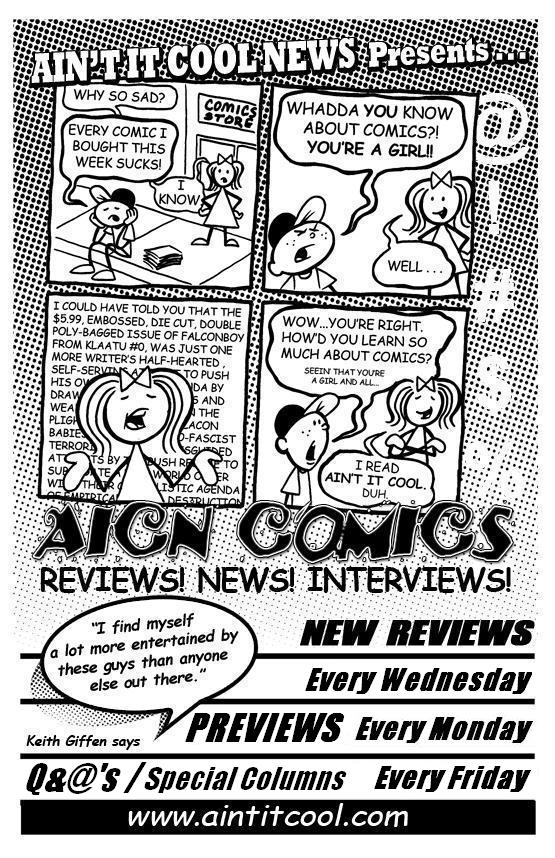 Ad by Prof. Challenger