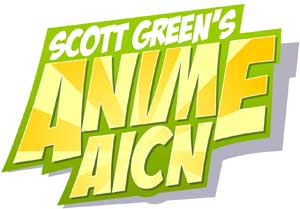 Logo handmade by
Bannister
Column by
Scott Green
Evangelion Movie Update
Anime News Network's ANNCast featured a talk with producer Joseph Chou (Halo Legends, Appleseed: Ex Machina), during which Chou stated that efforts to adapt Neon Genesis Evangelion into live action is still "very active." Chou is listed as a producer on the project. Chou mentioned that there is a lot of paperwork to clear, but "once that's resolved, I think it would be on the fast track, so we're hoping that it'll start moving even next year." Chou discussed the difficulties of selling the concept of the film to studios in Hollywood, due to the complexity of the story. However, Chou said that "right now we're with a producer and a studio that really understands beyond the whole mecha impact." Chou added, "They're really looking beyond that, and really looking at drama, human elements, even to those elements that appeal to otaku."
New Takahashi Manga
News Paradise notes that Rumiko Takashi (Inu-Yasha, Ranma 1/2) has a new short manga titled Toshigai Monaku, which is schedule to run in mature anthology Big Comic Original in this year's issue 5, sale February 20. The story will be part of Takahahsi's Rumiko Takahashi Gekijô collection.
Ghibli's Borrowers Dated
Nausicaa.net reports that the upcoming Hiromasa Yonebayashi directed Ghibli film Arrietty the Borrower has been a release date of July 17, 2010. The anime adapts Mary Norton's novel, transposed to a subburb of Tokyo.
Sailor Moon Revival
Sailor Moon watchers had noted that Toei appeared to putting the Sailor Moon franchise back on the market. ICV2 is now reporting that the anime giant hoping to revive the property on a global scale starting in Italy. Toei is partnering with Backstage, which will handle the property's rights in publishing, TV, and merchandising. Mediaset has acquired the TV rights to the 200-episode anime series and plans to begin broadcasting it in Italy in the fall of 2010. Toei Animation's Kanji Kazahaya told Global License: "We are certain that strategically Italy is the ideal country to initiate a global re-launch of the classic Japanese animated series such as Sailor Moon. The Italian public has traditionally been passionate about anime." The Sailor Moon anime and manga are currently out of print in North American. Sailor Stars, the fifth and final season of the anime, was never released.
Fullmetal Return Scheduled for Cartoon Network
Liz Ohanesia at LA Weekly was the first to report and FUNimation confirmed, Fullmetal Alchemist: Brotherhood, a fantasy action-adventure series, will debut on Cartoon Network's Adult Swim on Saturday, February 13. The series will air at 12:00 a.m. ET/PT each Saturday. Brotherhood is a second Fullmetal Alchemist anime that more closely adheres to the original Hiromu Arakawa than the first. Set in a fictional world where alchemy – the transmutation of raw materials into objects – is science and the way of life, the series follows the Elric brothers, Edward and Alphonse, on their perilous journey in search of the legendary Philosopher's Stone. They set forth in the hope that the magical artifact can restore their bodies after a failed attempt to revive their dead mother cost Edward's left leg and right arm, as well as Alphonse's entire body, leaving his soul affixed to a suit of armor. In "Brotherhood" the brothers will risk what remains to restore what was lost.

Acquired from Japanese producer and distributor Aniplex, the English-dubbed series is produced by Mike McFarland and directed by McFarland and Caitlin Glass. McFarland also directed "Fullmetal Alchemist." Reprising their roles from the first series are Vic Mignogna as Edward Elric, Caitlin Glass as Winry Rockbell, Travis Willingham as Roy Mustang, Laura Bailey as Lust, Sony Strait as Maes Hughes, and Mike McFarland as Jean Havoc. Actor Maxey Whitehead is taking on the role of Alphonse Elric. Originally Al in "Fullmetal Alchemist," Aaron Dismuke will be featured in another role later in the series. Episode 01 – Fullmetal Alchemist, premieres February 13 The Elric brothers adjust to military life and take part in a manhunt for the dangerous Isaac the Freezer, a former State Alchemist bent on bringing Fuhrer Bradley down. Episode 02 – The First Day, premieres February 20 A glimpse into the past reveals the pain and desperation that drove the Elric boys to break alchemy's greatest taboo – human transmutation – and their reasons for becoming dogs of the military. Episode 03 – City of Heresy, premieres February 27 Science and faith collide when the Elrics confront Father Cornello. He claims to work miracles, but the brothers suspect he is abusing a Philosopher's Stone to manipulate his flock. Funimation Entertainment will release "Fullmetal Alchemist: Brotherhood" Part One on DVD and Blu-ray on May 25. In January Cartoon Network's Adult Swim indicated that "we've lost the rights to Death Note and Blood+. We're just clearing house for goodies from our last Tokyo visit. We can't tell you anything yet, but we think we bought three series [maybe]."
Yen Press Licenses Girl Rock Band Manga K-On
Yen Press has announced a number of new licensed including K-On! Kakifly's four panel comic strip manga girls starting a rock band as part of their school music club, adapted into a popular anime by Kyoto Animation

The Melancholy Of Suzumiya-Haruhi-Chan - four panel manga, based on the popular franchise about the friends of an eccentric girl only interested in meetings time travelers, ESPers and aliens, scheduled to be released in October.

Mizuki Nomura's BUNGAKU SHOUJO novel, scheduled to be released in July 2010. BOOK GIRL AND THE SUICIDAL MIME is the story of Konoha Inoue, a gifted writer who's lost his passion, who's inducted into his school's literature club by it's only other member, the beautiful Touko Amano – a book goblin who literally devours the printed word. Yoshinaga Fumi's NOT LOVE BUT DELICIOUS FOODS is scheduled for November 2010
Nagano Directing Anime
Mamoru Nagano, known for the elegent mecha of Five Star Stories, will be direct anime Hana no Utame Gothicmade. A preview was posted here
Priest Moved
Sony has moved the adaption of Korean horror/western manhwa Priest from August 20, 2010 to January 14, 2011, reportedly to process the movie for 3D. The Hyung Min-woo worked was released in North America by Tokyopop.
Event News
Sakura-Con 2010 (April 2-4, Seattle) announced guests for the convention. Tsuyoshi Nonaka - mechanical designer known for his work on D.I.C.E. (TV) and Shin Mazinger Shogeki! Z-Hen Yasuhiro Imagawa - directed several unconventional updates of classic Japanese robot stories, such as Giant Robo, Mobile Fighter G Gundam, and most recently, Shin Mazinger Shogeki! Z-Hen. Yutaka Minowa - character designer and animation director who works almost exclusively with Madhouse, one of the premiere Japanese animation companies. His work is most notably recognized in the Yoshiaki Kawijiri movies he has designed characters for, among them Ninja Scroll and Vampire Hunter D: Bloodlust. He's also worked as character designer and/or animation director for many popular titles including Outlaw Star, Animatrix, and many, many more. Chloe Chan - shounen-ai webcomic Honeydew Syndrome Anime Boston will host Video Game Orchestra, a Boston based orchestra that performs contemporary arrangements of video game music with an orchestra, choir, and a rock band. Otakon (Baltamore, July 30-August 1) will be hosting traditional shamisen music performers the Yoshida Brothers
Next Otaku USA...
Patrick Macias has posted a preview of Otaku USA's March-April issue.