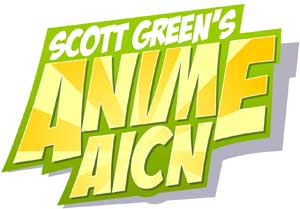 Logo handmade by
Bannister
Column by
Scott Green
New Ghibli Announced
Studio Ghibli, best known internationally for their Hayo Miyazaki works, announced that they will be producing an anime adaption of Mary Norton's The Borrowers novels. "The Borrower Arrietty" will move the story of tiny people from England to Tokyo. Hiromasa Yonebayashi (key animation on Ponyo, Nasu: A Migratory Bird with Suitcase and Serial Experiments Lain) will make his directorial debut on the film, schedule to hit Japanese theatres in summer 2010. Theme song "Arriety's Song" is composed and performed by harpist/folk singer Cécile Corbel.

An official site is online here and, for more details, check out Ghibli World
Going Hollywood (and other Live Action Feature Notes)
Shick Till You Drop reports that a delay in Resident Evil: Afterlife has prompted the adaptation of Tokopop published horror western Priest to be moved to August 27th.

*

First Showing has an update on James Cameron's action sci-fi Battle Angel Alita "We're not that far down the line," Cameron said. "We have a very good script and we've done a lot of production design. We've done about a year of production design and we've put together an art reel that shows the arc of the film. It's pretty much just add water and we're ready to go." So maybe Cameron could get to this before he returns to Pandora in an Avatar sequel? Not exactly. "I'm not even sure that I'm going to do that film at this point. I might, I still like it, but it seems like every time I make a movie it changes my perception of what I want to make next," he told MarketSaw. Instead, The Dive is probably Cameron's next."

*

Coming Soon spoke to Akira screenwriter Gary Whitta "...I haven't worked on it for about a year," says Whitta, "...The version I worked on was about going back to the source and doing the manga version. We were going to adapt the whole six-episode graphic novel." Of interest is the note that the project would encompass all six volumes of "Akira" creator Katsuhiro Otomo's manga. The famous 1988 anime adaptation was based primarily on the first two volumes. Whitta also made mention of Otomo's own (albeit slight) involvement: "We got notes from [Otomo] and we kept in touch, but we never had a formal meeting or anything. The script I worked on was very, very preliminary. We did a couple of drafts of the script but, when I was there at least, it never got wrapped up to the point where I think he would get really hands on."

*

Bloody Disgusting is reporting director Takashi Shimizu (The Grudge franchise, The Shock Labyrinth 3D) will be producing a feature film adaptation of Satoshi Kon's TV series Paranoia Agent. The 2004, 13 episode series opens with a stressed out young woman, pressured to create a follow-up to her dog character Maromi, who is relieved from responsibility when she's attacked by a roller blading assailant, dubbed "Shonen Bat" by the media.

*

About.com:manga on Tokyopop's movie plans, including vampire manga Lament Of The Lamb - on which Stu Levy says "The plan is now to have it directed by myself and a great Japanese director, Takahiko Akiyama, who directed a film called Hinokio. " and Van Von Hunter "Me and this guy, Steven Calcote, who's now a TokyoPop guy, we went down the long and winding road of deciding to turn it into a film. So over the past two and a half years, we went down this road where we wrote and directed this film. We made this film that's very meta; the TokyoPop staff is in it, we're like the bad guys in it, and Van is played by a wonderful actor, Yuri Lowenthal. That's finally completed, so we're getting ready to put out on the web, and on DVDs and show it at fan conventions, and so on. So in the next six months, you'll be seeing a lot more about Van Von Hunter."

*

Live Action Anime noes that UK's Neo Magazine reports Masahiro Minami, producer on Studio BONES' chambara epic Sword of the Stranger, and alumnus of Sunrise Studio, will be serving as a "creative manager" in the upcoming 20th Century Fox adaptation of Cowboy Bebop. Minami says, "In terms of my role, I'll be checking that the world view, the atmosphere, the feeling of the TV series is there. We're very aware that we have lots of fans of Cowboy Bebop and we don't want to disappoint them with the live-action movie."
Upcoming in North America
DVD Times reports the US DVD and Blu-ray Disc release of Ponyo on will be released on 2nd March 2010. Priced at $39.99 SRP on Blu-ray Disc and $29.99 SRP on 2-Disc DVD, extras include: The World of Ghibli- Allows fans to immerse themselves in the amazing worlds from each film created by legendary filmmaker, Hayao Miyazaki in this multi-layered interactive experience. Lands to explore include: Ponyo's Land Kiki's Land Castle's Land Totoro's Land Behind the Studio- Unprecedented access to all the background, inspiration and process behind the making of Ponyo and the inner workings of Studio Ghibli through a series of documentaries. They include all new interviews with Hayao Miyazaki, and composer Joe Hisaishi. Also included in this feature are: Creating Ponyo Ponyo & Fujimoto The Nursery Behind the Microphone: The Voice of Ponyo Producers Perspective: Telling the Story Scoring Miyazaki The Scenery in Ghibli Original Japanese Trailer Nausicaa.net notes new DVD editions of Castle in the Sky, Kiki's Delivery Service, and My Neighbor Totoro will also be released on March 2. rumor has it that Blu-rays of those movies are a year away.

Moonbase2 and MTV Movie Blog is suggesting that a new G.I Joe anime is in the works. In fact, the idea of a sequel to "Resolute" is probably more exciting to a lot of fans than a sequel to "Rise of Cobra." While details are still unclear regarding further installments of both projects, it appears that some sort of new animated adventure is in the works for the "G.I. Joe" series. Anchor Bay Entertainment The Dante's Inferno animated anthology tie-in to the upcoming EA game will be released on DVD and Blu-ray on February 9th. Animators include Production IG (Kill Bill animated sequence), Dongwoo (Batman: Gotham Knight), Manglobe (Ergo Proxy, Samurai Champloo), JM Animation ("Avatar: The Last Airbender") and more. DANTE'S INFERNO (DVD) Street Date: February 9, 2010 Genre: Horror Format: 1.78 Anamorphic Widescreen Audio: Dolby Digital 5.1 Rating: Not Rated Run Time: 88 minutes Retail Price: $26.97 Bonus Features: EA Game Trailer, Animatics from the film DANTE'S INFERNO (BLU-RAY™) Street Date: February 9, 2010 Format: 1.78 Anamorphic Widescreen Audio: Dolby Digital 5.1 Rating: Not Rated Run Time: 88 minutes Retail Price: $34.98 Bonus Features: EA Game Trailer, Animatics from the film Bandai Entertainment March releases include 03-02-2010 Code Geass: Lelouch of the Rebellion R2 Part 4 (also w/LE) Mobile Suit Gundam 00 Season 2 Part 1 (also w/Special Edition) Dark Horse

CHOBITS OMNIBUS BOOK 2 CLAMP (W/A) On sale May 26 b&w, 720 pages $24.99 TPB, 5 1/8" x 7 1/4" In a world where people rely on computers to escape loneliness, the logical conclusion is the persocom—attractive robot companions that are becoming everyone's boyfriend and girlfriend. Chi is a persocom, but she is also one of the legendary "Chobits," experimental persocoms built to acquire full awareness and emotion.

DEVIL #2 (of 4) Torajiro Kishi (W/A) and Madhouse Studios (W/A) On sale Mar 17 FC, 24 pages $2.99 Miniseries Could there ever be such thing as a vampire virus? Sounds like the stuff of sci-fi and horror all wrapped up in one, and that's what makes Devil such an interesting story. Answers unfold about the government program that created this nasty disease of superhuman power and hunger for blood in the second frantic issue. Who is this Mariko creature? Is she a victim, or is she proud of her new, superevolved existence? And can the government really contain the beautiful monster they've created?

GANTZ VOLUME 11 Hiroya Oku (W/A) On sale May 26 b&w, 224 pages $12.99 TPB, 5 1/8" x 7 1/4" The blue phase is here! Gantz creator Oku Hiroya seems to have based his popular Gantz series on a season-based cycle, and now that we're entering the second set of ten books, we're all blue here at Dark Horse as Hiroya boldly takes us into the increasingly scary world of Gantz. Kei's been dealing with a handsome schoolmate who seems obsessed with all things Gantz, and in volume 11, we'll find out how frightfully obsessed this guy is. It's a whole new world of Gantz's alien urban warfare, and things are certainly not settling into any kind of comfort. Be ready for a dizzying new volume of Gantz! FUNimation Fullmetal Alchemist: Brotherhood will be released on DVD starting in May 2010. 3/2/10 D.Gray-man: Season 1 Collection, Part 2 (Blu-ray) Magical Girl Lyrical Nanoha A's: Complete Collection (Re-release, delayed) - $39.98 Utawarerumono: Complete Collection (Re-release, delayed) 3/9/10 Evangelion, Neon Genesis: 1.11 You Are [Not] Alone Evangelion, Neon Genesis: 1.11 You Are [Not] Alone (Blu-ray) The Familiar of Zero: Complete Collection (Re-release, delayed) - $39.98 KenIchi - The Mightiest Disciple: Season 2 Collection Vexille (SE) (Viridian, delayed) - $19.98 Vexille (Blu-ray) (Viridian, delayed) - $24.98 3/16/10 Gunslinger Girl: Season 1 Collection (Blu-ray, delayed) - $34.98 Gunslinger Girl: Il Teatrino: Complete Collection (Blu-ray) Negima!: Complete Collection w/OVA Negima!?: Complete Collection w/OVA One Piece: Season 2 Collection, Part 6 Slayers Revolution: Complete Collection 3/23/10 Ah! My Goddess: Season 2 Collection (Re-release) Air Gear: Complete Collection (Re-release) Case Closed: Season 3 Collection (Viridian, delayed) Darker than BLACK: Season 1 Collection Moon Phase: Complete Collection (Re-release) Nabari no Ou: Complete Collection, Part 1 Shigurui - Death Frenzy: Complete Collection (Re-release) (Blu-ray) 3/30/10 Kanon: Complete Collection (Re-release) - Ouran High School Host Club: Complete Collection Ouran High School Host Club: Complete Collection (Blu-ray) Sgt. Frog: Season 2 Collection, Part 2 Soul Eater, Part 2 Strike Witches: Complete Collection Media Blasters Anime 3/2

PHOENIX - LiteBox - Volumes 1-3, Eps. 1-13 - 3 Discs - $19.99 3/9

GAOGAIGAR SEASON TWO - King of the Braves - LiteBox - Volumes 6-10, Eps. 26-49 - 5 Discs - $29.99 3/16

GENSHIKEN 2 - Premium Box With Tee (XL Only) - Vols. 1-3, Eps. 1-12 - 3 Discs - $69.99 3/23

HUNTIK: SECRETS & SEEKERS - The Professor Revealed - Journal 4, Eps. 21-26 - 2 Discs

IKKI TOUSEN DRAGON DESTINY - Sousou's Ambition - Volume 3, Eps. 9-12 - 1 Disc 3/30

QUEEN'S BLADE WANDERING WARRIOR - A Single Step - Volume 1, Eps. 1-4 OTOGI ZOSHI - Collection of Ages - Volumes 1-6, Eps. 1-26 - 12 Discs - $39.99 GENSHIKEN 2 The Society for the Study of Modern Visual Culture, otherwise known as Genshiken, is now under the charge of a more confident Sasahara. Things have changed in between semesters (for all the details, check out the bonus Genshiken OVAs included on the Kujibiki Unbalance TV series), and the otaku club now has a new otaku-hating member named Ogiue. Sasahara's initial goal of starting a dojin circle and selling those fan-made magazines at the next Comic Festival becomes a reality, but reality is a cruel master. Who apparently crossplays. Afterward, the club is abuzz with talk about Tanaka and Ohno's relationship, which takes a hesitant step forward. "Otaku Shop For Donjin" t-shirt available separately for $16.99

OTOGI ZOSHI Heian Arc At the peak of the Heian Era, famine and disease tear the country apart. The legendary samurai Minamoto is sent on an imperial quest to restore the world, but even his skill with the bow cannot save him from illness. His young sister is forced to take his place, and her survival in the emperor's court depends on keeping her true identity hidden. She journeys afar with her companions to find the artifacts that will help accomplish her goal, only to be thrown into an epic turn of events. Tokyo Arc Karma dictates that souls will be reincarnated to right the wrongs of history. Driven by a need to complete what was left unfinished, 17-year-old Hikaru is joined by the freelance writer Tsuna. They travel across modern Japan and stumble across strangely familiar personalities from a long-forgotten era in their search for Hikaru's missing brother. As past and present collide, the enigmatic, black-coated man known as Mansairaku may once again tip the scales of destiny. PHOENIX Based on the manga by Osamu Tezuka Throughout time, mankind has chased after the dream of immortality. The Phoenix, in the form of a bird of fire, is said to hold the key to eternal life. Great warriors, greedy princesses, ambitious scientists and ordinary people desire its power. Great wars are fought in a vain attempt to possess it and, as a result, civilizations rise and fall. Phoenix is a collection of five stories from the past, present and future. Many will perish because of their desires, and they are the lucky ones. True pain comes for those who find immortality and experience the burden of living forever. QUEEN'S BLADE WANDERING WARRIOR In a land where a queen is chosen every few years solely by winning a tournament, there can be no short supply of formidable opponents. For one woman warrior however, an early defeat clearly shows her that she is lacking in experience though she may be bountiful in body. Fortunately, while defeat could spell one's doom, her life is saved by a powerful stranger. But unfortunately for this savior, less-than-pure motives and shrewd family members mean her reward is a prison cell. Her release is prompt when the unseasoned warrior she saved, tired of her current lifestyle of nobility, sets off to prove herself. Live Action 3/9

GODS LEFT HAND, DEVILS RIGHT HAND 3/23

AKIHABARA @ DEEP MOVIE 3/30/2010

VERSUS - Blu-ray Right Stuf Anime producer and online retailer Right Stuf, Inc. and its Nozomi Entertainment division announced that the ARIA The ORIGINATION DVD Collection will be released on March 2, 2010. The ARIA The ORIGINATION DVD Collection will contain the 13 episodes and the DVD-only bonus episode that comprise the ARIA anime's third and final television season, plus The OVA ~ARIETTA~. ARIA The ANIMATION (Season 1) and ARIA The NATURAL (Season 2) are currently available on DVD from Right Stuf's Nozomi Entertainment. Based on Kozue Amano's best-selling ARIA manga, the ARIA anime consists of three television seasons – ARIA The ANIMATION, ARIA The NATURAL and ARIA The ORIGINATION – plus an OVA (original video animation). The entire anime adaptation features direction by Junichi Sato (Princess Tutu, Sgt. Frog, Sailor Moon/Sailor Moon R) and animation by Hal Film Maker (Boys Be…, Pretear, Slayers Premium, Sketchbook ~full color'S~). As winter melts into spring, Akari, Aika and Alice continue to work hard to become Neo-Venezia's top gondoliers. Aika starts to take on more responsibility around Himeya; Alice travels up the challenging canal near Hope Hill; even Akari spends a day working on a huge gondola called a traghetto! But there's still so much to learn... and the final test to become a Prima, which once seemed so far off in the future, might not be so far off anymore. Contains the complete ARIA The ORIGINATION TV series (episodes 1-13, plus Episode 5.5) and ARIA The OVA ~ARIETTA~.

VERSUS - Blu-ray ARIA The OVA ~ARIETTA~ © 2007 Kozue Amano / MAG Garden - ARIA Company. ARIA The ORIGINATION © 2008 Kozue Amano / MAG Garden - ARIA Company. Section23 Films New releases include Title: CLANNAD AFTER STORY COLLECTION 2 Running Time: 325 min. Age Rating: TV PG Language: Japanese with English Subtitles Format: DVD SRP: $39.98 Title: GHOST HOUND COLLECTION 2 from Ghost in the Shell creator Masamune Shirow and animators Production I.G Running Time: 275 min. Age Rating: TV 14 Language: Japanese with English Subtitles Format: DVD SRP: $59.98 Title: TO LOVE RU COLLECTION 1 SYNOPSIS: One should always understand other people's customs before making commitments. Unfortunately, Rito Yuki had no idea the planet Develuke even existed when their Princess Lala teleported naked into his bathtub, let alone that touching a girl's breasts is how they propose marriage! Given that he was IN the tub when she appeared, and slippery soap suds being what they are, Rito's now engaged to a beautiful girl with a pointed tail. Worse, various aliens are showing up on missions of varying hostile intent; the girl that Rito REALLY loves is still completely unaware of his feelings; and all of the new customs he's got to learn seem to involve touching a girl's chest! (Okay, maybe he'll get used to that last one, but he's still in high school and a bit intimidated.) Can a nice boy from Japan become the next King of Galaxy A or will he just end up feeling like a boob? Keep abreast of further developments in To Love Ru Collection 1! Running Time: 325 min. Age Rating: TV 14 Language: Japanese with English Subtitles CAT: 814131011602 Format: DVD SRP: $39.98 FUNimation Via Anime on DVD Tokyopop Kuriousity notes Amazon listings include Lives (Vol. 01) – Masayuki Taguchi [Nov 29 2010] "The peaceful lives of many are taken away as a freak meteor shower destroys the Kanto area of Japan. However, the lives of the victims aren't lost, as they start to awaken one by one into a strange pre-historic world…" Butterfly (Vol. 01) – Yu Aikawa [Jan 3 2011] Puzzle+ (Vol. 01) – Manami Sugano (unconfirmed) [Jan 3 2011] Tokyopop's light novel releases may be ramping up again in the new year UDON Entertainment UDON will be releasing the first of a four issue Street Fighter Legends: Ibuki mini series by writer Jim Zubkavich and artist Omar Dogan in March Series synopsis: On sale - March 2010 All Ibuki wants is a normal Japanese high school experience, but her secret ninja life follows her everywhere she goes! With relentless ninja trainers, deadly Geki assassins, and a crazy karate girl named Makoto all on her case, she'll be lucky if she even makes it to lunch hour in one piece! Street Fighter Legends: Ibuki is one part ninja action, one part high school antics, and 100% non-stop excitement!

VIZ Media VIZ Media announced the release of the final volume of the mega hit food manga by Tetsu Kariya, OISHINBO due out on January 19th. Volume 7, Izayaya-Pub Food is rated 'T' for Teens and carries an estimated retail price of $12.99 US and $16.99 CAN. Izakaya occupies the same vital space in the Japanese culinary landscape as tapas bars in Spain or tavernas in Greece. Unpretentious and frequently boisterous, they're places to meet with friends or business partners to unwind over drinks and small dishes that range from hearty standards to refined innovations. In this volume of OISHINBO, Yamaoka and Kurita investigate classic Izakaya foods such as edamame and yakitori, devise new dishes to add to the menu of an old shop, and discover how the concept of "play" is essential to the enjoyment of food. OISHINBO (or "The Gourmet") depicts the adventures of journalist Shiro Yamaoka, who writes for the fictional newspaper Tozai News. When the paper's top executives decide to create "The Ultimate Menu" to celebrate the paper's 100th anniversary, Yamaoka, known for his reputation as a foodie with culinary skills to match, is given the daunting assignment. With the help of his coworker Kurita, Yamaoka begins an epic saga to find unique and tasty dishes that will compose this ultimate bill of fare. Each volume of OISHINBO focuses on specific foods and culinary trends such as sake, sushi, vegetables, rice dishes, ramen, and Izakaya (pub food). VIZ Media has served up selected highlights from this epic 100+ volume series and compiled them into seven a la carte editions that can be enjoyed individually or as a series. OISINBO has further inspired a 136-episode anime series, a live-action film and TV dramas, video games, recipe collections, and TV shows in Japan

(OISHINBO A LA CARTE © Tetsu KARIYA, Akira HANASAKI/Shogakukan) Warner Home Video reports Naruto Uncut Season 2 Vol 1 Box Set will be release 2/16 for $39.97 via Anime News Network and Simon & Schuster's listing Rocket Girls (novel) Housuke Nojiri July 20, 2010 Description: "Yukari Morita is a high school girl on a quest to find her missing father. While searching for him on the Solomon Islands, she receives the offer of a lifetime—she'll get the help she needs to find her father, and all she need do in return is become the world's youngest, lightest astronaut. Yukari and her teen friends, all petite, are the perfect crew and cargo for the Solomon Space Association's launches, or will be once they complete their rigorous and sometimes dangerous training." Harmony (novel) Project Itoh July 20, 2010 Description: "In a perfect world, there is no escape. In the future, Utopia has finally been achieved thanks to medical nanotechnology and a powerful ethic of social welfare and mutual consideration. This perfect world isn't that perfect though, and three young girls stand up to totalitarian kindness and super-medicine by attempting suicide via starvation. It doesn't work, but one of the girls--Tuan Kirie--grows up to be a member of the World Health Organization. As a crisis threatens the harmony of the new world, Tuan rediscovers another member of her suicide pact, and together they must help save the planet...from itself." Color Bleach+: The Bleach Official Bootleg Tite Kubo July 20, 2010 Description: "An indispensable guidebook to the Soul Society, Color Bleach+: The Bleach Official Bootleg takes you behind the scenes in the shadowy world of the Soul Reapers. All Thirteen Court Guard Companies are covered in great detail and even popular how-to columns are reprinted inside, making this an essential manual for any Bleach fan. The book includes 72 pages of full-color manga." Via Anime on DVD September 1, 2010 Bleach, Vol. 32 (Part of Bleach) By: Tite Kubo Illustrated by: Tite Kubo Library Wars: Love & War, Vol. 2 (Part of Library Wars: Love & War) By: Hiro Arikawa Illustrated by: Kiiro Yumi This edition: Trade Paperback, 192 pages Publication date: September 7, 2010 Butterflies, Flowers, Vol. 4 (Part of Butterflies, Flowers) By: Yuki Yoshihara Illustrated by: Yuki Yoshihara This edition: Trade Paperback, 200 pages Cactus's Secret, Vol. 3 (Part of Cactus's Secret) By: Nana Haruta Illustrated by: Nana Haruta This edition: Trade Paperback, 176 pages Dragon Ball: Chapter Book, Vol. 10 (Part of Dragon Ball) By: Akira Toriyama Illustrated by: Akira Toriyama This edition: Trade Paperback, 80 pages Hoshin Engi, Vol. 20 (Part of Hoshin Engi) By: Ryu Fujisaki Illustrated by: Ryu Fujisaki This edition: Trade Paperback, 200 pages Kirby, Vol. 1 (Part of Kirby) By: Hirokazu Hikawa Illustrated by: Hirokazu Hikawa This edition: Trade Paperback, 192 pages The Legend of Zelda, Vol. 10 Phantom Hourglass (Part of The Legend of Zelda) By: Akira Himekawa Illustrated by: Akira Himekawa This edition: Trade Paperback, 200 pages Naruto: Chapter Book, Vol. 15 (Part of Naruto) By: Masashi Kishimoto Illustrated by: Masashi Kishimoto This edition: Trade Paperback, 80 pages Rasetsu, Vol. 6 (Part of Rasetsu) By: Chika Shiomi Illustrated by: Chika Shiomi This edition: Trade Paperback, 200 pages Sand Chronicles, Vol. 9 (Part of Sand Chronicles) By: Hinako Ashihara Illustrated by: Hinako Ashihara This edition: Trade Paperback, 200 pages Shaman King, Vol. 30 (Part of Shaman King) By: Hiroyuki Takei Illustrated by: Hiroyuki Takei This edition: Trade Paperback, 192 pages St. Dragon Girl, Vol. 8 (Part of St. Dragon Girl) By: Natsumi Matsumoto Illustrated by: Natsumi Matsumoto This edition: Trade Paperback, 184 pages Tegami Bachi, Vol. 3 Letter Bee (Part of Tegami Bachi) By: Hiroyuki Asada Illustrated by: Hiroyuki Asada This edition: Trade Paperback, 178 pages Toriko, Vol. 2 (Part of Toriko) By: Mitsutoshi Shimabukuro Illustrated by: Mitsutoshi Shimabukuro This edition: Trade Paperback, 200 pages We Were There, Vol. 12 (Part of We Were There) By: Yuki Obata Illustrated by: Yuki Obata This edition: Trade Paperback, 192 pages Publication date: September 7, 2010 September 14, 2010 Arata: The Legend, Vol. 3 (Part of Arata: The Legend) By: Yuu Watase Illustrated by: Yuu Watase This edition: Trade Paperback, 208 pages Detroit Metal City, Vol. 6 (Part of Detroit Metal City) By: Kiminori Wakasugi Illustrated by: Kiminori Wakasugi This edition: Trade Paperback, 208 pages Dogs, Vol. 4 (Part of Dogs) By: Shirow Miwa Illustrated by: Shirow Miwa This edition: Trade Paperback, 208 pages Hayate the Combat Butler, Vol. 16 (Part of Hayate the Combat Butler) By: Kenjiro Hata Illustrated by: Kenjiro Hata This edition: Trade Paperback, 192 pages Inuyasha, Vol. 52 (Part of Inuyasha) By: Rumiko Takahashi Illustrated by: Rumiko Takahashi This edition: Trade Paperback, 192 pages September 21, 2010 The Ouroboros Wave (Part of Ouroboros Wave) By: Jyouji Hayashi This edition: Trade Paperback, 350 pages Shakugan no Shana, Vol. 6 (Part of Shakugan no Shana) By: Yashichiro Takahashi Illustrated by: Ayato Sasakura This edition: Trade Paperback, 200 pages 3. Bokurano: Ours, Vol. 2 (Part of Bokurano: Ours) By: Mohiro Kitoh Illustrated by: Mohiro Kitoh This edition: Trade Paperback, 216 pages Publication date: September 21, 2010 Summer, Fireworks, and My Corpse (Part of Summer, Fireworks, and My Corpse) By: Otsuichi This edition: Trade Paperback, 300 pages
Upcoming in Japan
Promos The trailer for indi animator Jun Awazu's (Negadon: Monster from Mars) new genre work Planzet The Disappearance of Haruhi Suzumiya hou Gekijouban Keroro Gunso Tanjo! Kyukyoku Keroro Kiseki no Jikujima de Arimasu! (Super Movie Keroro Gunso Birth! It's the Ultimate Keroro Miraculous Space-Time Island!!) - to be screened with Cho Denei-ban SD Gundam Sangokuden Brave Battle Warriors Solanin live action (manga released in North America by Viz) Fate/stay night Unlimited Blade Works Durarara!! Uchuu Show Doraemon: Nobita's Great Merman Sea Battle Crayon Shin-chan: Super Dimension! The Storm Called My Bride Gintama: Benizakura Arc — A New Retelling e Precure All Stars DX 2 Space Adventure Cobra Gundam Unicorn Magical Girl Lyrical Nanoha The MOVIE 1st Arakawa Under the Bridge Pokemon's 13th movie Liar Game: The Final Stage (live action adaption of manga) Saru Lock (live action adaption of the locksmith action manga) Daimajin Kanon, the TV incarnation of stone samurai kaiju movie Doraemon: Nobita no Ningyo Daikaisen (Doraemon: Nobita's Great Merman Sea Battle) Detective Conan: The Lost Ship in the Sky (Meitantei Conan: Tenku no Lost Ship) - the 14th movie Anime The fourth Bleach movie is planned for winter 2010. It's tag line is "Ichigo has reached the perfect hollowfication?! "

*

Katsuhiro Otomo (Akira creator) and Shinji Kimura's (veteran anime background artist, Genius Pary: Deathic 5) picture book Hipira: The Little Vampire (Hipira-kun) will be adapted into a televised anime miniseries. The anime will run for five consecutive days within the BS Fuyu Yasumi Anime Tokusen program on the NHK BS2 satellite/cable channel.

*

An adaptation of Shonen Jump manga about manga Bakuman, by Death Note's Tsugumi Ohba and Takeshi Obata, has been confirmed for Fall 2010. Kenichi Kasai (Honey and CloverNodame Cantabile, Sweet Blue Flowers) and Noriaki Akitaya (episode director on Nodame Cantabile, Honey and Clover II, Code Geass: Lelouch of the Rebellion) are directing the animators at J.C. Staff. Reiko Yoshida (Kaikan Phrase, Maria Watches Over Us, The Story of Saiunkoku) is supervising the scripts

*

Yuu Kou (Chrono Crusade) will be directing a Studio Deen adaptation of soccer manga Giant Killing.

*

If you're in the market for cute girls in deer stalker hats, keep an eye out for Tantei Opera Milky Holmes

*

Countries as bishonen (cute guy) comedy Hetalia - Axis Powers is getting a third season

*

a new Beyblade movie is scheduled for Summer 2010 A 7th Naruto movie/4th Naruto Shippuden is confirmed for summer 2010 Manga Via News Paradise Beck creator Sakuishi Harold will be launching Seven Shakespeares in Big Comic Spirits # 03-04 (On Sale December 21) Yoko Kamio (Author Hana Yori Dango)'s unnamed new series starts in Betsuma # 03 (On Sale February 13). Masaki Segawa (Basilisk) will adapt another Futaro Yamada ninja novel, named Kunoichi Kôkihei, starting in Gekkan Young Magazine # 02 (On Sale January 9). Kito Mohiro (author of Bokurano and Narutaru) will commence new series Roririn in the Evening # 02 (On Sale December 22). A new Saint Seiya, following Ginga Shinwa (Mythology Galactic), is scheduled for 2010. Tonogai Yoshiki (author of Doubt) will start new series Judge in Shonen Gangan # 02 (On Sale January 12). Kaiji Kawaguchi will launch a Zipang Gaiden (side story) in the Morning # 04-05 (On Sale December 24). Toshinori Sogabe (author of T'abuses Ikko & Go! Tenba Cheerleaders) will begin a new series Hanasaka Syndrom in the Young King # 02 (On Sale December 28). Tomomasa Takuma (Code Geass: Nightmare of Nunnally, Kurogane Communication) will be producing manga Code Geass: Shikkoku no Renya (Code Geass: Jet-Black Renya or Code Geass: Renya of the Blackness) next year. Director, co-creator Goro Taniguchi created an original story set in the world of Code Geass, in a different era. Type-Moon artist Takashi Takeuchi (Fate/stay night) and Jin Kobayashi (School Rumble) will collaborating on a doujinshi for this winter's comiket. The doujin will be published under the Rubicon Hearts circle and will be a 36-pages-long in full colour. Misc DeAgostini will be bringing back the Evangelion Chronicle magazine, covering the anime across 40 weekly issues.
Digital Distribution News
The upcoming Gundam Unicorn anime will launch on the PlayStation Store on February 20th, ahead of its physical media release.

*

Anime News Network reports Canadian YTV's Bionox on Demand streaming service will end this month. Anime offered by the service has included Inuyasha the Movie: Affections Touching Across Time, Witch Hunter Robin, .hack//SIGN, SD Gundam Force, and Gundam Seed.

*

The PlayStation Network is offering a 12 days of Christmas sale December 18 only, rent these movies for just $0.99 (originally $2.99) on PlayStation Network Blood: The Last Vampire Ghost in the Shell Ghost in the Shell: Individual Eleven Karas: The Prophecy Karas: The Revelation Street Fighter Alpha Street Fighter Alpha Generations Hellboy anime December 27 only, 50% off select Naruto and Bleach movie (originally $9.99) and episode (originally $1.99) purchases on PlayStation Network Naruto the Movie: Ninja Clash in the Land of Snow Naruto the Movie: Legend of the Stone of Gelel Naruto the Movie: Guardians of the Crescent Moon Kingdom Bleach the Movie: Memories of Nobody Naruto Episodes: 1-10 & 211-220 Bleach episodes: 1-10 & 70-79 Top PSN anime downloads for November include Top 10 Movie Downloads for November Naruto: Shippuden the Movie Afro Samurai Resurrection Bleach the Movie 2 - The DiamondDust Rebellion Blood: The Last Vampire Bleach the Movie: Memories of Nobody Naruto the Movie: Legend of the Stone of Gelel Naruto the Movie: Guardians of the Crescent Moon Kingdom Naruto the Movie: Ninja Clash in the Land of Snow Ghost In The Shell Vexille Top 10 Anime Series Episode Download for November Devil May Cry | Season 1 - Devil May Cry Gunslinger Girl | Season 1 - Fratello (Siblings) Devil May Cry | Season 1 - Highway Star Naruto | Season 4, Volume 4 - Departure Afro Samurai | Season 1 - Revenge Xam'd: Lost Memories | Season 1 - Xam'd at the Dawn of War Samurai Champloo | Season 1 - Tempestuous Temperaments Devil May Cry | Season 1 - Stylish! Devil May Cry | Season 1 - Not Love Naruto | Season 3, Volume 2 - The End of Tears

*

Ahead of the January release of Natsume Ono's Not Single, Viz has launched a preview of the prologue on their SigIkki site. not simple follows Ian, a young man with a fractured family history, as he travels from Australia to England and on to America in the hope of realizing his dreams and reuniting with his beloved sister. His story unfolds backwards through the framing narrative of Jim, a reporter driven to capture Ian's experiences in a novel titled not simple.

NOT SIMPLE © 2006 Natsume ONO/Shogakukan

*

The Anime Network will be streaming the first of Shotaro Ishinomori adaptation The Skull Man on December 25th. Through the end of the year, all Premium Subscriptions are reduced to 25% off. From 4:00 PM CST on Thursday, Dec. 24 to 10:00 AM on Saturday, Dec. 26 and from 4:00 PM CST on Thursday, Dec. 31 to 10:00 AM on Saturday, Jan. 2 registered Users can watch Premium Content for free

*

Crunchyroll has expanded in Korean drama offering with an agreement with Seoul Broadcasting System (SBS). SBS produced works include The King & I, On Air, Money War, Tazza and The Painter Of Wind. Crunchyroll also announced a new Drama Membership, with material from Korean, Japan, and Hong Kong. In addition to free content, Crunchyroll Drama Members will be able to view dramas in higher quality 480p streams and without advertisements for as little as $5/month. In addition, Crunchyroll will be offering an All-Access Membership that bundles the current Anime Membership and the new Drama Membership for a lower combined price.

*

Action super power espionage Darker Than Black is now on Hulu

*

The streaming schedule for Inu Yasha: The Final Act has been moved to Mondays

*

a neat legally streaming anime agrigator

*

ufotable is streaming Yawarakame, shorts from Yu Yagami (Those Who Hunt Elves).

*

Nico Nico Video is expected to beat Youtube to making a profit. Rebounding advertisement revenue and an increase in paid members will help the business turn profitable in the six months ending Sept. 30, 2010, Dwango Director Takeshi Natsuno said in an interview, without providing specific figures. Nico Nico, which started in December 2006, allows users to write comments that appear as subtitles in sync with the video. About 4 percent of users are paid subscribers, compared with its U.S. rival, which relies mainly on advertising for revenue. "We will be the first video service to be in the black," Natsuno said in Tokyo. "We will look for partnerships overseas" once the business turns profitable, he said.
Kamen Rider Dragon Knight Cancelled
"Kamen Rider Dragon Knight" Co-Executive Producer Steve Wang has confirmed that 4Kids has cancelled the tokusatsu localization two episodes away from its conclusion. The series localized Kamen Rider Ryuki, the twelfth installment of the masked motorcycle rider franchise created by tokusatsu forefather Shotaro Ishinomori. It's been noted that without a new Power Rangers in 2010, the year will be the first without a tokusatsu show in North America since 1992.
The Business
Jonathan Clements (Schoolgirl Milky Crisis) on ANN Cast's interview with Geneon's Chad Kime ANN also recently interviewed Chairman and CEO Tsuguhiko Kadokawa Kadokawa Pictures USA was started to take advantage of two markets for us in the United States: DVDs and feature films. In addition to anime, we have the whole Daiei Film catalog. As you know, we also co-produced the American remake of "One Missed Call." Unfortunately both the DVD and the theatrical markets are extremely challenging right now. It's very tough to negotiate with "Big Box" retailers, and it's very tough to negotiate with Hollywood studios.

*

Variety on the international toon boom This year alone, toon fans helped five pics earn more than $100 million in the U.S., with Disney's "Up" floating close to the $300 million mark and DreamWorks Animation's "Monsters vs. Aliens" and Fox's "Ice Age: Dawn of the Dinosaurs" scaring up nearly $200 million each. That kind of coin has encouraged producers to as many animated projects as they can afford into production. Many of those films aren't being made in the U.S., but overseas, in territories where much of the physical work on Hollywood's animated films already takes place. A toon boom is underway in Europe and Asia, with studios there ponying up big bucks to produce animated family fare that's carefully crafted for American audiences -- boasting appealing characters, high-end computer-generated visuals and packed with pop culture references.

*

Imagi (Astro Boy, TMNT) has part one - part two Can you differentiate the market for manga from American style graphic novels? I'm not so sure that they're the same market. Certainly there's overlap but the manga market was fueled by non-traditional comic readers and by that I mean in the bookstores specifically shojo was the book of choice. Shojo, as you know, are Japanese comics intended for teenage girls. The American comics market in which comics are still sold out of comic shops caters to boys and men, and a very small percentage are women. The amazing thing about this whole shojo phenomenon that we've seen over the last five to ten years, is that so many girls were there and willing to read comics that hadn't been comic readers before. One of the things we've always claimed at Dark Horse is that if our industry had a wide variety of content we would bring in a wide variety of readers. That's a lesson that's taken a long time to sink in but certainly the shojo phenomenon proves that.... You mentioned a year ago that you thought the shojo market was declining. So this year, have you seen that continue? Has the market for the more male-oriented manga changed this year? I think that the market for shojo has obviously peaked. We're seeing some of the companies that relied exclusively on that have had to start rethinking their publishing strategy...

*

Bandai America Incorporated has named Larry Falcon the new senior vice president, toy sales. Falcon is charged with promoting Bandai America's brand portfolio of toys for kids of all ages and cultivating major relationships with all mass retailers.

*

Universal Bunny, the latest sound track for Macross F hit the #3 position on the Oricon sales chart in its debut week
Cool Figures News
Collection DX's photos of Designer Con 09 Pasadena Convention Center Nov 21st 2009

Also worth seeing on CDX The Caramel Man 1 Gou from Akira Toriyama's (Dragon Ball) Dr Slump Soul of Chogokin Spec XS-12 Tekkaman Blade with Pegas Ultra Monster Series Kanegon A blast from the past with Wheeled Warriors' Saw Boss Evangelion bank

*

Yamato USA has launched Fantasy Figure Gallery: Julie Bell - Golden Lover. The 8.25" figure retails for $79.95

*

Matt Alt looks at Tokyo toy stores on CNNgo

*

Fewture Getter 1 Gigantic Double Tomahawk Dark Horse will be releasing Usagi Yojimbo Plush Figure on May 5. The 1" figure sells for $24.99

MAD x FLCL Canti figures The Castle of Cagliostro (PVC)

Max Factory will be producing figures based on Rumiko Takahashi characters Lum of Urusei Yatsura and Higurashi Kagome from Inu Yasha.
Anime x Games
A trailer for the XBox360/PlayStation 3 hires port of No More Heroes

*

Voltron has gotten an iPhone adaptation

*

The Magic Box notes that the Namco Bandai announced the DS RPG Keroro RPG: Kishi to Musha to Densetsu no Kaizoku will be available in Japan on March 4, 2010, for 5229 yen. The story of the game will be connected to the 5th Keroro Gunsou movie, which will hit Japanese theaters in spring 2010.

*

Namco Bandai will release the PSP fighting game Magical Shoujo Lyrical Nanoha A's Portable: The Battle of Aces, based on the magic girl franchise, in Japan on January 21, 2010, for 5229 yen

*

Tecmo announced Bastard!! Online, the MMORPG based on the metal inspired action fantasy anime, has been canceled. The company said it considered the current market trends and future prospects when it made its decision to cancel development.

*

The North American localization of Soul Link and Higurashi - When They Cry visual novels will not edits.

*

Screenshots of Sky Crawlers - Innocent Aces for the Wii Siliconera spoke to Jimmy Soga, Product Manager at Xseed, about localizing Sky Crawlers: Innocent Aces Jimmy Soga, Product Manager: The game is a prequel to the movie. In the film there are these special pilots called "Kildren," who are destined to live eternally in their adolescence. The game takes place when these Kildren are integrated into the war and start to replace the adult pilots. The game will be told from the perspective of one of the adult rookie pilots, codenamed "Lynx," who becomes involved in this special military project with the goal of making pilots immortal.

*

A release date of March 23 was announced for alt history/steam tech/psychic girls dating sim/strategy Sakura Wars on PS2 and Wii Baka Raptor looks back at Fight of the North Star/Jojo's Bizarre Adventure-esque God Hand

*

Tatsunoko vs Capcom
Anime x Music
Japanese singer Namie Amuro's music video for single Defend Love will feature hero of the original Gundam Amuro Ray. The "Defend Love" video will ship in Japan on a bundled DVD extra with the new Past < Future album on December 16. Veteran voice actor Tohru Furuya (Sailor Moon, Kimagure Orange Road) is reprising his Amuro Ray role for the video.

*

GACKT spoke to some Miyazaki-esque feelings "Everyone is nearing their breaking point. Well, I admit anyone will be tired if they worked as hard and as long as they have been doing... For tonight, since I took a short cat-nap I'm wide awake. Noppo-kun, the engineer, is a master at continuously working for days without sleep. From behind he looks like the android robot that guards the castle Laputa in '???????? / Castle in the Sky'. Or maybe one of the Giant Robots (Kyoshinhei) from '???????? / Nausicaa of the Valley of the Wind'...[Both are anime films created by Studio Ghibli.] Either way, he can't be human...ha-ha."
Awards, Nominations and Recognition....
Manga nominated for the year's Festival International de la Bande Dessinée, opening Angouleme, France on January 28, include Motoro Mase's Ikigami: The Ultimate Limit Volume 1 (released in North America by Viz), Hiroshi Motomiya's Mada, Ikiteru…, and Takashi Fukutani's Legend Dokudamiso Densetsu. These are among 58 graphic novel in competition for the six "Angouleme Essentials" recognitions. Cyborg 009 and Osamu Tezuka's Ore wa Sarutobi da are among the nine titles eligible for the Heritage Award for republished material. Mighty Atom Anthology by Tezuka, Volume 9 of Hiro Mashima's Fairy Tail, and Yoshichi Shimada and Saburo Ishikawa's Gabai: Saga no Gabai-baa-chan are among the 20 for the Youth Category. Precocious Curmudgeon has commentary here and here

*

The 63 song short list from which Oscar best original song nominees will be selected includes Ponyo On The CliffBy The Sea from Ponyo

*

First Squad won the Best Feature award at the Trieste Science+Fiction Festival

*

On Japan Times, Mark Schilling's top 10 Japanese movies of 2009 - Hosoda's Summer Wars is #3

*

#6 on Onion AV Club's films of the decade was Miyazaki's Spirited Away

*

2ch's top 10 anime of 2009 1. Bakemonogatari (1231) 2. Darker Than Black II (805) 3. Saki (704) 4. K-ON! (582) 5. Eden of the East (525) 6. A Certain Scientific Railgun (456) 7. Kimi-ni Todoke (428) 8. Taisho Yakyu Musume (238) 9. Natsume's Book of Friends (209) 10. Tokyo Magnitude 8.0 (199)

*

USA Today Pop Candy's 10 favorite graphic novels of '09 included 4. A Drifting Life by Yoshihiro Tatsumi (Drawn and Quarterly, $29.95). 3. The Oishinbo series (Viz, $12.99). 1. Detroit Metal City, Vol. 1 by Kiminori Wakasugi

*

the CYBILS: Children's and Yound Adult Blogger's Literary Awards graphic novel nominees include The Elsewhere Chronicles 1: The Shadow Door (illustrated by AICN Anime logo designer Bannister) by Nykko Graphic Universe Nominated by: Elizabeth Dingmann Bride Of The Water God Volume 3 by Mi-Kyung Yun Dark Horse Nominated by: Marie Children of the Sea , Volume 1 (Children of the Sea (Viz Media)) by Daisuke Igarashi VIZ Media, LLC Nominated by: Liz Nightschool, Vol. 2: The Weirn Books (v. 2) by Svetlana Chmakova Yen Press Nominated by: Samantha The Color of Earth by Dong Hwa Kim First Second Books Nominated by: LaTonya M. Baldwin We Were There, Vol. 1 by Yuki Obata VIZ Media, LLC Nominated by: Anna Yokaiden 1 by Nina Matsumoto Del Rey Nominated by: Robin Herrera Reviewed by: Nicola

*

Ghibli cofounder/director Isao Takahata and Sunrise's Yoshinori Kishimoto were amoung those honored in Tokyo Anime Fair's 6th Annual Awards of Merit Production Company Founder Yoshinori Kishimoto Producer Matsue Jinbo Director Isao Takahata Animator/Animation Director Yôichi Kotabe Reiko Okuyama Art Director Isamu Tsuchida Sound Director Akira Yamazaki Voice Actor Seizo Katou Editor Masashi Furukawa

*

Ponyo was shut out at the Golden Globes The animated feature nominees were Best Animated Feature Film Coraline The Fantastic Mr. Fox Cloudy with a Chance of Meatballs The Princess and the Frog Up
Worth Checking Out...
Insight Let's Anime - Space Battleship Yamato For Dummies Dark Horse's interview with Usagi Yojimbo creator Stan Sakai Oldschool internet copyright infringement, Animerica Anime & Manga Monthy magazine interview with Hayao Miyazaki form 1997 MIYAZAKI: I am a director who actually draws animation. Maintaining my current level of involvement can't possibly last much longer. Believe me, I'll be the first to recognize my own limits. And I'd like to retire before someone suggests it to me. ::LAUGHS:: Asian Pacific Journal: Japan Focus - Writing Hiroshima and Nagasaki in the 21st Century: A New Generation of Historical Manga The Anime World Order podcast celebrated its fourth anniversary with manga centric episode, featuring Manga: The Complete Guide's Jason Thompson. The Ninja Consultants podcast welcomed Otaku USA writer Caleb Dunaway ANN Cast spoke to retail Right Stuf's Shawne Kleckner Jonathan Clements on MPD Psycho and yakuza heiress turned teacher drama Gokusen Noah Berlatsky on Yuichi Yokoyama's Travel - not your average manga review Madinkbeard on Ooku: The Inner ChambersTokyo Shock Brigade's Kazuo Umezu interview - and part four - Follow aicnanime