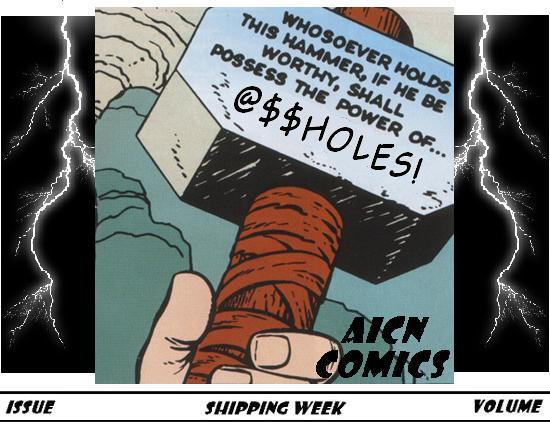 ---
The Pull List (Click title to go directly to the review) SEIGE: THE CABAL #1 TOY STORY #0 DODGEM LOGIC # 1 THE BOYS #37 A double shot @ JSA ALL STARS #1 THE BOOK OF GENESIS ILLUSTRATED Vol.1 UNDERGROUND #1-4 THOR #604 LOVE BUZZ OGN Big Eyes For the Cape Guy presents YOKAIDEN Vol. 2 Indie Jones presents… CHEAP SHOTS!
---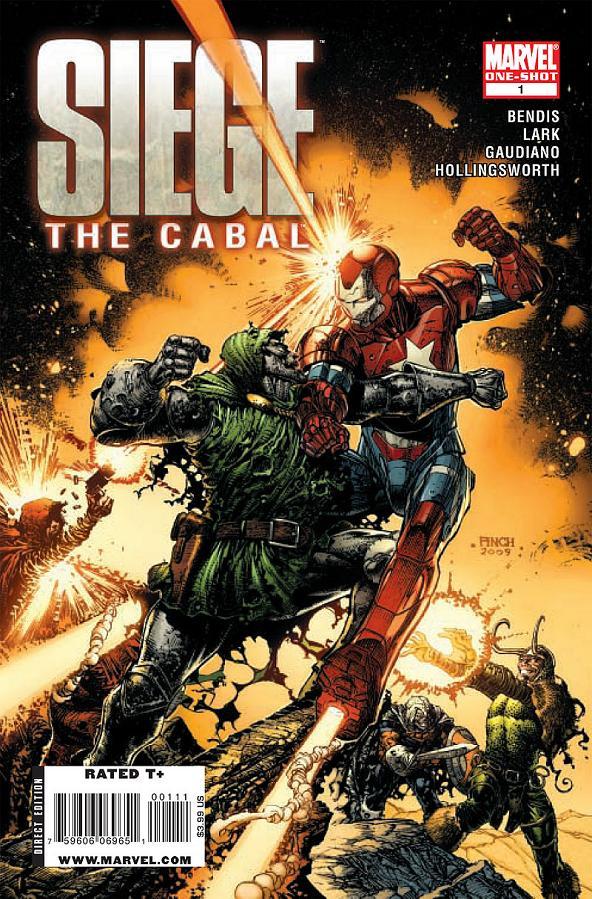 SIEGE: THE CABAL One-shot
Writer: Brian Michael Bendis Pencils: Michael Lark Inks: Stefano Gaudiano Colors: Matt Hollingsworth Publisher: Marvel Comics Reviewer: Matt Adler
Not content with his role as chief law enforcement officer of the United States, Norman Osborn has set his sights on the mythical realm of Asgard, home of Thor and the other Norse Gods, which has recently been transplanted to Oklahoma. Bendis introduces us to this latest conflict via an internal monologue/dialogue Osborn is having with himself and his alter ego the Green Goblin. As in all classic moments of Osborn madness, he is sweating profusely as he ruminates on these plans. It's a nice touch that Bendis shows us that Osborn himself is actually perfectly rational… it's his Goblin side that urges him on to acts of madness, such as attacking a city of immortal beings.
Most of the rest of the issue is taken up with Osborn's attempts to persuade the rest of his villainous Cabal that attacking Asgard is the right thing to do. He's brought in Taskmaster to replace Namor and Emma Frost, who have turned against him. The opposition he faces comes from Dr. Doom, who is demanding that Osborn lay off Namor. Doom has always had sort of a grudging respect for the Sub-Mariner, but I'm not quite convinced that he would go to the lengths he does here to stick up for him. In any event, the situation deteriorates into a fight, at which point Osborn calls in the "secret weapon" that he's been holding to keep his Cabal in check. It's been hinted in various online sources that this could either be the Molecule Man, or perhaps the recently acquired Miracleman, but we never get a real look at the him; all we can really tell is that he can fire powerful bolts of energy.
The story concludes with Osborn deciding that he needs an "incident" similar to the Stamford disaster which triggered the Marvel CIVIL WAR. This leads into the preview for issue #1 of "The Siege", in which it appears that Volstagg, of all people, will be the Speedball of this event. I really can't recommend this issue at a price of $3.99; an extended fight scene isn't really enough meat to warrant the cost. Hopefully the Siege event itself will be a bit more substantive.
In most places, Matt Adler goes by the name his mother gave him, but occasionally uses the handle "CylverSaber", based on a character he created for the old DARK FORCES II: JEDI KNIGHT game (one hint of his overweening nerddom). He currently does IT and networking support for the government of Nassau County, NY, but his dream is to write for a living, and is in the process of figuring out how to get publishers to give his stuff a look. In the meantime, he passes the time by writing for AICN, CBR, and a few other places. He has also written for MARVEL SPOTLIGHT magazine.
---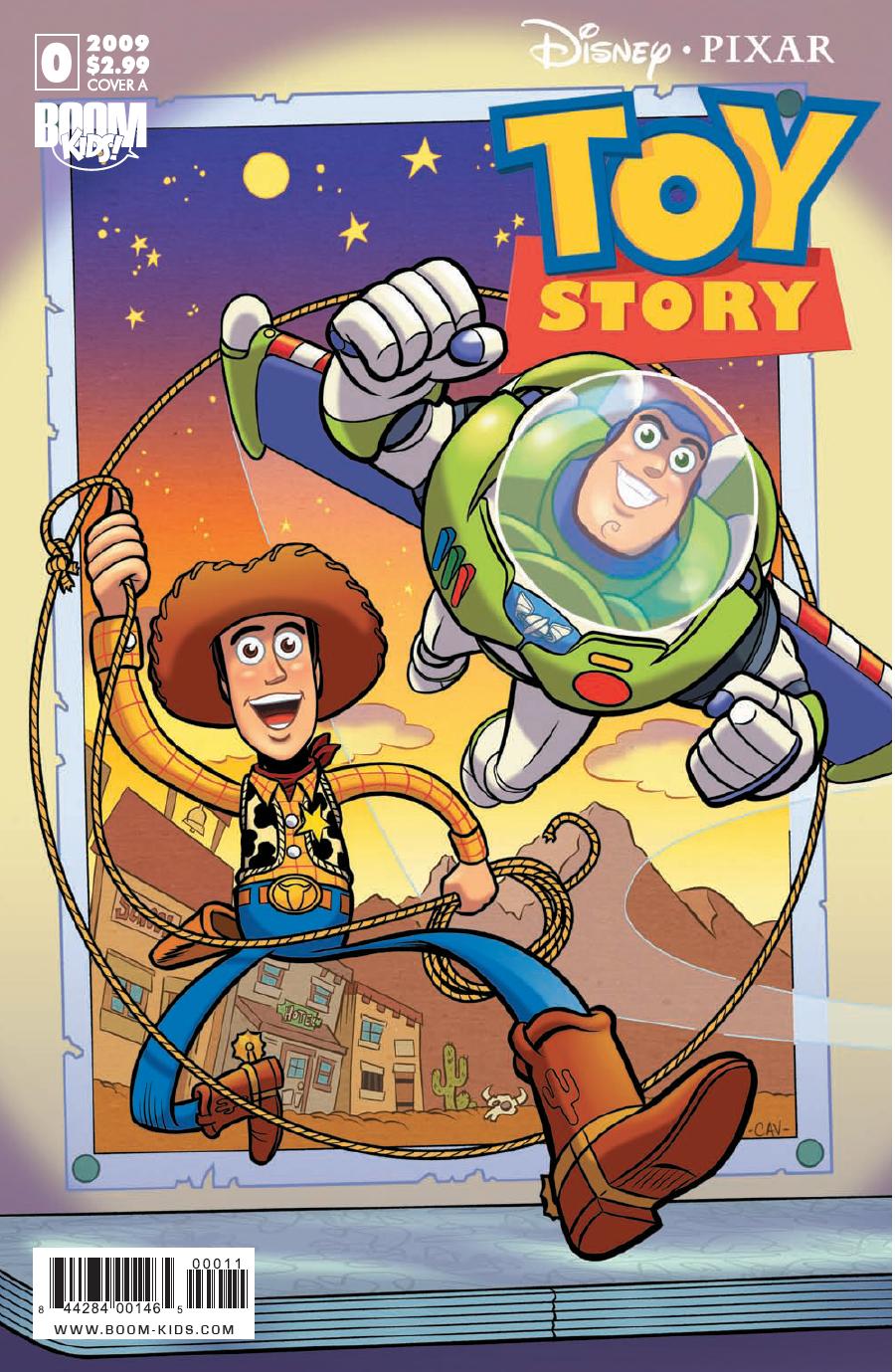 TOY STORY #0
In stores today! Writer: Jesse Blaze Snider Art: Nathan Watson Publisher: BOOM! Studios Reviewer: Ambush Bug
I had a chance to check out the zero issue of TOY STORY from BOOM! Studios over the weekend. I've seen both TOY STORY films and enjoyed them immensely, but though I try to keep up to date on most comics out there, I really didn't have any interest in the continuing stories of the TOY STORY characters when I heard that BOOM! was to be adapting them into comic book form. Upon further inspection, I found that writer Jesse Blaze Snider was writing the book. Now, the only other book I've read from Mr. Snider was DEAD ROMEO, DC's vampire miniseries which wrapped up a month or two ago. I found that miniseries to be surprisingly entertaining and after finishing the miniseries, I made a mental note to keep my eyes open for books with Snider's name on the cover. With his experience at writing horror in DEAD ROMEO and the fact that he's rocker Dee Snider's son, one would think that TOY STORY wouldn't been Snider's cup of tea either, but for some reason this unholy pairing of Snider and TOY STORY was one of the most entertaining reads I've laid my peepers on this week.
Everything from the constant chatter from all of the toys to the distinct personalities assigned to each is nailed directly on the head here. Buzz reads as if Tim Allen is speaking his lines. I could hear Tom Hanks' voice when I read Woody's lines. Hell, there was even a little John Ratzenberger in the few lines the pig uttered. Snider does a fantastic job of harnessing the difficult and hectic tone established in the movies as the anthropomorphized or maybe that's toy-thropomorphized characters do what they do. I could just see the double page splash featuring pretty much all of the characters from he film play out as if it were a movie and not a comic.
So the tone was spot on. How about the actual story part of this TOY STORY?
In the case of most spin-offs or series sprung from films, the thing that made the source material so good is often diluted and therefore lesser when expended upon. Usually the idea has its limits and the premise can only be spread so thin before either the rules established in the source material are compromised or worse yet, the story from the films are just repeated over and over. Just as surprised as I was at how fantastic Snider's horror vampire mini read, I can't tell you how surprised I was to see that his TOY STORY story is just as strong. This Snider guy's got chops.
How many times did this happen to you as a kid? A grandparent who really knows nothing about what you like or don't like goes out and buys you a gift. First you get excited because you have a new package to open, but once you open it, you realize that the toy that was bought for you is a toy you already have. Sure, your mom makes you thank the gift giver for their generous act, but in the end, the disappointment is overwhelming. But there is a light at the end of the tunnel: you get to return the gift and get another one…of course, you have to wait until your mom has he time to take you to the store.
Snider takes that common series of events and applies it seamlessly to the TOY STORY mythos. It's an idea strong enough to carry a feature film and shows that BOOM! is taking their children's line very, very seriously. I loved this #0 issue. It opens the door for quite an epic adventure that uses the characters in a smart and original way. Nathan Watson's art aids in making this book look and read like an authentic and worthy continuation of the stories and premises established in the films. So though at first I may have scoffed at the idea of a grown man reading a comic based on a children's film, after taking a chance with this book, I am glad that I did. I think a lot of the time, we as comic book readers tend to try to fool ourselves that these stories of men beating up other men in tights are something sophisticated and adult. But at second glance, mainstream super hero books are just as childish as these books deemed only appealing to younger readers. Snider and BOOM! have shown with TOY STORY that they can make a sophisticated and entertaining story based on a children's property. You should give it a chance like I did.
Ambush Bug is Mark L. Miller, reviewer and co-editor of AICN Comics for over eight years and one of the original @$$holes. Check out his comic book shorts from Cream City Comics' MUSCLES & FIGHTS VOL.3 and MUSCLES & FRIGHTS VOL.1 on his ComicSpace page. Bug was interviewed here and here at Cream City Comics and here and here about his latest comic from Bluewater Comics, VINCENT PRICE PRESENTS: THE TINGLER #1-2. Look for more comics from Bug in 2010 from Bluewater, including VINCENT PRICE PRESENTS WITCHFINDER GENERAL, ROGER CORMAN PRESENTS DEATHSPORT, and the just announced vampire miniseries NANNY & HANK (and check out Jazma Online's new interview with Bug about NANNY & HANK here).
---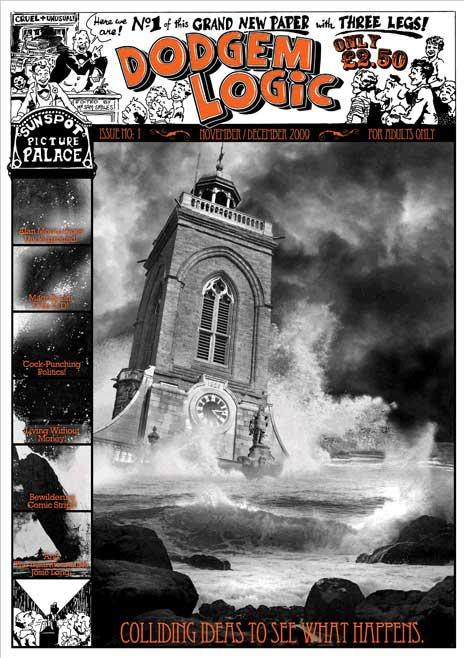 DODGEM LOGIC # 1
Here in the United Kingdom we're used to waiting until Thursday for our new comics. We're also used to paying slightly more for our weekly habit than the dollar-to-sterling ratio would fairly warrant. Plus, we're used to the occasional cool comic never even showing up, such as Alan Moore and Kevin O'Neill's BLACK DOSSIER, which was embargoed here due to copyright issues. I had to order mine from Amazon USA.
Then, on the other hand, every so often we get a small favor in return, like a comic or magazine specifically for the UK, so we can thumb our noses at our American cousins (or fellow @$$holes) and chuckle jealously, Ha, ha! We've got this and you haven't!
Ah, life's small pleasures.
Which in a roundabout way brings me to DODGEM LOGIC, the first issue of a new magazine that's edited by Mr. Moore himself and is most definitely aimed at the British market. For a start most of it is put together by a community project in Moore's home city and it features contributions from a cast of little-known TV comedians, such as Josie Long and Graham Linehan. Secondly, it's focused around Moore's home city of Northampton.
Fans of the eccentric writer will know that Moore has long made a point of staying put in Northampton, where he grows his beard and worships Glycon, a Roman snake god exposed as a sock puppet by the satirist Lucian in the second century A.D. It's also the setting of his aborted comic book series with Bill Sinkiewicz, BIG NUMBERS, and his novel THE VOICE OF THE FIRE, sort of a fictional "Northampton through the ages".
Northampton has a reputation as one of the most boring industrial cities in England (maybe an equivalent is Harvey Pekar's home city of Cleveland) and perhaps that's part of the reason Moore's always been perversely proud of his heritage. In these recessionary days he's also turned somewhat politically provincial: DODGEM LOGIC is produced in Northampton but designed to have worldwide appeal in that one abused, dilapidated and neglected shithole is much like another. "We are neither local nor global. We're lobal," he writes in his opening editorial.
Moore himself contributes a long and sometimes fascinating article on the history of underground publishing, from pre-printing press days to the heady heights of, er, DODGEM LOGIC; a new and sexually explicit cartoon strip; and an essay about council services in Northampton.
His wife, the American artist Melinda Gebbie, who illustrated LOST GIRLS, Moore's pornographic book about Alice in Wonderland, Dorothy from "The Wizard of Oz", and Wendy from "Peter Pan", writes a women's column about feminism.
Best of all is a bizarre and beautiful full-page illustration from Moore's LEAGUE OF EXTRAORDINARY GENTLEMEN collaborator Kevin O'Neill, which is almost worth the price of admission (a cool £2.50) alone.
The rest of the magazine will be of little interest to those who don't live in Northampton or have a particular love of poorly-designed student magazines, of the sort you'd see on any university campus. There's reviews of local bands, a recipe page, PRIVATE EYE-style parodies of newspapers, and rather unreadable hand-drawn, Do It Yourself journalism. I've yet to listen to my free "50 Years of Northampton Music" CD.
For comic fans like us, the main interest is in what the magazine reveals about Moore today. From a pioneer of fresh, intelligent storytelling in comic books he has aged into a grumpy critic of New Labour Britain, American comic book companies, and Hollywood's adaptations of his works, and now he's retreated back into semi-retirement in the native confines of Northampton, where he seems most occupied with cramming as many obscure literary references as possible into his LEAGUE OF EXTRAORDINARY GENTLEMEN series. DODGEM LOGIC professes to be a forward-thinking magazine, but Moore's article about underground publishing shows his focus: the pinnacle of achievement is held up as the late Sixties/early Seventies flower power era, the crowning achievement of which was the "schoolkids issue" of OZ magazine which pasted cartoon character's heads on a pornographic R. Crumb strip.
Despite my disgust at this juvenility, DODGEM LOGIC is an interesting endeavor that you can't imagine any other A-list comic book name doing. And best of all, we get it before you Yanks do.
Ha, ha.
---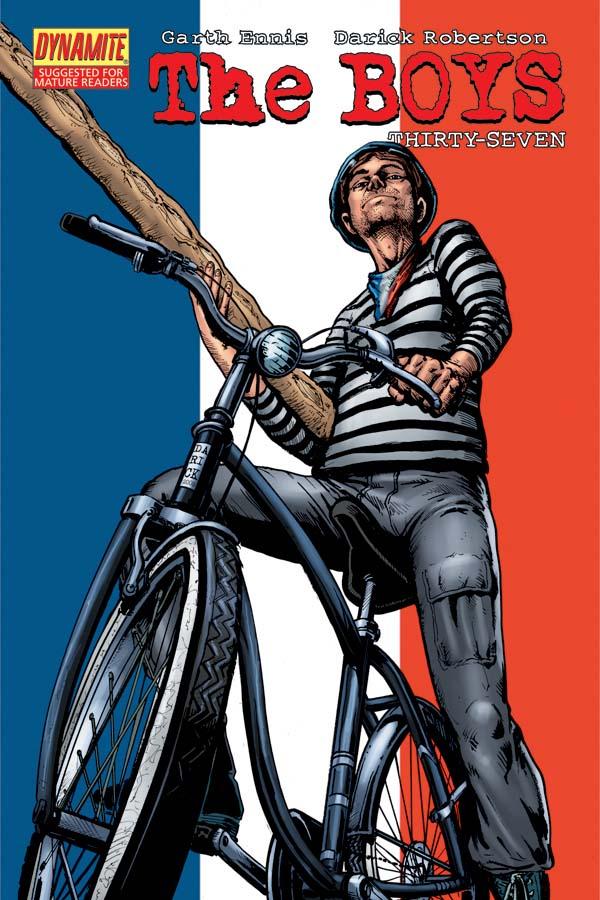 THE BOYS #37
I'll spare this review from my unapologetic apology that blanketed my musings of HEROGASM. Quite simply, every now and then I like to have fun with my comics and enjoy a book that simply doesn't give a fuck about who it offends or isn't shy about traversing into some lurid territory. Do I want every book I read to be laden with F-bombs, cunt calls and gratuitous fucking? I think my pull list which is comprised of 90% DC and Marvel titles will indicate otherwise. Nor will I say THE BOYS is simply an exercise in hedonism as exhibited by this fantastic off kilter issue.
You know you're in for something special when a baguette (French bread for all of the Espanol students out there) is prominently featured on the cover of a book. As indicated by the aforementioned long bread, the red, white and blue cover background, and the "oh so holier than thou" Frenchman looking down at the reader — this issue focuses on the origin of the Frenchman.
Unlike the last origin arc centered on the bad motherfu…(shut your mouth) Mother's Milk, this is a much lighter fare. It is certainly wrapped in tragedy as I'm sure we will eventually lean of all THE BOYS' origins, but this being the Frenchman, THE BOYS answer to Cousin Balki, lighter fare is called for.
The thing that astounded me about this origin issue (yes astounded) is Ennis' ability to casually break the 4th wall without ever breaking it. No, I'm not sniffing glue as I write this, I fully realize the contradiction of that last line, but it's the only way my limited vocabulary and lack of abstract thought can tidily sum up this experience. There's something afoot in THE BOYS: Wee Hughie is learning the origins of his fellow team mates for a reason and thankfully the Wee one started off the issue asking that very question, "Why are you telling me your origins?" After a curt ecoute, Petit Hughie does just that and sits back for the Frenchman's tale (ecoute is French for listen; the only reason I know this is because after five years of French that phrase along with "Robert be quiet" and the escalating "Robert shut up" are all I remember.)
Our flashback to "remember when" opens with the Frenchman as a returning war hero to his quiet town of Franglais nestled in the rolling hills of the French countryside. I was sold on this story by the town name alone; what better way to explain why the inhabitants of this quaint village speak in both French and English? Surely Ennis could have left the language issue alone, but the fact he broke the illusion between story and reality so courageously sucked me one fathom deeper into the piece.
Some would consider the rest of the story silly and somewhat of a bash on the French — to those individuals I say, "none of this is supposed to be taken seriously." Remember, the Frenchman (like most French men) is insane. How much of the story is actually true Ennis leaves to the mind of the reader. Do the French truly joust with baguettes? Will they sabotage one another with croissants? These are probably all concoctions of the Frenchman's imagination, but the idea of jousting for the honor of family and lost love is very real. While it's the details that make the Frenchmen's story interesting, it's the feeling and mood behind the details that the reader should walk away with -- a very difficult task with the indelible impression left by the Frenchman's tall tale.
As good as this issue was, issue 38 is the one I've been thirsting for. Finally we learn the origin of the most interesting silent killer since cancer — The Female.
When Optimous Douche isn't reading comics and misspelling the names of 80's icons, he "transforms" into a corporate communications guru. "What if the whole world had superpowers? Find out in the pages of Optimous' original book AVERAGE JOE. Read the first full issue on Optimous' New Blog and see original sketches by fellow @$$hole Bottleimp. If you are a publisher or can help these guys get AVERAGE JOE up, up, and on the shelves in any way, drop Optimous a line."
---
JSA ALL-STARS #1
Writer: Matthew Sturges Artist: Freddie Williams II Published by: DC Comics Reviewed by: BottleImp
When a comic book superhero team swells to an unwieldy size, there's usually one of two things that can be done. One: kill off half the team in an orgiastic four-color bloodbath, or Two: divide the team into two separate groups. Though I'm sure the first solution would be a hoot to read, getting rid of so many potentially profitable characters in one fell swoop is probably not the most logical choice from a publisher's perspective. So in the grand tradition of the Justice League and the Teen Titans (remember Titans West?), the Avengers and the X-Men, DC has split asunder this oldest of superhero fraternities and given us JSA ALL-STARS.
Good thing, too, since at last count the Justice Society had a little under a billion members. Okay, maybe not that many, but it certainly felt like it at times. So right off the bat this new title gets points for allowing the writers (and readers) of the JSA's adventures to focus more keenly on each character without having to worry about mentally juggling a dozen or more extras. The plot also becomes more streamlined with this division—in this issue, we finally get the big reveal as to who's been behind the whole "kill the Justice Society but oh don't touch Stargirl" storyline, leaving the mystery of the turd-shaped Obsidian to be answered (I'm assuming) in the pages of the main JSA title. At the same time the reader is presented with the All-Star team working to mold itself into a battle-ready, superpowered strike force (as opposed to the "we're all family" feelgoodery that permeated the latter part of Geoff Johns' run on the series). Though I'm a little leery of the whole proactive, paramilitary thing—it's been tried before, and never seems to work—I've got to give credit to Sturges for not taking the concept too seriously. There's a great scene where the members of this new JSA branch toss around possible team names, including "Justice Society Elite" and "Extreme Action Justice Force." Yes, Virginia, at one time there was a "JUSTICE LEAGUE ELITE" and "EXTREME JUSTICE," to say nothing of all the other lame "extreme" team names that have graced the comic shelves since the 1990s.
With this break in attitude from the previous JSA series, ALL-STARS also gets points for branching out beyond the whole "Legacy Hero" theme that Johns had run into the ground. I like the idea of a superhero tradition as much as the next guy, but there comes a point when the concept gets to be really, really stale. For me, it was the introduction of Ma Hunkel's (aka the Golden Age Red Tornado's) granddaughter, who just happened to have wind powers. Didn't help that as written she was the most annoying two-dimensional character since Scrappy-Doo, and I'm a little bummed that she's parked in this title. But with Magog and the illusion-creating King Chimera in the ALL-STARS ranks, there's a glimmer of hope that the Justice Society banner can be open to a more diverse range of characters.
Though I generally enjoyed this issue, I'm not yet sold on this series. First, there's the $3.99 price. I'm not sure if this is simply because it's the first issue and the rest of the series will be at the $2.99 mark, but now that prices are rising all across the board, I'm trying to be a little more careful with my spending. I don't know about you, but I don't like to give my money away unless I feel that I'm getting something good in return…which leads me to my second gripe. I just can't get behind Williams' art. I feel that his overly-noodly linework just serves to make the pages into a jumble rather than providing a clean view of the action, and I'm not a big fan of his figures (especially Power Girl, who ends up looking like an anorexic who opted for a ludicrously ill-proportioned breast augmentation). Though the story is good, I think that the art could be better.
But in any case, it's refreshing to see the JSA actually doing something other than hugging each other and reminiscing about old times in the DC equivalent of the VFW Hall.
When released from his Bottle, the Imp takes the form of Stephen Andrade, an artist/illustrator/pirate monkey painter from the Northeast. You can see some of his artwork here. He's given up comics more times than he can remember. But every time he thinks he's out, they pull him back in.
Looking for a second opinion? Well, here it is anyway!
JSA ALL STARS #1
Writer: Matt Sturges Art: Freddie Williams II Publisher: DC Comics Reviewer: Ambush Bug
So…JSA ALL STARS. Not a bad read.
I guess it was inevitable. Johns packed JSA to the gills with heroes. By the end of his run, they were literally bumping into one another. So an All Star Squadron I guess was necessary. I'm kind of satisfied with the way the team was split, but as I mentioned in last week's Cheap Shot of the JSA proper book, the reasoning behind which teammate goes where seemed a bit pushed. But now that the lines are drawn, I'm pretty happy with the All Star roster.
Writer Matt Sturges takes some time to pepper in some more decisions behind the split that make some sense. Star Girl feels out of place, but Power Girl tells her how much she needs her there. This is a nice quiet moment for this book after the battle royale that takes place in the opening pages. I also like the decision to split up Hourman and his wife Liberty Belle -- "you know, most couples don't work at the same office." Sturges is a good enough writer to dole out these bits of info pretty naturally without skidding the momentum of the story to a halt.
The mystery of why Star Girl has been treated with kid gloves for the last few months is finally revealed in this issue, which looks to be pretty fun given the surprise villain's final appearance in the last few panels. And although I'm still not sold on the character of Magog, I like the role of badass drill sergeant he plays in this group. Taking this group out of the main JSA book may mean problems for that book, though, since a lot of the spice of the last year ends up on the JSA ALL STAR plate. But if this means some fun of a different variety with the old timers, then I'm up for it.
It was a bit disconcerting to read the major fuck up in word balloon placement in the confrontation between King Chimera and Damage. All of a sudden Judomaster speaks fluent English on these pages and although I could understand the conversation and who said it, the directions the word balloons were pointing were all wrong with Cyclone saying Damage's lines and Judomaster saying Cyclone's lines. For about two pages there, it's strictly amateur hour which is pretty unforgivable given this being a first issue of a major series.
But editorial fuck-ups aside, this is a pretty fine read. Freddie Williams II provides some electric panels filled with detail and action. The pair of fight scenes are pretty great, although they were a bit repetitious, both ending with Power Girl getting part of her costume blown off and all by a belt bomb. Speaking of Power Girl, Williams provides a boob fetishist's delight here with every shot of Power Girl being cleavage-tastic. Williams does need to try to vary his body types, though, as pretty much all of the girls on the team look like they're just about to topple over from the overabundance of boob-itude.
Jumbled up word balloons and oversized sweater balloons aside, this was a fine read. There's still a bit of worry in the back of my head that makes me think that Sturges picked all of the cool kids for his team, but I'm sure Willingham will do fine with who is left over in JSA. In JSA ALL STARS, though, DC appears to have another winner on its hands.
---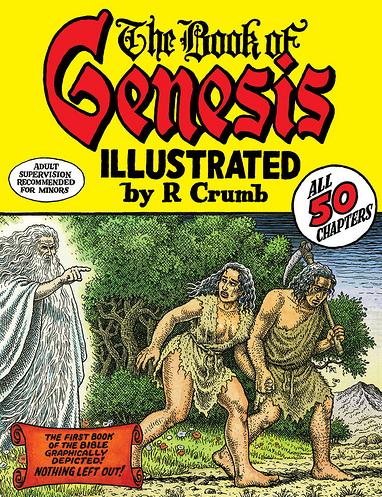 THE BOOK OF GENESIS ILLUSTRATED Vol.1
CHAPTER ONE IN the beginning R. Crumb created undergound comix featuring Fritz the Cat, Mr. Natural, Angelface McSpade, and "Keep on Truckin'."
2 And hippies saw that they were good to read while taking drugs, that are called acid and weed.
3 And this was "getting stoned", but not like unto David and Goliath.
4 And Crumb illustrated the cover of the Janis Joplin record that is called CHEAP THRILLS.
5 And the evening and morning were the 1960s.
CHAPTER TWO AND Crumb illustrated the stories of his friend Harvey Pekar.
2 And Harvey Pekar begat the series called AMERICAN SPLENDOR, which begat many more alternative comics about balding losers, even an hundredfold.
3 And AMERICAN SPLENDOR lived thirty years and begat a successful film adaptation starring Paul Giamatti.
4 And the evening and morning were the 1970s.
CHAPTER THREE AND it came to pass when Crumb was old that he moved upon the face of the waters to dwell in the land of southern France.
2 And the filmmaker Terry Zwigoff made a documentary about him that is called CRUMB.
3 And Crumb looked upon the first Book of Moses, called Berashis, the Book of Genesis, and said,
Behold, this could use some pictures.
4 And Crumb began to illustrate the Book of Genesis, using Robert Alter's 2004 translation of the text.
5 But he was working many years; for he researched the culture, landscapes, and clothing of the Hebrews in much detail.
CHAPTER FOUR IN the first year of the reign of Caesar President Obama, Crumb's book was finally released (just in time for Christmas).
2 And the people saw every thing that he had made, and, behold, it was very good and shed a new light upon the Old Testament stories by depicting them exactly as described, with much death, and sex, and gnashing of teeth.
CHAPTER FIVE THERE lived in those days in the south of America holy men and women called the Bible-bashers.
2 And Crumb was frightened and said to himself, They shall not like what I have drawn.
3 And so he wrote in his introduction:
4 "If my visual, literal intepretation of the Book of Genesis offends or outrages some readers, which seems inevitable considering that the text is revered by many people, all I can say in my defense is that I approached this as a straight illustration job, with no intention to ridicule or make visual jokes.
5 "That said, you can't please everybody."
6 And the people said to themselves,
Truly, this is a strange and beautiful book and not all that different from Crumb's previous work since it has stories about long-haired men seeing visions, big, hairy women, and incest.
CHAPTER SIX AND they asked unto Crumb,
Will you be illustrating more from the Bible?
2 But Crumb waxed wroth and said,
Lo, I have had enough of that.
3 This is the word of the Lord. Thanks be to God.
---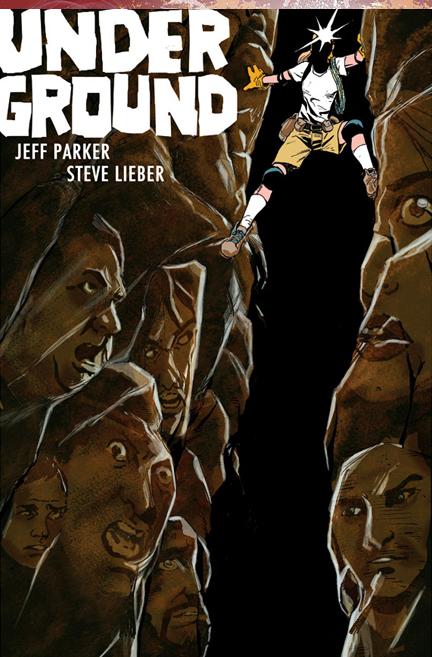 UNDERGROUND #1-4
Writer: Jeff Parker Art: Steve Lieber Publisher: Image Comics Reviewer: Mr. Pasty
I've always had a certain amount of respect for talent that chooses to abandon the realm of super-ness and instead craft a comic that revolves around situations and environments that if not labeled as a "comic book" could very easily pass for something you might hear about on the six o'clock news. While most of the time I find said accounts to be an exercise void of entertainment, I still respect the efforts for their creative risk. Imagine my surprise when UNDERGROUND garnered both my respect
and
my enjoyment. This is not a comic book about heroes that fly or villains who breathe fire. This is storytelling that grips you and envelops you in a world that is so completely realized and populated with characters so thoroughly fleshed out, it's not an exaggeration to call it one of the year's best offerings.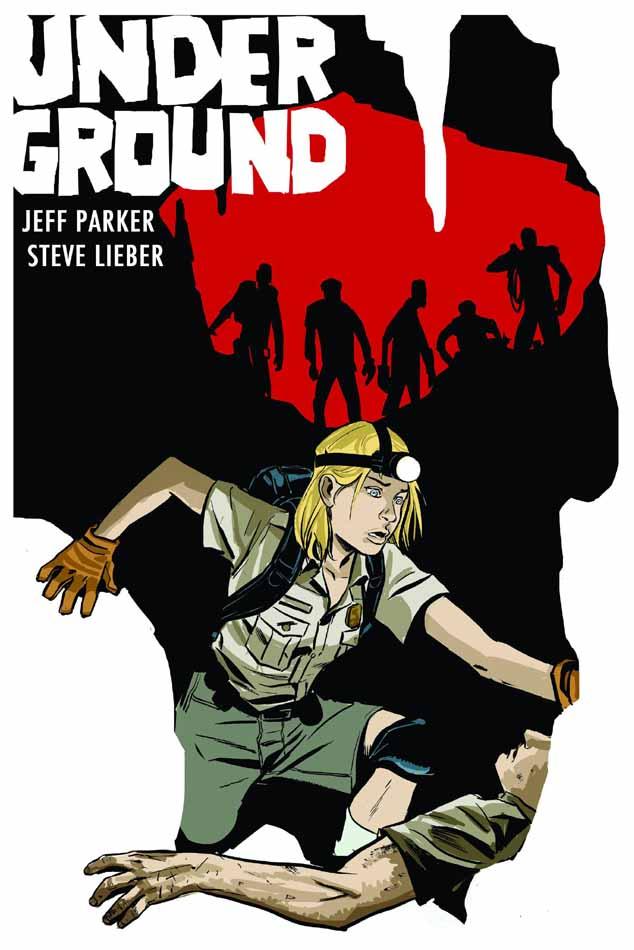 UNDERGROUND lives and dies by its ability to make everyday people extraordinary. I'm not suggesting that superhero comics are easy, because they aren't, but the suspension of disbelief affords talent the creative latitude to package otherwise preposterous happenings into a neat and tidy story arc. "Real" people on the other hand can be exceedingly boring. Think about the folks you work with. How exciting would it be to document a day at the office and call it a graphic novel? UNDERGROUND exists mostly within the bowels of a Kentucky cave, yet never feels bound by the limitations of its environment. The success of UNDERGROUND, despite its self-imposed restrictions, is a testament to the skill of a writer like Jeff Parker. His antagonists, for example, debut in one of many awkward positions and he (thankfully) avoids one of those tired exposition bubbles that I find to be an admission of laziness.
"I can't waste any time building up this character, so here's a yellow block of text that tells you everything you need to know. Commence storytelling in 5-4-3-2-1."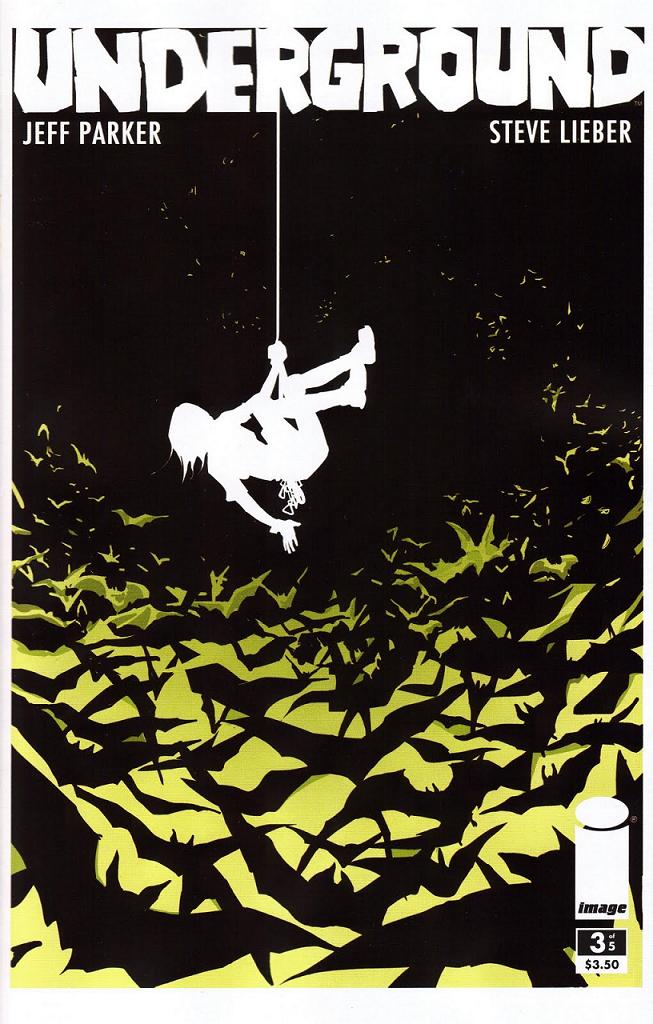 I mentioned his handling of the protagonists and truth be told that's only half the fun. His protagonists are awarded a rare level of complexity that, again, so closely embodies the human element that the narrative commits you not with its seductiveness, but with its familiarity. Yes, this is a comic book, but Parker doesn't use that as an excuse to let his characters wantonly do things that defy logic. The villains in UNDERGROUND are not mindless zombies or killer cyborgs. They're flesh and blood. They have self-doubt and make mistakes. Watching them plunge further and further into a dark cave -- just as the heroes are trying to climb their way out of it -- has a much grander meaning, but I'm still digesting the overall experience and haven't gotten ready to tackle that aspect just yet.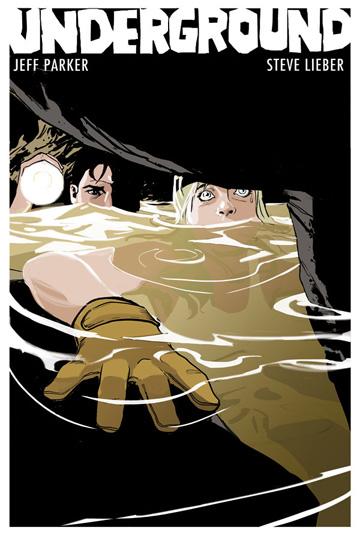 That's an admission that I'll be reading this series a second and third time. Often as a reviewer I do it out of obligation but in the case of UNDERGROUND it will be out of a desire to search for cookies I may have missed on my first pass. And if anyone deserves a second look it's Steve Lieber. So brilliant on WHITEOUT, Lieber once again captures emotion in a bottle with his understated pencil and affection for human form. He shows maturity in his trade by balancing the color scheme inside the cave. With nothing but a head lamp and a chasm of darkness, a lesser artist may have gone too bleak or too dour but Lieber plays just the right note. He's not trying to upstage Parker, he's trying to complete him. Mission accomplished. There is so much more to reveal as far as the plot details and the dialogue, but that my friends is better left to the experience of the book itself. I call it an experience because it is one. Leave the costumes and eye candy on the shelf for one week and check this series out. You won't be disappointed.
Web heads who can't get enough of Mr. Pasty's word vomit are encouraged to watch him operate as Nostradumbass over at here. MMAmania.com. Love, hate and Mafia Wars requests should be directed here.
---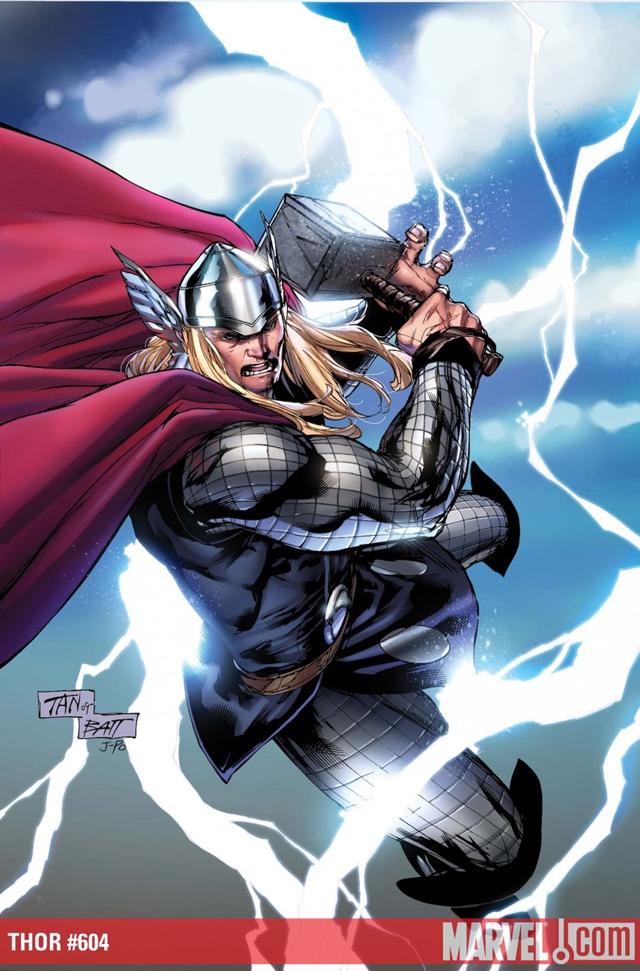 THOR #604
Writer: Kieron Gillen Penciler: Billy Tan Publisher: Marvel Comics Reviewed by Humphrey Lee
One issue in of this new "direction" I have to say I find myself firmly in the camp of former writer J. Michael Straczynski. I'm not saying I miss him per se; good as he was to this book and characters I still maintain a mainstream book like this should see stands more than four times a year, but I'm with him in that I too almost want to leave it now that it is starting to become more entrenched in the Marvel Universe's Event Du Jour, this time called SIEGE. In fact, the only thing that did not have me leaving with him is his replacement, Kieron Gillen, whose work on the wonderful Indie book PHONOGRAM has earned him my loyalty. And it seems my allegiance has been rewarded, as this debut issue of his felt just like the book I've been reading for a couple years now, even if it is being co-opted for something I can barely muster any excitement for.
There is a good bit to be excited about in the comic itself though. I do not want to drag down the quality of the book just because I am indifferent on yet another superfluous event. Gillen and Tan definitely kept the feel of the book going, and of course did not break from where JMS was leading it on its crash course with the Marvel Universe proper before he called it quits. The confrontation between Kelda and Doom in the wake of her human beau's demise is actually quite saddening, and scary with its implications. The conflict between Balder and his gathered troops against Doom and his forces are also properly ominous, and Loki is ever his mischievous self. And there's some nice humorous bits in here as well, especially evident in a bit involving a distraction that occurs during a Reed Richards/Donald Blake conversation.
I know this is all coming across sort of a "bullet points" run down, but basically I'm just trying to do this to show that if anyone is worried about tone, don't be. Everything that JMS was doing to make this book stand out amongst its brethren on the shelves Gillen is doing just as good a job of. Billy Tan's pencil job also pops very well. It might not feel as unique as I think Coipel's figures tend to stand out as, but it still is very distinct in its own right. He does not waste a line, fills all his panels to the brim without overwhelming them, and his stuff is very kinetic. Not to take another couple of 2x4 whacks to the deceased horse, but this was yet another great creative transition.
Overall, I am really happy to see that this new team was able to keep the tone I was digging on in the previous run, and that gentlemen of the talents of Gillen and Tan are getting a chance to shine on a book that is still going to maintain a relatively high profile for the time being. So far I am still enjoying the plot threads being presented here; this hasn't yet gone full blown event, though I guess that's just because the shenanigans are just getting started on the SIEGE front. But the conflict with Doom is very exciting, Loki's machinations are just as embellished and devious as ever, and every page seemed to be filled with a "shit hitting fan" moment because there is a lot at stake in these pages, because everything had been designed this way meticulously for a good chunk of issues. The mastermind might not be here to kick over the dominoes he set up, but the new hot shot on the block is managing the demolition just fine.
Humphrey Lee has been an avid comic book reader going on fifteen years now and a contributor to Ain't It Cool comics for quite a few as well. In fact, reading comics is about all he does in his free time and where all the money from his day job wages goes to - funding his comic book habit so he can talk about them to you, our loyal readers (lucky you). He's a bit of a social networking whore, so you can find him all over the Interwebs on sites like Twitter, The MySpaces, Facebookand a Blogger Account where he also mostly talks about comics with his free time because he hasn't the slightest semblance of a life. Sad but true, and he gladly encourages you to add, read, and comment as you will.
---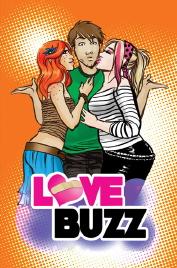 LOVE BUZZ OGN
Writer: Len Wallace Artist: Michelle Silva Publisher: Oni Press Reviewer: Optimous Douche
When the "everyday" transcends to art you are left with a piece that can only be called authentic. If the name wasn't enough of an indicator I'll just say it outright — LOVE BUZZ is not your standard comic. You will not find any cars being hurled through windows, there aren't any megalomaniacs trying to take over the world nor a spandex clad hero to save the day in the last harrowing minutes. What LOVE BUZZ does deliver is one of the most honest and true interpretations of young love and the horrific labyrinth of emotions that we all must navigate at some point in our lives as we mature into adulthood.
I'm going to be presumptuous here, because I think I have a strong leg to stand on. I hate sports, love theater and have been addicted to teen dramas since the first 90210 taught us that sideburns can be timeless. My sensibilities definitely waver more towards the traditional trappings of the fairer sex than my own hairy backed brethren. This is why I can say with the utmost confidence LOVE BUZZ is one more shining example of how comics can reach out to women; when you focus on the emotions of events rather than simply telling the tale at hand you have cracked what I've affectionately dubbed in my reviews of other non-traditional comics the Vagina Code. This is not to say the piece is for all women or that all men will hate it. However, it does take a special kind of individual to understand what is truly going on.
One of the reasons I was able to devour the 176 mammoth pages of this book in what felt like a nanosecond is because the lead character Norm was me about eighteen years ago. A nerd trapped inside his own head, mistaking my surges of pubescent hormones and need for acceptance as love. It's not every guy (or gal) that pines for a relationship more than down and dirty sex, but alas I was one of them. Chalk it up to being an only child and the fear that when my parents died I would one day be left without family or the simple fact I reveled in belonging to someone. Regardless, my search for love was so akin to Norm's that a few scenes in this book felt like I was looking inside Dumbledore's Pensive at scenes from my own life.
Starting in high school and ending somewhere in Norm's early twenties, it's easy to call this book epic in scope. Tidily presenting five years of turbulent times in most peoples' lives so damn concisely is admirable; to make the reader care about what happens to these people is simply masterful. Norm is an artist, expressing his real world torment on the written page in comic book format. When he falls in love with a girl across the classroom named Maggie he reinvents the two on the written page as super spies to merely get across the point he has fallen for her. Likewise when Norm is betrayed by Maggie, he transforms her into a 1930s femme fatale and himself into the gumshoe detective she betrayed. We all have our methods of escape. Some drink, some smoke; Norm like most artists bleeds his soul on to the page. These moments felt eerily similar to the old Danny Kaye movie, "The Secret Life of Walter Mitty," but with comic books.
Maggie and Norm have their ups and downs over the course of years and the distance that separates them. Through everything though, you can see a maturing of these individuals, each chapter a new epoch in their growth to becoming fully "functional" adults. It doesn't matter what happens in the end, because I'll be honest -- LOVE BUZZ, like real love, never truly ends. Like most relationships and the emotions that come with them, they stay with a person forever. Even though the words that will bring closure are uttered by both parties, there is nothing that will ever erase those things that affect our souls and our humanity.
Silva brings the pages alive by combining the innocence of youth, acknowledging the inherent horny nature of teenage boys by focusing many panels on what we are actually looking at when we talk to women, and transforming her own style for each of Norm's ventures into his comic imagination.
LOVE BUZZ is not what you would expect from a comic, nor what you would expect from the name of this comic. But in a world where we already know what to expect from most comics we buy, LOVE BUZZ shattered my expectations and made me reflect on a time that is long past, yet somehow with me still today.
---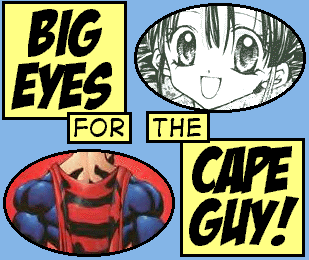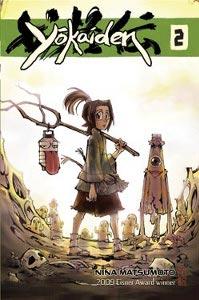 YOKAIDEN Vol. 2
By Nina Matsumoto Released by Del Ray Reviewer: Scott Green
I picked up and read the first volume of YOKAIDEN without looking at who'd created the work. Probably about three quarters the way in, I hit a linguistic pun that struck me as wordplay that wouldn't have originated in Japanese. That sent me back to the cover to check the credits. At that point, I discovered that the work was by Nina Matsumoto, perhaps better known as
SPACE COYOTE.
Last time I wrote about YOKAIDEN I described Matsumoto as an artist who was internet famous for the
manga Simpsons illustration
. Since then, Matsumoto won an Eisner Award, along with Ian Boothby and Andrew Pepoy, for THE SIMPSONS TREEHOUSE OF HORROR #14's "Murder He Wrote." As such, if you follow comics, Matsumoto should be a recognizable name at this point. Picking up the series again, the chief uncertainty to my mind concerned how YOKAIDEN would hold up now that is now no longer an unknown quantity.
Knowing who created YOKAIDEN and having some insight into the creative intentions, YOKAIDEN 2 was still a delightful surprise.
It follows bamboo seller and enthusiast of the Japanese supernatural world of yokai, Hamachi, into the spirit world of those creatures. Along with a pair of tsukumogami, a lantern and an umbrella with developed sentience, Hamachi journeys into the home realm of the yokai, hoping to locate the kappa (water imp) presumably responsible for his grandmother's death.
One of the mainstays in the host of yokai is the kitsune, fox spirit. A number of species of Japanese animals can obtain the ability to change shape. One of these is the raccoon dog tanuki. These animals are the stars of Isao Takahata's Ghibli eco-epic POMO POK - a feature noteworthy in this context for two reasons. First, because the shape changing tanuki adopt the forms of a parade of yokai to scare humans out of their habitat - a scene that makes the movie a must see for anyone fascinated by this branch of supernatural mythology. Secondly, because of the film's
shape changing scroll,
outlining the other species capable of altering themselves: chameleons, in a limited capacity, old cats, especially ones who have developed a second tail...and foxes. Like the cats, with age and wisdom, foxes can manifest additional tails. Except, in the case of the foxes, it is up to the god-like nine tailed kyubi (a concept evoked in NARUTO).
Volume two of Yokaiden is driven by the kyubi "Christina," who sets Hamachi on a series of labors, or in video game parlance, fetch quests, in exchange for the promised location of his sought after kappa. Though not exactly on the up and up, these "go get it!"'s serve to set Hamachi on an intersecting course with various yokai, from the classic variety, such as the tengu mountain spirit or more modern, urban myths, such as kuchisake onna - slit mouth woman, as well as divinities, and
THREE SACRED TREASURES OF JAPAN
.
Hamachi's undaunted enthusiasm places the character in the company of manga's shonen "I'll be the greatest!" protagonists. However, here, that exuberant quality is recast as the characteristic of a fairy tail hero. Like a Giant Killer or a "seven at one blow" tailor, he's a grinning, half-smart innocent who has virtue as much as cleverness going for him. This intersection of shonen and fairytale hero types plays out in a way that is almost meta, but amusingly, not quite. In the vein of a character like POKEMON's Ash, Hamachi is almost frothing in his recital of knowledge on his favorite, monstrous subject. And yet, that knowledge is either incomplete or doesn't click. Unlike PUSS IN BOOTS' gambit of tricking a shape changing ogre into adopting the form of a mouse, Hamachi rarely works the right ploy. Part of YOKAIDEN's joke is that though forearmed with some knowledge, Hamachi goes into a very rules based spirit realm with fairy tale inspired ideas that don't play out in practice. And yet, with a smile and a bit of FT virtue/luck, he scrapes through.
What you get with YOKAIDEN's composite of inspirations is the PAN'S LABYRINTH of comics. That might sound like over-praise, and I don't want to encourage the expectation of that movie projected onto manga. What I mean is that PAN'S LABYRINTH was Guillermo del Toro's reinterpretation of a fairytale, informed by his background and his perspective, recontextualized based on his interests. It was the structure and in some sense trappings of a European fairytale rebuilt from the ground up via del Toro's point of view.
YOKAIDEN is a synthesis of the North American tradition of retelling fairytales via comics (see The TOON Treasury of Classic Children's Comics for some great examples of this), along with European roots of those stories, along with yokai folklore and ghost stories, along with elements that are purely Matsumoto. It's not simply a shonen hero's odyssey into a den of Japanese spirits, restaged for an English speaking audience. Nor is it slavishly following any of the patterns from which it is drawing. It's its own chimera of those inspirations.
Among the remarkable qualities of Matsumoto's comic is that she doesn't slow down for the reader. Chapters (or "candles" as they are referred to, see
Hyakumonogatari Kaidankai gathering of a hundred ghost stories
) are often exercises in "look, here's creature X!," accompanied by prose elaborating on X's identity and background. And yet, though it might look like it at first glance, this is not yakai with the training wheels on. On the kuchisake-onna, Matsumoto's describes "the slit-mouthed woman is a scary, lonely lady with a Glasgow smile and a serve need for reassurance." There are no foot notes on the foot notes, and if you don't get the reference, Matsumoto is content to let the joke slip by. In that sense, the risk of being left behind makes the repartee that much sharper.
This quick wit is paired with excellent cartooning. From the touches of extravagance, such as the desiccated giant built into Christina's chambers, to the darling, such as the loping watery eyed, cyclops umbrella, nothing is done in half measures.
As I said when discussing
YOKAI ATTACK,
a good yokai story breathes life into a murky corner of perception. It takes the fright of a dark corner, the wonder of a natural phenomenon, some metaphor or word play that sticks in the mind and gives it semi-human form. It might take some ferreting out, but one of the fascinating attributes of yokai is that they generally trace back to some mental hang-up. A yokai is some object of fascination given form and life. A story of story fascinations strung together, watching YOKAIDEN working with these creatures, waltzing with its inspirations is a delight.
Scott Green has been writing for AICN ANIME for over eight years. If you like what you see here and love anime & manga, be sure to check out his latest AICN ANIME column every week on AICN.
---
Sup folks, Bug here with another batch of indie flavored goodies for you. These books are just as good as any old mainstream book and deserve a look-see. Check 'em out!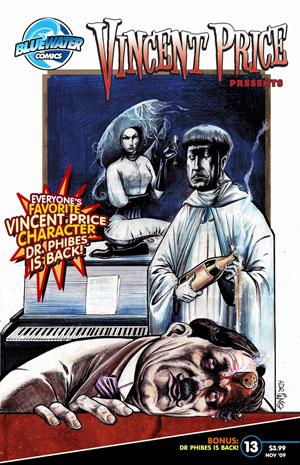 This issue of VINCENT PRICE PRESENTS features the return of one of Price's most famous roles: The Abominable Dr. Phibes. Being a fan of the DR. PHIBES films, I can't put into words the excitement I had reading the continuing adventures of the character and the one-named writer/artist Adiano delivers both a fun story as Phibes chooses Greek mythology to enact his revenge this time around and some absolutely amazing artwork. Adriano reminds me of a young Sam Keith and the jovial tone of the art fits the somewhat campy aspect that permeated the films. I loved this issue of VINCENT PRICE PRESENTS; it's quite possibly the best issue yet and it's most definitely the finest art I've seen from this fun horror series to date.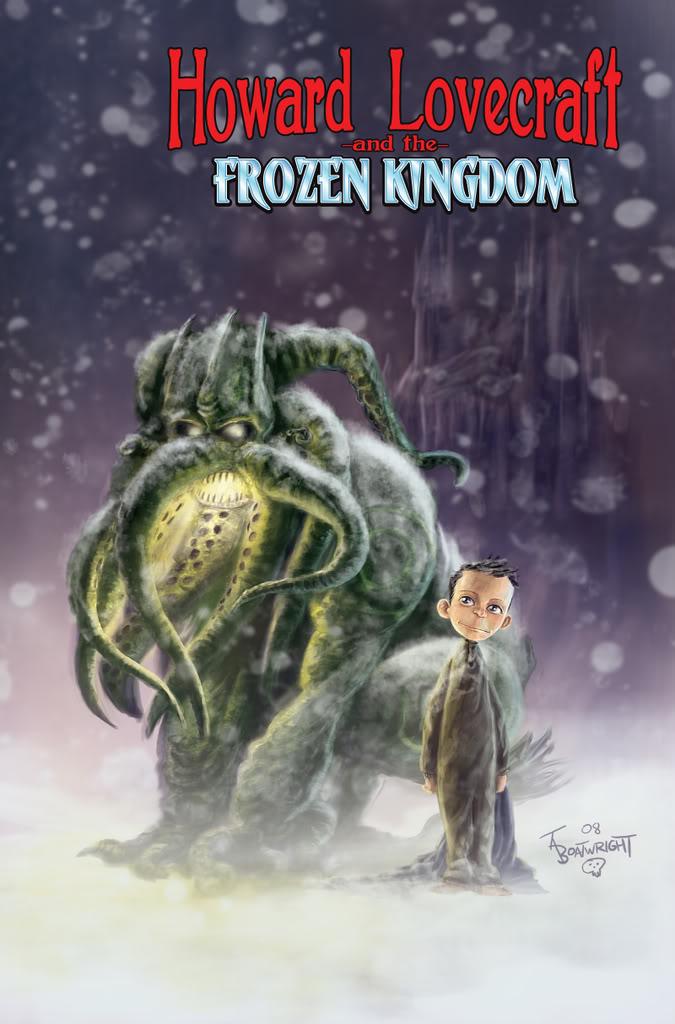 HOWARD LOVECRAFT & THE FROZEN KINGDOM OGN Arcana Studios
A while back there was a conversation in the TBs about the tendency to cast Lovecraft into his own mythos in comics and films. It's a fun enough concept, but one that may not give Lovecraft the credit he deserves for coming up with such an amazing mythology. It's as if folks can't believe that such an expansive universe can be created by one writer. But it did happen that way. Still, that won't stop writers like Bruce Brown from coming up with a pretty top notch story. I can't deny how cool this story is, casting Lovecraft as a child who is transported to a frozen land and meeting all of his mythical creations like Dragon and Cthulhu. There are many Lovecraft comics out there right now, but this one is a little different, geared toward a younger audience and telling a macabre story through a child's eyes. Fun stuff, made more so with art by Renzo Podesta. If you're into all things Lovecraft, this is a book you can't miss.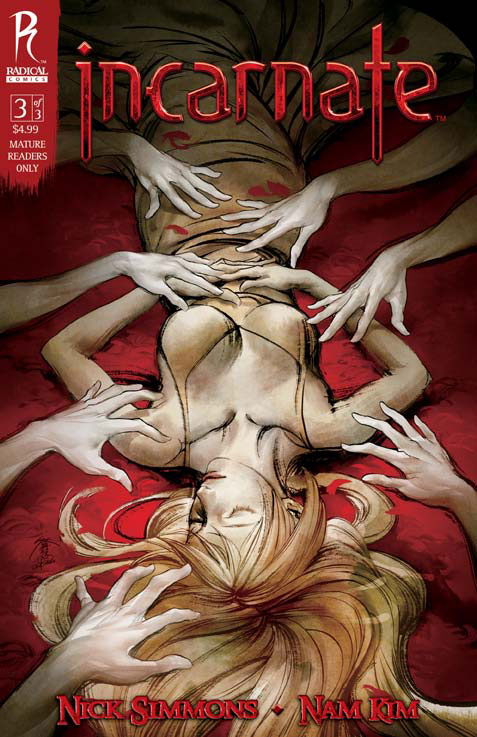 What impresses me most about Nick Simmons' first comic book effort after reading this third and final issue is the kineticism of the entire thing. Simmons really has a command of depicting action and it's evident in every panel of this book. Yes, this book is heavily manga influenced, but Simmons adds big budget Hollywood effects to an already exciting story. This final showdown issue bursts excitement from every panel and ends ominously with a promise of more INCARNATE to come. I for one am happy to know that Simmons will be following up this fantastically energetic first mini with another in the near future. Horror and adventure that leaps off the page and slaps the shit out of you, that's the kind of power this comic packs.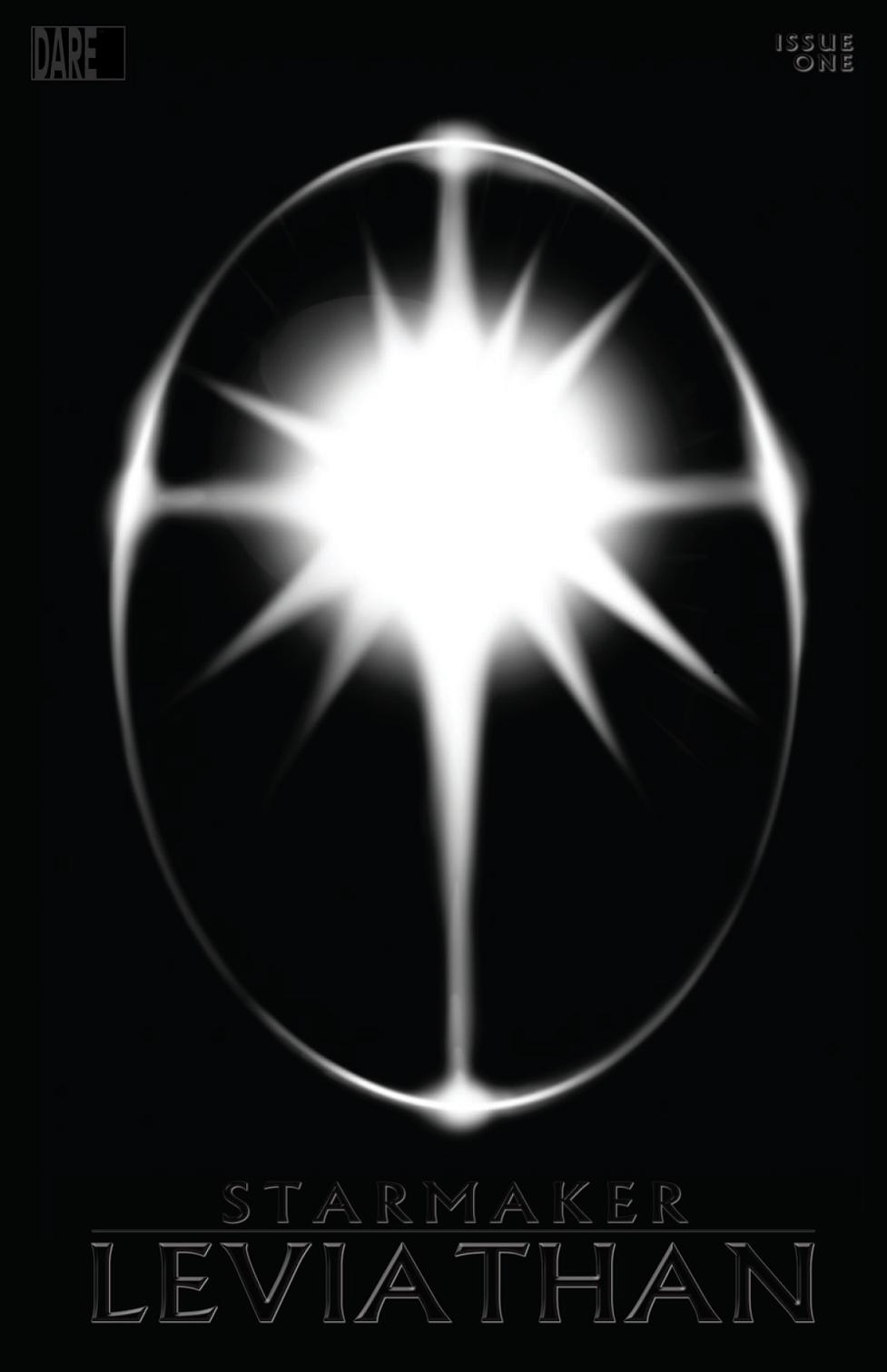 STARMAKER: LEVIATHAN #1 Dare Comics
From the creators of THE HUNTER, STARMAKER: LEVIATHAN stars out ominously as the cosmic and age old ritual enmesh and fold over onto itself. Much like THE HUNTER, writer Adam Hamdy does a great job with the cosmic stuff showing vision toward the future as well as a respect for comics Kirby-ian past. This issue serves more to set a tone than anything else. Many questions arise with nary an answer in sight, but this is just the first issue of a massive 425 page epic story, so Hamdy is holding back a few cards here in the beginning. Issue #1 will be available on ITunes through PanelFly, and online through Yudu.com on December 3rd 2009. If you want to wait for a printed version, you'll have to wait until April 2010, but I suggest you don't. If you're an old school fan of all things cosmic, this is one you shouldn't miss. Hamdy showed me with THE HUNTER that he is a writer to watch. Here he continues to dole out the Kirby-ian coolness in this cosmic and trippy story set in India and realms unimaginable.
---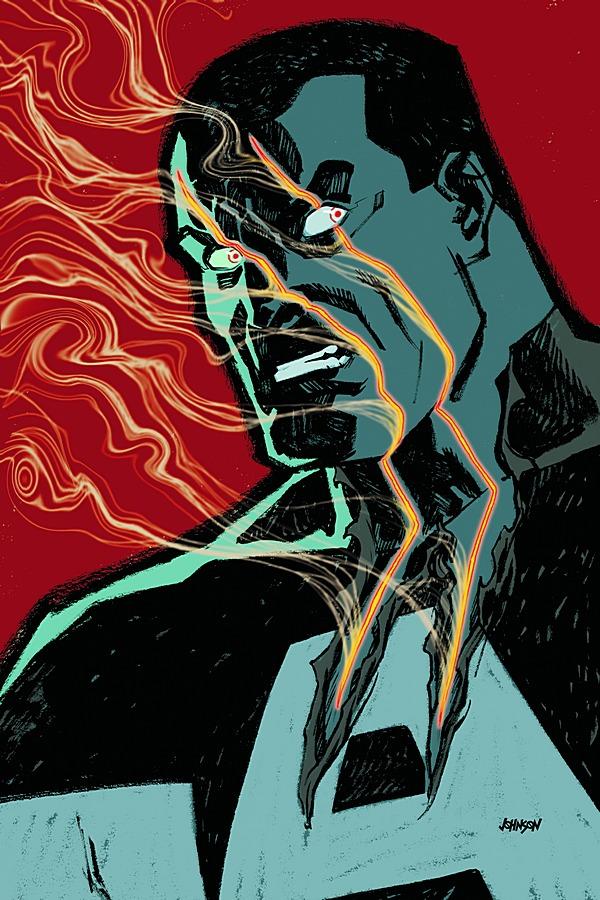 THE MIGHTY #11 (of 12) DC Comics
Wow. Ten issues of suspenseful buildup comes to a head in an action-packed penultimate issue. Though I'm scratching my head at the plot twist (readers will know what I'm talking about, and I don't want to spoil it for everyone else), I have full confidence that Tomasi (who has crafted this series excellently right from the get-go) will explain everything beautifully in the next issue. My only complaint is that my enjoyment of this comic went by waaaaay too quickly. The resolution to this fantastic series can't show up on the shelves soon enough. -
Imp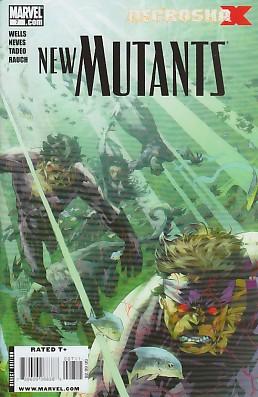 NEW MUTANTS #7 Marvel Comics
In this BLACKEST NIGHT tie in, deceased former New Mutant foes The Hellions are resurrected and bent on vengeance against their former arch nemeses. In a change of events, Zeb Wells chooses not to give his resurrected corpses Black Lantern rings. Not sure what DC editorial will have to say about this, but with the dead rising all over the place…ahh, I can't do it anymore. Shame on you Marvel for this blatant BLACKEST NIGHT rip-off with NECROSHA-X. Sure, there are an awful lot of dead mutants to play with and any other time this may be an interesting storyline, but having this x-crossover occur during DC's BLACKEST NIGHT is as maddening as your little brother repeating the same words you are saying over and over. Zeb Wells tries his best to make this an interesting story and all of the right characterization is at play. You can't blame him for having to follow editorial's crossover demands, but this copycat shit is just plain petty. -
Bug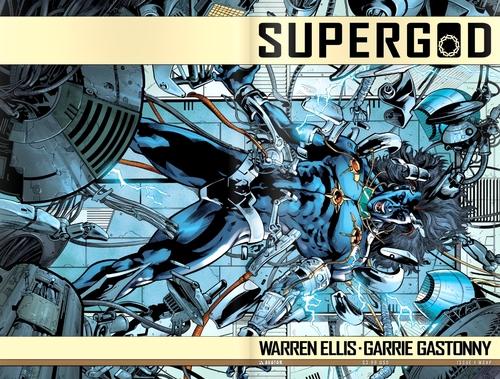 Oh thank Hippie Jesus, the Internet Jesus I know and love has returned. I guess in some ways he has never left, but most of his output has been a little too "Either end of the spectrum" for his writing tendencies for me. IGNITION CITY had too much emphasis on talking tough to put together a story I found overly interesting. NO HERO was too dedicated to LSD trips and using spines as penile embellishment to take seriously. But SUPERGOD, this kind of streamlines better what I love about Ellis books. It is very gritty and brutal like those books I just mentioned, but not quite as comically over the top as they were, and there's lots of great sci-fi jargon being thrown around here, but never in a way that really feels like I'm in over my head. In fact, it's used in a great combination with some superhero genre tropes in order to make me feel right at home as Ellis is speaking through his mouthpiece in the comic to explain how the shit went down. High Sci-Fi plus Megatons of Destruction plus Ellis' typically flowery prose is always a win for me, and SUPERGOD brings all these elements into play in the perfect blend of his talents and tendencies. -
Humphrey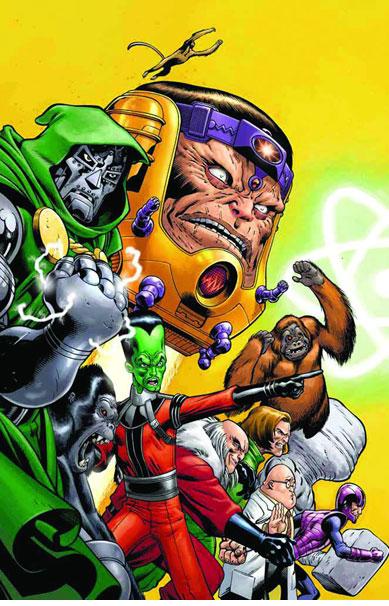 FALL OF THE HULKS: ALPHA One-Shot Marvel Comics
Now this, my friends is a $3.99 comic worth every penny. Writer Jeff Parker sure knows how to smish oodles and oodles of cool into 32 pages. Parker successfully ties about fifty years of continuity all together with a bright bow and does so with the skill and precision only the most zombified of Marvel Zombies could ever accomplish. Everything from Project Pegasus to Atlantis to the Secret Wars