---
What's SHOOT THE MESSENGER?
Well, AICN COMICS: SHOOT THE MESSENGER is your weekly one stop shop for comic book -EWS. What's comic book –EWS? Well, it's our hodge podge of everything not reviews here at AICN Comics. Sure you can find out the @$$Holes' critical opinions of your favorite books every Wednesday at AICN Comics. But here, you'll find special reports such as previews, interviews, special features, and occasionally news gathered here from our online brethren at Newsarama, CBR, Wizard, etc. Sure those guys are the best at reporting news as it breaks. Click on the links for the original stories. This column cuts the crap to run down all the vital information for those of you who don't follow it as it comes in, and serves it all up with that special ingredient of @$$y goodness.
---
AVATAR Contest!

Hey all, Ambush Bug here with another exclusive contest you guys are going to want to check out. A low budget indie flick called AVATAR is going to be in theaters this weekend. To give this flick a some much needed advertising (I mean, I haven't heard anything about this flick at all…), we're going to hold a pretty cool contest in its honor.
OK, all sarcasm aside. I can't wait to see AVATAR and I know you can't either. So the kind folks at Harper Collins Publishers have given me five copies of their movie tie in book, AVATAR: A CONFIDENTIAL REPORT ON THE BIOLOGICAL AND SOCIAL HISTORY OF PANDORA, to pass on to five lucky readers. Check out a few pages of this slick read here. This book is from the same company that gave you the HEADS ON AND WE SHOOT: THE MAKING OF WHERE THE WILD THINGS ARE movie book, so you know it'll be good. It offers a detailed look at the alien world of Panora and all of the creatures that inhabit it.
All I ask is that the five lucky winners promise me to send me a one paragraph/Cheap Shot sized review of the book after receiving it. All of the reviews will be compiled into a single review to be posted in a future AICN Comics column. So send me an email (subject line AICN AVATAR Contest) with your name, full address, and a promise set in stone to write up a paragraph review of the thing once you get it. Emails lacking any of these three things will not be considered for the contest. Best of luck to all and see you in line for AVATAR!
---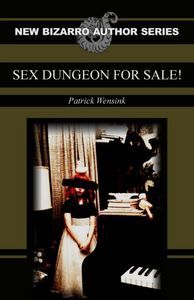 Another contest of a sort is being held by the hilarious Patrick Wensink who wrote a book that piques my interest from the title alone. His book SEX DUNGEON FOR SALE! is about to be released and to celebrate, he has a coloring contest going on which can be found here. Check out this truly unique contest. Looks to be a lot of fun. The contest ends December 14th so crack open those Crayola boxes, click the link, and have at it!
---
Mark L. Miller talks TINGLERS with UVN: Behind the Counter!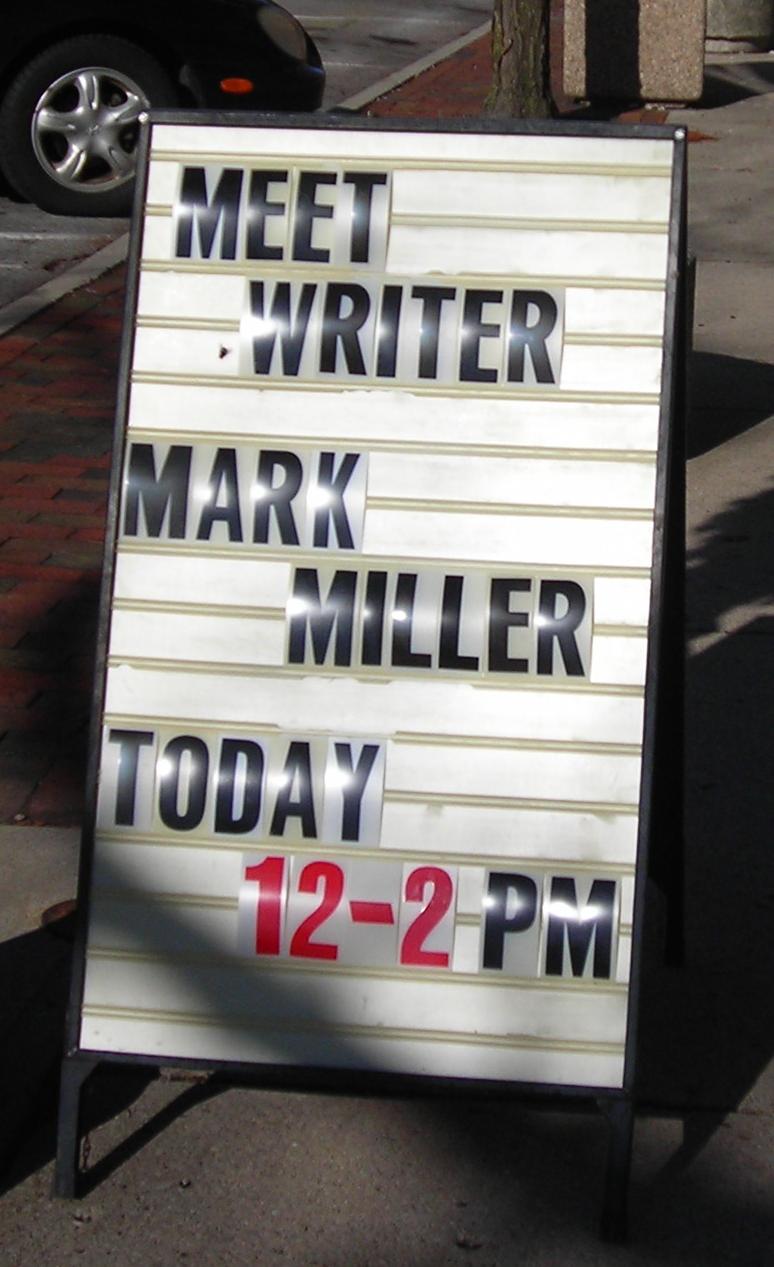 Hey, hi, howdy. Ambush Bug here and our first Q&@ for this week is all about ME! So last week I took my annual Thanksgiving trip to my home town, middle America's Lima, Ohio, and had a chance to do a book signing at Alter Ego Comics for my just released miniseries from Bluewater Comics, THE TINGLER. It was my first book signing and I have to admit I'm still geeking out about it. It's one I'll always remember mainly because I got to see a ton of friends and family and even a few fans of the book and Vincent Price's awesome original movie my comic sequelized.
After the signing, I had a chance to sit down with Mike and Richard, the masterminds behind the Underground Video Network's "Behind the Counter" and talk at length about THE TINGLER. Turns out I already knew these guys from my days slinging comics at one of my first jobs in high school at Lima's first comic book shop, The Comic Connection. Be sure to follow the link to check out this two part interview on VINCENT PRICE PRESENTS THE TINGLER, my role as editor at AICN Comics, the long and sordid history of AICN Comics, and some more thoughts on all things comics.
Much thanks for Marc Bowker at Alter Ego for setting up this event and be sure to check out Alter Ego's website and store if you're in the Lima area. They just moved into a fantastic new store in illustrious Downtown Lima so check them out if and when you ever pass through town.
I also did a recent interview with Jazma online about my upcoming vampire miniseries, NANNY & HANK. It's a book I'm extremely proud of so please check out that interview here.
Ambush Bug is Mark L. Miller, reviewer and co-editor of AICN Comics for over eight years and one of the original @$$holes. Check out his comic book shorts from Cream City Comics' MUSCLES & FIGHTS VOL.3 and MUSCLES & FRIGHTS VOL.1 on his ComicSpace page. Bug was interviewed here and here at Cream City Comics and here and here about his latest comic from Bluewater Comics, VINCENT PRICE PRESENTS: THE TINGLER #1-2. Look for more comics from Bug in 2010 from Bluewater, including VINCENT PRICE PRESENTS WITCHFINDER GENERAL, ROGER CORMAN PRESENTS DEATHSPORT, and the just announced vampire miniseries NANNY & HANK (and check out Jazma Online's new interview with Bug about NANNY & HANK here).
---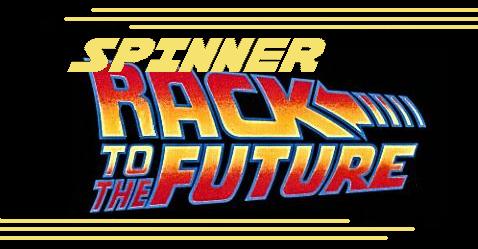 Bug here with another rack full of goodness ready to blow your boots off this Wednesday! Click on the pics to make 'em grow!
Let's start out with a preview of a very cool comic I reviewed in our Indie Jones column a while back. MISTER AMPERDUKE is finally being released and can be ordered in November's Previews. Be sure to check out this truly original original graphic novel and enjoy this preview of the book. Find out more about this book here.
MR AMPERDUKE OGN Writer/artist: Bob Byrne Publisher: Clamnuts Comics Available for order in the November Diamond Previews - NOV09 0705

---
TOY STORY #0 Writer: Jesse Blaze Snider Art: Nathan Watson Publisher: BOOM! Studios In stores this week!
---
NEW AVENGERS ANNUAL #3 Writer: Brian Michael Bendis Art: Mike Mayhew Publisher: Marvel Comics In stores this week!
---
PILOT SEASON: MURDERER #1 Writer: Robert Kirkman Artist: Nelson Blake II Cover: Marc Silvestri Publisher: Top Cow In stores this week!
---
GHOST RIDERS: HEAVENS ON FIRE #5 Writer: Jason Aaron Art: Roland Boschi Publisher: Marvel Comics In stores this week!
---
FARSCAPE: D'ARGO'S QUEST #1 Writer: Keith DeCandido, Rockne S. O'Bannon Art: Caleb Cleveland Publisher: BOOM! Studios In stores this week!
---
SPIDER-MAN: SECRET WARS #1 Writer: Paul Tobin Art: Patrick Scherberger & Terry Pallot Publisher: Marvel Comics In stores this week!
---
LOVE BUZZ OGN Writer: Len N. Wallace Artists: Michelle Silva & Dave Tuney Publisher: Oni Press In stores this week!
---
PUNISHER MAX #2 Writer: Jason Aaron Art: Steve Dillon Publisher: Marvel Max In stores this week!
---
THE ANCHOR #3 Writer: Phil Hester Art: Brian Churilla Publisher: BOOM! Studios In stores this week!
---
AMAZING SPIDER-MAN #614 Writer: Mark Waid Art: Paul Azaceta Publisher: Marvel Comics In stores this week!
---
And finally, check out this sweet @$$ preview for LAVA-ROID!
---
Editing, compiling, imaging, coding, logos & cat-wrangling by Ambush Bug Proofs, co-edits & common sense provided by Sleazy G
---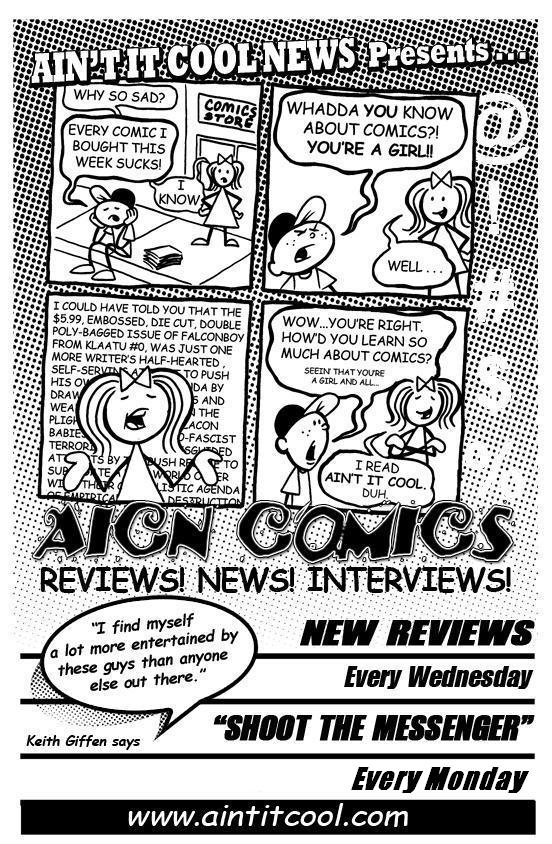 Ad by Prof. Challenger