---
What's SHOOT THE MESSENGER?
Well, AICN COMICS: SHOOT THE MESSENGER is your weekly one stop shop for comic book -EWS. What's comic book –EWS? Well, it's our hodge podge of everything not reviews here at AICN Comics. Sure you can find out the @$$Holes' critical opinions of your favorite books every Wednesday at AICN Comics. But here, you'll find special reports such as previews, interviews, special features, and occasionally news gathered here from our online brethren at Newsarama, CBR, Wizard, etc. Sure those guys are the best at reporting news as it breaks. Click on the links for the original stories. This column cuts the crap to run down all the vital information for those of you who don't follow it as it comes in, and serves it all up with that special ingredient of @$$y goodness.
---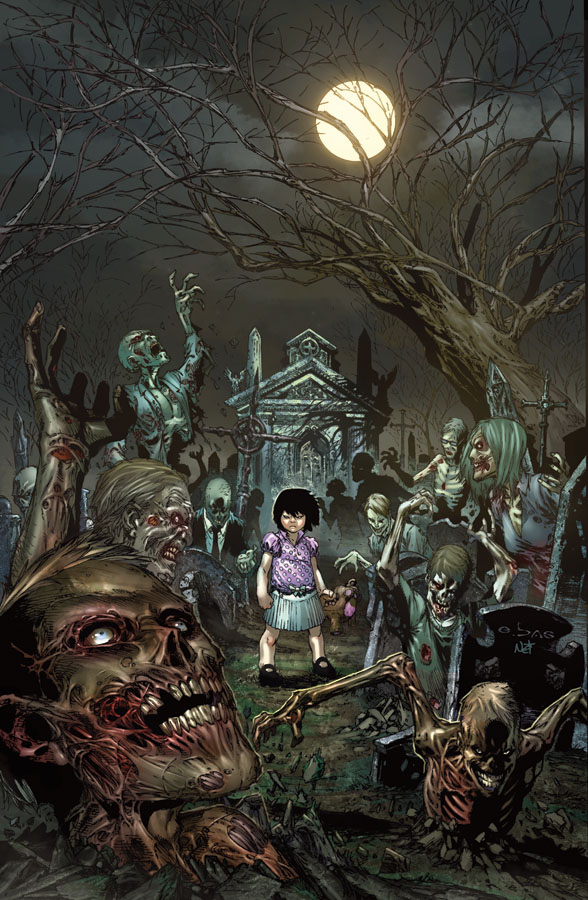 Just because the Holes were busy filling their gullets with turkey doesn't mean we don't have something for you this week. Hey folks, Ambush Bug here. From THE GIFT to WONDERLAND TRILOGY to GRIMM FAIRY TALES to his new book THE WAKING, there are two things you can expect from writer Raven Gregory; scary-as-shit horror and booberific T&A…wait, is that three things? Anyway, Mr. Gregory was kind enough to answer a few questions about his upcoming book THE WAKING from Zenescope Entertainment which is available to order in this December's Previews and in stores in February. Let's see what Mr. Gregory had to say.
AMBUSH BUG (BUG): First WONDERLAND, now THE WAKING. So, like Marvel's ownership of the letter X, are you trying to take claim to the letter W on the comic stands?
RAVEN GREGORY (RG):
Don't forget THE GIFT, but I guess that doesn't work as well.
BUG: Can you give us a basic premise of your new book, THE WAKING?
RG:
In New York City four detectives investigating two random murders begin to discover clues that the victims of these heinous crimes may actually be returning to avenge their own deaths. Now, in a race against time they must discover those responsible for the murders and uncover the supernatural source behind the "wakings."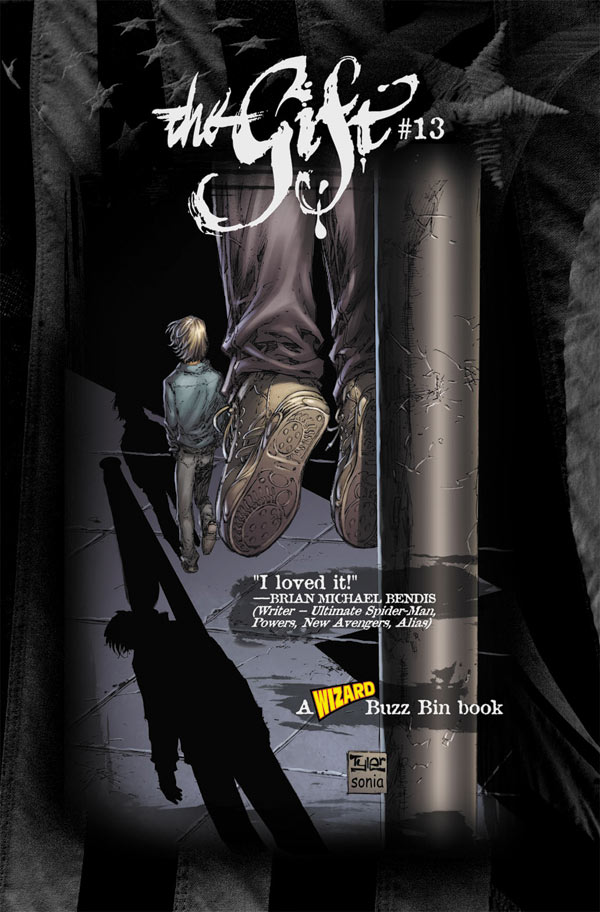 BUG: Horror seems to be your forte. Everything from THE GIFT to WONDERLAND and now to THE WAKING seems to reek of it. What is it about horror that appeals to you?
RG:
I think it has a lot to do with the fact that you never feel more alive, never savor life more than when you're scared. I get that love and hate are a big part of the human makeup but fear makes the world go round. It's that desire to be scared and to scare others that really appeals to me.
BUG: What's the most important factor of horror, specifically in the comics medium for you?
RG:
That's tough because with the rare exception you're not going to make people jump out of their seats. Movies can do that. They have music, mood, and sudden visuals that can do things that comics can't. But comics can sometimes be a much purer form of the idea at the center of the story. I think the theme, and that sense of being able to relate to the characters really is the most important factor if you want to tell a good horror tale.
BUG: Do you think horror gets a bad rap?
RG:
I can't really say. I surround myself, mostly with people who love the art form, so I don't hear the "bad rap" so to speak. I do think there have been waaaaaaaay too many B movies that give campy low budget horror a bad name but for every fifty of those you get a "Paranormal Activity" so it kind of balances out in the end.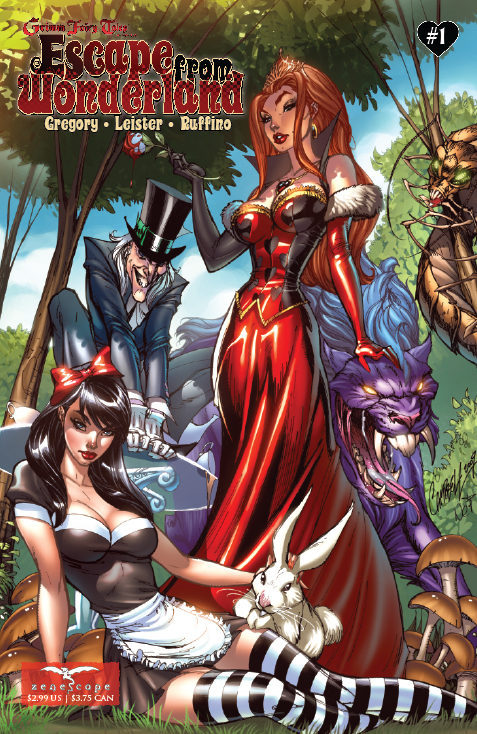 BUG: How is THE WAKING different from your previous projects? Do you see yourself evolving as a writer?
RG:
THE WAKING is a strange beast in that I wrote it back when I was writing THE GIFT, which was about six years back. So the guy who wrote it (had one kid and now I have four) was very gung-ho. Very much wanting to take on the world and kick ass and take names and show my @#$% to anyone willing to take a look. I was really inexperienced but my enthusiasm was at its peak and it was all about the writing because I didn't know about all the other shit that goes into getting your work out into the world.
But shit kept happening that would derail production. Originally Rich Bonk was going to draw the series, then Marlin Shoop, but circumstances would happen and the book just never got done. So for years I would look at this script and polish it here and there and make changes. Then WONDERLAND went really well and
Zenescope Entertainment
was willing to try out THE WAKING. So I polished it again and made changes to it based on the more experienced writer I am today. So with THE WAKING you kind of get the best of both worlds. The writer I was and the writer I am today. I like to think I'm a better writer now than I was then but I think experience is a double edge sword. There's something to be said for the newbie that wants to take over the world.
BUG: You're finishing up your WONDERLAND TRILOGY. Now that this massive three miniseries (plus specials) run is over, what's it feel like to finally finish the series?
RG:
It's High School all over again. I can't wait to finish it and have it done, but there's a sadness in leaving these characters behind. Calie, Johnny, Alice have all become real for me in a very schizophrenic kind of way that all writers aim for. Also it can sometimes take a little while to really catch your stride when you're doing a series. I think we did that in BEYOND. BEYOND came out better than we could have hoped for. We all (myself, Ebas, Dan Leister, Nei Ruffino, Crank) raised our game to another level and complimented one another really well.
They've become some of my best friends over the last couple years. Those guys are the heart and soul of the book and I'm going to miss working with them so closely. Nei Ruffino is already becoming a huge star at DC and I think is fast becoming one of the best colorists in this industry and Dan Leister is just so talented, and has really come into his own. I know, any day now, he's going to be picked up, just depends on who gets him first, Marvel or DC. So there's some sadness that unless the stars align we might not be working together after this series for a long time. So even with the sigh of relief of having done this massive thing, it's still kind of a bittersweet sorrow.
BUG: Occasionally, Zenescope Entertainment gets some flack from critics (admittedly, we here at AICN Comics have commented on it too from time to time) for being too cheesecakey or T&A-centric. How do you respond to those criticisms?
RG:
I could say look at the world, and know that sex sells. It's a part of the world. If it wasn't for sex you and I wouldn't be here right now, so three cheers for sex.
Or I could say that when I originally pitched this series, my pitch was, I always wanted to do a book that by all appearances was a cheesecake book, but upon closer inspection revealed itself not to be a cheesecake book, but a book about a family and how life can sometimes tear families apart.
But neither of those is what should be said. What should be said is that as a writer, you tell the stories that you yourself would like to read with characters that you would want to invest time in to follow and watch grow. No one is going to create something that everyone will love. It just doesn't happen so all we can do is create something that we ourselves love and care about and put it out in the world and let the work speak for itself and hope the fans enjoy it enough to come back for more. When I write a story that's what I'm thinking. Everything else is out of my hands. Sometimes the books gets marketed as such and regardless of what critics might say they sell really well. We do plenty of books without T and A that we love so much like STRAW MEN, CHRONICLES OF DR. HERBERT WEST, SINBAD, SE7EN, FINAL DESTINATION and as great as these books are none of them sell as well as the stuff with the hot chick on the cover.
BUG: In a market as cluttered as comics, what does a relatively new and independent comic company have to do to stand out?
RG:
I don't really have an answer for that other than be passionate about what you create. Put your everything into your stories. Blood, sweat, tears, sacrifice, time, experience, put everything that you are into your story and if you do it well it will connect with someone else out there and really that's all we as creators can ask for. The marketing, politics, retailers, and whoring ones self to the world is a whole another story.
BUG: What's next from you and Zenescope?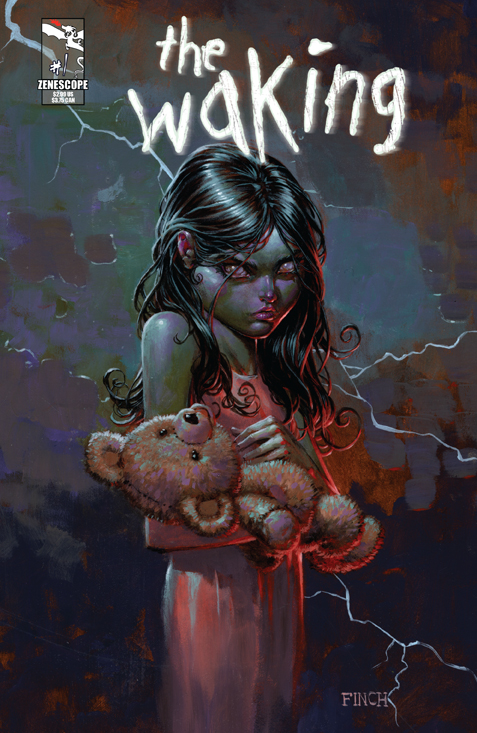 RG:
We have a big announcement to make in a few months about a top secret brand new series that changes everything for the Grimm Fairy Tale universe and ties right in with issue 50 that I'll be working on. Can't say what yet but it's BIG.
Zenescope Entertainment
is also getting ready to launch the new NEVERLAND series which is just an amazing read and I can't wait to see it on the stands. Joe Brusha (president of Zenescope) really wrote his ass off on that one. It has a wonderland ish vibe but it's much more of a dark adventure type story.
BUG: Last chance, why should the AICN readers check out THE WAKING and the WONDERLAND TRILOGY?
RG:
Zombies like you've never seen them before and madness never looked quite this good.
BUG: Thanks for taking the time to answer these questions.
Ambush Bug is Mark L. Miller, reviewer and co-editor of AICN Comics for over eight years and one of the original @$$holes. Check out his comic book shorts from Cream City Comics' MUSCLES & FIGHTS VOL.3 and MUSCLES & FRIGHTS VOL.1 on his ComicSpace page. Bug was interviewed here and here at Cream City Comics and here and here about his latest comic from Bluewater Comics, VINCENT PRICE PRESENTS: THE TINGLER #1-2. Look for more comics from Bug in 2010 from Bluewater, including VINCENT PRICE PRESENTS WITCHFINDER GENERAL, ROGER CORMAN PRESENTS DEATHSPORT, and the just announced vampire miniseries NANNY & HANK.
---
Editing, compiling, imaging, coding, logos & cat-wrangling by Ambush Bug Proofs, co-edits & common sense provided by Sleazy G
---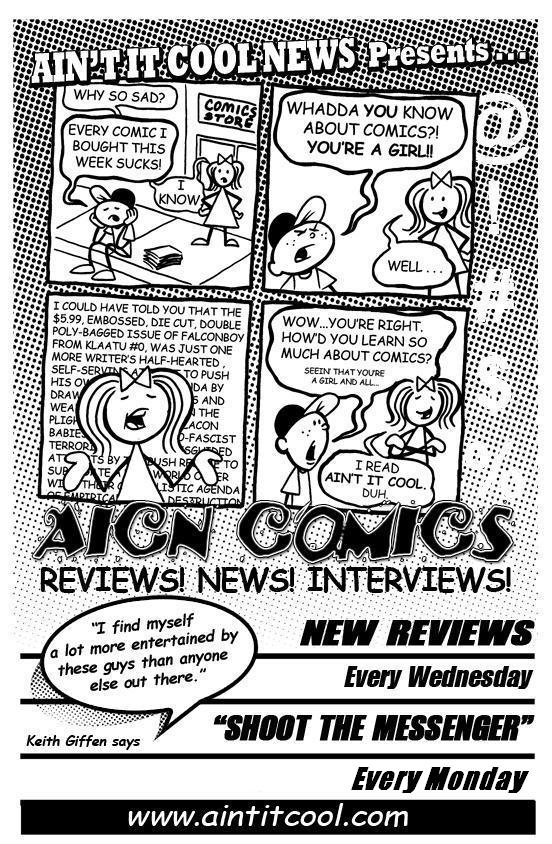 Ad by Prof. Challenger