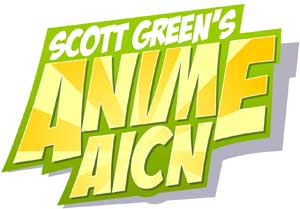 Logo handmade by
Bannister
Column by
Scott Green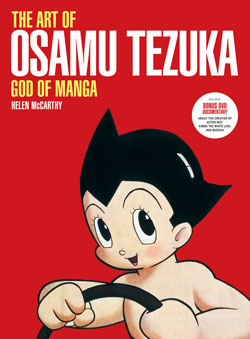 Resource Spotlight: The Art of Osamu Tezuka By Helen McCarthy Forward by Katsuhiro Otomo Released by Abrams ComicArts
As Akira creator Katsuhiro Otomo writes in the introduction to The Art of Osamu Tezuka, Tezuka was not the originator of modern manga or of Japanese animation. He was however instrumental in popularizing and revolutionizing both. As Japanese society changed in the post war decades and the standing of anime and manga changed within that society, Tezuka's artistic, philosophical and business vision shepherded these dynamic media. Anime and manga are as different from each other as any two other media. Both are largely pop, commercial endeavors and the driving economics of studio based anime productions yeild a set of concerns, constraints and motivations that are considerably distinct from those of anthologized manga. Yet, the two media are intertwined. Frederik L. Schodt's The Astro Boy Essays quotes Tezuka in saying that the early 1950's marked a "manga renaissance" ushered in by a confluence of intellectual freedom and the establishment of manga as a mass medium. With audiences looking for something fresh, like a sci-fi story informed by western animation, raised by Tezuka's brilliant storytelling, Astro Boy took hold. A decade later, employing Astro Boy as the star of the first Japanese produced animated television series, Tezuka stamped a pattern into that industry by which manga became its IP engine. With Astro Boy's defining position in the history of anime and modern manga, Tezuka presents a powerful lynchpin holding the two media together. The Art of Tezuka is the great coffee table book tribute to the "God of Manga." In terms of content and dimension, few English language books on anime or manga compare. If you want to put an exclamation point on Tezuka's significance to anime and manga, how about this red covered 12.2" x 9" x 1", four lb titan on your shelf? Even the exhibition hardcovers, such as Murakami's Little Boy or The Manga Anime Syndrome have size envy. The 270 page, 300 illustration book starts by humanizing Tezuka. Especially given what English language fans have to work with, it's difficult to get a handle on a notion of Tezuka the person. Books like the Astro Boy Essays are invaluable resources, but the narrative is nearly incredible. It's not just that this licensed doctor created enduring characters like Astro Boy and Kimba the White Lion, or his role in defining anime and manga, it's that he produce far more work than one might expect a human being capable of. If he lived before the days in which a TV crew could document his labors (the Art of Osamu Tezuka is packaged with a 45 minute Secret of Creation documentary DVD), he might give rise to theories that "Osamu Tezuka" was a committee rather than a person a la William Shakespeare (there's an anecdote in the book that due to early reproduction quality control problems, some suspected that there were multiple "Osamu Tezukas"). Chapter one of the book is an account of Tezuka growing up, as a child, with a family, in the context of Japan leading up and going through World War II. With photographs of and drawings by Tezuka and family, the artist is fleshed out. After a look at the characters that run through Tezuka's body of work, the Art of Osamu Tezuka proceeds to take a decade by decade survey of the output and evolution of Tezuka's work. Finally, The Art of Osamu Tezuka reads the ripples cast by its subject's work such as the critical response and what it inspired inspirations beyond the domains of anime and manga. The primary achievement of The Art of Osamu Tezuka is its accessibility. It couches Tezuka in a way that relies on little foreknowledge of Tezuka, his work, anime or manga. There are more in-depth analyses of the impact of his work and more granular deconstructions of his manga and anime, but the Art of Osamu Tezuka effectively communicates the point in a way that is meaningful regardless of whether or not you approach the book with topical interest. Tezuka grew up around theatre, specifically the female performers of the Takarazuka Revue. Fundamentally, his manga paid tribute to theatre, as seen in the pageantry projected onto works like Princess Knight, but, his works also rejected the stagey way in which manga framed its subjects. Looking to movies and animation, Tezuka dynamically positioned the view by which manga's action was captured in a manner that has been described as "cinematic." What it means to call manga "cinematic," how that quality effected the readers of Tezuka's manga, and the debate as to how cinematic Tezuka's early works really were are all topics that the book puts in comprehendible terms and illustrates with clear example from the manga in question. Even enthusiastic followers of anime and manga have accused the classic Disney/Fleischer informed aesthetic of Tezuka's manga of "looking old." The Art of Osamu Tezuka demonstrates how this is less a function of being of a time as it is what Tezuka felt was an effective mode of conveying his intensions. As far back as 1951, Tezuka was mixing types of expression, as well as introducing meta elements to his manga. Experimental anthology Fossil Island featured sometime hero, sometime anti-hero, sometime villain Rock, along with a songwriter named Kodama and a cartoonist named Osamu Tezuka on a mysterious island, split between realistic appearing waking sequences and cartooned dream sequences. The art of Osamu Tezuka offers a welcome opportunity to see how Tezuka experimented with alternate avenues for stylizing his illustrations. A few years later, in 1953, Tezuka would adapt Dostoevsky's Crime and Punishment into manga. The study in contrasts is amazing as a panicked Raskolnikov hurtles up and down a set of stairs - the zany, yet pained take on Russian tragedy is akin to Woody Allen doing Looney Tunes. I'm not going to enter any Tezuka trivia bees any time soon, but, going into the Art of Osamu Tezuka, I had thought that I had mapped out a sketch of the artist's body of work in my head. Still, I found examples laid out by The Art of Osamu Tezuka to be fascinating and surprising. I'd been curious about 1970's Big Comic anthologized series I.L., but wasn't prepared for the psychedelic and grotesque images of women being mistreated that were captured in that collection of "fairy tales for grown-ups," I.L. Following that interest in Tezuka's mature audience works, again from Big Comic, if I'd heard of Barbara, his story of an alcoholic, hippy muse living on the streets of Shinjuku, I'd forgotten about it. Having seen a couple of panels and reading that Leiju Matsumoto (Battleship Yamato/Star Blazers) and Yasutaka Tsutsui (author of Paprika and the Girl Who Leapt Through Time) make cameos, it's not manga that I'll be forgetting any time soon. Through 2008, the official "OsamuTezuka@World" site had a listing of every Tezuka work. It's publication details for manga and TV/movie release vitals for anime. It's major characters. An overview of its story. And, an explanation of its context and Tezuka's intensions. It also featured a details library of Tezuka's troupe of reusable characters, with their notable appearances and who they were inspired by. This was taken offline in favor of the more aesthetically modern TezukaOsamu.net, with has had "Under Construction" label on the English section since launch, and none of that trove of information. Upon receiving the Art of Osamu Tezuka, I spot checked it for a few of the more obscure objects of my Tezuka fascination - Breman 4: Angels in Hell, the Musicians of Breman fable remixed with Tezuka's previously used story of aliens in animal guise sent to judge humanity, and "battle bikini fantasy" Prime Rose. Looking over the book's chapter on the Tezuka Star System, I was instantly glad that I had something to thumb through when I wanted to find the name of the Lino Ventura modeled heavy Marukubi Boon, or the stalwart, Van Heflin-esque Chikara Aritake. I quickly set myself up with the notion that having the Art of Osamu Tezuka would mean an end to using the Internet Archive to pull up OsamuTezuka@World pages for reference (leveraged heavily in this column's feature on the Astonishing Works of Tezuka Osamu). "Set myself up" probably being the operative phrase in that statement. There's an immortalized image of Osamu Tezuka as his self-cartooned caricature - an abstracted form defined by a bulbish nose, thick glasses and beret. If an unfamiliar person were shown the image out of context and asked to identify the subject's profession, "cartoonist" would not be a surprising response - an abstract notion of Tezuka the manga creator that is stylized as the image itself. That obscures the complexity of Tezuka's role and history. As Helen McCarthy lays out in The Art of Osamu Tezuka, it wasn't a familiar artist's narrative of struggle, ascendance and maybe late battle with the success price. In particular, he went through a difficulty stretch in the 70's that included the bankruptcy of his anime studio Mushi Productions and the notion that he'd become a relic of manga's past. The "God of Manga" is neither unimpeachable in his legacy nor easily characterized. Hayao Miyazaki's Starting Points includes Miyazaki's 1989 essay "I Parted Ways with Osamu Tezuka When I Saw the 'Hand of God' in Him: Tezuka-San was a rival against whom I struggled." In Japanamerica, Roland Kelts quotes animators in discussing "Tezuka's Curse," his low bid on Astro Boy's TV deal that set a template for under-budgeting anime production, forcing studio to bargain creative control for sponsorship funds. Frederik L. Schodt's discusses Tezuka's competitiveness and hard to pin down mix of pride and self-deprecation. To this day, matters relating to Tezuka are difficult to distill. With Imagi's Astro Boy fading out of the box office top 10, it's fair to say that the CG adaptation of Osamu Tezuka's best known creation is not going be buoyed by a late, word of mouth fueled surge of popularity. The movie garnered some moving praise and some harsh criticism, but the general reaction seemed to tend towards indifference. As is often repeated, the Astro Boy character is so embraced in Japan that he's been granted national citizenship. Views on technology and robotics in particular were shaped by this character. Yet, the Imagi movie was quickly knocked off its Japanese box office perch by the live action adaptation of the manga Gambling Apocalypse Kaiji. The movie found some success in China, but most analysis has suggested that this is due to the adoption of the Hong Kong based animation as a Chinese production. The question raised in that case was when will an animated hit be generated pairing Chinese IP and Chinese animators. On one hand, there's little evidence that thee discouraging box office returns were a repudiation of Osamu Tezuka or his work. On the other, it is a black mark on the creator's legacy. Tezuka devotees seemed poised to spread the gospel in the wake of the movie. Leading up, the collection of his experimental short animation, the Astonishing Works of Tezuka Osamu, was finally released in North America. Dark Horse began re-collecting the Astro Boy manga. Right Stuf re-issued the original 1964 anime, as well as Kimba the White Lion. In this respect, Imagi Astro Boy's failure to serve as a vanguard for the character and his creator was subtraction by lack of addition. One take away from Imagi Astro Boy is that any notion of simplicity in these matter is deceptive. Tezuka and his creative progeny can be tricky to handle. For four decades, Osamu Tezuka was a major creator. In 1947, Tezuka was creating works like boy's adventure New Treasure Island, a success story in the swelling wave of post war manga, that may also have been an early statement regarding Tezuka's cinematically minded re-thinking of how to tell stories through manga (he rewrote the story for its Complete Works reprint, partially due to lost or shoddily reproduced material and partially due to the editorial control exerted on the initial publication. As laid out in The Art of Osamu Tezuka, there's some question as to how distinctive the original work was versus the credit it receives due to the later reworks and retroactive acknowledgement of Tezuka's talent and approach.) In 1987, he was at work on manga like the never complete Gringo, an adult story from the Big Comic, concerning the fortunes of a corporate exile sent to a South American country in the middle of political upheaval. This is an artist credited with creating at least 80,000 pages of manga across 400 volumes. After completing a read-through of the Art of Osamu Tezuka, I didn't delete any bookmarks and didn't demote any books from my reference shelf. That said, there's an open sewer grate waiting to be stepped into with "I wish the Art of Osamu Tezuka had more..." Given the scope of Osamu Tezuka's work, it's impact and the complexities of Tezuka himself, it's probably impossible to offer a survey of the type presented by "The Art of Osamu Tezuka" without in some way provoking disappointment or disagreement from Tezuka enthusiasts. Going through the book, I did keep a mental calculations of where I would have liked to have seen a particular work addressed wore thoroughly or more covers, or more interiors or different types of dissenting voices. Ultimately, I believe it is not worth articulating the particulars of these criticisms. The Art of Osamu Tezuka was not going to be some platonic ideal, or a print version of OsamuTezuka@World. It is closer to the full Hitcher's Guide entry than it is "mostly harmless." Yet, I do think legitimately criticisms could be substantiated against gaps in the book that aren't merely a matter of preferred subjects not receiving elaboration. And, I do think that the impression that the coverage was thin in some areas is telling. Many of a Tezuka-philes gripes against the Art of Osamu Tezuka are going to be due to holding it up against an impossible standard, but there is room for debate. As someone who owns copies of all the Tezuka manga published in English, except the bilingual edition of Crime and Punishment and either the bilingual edition of Princess Knight or its Shojo Beat exception, I'm certainly glad to have the Art of Osamu Tezuka as an addition to my resource shelf, but is an addition, and not a supplanting new favorite.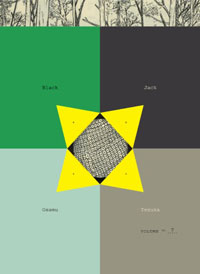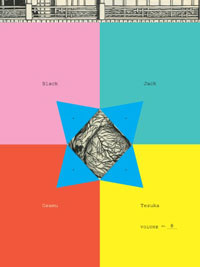 Manga Spotlight: Black Jack Volumes 7 and 8 Released by Vertical Inc
Recently, this column featured an examination of Studio 4C's anime anthology Genius Party, housing the work of notable innovators within the field of animation and beyond. The operating principle of that collection was "seiyaku zero" - zero restrictions. The more I read of and about Osamu Tezuka's medical adventure parable Black Jack, the more I think that the manga was a one man, eight year long Genius Party. In God of Comics: Osamu Tezuka and the Creation of Post World War II Manga, Natsu Onoda Power writes In 1973, Akita Shoten, the publisher of a leading weekly boy's comic magazine Shonen Champion, gave Tezuka a five-week commission to write "anything he wished." Later interviews imply that the editor, who felt sorry for Tezuka for his declining popularity, offered the commission as Tezuka's "last work" before retirement. This work, Black Jack, turned out to be a surprise hit; it earned Tezuka not only regained popularity but also an extended commission that last eight for years. 1973 was in the year in which the home of the 1964 Astro Boy anime that revolutionized the medium's television presence, Mushi Production, went bankrupt. COM, an experimental anthology launched by Tezuka as a response to Sanpei Shirato's alt anthology Garo in 1967, that housed his life's work, Phoenix folded in 1971. As the Art of Osamu Tezuka reports, the 70's found Tezuka the "old man of manga" to the artists who grew up after the age of post war censorship In Black Jack, Tezuka created an avatar that inspired him. When Black Jack made his animated debut in 1979's Marine Express, as one creation in a repurposed medley, Tezuka insisted on animating the character himself. And, the character caught on with readers. It's said that while Astro Boy is Tezuka's most popular character, Black Jack is his most successful manga. Here's a black clad, uber-capable doctor, tragedy and tenacity scarred across his body, whose adherence to his own ethic further branded him outlaw/outcast. Tezuka's embrace of what Black Jack afforded him is evident. On a weekly basis, he had 20-odd pages to probe the subjects and concepts that inspired him, and open them up with the perfect vehicle for his humanist dialectic between compassion for humanity and outrage over the species sins. The Art of Osamu Tezuka features a DVD of NHK's Osamu Tezuka: Secrets of Creation documentary. During the feature, Tezuka is shown working in front of a television. That might not seem like a great idea, but Tezuka's mind apparently constituted something of a universal solvent into which that stimuli was consumed. Chuck Klosterman's claim in the 85% true Killing Yourself to Live that he writes as fast as he reads comes to mind while reading the result of Tezuka's repurposing of the myriad inspiration that struck him while writing Black Jack. As story like Astro Boy's self-sacrifice to protect a village from American bombers in "Angel of Vietnam" demonstrates, Tezuka was never one to write down to an audience. At the same time, he was aware of who he was writing for. Black Jack never abandons the frame of being a adventure for boy readers. It's never without some danger or active feet of daring. Even when the story is location based largely and stayed, there is some grand, physical gesture. "A Cat and Shozo" and "The Two Pinokos" are both largely unextraordinary, location based stories reliant on emotion rather than physicality but the former opens with a cataclysmic avalanche and the latter turns violent as it provokes an anti-corporate crusade. While Tezuka is not ignoring his audience, he isn't writing to their expectations or to the expectations that one might have in regards to material suitable for that audiences. "A Visit From a Killer" is the quintessential Black Jack story. A facially deformed assassin barges into Black Jack's seaside cottage, points a submachine gun at him and declares he'll crimple the doctor in order to prevent him from performing a contracted operation on the president of the Republic of Kwan (according to the footnote, based on South Korean dictator Park Chung-Hee). Simple enough, and in terms of plot, Tezuka does little to turn expectations. However, "A Visit From a Killer" proves to be a great demonstration of Tezuka's rule breaking oscillations in tone. Manga, and Tezuka in particular are far from monotonous, but this is a boundary ignoring extreme case. The man with the gun walks through the door and establishes a dire situation, with its threat of maiming, perhaps slightly darker than might be expected from a work for Black Jack's audience. Then, Tezuka makes overtures towards upsetting that situation with a goofy switch , that again, perhaps might be more extreme than expected from Black Jack. However, that cartoonish cavalcade turns tragic, but even in its most nail biting moment, bubbles of looniness rise up and pop. One of my favorite "Tezuka did this in Shonen Champion?!" inspiring stories is "Gray Mansion." The chapter opens with an example of Tezuka's joyful exercising of the medium. A full page/panel shows Black Jack tip toeing past assistant Pinoko. The facing page is a frameless sequence, along the lines of Norman Rockwell's gossip painting, showing Black Jack brushing his teeth, using the toilet, dressing, then looking for his medic's bag, only to find Pinoko holding it for him by his car. It's a bit of sublimely amusing physical humor, beautifully rendered. The collections of Black Jack that Vertical are publishing aren't in the original order in which the manga appeared in Shonen Champion. Instead, this is the manga as it was organized in later collections. It isn't entirely obvious, but I'd argue that the collections have loose unifying themes. Volume eight focuses on mistaken assumptions or clouded beliefs. I'd say that volume seven is about family, and of the families depicted, "Gray Mansion" features the most disturbing. The pathology of this subject goes absolutely gothic. Once the full blow torch/deformity scope of the situation is revealed, it is further cast into the territory of the sort of 70's horror fair that you might hear about from a Quentin Tarantino or Eli Roth. What happens is as much a "yikes!" provocation as the knowledge that it was spawned by Osamu Tezuka in Shonen Champion and not someone like Kazuo Umezu. Stories within this two volume sample both revive previously used ideas and look forward to future works. The previously mentioned "A Cat and Shozo" is a Satoshi Kon-ish projection of mental misalignment onto reality (or, to be more literary, and use the reference that Tezuka evokes, Quixotic). In this case, a widower seems his deceased wife and children in a trio of stray cats. Cue the cat-woman. Tezuka had done animal people before, going at least as far back as Wonder Three/Amazing Three, featuring a trio of aliens who take the shapes of a rabbit, a duck and a horse. Similarly, the Resurrection chapter of Phoenix (1970-1971) featured a young man revived after an automotive accident (shades of Astro Boy) only to find that he saw humans as artificial constructs and robots as flesh and blood beings. This particular sad relationship between the man and the anthropomorphic cat is creepy and at the same time touching. What the disconcerting humanoid cat most calls to mind is 1984's made for TV animated feature Bagi, the Monster of Mighty Nature, - Tezuka's slinky cat girl denouncement of genetic engineering. Tezuka was apparently aware of but undaunted and unencumbered by the baggage of what he was invoking. I haven't read Vampires (1966-67 and 1968-69), but it's my understanding that it is both a significant work in Tezuka's evolution towards writing mature stories for a mature audience, prefiguring works like Mw and Ode to Kirihito, and that it was met with a mixed reception at the time. Power quotes a number of vehement objections sent to Tezuka by his readers. It turns into a Macbeth tragedy concerning frequently used dark soul Rock, but it opens with an animator by the name of Osamu Tezuka hiring country boy Toppei, who happens to be a vampire that transforms into a wolf. "What Lurks the Mountain" is not a Vampires retelling, but it does feature a character with Toppei's distinctive hair and directly broaches the subject of lycanthropy. Those are the basic mechanics of Tezuka's Star system, a tool that Tezuka works with heavily in Black Jack as the manga sees women like Melmo (Marvelous Melmo) and Sapphire (Princess Knight) and men like Shunsuke Ban (Astro Boy, Metropolis, plenty of others) throughout. Here, Tezuka is taking that non-often reused character and having Black Jack stick his head into the lion's mouth. Standalone, the story is an extraordinary exercise in Black Jack's brand of compassionate hardass-ness. As a thread within Tezuka's body of work, it's akin to the relationship between Uma Thurmans in Tarantino movies - where her Kill Bill roll has more than a passing resemblance to the role that her Pulp Fiction character played in a TV pilot. Back to the Genius Party comparison, the anthology shares its name with Atsuko Fukushima's opening short, featuring a bird creature plucking an idea out of a skull/egg/brain and proceeding to ignite a landscape of neurons. Within his body of work, Tezuka had a legacy of creations that may have been laying dormant. These characters and themes were waiting to be reactivated and in Black Jack, Tezuka is quick to ignite the old stores. Rather than a crutch, Tezuka's reuse of characters and elements from previous works are spun into the configuration of wheels within wheels. Tezuka's emphatic commitment to every inspiration hits more often than it misses, but there are some spectacular strikes. Tezuka gets accused of writing multidimensional, complex female characters with less frequency than males. I'd argue against accusations of misogyny, but when they are leveled, I can see where their coming from. I don't want to speculate about what squabble inspired "Fits", but something put Tezuka in a mood to pen a story that will fuel those criticism. Black Jack's assistant/adopted daughter/"wife" is Pinoko, whose age is zero, about five, or eighteen depending on your reckoning. She was a "teratogenous cystoma" parasitic twin that Black Jack removed and gave an independent, childish body. In Fits, Pinoko is acting like an excited, naive newly wed as she orders furniture from cheap, fly by night outlets to decorate Black Jack's spartan cottage. I credit the Shonen Champion reader with getting the joke. Yet, I'm suspect concerning the extent to which they appreciated it. Never one to allow himself to be confused with a person with a heart, Black Jack orders Pinoko to send the furniture back. Softie that he is, Black Jack allows Pinoko to find him a mercenary medical contract so that he can pay for the piano with which she has become attached. The patient in question is a young woman complaining of abdominal pains, attended by a formal lady of the house, whose head swivels at sharp angles. Black Jack proceeds to diagnose the patient, then slaps her, rips off her bed gown and grabs her by the throat. When she tries to stop him from cutting her open, he declares the malady "hysteria ostentatious stomach pains". Tezuka does not shy away from nudity in Black Jack. Often, female nakedness is handled with clinical medical verite or in undetailed dignity. Here, Tezuka's stand in, Black Jack, is looking to embarrass the woman. While the story was doubtless not intended to be titillating, it does seem relevant that this story was probably serialized during the reign of terror of Go nagai's Kekko Kamen. In that manga, a nunchku weighting masked heroine who only wore the mask, gloves and boots rescued school girls AFTER they're stripped and rigged up in bondage scenarios. This took place in Monthly Shonen Jump, home to kids' classics like Ishinomori's Cyborg 009 and Keiji Nakazawa's (Barefoot Gen) I Saw It. I'm not sure that the intension of Fits was any more feminist. On the flip side, there is "Unexploded Bomb," which encompasses all that's right about Tezuka's approach to Black Jack. It's a dark venture that will put your jaw on a swivel. I'm not sure that I haven't seen lighter revenge stories from Park Chan-wook. Tezuka's outrage over the human cost of military action, private profiteering and government indifference finds a voice here in the black side of his dialectic between compassionate regard for humanities tenacity and rage over its self destructively selfish impulses. The complexities of what he brings to the story complement each other, creating a powerful parable of modern morality
apropos of little…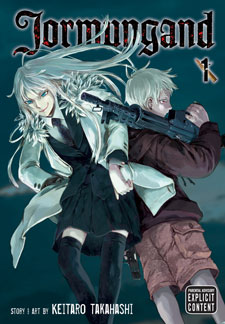 Manga Spotlight: Jormungand Volume 1 by Keitaro Takahashi Released by VIZ Media
My initial impressions of Jormungand rapidly shifted going into the manga. First, I was cautiously optimistic about the prospects of an older audience action title from Viz's strong Signature label. Then, I caught the hints of an irksome, self serious story of a child-assassin. Having read the first volume, I ultimately found Jormungand to be neither what I hoped for, nor what I feared. While I'm not ready to adopt it as a new favorite in a manga genre to which I'm inclined to cling, I did enjoy it more than I thought I might. I developed a genuine affection for some of its sloppiness and spirit, especially in retrospect. However, every refreshing or daring move made by Keitaro Takashi is offset by a move back into familiar territory or undercut by differences in tone or intention that fail to complement each other. Jormungand originates from the anthology Sunday GX, home to a few other gun blazing works, most notably Black Lagoon. Like Black Lagoon, this is an adventure concerning colorful people with firearms operating in a lawless zone. The difference is that while Black Lagoon declares itself a blustering Commando/Rambo: First Blood Part 2 80's action movie, with a modern subtext concerning the pathology of its participants slid in underneath, Jormungand is a 00's action flick with its social conscience a super-text rather than a subtext. The first thing spotted when opening Jormungand is the author's note "my first story is about arms dealers. It's a rather serious topic, but while I draw I'm always smiling and having a lot of fun." Keitaro Takahashi is true to those words. The manga pins itself to the gravity of real issues, then ignores that poignancy in a manner that is more unrestrained than it is irreverent. Humorous digressions are more whim than knowing subversion. Nor is there an apparent awareness of the contradiction between the hang-wringing about armed conflict's human cost, then indulging in military porn, with loving martial expertise, knowing detail on guns, terminology, procedures and so on. Takahashi is in good company in this regard. Hideo Kojima arguably falls victim in his Metal Gear games - similarly Mamoru Oshii (Ghost in the Shell, Patlabor, Jin-Roh) both decries militarism and is evidently fascinated by the trappings of military organization. He's just a bit more haphazard in his evocation of "serious topics." The manga commences with the background of Jonah, a boy orphaned by a "prototype fighter jet and a new type of bomb," employed in a West Asian war. The child soldier turned mercenary embarks on a career of vengeance against the "ones who designed, build and sold the weapons, and the ones who used them." In that pursuit, he signs on with eccentric arms dealer Koko Hekmatya - a rich girl surrounded by exotic mercs, travelling into war zones to make a buck. Jonah slabs in the "serious topic" note of the manga with an unmoving thud. This is a now standard anime/manga character type: sullen kid who has seen and done too much. As in works like Leone/The Profession, this works when it is a difficult concept. The anime series Now and Then, Here and There could be pointed to as an illustration of how soul crushing the notion of a child soldier can be, but if it is just presented rather than developed, familiarity has robbed the idea in and of itself of power. In contrast to Jonah, the Evangelion's Misato meets the Joker chief of the arms dealing enterprise points to what is more distinctive and successful in Jormungand . Koko is an arms dealer looking to solve the death dealing problem from within. Maybe not the best idea, but one Jormungand makes interesting to watch. While "maverick" might have come out of the last American election with some divisive connotations, this exercise demonstrates some of the magnetism to the personality type. Jormungand gets there by both trading in and distinctively twisting manga tropes. Koko evokes the "genki" energetic charter model. She might as well have one of those cute little fangs jutting over a lip. She flails, skips, hollers and otherwise acts like a child who has consumed too much sugar. When the character is not barking, growling, or casting a feral eye over underlings and adversaries alike, she's hamming it up - traipsing around in fuzzy slippers or reacting to a shallow scalp wound by wrapping herself in bandages and stalking around like a mummy. Yet, despite her appearance and behavior, Koko is notably older than many of the manga characters in this sort of action story. While her morality is being questioned, its asked "didn't they teach you ethics in your fancy private college?" Her response... "College? ha! I was too busy working the Balkans!" The manga commenced in 2006. Assuming it takes place around that time and assuming that Koko was involved in the tail end of the Yugoslav Wars, she'd probably be in her mid-late 20's at the youngest, which would make her the "old woman" in plenty of manga. Regardless of whether or not her mission to reform the arms trade from within is a quixotic task, she proves to be canny, with method to her madness. More than the childish adult supervision in the venture, she proves to be a woman with expertise, authority and purpose. And, with Jonah providing some of the muscle, at least for now, Koko's arms deals and plots are driving the manga. Jormungand has its own look and feel. In terms of the narrative, the arms deal based stories place the manga into particular territory. They match Koko's personality; planned, and farsighted, but also audacious, and dynamic in their reactions to adversarial counter-moves. I can't say if the manga's going to transition into more long form stories. I wouldn't be surprised if it did. And, maybe it's a function of lack of faith, but I'd prefer it to say with these tight, quick ventures. In terms of the manga's aesthetic, Takashi gives the manga a rushed look that emanates creative energy. Ferociously jagged lines are more suggestions shaped definitions. The carpet bombed zip tone patterns extend in halos beyond the inked borders. Facial features are shaded over or omitted. Takahashi does not have extemporary judgment in balancing the tones of the manga; that its contrasting elements often weaken each other. The judgment for breaking the rules of manga illustration does seem to be better. The purposefully flawed approach lends a Jormungand a quick and rough spirit that is elaborated upon by the impression of fast cut editing. The manga is mostly compressed of large panels that transition from one angle to the next. While most of Jormungand is aspect to aspect, direction to direction cuts, step by step sequences are reservedly used in action scenes like the knife fight in the volume's finale. I'm not entirely sure that I should accuse Jormungand of being in love with the short hand of manga and its sibling medium, anime, but it certainly does seem to gravitate towards it. Whether it is scenes, such as a group around a dinner table keeling over as result of bad cooking, or designs, such as the post-Evangelion girl with eye patch, familiar touch points are leaned up to establish and develop characters.
Upcoming in North America
Evangelion 1.01 Movie -The First 8 Minutes

*

Not anime, but noteworthy... GKIDS, a distributor of independent films for family and art-house audiences, and the European sales agent Celluloid Dreams announced that GKIDS has acquired US distribution rights to THE SECRET OF KELLS, the highly anticipated new animated film from Irish director Tomm Moore. THE SECRET OF KELLS is a France/Belgium/Ireland co-production of Les Armateurs, Viva Film, Cartoon Saloon and France 2 Cinema and features the voices of Brendan Gleeson (Harry Potter, In Bruges), Evan McGuire and Christen Mooney. The deal for THE SECRET OF KELLS was negotiated by Eric Beckman for GKIDS and Hengameh Panahi for Celluloid Dreams. An Academy qualifying run is set for Dec 4-10 at the AMC Burbank 8 in Los Angeles. Showtimes are 7 PM on weekdays and 2 PM on weekends. The film will be released theatrically in the US in March 2010. SYNOPSIS: Magic, fantasy, and Celtic mythology come together in a riot of color and detail that dazzle the eyes, in this sweeping story about the power of imagination and faith to carry humanity through dark times. Young Brendan lives in the Abbey of Kells, a remote medieval outpost, where he works to fortify the abbey walls against barbarian raids. One day a celebrated master illuminator arrives from foreign lands carrying an ancient but unfinished book, brimming with secret wisdom and powers. To help complete the magical book, Brendan has to overcome his deepest fears on a dangerous quest that takes him beyond the abbey's walls and into the enchanted forest, where mythical creatures hide. It is here that he meets the fairy Aisling, a mysterious young wolf-girl, who helps him along the way. But with the barbarians closing in, will Brendan's determination and artistic vision illuminate the darkness and show that enlightenment is the best fortification against evil?

*

The animated tie in to the upcoming Dante's Inferno game AnimEigo Wildgrounds notes, according to Amazon and several other online retailers, Gosha's samurai movie Onimasa is now announced on DVD for January 12, and Imai's Bushido for February 9 (~$18 each) Bandai Entertainment Bandai Entertainment's February 2010 releases include Eureka Seven ~ Good Night, Sleep Tight, Young Lovers ~ Movie DVD Eureka Seven ~ Good Night, Sleep Tight, Young Lovers ~ Movie DVD (BLURAY) Kurokami The Animation Part #1 DVD (Eps #1-6) Kurokami The Animation Part #1 DVD (BLURAY) (Eps #1-4) a previously solicited and cancel Kurokami (the anime adaptation of series released as Black God by Yen Press) Blu-ray was to feature 8 episodes The Blu-ray will not feature a Japanese audio track Mania has heard from Bandai that "The license for the Japanese audio was not granted for our Blu-Ray release of Kurokami." By all reports, Kurokami has not done well in Japan due to various political/social issues with South Korea that came about at the time of the shows airing. From what has been talked about in forums regarding sales of the series, it's done so poorly in Japan that they're either selling below 500 copies or below 300 copies of each volume. And what's really interesting is that those volumes do contain the English dub, the Japanese dub and the Korean dub, but no English subtitles. Delayed Bandai releases include Code Geass Lelouch of the Rebellion R2 DVD Bundle #3 - 12/1/09 - 1/19/10 Hayate the Combat Butler DVD Bundle #3 11/17 - 12/1 Hayate the Combat Butler DVD Bundle #41 1/5/10 - 2/9/09 Bandai Entertainment Inc. announced today Lucky Star Manga Vol. 2 will be arriving in stores November 16 with Vol. 3 to follow one month later in December Created by Mangaka Kagami Yoshimizu, the popular manga has already been adapted as a 24-episode anime series and OVA which are currently available on DVD from Bandai Entertainment and Kadokawa. Lucky Star's main character is Konata Izumi, a high school girl who isn't interested in much besides anime and video games. Dark Horse

DEVIL #1 (of 4) Torajiro Kishi (W/A) and Madhouse Studios (W/A) On sale Feb Feb 3 FC, 24 pages $2.99 Miniseries Manga artist Torajiro Kishi (Maka-Maka) and blockbuster anime studio Madhouse (Trigun, Paprika, Ninja Scroll) love comics. So much so that they've decided to publish an original, Western-style comic exclusively with Dark Horse! Enter Devil, a thrilling, sci-fi take on the vampire genre. A virus is raging across the planet, turning people into bloodsucking superhumans referred to as "Devils." Most victims die within days, sometimes months, but there's a new strain, a new class of Devil that threatens to overtake mankind with power and bloodthirst. This new class of Devils derive from an experiment to clone a virus victim, and it looks like science has created a true monster this time. Can Takimoto and the Devil Investigation Section of the Tokyo police force stop this societal scourge? We'll just have to see.

HELLSING VOLUME 10 Kohta Hirano (W/A) On sale Apr 28 b&w, 192 pages $13.99 TPB, 5" x 7" Final volume

OH MY GODDESS! VOLUME 35 Kosuke Fujishima (W/A) On sale Apr 28 b&w, 160 pages $10.99 TPB, 5 1/8" x 7 1/4" VAMPIRE HUNTER D READER'S GUIDE Hideyuki Kikuchi (W) and Yoshitaka Amano (A) On sale Apr 21 b&w, 240 pages $13.99 TPB, 5 7/8" x 8 1/4" An international sensation for more than two decades, the now-legendary monster killer known only as "D" has conquered the worlds of movies and comics, and, since the publication of the first novel in English in 2004, is becoming just as popular in America and the English-speaking world as he has been in Japan for more than a dozen novels. Now, for the first time, go behind the scenes of the phenomenon. With rare artwork from Yoshitaka Amano and interviews that shed light on the inspirations for the memorable stories, you'll have a front-row seat at the creation of the two animated adventures of Vampire Hunter D and learn new secrets about the novels through detailed summaries. FUNimation The Robert's Anime Corner Store blog notes that the price for FUNimation's January 19th release of Gonzo mecha anime Linebarrels of Iron Collection #1 DVD Boxed Set (Eps #1-12) has been reduced from $59.98 to $49.98. The English language dub cast will be KOUICHI - Josh Grelle EMI - Alexis Tipton DR. KIZAKI - John Swasey FURUYA - Anthony Bowling HISATAKA - Todd Haberkorn KUNIO - Barry Yandell MIU - Monica Rial OGAWA - Tiffany Grant REIJI - J. Michael Tatum RISAKO - Carrie Savage SATORU - Mary Morgan SAWATARI - Bryan Massey YAJIMA - Joel McDonald CAPTAIN IGARASHI - Christopher A. Sabat Staff ADR DIRECTOR - Caitlin Glass Asst. ADR DIRECTOR - Mike McFarland FUNimation Entertainment will release the first 13 episodes of the soul-hunting action series Soul Eater on February 9, 2010. This will be the first of four half-season sets. Extras will include an episode commentary, a Soul Eater manga preview presented by Yen Press, and textless songs. Del Rey Del Rey's first pamphlet comic style release will be a 24 issue adaptation of Stephen King and Peter Straub's The Talisman IDW IDW willl be launching a third Transformers series, Last Stand of the WRECKERS featuring following the AUTOBOTS special operations crew on a mission to space to confront a new foe. in January. Writer and artist Nick Roche helms this five-issue series, which spins out of IDW's new ongoing TRANSFORMERS series.

Last Gasp If you pre-order your comics and graphic novels, note the Diamon listing of the hard cover edition of Town of Evening Calm, Country of Cherry Blossoms Right Stuf Anime producer and distributor Right Stuf, Inc. and Nozomi Entertainment announced the PIANO: THE MELODY OF A YOUNG GIRL'S HEART DVD Bundle Collection will be available on February 2, 2010 for $$19.99. The series features direction by Norihiko Sudo (Comic Party, To Heart 2), character designs by Kosuke Fujishima (creator, Oh My Goddess! and You're Under Arrest) and art direction by Junichi Higashi (Midori Days, Super GALS!).

PIANO: THE MELODY OF A YOUNG GIRL'S HEART © Animate Film / Pioneer LDC / Kids' Station. Section23 Films Section23 Films has released anime Special A Collection 1 and the live-action horror movie Nu-Meri ~ Book Of The New Spawn Special A Collection 1 assembles the first 12 episodes of the hit TV series, also known as "S.A.," in a single two-DVD set. SYNOPSIS: At age six, Hikari Hanazono was the best at everything, so when she challenged Kei Takishima to a wrestling match, she naturally assumed she would win. Unfortunately, she lost; he won; and the natural order was disrupted. Ever since, Hikari's entire life has been structured around beating Kei at SOMETHING. Unfortunately, try as she might, Hikari always comes up just short. Now he's the top student and athlete at their very exclusive high school and she's right beneath him at number two, (a position that is still, of course, completely unacceptable.) And, just to complicate matters further, even as Hikari dedicates her life to somehow one-upping Kei, she's completely oblivious to the fact that Kei is actually in love with her! Get ready for whole new level of ridiculously dysfunctional relationships as Boy Meets Girl inevitably turns into Boy Beats Girl in Special A – Collection 1! Running Time: 300 min. Age Rating: TV PG Language: Japanese with English Subtitles Published by: Sentai Filmworks Distributed by: Section23 Films SRP: $39.98 Nu-Meri ~ Book Of The New Spawn is the latest addition to Swithcblade Pictures' ever-expanding library of live-action Japanese horror films. SYNOPSIS: There's something wrong at the Pacific Institute… something wrong and evil. For young Mari, whose family has worked in the fishing industry for generations, her studies in advanced genetics and marine bio-engineering represent not just her own the future, but that of her entire family. But when her friend Nanako is mysteriously discovered dead, Mari's dreams turn into her worst nightmares! Because not only was Nanako's body covered with fishbites, she was also growing scales! Now, as a new wave of deaths and tragedies engulf the Pacific team, it becomes all too clear that someone… something… has a new future in mind for all human kind. For centuries man has taken from the ocean, never dreaming what might lurk beneath the waves; now the revelation has begun… and this time, we're the sushi! Running Time: 76 min. Age Rating: Unrated - V Language: Japanese with English Subtitles Published by: Switchblade Pictures SRP: $19.98 UDON Entertainment UDON Entertainment announced that Darkstalkers: The Night Warriors #1 commences a three issue adaptation of the Capcom game series in January Returning to UDON as a cover artist is fan favorite Alvin Lee, who provides 3 connecting covers to the series featuring the entire Darkstalkers cast. Every issue will also feature a variant cover by Emily Warren, The series itself will be written by Ken Siu-Chong, and feature the artwork of UDON's Joe Vriens and Eric Vedder.

Vertical, Inc.

May 2010 Twin Spica, Volume: 01 by: Kou Yaginuma ISBN: 978-1-934287-84-2 Price: $10.95 The Flowers of Edo by: Michael Dana Kennedy ISBN: 978-1-934287-80-4 Price: $26.95 Black Jack, Vol. 11 by: Osamu Tezuka ISBN: 978-1-934287-78-1 Price: $16.95 June 2010 Chi's Sweet Home, volume 1 by Kanata Konami ISBN: 978-1-934287-81-1 Price: $13.95 Full Color / All Ages Gummi Fun by: Hisako Ogita ISBN: 978-1-934287-88-0 Price: $14.95 July 2010 Twin Spica, Volume: 02 by: Kou Yaginuma ISBN: 978-1-934287-86-6 Price: $10.95 Peepo Choo 1 by: Felipe Smith ISBN: 978-1-934287-83-5 Price: $12.95 Black Jack, Vol. 12 by: Osamu Tezuka ISBN: 978-1-934287-79-8 Price: $16.95 August 2010 Chi's Sweet Home, volume 2 by: Kantat Konami ISBN: 978-1-934287-85-9 Price: $13.95 Full Color / All Ages 7 Billion Needles by: Nobuaki Tadano ISBN: 978-1-934287-87-3 Price: $10.95 City of Refuge by: Kenzo Kitakata ISBN: 978-1-934287-12-5 Price: $14.95 Viz Media

VIZ Media has announced the upcoming release of Taiyo Matsumoto's celebrated manga GOGO MONSTER on November 17th. GOGO MONSTER will be published by the company's VIZ Signature imprint, rated 'T' for Teens, and will carry an MSRP of $27.99 U.S. / $36.00 CAN. Third grader Yuki Tachibana lives in two worlds. In one world, he is a loner ridiculed by his classmates and reprimanded by his teachers for telling stories of supernatural beings that only he can see. In the other world, the supernatural beings vie for power with malevolent spirits who bring chaos into the school, the students' lives, and even nature itself.

VIZ Pictures will release the science fiction feature 20th CENTURY BOYS 1: BEGINNING OF THE END on DVD on December 15th for $24.92 US / $35.99 CAN. The 20th CENTURY BOYS saga was directed by Yukihiko Tsutsumi (who also directed the live-action film, HAPPILY EVER AFTER which is also available from VIZ Pictures) and is based on a popular manga series by Naoki Urasawa. It all begins in 1969 when a young boy named Kenji and his friends write "The Book of Prophecy" in which they write about a future where they fight against an evil organization trying to takeover the world and bring about doomsday. Years later in 1997, a mysterious cult being lead by a man only known as "Friend" emerges and begins to gain strong influence over society. A series of catastrophic events begin to occur mirroring the prophecies made up by the young Kenji and the greatest fear is the climax of "The Book" becoming a reality; December 31st, 2000, a terrifying giant virus-spreading robot will attack the entire city of Tokyo leading to the end of mankind. The only people who know about "The Book" are Kenji and his childhood friends. Who is "Friend"? Will Kenji and his friends be able to save mankind and live to see the 21st Century?

Children of the sea, Vol. 1 (available now) and Vol. 2 (available December 15) • Rated 'T+' For Older Teens • MSRP: $14.99 U.S. each / $17.50 CAN each When Ruka was younger, she saw a ghost in the water at the aquarium where her dad works. Now she feels drawn toward the aquarium and the two mysterious boys she meets there, Umi and Sora. They were raised by dugongs and hear the same strange calls from the sea as she does. Ruka's dad and the other adults who work at the aquarium are only distantly aware of what the children are experiencing as they get caught up in the mystery of the worldwide disappearance of the oceans' fish. CHILDREN OF THE SEA is a surreal and riveting aquatic adventure from Daisuke Igarashi. Igarashi was given the Award of Excellence by the Japan Cartoonists Association in 2009. GOGO Monster • Rated 'T' For Teens • MSRP: $27.99 U.S. / $36.00 CAN Third grader Yuki Tachibana lives in two worlds. In one world, he is a loner ridiculed by his classmates and reprimanded by his teachers for telling stories of supernatural beings that only he can see. In the other world, the supernatural beings vie for power with malevolent spirits who bring chaos into the school, the students' lives, and even nature itself. This story continues to show creator Taiyo Matsumoto's fascination with youth as he seamlessly blends themes of alienation with the paranormal as a boy in first grade contends with events in both the physical world and the spirit realm. Taiyo Matsumoto's other works, such as BLUE SPRING, NO. 5, and TEKKONKINKREET: BLACK & WHITE (all published in North America by VIZ Media), have won tremendous international acclaim. TEKKONKINKREET won a prestigious Will Eisner Award in 2008, and was also adapted for an animated feature film.

YU-GO-OH! r, Vol. 1 (available now) and Vol. 2 (available December 1) • Rated 'T' for Teens • MSRP: $9.99 US / $12.99 CAN YU-GI-OH! R is the shocking sequel to Yu-Gi-Oh!: Duelist and the prequel to Yu-Gi-Oh!: Millennium World. When the follower of an old enemy returns to take revenge, Yugi Mutou must duel to save a friend's life. But can he overcome the power of the three "Jashin," the terrifying Evil God Cards? Creator Kazuki Takahashi built an action-packed adventure based on themes of friendship and fighting, and combined lots of weird and imaginative monsters to make YU-GI-OH! The international smash hit that spawned a real-world card game, multiple video games, and three anime series. Bonus trading card in the first print run. Shojo BEAST MASTER Vol. 1 • Rated 'T+' For Older Teens • MSRP: $9.99 US / $12.99 CAN • Available November 3rd Leo Aoi looks like a crazy animal with wild eyes – and no one at his new high school will go near him! He does seem to have a special connection with animals, which intrigues overzealous animal lover, Yuiko Kubozuka. In reality, Leo isn't nearly as frightening as he appears, but Yuiko finds out that he goes berserk whenever he sees blood! Will Yuiko be able to get through to Leo during one of these violent fits? Or will his ferocious side eventually devour her? The debut volume also includes a special bonus short story called FLY.

THE ART OF GENTLEMEN'S ALLIANCE † • MSRP: $19.99 US / $27.00 CAN • Available November 17th Renowned manga artist Arina Tanemura exemplifies the shojo style with this collection of highly stylized artwork presented with a swirl of billowing ribbons, romance and heartbreak. The glossy illustrated edition features designs for all the major characters from THE GENTLEMEN'S ALLIANCE † and includes exclusive art for the North American edition and a full color double-sided, fold-out poster. Tanemura is a prolific manga artist and the creator of several popular shojo series such as I-O-N, TIME STRANGER KYOKO and FULL MOON (all of which are published in North America by VIZ Media). HOT GIMMICK VIZBIG Edition, Vol. 3 • Rated 'T+' For Older Teens • MSRP: $17.99 US / $24.00 CAN • Available December 15th FUSHIGI YUGI VIZBIG Edition, Vol. 4 • Rated 'T+' For Older Teens • MSRP: $17.99 US / $24.00 CAN • Available December 15th
Cool Figures News
Liz Ohanesian at the LA Weekly Blog got a good look at the spectacular Gurren Lagann Yoko Dollfie

*

To be released by Dark Horse Domo 2" Mystery Qee Figures Series 2 Display Case On sale Mar 24 15 figures $134.85

Domo 2" Qee Series 2 Figures Domo Qee Flocked Classic Brown Domo Qee Skeleton Domo Qee Flocked Pink Domo Qee Metallic Orange Domo Qee Rusty On sale Mar 24 $8.99

*

The delayed Super7 x Gargamel Clear Hawaii Hedoran will be available at the Super7 Store and online Saturday, November 14th

*

Yamato USA is taking preorders for Fantasy Figure Gallery - Touch of Ice by Luis Royo. The 6", Shunjii Hagii sculpted figure is limited to 2,500 pieces worldwide.

*

Collection DX on

bug exterminator robot girl Hoi Hoi-San 1/6 scale Kaneda and bike from AKIRA CollectionDX participates in the custom Yoka show at DesignerCon 09 Neostorm's Robot Taekwon V Denpa Ningen Tackle lady bug tokusatsu woman from Kamen Rider Stronger Revoltech keeping it classy

For Macross fans... New Macross F Gashapon from Megahouse Macross (and Kamen Rider figures) 1/10 Minmay & Mylene Figurines 2010 Release On the Gundam front "Ring of Gundam" Mecha Design & Others from Gundam Ace December Issue Banpresto's Gundam War Collection Vol. 1 & 2 Introduction Gundam x Seven Eleven Half Age Girls Review of Revoltech's Juza gets rather silly/amusing at the end custom Casshern
Upcoming in Japan
Promos Gintama: Shinyaku Benizakura-He (Gintama: Benizakura Arc — A New Retelling) Kara no Kyoukai (Garden of Sinners) - movie 7 Yona Yona Penguin (Rintaro of X and Metrpolis fame's CG, 3D children's movie) Bungaku Shoujo (Literary Girl) - Production I.G's upcoming movie Fumihiko Sori's To Higanjima - live action based on Koji Matsumoto's manga Ogon Yusha Goldran - 1995 mecha anime getting a DVD box set Darker than BLACK - Kuro no Keiyakusha side story Gundam 00 movie Kamen Rider Decade & Double: Movie Taisen 2010 Assault Girls images and info more Yamato: Rebirth trailers The Girl Who Leapt Through Time (new live action) teaser Anime Madhouse's 12 episode Iron Man and Wolverine anime will hit Japan in mid-2010, with Iron Man on Animax in the second quarter and Wolverine in the third quarter. A US release is planned for 2011.

*

The DVD release of CLAMP's Kobato will feature an original Flash animated short Manga Kodansha has confirmed that it will launch two new manga based on the Ghost in the Shell: Stand Alone Complex television anime series in December. Ghost in the Shell: Stand Alone Complex - Tachikoma na Hibi, will launch in the January