---
What's SHOOT THE MESSENGER?
Well, AICN COMICS: SHOOT THE MESSENGER is your weekly one stop shop for comic book -EWS. What's comic book –EWS? Well, it's our hodge podge of everything not reviews here at AICN Comics. Sure you can find out the @$$Holes' critical opinions of your favorite books every Wednesday at AICN Comics. But here, you'll find special reports such as previews, interviews, special features, and occasionally news gathered here from our online brethren at Newsarama, CBR, Wizard, etc. Sure those guys are the best at reporting news as it breaks. Click on the links for the original stories. This column cuts the crap to run down all the vital information for those of you who don't follow it as it comes in, and serves it all up with that special ingredient of @$$y goodness.
Welcome to another edition of Shoot the Messenger, all. Before we get started, we've got some sad news to report. Sheldon Dorf, founder of the San Diego Comic-Con, passed away last week at the age of 76. Last year was the first time I attended the colossal event. It was a truly a memorable experience and a testament to Mr. Dorf's undeniable mark on the comic book industry. You can read more about his passing here. R.I.P. Sheldon Dorf…
---
Bug Talks TUMOR with Joshua Hale Fialkov!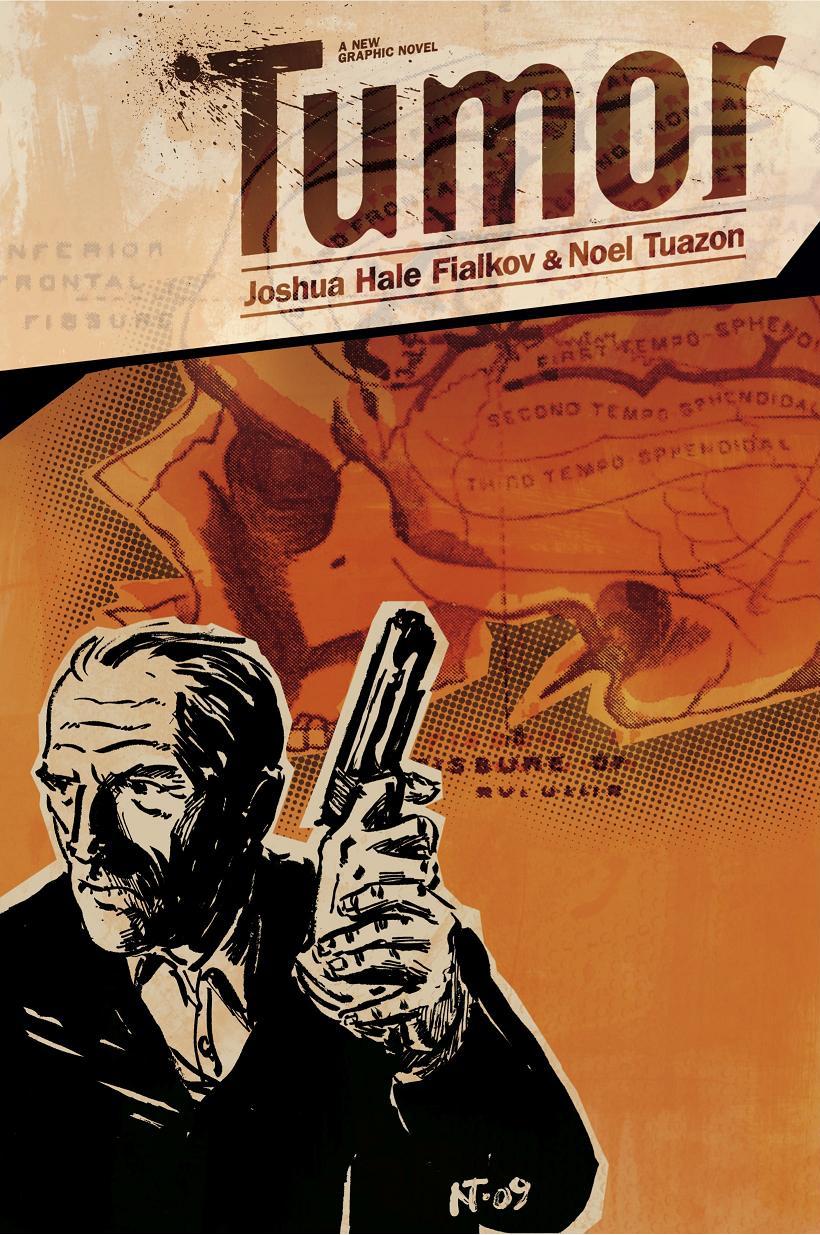 Hey folks, Ambush Bug here with an extra special Q&@ this week with the writer of the hit Amazon Kindle comic book series TUMOR, Joshua Hale Fialkov. As the series comes to a close, Joshua was able to answer a few questions I lobbed his way about TUMOR, the future of comics, and the upcoming release of the hardcover collection of TUMOR from Archaia. Here's what Joshua had to say.
AMBUSH BUG (BUG): So for those who haven't been paying attention to this awesome miniseries, can you describe the premise of TUMOR?
JOSHUA HALE FIALKOV (JHF):
TUMOR is a Los Angeles noir about a p.i. who gets handed a huge moneymaking case to find and protect a missing girl on the same day that he's diagnosed with a terminal brain tumor. He decides that he's going to go out with a bang and do something right for the first time in his life. Of course, as he's protecting this girl, he's having the symptoms of a brain tumor, so, he loses time, has seizures, hallucinates, and has violent mood swings.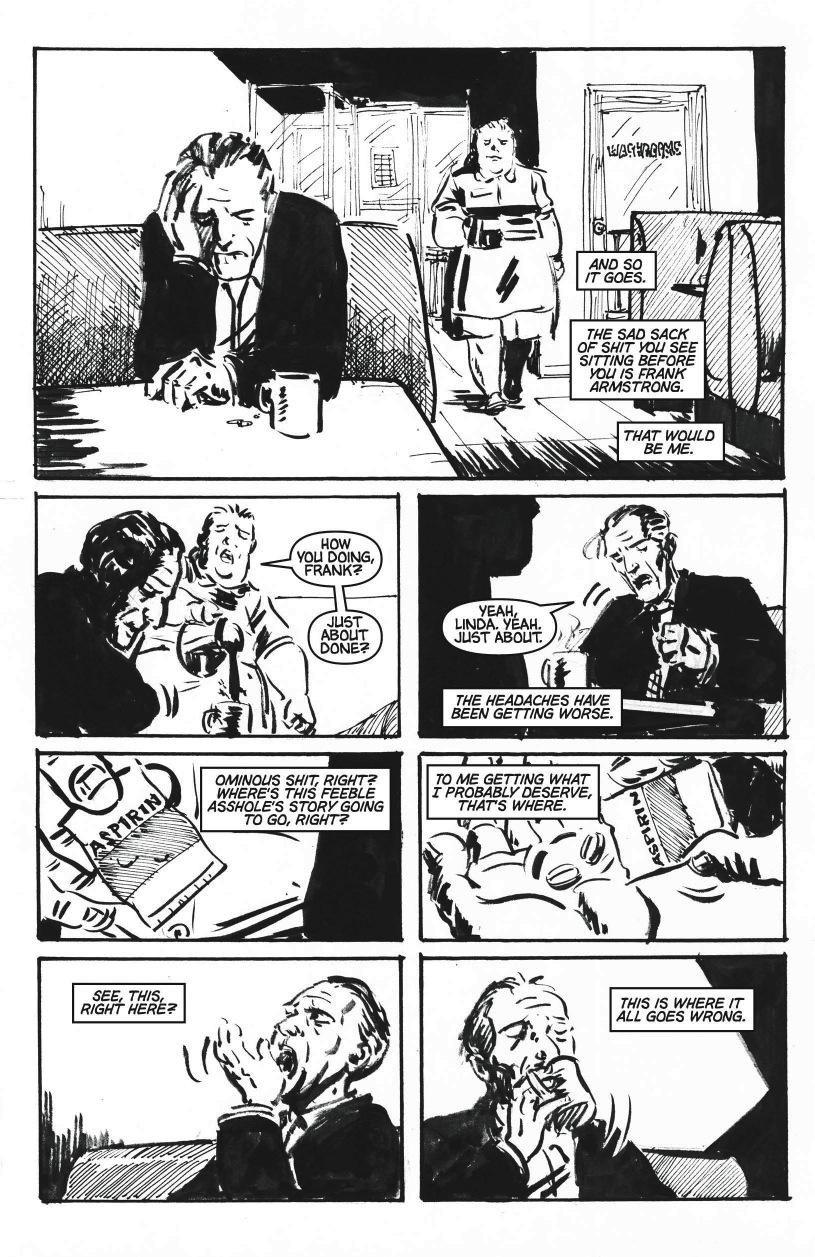 BUG: The book has been available through Amazon Kindle. Is this the first time a book has been released that way? How did this deal come about?
JHF:
We're certainly the first original graphic novel on the device. There's been comics available for some time, but they're all reprints of previously published material. For the entirety of its release TUMOR #1 has been the #1 comic on the Amazon Kindle, so that's been pretty exciting. The idea really just came out of a conversation between (Archaia bigwig) Stephen Christy and I about how much we love our kindles, and how it really captures that feel of the pulps (the screen look and feel) and comics (the serialized distribution) perfectly.
BUG: You had an extremely tough time releasing the final issues of ELK'S RUN, but TUMOR seems to have run pretty smoothly and to have been released pretty consistently. What lessons did you learn in between the release of these two books?
JHF:
That's what led me to digital comics, really. The fact is that the comics industry as a whole is not healthy enough to support most independent comics. The idea for me has always been that you use the individual issues as a loss-leader anyways, but, with the roadblocks of Diamond thresholds and the massive increase in printing costs, it's just not economically feasible for most indie creators to do the single issue format anymore.
With TUMOR, we planned on the series being a book from day one. It was always intended to be released to the world as a beautiful and substantial hardcover. With the Kindle release we got the benefit of releasing individual issues, which is a marketing and 'brand awareness' thing (look how douchey I sound!), without the financial risk. I also think that it makes people excited to finally get the book in print, both new readers and those who've followed the digital version. For me, digital first with a well designed, extras loaded collection is the way of the future.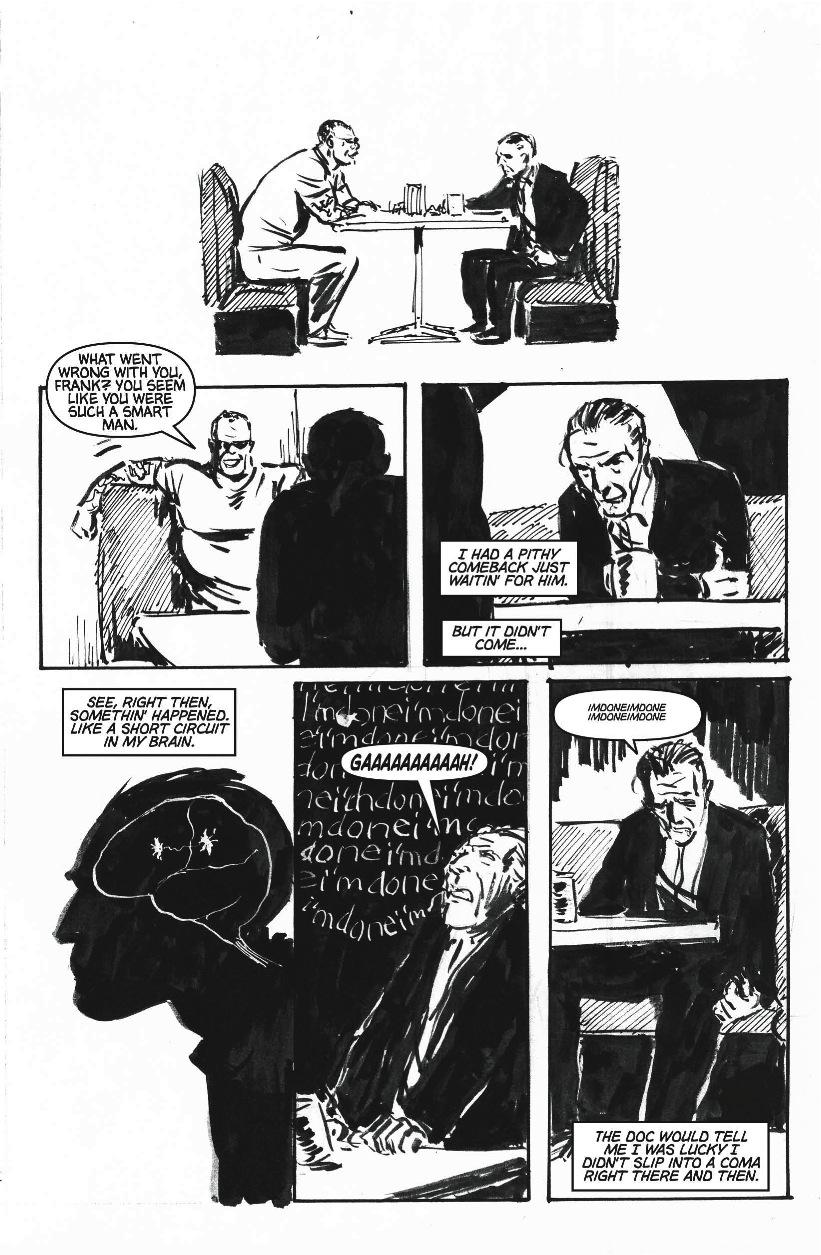 BUG: At San Diego Comic-Con this year, there seemed to be a trend of a push to more digital comics released through iPhones and other computer avenues. How do you feel about this shift towards a more digital age of comics? Are printed comics going the way of the dinosaurs?
JHF:
I think that Marvel and DC will be publishing monthly comics for a long while to come. But, you're going to start seeing less and less indie stuff delivered that way. The fact is that there's just not a lot of room in the market, or, frankly, a lot of interest for non-mainstream work. There's amazing retailers who've made it into their bread and butter, but, for the most part, most comic shops in this country subsist on the regular income of well-scheduled mainstream event comics, and random independent books from, to them, B and C level creators just don't cut it.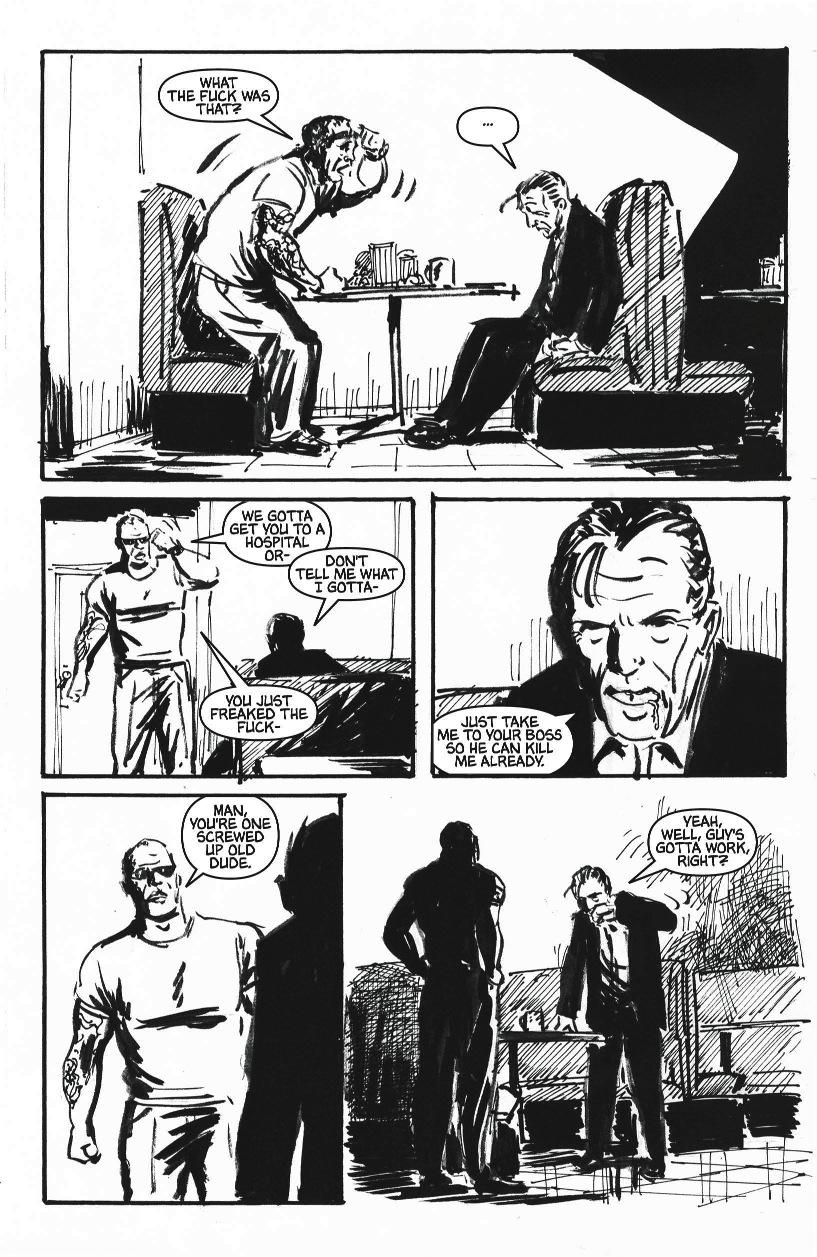 BUG: The themes of TUMOR are definitely noir based. I detected a bit of a MEMENTO vibe in this one. What influenced you for TUMOR?
JHF:
I probably owe the biggest debt to a film noir directed by Rudolph Maté from 1950 called D.O.A. (Which for the record, is not to be confused with the 80's remake or the creepy movie starring Jamie Pressley.) D.O.A. Is about a man who's poisoned and has twenty four hours to find his murderer. Yes, that's where CRANK got it from. The other big influence was a tv miniseries by Dennis Botter for the BBC called THE SINGING DETECTIVE which follows a crime novelist with a debilitating skin condition who imagines the next novel in his series of books while hallucinating about his life leading up to the point we first meet him. It's probably the best six or so hours of television ever created, and like I said, it's a masterpiece worth stealing from.
BUG: You really feel for the central character of TUMOR. He is literally falling apart throughout this entire story and it's devastating to see his mind and body begin to fail due to the tumor. With such a deep emotional resonance to this story, one would assume that this is a highly personal story for yourself. Is this true or are you just that damn fine a writer?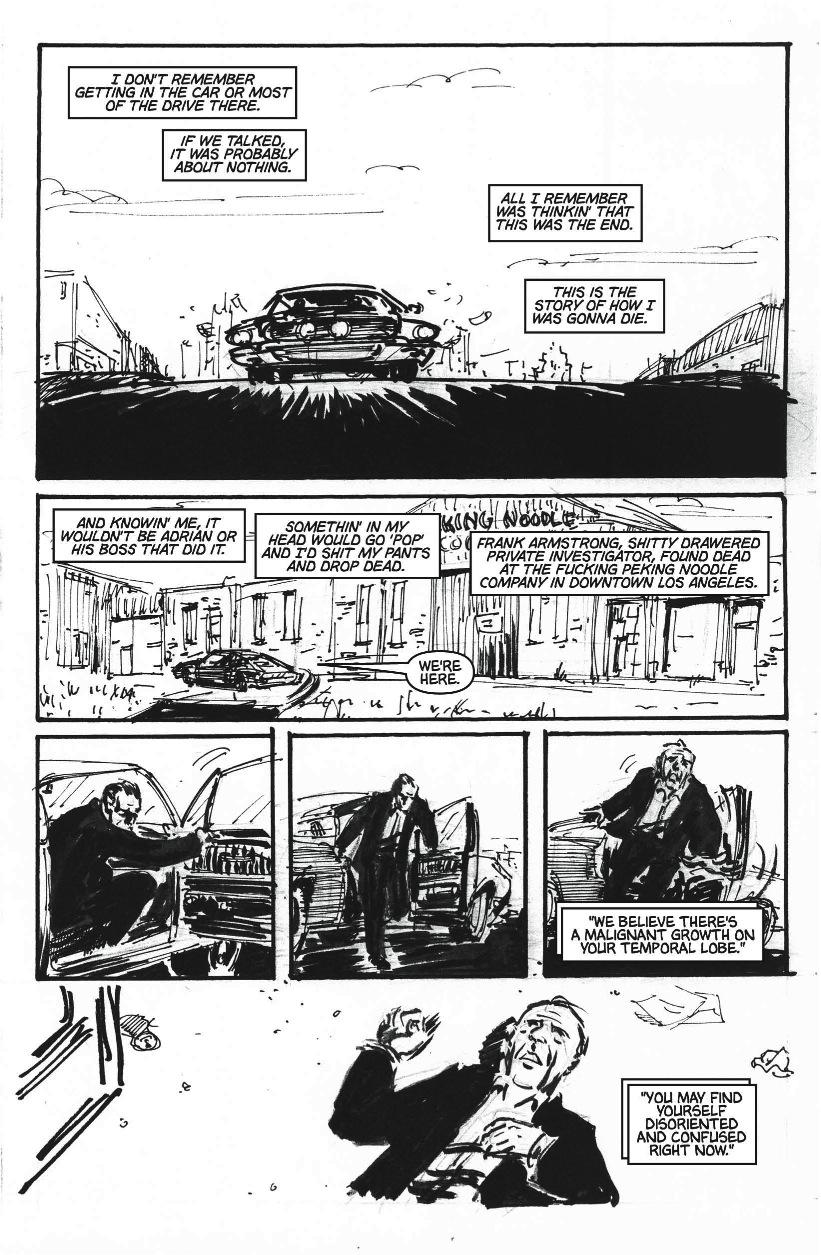 JHF:
I'll take the latter, please. Look, I've had some pretty fucked up health problems over the course of my life, and I suffer from a lot of things that made me paranoid that I had a brain tumor, so I just became fascinated with the way the human brain functions and how ones' body reacts to that being tampered with.
A lot of my writing comes from my own worst nightmares, and losing my ability for cognitive thought is pretty damn far up the list. I think it's a recognizable fear for the reader as well because no matter what a person believes, at their core they know that their brain is who they are, and without it they're nothing.
BUG: Your selection of artists on this and ELK'S RUN have been a fantastic match of tone and content. I couldn't imagine those stories told from a different artistic hand. How did you go about finding the artist for this fantastic looking mini?
JHF:
Noel (Tuazon) and I worked together on ELK'S RUN prior to TUMOR, and there's a chemistry between us that really works for me. Noel's art is certainly far from the mainstream of comics, but, I think he draws with an energy that you see in the early 20th century's cartoonists. There's a rawness and an emotion that comes through every panel. His characters feel alive and vibrant in a way that an ultra-rendered or photo-real drawing can't. He manages to make the reader identify with the characters more because they fill in the lines with their own memories and characters from their lives.
BUG: Now that TUMOR's in the bag, what's next for you?
JHF:
Noel and I have a couple more projects that've been percolating for quite a while, and we should be starting the next one in a month or two. In addition to that, I've got a new series that'll be coming out from Oni Press with art by Tony Fleecs sometime next year, and another crime comic I'm doing with Rahsan Ekedal who drew a book I did some work on last year for Dark Horse called THE CLEANERS. Plus assorted work for hire gigs--the one I'm most excited about is a new Western one-shot for Top Cow.
BUG: Last chance, why should everyone order TUMOR in this month's previews and buy it when it hits the stands in...when does it hit the stands again?
JHF:
I hear from people all the time who complain about event driven superhero comics and how 'samey' so much of the medium has become. There's a lot of material that's totally different than everything else being released from the indie publishers, and, if you want the industry to change you have to take the chance and order them. That's the only way that the industry can change.
the official website here) and will ship in late January or early February. It's available right now for pre-order on Amazon.com as well. And, if you still aren't convinced, you can check out the entire book in a Flash-based reader here!

BUG: Thanks for taking the time out for this interview. Good luck--TUMOR is a fantastic piece of work.
JHF: Thanks!

BUG: Look for TUMOR in this month's Previews and when it hits the stands in late January or early February. It's a fantastic piece of fiction. Be sure to check it out.
Ambush Bug is Mark L. Miller, reviewer and co-editor of AICN Comics for over eight years and one of the original @$$holes. Check out his comic book shorts from Cream City Comics' MUSCLES & FIGHTS VOL.3 and MUSCLES & FRIGHTS VOL.1 on his ComicSpace page. Bug was interviewed here and here at Cream City Comics and here and here about his latest comic from Bluewater Comics, VINCENT PRICE PRESENTS: THE TINGLER #1-2. Look for more comics from Bug in 2010 from Bluewater, including VINCENT PRICE PRESENTS WITCHFINDER GENERAL, ROGER CORMAN PRESENTS DEATHSPORT, and the just announced vampire miniseries NANNY & HANK.
---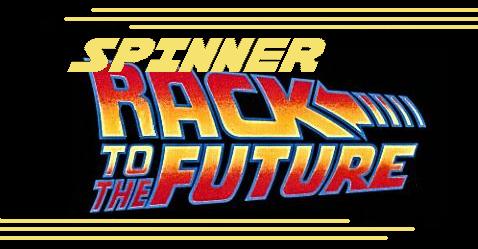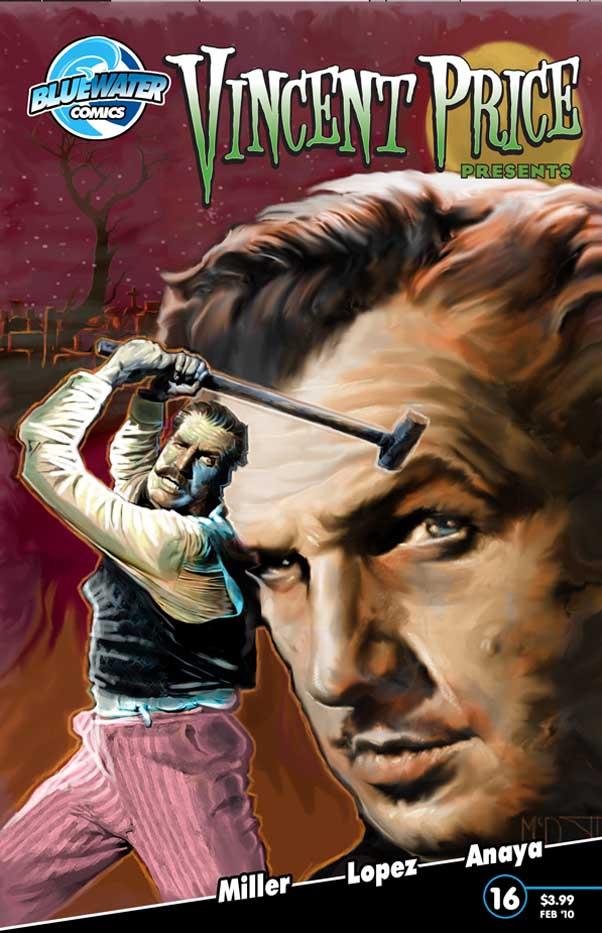 Bug again. Here's another slew of previews for you all to enjoy, starting with my own comic coming out this week, VINCENT PRICE PRESENTS THE TINGLERS #2. And as a special treat, check out the cover to my next stab at comic booking, VINCENT PRICE PRESENTS #16, which focuses on another one of my favorite horror classics, WITCHFINDER GENERAL (also known as THE CONQUEROR WORM). Look for that book in stores this February, 2010. Click on the pics and watch 'em grow!
VINCENT PRICE PRESENTS THE TINGLERS #2 Writer: Mark L. Miller Art: Alex Lopez Cover: Buzz McAdam Publisher: Bluewater Comics In stores this week!
---
NOLA #1 Writer: Chris Gorak & Pierluigi Cothran Art: Damian Couceiro Publisher: BOOM! Studios In stores this week!
---
TRACKER #1 (of 5) Writer: Jonathan Lincoln Artist: Francis Tsai Covers: Tsai, Darick Robertson Publisher: Top Cow In stores this week!
---
RESURRECTION #5 Writer: Marc Guggenheim Artist: Justin Greenwood Publisher: Oni Press In stores this week!

---
SUPER REAL Vol.1 Graphic Novel Story & Art: Jason Martin Guest art: Josh Howard, Jim Mahfood, and various Publisher: Super Real Graphics Available in January. Listed in November Diamond Previews: NOV090909

---

TANK GIRL: SKIDMARKS #1 Writer: Alan Martin Art: Rufus Dayglo Publisher: Titan Books In stores this week!

---

DEADLOCKE #1 Writer: Arvid Nelson Based on the yound adult novel VENOMOUS by Chris Krovatin Art: Nick Stakal Publisher: Dark Horse In stores November 18th!

---

WITCHBLADE #132 Writer: Ron Marz Art: Stjepan Sejic Cover: Sejic, Nelson Blake II Publisher: Top Cow In stores this week!

---

WALL-E #0 Writer: J. Torres Art: Morgan Luthi Publisher: BOOM! Studios In stores this week!

---

Editing, compiling, imaging, coding, logos & cat-wrangling by Ambush Bug Proofs, co-edits & common sense provided by Sleazy G




---

Ad by Prof. Challenger