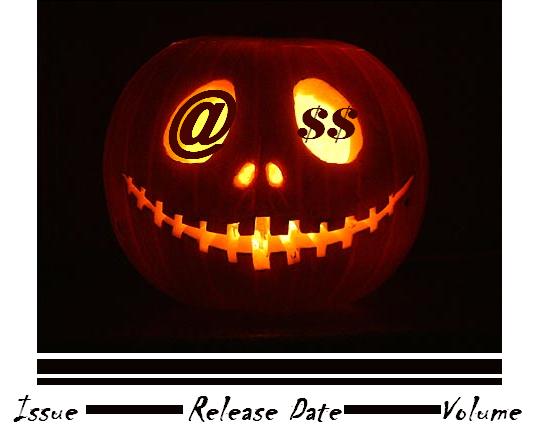 ---
The Pull List (Click title to go directly to the review) Guest Review/Contest Winner: HEADS ON AND WE SHOOT: THE MAKING OF WHERE THE WILD THINGS ARE DC HALLOWEEN SPECIAL '09 One-Shot VAMPIRE HAIKU OGN COWBOY NINJA VIKING #1 MIGHTY AVENGERS #30 GRIMM FAIRY TALES HALLOWEEN SPECIAL #1 FVZA #1 JUSTICE LEAGUE OF AMERICA #38 STAR WARS: KNIGHTS OF THE OLD REPUBLIC #46 VINCENT PRICE PRESENTS THE TINGLER #1-2 Big Eyes For the Cape Guy presents GANTZ Vol. 7 Indie Jones presents… Raiders of the Long Box presents Halloween Comics worth digging for!
---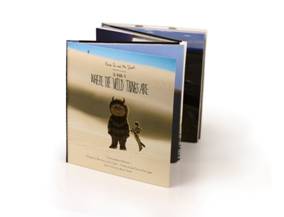 Winner of the WHERE THE WILD THINGS ARE Contest Review!
HEADS ON AND WE SHOOT: THE MAKING OF WHERE THE WILD THINGS ARE
Editor: McSweeney's Editorial Publisher: Harper Collins Guest Reviewer/Contest Winner: DOC
Whether it was because of my eviscerating wit or the amount of Ambush Butt I must've kissed, I have been blessed by the wooly mammoth gods themselves with a signed copy of HEADS ON AND WE SHOOT: THE MAKING OF WHERE THE WILD THINGS ARE. Now, I can see all your chubby jealous pink faces staring at the screen hating every typed word, but please bear with me, because this book (should I call it an experience?) is one of the deepest, most revealing behind the scenes movie books I've read. Don't be jealous. The book is either the greatest yearbook you've ever seen (none of your class mates were ten foot tall monsters) or the most artistic and beautiful DVD featurette you've ever seen. The book splits into three sections while opening like a giant 'W'. The design reminds me of the odd creative perfection of the original Sendak masterpiece, or Spike Jonze's labor of love, the construction and execution comes across as bizarre, creative, and fun all at once.
I've seen behind the scenes books and movie picture books of all types, but the content here is where this book goes the extra length. The story is told via interviews of Spike, Maurice Sendak, Dave Eggers, the actors and the crew all discussing every step of this five year process. Handwritten notes are scrawled in between interviews and pictures adding another layer of info and fun to the whole package. I'm assuming if you're reading this you've seen the movie, and you'll recognize the beauty of the film in almost every photo in this book. Seeing the double page spreads of the boat crashing through the water, or a headless wild thing teasing with the crew, it adds a depth to the movie that I don't think you'd see otherwise. I don't want to ruin any of the twists and turns illuminated within but I have to say I was surprised by a lot of it. I have read almost every article and interview on AintItCool, but the things I didn't know about the behind the scenes on this movie I can just about fit into the Grand Flipping Canyon. The insights and photos are inspiring. I have all the big Henson books and the "Star Wars" behind the scenes; this one trumps them in every way.
The book, as well as the movie, reflects a real innocent soul. Pictures of thousand dollar costumes and sets are matched with pictures of kids smiling at a parent's camera, a typed afterword by Spike is just as touching as a chicken scratch list of numbers (i.e. how many times someone was punched, how many times someone cried, how many people found romance, etc.) Max Records comes off as poetic as Maurice Sendak. Everyone simply believes in the project and did everything they could for it, and it shows. It's a wonder they don't make books this beautiful and touching for every large production. Heck, maybe they do. But I doubt any of them are as heart warming and fun as this one. If you see it at the library, get it. If you see it at a bookstore, just flip through it for a second, the images alone will entice you; the words will convince you that hanging out with Spike Jonze must be somw of the coolest and most contagious fun you'll have. It's a great companion to a great film based on a great book.
---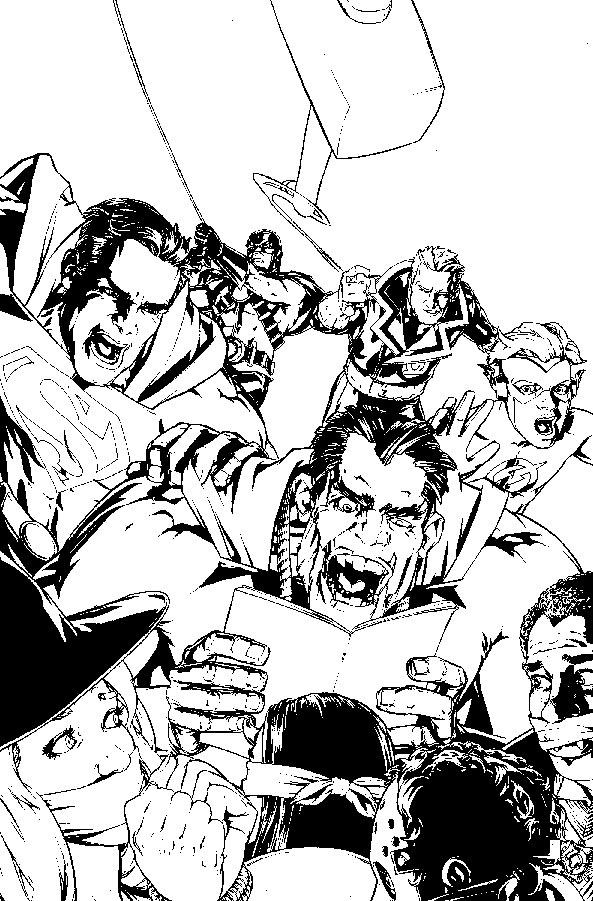 DC HALLOWEEN SPECIAL '09 One-Shot
Writers: Lotsa folks Artists: Lots more folks Published by: DC Comics Reviewed by: BottleImp
"You know, I've really learned something today. Halloween isn't about costumes, or candy. It's about being good to one another, and giving and loving." "…No, dude, that's Christmas." "Oh, then, what's Halloween about?" "Costumes and candy."
I wish DC's editorial staff had taken heed of the wise words of the foul-mouthed children of SOUTH PARK, and not tried to turn Halloween into a Very Special holiday. Granted, only a couple of this one-shot's stories veered into that saccharine category, but that was enough to sour the whole deal for me. That, and the fact that the stories that managed not to fall into the realm of maudlin didn't have much life to them. I mean, come on, people! It's Halloween—why not give some love to all those characters that tread the line between Superhero Fantasy and Horror? Why not Etrigan, or Dr. Occult, or the Spectre? Why not Swamp Thing or Dr. Fate? Hell, why not Solomon Grundy, Blue Devil or the rest of the SHADOWPACT third-stringers? Geez…anyway, here's my rundown of this one-shot.
Bizarro in
Unhappy Halloween
—This framing story written by Jake Black is one of the more successful chapters of the comic. Though the whole opposite schtick gets old reeeeeaaaaal quick, the notion of Bizarro flying door-to-door giving other Bizarro-people fruits and vegetables as "treats" and mowing their lawns as "tricks" is pretty cute. Ibraim Roberson also provides some pretty nice art to go along with the gag.
Guy Gardner in
Halloween the Guy Way
—Guuuh. I don't know what Adam Schlagman was thinking when he wrote this one. The basic premise sounds like gold—Guy Gardner, the frat boy of the Green Lantern Corps, throwing a Halloween bash on the planet Oa. So why did Schlagman choose to sully it with pointless flashbacks to Guy's unhappy childhood with his abusive father? The juxtaposition is clumsy, forced, and takes space away from what should have been the focus: the party. See the above quote, Schlagman. Mark Bagley, whose work I really liked back when he was doing NEW WARRIORS, really phones it in here with boring and sometimes downright clunky artwork.
The Creeper in
What Creeps Out the Creeper
—This fun one page filler by Duncan Rouleau makes me wish that the Guy story had been chucked and Rouleau allotted those pages to work with.
The Outsiders in
Seeing is Believing
—Finally, a story with a touch of Halloween horror…albeit a small one. Really, Kelley Jones' art is the only thing that keeps Michael Siglain's script from falling squarely in the realm of Superhero Fantasy, vampires, Frankenstein monsters and all. But hey, at least the Outsiders don't wax poetic about their childhoods.
Batman in
Halloween Trick and Defeat
—This is a fun little story that really could have taken place any time of the year; the holiday just provides the setup for the story's punchline. Decent work from writers Art Baltazar and Franco Aureliani, and very nice art from Sergio Carrera.
Robin in
Cavity Search
—The new Damian Wayne Robin takes on a dentist-turned-psychopath "Sugar Tooth." What could have been a creepy, SAW-like story ends up being just as bland as the rest of this issue. Maybe the short story format was really hard to work with for writer Derek Fridolfs, but the pacing seemed off, and what little excitement Dustin Nguyen could bring to the table with his art didn't make enough of an impact.
Red Robin in
Our Father's Sins
—Boo. A trite piece of crap that has nothing to do with Halloween at all. At. All. A big "F" to writer Ariel Thomas. Sorry you had to waste your time illustrating this, Matt Triano.
Ravager in
Lady Down the Lane
—Whatever.
Kid Flash in
Mirror Games
—This is another one that has so much potential, but the elements never quite gel. Writer Joe Harris' idea of Mirror Master being afraid of the "Bloody Mary" ghost story is great, and the art by Andrei Bressan works well, but once again I think the space limitations hampered what could have been a better story.
Beast Boy in
Never Too Old
—Cute.
Wonder Woman in
Haunted or Hoax
—This one has me perplexed. Okay, so writer Mandy McMurray is trying to say that Wonder Woman is so naïve that she would believe that a "Blair Witch"-style horror movie was real? How long has she been living in America now, even in comic-book time? Since when was Wonder Woman so gullible? And why, when the Teen Tits…I mean, Titans are frolicking in a pool does it look like they're being electrocuted? Scott Clark's art (doing its best Michael Turner impersonation) doesn't save this story from being a dog.
Superman & the Flash in
To the Finish Line
—Probably the most successful chapter in this one-shot. Writer/artist Billy Tucci crafts a fun story with a great twist ending and some of the best drawing of the whole book. This would have been the perfect place to end the issue, on a real artistic high note…
But then we get another boring story. Superman in
My Turn to be Scary
—Joshua Williamson pens a story of the Daily Planet haunted house (oooookayy…if you say so) and Superman using his powers to terrify teenagers. Okay art from Peter Nguyen makes this a mediocre entry, with the final pages of the Bizarro chapter finishing off the comic.
Seriously, DC—would it have been so difficult to put together a Halloween special that actually felt like Halloween, especially given the whopping $5.99 cover price? Word to the wise—this is one comic better left on the stands.
When released from his Bottle, the Imp takes the form of Stephen Andrade, an artist/illustrator/pirate monkey painter from the Northeast. You can see some of his artwork athere. He's given up comics more times than he can remember. But every time he thinks he's out, they pull him back in.
---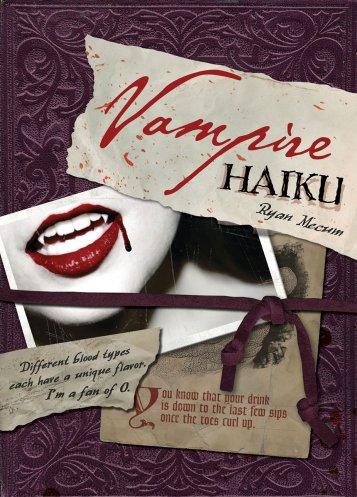 VAMPIRE HAIKU OGN
Writer: Ryan Mecum Art: Lisa Kuhn Publisher: HOW Books Reviewer: Ambush Bug
Keep your mouth on tight. Lips firmly pressed against skin. (Due to the spurting).
From the ghoulish bard who brought you ZOMBIE HAIKU, Ryan Mecum counts out his five-seven-five syllable poetry to the tune of another creature of the night and peppers in some deliciously moody imagery from Lisa Kuhn to sweeten the deal. Sure, these days when the word vampire comes up, folks are more likely to roll their eyes rather than hide under the covers. But I'm not one of those who avoids all things vampire just because pop culture tries its damndest to neuter it with product geared toward tweens. Before it was trendy, I was a vampire fan, devouring all forms of movie, TV show, book, and comic if it passed before me. Here in VAMPIRE HAIKU, a classic story is told through the eyes of a newly turned vampire in sweet haiku verse and every passage is as cool as they come.
Blood tastes like cherries. Mixed with a lot of copper. And way too much salt.
Just as the fantastic ZOMBIE HAIKU followed a man trying to survive the zombie apocalypse and then continued to follow his poetic experiences as he is bitten and slowly turned into a zombie himself, VAMPIRE HAIKU charts a similar journey as a pilgrim boat makes its way across the Atlantic to the new world. The young man finds that it is not safe to wander the boat at night and soon meets a frightening end and a new beginning as he encounters a vampire named Katherine. For the rest of the book, our poetic vampire Forrest Gumps through three centuries, offering a glimpse at world famous events through new blood-shot eyes. The Boston Tea Party, the Alamo, the release of Bram Stoker's tell-all novel, Amelia Earheart's famous flight, Woodstock, the Viet Nam War, the Son of Sam Killings, the Branch Davidian Compound fiasco, Woodstock II, and even the rise in vampire movies in cinema is all game for our vampire to wax haikus about.
If this were real life. Ed would have looked at her neck. Bite, dead, burp, credits.
As fun as this story is, the use of haiku never gets trite or old. Mecum is actually a pretty good poet mixing frightening observations with clever humor. One haiku will make your belly jiggle with laughter, the next will make your skin shiver, and sometimes both occur at once.
You know that your drink. Is down to the last few sips. Once the toes curl up.
VAMPIRE HAIKU is accompanied by mixed media art by Lisa Kuhn. The imagery is as random as the ping-pong-y storyline, but fitting as the media changes through the ages to reflect the passing of time. Pages are splattered with blood and ash and set the stage for an even moodier experience. From the classy front cover to the ashen and blood smeared pages within, Kuhn offers up one treat for the eyes.
Discarded band-aids. Are rare unexpected treats. My version of gum.
In the end, this is yet another creative installment from Ryan Mecum. I'm wondering where this ghoulish poet will go next. This one is more narrative and seems a bit more substantial thematically and emotionally than ZOMBIE HAIKU (mainly because the character is longing to find the beautiful and elusive vampire who turned him), but like that book, it takes everything you love about the genre and puts it under a fresh new light. For those looking for something different to read this Halloween, VAMPIRE HAIKU is definitely unique and aside from the poetry, it holds a compelling story.
I only need blood. But sometimes I eat apples. Well...Adam's apples.
It's VAMPIRE HAIKU. It's highly recommended. You best check it out.
Ambush Bug is Mark L. Miller, reviewer and co-editor of AICN Comics for over eight years and one of the original @$$holes. Check out his comic book shorts from Cream City Comics' MUSCLES & FIGHTS VOL.3 and MUSCLES & FRIGHTS VOL.1 on his ComicSpace page. Bug was interviewed here and here at Cream City Comics and here and here about his latest comic from Bluewater Comics, VINCENT PRICE PRESENTS: THE TINGLER #1-2. Look for more comics from Bug in 2010 from Bluewater, including VINCENT PRICE PRESENTS WITCHFINDER GENERAL, ROGER CORMAN PRESENTS DEATHSPORT, and the just announced vampire miniseries NANNY & HANK.
---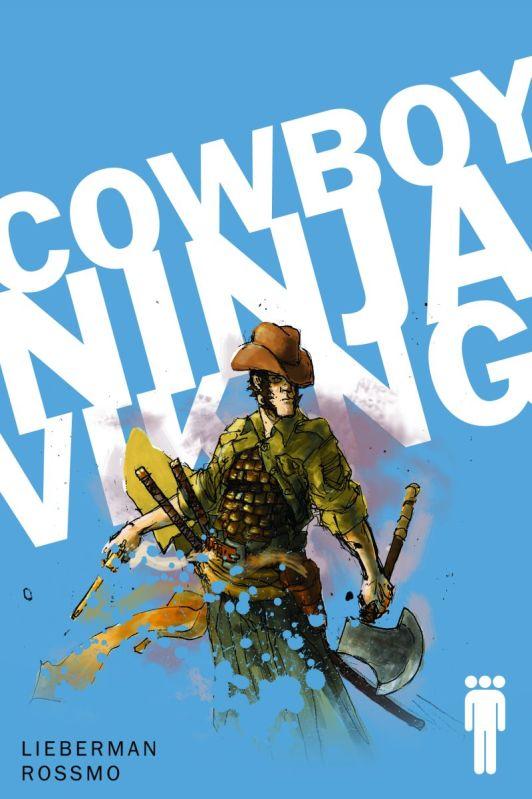 COWBOY NINJA VIKING #1
Writer: A.J. Lieberman Artist: Riley Rossmo Publisher: Image Comics Reviewer: Humphrey Lee
COWBOY NINJA VIKING is a comic book that immediately invokes a couple things I love about the medium of comic books. Firstly, it took me approximately four pages into reading this to realize "OH FUCK! This is the guy who actually made Hush interesting!" when it came to A.J. Lieberman. I do not know why, but seeing a writer or other creative member who I had completely forgotten (sorry AJ) is like when you recognize someone in a movie as the snobby neighbor from a cancelled HBO series; you can't help but bask in your media savvy as you relegate someone's career to a bit of obscure trivia. Secondly, it makes my inner child fist pump over the idea that not only could he have been any one of these three occupations when he grew up, but he was selling himself short by thinking he had to choose only one. And lastly, there's the thrill I enjoyed from this book simply out of the joy of trying out something pretty, well, outrageous and gimmicky and having it pay off tremendously, as COWBOY NINJA VIKING did in spades.
In all honestly, I pretty much never go for these damn mash-up books. Ninjas versus Pirates. Zombies versus Aliens. Zombies versus fucking Robots? Obama versus Deadites. Republicans versus Reality. All these random pairings that any intern with five hours to kill pumps out for a cheap cash grab. But, at the same time, I absofuckinglutely love Riley Rossmo – he being of PROOF fame – and his art, and his name alone, since apparently I could not place the writer (sorry again AJ!), made me feel that maybe there would be more to it than a vain attempt at a fistful of green bills. The end result was definitely much more satisfying than I ever could have hoped, in that it was something well thought out and executed. And that reveled in the nature of what it was, which I always appreciate. Chances are if you are dabbling in these waters you're not exactly going to set the industry on its head with any sort of big, unexpected twist, but if you can find a somewhat fresh approach to the material, and you can poke a little fun at yourself whilst telling an interesting yarn, then you definitely have something I am going to, well, extol your virtues about for a paragraph without actually talking about the plot yet, apparently.
Now, the plot of COWBOY NINJA VIKING is that, uh, well he's a Cowboy Ninja Viking. Or, more apt, he's a multiple personality who was trained/programmed to harness each one's unique skill set. Again, like I said above, a nice little twist on the norm in these books that enables me to play along, as well as the execution of the book in general. Really, it's the little things that make this book work, and so much fun, like where our CNV has his internal, uh, "monologues" and each personality gets a special word balloon that has their weapon of choice sticking out of them. And there's a lot of seamy black ops/espionage goings on to flesh out the story, also including some very witty, sometimes tawdry, wordplay that really makes this an enjoyable ride on top of the gimmick that drives it all.
As for the main attraction that brought me to this tri-polar dance, the sublime Riley Rossmo art? Still sublime BUT! with the caveat that as good as the art looks here, I kind of wish the water-colored look that is a mainstay on PROOF with his art had followed him here, as in CNV the "coloring" is just a bluish monochrome. Overall I guess it doesn't matter, because the art style of his I love so much, which is one that loves to use its stencil lines to add a little "roughness" to the work, all while using great shading to fill out a very detailed picture, is still very much intact. I just think the full on coloring job makes it pop a lot more than the smattering of color we get here, as there does tend to be some excess of lines in his work that can make an image look a little heavy. With color those tend to become consumed, but here they occasionally just end up looking muddled. A very small complaint though, on a job by someone who has easily become one of my favorite artists in the industry in recent years.
COWBOY NINJA VIKING is one of those rare occasions where something that should be nothing but a guilty pleasure ends up being way deeper and better written than it probably deserves. I know that sounds a little back-handed, but it's actually a great compliment as far as I am concerned and probably made for the biggest and best surprise I've had in my comic book reading in a good couple months now. Shockingly enough, I would daresay I am hoping for lots more action to come, because except for one poor bastard getting his head split like a sandwich bun, it was surprisingly adrenaline light, but the quick pace for the story and the witty writing still made it highly entertaining. Jaded as I have become as a comic book reader, what should have been a cheesy distraction instead turned out to be an extremely gratifying read that I am actively looking forward to more of. That in and of itself is a mighty feat these days, and I would like to thank the creative team behind this from the bottom of my cold dead heart. And, added bonus, I have an impromptu Halloween costume idea if need be. This book is just the gift that keeps on giving.
Humphrey Lee has been an avid comic book reader going on fifteen years now and a contributor to Ain't It Cool comics for quite a few as well. In fact, reading comics is about all he does in his free time and where all the money from his day job wages goes to - funding his comic book habit so he can talk about them to you, our loyal readers (lucky you). He's a bit of a social networking whore, so you can find him all over the Interwebs on sites like Twitter, The MySpaces, Facebookand a Blogger Account where he also mostly talks about comics with his free time because he hasn't the slightest semblance of a life. Sad but true, and he gladly encourages you to add, read, and comment as you will.
---
MIGHTY AVENGERS #30
Writer: Dan Slott/Christos Gage Artist: Sean Chen Inker: Mark Morales Publisher: Marvel Comics Reviewer: Rock-Me Amodeo
If you didn't go "Holy Crap!" by page two of this book, then you haven't been reading comics long enough to appreciate the significance of what was going on.
Man, I can't tell you how pleased I am with this book over the past year. After the "Invasion" event, I think it struggled to find itself. But this was supposed to be the bigger-than-life Avengers book, not the guys that hide out in someone's apartment. These were not supposed to be the guys that fly to Harlem and stand around for a while. These were supposed to be the guys you call when the world, or the universe, needs saving.
And by gum, they now are. They rebuilt so gradually, and I had my hopes a few months ago, but I really didn't see it coming until we arrived this issue. I admit, along the way, I wondered whether Hank Pym had lost it, what with his new Wasp persona. I was willing to ride it out because the writing was so strong (Jocasta opining about kissing the face of God, for example) and some of the plot twists just had me laughing (like Pym and Reed Richards in a pissing contest.)
But THIS issue…this issue just blew the lid off all that. Yeah, yeah, not sure I quite bought into Eternity's Dr. Phil moment with Hank (of course, Dr. Phil IS a part of Eternity, so who's to say who got what from whom?) but all the rest…man, it just makes me excited to see what happens next!
And all that is just about Hank Pym. The rest of the book: Hercules and Osborn, old Avengers meet Young Avengers meets classic Avengers ("call me a poltroon")…this book just hit great beat after great beat.
And the artwork. Remember the fantastic artwork that jumpstarted NOVA into the upper echelon of Marvel's monthlies? Well that guy is this guy. Sean Chen. 'Nuff said.
This is definitely THE Avengers book. But Hank Pym has taken center stage, and I like it. I've had 25 years or so of Hank Pym, the self-doubting madman who created Ultron. The wife-beater. The loser. The unstable. The one-man pity party. The one who got an unwilling invite to any meeting of the "big brains." Though not officially consigned to exile, Hank Pym has been, in some ways, the Avengers' own version of "The Unspoken."
But you know what I'm ready for? Hank Pym the scientist. Hank Pym the hero! Yes. And the Avengers…the mighty Avengers…they are back.
---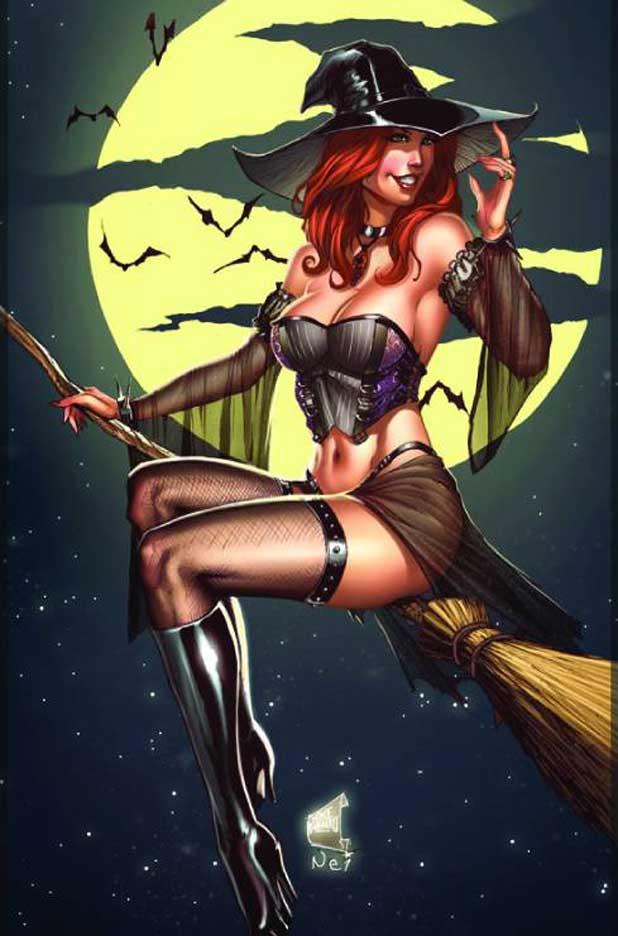 GRIMM FAIRY TALES HALLOWEEN SPECIAL # 1
Written by: Raven Gregory Illustrated by: Various Published by: Zenescope Entertainment Reviewer: superhero
I don't really need any T & A in my comics. Especially not in my horror comics. Oh, I realize that T & A was a staple of many a slasher film in the late 70's and early '80's and it's all fine and good if you want to show me a little flesh here and there with my hack and slash. But when it comes right down to it I'm not reading a horror comic to see some barely clad nymphette in a witch costume. Nope, if I'm reading a horror book you better scare me…or at the very least freak me out. Unfortunately, GRIMM FAIRY TALES does neither.
What's the deal with the reject from "Bewitched" on the cover? Well, I guess she serves pretty much as the Crypt Keeper to this particular comic book story. See, she's reading a scary story to a bunch of kids getting ready for a night of trick or treating. That's pretty much the framing device for this particular book and I don't know about you but if this little lady was dressed like that and trying to read me a horror story when I was a kid the only thing I'd be afraid of is trying not to let her catch me staring at her knockers the whole time. I mean, really, if you're going to have someone read a scary story have that someone be, I dunno, scary?
But the problem with this book isn't just the sexpot fantasy figure acting as narrarator, it's the story she's actually telling. What can I say? It's pretty much a riff on W.W. Jacobs's "The Monkey's Paw". Sort of a…what if "The Monkey's Paw" didn't have the brilliant ending that it did and dragged on into a silly and unoriginal horror tale that doesn't really improve on the story it's ripping itself off from? There's a reason Jacobs ended the story the way he did and it'd probably have been better if the creators of this book had just left well enough alone and come up with something original of their own instead of trying to piggy back onto one of the greatest horror stories ever written.
The only saving grace here would be some of the art. I say "some of" because pages go between being very professional looking to downright amateurish depending on who the illustrator was. While the cover is a beautiful work of art nothing inside tends to match its professionalism. That's too bad because if the whole book had had the capable look of the cover at least something would have saved this from being the bore that it turned out to be.
Discovered as a babe in an abandoned comic book storage box and bitten by a radioactive comic fan when he was a teenager, superhero is actually not-so mild mannered sometime designer & cartoonist, Kristian Horn of Los Angeles, California. He's been an @$$hole for three years. Some of his work can be seen at www.kristianhorn.com.
---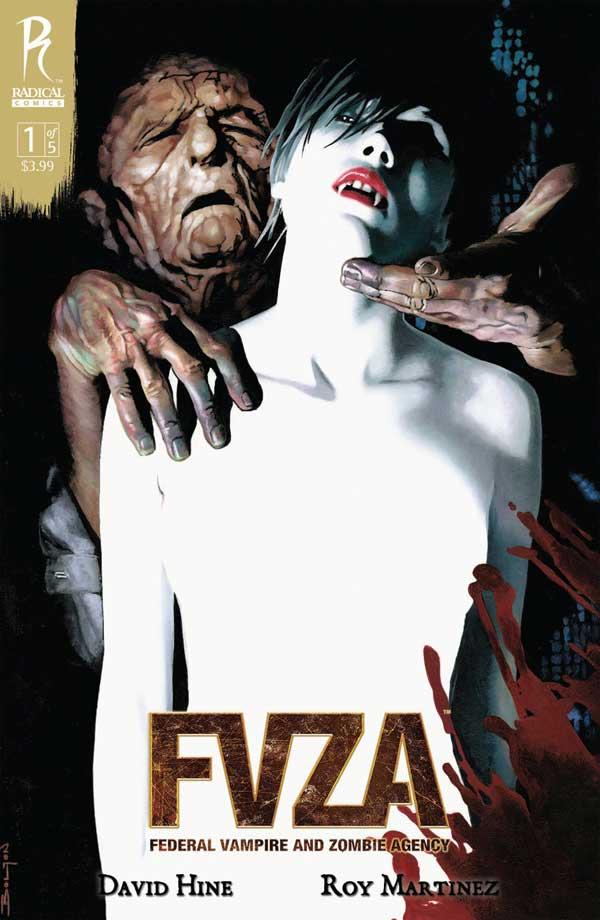 FVZA (FEDERAL VAMPIRE AND ZOMBIE AGENCY) #1
Writer: David Hine Artist: Roy Allan Martinez Publisher: Radical Comics Reviewer: Optimous Douche
This review is biased. Even before reading one word about the FEDERAL VAMPIRE AND ZOMBIE AGENCY (FVZA), a clandestine government agency that protects all of us normal folks from the dark forces of vampires and zombies, I was already in love with this book. You see, I'm a painted picture whore. Even on their worst days, the stylings of Alex Ross type artists make me coo, gurgle and drool like a toddler looking at a jingling set of car keys. Perhaps it's an appreciation for the painstaking time it takes to craft these images, which Martinez does. Perhaps it's the insane level of detail that seems to go into every scene from backgrounds to facial expressions, which Martinez does in spades. Perhaps I'm just easily amused, and again Martinez kept my eyeballs bathed in painted joy. Regardless of the reasons, when I saw the first panel of FVZA with a young nubile Kate Beckinsale-type heroine decked out in leather holding her Grandfather at gun point I was hooked.
Some will call FVZA derivative, an easy assessment when dealing with a mythology that has fueled the fears of man for hundreds of years. Yes, FVZA borrows from this vast history, but personally I found FVZA to be a much needed back-to-basics approach in dealing with the undead. From TWILIGHT, to TRUE BLOOD, to the god-awful VAMPIRE DIARIES on the CW, the concept of vampirism has been so diluted and distorted, vampires are no longer scary – instead they are laughable. Longing for love, still partaking in carnal pleasure, for fuck's sake they can even go out in the sunlight with the only repercussion being the fact they glisten like a beautiful diamond. The modern vampire story has been defanged and defiled to the point of becoming a Saturday morning cartoon as opposed to the stuff of nightmares. Thankfully the FVZA is not only saving humanity from vampires and zombies, it's also saving all of us that actually want to be frightened by these monsters instead of becoming weak in the knees and moist in our nether regions.
What impressed me most from a writing standpoint was how Hine transitioned the concepts of vampires and zombies from the fictional to the real. The opening pages of the book are like a history lesson, rewriting Rapunzel, the American Old West and WWII to establish vampirism and zombies as a disease--a disease that has been fought, inoculated against and seemingly eradicated over the course of time. The stories are delivered by one of the agents of the now defunct FVZA, Dr. Harold Pecos. Absorbing these tales are his recently orphaned grandchildren Landra and Vidal. Time passes, training montages mature the children to early twenty-somethings, and the story fast forwards to present day in a world where Pecos' fears of the undead come across as just as irrational as someone in the real world being afraid of the Black Plague. Sure there's a chance you could catch it, but thanks to vaccinations, vitamins and not sleeping with rats the chances are slim.
Naturally, the threats of the vampire and zombie diseases once again rear their ugly heads (wouldn't be much of a story otherwise), but what sets this book apart is how cleverly they are woven back into a tangible threat. Taking a cue from 9/11, terrorists dump a strain of the zombie virus into a small Midwestern water reservoir. What I love about Hine's takes on zombies is that they are no longer slack jawed and mindless, like housewives at Costco. They are conscious of their actions, able to reason, and it just so happens they also feed on flesh.
The reintroduction of vampires, while a bit more complex, was handled just as cleverly. In this world, like our own, goth kids that have no other real skills or talents glorify the vampire lifestyle and play vampire make-believe while shunning all of life's real responsibilities. However, when several of these kids are turned they realize just how stupid and ridiculous their games of make-believe truly were. Vampires do not feel love. Vampires do not act like humans; hell without wigs and make-up they don't even look human. Vampires have one sole purpose: to feed on the blood of humans. It also looks as though vampires are tired of hiding in the shadows and are ready to make a play towards dominating and controlling the human race.
This was a great first issue and I actually find myself a bit sad that FVZA is only slated to be a three issue miniseries. There's a hell of a lot of fodder in this book for an ongoing series. Simply by giving zombies self awareness, Hine could craft a powerful army of the undead; zombies ruling the day while vampires control the night. It would require arbitration and the formation of a political structure the world has never seen. And once all the humans are slaves is when the fun could really start. I think by the simple fact I'm speculating the future of this title is a strong testament to this being an engrossing and (don't forget) visually beautiful first issue.
When Optimous Douche isn't reading comics and misspelling the names of 80's icons, he "transforms" into a corporate communications guru. "What if the whole world had superpowers? Find out in the pages of Optimous' original book AVERAGE JOE. Read the first full issue on Optimous' New Blog and see original sketches by fellow @$$hole Bottleimp. If you are a publisher or can help these guys get AVERAGE JOE up, up, and on the shelves in any way, drop Optimous a line."
---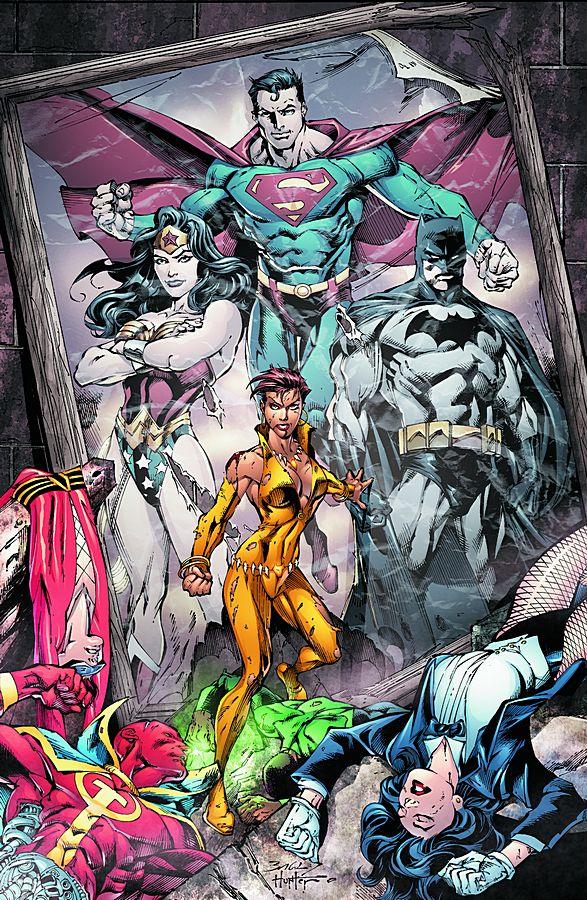 JUSTICE LEAGUE OF AMERICA #38
Writer: James Robinson Artist: Mark Bagley Inker: Rob Hunter Publisher: DC Comics Reviewer: Rock-Me Amodeo
Well. The Justice League finds itself yet again in the same quandary as the reader: why are we here now? Kudos to Bagley for drawing number gazillion in a string of a gazillion consecutive well-drawn books. No faulting Mark. As usual, he swung and hit.
As for the plot…well, I know, Robinson is setting up. Of course, that didn't stop him from being the first guy I've seen both promote his other title AND simultaneously emasculate it (by revealing Vixen's and Plastic Man's injuries.) Ok, maybe he didn't completely castrate his other book, but there's a severed vas deferens in there somewhere. I know, it should make me care more about CRY FOR JUSTICE, but if you're not buying it already, you're probably not going to run out and buy it now. It's Vixen and Plastic Man, for crying out loud.
Whoops, too much talking. Time for a random attack. And the only thing that felt more random than Despero dropping in at an abandoned League headquarters…in the exact hour the League was actually occupying it…was the "deus ex Zatanna" that salvaged the whole thing. Sigh. Well, at least it wasn't another adventure with the Royal Flush Gang.
By the way, I'm not placing all this mess at Robinson's feet. Given the editorial constraints that have to be in place due to "fill in current company wide event here" and an obvious difficulty in coordinating the…AGHH! Crap! I'm sorry, James and Mark, I can't believe I'm being so negative on a book that has one of my favorite writers paired with one of my favorite artists.
C'mon, DC. You're three years into what should be one of your company's flagship products. Instead, we're restarting the League yet AGAIN.
I don't want a reboot. I don't want a re-shuffle. I don't want B-Listers.
This is the Justice League! I want some fricking majesty.
---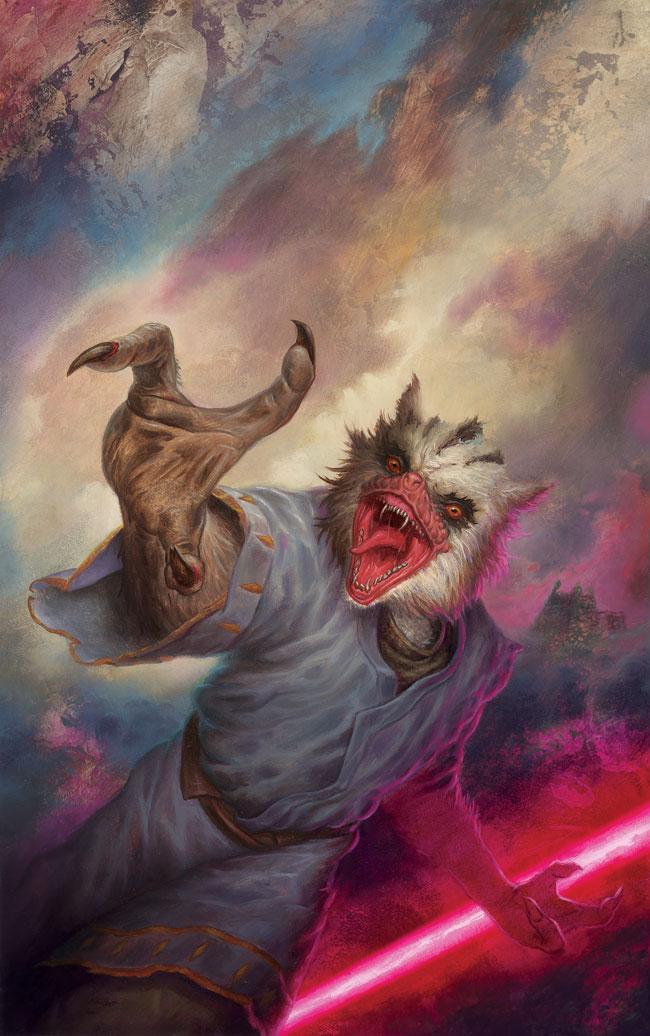 STAR WARS: KNIGHTS OF THE OLD REPUBLIC #46
Writer: John Jackson Miller Art: Brian Ching Publisher: Dark Horse Comics Reviewer: Mr. Pasty
What do you get when you take a homicidal parakeet with fingers that look like your grandpa's cock, dress him in hospital scrubs and tell him to look mean in case anyone is watching? Why, you get the cover to STAR WARS: KNIGHTS OF THE OLD REPUBLIC (KOTOR) #46, of course. The Star Wars franchise is known for some weird looking creatures, but the mere sight of this artistic failure splashed across the cover is a pretty frank admission that this crew is plum fresh out of ideas. Does anyone find this feathery gremlin even remotely menacing? And what's with the bizarre biped crossover? It's as if the creatures from Sega's ALTERED BEAST decided to dress up like the cast from TO WONG FOO and enlist. This is some hideous character design -- and considering this is the same brand that is responsible for the Sleestak-meets-Corky inspired GREEDO -- that's saying something.
By the time I was done laughing at the special needs cover, I found my way inside the book – but only after I made a promise to myself to not let the abomination I was just subjected to distort my normally unsuccessful attempts to be objective. As it turns out, the bird-brain is named SNOUT, presumably because he has one, but at the risk of sounding obsessed with male genitalia, let me assure you his snout would be right at home dangling from an African Pygmy in the pages of National Geographic. And for a throwaway character he has an excruciating amount of dialogue. Perhaps the only thing he does right is fall on his sword, further puzzling me as to why he's on the cover when the book features two incredibly hot babes that have curves in all the right places.
KOTOR has some nice looking panels once you get into the meat of the book.
Unfortunately the script is like a scrabble board after your dog runs into the table. There is so much dialogue to sort through and it's peppered with random names assigned to far away creatures and distant locales. Comics are supposed to be fun; this one felt like homework. It doesn't help that the main character is on the rag for three quarters of the book. When did the Jedi get so whiny? And despite the narrative's best efforts, the hastily assembled and protracted speeches that litter this book sound like those two guys you knew in college who used to get high and contemplate the meaning of life.
I didn't like this book. The Star Wars universe is ripe for the picking and I'll concede that not every tale has to somehow honor the original trilogy. But when I'm reading a KOTOR book and I don't get a light saber, the force, or at the very least a gratuitous Jabba flashback, then why am I reading it? I have certain expectations when I pick up a Star Wars comic book. Unfortunately KOTOR #46 failed to meet any of them.
Final word: Wordy and pretentious and lacking in any of the elements that make Star Wars fans so rabid. So then what's the point? Other than another charitable donation to the Lucas war chest, there isn't one.
Web heads who can't get enough of Mr. Pasty's word vomit are encouraged to watch him operate as Nostradumbass over at here. MMAmania.com. Love, hate and Mafia Wars requests should be directed here.
---
VINCENT PRICE PRESENTS: THE TINGLER #1-2
Writer: Mark L. Miller Artists: Alex Lopez & Niko Anaya Cover: Buzz McAdam Published by: Bluewater Comics An @$$hole 2-in-1 review by Matt Adler and BottleImp Editor's note: This review has been reposted due to the fact that the book's release was delayed until this week. You can pick this up in stores today!
BottleImp (Imp):
The William Castle horror movies of the 1950s always reminded me of their contemporaries on the comics stands, EC's horror comics. Both the films and the four-color counterparts gave their audience jolts, shivers, screams, but also laughter, as neither Castle nor EC publisher Bill Gaines took their work too seriously. Their version of horror was more akin to a roller coaster ride at the state fair—good for a few thrills, scary when you're on it, but ultimately harmless. So it's nice to see that same spirit of fun in Bluewater's comic book sequel to Castle's famed gimmick-enhanced movie THE TINGLER.
Matt Adler (Matt):
I really wasn't familiar with any of the William Castle movies, beyond knowing that John Goodman's 1993 movie "Matinee" was a tribute to them, and made use of the "seat buzzer" gimmick. I was, of course, familiar with Vincent Price, but never really thought of him as an adventure hero until reading this. I wonder if Bluewater had to get permission to use his name and likeness?
Imp:
I would hope that they got the permission from Price's estate. Bluewater's been doing the VINCENT PRICE PRESENTS comics for a little while now, so I would guess that they went through all the proper legal channels. Although grave-robbing Price's name would add a certain morbid twist to the series...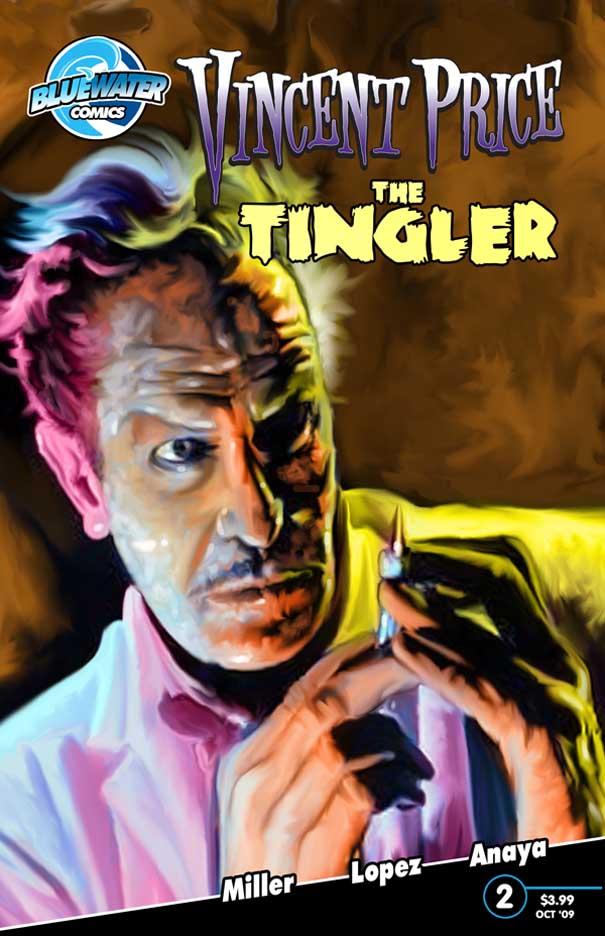 Anyways, back onto the comic at hand. As far as the writing is concerned, Miller has crafted a credible sequel to the original TINGLER story that really captures the tone and the energy of the 1950s horror flick. All the familiar archetypes are here: Vincent Price's monomaniacal Dr. Warren Chapin, the scientist who dares to delve too far into the unknown; his sister-in-law Lucy, fulfilling the role of Damsel in Distress; the strong hero (Dave, Lucy's husband and Warren's assistant); and the slightly suspicious and unlikable hired man—who usually ends up dead before the third reel change. The plot of the comic makes a marked departure from the film by shifting the action to the African jungle, but this change in setting actually enhances that schlock-horror feel. It takes very little effort to imagine this story being acted out on the jungle stage on the backlot of Paramount, the set decorated with potted ferns and a poorly-painted backdrop of the night sky.
Matt:
I agree, Miller gets the 1950s tone down pat. I thought it might be difficult featuring a "lost African tribe", since, let's face it, in an actual 1950s movie they would be horrible stereotypes, but Miller deftly skirts that problem and makes them credible and frightening antagonists. As for Huxley, the hired guide, the good doctor is such a jerk to him, I began rooting for him to hit Chapin over the head with a shovel and leave him there.
Imp:
I definitely got that vibe, too! But that again is a credit to Miller's faithfulness to the original material-- even when Price played the protagonist, he still gave off that sense of smug superiority. Watch the original HOUSE ON HAUNTED HILL (another classic Castle picture)-- there's another instance of Price as the thoroughly unlikable "hero." The only fault I found with Miller's story was that it ends rather abruptly. We have the group of explorers venturing into the unknown jungle, then the capture by the native tribe, then The End. I don't know about you, but I couldn't help feeling like this comic needed a third act.
Matt:
That's so bizarre! Until you mentioned it, I didn't even realize that was it! I just naturally thought there had to be another issue coming. I agree with you, that is a rather abrupt conclusion. I guess perhaps it is meant to leave things to our imaginations, but after taking us on this journey with these characters, I'd like to have learned their fate (even if it wasn't a happy ending). Perhaps if the comic does well enough, they'll do a follow-up.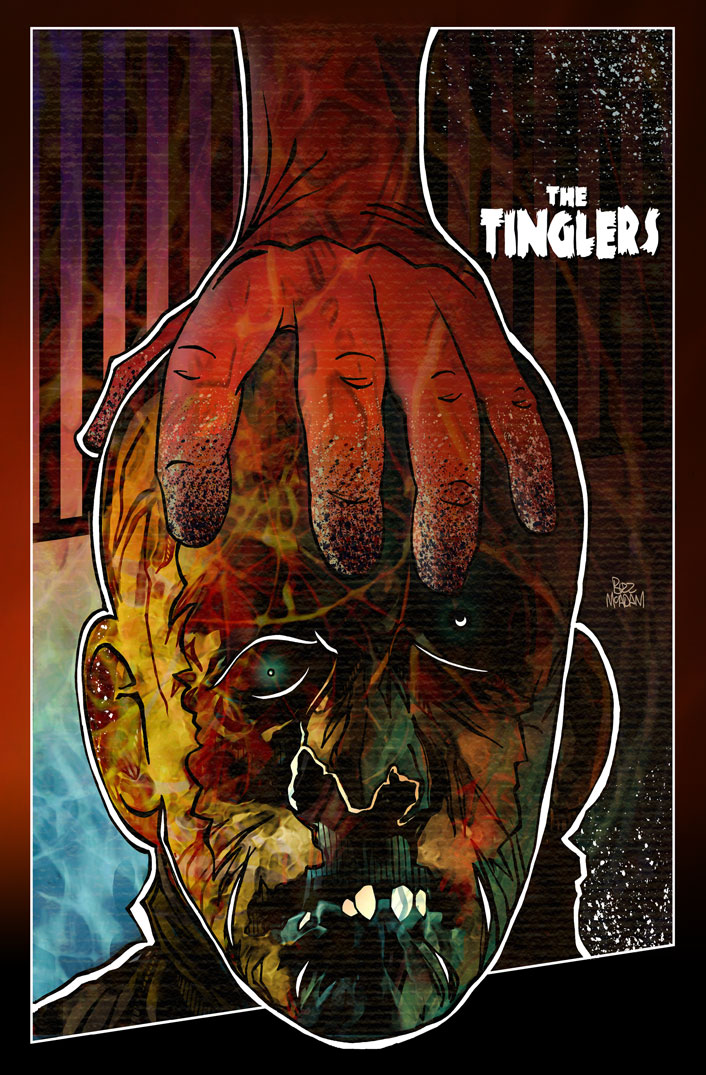 Imp:
If Bluewater does decide to return to THE TINGLER and expand upon Miller's sequel, I would hope that they would find an artist whose work would be a better fit for the story. The visual aspect of this comic is lacking, in my opinion. For a plot centering around a creature that is the living embodiment of fear, there isn't much fear to be found on the pages. Lopez's drawing style just didn't work for me, especially in combination with the color design—I found myself wishing that the art was either tighter and more realistic, which would have worked better with the carefully modeled color rendering, or that the cartoony style that Lopez's art seemed to dance around was embraced more fully. A more stylized, less conventional manner of drawing might have brought this comic up to a different level. At the very least, it would have made each issue stand out better from the crowd.
Matt:
It's a tough thing; Bluewater is a small publisher, so almost by definition, they're going to be hiring artists who are looking to hone their craft. I've certainly seen much worse efforts than Lopez's, so I can't be too hard on him, but of course I have seen more visually compelling horror comics. I'd love to have seen someone like Kyle Hotz on this book, but Bluewater isn't likely to be able afford him anytime soon. Overall, for a first professional effort, this isn't anything Lopez has to be ashamed of, and as he continues honing his craft, he'll eventually move up to the big leagues.
Imp:
You're right, I'm just being super-critical, as usual. But in any case, I think we can agree that THE TINGLER is a fun throwback to the horror comics (and films) of yesteryear, right?
Matt:
Indeed; it's an entertaining, engaging story with well-written characters, and if the worst we can say about it is that it leaves us wanting more, well, that's not too bad. Thumbs up.
---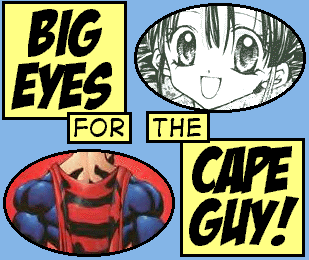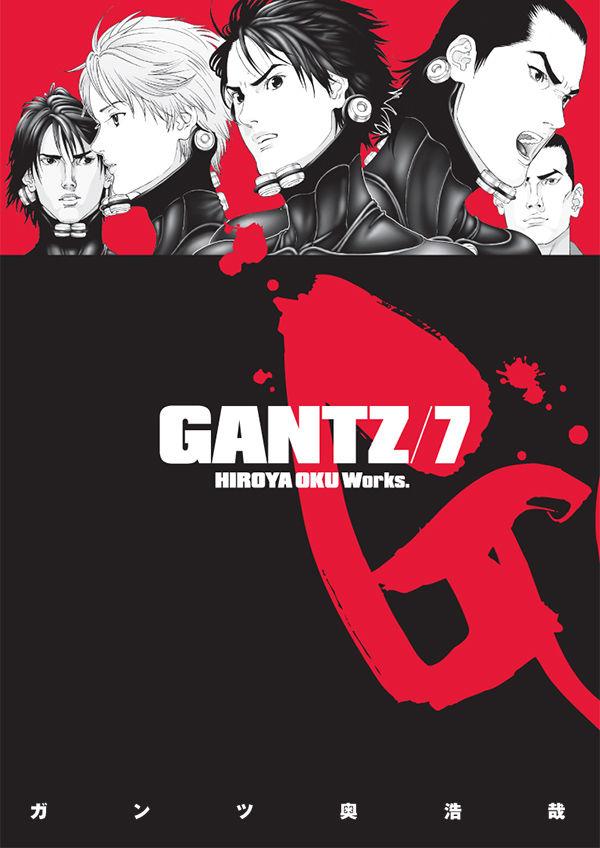 GANTZ VOL. 7
GANTZ is the Led Zeppelin of manga - thrilling, virtuositally geeky, and a bit misogynous.
In volume 7, opposite the table of contents is a sort of reworked Conan tableau, with the manga's teen hero standing on the top of a mound of fallen comrades, a weapon in each hand, bellowing rage into the onlooker. Had that image been the cover, it would have been a truth in advertising statement for what the volume presents. Hot on the heels of the previous outing, here's 200 pages of desperate and/or bloodthirsty recently deceased people, granted super strength via shiny black suits and obscene offensive power via sci-fi weaponry, engaged in a death match with a host of divinely angry Buddhist statues. I'm less and less confident that Oku is taking GANTZ anywhere insightful. Where the manga once seemed aimed to eviscerate adolescent fantasies, it now appears to be parading around in a wild rumpus, wearing the skins of those juvenile notions. Still, this morally unencumbered culmination of the earlier exchanges in brutality, rendered in an accentuation prone, 3d modeled, digitally inked process, is quite the spectacle.
GANTZ is not subtle in working in a video game metaphor for its action. People, such as disaffected teenager Kei Kurono are plucked from their moment of death, and reconstituted in a barren apartment, where a black sphere gives them super-powered equipment, instructs them to kill various species of aliens, teleports them to the urban locale where the fighting is done, then teleports them back to the room to award points for success. If these undead die again in their alien extermination sortie, they're perma-dead. If they survive, but are wounded, their bodies are fixed in the transport back.
Unlike previous missions where Kurono and two of his peers were saddled with creeps and liabilities, these time, their fellow non-deceased can contribute to the battle; there's a Laura Croft doppelganger with Muay Thai experience, a guy who's either military or more likely someone who died playing military otaku, a sniper and a number of species of martial artists, including a burly karateka in his gi (how all these young, healthy people might have died on this night is a bit of a conceit), a presumably MMA grappler dressed like he's been out pimpin' and a wild haired kicker (I can't identify the particular niche of this last one).
In contrast to prior combatants, this crowd is not quite guilty of the capital crime of stupidity. Nor are they entirely reprehensible people. But, their temperaments are well suited for the conflict for reasons beyond their martial prowess. There's sadism and exaltation of power...as when the military guy blows the legs off one of the attacking statues, taunts it, and asks it to beg. Other fighters embrace their gladiatorial role...the karate guy punches a statue... the stone deity catches the blow and snaps its attackers arm.. the dude in the gi shouts a battle cry, tackles the statue and mounts to to prep for further attach. Karate guy has a limb that is hanging by the skin, he's on top of something that can pulverize the human body into paste, but the two other martial arts still shout "that was awesome!"
GANTZ shares the misanthropic view of its teen protagonist. While it's eased up on knocking his self assessment down, it has not ceased to offer object lessons in how flaws in human nature can be survival liabilities. This feeds into the nastiness of the manga. Rather than gaffs made by horror victims as a conceit to rack up the monster's body count, in GANTZ, people die in graphically brutal fashion because our species propensities toward thoughtlessness, self overestimation, self delusion and distraction. The recent development in GANTZ is that its protagonists can give as good as they get and unleash their own, drilling through the head of the cyclopean Buddhist statue or sniping out the torso of a more person sized divinity. However, this is staged more as another outlet for disquieting behavior than it has been for catharsis or triumphant redemption.
Though he has yet to be triumphant or redeemed, Kei Kurono has proved able in battle, and more intelligent and composed than most. And, he's gotten the girl, with Laura Croft falling hard for him, apparently by virtue of him being the star of the manga. There are some interesting ideas evoked that aren't fully fleshed out due to the structure of the manga and its churn from one violent chapter to the next. Kurono is taken with the notion of being heroic and likes the idea of being with his peer, but he jumps on the chance to get intimate with Croft san because he's a horny teen and she's inexplicably interested in him. The groundwork for exceptional teensploitation is here, with an interesting dynamic between Kurono, with his propensity towards giving in to weaknesses and frustrations and his peers, who are laboring to manage the best they can, and with an interesting disparity between what Kurono he wants for himself/thinks of himself, and what he does. Yet, not only does Oku lack the time to develop this, he muddies it. Not only does GANTZ not have well realized female characters, they all seem to act strictly in service of the series. Love blooms on the battlefield movie personality doppelgangers like Sadako and Croft serving Oku's assigned function of hanging on Kurono. It's like one of the old Warner Bros. cartoons with Bugs Bunny mingling with the stars meets BATTLE ROYALE.
As a sucker for grossly violent manga, I've had to accept that gray matter as I'd hoped for in this red meat manga. It's sufficiently hooked me that I'm looking forward to seeing what grotesque surprised volume eight has in store.
Scott Green has been writing for AICN ANIME for over eight years. If you like what you see here and love anime & manga, be sure to check out his latest AICN ANIME column every week on AICN.
---
Ambush Bug here. You want more indie comics? Well, I gots some more indie comics. Check them out!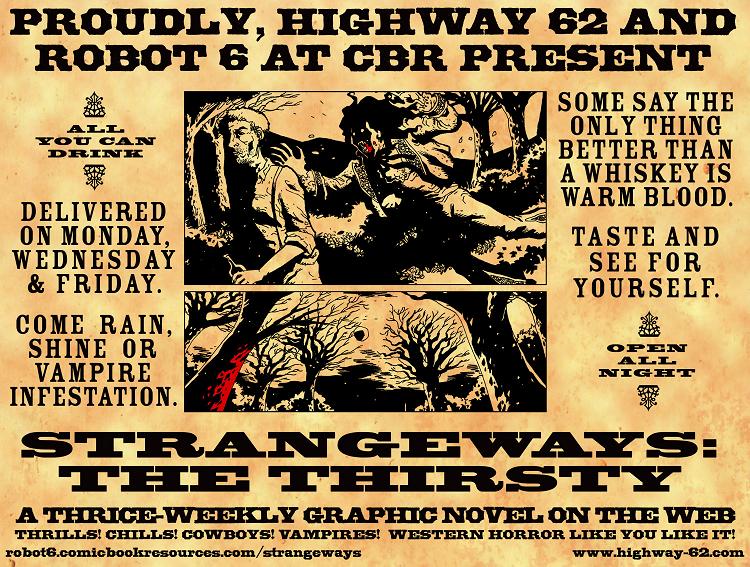 STRANGEWAYS: THE THIRSTY OGN Preview Highway 62
Max Maxwell's outlaw territory terror tales continues to be a quality read. I got this preview book from Maxwell himself. It's just a taste of what is to come from his follow up to STRANGEWAYS: MURDER MOON which unleashed werewolves on the Old West. This time around its bloodsuckers and the quality is just as good. Maxwell amps up the suspense and plays with vampire conventions without making it feel like this is a road well travelled on. His concentration on a pair of outlaws who are stumbling into this vampiric mess is nicely paces with a payoff that will make you jump back while reading it. I also really loved an especially well done sequence where a house-full of vampires try to entice a cowboy into their home during the daytime. The scene where an unwilling blood donor is roped and dragged into the home is chilling indeed. I'll be keeping my eye out for THE THIRSTY when its finished. This brief taste of THE THIRSTY was a...dare I say it...(ah what the hell, tis the season) a bloody good time.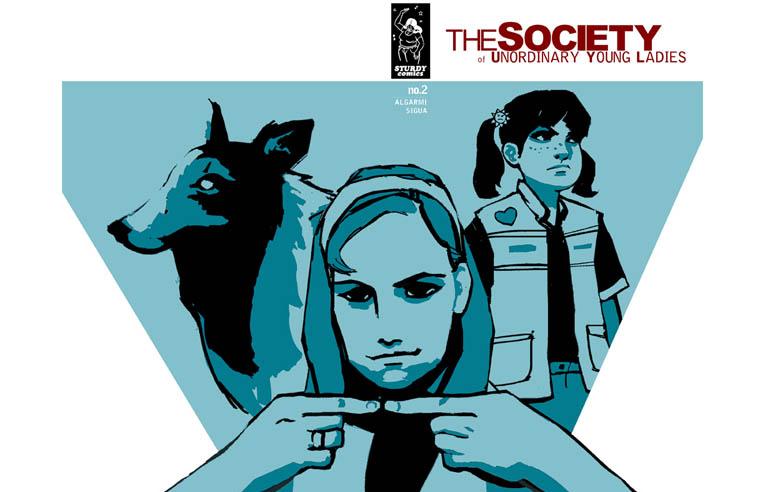 THE SOCIETY OF UNORDINARY YOUNG LADIES #1-3 Sturdy Comics
If you're a child of the eighties like I am, then this is a book you cannot miss. Creator Wahab Algarmi and artist Joel Sigua snatch some of your favorite 80's television personalities and place them in the middle of a government conspiracy that starts with a botched mission causing the Chernobyl Incident and continuing with a government agency lead by General Richard Stratton the III (you know, Ricky Schroeder from SILVER SPOONS) and Charles & Buddy from CHARLES IN CHARGE picking an all new team of female @$$-kickers to fight the Communist Threat. No sitcom is left unrecognized: FACTS OF LIFE, THE A TEAM, DIFF'RENT STROKES, PERFECT STRANGERS, NIGHT COURT, PUNKY BREWSTER, hell there's even LASSIE (although if this is the eighties, maybe Benji would have been more apropos) and even sitcoms I never watched like SMALL WONDER and OUT OF THIS WORLD are all present and accounted for. Though I haven't seen Alf or Webster yet, I'm holding out for them to show up soon. It's THE LEAGUE OF EXTRAORDINARY GENTLEMEN if Alan Moore's beard never allowed him to learn to read and he got all of his ideas from 80's sitcoms. Having grown up in this era, the waves of nostalgia hit me like a tsunami as I saw all of these old familiar faces cast in a spy thriller and taking advantage of all these comic booky conventions. And it's not just nostalgia at work here. Algarmi and Sigua show a lot of talent piecing these TV references together in an exciting and fun way. I hope to see more of this phenomenal series, especially when the next issue promises to be "a very special episode every parent should read with their children." Love! This! Book! Best indie surprise all year!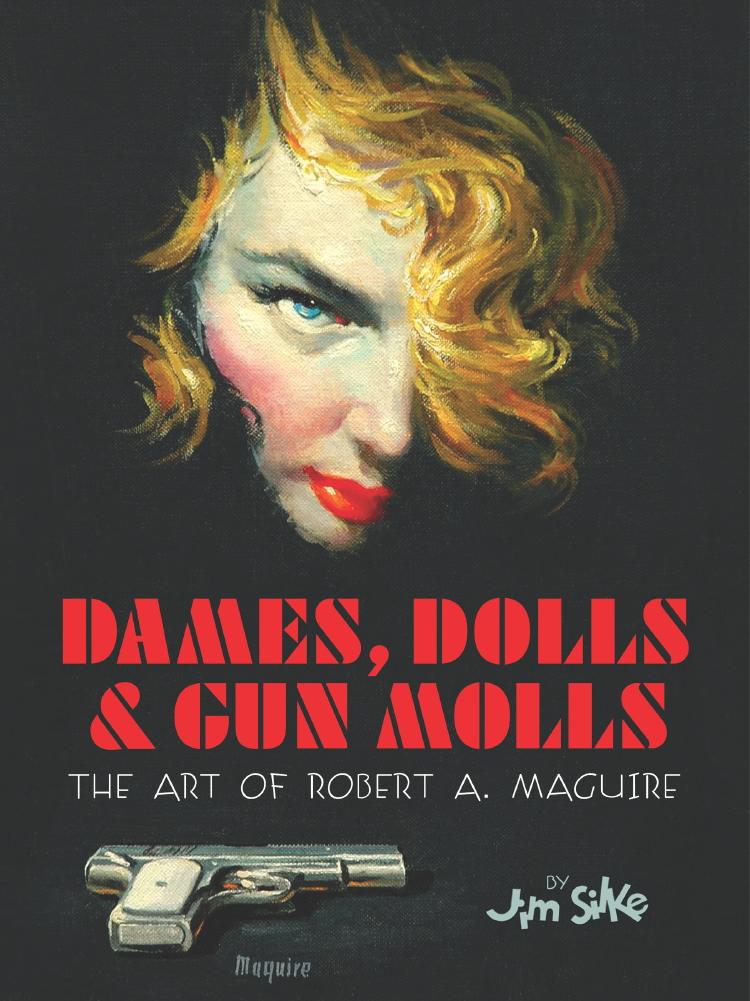 DAMES, DOLLS, & GUN MOLLS: THE ART OF ROBERT A. MAGUIRE Dark Horse Books
Though it's hard to review an art book, I can't help but acknowledge how awesome this one truly is. Robert A. Maguire painted the cover images for scores of paperback novels in the 50's and 60's. This book collects some of his best and even offers some rare step-by-step shots of his work in progress of women in distress and partial undress. His imagery of sexy females should be inspiration to many an up and coming artist. Heavily drenched in noir, these images of his dangerous dolls smolder off the page as they shoot steamy love bullets into your very soul. No fan of noir shouldn't have this on their shelf and with crime comics on the rise these days, it would behoove modern artists to check out this book to for inspiration. Highly recommended to up and coming artists and admirers of fine, yet sultry, art.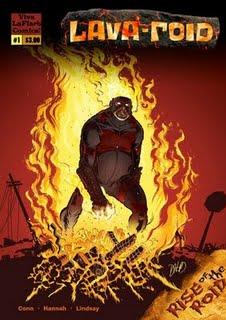 With a tongue firmly planted in its cheek, Kevin Conn & Stephen Lindsay's book doesn't pull its punches when it comes to bringing the funny as well as coming up with creative characters such as Pillowfighter (he had his fists replaced with pillows in a freak accident), Heimlich the Nazi Bear (self explanatory), and my favorite, The Dad (who uses hypnosis to berate and lower the self esteem of his opponents). Sure, the characters here aren't really developed past their inventively funny nom de plumes, but there's a nice creative spirit to this comic. Lighthearted, but humor with enough bite to keep things interesting. Artist Leanne Hannah does a great job of making all of these goofy characters battle one another with a lot of pop. Her style is reminiscent of Phil Hester, John McCrea, and Joe Staton. This book is a preview of a live webcomic which is coming soon to an URL near you and can be found
here.
I'll definitely be checking out the developments of Kevin Conn's live action series on the web, but with the quality of this book, I'm hoping to see for fiery @$$-ed adventures of LAVA-ROID in print too.
---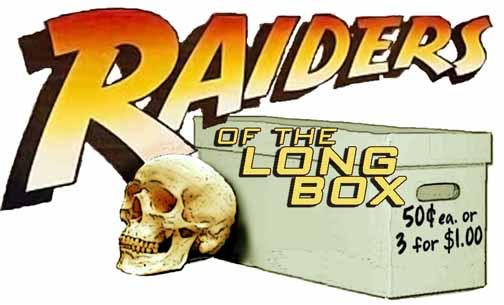 Halloween Comics worth digging for!
Every comic shop has them…battered long boxes jam-packed with dog-eared titles ranging from forgotten heroes of the 1970s to multiple copies of chromium-covered "collector's item" comics from the Big Bust of the 1990s. But if you are patient, and dig deep enough, you just may find something special…
Hello, kiddies—your ghoulish host BottleImp here again for a special Halloween edition of "Raiders of the Long Box," ready to share the most terrifying tales dug up from the moldy old boxes that lurk in the dark, cobwebby corners of the comic shop. Here are some of my frightful favorites I've exhumed over the past year…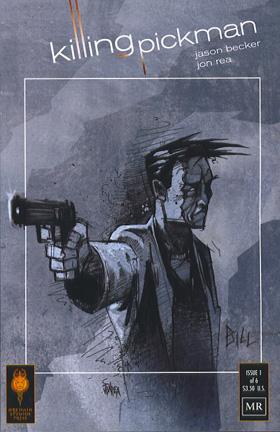 KILLING PICKMAN #1 Writer: Jason Becker Artist: Jon Rea Published by: Archaia, 2007
What do you get when you take a hardboiled crime drama and inject a small dose of H.P. Lovecraft? You get this little disturbing gem of a genre mash-up. While investigating a missing child case in Red Hook, NY (Lovecraft!), Detective Bill Zhu discovers that suspect Richard Pickman (Lovecraft again!) is a little more than your run-of-the-mill child molester. The writing on this comic by Becker is solid and the plot is well-crafted, but the real impact upon the reader comes from Rea's nightmarish artwork. The scratchy, almost Expressionist linework, the muted color palette and the unconventional page compositions (which include scribbled words in the margins, collage, and the use of masking tape as a graphic element) all imbue KILLING PICKMAN with a disturbing sense of eeriness—think SE7EN as storyboarded by Dave McKean. I picked up this comic out of a bargain box for fifty cents, and would love to find th