---
What's SHOOT THE MESSENGER?
Well, AICN COMICS: SHOOT THE MESSENGER is your weekly one stop shop for comic book -EWS. What's comic book –EWS? Well, it's our hodge podge of everything not reviews here at AICN Comics. Sure you can find out the @$$Holes' critical opinions of your favorite books every Wednesday at AICN Comics. But here, you'll find special reports such as previews, interviews, special features, and occasionally news gathered here from our online brethren at Newsarama, CBR, Wizard, etc. Sure those guys are the best at reporting news as it breaks. Click on the links for the original stories. This column cuts the crap to run down all the vital information for those of you who don't follow it as it comes in, and serves it all up with that special ingredient of @$$y goodness.
---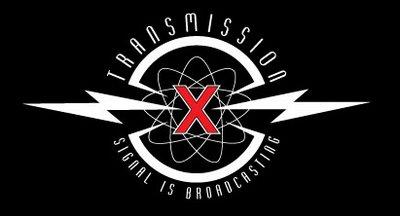 Hey folks, Ambush Bug here. Before we take a spin on the old Spinner Rack to the Future, I've got a trio of interesting tidbits for you.
First is a cool story about Awards and Webcomics which focuses on a recent dot.comics reviewee TRANSMISSION-X. Click on the links to find out more.


---

Secondly and speaking of dot.comics, we gave GOLDILOCK by Adam Lucas a pretty good review a while back and while I plan on taking a look at the webcomic again, I wanted to steer everyone over to DC's Zuda page to catch up on the beautiful sci-fi webseries. Look for a review of this comic in the future, but for now, click on the link and check it out. And check out the trailer for the webseries here.


---

Finally, my friend Peter Katz (who put together the SDCC panel I did focusing on Horror Comics and Film) has an article in this month's WIRED magazine. Peter hooked up viewers to a brain scanner and showed him his horror film and recorded the results. It doesn't really have anything to do with comics, but this story on "neurocinema" a damn fascinating read.
---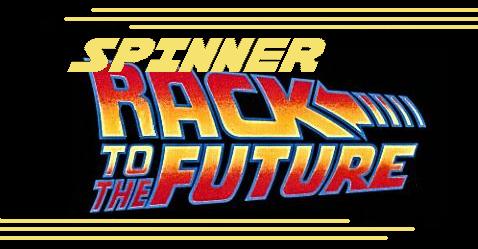 Hey folks, Ambush Bug here again. This week, I've got another payload of cool previews to drop on you, beginning with a preview of my own comic coming out this Wednesday. I hope AICN readers check out my direct sequel to the cult classic film THE TINGLER (it's actually been getting pretty good reviews like here and here). As always, click on the images to make all the preview pages grow!
VINCENT PRICE PRESENTS SPECIAL: THE TINGLER #1 Writer: Mark L.Milller Art: Alex Lopez, Cover: Buzz McAdam Publisher: Bluewater Comics Release date: This week!
---
BOMB QUEEN VI #1 (of 4) By Jimmie Robinson Publisher: Image Comics Release Date: This week!
---
DOLLTOPIA OGN By Abby Denson Publisher: Abby Comix Release Date: October 15th!
---
CYBERFORCE/HUNTER-KILLER #2 (of 5) Writer: Mark Waid Artist: Kenneth Rocafort Publisher: Top Cow Release Date: This week!
---
G.I. JOE: COBRA SPECIAL #1 Writer: Mike Costa Art: Antonio Fuso Publisher: IDW Publishing Release Date: This week!
---
Editing, compiling, imaging, coding, logos & cat-wrangling by Ambush Bug Proofs, co-edits & common sense provided by Sleazy G
---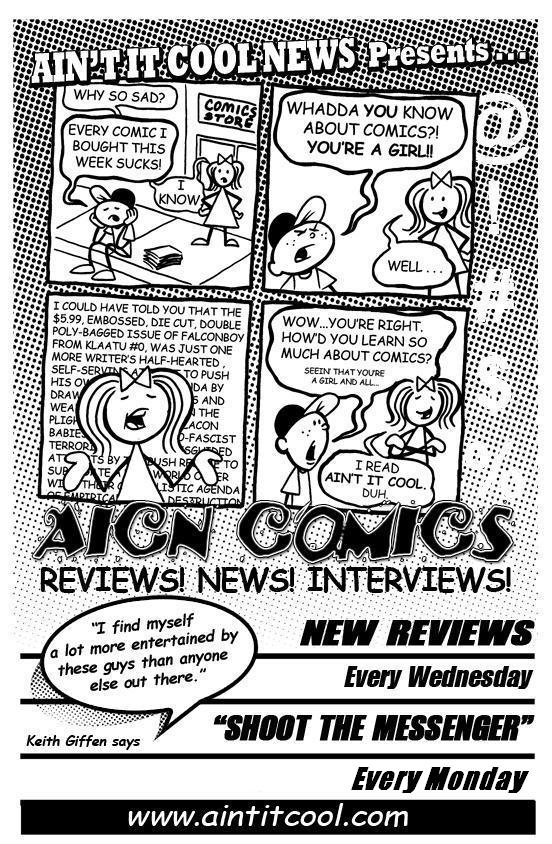 Ad by Prof. Challenger