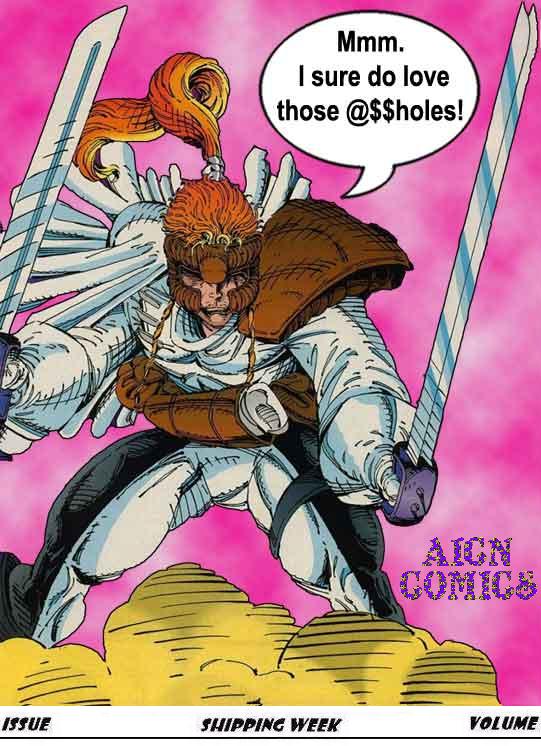 ---
The Pull List (Click title to go directly to the review) Special Spinner Rack to the Future Preview of CREEPY #1 WEDNESDAY COMICS #1 OUTLAW TERRITORY VOL.1 (Part I) AMAZING SPIDER-MAN ANNUAL #36 HOWARD CHAYKIN'S AMERICAN FLAGG: DIFINITIVE COLLECTION VOLUMES 1 & 2 THE NOBODY HC GN TORCHWOOD: RIFT WAR TPB WHATEVER HAPPENED TO THE WORLD OF TOMORROW? OGN THE WAKING Limited Series: An Advance Review! THE COMPLEAT NEXT MEN VOL. 1 THE GOOD, THE BAD, & THE UGLY #1 BATTLEFIELDS VOL.1: THE NIGHT WITCHES Big Eyes for the Cape Guy presents YOKAIDOCTOR Vol. 1 CHEAP SHOTS!
---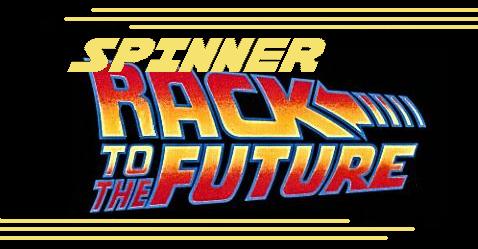 Ambush Bug here with an extra special whirl on the Spinner Rack. CREEPY #1, Dark Horse's relaunch of the classic horror series, is due in stores today. You better believe I'm checking it out and I'm sure it'll get reviewed here on AICN Comics, but the swell chaps and chappettes at Dark Horse provided a sneak peek to whet your whistles until you get to the store later today! Check out the pages below!
CREEPY #1 Writers: Neil Keid, Joe Harris, Dan Braun, Mike Woods Art: Angelo Torres, Bernie Wrightson, Jason Shawn Alexander & more Publisher: Dark Horse Comics Release Date: Today! Go out there and get it!
CREEPY #1 is in stores today!
---

WEDNESDAY COMICS #1
Writers: Lots of Guys at DC Artists: Likewise Publisher: DC Comics (Obviously) Reviewer: Optimous Douche
This was a lot like dry humping for three hours. Damn enjoyable in parts, mildly chafing in other parts and a climax that you know is just seconds away, but sadly never cums (bar-um-pum). Why? Because you have to wait until next week for 8 more panels, the next stream of consciousness, a new character to enter and have enough time to maybe introduce themselves. In an age of immediate gratification and an ever increasing fan-base of trade waiters salivating for full completed stories, this cartoon strip newspaper concept defies all logic. There's some good stuff inside these pages, but this format is simply painful.
Also, not to be cheap or anything, but…$4.00 for 15 pages of stories on paper quality so poor that Ben Franklin could have used it to roll his joints seems like an egregious screwing of the fan-base. The last time I was taken advantage of like this, she/he at least bought me dinner first, was kind enough to give me a roofie and I never had to pull out my wallet once. The big houses have always justified price increases by delivering a more polished product; how they justify the spartan WEDNESDAY COMICS at $4.00 an unfolding simply boggles my mind.
Now perhaps there is a demographic out there that has a nostalgic fondness for receiving this rationed depression-era style of doling out a story. Well, demographic, this run-down is for you.
When you transform WEDNESDAY COMICS from its Comic Shop News layout (did your comic shop confuse the two? Mine did) to newspaper format you are greeted with an…ad. Granted it's a really cool ad announcing the DVD release of "Robot Chicken"'s Episode II, but yeah, it's still an ad. Keep unfolding and the first story presents it self:
BATMAN: Azzarello/Risso: "Every time I turn this on it's like I'm signaling failure." Wow, what a great line delivered by Jim Gordon about the Bat signal. Batman basically agrees and we find out a millionaire has been kidnapped. The millionaire will be killed at midnight and there are no ransom demands. Midnight strikes on the clock…end! Batman is obviously Bruce Wayne (he's a douche) and by the bat graphic in the intro panel we can assume this vignette is a nod to the golden age. Risso's art supports my theory, and quite well I might add.
KAMANDI: Gibbons/Sook: The last boy on earth laments being the last boy on earth as he paddles through a submerged New Your City. I'm not a huge fan of dialogue free, narrative heavy comics, but I won't fault anyone for this approach. Unless Kamandi has a volleyball in front of him with a face painted on it, it would be rather silly for him to speak out loud. This piece ends with Kamandi meeting a mysterious stranger.
SUPERMAN: Arcudi/Bermejo: Superman is fighting an alien that ends up reaching out to him telepathically. Yeah, that's pretty much it. Bermejo's art, though, is spectacular - where have they been hiding this guy? He's not The Gimp, let him out of the basement and put him on a real book please.
DEADMAN: Bullock/Heuck: Again, too much narrative. I now see a pattern forming and I'm reminded of why I'm not a big fan of the Silver Age, where narrative ruled over dialogue. Basically, you learn who Deadman is.
GREEN LANTERN: Busiek/Quinones: One of my two favorites in this comic newspaper. I was a huge fan of NEW FRONTIER and this takes the same tonality and approach. Busiek does what he does best, telling the story from the vantage point of the little people instead of the hero.
METAMORPHO: Gaiman/Allred: My second favorite; I simply love good old deprecation. This was like a trip back to X-STATIX and JUSTICE LEAGUE EUROPE all rolled into one. METAMORPHO pays homage to the Silver Age while unmercifully mocking it. Misogyny and sexism abound; this was like a modern day sensitive metrosexual visiting AMC's MAD MEN.
TEEN TITANS: Berganza/Galloway: I hate the DC "kid book" style of art, so I went into this one with a bad taste on first glance. However, Berganza takes a page from Johns' portrayal of Lex Luthor, which I found interesting. Are the bad guys really bad or just misunderstood?
STRANGE ADVENTURES: Pope: I love Paul Pope, but I've never been a big ADAM STRANGE fan. Basically Ranagar gets attacked by space pirates.
SUPERGIRL: Palmiotti/Conner: OK, so Supergirl is back to being a cute kid instead of a role model for camwhores. Cool. She chases Krypto and her cat.
METAL MEN: Didio/Lopez/Nowlan: If the Metal Men have the mentality of children why didn't Rex Hunter shrink them in stature? Because right now they come across as mongoloid adults. Rex takes the metal gang to a bank to learn how the banks will collapse in the next few years. A heist occurs, yet Rex holds the metalloids at bay, except gold…naughty, naughty gold.
WONDER WOMAN: Caldwell: Look, kids, Wonder Woman is now a 14 year old Japanese girl that drops acid before bed. I don't know what was going on in this thing. The panels bleed together more than a suicidal hemophiliac and Wonder Woman floats while talking to some birds. Pass…
SGT. ROCK and EASY CO.: Kubert/Kubert: Nazis beat the piss out of old Sarge.
FLASH & IRIS WEST: Kerschel/Fletcher: Probably the most complete story of the collection, Grodd has Barry Allen by the short hairs chasing the electrical current of a bomb. After chasing to the supposed destination, Allen learns that Grodd pulled a fast one and is going after his girl Iris. Iris' story is more of her whining that Barry is never there for her and the bitch leaves a note to end their marriage. Ahh, only in the 60s was divorce so void of emotion.
THE DEMON & CATWOMAN: Simonson/Stelfreeze: OK, my whole Silver Age theme theory is blown out of the water when Selina Kyle is casing the Demon's house and she mentions how she Googled him. Boy, will she be in for a surprise in three weeks when we get to part 1 of 12 of the actual robbery.
HAWKMAN: Baker: I loved the POV on this one letting the story be told by one of the eagles under Hawkman's control as they go after an airliner that has been hijacked.
One of the reasons I read comics is for the consequences and how they transcend throughout the entire universe. While each story had some palpable danger, with so many Silver and Golden Age nods to coincide with the delivery format, nothing really seems to matter in WEDNESDAY COMICS.
I had some fun with several of the vignettes, and perhaps in a "$2.00 - 10 pages a week" format I would be more enticed to stay with the more enjoyable stories. But in this format, with the hefty price tag I'll just keep buying my regular comics on Wednesday...not WEDNESDAY COMICS. You know what? Even the fucking name is confusing. I'm done…
When Optimous Douche isn't reading comics and misspelling the names of 80's icons, he "transforms" into a corporate communications guru. "What if the whole world had superpowers? Find out in the pages of Optimous' original book AVERAGE JOE. Read the first full issue on Optimous' New Blog and see original sketches by fellow @$$hole Bottleimp. If you are a publisher or can help these guys get AVERAGE JOE up, up, and on the shelves in any way, drop Optimous a line."
---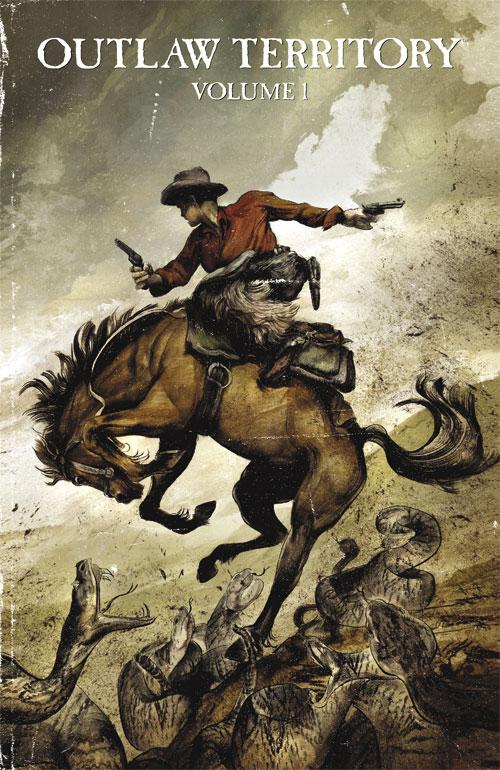 OUTLAW TERRITORY VOLUME 1
Edited by Michael Woods Story and Art by Various Publisher: Image Comics A Review in Two Parts by Ambush Bug
The only way I can do this fantastic Old West tome is by going story by story and giving a brief rundown of each. To sum it all up, the book is one of the finest collections of stories Image Comics has ever produced, each story worthy of a full review and much praise. You can tell a lot of effort went into this book and there's no way I'm going to do it justice in this review, but I'll try. Due to the enormity of this book, originally, I wanted to cover all of the stories in one review, but it looks like I'll have to split this review in two. Be sure to pop back next week to see what I thought of the @$$-half of this book. My thoughts on the first fifteen stories are below.
"Daniel 5:27" by Moritat:
The thing that struck me the most about this tale of frontier justice was the art. A gritty cartoon is the best way of categorizing it, and although the it's a simple story, the art makes it worth reading over and over just to digest the richly textured panels. I've never heard of Moritat before, but he's an artist I'd like to see more of.
"Ballad of a Bad Man" by Joe Kelly & Max Fuimara:
Joe Kelly serves a powerful tale of a child who pursues the killer of his parents. As unconventional and unpredictable as it gets, this one was. Max Fiumara is a name I've heard of before, but I've never seen art as rich as this. Part Wrightson and part Deodato, Fiumara makes this tragic tale resonate.
"Sundown" by Joshua Ortega & Trevor Goring:
Another tale of vengeance, this time the morbid and gruesome bar is raised as a man with a gun tracks down some murderers. But an unseen killer pursues them all and rears its ugly head by the end of the story. Three stories in to this book and I'm noticing a trend: vengeance is the dish of the day. But the cool thing is that the variety of capable writers and artists in this book guarantees that even though the theme is similar, the final product is only similar in that it's damn fine reading.
"Dispatch" by Shay & Dean Kotz:
Hey, it's not a tale of vengeance! Alright! "Dispatch" is a powerful story story, though, of a meeting between a young Union soldier who happens upon a wizened Confederate. The ending is bad for all parties except the reader, who has yet another treat to read.
"American Dream" by Jose El Torres & Jorge Molina Manzanero:
This is the first story I've read that warrants and practically demands to become a miniseries at the very least. Jose El Torres and Jorge Molina Manzanero tell the tale of Ramon Vasquez de la Cruz, a Mexican bounty hunter who has a penchant for loving America and blowing shit up. Manzanero's vibrant panels depict some delicious action. I love the panel as Ramon lets loose a single bullet from his gun that lands dead center of a bad guy's skull. Damn fine comic bookin' in "American Dream." Best story so far.
"The First Car in Mexico" by Ivan Brandon & Andy MacDonald:
Another tale that is charming in its simplicity; telling the tale of the death of Pancho Villa. Andy MacDonald's art is fantastic here. In just a few panels, an entire scene is played out in slo mo. Another story that I'd love to read the chapters that went on prior to and after it. Very cinematic stuff.
"The Most Civilized Establishment From Ocean To Ocean" by James Patrick & Koi Pham:
The term "kill 'em with kindness" came to mind while reading this unusual tale of a pair of bank robbers who stumble upon the most pleasant town in all the West. Koi Pham delivers some exceptional work art-wise in this story with quite an original concept.
"Ahiga" by Christian Beranek & Koray Kuranel:
Here's another one I'd love to see elongated into a miniseries or an ongoing. "Ahiga" tells the tale of a Native American boy out for justice, and brutal justice at that. Koray Kuranel sure knows how to draw that blood splatter. This is a very nicely paced story by Christian Beranek about a character I'd love to read more of.
"Incident Over Thirty-Six Days in the Colorado Rockies" by Joshua Hale Fialkov & Christie Tseng:
Joshua Hale Fialkov delivers another grim tale in the same vein as his ELK'S RUN series as an ailing bounty hunter presses through the elements to deliver a wanted man to justice. Haunting is the only word I can use to describe this one. As the calendar days pass by, a cloud of doom hovers over the pair of horsemen. This is a chilling tale, made more gripping by the beautiful art by Christie Tseng.
"Rio Chino" by Greg Pak & Ian Kim:
More frontier justice and another memorable gunman makes his debut. A "Chinaman" comes across a slaughterhouse of Chinese bodies and a white man caught in the crossfire. Add one bigoted sheriff to the mix and you have the makings of a good old shootout--but the Chinese cowboy has a few tricks up his sleeve. Greg Pak delivers some potent action in this little yarn.
"One Man's Land" by Stephen Reedy & Giorgos Gousis:
Holy crap! This story was just wrong. Cows. Dogs. Wives. All are a target when two men start a feud over a spot of land. This is a gory, brutal mess of a masterpiece with an ending that I didn't see coming. After reading so many somber and serious stories, the placement of "One Man's Land" in this particular spot of this book is perfect. Loads of over the top action is here with a tongue firmly placed in cheek (although this wildman of a short story may bite off that tongue and spit it in your face).
"The Bounty Killers" by Steven Grant, Shannon Eric Denton & John Cboins:
This was a fine piece of short fiction illustrated in an unconventional but fitting way. Reminiscent of a cross between AEON FLUX and a Plimptoon, artists Shannon Eric Denton and John Cboins bring Steven Grant'story of a man captured by bounty hunters to vivid life.
"He Will Set Your Fields On Fire" by Chris Moreno:
Guaranteed, you won't read another Western tale like this one. The less said about it the better, but it stars an old man, a song, and a monkey. This too cool for words story is made even cooler with the grimily drawn panels by the writer, Chris Moreno. Fun stuff. Did I mention it's got a monkey in it?
"The Weaponsmith" by Fred Van Lente, Johnny Timmons & Danika Massey:
Fred Van Lente shines the spotlight on a profession that doesn't get much attention in "The Weaponsmith." This is a tricky story that had me going right up until the shocking ending. Don't want to spoil it, but it's a damn fine O. Henry twist, and one you'll remember due to the potent panels of Johnny Timmons and Danika Massey.
Finally, we have
"Nora" by M. Sean McManus & Michelle Silva:
This is an ugly little tale of the oldest profession. For some reason, I couldn't get KILL BILL out of my head while reading this one. Michelle Silva does a great job of mixing graphics with more typical art. The graphics make this one sing with rich tones and shades. This is one of those stories you may want to take a shower after reading, but if it causes that much of a visceral punch, it's got to be prety darn good.
Whew, I need a break. See what I mean? This was a massive read. And some of the best Old West fiction you're ever going to see collected in one volume. Can't wait to chug through the rest of this one with you guys next week.
Ambush Bug is Mark L. Miller, reviewer and co-editor of AICN Comics for over eight years. Check out his short comic book fiction here and here published in MUSCLES & FIGHTS 3 and MUSCLES & FRIGHTS on his ComicSpace page. Bug was interviewed here and here at Cream City Comics. Look for more comics from Bug in 2009 from Bluewater Productions, including the just-announced sequel to THE TINGLER for their VINCENT PRICE PRESENTS series available in July's previews (Order code: JUL09 0737) and on the shelves September 30th.
---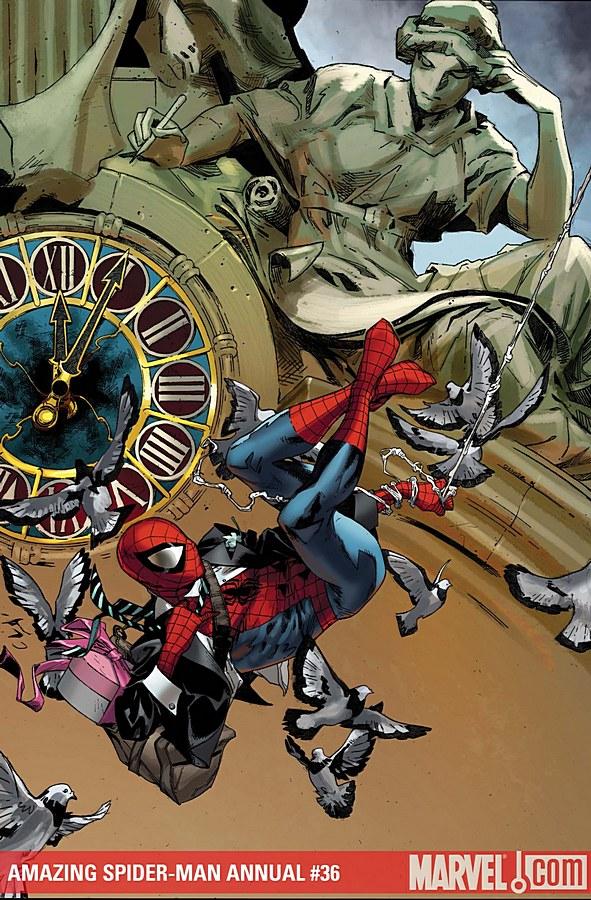 AMAZING SPIDER-MAN ANNUAL #36
Writer: Marc Guggenheim Art: Pat Oliffe Publisher: Marvel Comics Reviewer: Matt Adler
This annual has gotten a significant amount of hype, as it is the lead-in to the upcoming "Who Is Ben Reilly?" storyline that will run in the thrice-monthly AMAZING SPIDER-MAN. That, along with the forthcoming SPIDER-MAN: THE CLONE SAGA miniseries, represents the first time in more than 10 years that Marvel will directly address "The Clone Saga" in any major way (the always enjoyable SPIDER-GIRL series has never shied away from embracing all aspects of Spider-history, but it's been off in its own corner of Marvel's publishing line).
Now it seems Marvel is willing to bring the story back into the mainline (perhaps in concession to fans unhappy with the abandonment of continuity in "One More Day"?). This news has caused delight in some fans, and consternation in others; but to be honest, most of the voices of protest don't seem to have read the original story and simply have a knee-jerk avoidance to it based on what they've "heard," years after it was actually published. To be sure, corporate politics derailed the original saga (you can read more about this in my 3-part interview with former Marvel EIC Tom DeFalco, right here at AICN), but the fact remains that many of the plot elements and characters were developed by talented writers, and there's no reason other talented writers can't reach in, pick out the gems, and put a polish on them to use in a new story.
That appears to be what Marc Guggenheim is doing here. The "Clone Saga" elements in this initial story are limited, but still significant. Without spoiling too much, the setup appears to be that Ben Reilly, the clone of Peter Parker, did something Very Bad "several years ago" (in Marvel Time; in real time, Ben has been dead for over 10 years). Of course, readers of the original "Clone Saga" know that things are not always as they seem when it comes to clones, since false accusations often abound when you're dealing with physical duplicates. Plus, Ben has always been shown to be every bit the hero that Peter Parker is, essentially having had the same loving and moral upbringing, so it's a good bet we're dealing with some degree of misdirection here.
Still, the mystery is set up very effectively, from the opening flashback to Peter's stunned reaction at the news that the man he once called brother may have committed heinous acts. Adding to the effectiveness of this sequence is the presence of longtime SPIDER-GIRL and UNTOLD TALES OF SPIDER-MAN artist, Pat Oliffe. If there's anyone who can balance the needs of a modern Spider-Man story with a connection to tales past, it's him. There's also a nice montage with images of Ben Reilly from the original '70s clone story as well as the '90s saga, featuring the art of Dan Jurgens, John Romita Jr., Mark Bagley, and more.
The rest of the story deals with the engagement party of Aunt May and J. Jonah Jameson's father. Yes, Aunt May has been set up with yet another improbable suitor, following in the line of such ill-fated matches as Doctor Octopus, Nathan Lubensky, Willie Lumpkin, and the Avengers' butler, Edwin Jarvis. But here's a question: assuming this relationship does work out, and they follow through on getting married and settling down, doesn't that remove Aunt May's entire purpose for being in the series? For years, she's been the living legacy of Peter's bad decision with the burglar; his frail, widowed Aunt, living all alone, with only Peter to count on. If they go through with this, that's all gone. Something to ponder.
In any event, Guggenheim gets in some nice jokes about how Peter and his longtime nemesis/boss Jameson would practically be brothers after the wedding, a thought which appeals to neither of them, though Peter has some fun with it at JJJ's expense. There's also an interesting surprise as we're introduced to the members of May's family, the Reillys, whom she apparently hasn't seen in years. One flaw here is that no effort is made to explain WHY we haven't seen them; it might make sense if May had some kind of falling out with them, but there's no indication of that here.
By the way, if you're wondering what the Reillys' connection to Ben Reilly is, it's pretty simple; once he realized he was a clone of Peter Parker, he adopted his uncle's first name and his aunt's maiden name to distinguish himself. Peter would later claim that Ben was a "cousin" when his friends encountered a now dyed-blond Ben (yeah, yeah, if Clark Kent can get away with glasses, Ben can get away with blond hair). Now, it seems more than mere coincidence that they would reintroduce Ben Reilly AND May's extended family in the same issue, but whether there's any more significance to the Reilly connection remains to be seen.
Revisiting "The Clone Saga" will be tricky, given how much has changed continuity-wise in the intervening years. It would be simple for the writers to just ignore everything that took place and simply use a character with the name Ben Reilly to lure in fans, but this issue sends all the right signals that they're serious about taking what's been established and making it work in modern continuity. All in all, this is a pretty promising start for a storyline that looks to reopen one of the most controversial chapters in Spider-Man history.
In most places, Matt Adler goes by the name his mother gave him, but occasionally uses the handle "CylverSaber", based on a character he created for the old DARK FORCES II: JEDI KNIGHT game (one telling hint of his overweening nerddom). He currently does IT and networking support for the government of Nassau County, NY, but his dream is to write for a living, and is in the process of figuring out how to get publishers to give his stuff a look. In the meantime, he passes the time by writing for AICN, CBR, and a few other places. He also formerly wrote for MARVEL SPOTLIGHT magazine.
---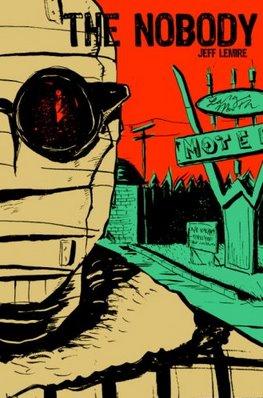 THE NOBODY HC OGN
Writer/Artist: Jeff Lemire Publisher: Vertigo/DC Comics Reviewed by Humphrey Lee
One of the great joys, and biggest horrors methinks, is when it comes to seeing one of your favorite lesser known, well, whatevers (writers, bands, artists, etc) start to get more and more attention. Selfish to admit, and come on, we all know we do this, but you start to feel a little less "special" that this cool little thing you enjoyed is now going to start getting more and more attention and now there's more people that know about it, but they haven't known about it as long as you have so they start to annoy you, right? And then you start to panic: "well, what if they made their style more mainstream now? What if all these goons are moving in because all the artistic merit is gone?" and you start to weep and get anxious over the tattoo you got in dedication to them after about sixteen more whiskeys than you should have had and because you secretly thought it might get you a girl with similar tastes...okay, moving on. So here, with THE NOBODY, we have Jeff Lemire, of the fantastic series of ESSEX COUNTY graphic novels fame, getting his mainstream(ish) debut via Vertigo. Did he keep his indie cred or did he Metallica (or "Selloutica") it?
Nah, dude totally rocked it Radiohead style. Except I couldn't decide to pay only a fiver for this, not that I would have because this was well worth for full Andrew Jackson. Really, that whole intro was just my posturing on the other side of the "hype machine". The anti-hype if you will when anything or anybody is moving up in exposure on their own. Just like those aforementioned ESSEX COUNTY books, THE NOBODY continues in the same tradition of Lemire's focus on the proverbial small town, but this time with a sci-fi twist as the main character involved is none other than H.G. Wells' Invisible Man, thanks to the beauty that is public domain. Basically, the gist is that Griffen, our see-through male, takes himself to the relative middle of nowhere in order to work on his condition, thinking the lack of people will keep prying eyes away from him as he works, and that some questionable types from his haunted past will be unable to find him. As you can imagine, pretty much none of these concepts remain true and, as they say, hijinks ensue.
What goes on from there is an exhibition in what we've seen Lemire weave so well before, as you have the residents slowly become more and more paranoid about the stranger in their midst despite having almost no hands on experiences with him except for the occasional food run or what have you, and those are always on the courteous side. But, of course, everyone's internal busybody takes over and the town's opinion of him starts to descend, especially with egging on from a very vocal local that didn't much take to him from the start. If anything, things do kind of escalate like clockwork, but Lemire does very well to give the little nudges here and there before the town becomes very active about the outsider. All the while, there's other elements being kicked around, like Griffen's befriending of a local teenage girl, Vickie, who is also a bit of a solitary figure since her mom left her and her father, and then there's the occasional good old fashioned head psychosis on the part of our central character, always good for a laugh and a "WTF?" of course.
If there's any glaring flaw that I would put on this work, it's that it does kind of play out a little too safe I guess is the way to go. All the elements in play are well handled and there's typically at least the minimal amount of play you would like on some of them like the little flashes in to Griffen's past and so on (though I'd argue some of the insights and relationships could have gotten another page or two each for fleshing out); the acts kind of play out exactly as you'd expect them to and hit the rise and fall somewhat predictably. But even slight convention can be saved by craft, which is why I've come to enjoy Lemire's work so much, and THE NOBODY is no different. It might not move into "groundbreaking" territory as much as I would hope, but it sets up residence in "Just Fucking Good Comics"ville just fine. At the very least, it seems to be a refinement of his work, especially in the penciling part of his storytelling, as his lines have tightened up rather significantly. It's still a somewhat raw cartooning style, with the figures still a little rough around the edges, but they're much more honed methinks overall, giving their expressions that much more depth.
So, yes, of course it's disappointing that my indie creator didn't create something that "redefined the medium" or whatever unfair expectations I was putting on this book for no discernible reason besides my respect for his work and the Vertigo Imprint itself. How dare they and all that rabble. Now all I'm left with is an expertly crafted tale, one with some great character exploration, pacing and plotting, with an aesthetic all its own. And that is a perfect lazy day read. And that is highly rereadable and a great showcase for a talent on the rise. I guess somebody isn't a Nobody anymore.
Humphrey Lee has been an avid comic book reader going on fifteen years now and a contributor to Ain't It Cool comics for quite a few as well. In fact, reading comics is about all he does in his free time and where all the money from his day job wages goes to - funding his comic book habit so he can talk about them to you, our loyal readers (lucky you). He's a bit of a social networking whore, so you can find him all over the Interwebs on sites like Twitter, The MySpaces, Facebookand a Blogger Account where he also mostly talks about comics with his free time because he hasn't the slightest semblance of a life. Sad but true, and he gladly encourages you to add, read, and comment as you will.
---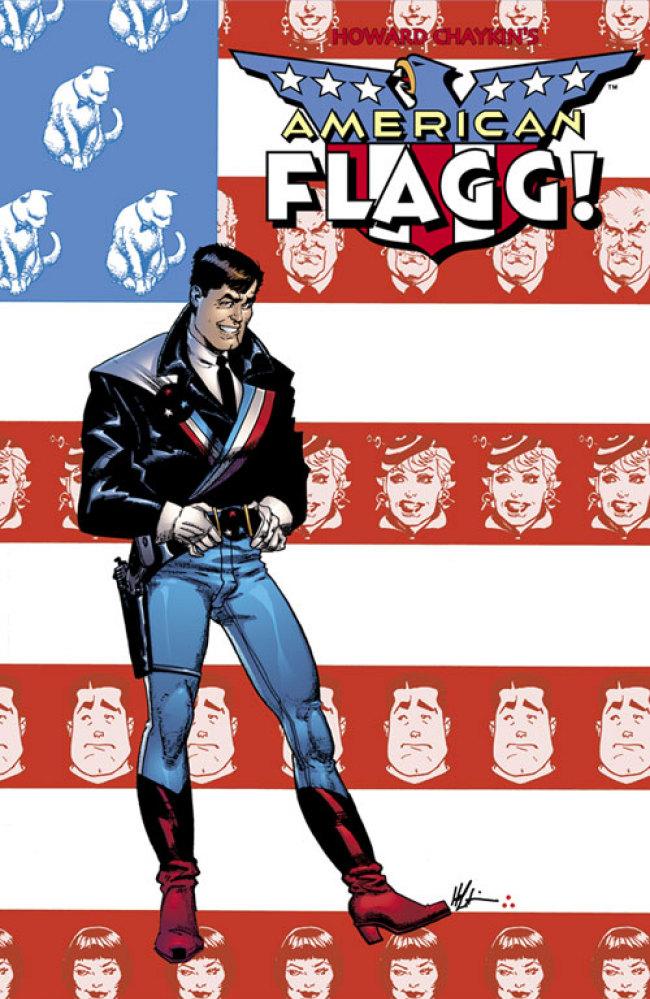 HOWARD CHAYKIN'S AMERICAN FLAGG: DEFINITIVE COLLECTION VOLUMES 1 & 2
Dynamite Entertainment (US) / Titan Books (UK) Reviewed by: Ryan McLelland My favorite comic growing up in the eighties was THE SHADOW (sorry PETER PORKER - you are a very close second). Howard Chaykin's Shadow was a breath of fresh air to me and I gobbled up every frame of that miniseries. Chaykin didn't go onto the regular series when it launched, leaving me to look around for other comics Chaykin had done.
I didn't have to look very far. I found AMERICAN FLAGG and was instantly launched into gun violence and big ol' jubblies from page one. Taking place in our now not-so-distant-future (2031), Rueben Flagg is a former actor turned 'supercop' when he joins up with The Plex. The world has gone to hell and the Plex is part of the solution to get American back on track. Of course that's a lot of bull and Flagg instantly sees the rampant corruption spew forth in the organization while the public is forced to watch horribly violent reality television shows with subliminal messages attached.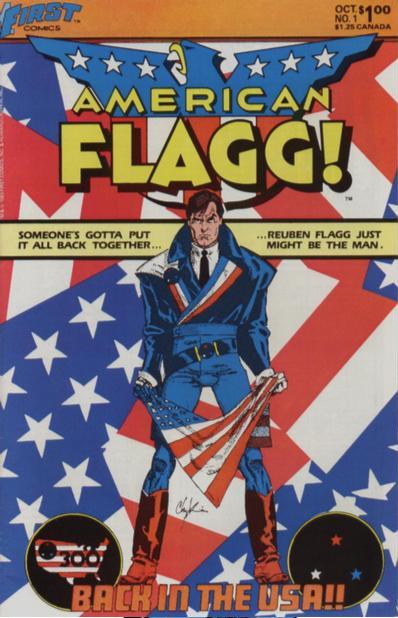 Basically, it's a lot like our world today.
Dynamite and Titan have done an amazing job bringing these collections together. The first volume collects issues 1-6 (with a "rarely seen" prologue included) while the second collects 7-14 with a BRAND NEW story by Chaykin. The new story is the icing on the cake - it's 12 pages of amazing glory. Chaykin has surely upped his game since the eighties and the legend has never looked better then his new story does here.
Can't take away from the rest of the graphic novel(s), though. Littered with sketches and pin-ups, these volumes are wonderful reprints of the original series. The colors stand up nicely and are reprinted on very heavy paper. The story, which may have been a bit over the top in the early eighties, really rings true in today's modern culture. Chaykin, like all great writers, was not just writing a story but actually predicting the future.
THE DEFINITIVE COLLECTION is a must buy - not just for fans of Flagg or Chaykin. AMERICAN FLAGG is a classic American comic book that helped redefine independent comics in the eighties and still continues to shove it right in your face today.
Ryan McLelland has worked in movies and comics journalism for the past several years before joining the @$$holes here at AICN. Ryan's comic work has already graced comic shelves with Arcana's PHILLY, WISE INTELLIGENCE, UPTOWN GIRL, and THE SENTINELS ANTHOLOGY. He rarely updates his blog but when he does it can be read at www.eyewannabe.com. The first issue of his new WISE INTELLIGENCE miniseries can be found here.

---
TORCHWOOD: RIFT WAR
Story by: Simon Furman, Paul Grist, Ian Edginton, Brian Williamson Art by: Paul Grist, SL Gallant, D'Israeli, Brian Williamson Published by: Titan Books Reviewed by: Baytor
For two years now, TORCHWOOD has been the less interesting sister-program of DOCTOR WHO. It's not bad exactly, but it lacks the purity of formula that has allowed the Doctor to cross generations. And, of course, it gets its own magazine (which I think is required by law of all science fiction shows), which publishes a 10-page comic story every issue. This is the less than stellar collection of their first major story-line: RIFT WAR.
Much of this volume is illustrated by Paul Grist of JACK STAFF fame. To say that he fails to capture the likenesses of the TORCHWOOD cast would be the understatement of the century. He is, however, the only artist of the four that can make each character instantly recognizable without resorting the worst sort of photo-referencing and it ends up being a shame that its not his artwork throughout.
Storywise, the whole thing is a mess. It starts off with the Harrowkind (who look vaguely Scottish, but without the fashion sense) invading Cardiff and making off with Torchwood HQ, along with resident Asian cutie Toshiko, where she meets the mysterious alien, Vox. After helping her get back, he begins acting in a strange manner that instantly foreshadows the obvious future plot developments. Along the way, we get a lot of one-shot adventures where they have to raise giant babies, battle genetically engineered dinosaurs, and team up with the 1918 version of the team to stop bad guys at Stonehenge, before the plot twist absolutely everyone will see coming finally happens.
I know I'm being overly harsh on the book. It's not dreadful and it's perfectly readable (apart from the times where you can't tell the Welsh girl apart from the Japanese girl), but it always drives me a little nuts to see a strip like this take on extended story arcs, instead of focusing on shorter stories. The magazine only has 10 pages a month to tell their stories and telling a 10-part epic story just highlights how clunky the format is for longer stories… especially when you have trouble keeping an artist or writer for more than three installments.
I ended up enjoying the one-part "Jetsam" story more than the main story, despite some of the most lifeless photo-referenced work I've ever seen. The Torchwood crew discovers an advanced piece of alien hardware, which is accidentally bonded with Tosh and she becomes embroiled in an ancient conflict. It is by no means a great story, but it at least takes better advantage of the format than its 10-part bookmate.

---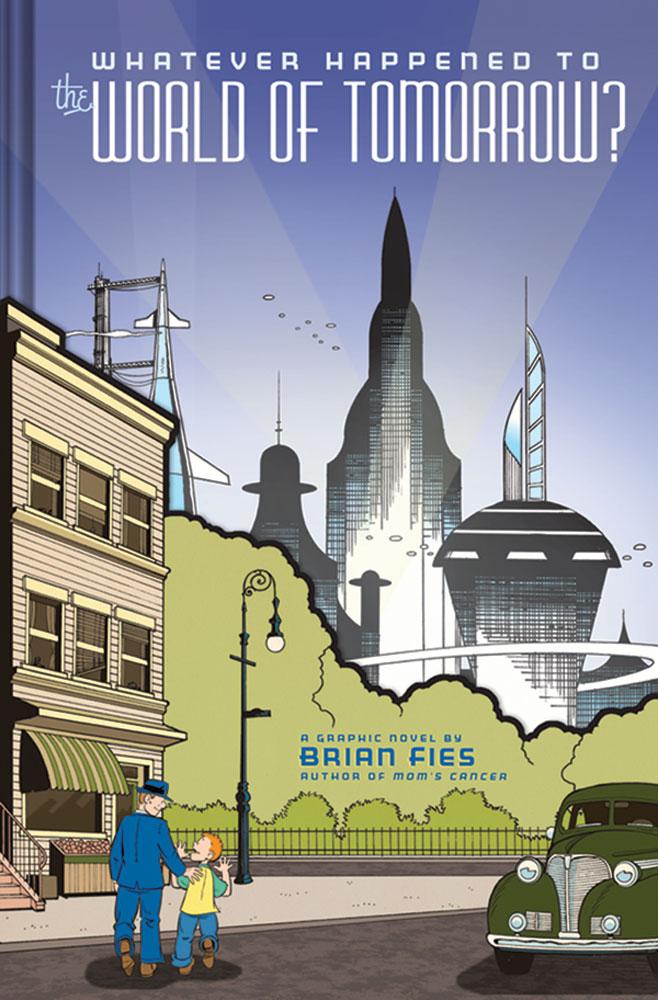 WHATEVER HAPPENED TO THE WORLD OF TOMORROW? OGN
Written and drawn by Brian Fies Published by Abrams ComicArts Reviewed by Stones Throw
There's a great Robert Crumb cartoon that follows one patch of land in a series of panels from pre-colonisation up to the present day, showing us houses getting built, roads and automobiles appearing, telephone wires and telegraph poles cropping up and beginning to crowd the panel. The last panel is captioned something like, "What will happen next?" Brian Fies is asking a similar question in this new graphic novel. The basic premise is that, beginning with the New York World's Fair in 1939, it traces the history of technological development and exploration in the twentieth century through the Second World War, the Cold War, the Moon landings, finally asking the poignant titular question, Whatever Happened to the World of Tomorrow?
Communicating our collective loss of hope and optimism are two characters, "Pop" and "Buddy", who, in an intended commentary on comic book chronologies, age veeryy slloowwlyy over the decade-long intervals in which the book unfolds. Meanwhile, as a foil to the main plotline, each chapter is followed by a pastiche of comic books of the day, neatly printed on different paper stock, beginning with a Golden Age adventure given away free at the World's Fair, all the way up to a late-Sixties Denny O'Neill style story in which a conscience-stricken Captain Crater walks away from his space-faring identity.
Seems like a fair idea and a clever structure to shape it around. Fies is probably right that, as a whole, we've lost imagination both in comic books and the scientific world that inspired them (though I would venture to say that's more of a result of having done it in the first place--once man has got to the Moon there's not a lot further he can go.) Unfortunately I found his book lacking in the same qualities of imagination and ambition that he's wishing we still had.
The first problem is the art. Fies won an Eisner award for his dot.comic MOM'S CANCER in 2005. This book probably demonstrates the problems in stepping up from the web to published works. His art has a bold and expressive cartoony style that probably works great when reading it online but is wholly lacking in more subtle detail and depth, leaving the many splash pages looking pretty empty. More importantly, the simplistic cartooning means each era, from 1940s to 1970s, looks pretty much the same, so, unlike the Crumb cartoon, we don't get to see that kind of visual progression and accumulation I'd have thought integral to the book. While numerous chunks of text tell us about the amazing technological progress over the years, the book isn't able to express that facet of the story through images.
Weirdly, it seems Fies isn't even trying to do that. Not only does he draw in such a simplistic style but locations are often backgrounded in a monochrome palette while only Pop and Buddy, the only two characters with dialogue for almost the whole book, get fully colored. The decision to have the archetypal father and son hardly age until the final chapter, set in the future, means we don't even get to see much character development. "Buddy"'s eternal one-note is upbeat, with a brief key change to moody teen in the middle. Pop remains stoic and paternal but we don't get to see him age and become an old man in a rapidly-changing world. How would a WWII veteran react to the atom bomb or Apollo 11? And for that matter, where the heck is the mother? Fies doesn't say.
Pop and Buddy are evidently intended to represent all of us, which is why they're also present as Captain Crater and Cosmic Kid. But the focus on two very generic characters limits the book and sticks it in limbo just as much as the Silver Age comic books it references, where it should be aiming for a sense of change and propulsion, even if that is curtailed, as Fies suggests. The meat of the book is wordy, heavily researched captions like:
"Shockley, Brattain, and Bardeen invented the semiconducting transistor in 1947. Their breakthrough amplified electrical signals, provided the on/off binary switching at the heart of every computer, and replaced the larger, hotter, more expensive, and less reliable vacuum tube."
Or:
"From the days of the earliest vacuum-tube calculators and war-time code breakers through to transistors and integrated circuits, the speed and power of electronics soared while their size and price plummeted."
Yeah, I skimmed over them, too. But given the absence of well-rounded characters and over-reliance on expository, factual captions, what do you have left? A pretty tired chronology from hope in 1939 to uncertainty circa Watergate and Viet Nam, with a saccharine "reach for the stars" conclusion tacked on the end, that's what.
There were two scenes that I found of greater interest. The first, which recalled WATCHMEN, showed the kid working on a model rocket ship in his room on VJ Day as President Truman announces Japan's unconditional surrender. The second was perhaps a little cliché but powerful nonetheless as, in 1955, Pop and Buddy work on a bomb shelter in their basement, neither calling any attention to what it is. What's Fies saying with these two sequences? That scientific progress isn't always beneficial? That the dream of the World's Fair in 1939 has become corrupted? You wouldn't get any sense of it from the conclusion, which blandly asserts we should all "build the world of tomorrow".
In the end, I felt the book struck an unsatisfactory balance between scientific history and personal story, achieving success in neither. The title, like Neil Gaiman's "Whatever Happened to the Caped Crusader?", references Alan Moore's Superman farewell, WHATEVER HAPPENED TO THE MAN OF TOMORROW?, and, while it might be an unfair comparison, that book was a better examination of national loss of innocence through the archetype of Superman. And WATCHMEN dealt more intelligently and honestly with nuclear paranoia and science in comic books.

---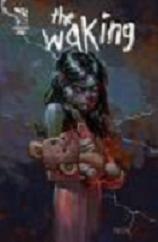 THE WAKING Limited Series advance review!
Writer: Raven Gregory Artist: Vic Drujiniu (Soon to be) Published by: Zenescope Entertainment Advance review by: BottleImp
One of the best things that comic books have going for them today is the sheer diversity of subject matter. Sure, superheroes still dominate the market, but other genres now have a much healthier representation on the racks than ever would have been possible in decades past. Science Fiction, Western, Biographical, Humor, Mystery/Thriller, Crime, Horror—you get the picture. I was fortunate enough to be able to see a preview of an upcoming limited series that combines the latter two genres—Crime and Horror—in Zenoscope's THE WAKING.
In a nutshell, we have CSI meets NIGHT OF THE LIVING DEAD. THE WAKING follows four police officers as they discover that the victims of their latest cases are beginning to get up, walk around, and hunt down those responsible for their deaths. Meanwhile there's a mysterious stranger who seems to be linked to the bizarre re-animations. Is he the cause of the zombies, or does he hold the key to putting an end to them? Well, I only got to see the lettered and penciled pages of the first three issues, so I have no idea how it all ends. But this series has a hell of a good start.
Although I mentioned NIGHT OF THE LIVING DEAD, the only characteristic that THE WAKING shares with Romero's work is that both have corpses walking around when they should be lying in graves like respectable worm-farms. Whereas NIGHT's zombies were brainless, aimless, shuffling flesh-eating automatons, WAKING's zombies are more directed, like the zombie legends of old when the undead were raised for specific tasks. These corpses have a purpose: revenge. I'm glad that Gregory came up with something new to do with the zombie genre rather than the typical "band of strangers join together to survive" kind of story that has become the go-to when it comes to a living dead kinda storyline. What with Marvel's seemingly endless parade of zombie books, Kirkman's WALKING DEAD and a slew of other horror books that are cluttering the racks, it's refreshing to see a slightly skewed premise of vengeance from beyond the grave to set this book apart.
Drujiniu's art goes a long way towards blending the horror elements with the real-world, police investigation aspect of the series. Prudes beware, however—there are several lovingly-rendered drawings of nude women with large, shapely breasts found within these pages. They are so lovingly rendered, in fact, that they threaten to push THE WAKING into the realm of being a titty book—except for the fact that Drujiniu renders EVERYTHING with just as much painstaking, loving detail, whether it be a set of Double-Ds, the interior of a police cruiser, or a maggot-encrusted corpse beating the shit out of the owner of said Double-Ds. The top-notch visuals enhance both the sense of the concrete, true-to-life environments and thrill of watching a late-night horror flick on Skinemax.
I only have one nit to pick with the series so far, and it's a problem that seems to be characteristic of the crime genre whether represented in print or on film or television. Gregory's four officers, though distinct visually and given different voices, still feel sketched rather than realized. Like I said, it's a problem that I've noticed with a lot of mysteries, when the bulk of importance is naturally given to the plot rather than the personalities of the cast. After all, it's the story, the mystery that's really going to be the hook that draws people in; it's those dangling clues that make the reader (or viewer) want to stay 'til the end to find out what happens. And so it is with THE WAKING—I would like it if the cops were a little more fully realized, but in the end I wholeheartedly admit that the real meat of the series is finding out why those pesky bodies won't stay deceased.
All in all, THE WAKING looks to be a fun read—look for it to crawl onto the comic racks within the next few months.
When released from his Bottle, the Imp takes the form of Stephen Andrade, an artist/illustrator/pirate monkey painter from the Northeast. You can see some of his artwork here. He's given up comics more times than he can remember. But every time he thinks he's out, they pull him back in.

---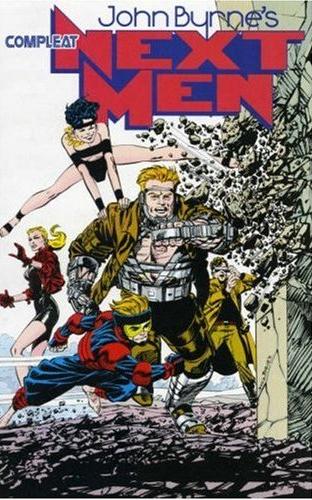 THE COMPLEAT NEXT MEN VOL. 1
Written and Illustrated by: John Byrne Published by: IDW Publishing Reviewed by: superhero
John Byrne gets a bad rap. Okay, sure, he's said some pretty boneheaded things in the past and his art style may seem to be a bit dated but I stand by that statement. I think Byrne gets a bad rap.
I expected to be disappointed with this book. I actually have all of the original issues. I bought and read JOHN BYRNE'S NEXT MEN when they originally came out in the early to mid 90's. I remember really enjoying the series back then. I also remember feeling that it was Byrne's last hurrah. After NEXT MEN I felt my appreciation for Byrne's artwork diminish. Actually, I think it was during the NEXT MEN where I began to see the cracks in Byrne's armor. Up until then Byrne could do no wrong. He was pretty much infallible to me in my teens and early twenties. But after a while I started growing up a bit, discovering new and different types of comics and art styles, and I soon found out that the luster of the "Byrne style" had worn off and several years ago I just about out and out had a hard time buying anything he'd attached his name to, not just because of his art but because of his writing. To me, somewhere around the mid-nineties was where Byrne's needle got stuck on the record of his own ego and refused to move…so I moved on away from him. Off to discover newer pastures.
Which is why I found this volume so refreshing. Again, I thought I was going to be disappointed by this volume. It's hard revisiting old comic work that you enjoyed when you were younger. Flaws that weren't evident on that first, naïve read become glaring and jarring to older, more jaded eyes. That wasn't the case with my re-read of JBNM. If anything this re-visit to Byrne-land re-ignited my appreciation for Byrne as a strong visual storyteller and a powerful cartoonist. This particular volume presents the beginning of the NEXT MEN saga in pure black and white leaving Byrne's artwork untouched by a color palette and it's a powerful sight. Byrne's artwork in pure black and white is striking on the page. It's almost as if the lack of color adds strength to Byrne's style. But what's most impressive here is Byrne's storytelling ability. NEXT MEN was very atypical for the comic books of its time. While it is a take on the superhero/sci-fi genre it's very different from what other books were doing at the time. See, for the most part, there's not a lot of action. It's very much an early precursor to what Bendis and co. have made superhero books into today, which is more talky talk than action. But what Byrne succeeds in with this book is making a story that is mostly dialog and character interaction far more entertaining than one would expect it to be. NEXT MEN is a compelling and interesting read from start to finish and it's a great display of what I'm realizing in my later years was Byrne's real strength: storytelling.
Now before I get carried away let me just say that it's also full of many of Byrne's weaknesses. Stuff like re-using old plot devices from other stories (a segment during the Russian story arc lifts directly from Byrne's STARBRAND run), dialog that is a bit too corny to take seriously, and some slightly rushed looking artwork. But the thing is…Byrne did this book all on his own. He wrote, penciled, and inked the whole thing by himself. How many comic creators do you know that could do that today and get their book out on time month to month? Not many. So I'm willing to forgive a couple of missteps here and there and accept NEXT MEN for a slightly flawed but highly enjoyable read. I'll be getting the next volume ASAP. Hell, I may even buy the oversized hardcovers. I liked it that much.
Discovered as a babe in an abandoned comic book storage box and bitten by a radioactive comic fan when he was a teenager, superhero is actually not-so mild mannered sometime designer & cartoonist, Kristian Horn of Los Angeles, California. He's been an @$$hole for three years. Some of his work can be seen at www.kristianhorn.com.

---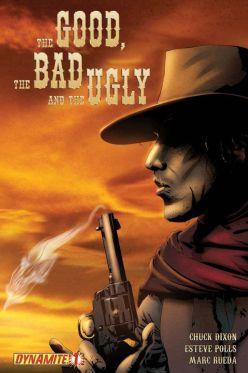 THE GOOD, THE BAD AND THE UGLY #1
Thanks to Dynamite Entertainment, Sergio Leone's THE GOOD, THE BAD AND THE UGLY has found its way onto the pages of a comic book. And since everyone on this side of the culture warp has already seen what is largely considered THE GODFATHER of Spaghetti Westerns, Dynamite has attempted a reimagining of the Leone Universe. Folks, this is one creative license that needs to be revoked.
When I was 18, I had a friend throw up in my car after a hard night of drinking. Unfortunately he vomited on my copy of SWAMP THING #121. I tried to read it a few days later, but the pages were a kaleidoscope of ugly colors and it just flat out reeked of bile. Defeated, I threw the book out and called it a loss. Reading THE GOOD, THE BAD AND THE UGLY has reminded me of that incident.
This is not Dynamite's first foray into Leone's beloved westerns. A few weeks ago I reviewed THE MAN WITH NO NAME because it also focused on the exploits of Blondie and Tuco. I immediately noticed that both books have a lot in common. Kind of like the way each one left me with the facial expression of a Nazi staring into the Ark of the Covenant.
The most frustrating part of this book is that there is no singular egregious sin that makes me want to throw my arms up in disgust. Looking back, I kind of wish there was; maybe it could give have given this book a little life. Nothing happens here. And when it does, it's either predictable (to the point of absurdity) or it just makes no sense. For instance, the book opens with dark, moody panels and then OH MY GOD IT'S A TRAIN HEIST! IN THE WILD WEST! The train heist has become the accidental kick to the groin in "America's Funniest Home Videos." You know why it's there – and you also know you deserve better.
People get shot dead in this story every time they do something wrong. Yet when Blondie tries to wax one of the main antagonists and fails, they simply beat the shit out of him and steal his horse. Why? Because if they killed him, there would be no issue #2. This is not storytelling. This is painting by numbers. I get the sense that the people behind this book really think they're achieving, but their adherence to the standards set by Leone has failed them. The brilliance of the original film does not transition well to the pages of comic books, where a reader cannot hear foreboding music or the sound of far-away gunshots. Nor can they filter out the personality of the main character, who often has little to no dialogue – especially within illustrations so dark and clumsily drawn as these.
I'm sure there was a day when someone was reading a comic book and THE GOOD, THE BAD AND THE UGLY came on TV. It must have been like the time that guy with the chocolate ran into the guy with the peanut butter. Unfortunately this is not Reeces, this is feces. I don't know if this series will ever work, because Dynamite has assembled a story around the franchise and not the other way around. That leaves me with the impression that it's not about the comic, it's about the money. It always is, I suppose – even in the book. About midway through the story, a prostitute offers to fuck someone for two dollars. That's not a bad deal. THE GOOD, THE BAD AND THE UGLY fucked me and I had to pay $3.50.
Final word: Angel Eyes would have put a pillow over this book and shot it in the face.
Web heads who can't get enough of Mr. Pasty's word vomit are encouraged to see him operate as Nostradumbass over at MMAmania.com. Love, hate and Mafia Wars requests should be directed here.

---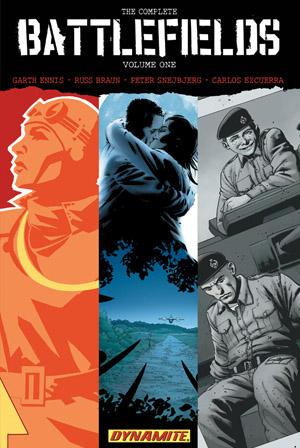 BATTLEFIELDS VOL. 1: THE NIGHT WITCHES
Story by: Garth Ennis Art by: Russ Braun Published by: Dynamite Entertainment Reviewed by: Baytor
There is no one in comics today who does better war stories than Garth Ennis. I don't care how you feel about his super-hero comics, his ultra-violence, or his tendency for inappropriate humor. He flat-out does not have an equal when it comes to war comics. You have to go back to the 50s and Harvey Kurtzman, who is the undisputed champ of war story shorts, to find a proper challenger.
I think the most important aspect of a war comic is empathy. You don't have to agree with the war or the country fighting it, but you have to be able to put yourself in the place of the common soldier who is expected to travel to distant lands and submit himself to the horrors of combat. You have to be able to capture the quiet moments, the rowdy moments, and the terrifying moments. Garth Ennis can do all of things effortlessly.
Which is not to say you have to like all soldiers. They're people, not wind-up heroes that we take out to idolize on Memorial Day. The incompetent at the Dunkin' Donuts that can't get your coffee order right will probably be no better if you put a gun in his hand, nor will the petty tyrant of a boss if he actually gets his hands on the power of life and death. But a good war story has to understand such people and empathize with them more often than not, even if that person isn't the most pleasant of people.
THE NIGHT WITCHES tells the story of a remarkable bit of nearly forgotten history, when Russian female pilots took to the air in obsolete bi-planes against the invading Germans. Even more remarkable is the pilots had to turn off their engines during attacks (to avoid giving away their position in the slow-moving planes) and hope they'd start back up after they dropped their bombs. In lesser hands, this would either have been an inspirational story of how female pilots are the equal of their male counterparts or a condemnation of the horrendous sexual harassment they received at the hands of men. Ennis takes all of that as a matter of fact and makes it about the people.
When they first arrive, the women are treated as a novelty act and the men are more interested in the size of their tits than their skill as pilots, and the commander's reaction to finding out that our heroine, Anna Kharkova, needs to sit on a cushion to see out of the plane is priceless. But they soon prove their worth and are, more or less, accepted.
Running parallel to this story is the tale of a kind-hearted German soldier resisting the teaching of his monstrous commander. Early on, this is a distraction from the far more interesting Russian story, but it's empathy that salvages it. As the story progresses, we discover that the monstrous commander is, in his own sick, twisted way, trying to save the lives of his charges by purging them of whatever warm fuzzy feelings they may have toward the Russian people, who most certainly do not return such feelings. By the time the two stories merge, the importance of setting up these characters becomes clear and makes the conclusion fairly surprising.
NIGHT WITCHES isn't quite as satisfying as the suite of war stories Ennis published through Vertigo a few years back, but mostly because you can feel the repetition creeping into the formula. A failing of war stories is that they're variations on a theme and fresh perspectives are few and far between, but Ennis' talent at characterization and his ability to find less-traveled venues serves him well.

---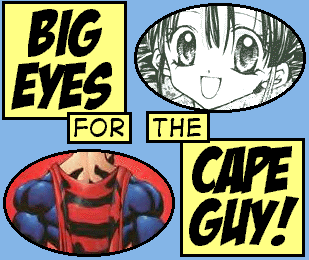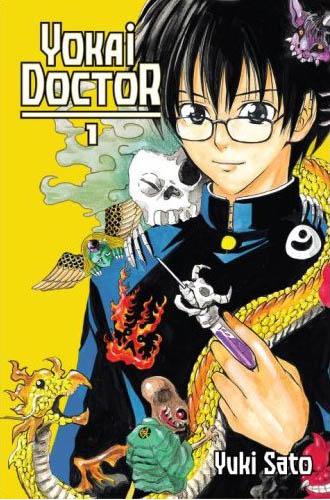 YOKAI DOCTOR VOL.1
I recently half-joked on twitter a speculation positing: now that ghosts of the J-Horror variety (RING, GRUDGE) are buried, zombies have run their course and vampires are in the midst of resurgence in popularity, yokai are on deck to be the next it supernatur