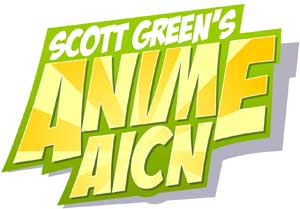 Logo handmade by
Bannister
Column by
Scott Green
The Fragile Heart of Moé
Alka Singh and Bharath Murthy are currently hard at work on 'The Fragile Heart of Moé' , a documentary that will blow the minds of anyone with a passion for manga. Scheduled for competition in September 2009, subtitled selections can now be seen. From the rough cut, the documentary appears to offer a sociological look at manga, from how sci-fi conventions such as World Con inspired the Comiket gathering of 35,000+ producers of dojinshi, self-published works, and 510,000+ consumers to why dojinshi events are still relevant in the internet age, to how manga permeates the thinking of non-devotees. One of the ways that manga has distinguished itself from native comics in North America is through the strength and prevalence of its shoujo works for girls. The Fragile Heart of Moé' presents an interview with Moto Hagio, a founding mother of modern shoujo, who along with the other members of Nijuyo-nen Gumi or Year 24 Flower Group, established a place for women as shoujo writers, along with many of the genres tropes. From illustrators to riot cops turned distrubitors, The Fragile Heart of Moé' is a fascinating look at the people in the manga chain, along with their environment. As a video documentary, the opportunity to actually see these people and how they work is priceless.
Also check out their interview with horror manga artist Junji Ito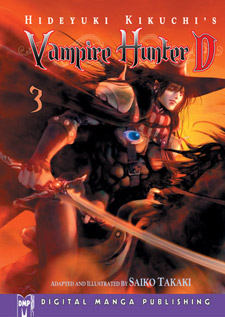 Manga Spotlight: Vampire Hunter D Volume Three Story by Hideyuki Kikuchi Adapted by Saiko Takaki Released Digital Manga Publishing
The third volume of Vampire Hunter D presents a bull rush through a worn out post-post apocalyptic gothic western world. Its volume long, written for graphic novel race kicks off with a spaghetti standoff as vampire hunting half vampire D charges his mechanical horse after undead lord Mayerling as the pure blood absconds with a young woman, only to find the notorious mercenaries of the Marcus clan also slaughtering their way towards the lord. The messy situation gets nastier when Barbarois mutants dog pile in, ostensibly on behalf of the vampire lord. On May 26, 2009, the sad news came that Sumiyo Imaoka lost her battle to cancer at age 56. Under the pen name Kaoru Kurimoto, she wrote 126 fantasy books concerning a leopard headed warrior in the Guin Saga series, in addition to her novel cycle "Makai Sui Koten" ("Hell's Water Margin") - a cross between Chinese wuxia tradition and Cthulhu mythos. Kaoru Kurimoto, along with Hideyuki Kikuchi were primary creative forces who set the template for what's now known as "light novels." Guin Saga,Hideyuki Kikuchi's similarly seminal Vampire Hunter D and their descendants are brisk pop-lit books that are generally for a teenage/young adult audience. And like Kurimoto and Kikuchi's work, light novels trended towards genre and often concerned themselves with inventing a world. A key quality of light novels is that they're quick reads. In several reviews, I made the point that Guin Saga is fantasy for an adult audience who no longer has the time for a Tolkien-esque doorstop. You can get through most of a light novel in a sitting or two. I brought Kikuchi's Dark Wars: The Tale of Meiji Dracula to the gym recently, and by the time I completed exercise cycle and working my legs I'd finished a bit more than a third. The third Vampire Hunter D novel, "Demon Deathchase" was the source material for Ninja Scroll director Yoshiaki Kawajiri's movie Vampire Hunter D: Bloodlust. That movie's location bound final act and Elizabeth Báthory stand-in Carmilla aren't be to found in the novel. Without that in place confrontation, the novel is constant, frantic motion. Saiko Takaki's manga adaption clings closely to the novel and as such, inherits that breathless dash through Kikuchi's world. This volume of Vampire Hunter D bolts from one dark tableau to the next. It's a bumpy ride on a wheel who's spokes consist of cursed paragon D, gothic Mayerling - a vampire painted as an honorable figured doomed by his love of a human woman, a Marcus clan willing to stop at nothing, including fratricide, to see their obsession through to the end, and a wildcard Barbarois ready to forward their own agendas. It's a concept driven affair. You get D crossing his sword with a giant man wielding a spiked pylon, D versus dark inverses of himself from the Barbarois, a militarized dirt buggy versus a vampire super-coffin, and all sorts of other genre chimera. The evident intension has very little to do with a smooth, coherent narrative. It's the storytelling equivalent of the "Itano circus" - the Macross publicized sequence in which a swarm of missiles are launched, with their exhaust vectors painting the sky in ant trails. The target direction is obvious, but the participants are spectacularly screaming all over the map to get there. Saiko Takaki effectively evokes the feel of the novels. The manga neither ignores nor stumbles over the contradictory notion an dusty wanderings of a man in an elegant cape. It has improved on its ability to suggest the style of the novels' illustrator Yoshitaka Amano (probably best known in North America for his work on the Final Fantasy games.) And, without aping Amano, Saiko Takaki touches on his trademark willowy forms and credibly puts them into action. Essentially Vampire Hunter D is the novel as manga, faithful down to how many arrows are put into a bow. The problem is that this limits the derivative work. There are observations that make the novel involving that don't translate to manga... that the shadow of a man with a spear slung on his back looks like a person impaled... how the great technology once produced by vampire lords has worn down to the point where it's literally missing screws. The manga is not well suited for that style of commentary and doesn't really replace it with its own spin, other than it's the story in sequential art rather than prose. It's a well executed adaptation of Vampire Hunter D into manga, but if that's not something that interests you, the manga isn't going to persuade you otherwise.
Upcoming in North America
ADV Films Sentai Filmworks announced its acquisition of three new anime properties, including the underwater action series Daphne in the Brilliant Blue, the yuri mecha mashup Destiny of the Shrine Maiden, and the superhero comedy Dokkoida?!. ADV Films handles North American home media distribution for Sentai Filmworks and will release each title on DVD this August. DAPHNE IN THE BRILLIANT BLUE COLLECTION ONE Animated by JC Staff (Azumanga Daioh, Excel Saga) Originally distributed in North America by Geneon Entertainment Synopsis Maia is having a very bad day. Her life-long dreams to join the elite Marine Environment Agency wither and die, when, despite everyone's high expectations, she fails the entrance exams. Then, with the loss of her student status, she gets evicted! Penniless, homeless, and unemployed, Maia finds herself in the middle of a shoot-out between fugitive convicts and the Nereides – sexy agents who only take the most high-paying and dangerous jobs. Desperate, Maia agrees to a job in the next Nereides operation – as bait! Daphne In the Brilliant Blue Collection One of two (SRP $39.98 DVD) is a two disc release including the series' first 13 episodes, presented in both English 2.0 and Japanese 2.0 with English subtitles. Scheduled to be release 8/18/2009 DESTINY OF THE SHRINE MAIDEN COMPLETE COLLECTION Originally released in the US under the Japanese title Kannazuki no Miko, Destiny of the Shrine Maiden Complete Collection assembles all 13 episodes in one DVD set. Synopsis: The Advent of the Priestess of the Godless Month! Shy, timid Himeko happily attends school with both the popular and beautiful Chikane and her childhood friend, Souma, blissfully unaware of what's in store for her. However, the destiny of these three changes on Himeko's 16th birthday when the mark of the sun appears on her chest. What does this solar mark represent? At the same time, why has a black aura of agony burst forth from Souma? Who is the enemy? The legend of the eight-headed beast returns to Japan! Destiny of the Shrine Maiden Complete Collection (SRP $39.98 DVD) is a two disc anamorphic release including the entire 12 episode series, presented in both English 2.0 and Japanese 2.0 with English subtitles. To be released 8/25 DOKKOIDA?! COMPLETE COLLECTION Originally distributed in North America by Geneon Entertainment, Dokkoida?! is adapted from a popular light novel series that has also been made into a manga (published in the United States by DC Comics under its CMX imprint). Synopsis: The Galaxy Federation Police (GFP) desperately wants to cover-up its personnel shortage with new mechanized power-suits. Suzuo, 19-years old, desperately needs a job. Tampopo needs an earthling to fit the prototype of her company's suit and declares Suzuo the perfect candidate! Strong competitors and the wacky A-class criminals fight against our hero in diapers, but they must not recognize each other out of costume or the test results will be a failure. Still, it's OK if they all live in the same apartment building to save money, right? Dokkoida?! Complete Collection Collection (SRP $29.98 DVD) is a two disc release including the entire 12 episode series, presented in both English 2.0 and Japanese 2.0 with English subtitles. Scheduled for release 8/25 Anime Vice note that ADV partern Sentai Filmworks has also picked up the rights to former CPM release Darkside Blues, the anime adaptation of mega-corporation horror from Vampire Hunter D creator Hideyuki Kikuchi. According to Robert's Anime Corner Store blog ADV August releases include Daphne in the Brilliant Blue Collection #1 DVD Boxed Set (Eps #1-13) Dokkoida Complete Collection DVD Boxed Set Kannazuki No Miko (Destiny of the Shrine Maiden) Complete Collection DVD Boxed Set Mahoromatic: Automatic Maiden 'Full Metal Maid' Complete Collection DVD Boxed Set (Eps #1-27 + Summer Special) Orphen Complete Collection DVD Boxed Set (Orphen & Orphen II) - magic based fantasy adventure Sakura Wars TV Series Complete Collection DVD Boxed Set Saiyuki Complete Collection DVD Boxed Set (Eps #1-50) - bishonen (cute guy) retelling of the Journey to the West epic RACS notes that Daphne in the Brilliant Blue, Dokkoida, Kannazuki No Miko, and Orphen Orphen are re-releases while Sakura Wars and Saiyuki are "Re-Re-Releases" Bandai Entertainment Via Robert's Anime Corner Store, Bandai August releases include Gundam 00 , Vol #2 DVD (Eps #10-17) Gundam 00 , Vol #2 DVD Special Edition (Eps #10-17) .Hack//GU Trilogy DVD - sci-fi fantasy set in fictional MMORPG Lucky Star OVA DVD - OVA follow-up to school girl geek comedy Sola Complete Collection DVD Boxed Set (Eps #1-13 + 2 OVA's) (Anime Legends) - bishojo (cute girl) anime previously announced by Bandai Visual Titles now rescheduled for August include Code Geass Lelouch of the Rebellion R2 DVD Bundle #1 (DVD #1-2) Code Geass Lelouch of the Rebellion R2 DVD Bundle #1 (Limited Edition) Ghost Slayers Part #3 DVD Bundle (Eps #21-30) Dark Horse Dark Horse will publish Usagi Yojimbo creator Stan Sakai will be commemorating the 25th anniversary of the comic this year with hand painted full color Usagi Yojimbo: Yokai this November. Yokai are the monsters, demons, and spirits of Japanese folklore, such as the shape-changing kitsune, the obakeneko demon cats, and the evil oni ogres. Usagi faces all these and more when a desperate woman begs for his help in finding her kidnapped daughter. In his quest to find the girl, he encounters these creatures of Japanese legend, who need a living soul as the captor for their army to enter the world of the living. Fortunately, Usagi is joined by Sasuke the Demon Queller, who fights for the same cause. However, things aren't always as they seem, especially when dealing with the supernatural! "Yokai is my most ambitious project to date--writing, drawing, and painting a standalone story that is a good introduction for new readers and expands on the Usagi storyline to appeal to longtime fans. I also had a great time researching the folklore and legends of Japan from its malevolent spirits to its goofier creatures," says creator Stan Sakai. Disney Frank Marshall announced on Twitter "Good news for PONYO, will be opening on 800 screens in August, by far the biggest opening for a Miyazaki film..." FUNimation FUNimation has reportedly scheduled a Blu-ray set ofFull Metal Panic: The Second Raid for August 11th for $99.99. Supplements will include bonus episode 000, bonus OVA, location scouting in Hong Kong, songs, and trailers. Kodansha International ICV2 has learned that Kodansha will publish The Otaku Encyclopedia in October. The book by Patrick W. Galbraith will feature 600 entries covering common expressions, people, places, and moments of otaku history. The 248-page retails for $19.95 and contains 124 color pages and more than 150 photographs plus manga illustrations, film stills and anime concept art. Frederik L. Schodt will provide the forward. Danny Choo looks at the book Samuel Goldwyn Films Anime Vice reports that the live action Blood: The Last Vampire will screen Berkeley, Los Angeles, San Diego, San Francisco, Chicago, Cambridge, Dallas, Seattle, and D.C on July 10th, 2009 Shout! Factory Toonzone notes that complete series box sets for G.I. Joe and The Transformers will be available at the San Diego Comic-Con. The Transformers: The Complete Series will contain every episode for the show on 16 DVDs in an Autobot Matrix of Leadership box set. Bonus features will include classic commercials, rare PSAs, and a voice cast reunion featuring voice actors like Michael Bell, Frank Welker, Neil Ross, and Dick Gautier. G.I. Joe: The Complete Series will contain every episode on 17 DVDs in a "footlocker" style collector's box, and also features brand new bonus features, and a set of temporary tattoos. Sony RACS notes that Sony has scheduled Ghost in the Shell, Stand Alone Complex 2nd GIG Complete Collection DVD Boxed Set (Anime Legends) for September VIZ Media Third quarter manga releases have been announced Ôoku: The Inner ChamberS, Vol. 1 • Rated 'M' for Mature Audiences • MSRP: $12.99 US / $15.00 CAN • Available August 18 In Edo period Japan, a strange new disease called the Redface Pox has begun to prey on the country's men. Within eighty years of the first outbreak, the male population has fallen to a quarter of the total female population. Women have taken on all the roles traditionally granted to men, even that of the Shogun. The men, precious providers of life, are carefully protected, and the most beautiful of the men are sent to serve in the Shogun's Inner Chambers. Ôoku: THE INNER CHAMBERS was created by Fumi Yoshinaga and won a special prize at the Japanese Association of Feminist Science Fiction and Fantasy's 5th Sense of Gender Awards in 2005. Yoshinaga has won numerous other prestigious awards for her work, including the 2002 Kodansha Manga Award for her series ANTIQUE BAKERY and the 2006 Japan Media Arts Festival Excellence Award for Ôoku. She was also was nominated for the 11th and a winner of the 12th Osamu Tezuka Award also for Ôoku, and also nominated as Best Writer/Artist for the 2008 Eisner Awards. children of the sea, Vol. 1 • Rated 'T+' for Older Teens • MSRP: $14.99 US / $17.50 CAN • Available July 21 When Ruka was young, she once saw a ghost in the water at the aquarium where her dad works. Now she feels inexplicably drawn toward the aquarium and the two mysterious boys she meets there, Umi and Sora, who both have the ability to breathe underwater. They were raised by dugongs and hear the same strange calls from the sea that she does. Ruka's dad and the other adults who work at the aquarium are only distantly aware of what the children are experiencing as they get caught up in the mystery of the worldwide disappearance of the ocean's fish. CHILDREN OF THE SEA was created by award-winning artist Daisuke Igarashi. His series, WITCHES received the Excellence Prize at the 2004 Japan Media Arts Festival while LITTLE FOREST was nominated for the 2005 Ozamu Tezuka Cultural Award. CHILDREN OF THE SEA is currently serialized in IKKI magazine, which has established itself as the home of some of the most innovative, bold, and compelling series in the world of contemporary manga. VIZ Media's VIZ Signature imprint and IKKI magazine have partnered to bring free previews of CHILDREN OF THE SEA and other stories to North American fans via a new web site at www.sigikki.com. WaqWaq, Vol. 1 • Rated 'T' for Teens • MSRP: $7.99 US / $9.50 CAN • Available August 4 Living in constant fear of attack from machines, mankind depends on the cyborg Protector corps known as the Guardians to keep them from harm as they await the arrival of the Kami, a godlike savior with mythical red blood. One day, Shio, who is the son of a Guardian, finds a red-blooded girl! Could she be the Kami they've been waiting for? WaqWaq is a new science fiction series by Ryu Fujisaki, who also created the mythology-based manga series HOSHIN ENGI. WaqWaq and HOSHIN ENGI both originally debuted in Japan's Weekly Shonen Jump magazine and Fujisaki has also been nominated for the prestigious Osamu Tezuka Manga Award. Tegami Bachi: Letter Bee, Vol. 1 • Rated 'T' for Teens • MSRP: $7.95 US / $9.50 CAN • Available September 1 In Amberground, a dangerous terrain where a man-made star casts a permanent twilight, young Lag Seeing aspires to become a Letter Bee, a postman entrusted to deliver the hearts of people separated from the ones they love. Tegami Bachi: THE LETTER BEE features detailed and lush artwork by creator Hiroyuki Asada that brings to life a fantastic alternate world filled with innovative "steampunk" technology and imagery. The new series will further be highlighted in VIZ Media's SHONEN JUMP magazine this summer. New SHOJO BEAT Titles Include: Kimi ni Todoke: From Me to You, Vol. 1 • Rated 'T' for Teens • MSRP: $8.99 US / $10.50 CAN • Available August 4 Sawako Kuronuma is the perfect heroine – for a horror movie! With her jet-black hair, sinister smile and silent demeanor, she's often mistaken for the haunting movie character Sadako. But behind her scary façade is a very misunderstood teenager. Too shy to fit in, all she wants to do is make some friends. But when the most popular boy in class befriends her, she's sure to make more than just that--she's about to make some enemies too! KIMI NI TODOKE: FROM ME TO YOU was created by Karuho Shiina who was born and raised in Hokkaido, Japan. Though KIMI NI TODOKE is only her second series following many one-shot stories, it has already racked up accolades from various "Best Manga of the Year" lists. Winner of the 2008 Kodansha Manga Award for the shojo category, KIMI NI TODOKE also placed fifth in the first-ever Manga Taisho (Cartoon Grand Prize) contest in 2008. An animated series is also in production in Japan. Bonus stickers are included in limited editions of Vol. 1. BLACK BIRD, Vol. 1 • Rated 'T+' for Older Teens • MSRP: $8.99 US / $10.50 CAN • Available August 4 There is a world of myth and magic that intersects ours, and only a special few can see it. Misao Harada is one such person, but she wants nothing to do with magical realms and just wants to have a normal high school life and maybe get a boyfriend. But all that changes one day when Misao is attacked by a demon. Her childhood friend Kyo suddenly returns to save her and tend to her cuts – with his tongue! It turns out Misao is the bride of prophecy, whose blood gives power to the demon clan who claims her. But most demons want to keep her power for themselves – by eating her! Now Misao is just trying to stay alive and trying to decide if she likes it when Kyo licks her wounds. BLACK BIRD, winner of the Shogakukan Manga Award (2009) for Shojo, is the latest shojo series from Kanoko Sakurakoji. Sakurakoji's debut title, Raibu ga Hanetara, was serialized in Bessatsu Shojo Comic magazine (currently called Betsucomi) in 2000. Her other shojo series, BACKSTAGE PRINCE, is also published domestically by VIZ Media. New STUDIO GHIBLI Release: PONYO FILM COMIC, Vols. 1-2 • Rated 'A' for All Ages • MSRP: $9.99 US / $11.50 CAN • Available August 4 • Vols. 3-4 Available September 1 New VIZ Kids Titles Include: CHOCOMIMI, Vol. 1 • Rated 'A' for All Ages • MSRP: $7.99 US / $9.50 CAN • Available July 7 DINOSAUR KING, Vol. 1 • Rated 'A' for All Ages • MSRP: $7.99 US / $9.99 CAN • Available September 1 In Australia... Siren Visual will be releasing Gonzo's Vandread, Vandread: Second Stage and a box set of the two series on August 27th.
Upcoming in Japan
More Hate Fun summer season previews Previews Mai-Mai Miracle - Madhouse film set in the 50's, directed by Sunao Katabuchi (Black Lagoon) XXXHOLiC Shunmuki 2 Saint Seiya: Lost Cancas Gokusen - live action adaptation of live action heiress turned teacher manga adaptation a bit of a look at Hosoda Mamoru's (The Girl Who Leapt Through Time) Summer Wars Anime affenheimtheater reports Studio 4°C and Molot Entertainment's Russian/Japanese/Canadian co-production First Squad: The Moment of Truth will screen during the 31. Moscow International Film Festival late June and will finally be released on October 15th. Ghibli World notes that the Studio Ghibli animated music video for Aragaki Yui's single piece, will be released on DVD. Starting June 17th Aragaki's full album hug will go on sale in shops across Japan and will also be available in a CD+DVD combination of which the DVD will include the piece music video.

Canned Dogs notes, according to the July issue of Dengeki Bunko Magazine, a new Shakugan no Shana anime is in the works. The light novel follows a normal boy who's fate become interwined with a strange girl's supernatural battles. Seiji Mizushima (Gundam 00) will be helming a Gainax adaption of Hanamaru Kindergarten Via Anime News Network A second season of BONES' super powered espionage anime Darker than BLACK has been confirmed by the Young Gangan manga anthology. The first season is being released in North America by FUNimation Manga Nausicaa.net reports that Hayao Miyaki is considering illustrating a new story of his literally pig-headed pilot, entitled Porco Rosso: The last sortie". In this story Porco Rosso flys the Savoia-Marchetti SM.79.

In Model Graphix, Logan Umemoto, a scale model creator, visited the Italian Air Force Museum to take references pictures of a Caproni Campini. According to the article, Miyazaki will draw the sequel after having boarded this Caproni Campini. Model Graphix says, "It is unknown when this will be." Great Teacher Onizuka will be returning with new manga entitled GTO: Shonan 14 Days. Live Action Rock manga (released in North America by Tokyopop, the anime was released by FUNimation) will be adaptated into a live action film, directed by 20th Century Boys' and scheduled for Fall 2010. Cast includes Hiro Mizushima as Ryusuke Minami,Takeru Satoh as Yukio Tanaka, Kenta Kiritani as Chiba, Aoi Nakamura as Yuji Sakurai, and Osamu Mukai as Taira.
Digital Distribution
The fall out continued from the situation in which an episode of One Piece was discovered on FUNimation's server prior to a planned streaming simulcast and illegally distributed. Anime Vice collects Japanese reactions to leak from the 2ch message board "In America, only ninja, samurai, and tentacles sell well." FUNimation suspended the streaming of One Piece and Full Metal Alchemist, but resumed Full Metal Alchemist with episode 9 on June 4th. The Fullmetal Alchemist had been posted online with a FUNimation watermark, but because the episode had already air in Japan, the post is believed to be a hoax. One Piece has been removed from Joost in Huli in addition to FUNimaton's portal. Plans to resume the streaming simulcast of Phantom ~Requiem for the Phantom~ hit another hearted when episode 10 was discovered and pirated online on June 4th, a day prior to its Japanese broadcast. FUNimation's xxxHoLiC is now streaming on TV.com and Youtube

*

Anime Nation reports that Barnum Laboratory's experimental CG anime short film Hoshi ni Negai wo Cold Body x Warm Heart has begun Yahoo! Douga. Yahoo! Douga limits viewing access to only Japanese IP addresses.

*

Sony Computer Entertainment America is touting anime content as part of its video service for the PlayStation Portable (PSP) system. In addition, Media Go, a free application that makes it easier to manage digital content including games, photos, videos and music for the PSP system through a PC will also become available. New enhancements provide direct downloadable access to games, demos and trailers, as well as movies and television shows via the PlayStation(Store on PlayStation Network. New game content will also be added to an existing library of more than 200 downloadable games on the PlayStation Store today, including much anticipated titles Fat Princess: Fistful of Cake, Gravity Crash, Hustle Kings and more than 60 PS one Classics hitting the PlayStation Store by the end of the year. PSP system users now have direct access to PlayStation Network's video delivery service. Anime partners include, Anime Network, Media Blasters, Right Stuf's Nozomi Entertainment, Starz Media's Manga Entertainment, Toei Animation, Viz Media and WEP. FUNimation Entertainment will also be a part of a new anime category on the video delivery service. With the launch of the video delivery service for the PSP system, Media Manager for PC is being replaced with Media Go. Media Go is a free application that makes it easier and more convenient for consumers to manage their PSP games, photos, videos and music on their PC and provides access to PlayStation Store.

*

Via ADV Nation new Anime Network offering includes Magical Shopping Arcade Abenobashi (episode 1 is available free for free registered members, while episodes after that are available exclusively to Anime Network Online Player subscription members), Rune Soldier and Colorful Lady Death, Martian Successor Nadesico (Movie), Parasite Dolls and Yesterday are also all being offered free to Registered (free) members.

*

Nobuo Uematsu (Final Fantasy) music on iTunes

*

New Kadokawa Pictures live action on Crunchyroll include A LUSTFUL MAN ALL MIXED UP THE INUGAMI FAMILY THE QUIET DUEL

*

Content from a new agreement with Tai Seng Entertainment LEGEND OF THE CONDOR HEROES THE DUKE OF MOUNT DEER CHISEEN
Cool Figures News
The fourth piece in Yamato USA's Fantasy Figure Gallery series will be Monica's Axe. The 7.85" figures features "Monica's Axe" by Boris Vallejo as envisioned by Tobe of HEAVY GAUGE

*

I.Zgok looks at the Revoltech figure for the gamer piloted mech Overman King Gainer and the Xan

*

some great emphemera on Toy Box DX Brog

Jyarinco: Dancougar's Den Morespeada - with Yotsuba appearence drug of choice - with Gaiking appearence A little Spazer to call my own…. Takatoku 1980 On CollectionDX

Dygenguar SD version of Macross F's Klan Klang and Sheryl Nome Hokuto no Ken Revolution Rei Shogun Warriors Great Mazinga Chogokin GA-01 Mazinger Z Lots of photos of the GX-45 Mazinger Z and other varients

Masked Rider "Heads Hopper" A new shot of the Gloomy Bear Revoltech - Revoltech Arch Gurren Lagann More USB anime figures include Lupin III Evangelion's Rei and Lucky Star's Konata Maxfactory Figma Golgo 13

SDX Satan Gundam Cute Steel Ball Run (Jojo's Bizarre Adventure spinoff) figures On the custom front Naughty Hello Kitty Dunny Golgo 13 Bob's Big Boy as Sleestak
The Business
FUNimation parent company Navarre announced their fourth quarter financial results. Net sales were $147.1 million, as compared to net sales of $160.2 million for the same period last year. Earnings from continuing operations, before interest, taxes, depreciation, amortization, share-based compensation expense, and impairment and other charges was $7.4 million; as compared to EBITDA from continuing operations of $5.7 million in the prior year's fourth quarter, an increase of 30%. Net income from continuing operations was $3.2 million during the quarter or $0.09 per diluted share; as compared to net income of $1.0 million, or $0.03 per diluted share in the prior year.Net income includes the impact of a $3.1 million pre-tax non-cash goodwill impairment charge recognized during the fourth quarter of fiscal year 2009. Debt, net of cash, on March 31, 2009 was $24.1 million; as compared to debt, net of cash, of $36.6 million on March 31, 2008. Cary Deacon, Chief Executive Officer, commented, "The Quarter's results were very positive relative to the unprecedented market conditions. We are well positioned to benefit as the economy recovers and we remain committed to efficiently serving our customers and investing in our business to build a stronger company for the future. We are optimistic and excited about our opportunities for this upcoming fiscal year." ICV2 reports that Navarre CEO Cary Deacon said FUNimation's new video portal and social network a "paradigm change" for the company. FUNimation has been developing and testing the site for the past four months, and Deacon said "the preliminary results are very exciting." "This new video portal (that's up and running right now on Funimation.com) has had significant impact on views and sales on the digital side," Deacon said this week. "Quite frankly, we think the whole video portal combined with the social network will be a paradigm shift for Funimation over the next 18 months and drive our digital sales." "It's small today, but we see massive increases coming as we move forward in that sector," he said. Deacon declined to provide current digital sales figures.

*

Via ANN Gonzo (Afro Samurai) announced that for the fiscal year ending March, 2009 the company earned 6.332 billion yen (about US$65.7 million) during the year — an increase over its earlier estimate of 6.1 billion yen (US$63 million). Despite that losses were greater than expected, with annual operating loss, ordinary loss, and actual losses were pegged at 2.12 billion yen (US$22 million), 2.351 billion yen (US$24.4 million), and 3.401 billion yen (US$35.3 million), respectively.

*

Home Media Magazine reports that Imagi has opened their CGI Gatchaman to licensing partners at Licensing International Expo, June 1-4 in Las Vegas. The movie also will see a 3-D release in theaters some time in 2011. "We are pleased to bring another strong property in the form of a Gatchaman movie to the licensing community," said Erin Corbett, president of Imagi Studios America and chief marketing officer worldwide. "Over the past 20 years the 'Gatchaman' property has demonstrated a proven track record for licensees, and we are confident that our new feature film will add another chapter and opportunity for our partners."

*

Publishers Weekly on the comic/manga publisher presence at BookExpo Americ Viz v-p for sales and marketing Gonzalo Ferreyra told PWCW, that in even in this difficult economy, manga and graphic novels in general, "were stronger than ever." Ferreyra also pointed to Viz's efforts to introduce new kinds of manga into the U.S. market, noting both VizKids and the recent launch of SigIkki, the online magazine Viz plans to use to introduce and market manga aimed at older readers. He pointed to Daisuke Igarashi's Children of the Sea, the first title to come from SigIkki; and also noted the fall publication of Go Go Monster by Taiyo Matsumoto, author of the Eisner Award winning Tekkonkinkreet: Black & White.

*

The New York Times looks at the sale of upcoming animated films including Ponyo and Imagi Astro Boy, most from a business standpoint

*

ICV2 reports that Walmart is cutting its toy space by more than half as part of an initative to redesign d "fast, friendly, clean" stores. The reduction in toy SKUs is being rolled out to under a quarter of the chain's stores this summer, according to the report, followed by any necessary tweaking to the program before rolling it out to all stores across the country.

*

According to the Comic Reporter Wizard Vice-President of Production and Circulation Darren Sanchez was let go from the company, and that photographer Dylan Brucie, who did in house photography for ToyFare the publisher.

*

Nickelodeon Magazine has been shuttered. As Same Hat's Ryan Sands noted "Nick Mag was a great venue 4 indie cartoonists: Laura Park, Jason Shiga, Johnny Ryan, Elio, Kupperman. Now there's just vice, GR & arthur"

*

Anime and mobiles phones as glimpses at Japan's innovation
Event News
NYAFF 2009 Trailer!

*

NY Int'l Children's Film Festival will be screening 35mm prints of Hayao Miyazaki's Castle in the Sky and Kiki's Delivery Service. CASTLE IN THE SKY Animation, Hayao Miyazaki, Japan, 1986/2000, 124 min In English - Recommended ages 8 to adult Sun, June 7, 11:00am at IFC Center Sun, June 14, 2:00pm at Symphony Space A young girl with a mysterious crystal pendant falls out of the sky and into the arms and life of young Pazu. Together they search for a floating island in the sky, site of a long-dead civilization promising enormous wealth and power to those who can unlock its secrets. Castle in the Sky is an early masterpiece of storytelling and filmmaking whose imaginative and ornately detailed vision of a decaying world in constant flux presaged Miyazaki's later films like Princess Mononoke and Spirited Away.

KIKI'S DELIVERY SERVICE Animation, Hayao Miyazaki, Japan, 1989/1999, 103 min In English - Recommended All Ages Sat, June 6, 11:00am at IFC Center Sun, June 14, 11:00am at Symphony Space From legendary Hayao Miyazaki comes the beloved story of a resourceful young witch who uses her broom to create a delivery service, only to lose her gift of flight in a moment of self-doubt. Set in a gorgeously detailed seaside village, Kiki's Delivery Service is less about witchcraft than a beautifully timeless story of a young girl leaving home to find her own way in the world. Voiced by Kirsten Dunst as Kiki, with Phil Hartman as her black cat Jiji.

*

The Museum of Comic and Cartoon Art Festival 2009 will be held June 6th & 7th at the 69th Regiment Armory at Lexington Avenue and 25th Street in New York City. Robot 9 has a preview, but if you're a manga fan, the thing to see is Fanfare / Ponent Mon at table #626, where they will have book My Mommy is in America and she met Buffalo Bill by Regnaud and Bravo as well as the 2009 Eisner nominee The Quest for the Missing Girl by Jiro Taniguchi and as well as their back list titles.

ALC Publishing will be at the PRISM Comics booth - Table 516 - Rica Takashima will be present with Yuri Monogatari 6

*

The New York Anime Fest has partnered with the New York Asian Film Festival and TOKYOPOP to celebrate Lolita Fashion Day at New York City's Kinokuniya Bookstore ( 1073 Avenue of the Americas in Manhattan)on June 6th. Events include Gothic & Lolita Bible Giveaway Café Zaiya Sweet Treats Gothic & Lolita Bible Photoshoot New York Asian Film Festival Preview "We're proud to help create Lolita Fashion Day at Kinokuniya," New York Anime Festival Show Manager Lance Fensterman said. "Lolita fashion's becoming an iconic ambassador of Japanese culture in America, and the New York Anime Festival couldn't be happier bringing this fashion to New York City -- the fashion capital of the world."

*

New York - Tokyo announced UNIQLO PAC-MAN CHALLENGE. The classic game will be played online for preliminaries and the finals will be held at UNIQLO Soho, 546 Broadway in NYC. If you're not a "company" and wish to join the challenge, you are welcomed to the event at UNIQLO Soho, 546 Broadway on June 19th UNIQLO PAC-MAN CHALLENGE is inspired by the fun UT PAC-MAN T-shirt designs and is supported by Namco Networks' special technical support. WHEN / WHERE (1) Preliminal Rounds (Company vs. Company) - Anime News Network, Blacksmith, Complex, Evil Monito, Freshness, Fusicology, Giant Robot, Giant Step, Gizmodo. Going, Hypebeast, Josh Spear, Lime Wire, NY Comic Con, New York Press, Pitchfork, The Source, psfk, superfuture, Trace, UGO, Vapors, Vinyl Pulse East Dates: June 8th (Mon) - 14th (Sun) Place: www.newyork-tokyo.com (2) Finals (Company vs. Company) with Walk-In Challenge Date: June 19th (Fri) 4-8pm Place: UNIQLO Soho, 546 Broadway, NYC For more, see here

*

Man-in-suit monster wrestling Kaiju Big Battel will be in Philadelphia on June 20th All Out War 2: The Search for the Golden Treasure When: Saturday, June 20, 7 PM Where: The Trocadero, 1003 Arch St, Philadelphia, PA Tickets: $18.50, Available at Ticketmaster

*

FUNimation will be presenting Evangelion 1.0: You Are (Not) Alone at the West Oaks Alamo Drafthouse on July 16th, 2009 at 7:30 PM.

*

Aniplex announced a partnership with GAINAX to present the US Premier Screening of GURREN LAGANN the MOVIE­Childhood's End- at Anime Expo 2009 GURREN LAGANN THE MOVIE ­ CHILDHOOD'S END - was re-created from the hit Japanese anime TV series "Gurren Lagann" for theatrical release in Japan. It's directed by Hiroyuki Imaishi, written by Kazuki Nakashima, Animation production by GAINAX (Neon Genesis Evangelion and FLCL) and shares the creative staff from the franchise TV series. The movie will be presented with English subtitles-Thursday; July 2, 2009 at 7:30 pm PST. FILM SYNOPSIS GURREN LAGANN the MOVIE ­Childhood's End- This is the story of a man who has yet to realize what destiny holds in store for himŠ. Far in the future, human live underground quietly and restlessly for hundreds of years, suffering from frequent earthquake and land subsidence. In Giha Village, one of such underground communities, there are two young men. One is called Simon who is shy and naïve, the other is called Kamina who believes in existence of a "surface" world above their heads. Destiny of the two starts moving drastically when the ceiling falls, and a gigantic "Gunmen" and a beautiful girl Yoko with a superconductive rifle come from the surface. Kamina, Simon and Yoko get on "Lagann" that Simon digs out from the ground, and jump out to the surface! However, the surface is not such a dreamland as Kamina imagined. The world is reined by the Spiral King and his army beastmen. Kamina and Simon, along with their comrades challenge the Spiral King to change the desperate world to the one with hope for the future by GURREN LAGANN! Manga artist Yun Kouga has been added to Anime Expo's list of Guests of Honor. Ms. Kouga debuted as a manga artist in 1985 and has worked on notable titles such as "Earthian" and "Yousei Jiken", she has also garnered international praise and acclaim for her current series "Loveless". Ms. Kouga is also the character designer for the highly popular anime MOBILE SUIT GUNDAM 00.

*

Otakon 2009 announced that American singer/songwriter Becca, also known as Becca-chan will perform at the event. Otakon 2009 will be held July 17-19 at the Baltimore Convention Center in Baltimore, Maryland.

*

Awesome Engine's

*

The The Museum of Modern Art will be presenting a Tim Burton exhibit November 22, 2009 through April 26, 2010
Non-Anime Animation
Oscar-winning animator Chris Landreth is premiering his newest short film, "The Spine," at France's Annecy International Animated Film Festival this week and preparing to start an animated biography of horror writer HP Lovecraft. "It's a film called 'Lovecraft,' based on the writer H.P. Lovecraft," said Landreth, referring to the master horror fiction writer who died in 1937. "We're doing a fictionalized animated biography picture of him." "We have a script and we are working towards seeing if we can make this work."

*

Fashion icon Karl Lagerfeld will be voicing villain Fabu in the French movie "Totally Spies" movie.

*

Twitch notes Danish production house Copenhagen Bombay, the outfit co-founded by Princess director Anders Morgenthaler is preparing the Great Bear for window 2011 Jonathan, 11, usually spends his vacations alone with his grandfather who lives on the edge of a vast forest populated by mythical animals. This year his kid sister Sophie joins him. But it's not cool to be stuck with a little sister, so he does what he can to avoid her. He succeeds entirely too well: Sophie is kidnapped by a giant, 1000-year-old bear. Now, Jonathan has to venture into the heart of the forest to confront the strange beings that dwell there and retrieve his sister.
Anime x Games
Three new Bandai Namco Dragon Ball games were announced at E3 Dragon Ball: Revenge of King Piccolo, following the pre-Z adventures of young Goku will be released for the Wii this fall. The game features Kid Goku in the Red Ribbon storyline with villians including Red Ribbon Army, Emperor Pilaf, and the venerable King Piccolo. With a simple move of the Wii Remote™ and Nunchuk™, Goku can fire off intricate combos, initiate classic moves, and execute his signature Kamehameha ultimate attack with ease. Dragon Ball: Revenge of King Piccolo also incorporates pseudo RPG elements which enable Goku to earn money to purchase power-up items throughout the game. Featuring in-game collectables, a host of unlockable characters and modes as well as state of the art Wii, Dragon Ball: Revenge of King Piccolo will provide a thoroughly engaging and accurate portrayal of Kid Goku's early formidable martial arts years. Fight game Dragon Ball: Raging Blast will be released on the Xbox 360 and PLAYSTATION2 this fall. Featuring the series' trademark combat battle style, Dragon Ball: Raging Blast will deliver a host of enhanced gameplay features, including completely destructible environments and stunning HD graphics that lend a deeper layer of immersion to the Dragon Ball universe. Developed by acclaimed game studio SPIKE, Dragon Ball: Raging Blast culls over 70 characters, including transformations, from the Dragon Ball Z tome to battle against each other throughout pivotal moments in the Dragon Ball series. Dragon Ball Z aficionados will be able to relive epic battles as their favorite heroes and villains from the series and also experience alternate universe moments that were left out of the original anime and manga series. New interactive and destructible environments lend an enhanced layer of intensity to the battle as characters can now take massive damage from being smashed into mountains, buildings and debris during intense battles ensuring epic Dragon Ball Z signature moves are delivered faithfully with devastating results. On top of classic signature moves, characters also benefit from a new "Super Rising" special attack system which allows players to quickly fly upwards throughout massive battle stages, adding a new layer of strategy and tactics to the melee. Dragon Ball Z: Attack of the Saiyans, a Turn-Based RPG featuring the Dragon Ball heros versus the Saiyan will be available in North America this Fall exclusively for Nintendo DS™. Dragon Ball Z: Attack of the Saiyans features a three character party system where players can choose from Dragon Ball Z's iconic roster of Earth Defense Force heroes including Goku, Kid Gohan, Piccolo, Krillin, Yamcha and Tien to tackle the sinister Saiyan threat. Unique to Dragon Ball Z: Attack of the Saiyans, the team combo attack system enables players to combine the awesome might of each party member's super martial art attack to inflict massive damage onto enemies. Also, each party member will feature character specific Ki Blast abilities which will be used to solve puzzles and unlock secrets in the game. Additionally, Dragon Ball Z: Attack of the Saiyans will offer a sub-mission mode where players are tasked to collect special items, including the legendary Dragon Balls, throughout the world to rescue innocent victims, right worldly injustices, and create general global harmony. Completing righteous assignments will offer major rewards with mysterious results.

*

Capcom has announced the details for the Wii exclusive console release of the Tatsunoko vs. Capcom fighting game, featuring 26 characters from games such as Street Fighter, Darkstalkers and Lost Panel, as well as anime characters from series produced by Tatsunoko, such as Gatchaman, Hurricane Polymar and Casshern. This "newer" version of TvC, currently dubbed Tatsunoko vs. Capcom, removes one character due to licensing issues, and adds five new ones, online gameplay, more mini-games and an enhanced story mode. From Capcom's description of the game system Unlike the more well-known six-button layout that the Street Fighter franchise pioneered, the VS line features a simplified four button system: "Weak", "Medium", "Strong" and "Assist" for the tag-team option of. The "Assist" feature adds another compelling element found Capcom's other "VS" series: allowing players to switch their character on the fly or call for help from their tag-team partner, allowing for spectacular super moves ("Hyper Variable Combination"). Successful execution of the Assist feature can turn the tide of battle on a dime. Historically the VS series excels in integrating the tag-team options by including customized moves like Variable Assist, Snapback, and the previously mentioned Hyper Variable combination that lets both characters on one team perform their Hyper attack. TvC enhances the above gameplay with new mechanics, including the Variable Aerial Rave that allows characters to be switched in the middle of an Aerial rave. More moves include the offensive Assault and defensive maneuver Mega Crash. Another new gameplay mechanic, titled Baroque, illuminates the character in a rainbow of colors, cancels the current attack and extends combos and damage. Featuring a robust line-up of characters, the console version added four mini-games and optional control schemes Capcom's Chris Kramer on Tatsunoko vs. Capcom

*

The very strange Street Fighter Online: Mouse Generation - featuring characters from wuxia classics and Detroit Metal City in addition to the Street Fighter standards will go offline on August 31.

*

Kotaku looks into the scarcity of Astro Boy games game impression from E3 on the Imagi tie-in - and here

*

impression of the beautiful Wii game Muramasa: The Demon Blade from E3

*

Ju-on for the Wii

*

Namco Bandai Games America Inc. and Koei Corporation have released new free downloadable missions for Dynasty Warrior: Gundam 2. The free downloable content focus on giving players a great opportunity to collect long sought after Gundam parts in order to create their favorite Mobile Suit. War!?: War… It never changes… A never ending cycle of vengeance entraps all who are drawn into its bloody embrace. Will you be strong enough to be the one that finally puts an end to this tragic tale? Holy cow! Look at all this sweet