---
What's SHOOT THE MESSENGER?
Well, AICN COMICS: SHOOT THE MESSENGER is your weekly one stop shop for comic book -EWS. What's comic book –EWS? Well, it's our hodge podge of everything not reviews here at AICN Comics. Sure you can find out the @$$Holes' critical opinions of your favorite books every Wednesday at AICN Comics. But here, you'll find special reports such as previews, interviews, special features, and occasionally news gathered here from our online brethren at Newsarama, CBR, Wizard, etc. Sure those guys are the best at reporting news as it breaks. Click on the links for the original stories. This column cuts the crap to run down all the vital information for those of you who don't follow it as it comes in, and serves it all up with that special ingredient of @$$y goodness.
---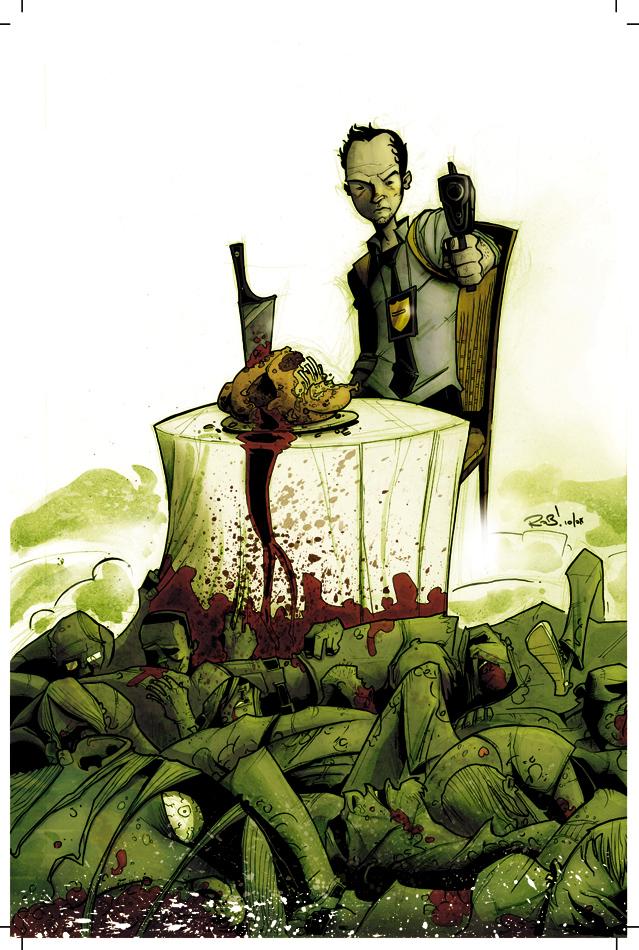 Hey folks, Ambush Bug here with a very cool peek at and chat about a unique new miniseries from Image called CHEW. I'd tell you about it, but I'll leave it to the people behind CHEW, writer John Layman and artist Rob Guillory, to do that.
AMBUSH BUG (BUG): So tell us a bit about CHEW.
JOHN LAYMAN (JL):
CHEW is a procedural cop drama with elements of horror and humor about a federal agent with the ability to get psychic impressions from what he eats, so he's assigned to nibble on corpses to solve crimes, like finding out the motive or identity of the killer or whatnot.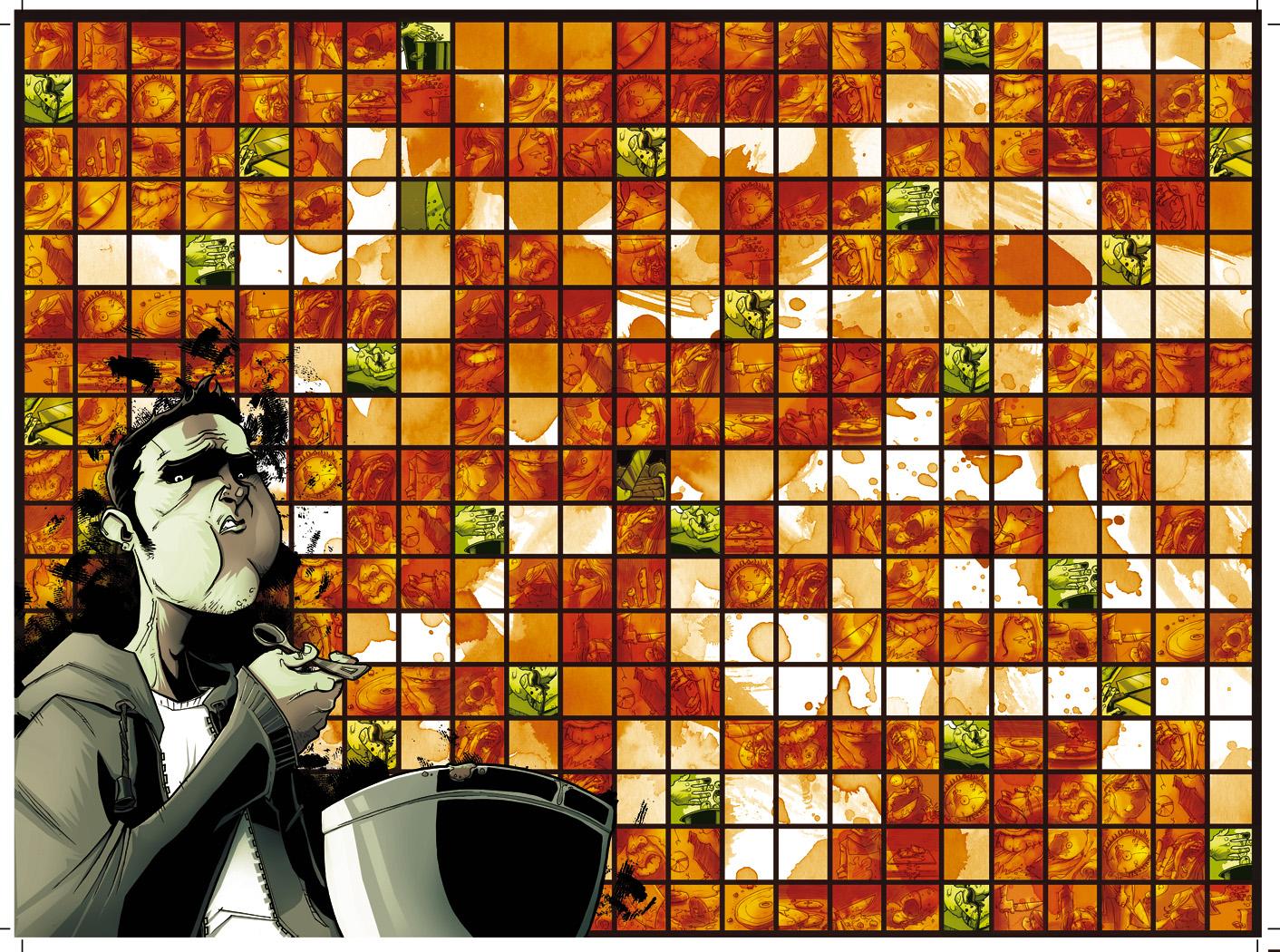 That's the shortest explanation, which doesn't just simplify it, but vastly simplifies it. The story is set in the near future, after a bird flu has wiped out millions across the globe. The U.S. government's response to that is to enact a controversial Poultry Prohibition, and part of protagonist Tony Chu's job is to enforce that, even if he, like many other Americans doesn't completely believe in it.
So yeah. Horror. Cops. Gross-out humor. A dash of conspiracy sci-fi. And really, really fantastic artwork by Rob Guillory.
BUG: The concept of CHEW is pretty out there. What type of research does one do for this type of comic? Did you do much by way of studying forensics and the like?
JL:
There is a half-assed amount of research that goes into every script. It's not going to stand up in any sort of scientific symposium, but I do at least attempt to make the crazy shit sound plausible. At least, whenever I can. But this comic book is entertainment, dammit, not homework!
ROB GUILLORY (RG):
I watch a lot of CSI: Miami. Does that count? I find that watching David Caruso put on and remove his sunglasses repeatedly is adequate research for what we're doing here. We don't get very scientific, simply because it's not necessary.
BUG: Were you the type who liked to put things in his mouth as a child?
JL:
Only when I aimed for my nose and missed.
BUG: Beets, of all things, cancel out Agent Chu's power. Ugh, I hate beets. Why beets?
JL:
Because YOU hate them. In my next book, I want to write a story that revolves around some of the things you like. Can you send me a list? Can I include pie? Everybody likes pie (…except Agent Tony Chu).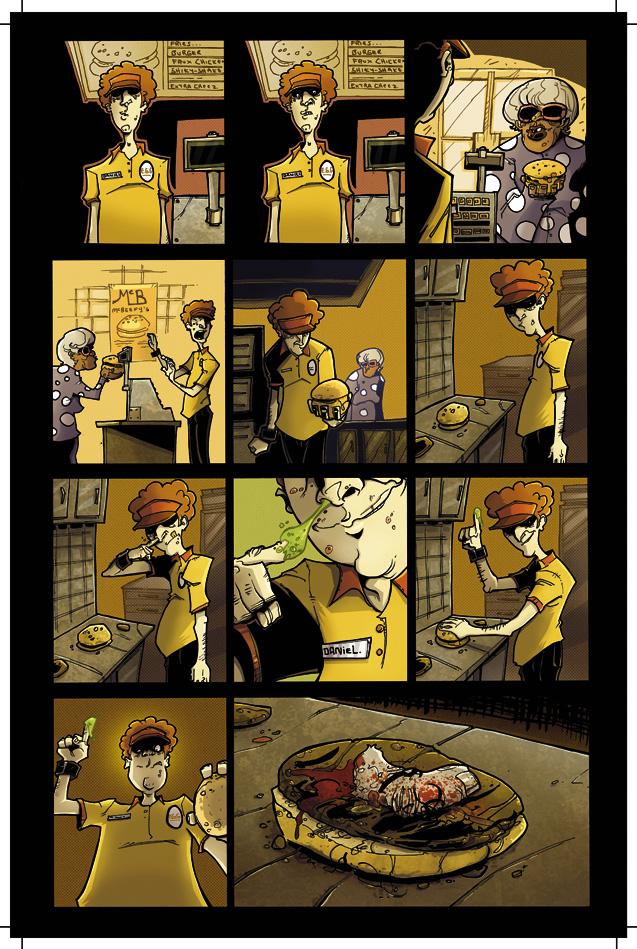 JL: Well, sure, it could be one, and would be a great one. I've been in comics a long time, though, and I've read a lot of comics that are nothing more than a thinly disguised Hollywood pitch. Most of those are embarrassingly bad, because it's obvious it's a comic book second, and aspires to be something else first. Not CHEW. CHEW has a lot of ideas in it that go beyond comics, and would do well in other media. But if it remains a comic and only a comic, I'm perfectly fine with that too.
RG: With CHEW, I think we take the 5-course meal approach. Each issue is standalone enough to whet your appetite a bit and give you your money's worth, but there's enough of an overarching plotline that you have to come back for more to get the whole picture and fill your gut. It's a crack dealer's approach, too, really. Keep them coming back for another fix.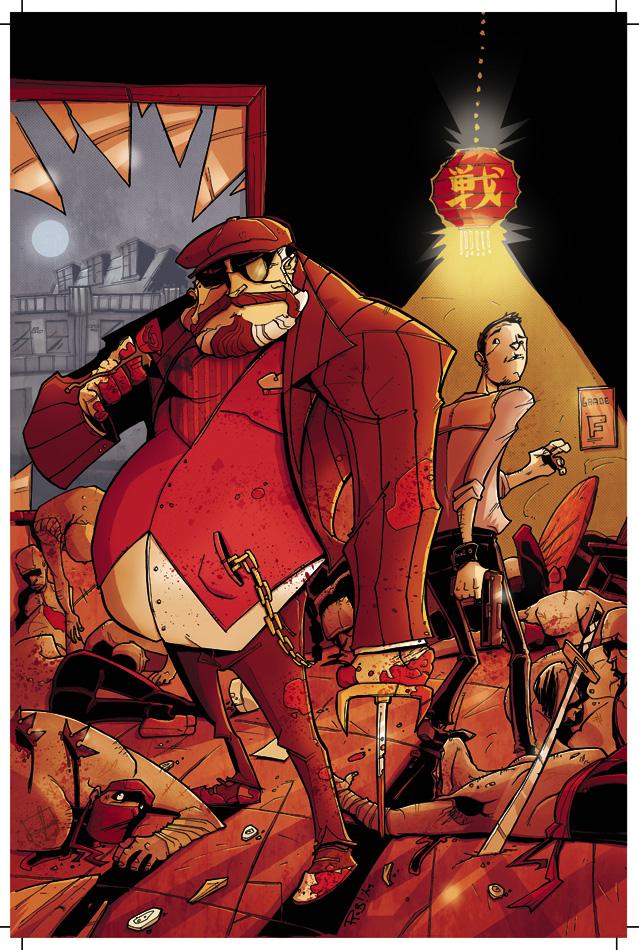 BUG: The set up where poultry is outlawed in the world of CHEW due to a virus is a very cool one. Like prohibition, except with chickens. There are speakeasys that serve chicken instead of booze. Seems this is a concept ripped straight from today's headlines. Do you see outlawing certain types of food as a realistic future in our world?
JL: Well, 3 months ago I would have said no, but after all this swine flu stuff that just hit, suddenly it does not seem so far out. Weird timing, for sure. Basically, back when there was all the bird flu panic, I asked myself what would be a worst case scenario to spin out of that—beyond people dying that is. How would the government react? The answer, at least for this story…they outlaw the birds they think caused the flu, and could cause the flu again.

BUG: The art on CHEW is fantastic. Just the right amount of quirk, not too much to take away from a sense of real danger, but still enough to acknowledge how offbeat the premise is. Can you talk a bit about the artist/writer relationship for this comic?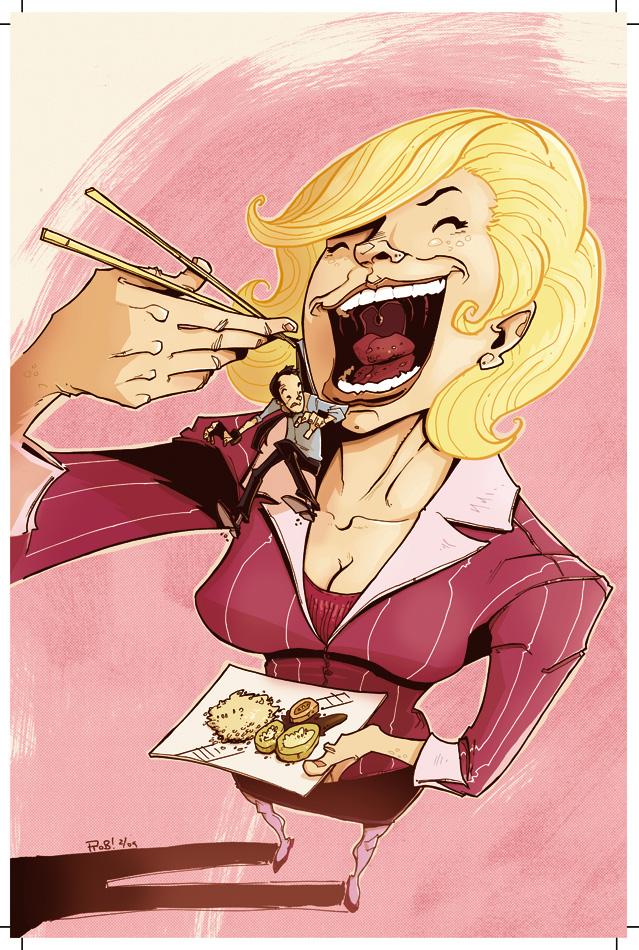 RG: The collaborative process on CHEW is very natural. I've found that John and I are on the same creative wavelengths on a lot of things, especially storytelling sensibilities. John's incredibly easy to work with because his scripts are pretty dense with detail to feed my imagination, but still open enough to allow for me to improvise and insert a joke or eighty. Plus, I think we feed each other in terms of inspiration. He'll write a script that totally lights a spark in me, which leads to me creating art that inspires him right back, etc... It's pretty cyclical, and always escalating towards more and more crazy as we go on. Each issue kicks it up a notch, which is kinda scary.

BUG: Do you have more CHEW stories after this miniseries is over?
RG: Yeah, we've been knocking around story points for the next twenty issues or more, depending on reception. There's a huge payoff that we're building toward.
JL: Yes, in fact. We're not even thinking about it in terms of a miniseries.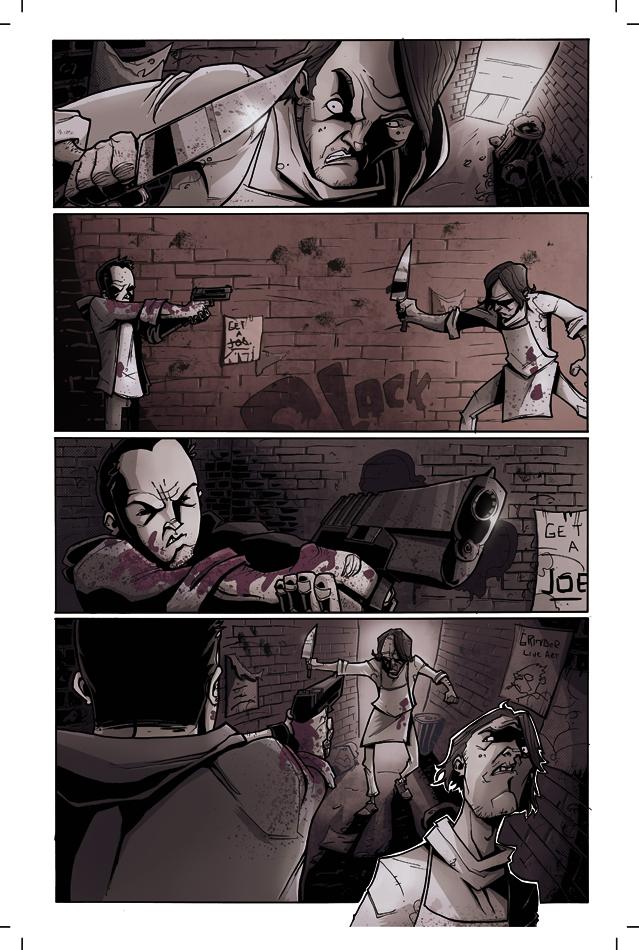 BUG: Why should the AICN readers give CHEW a chance and pick up issue one when it hits shelves in June?
RG: Flat out, there's nothing like CHEW on the shelves. It's a totally original concept, and I couldn't be prouder to be a part of it. It's just a really, really fun book. Remember when comics used to be fun? We're bringing it back.
JL: Yeah, everything that Rob just said, but with a lot more blood and barf and bodily fluids …and cannibalism.

BUG: Thank chew…I mean, thank you for answering these questions for us.
RG: Thanks.
JL: "Thank chew"… I get it!
CHEW #1 hits the racks this Wednesday from Image Comics. Be sure to check out this unique, funny, and extremely out of the ordinary comic book experience, won't CHEW?
Ambush Bug is Mark L. Miller, reviewer and co-editor of AICN Comics for over eight years. Check out his short comic book fiction here and here published in MUSCLES & FIGHTS 3 and MUSCLES & FRIGHTS on his ComicSpace page. Bug was interviewed here and here at Cream City Comics. Look for more comics from Bug in 2009 from Bluewater Productions, including the just-announced sequel to THE TINGLER for their VINCENT PRICE PRESENTS ongoing series in stores October 2009.
---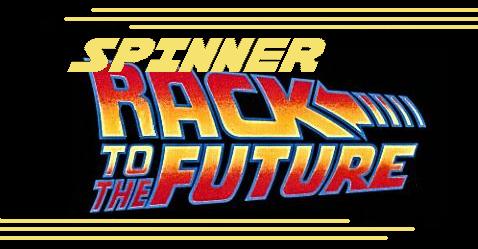 Welcome back to another twirl on the Spinner Rack to the Future! Ambush Bug back again, starting out with an early look at a new Vertigo book that's kicking up some dust, THE UNWRITTEN. Check out this early preview and see what all the fuss is about.
---
THE UNWRITTEN #2 Writer: Mike Carey Art: Peter Gross Publisher: DC Vertigo Release Date: June 10th!
Don't know much about this UNWRITTEN book, but some of the other @$$Holes have written praises for it. I'm looking for a Vertigo book to replace Y: THE LAST MAN. Maybe this one is it. Check out UNWRITTEN #2 in stores June 10th.
---
TRANSFORMERS: REVENGE OF THE FALLEN OFFICIAL MOVIE ADAPTATION #3 Writer: Simon Furman Art: Alex Milne Publisher: IDW Publishing Release Date: This Wednesday!
I really am looking forward to the new TRANSFORMERS movie. I'm a popcorn movie whore. And this Movie Adaptation from IDW is teasing me, folks. It's teasing me. Check out TRANSFORMERS: REVENGE OF THE FALLEN OFFICIAL MOVIE ADAPTATION this Wednesday!
---
AMAZING SPIDER-MAN #596 Writer: Joe Kelly Art: Paulo Siqueira (pencils), Amilton Santos (inks) Publisher: Marvel Comics Release Date: This Wednesday! BEWARE SPOILERS AHEAD!
Not that AMAZING SPIDER-MAN needs the publicity, but last week's issue knocked me off my feet with the big revelation (revealed in this preview—don't look if you're spoiler-phobic!) at the end regarding Harry Osborn and Menace. Even though I'm not so sure about the artwork, I can't wait to see how this all unfolds when AMAZING SPIDER-MAN #596 is available on Wednesday!
---
TALES OF THE TEENAGE MUTANT NINJA TURTLES #59 Writer: Tristan Jones Art: Paul Harmon Publisher: Mirage Publishing/TNMT Release Date: June 17th
Looks like they're taking the property serious and playing things straight here. I haven't read TNMT in comic form, but remember the films and all of the toys from when I was a kid. Nostalgia buffs, kids, and action lovers alike may want to check out TALES OF THE TEENAGE MUTANT NINJA TURTLES #59 when it hits the shelves in two weeks!
---
JERSEY GODS #5 Writer: Glen Brunswick Art: Dan McDaid Publisher: Image Comics Release Date: This Wednesday!
I love the Kirby/Larsen-esque designs at play with this comic. And I just may have to check out JERSEY GODS #5 on Wednesday!
---
ROTTEN #1 Writer: Mark Rahner/Robert Horton Art: Dan Dougherty Publisher: Moonstone Books Release Date: This Wednesday!
You know I's loves me some zombies. Zombie Western? I'll buy that for a dollar…or two…or three. You know what I mean. I'll be reviewing this book soon in our Wednesday column so be sure to check out ROTTEN #1 when it drops this Wednesday!
---
ANGEL: NOT FADE AWAY #2 Writer: Joss Whedon & Jeffrey Bell Art: Scott Tipton Publisher: IDW Publishing Release Date: This Wednesday!
I know there are those who will ask me to turn in my geek cred card for saying this, but believe it or not, I never really got into BUFFY or ANGEL. Nothing against it, I just never tried it out. I know a lot of people who have though and those guys are going to be buying ANGEL: NOT FADE AWAY #2 this Wednesday!
---
OVERLOOK #3 Writer: Joshua Williamson Art: Alejandro Aragon Publisher: Image Shadowline Release Date: This Wednesday!
This looks to be a pretty nice noir-ish tale. I may have to look for the two previous issues of OVERLOOK and pick up issue #3 this Wednesday!
---
NEW AVENGERS: REUNION #4 Writer: Jim McCann Art: David Lopez (pencils), Alvaro Lopez (inks) Publisher: Marvel Comics Release Date: This Wednesday!
I'm telling you, that, my friends, was a bad@$$ fight! I'm really loving this minseries and can't wait to pick up NEW AVENGERS: REUNION #4 this Wednesday to see if Hawkeye and Mockingbird will reunite or separate forever.
---
Editing, compiling, imaging, coding, logos & cat-wrangling by Ambush Bug Proofs, co-edits & common sense provided by Sleazy G
---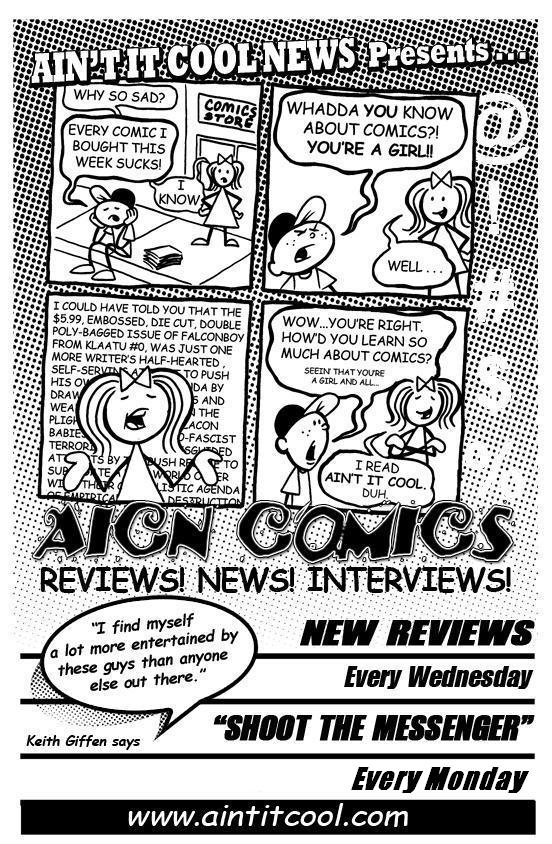 Ad by Prof. Challenger