---
What's SHOOT THE MESSENGER?
Well, AICN COMICS: SHOOT THE MESSENGER is your weekly one stop shop for comic book -EWS. What's comic book –EWS? Well, it's our hodge podge of everything not reviews here at AICN Comics. Sure you can find out the @$$Holes' critical opinions of your favorite books every Wednesday at AICN Comics. But here, you'll find special reports such as previews, interviews, special features, and occasionally news gathered here from our online brethren at Newsarama, CBR, Wizard, etc. Sure those guys are the best at reporting news as it breaks. Click on the links for the original stories. This column cuts the crap to run down all the vital information for those of you who don't follow it as it comes in, and serves it all up with that special ingredient of @$$y goodness.
Hey folks, Ambush Bug here with another edition of SHOOT THE MESSENGER! We've got a mess of previews for you guys this week, but first steverodgers (a good chap himself) chats with a good chap about a pair of good chaps.
---
steverodgers chats with THE BEST OF SIMON & KIRBY editor Steve Saffel
steverodgers here with a very cool interview for you this week. Steve Saffel, the editor of Titan Books' THE BEST OF SIMON AND KIRBY, was kind enough to answer some questions by e-mail and share some of the amazing art from the book with AICN Comics.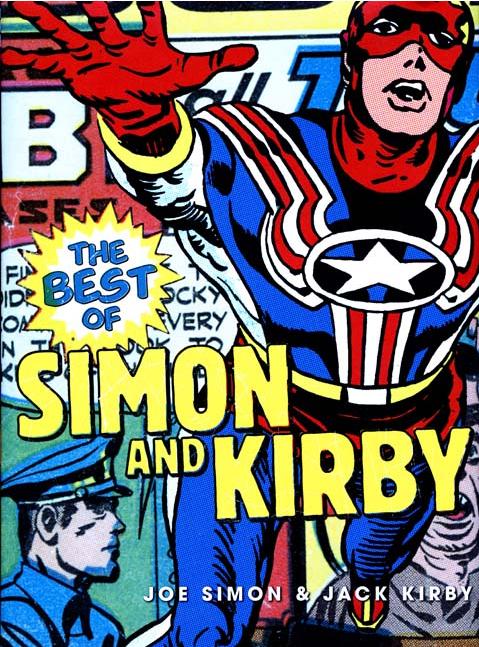 steverodgers (sr): Hi Steve, thank you for taking the time to answer some questions about THE BEST OF SIMON AND KIRBY. Can you share with our readers what kind of awesome they are getting when they read THE BEST OF SIMON AND KIRBY, the process of the editor in creating a tome of this magnitude, and your specific responsibility in its creation?
Steve Saffel (SS):
THE BEST OF SIMON AND KIRBY is like an intravenous injection of awesome comics. Joe and Jack hit gold from the start, with a half-naked green sorceress in Blue Bolt, Nazi saboteurs in Captain America, and bloodthirsty werewolves in The Vision. In their day they struck gold more often than any other team in comics, and this book shows readers exactly what it was like to find those masterpieces on the newsstand.
As the editor, I had the best job in the world. I got to work with Joe Simon and Harry Mendryk to pull together all of the kick-ass stories, and with the Titan team, all of whom gave way more than 100 percent, all of the time.
My responsibility was to keep all of the threads tied together, to make sure the right hand knew what the left hand was doing, and to address any issues that came up. Joe, Harry, and I worked up a proposal for the stories we would include, and we got input from folks all the way up to the owner of Titan Books. We were constantly pushing the envelope, saying, "Is this the right story, or is there a better one?" This is the first time a lot of readers will see these stories, and the goal was to make that experience unforgettable.
Right down to the last minute, I was working with the production team to make sure everything was going to explode off of the page, looking as good as it could. No book is perfect, but we came pretty close with this one, thanks to brilliant teamwork.
sr: What was it like to work with Joe Simon? Can you share with us any stories from the old days that didn't make it to the book, or a Kirby story that we haven't heard?
SS:
Working with Joe was great fun. He lives to work, and the more we would do so, the more the energy level would increase each and every time. He's smart, too—he knows when to let the team do their thing. The designer for this book was Martin Stiff, and once Joe saw how good Martin was, if a question came up about the design he would just say, "Let him do his job. He knows what he's doing."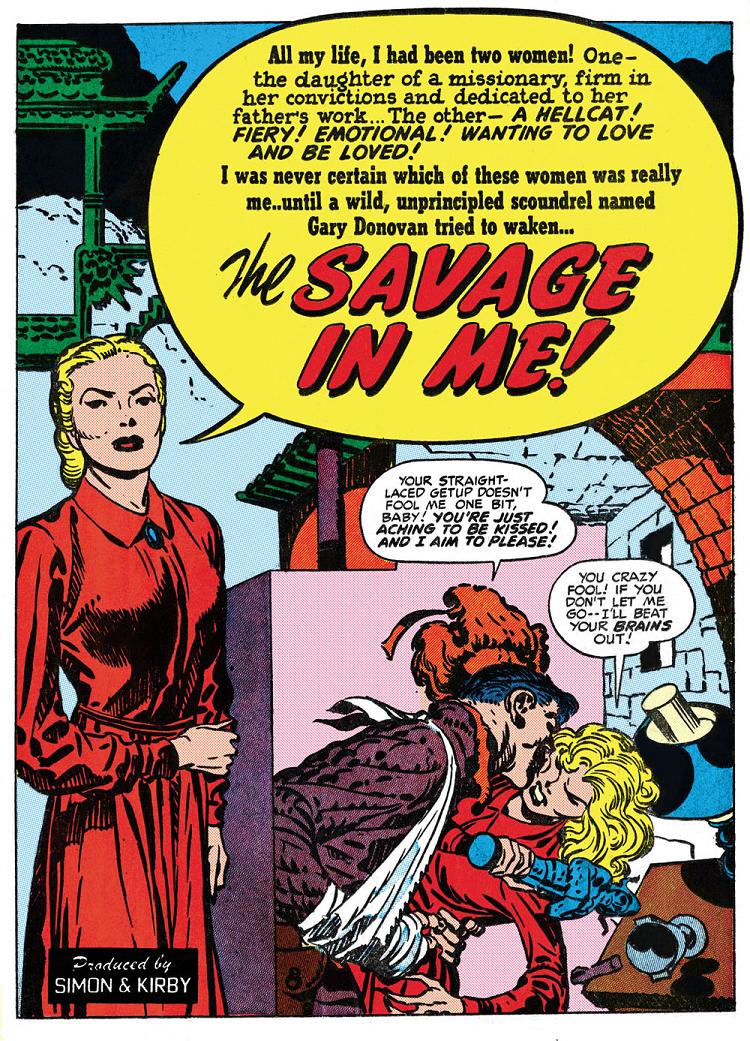 Joe's going to be pulling together a lot of the stories for his definitive autobiography, and I don't want to scoop him on that. What you got in the book was a first-hand account of what it was like to work with Kirby, and based on Joe's introduction we put a very specific piece of artwork on the cover of the book,
under
the dust jacket. Check it out.
When Joe and Jack got out of the service during World War II, they moved into houses across the street from each other in Mineola, NY. Joe had a drawing table built in his attic studio, and Kirby likewise had one built—but he built it so large that no one was ever going to get it out. Joe thinks it might still be there today. Once Jack spotted a mouse in the studio, and he took off after it with a baseball bat, pretty much destroying the studio in the process.
sr: It's amazing how beautiful the art production is on this book. The technology of today is able to produce a higher-quality book than its original version. Can you speak of the process of re-creating the old comics with this new technology?
SS:
Well, the secret here is that Harry Mendryk is a wizard. He scans the pages from the best available copy of the original comic book, and attacks every flaw, be it an ink spot, off-register color, or lines that are breaking up. The technology is pretty much available to anyone through Photoshop, but I don't think you can do what Harry does without having a deep and abiding love of the material. He's been working with Joe on these for years, and he's elevated the restoration process to an art form in itself.
sr: Simon says in his introduction that the team of SIMON AND KIRBY was the best comics team ever – what made this so?
SS:
I think it was the organic, intuitive way he and Jack worked together. They both had the ability to do it all—write, pencil, ink, letter—and Joe had the business sense and the ability to run an entire studio. Few duos in any entertainment form have had such a brilliant rapport.
And it didn't stop at Joe and Jack. When he was hiring for the studio, Joe attracted some of the finest creative talents in the business. A regular publisher tended to be a businessman—someone who couldn't have produced a comic book story if their life depended on it. But Joe could, and the guys who worked for him knew it. They respected it, and they wanted to work with him.
sr: This book is broken up into different sections by genre. Which is your favorite genre that Kirby and Simon worked on?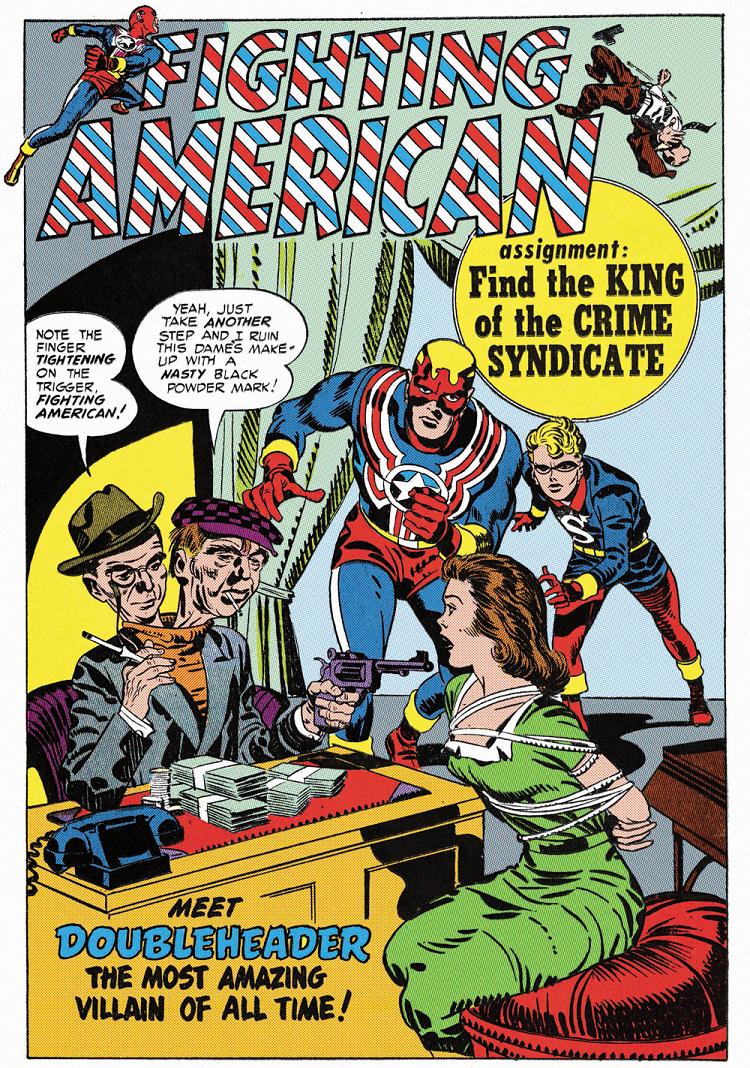 SS:
That changes day to day. Right now it might be the detective stories, where the action was so explosive, and so many of the adventures were true-to-life. But I have a real fondness for the BLUE BOLT adventures, which are an amazing hero-science fiction hybrid, and show the true emergence of Simon and Kirby.
sr: Mark Evanier also helped out on this book. What did having him on the team add to the whole package? Is there anyone else you wish you had, or might bring on for the next book?
SS:
Mark was wonderful, and he brought Kirby's voice to the book, along with his own. When I printed out his essays and took them up to Joe to review, Joe just sat there, rapt. Occasionally he would look up and say, "These are really good. Mark is a great writer!"
Most of the books will focus on the work by Joe and Jack, most likely with less text, since the stories are the point. There are a few people I'd like to involve in introductory material, and I'm open to anyone who might want to contact me, since nothing has been finalized. The key will be to find people who will help us reach a much broader audience for this wonderful storytelling.
sr: For a Simon and Kirby fan, this book is solid gold. What do you think a reader who isn't as familiar with Simon and Kirby would get from this book?
SS:
This is a walk—maybe a sprint—through two decades of popular culture. Via these amazing adventures, we experience the birth of the medium, the Second World War, the Cold War and the atomic bomb, and plenty more. When the Boys' Ranch stories were written, the Old West wasn't that far away, and when Joe created SICK magazine, Lenny Bruce was a regular reader. So this is an all-in-one-volume time machine that entertains start to finish.
sr: What is Joe Simon working on now, and what does he think of the comics industry today?
SS:
Joe never really watched the industry, as much as the industry watched Joe. (That's me talking—not him; he would never be so egotistical.) He and Jack were so busy working on the next great thing that he didn't really have a desire to copy anyone else. That's why, while everyone was following the superhero, horror, and detective trends in the late 1940s, he and Jack turned around and created a new comic book genre with YOUNG ROMANCE.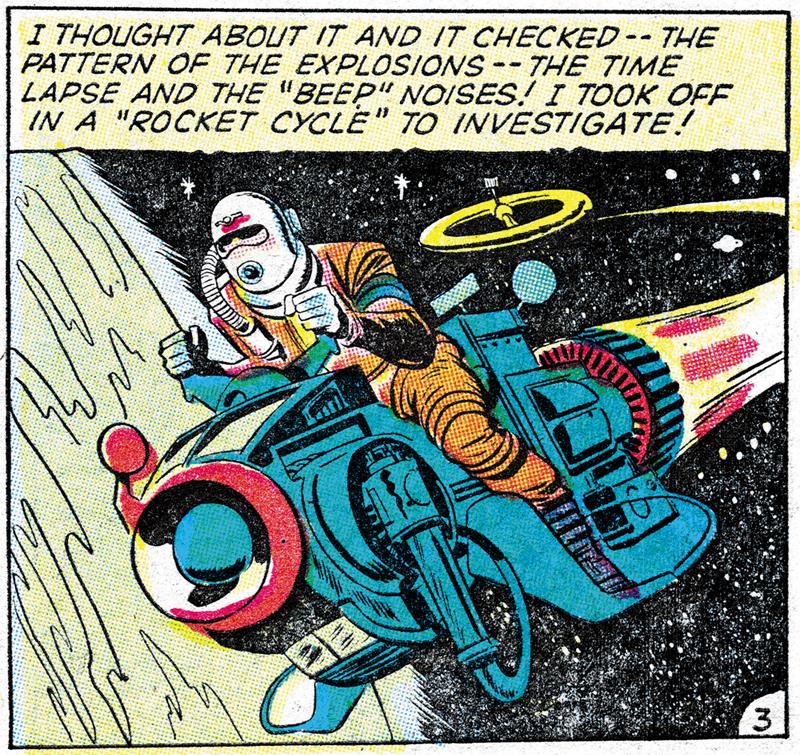 sr: What's up next for you, Titan books, and will there be more Simon and Kirby books to follow?
SS:
At 95, Joe has a seven-book deal with Titan. Next up is THE SIMON AND KIRBY SUPERHEROES, and we have some surprises in store. Also on tap are detective, horror, and romance collections, and Joe is working on his definitive autobiography.
Me, I'm just enjoying the ride. It's better than Six Flags.
sr: Thanks for your time! Is their anything else AICN comics should know? Oh and how cool is that "Rocket Cycle" from THE THING on SPUTNIK 4?!
SS:
I
love
that rocket cycle. Those issues of RACE FOR THE MOON were all inked by All Williamson, Reed Crandall, and Angelo Torres, and I've had the good fortune of seeing some of the original art. It's absolutely mind-blowing.
Thanks for the opportunity to talk about the book. THE BEST OF SIMON AND KIRBY is a wonderful collection—everyone should go out and pick it up, and give it as a gift. This isn't capitalism talking, though. I want Joe Simon to have a huge bestseller! What better way to build up to his 100th birthday? And no one who gets this book will be disappointed.
Oh, and if you haven't done so, look under the dust jacket…
sr: Thanks Steve! Steve is right by the way, everyone should pick this book up, and if you don't, at the very least head to your local store, look under the dust jacket, flip through the pages and marvel at the magical talent that was Simon and Kirby!
Looking forward to the next book!
THE BEST OF SIMON AND KIRBY is available wherever fine books are sold, and at your local comic shop.
---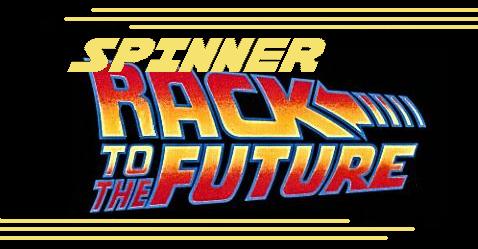 Let's get right to the old Spinner Rack and see what kind of goodies it has in store for us this week. A bit of mainstream, a bit of indie and all worth a look-see.
---
TRANSFORMERS: REVENGE OF THE FALLEN OFFICIAL MOVIE ADAPTATION Writer: Simon Furman Art: Jon Davis-Hunt Publisher: IDW Publishing Release Date: Wednesday!
I know Michael Bay gets a lot of shit here on AICN, but I'm still looking forward to the film and from the looks of this Official Movie Adaptation, I'm going to have to check that one out too. In stores this Wednesday!
---
PLANET SKAAR PROLOGUE #1 Writer: Greg Pak Artist: Dan Panosian Publisher: Marvel Comics Release Date: Wednesday!
The moment fans of this series have been waiting for has arrived--the Son of Hulk makes his way to Earth. Can't wait to see what happens when pop meets son. PLANET SKAAR PROLOGUE #1 is in stores this Wednesday!
---
TITANIUM RAIN #1 By Josh Finney & Kat Rocha Publisher: Archaia Studios Press Release Date: TBD – In June previews!
I'm going to keep my eye on this series. The art is absolutely mouth-watering and the premise is damn strong too. I'll be checking in on June's Previews to find out more on TITANIUM RAIN #1 for sure!
---
WITCHBLADE #127 Writer: Ron Marz Art: Stjepan Sejic & Karl Waller Publisher: Top Cow Release Date: Wednesday!
Follow the witchy woman this Wednesday when WITCHBLADE #127 hits the shelves!
---
TERROR INC.: APOCALYPSE SOON #2 Writer: David Lapham Artist: Koi Turnbull Publisher: Marvel Comics Release Date: Wednesday!
TERROR INC. has always been a cool concept to me and the same seems to go for David Lapham. The previous TERROR miniseries kicked major @$$ and this one seems to be continuing the tradition. Check it out Wednesday!
---
WE KILL MONSTERS #1 Writer: Laura Harkcom, Christopher Leone Artist: Brian Churilla Publisher: Red 5 Comics Release Date: July 8th (In this month's previews: Diamond order code of MAY091014)
Having read this entire book already, I can guarantee you that this is one that shouldn't be missed. It's got a quirky EVIL DEAD meets SHAUN OF THE DEAD feel and this issue in particular has a FROM DUSK TILL DAWN story 180 degree turn that leaves you spinning. Can't wait to see more of this series, but we'll have to wait until the first issue hits the stands on July 8th!
---
BEN TEMPLESMITH'S BRAM STOKER'S DRACULA #1 Writer/artist: Ben Templesmith Publisher: IDW Publishing Release Date: Wednesday!
I'm all over just about anything Ben Templesmith puts to page. This is a massive book with the original text set to Ben's moody and monstrous images. Can't wait to check BEN TEMPLESMITH'S BRAM STOKER'S DRACULA out this Wednesday!
---
GRUNTS VOL. 1 Created by Keith Giffen & Shannon Eric Denton Written by Shannon Eric Denton Art by Matt Jacobs Publisher: Arcana Studios Release Date: May 2009
This massive collection of last year's GRUNTS miniseries is definitely something fans of Garth Ennis' war comics should seek out. Looks to be the perfect mix of military action and super hero sci fi. I hear that even a major motion picture is in the works inspired by this miniseries, so it looks like we'll be seeing much more of GRUNTS in the future. Look for GRUNTS VOL. 1 in May!
---
CAPTAIN AMERICA #50 Writer: Ed Brubaker Artist: Luke Ross Publisher: Marvel Comics Release Date: Wednesday!
Bru can do no wrong these days and it seems he's putting it all into CAPTAIN AMERICA. Issue #50 hits stores Wednesday!
---
Editing, compiling, imaging, coding, logos & cat-wrangling by Ambush Bug Proofs, co-edits & common sense provided by Sleazy G
---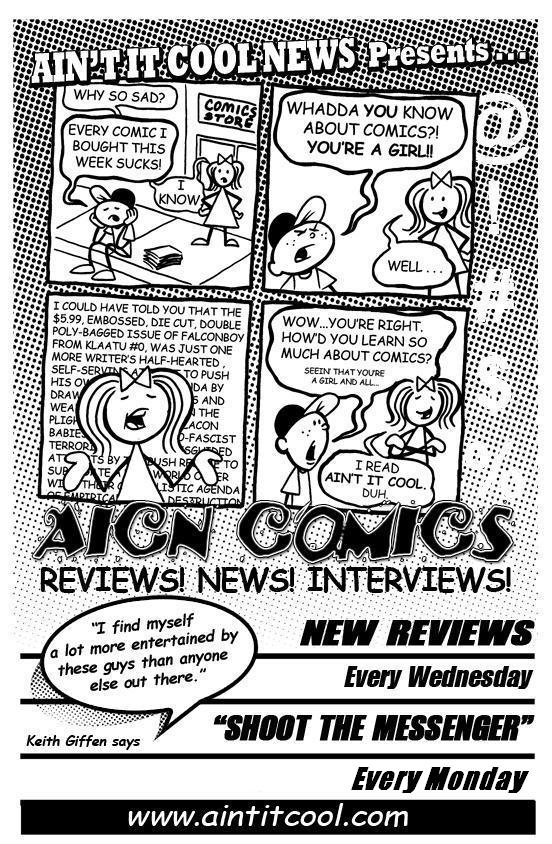 Ad by Prof. Challenger