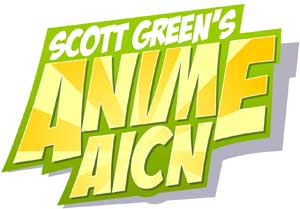 Logo handmade by
Bannister
Column by
Scott Green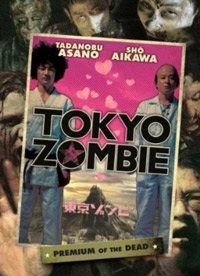 Live Action Spotlight: Tokyo Zombie Released by Manga
Tadanobu Asano is probably notorious to North American genre fans for his portrayal of Ichi the Killer's masochist gang captain Kakihara. Show Aikawa is a Takashi Miike yakuza film mainstay from works such as Dead or Alive and Gozu. This is not necessarily the pair you'd expect to find filling out the roles in a comedy duo known as "Afro" (properly name Fujio) and Hage or Baldie (properly named Mitsuo). Yet, Tokyo Zombie finds the often badasses clad in overalls, rolling on the mattress covered floor of a fire-extinguisher factory. Little do these underachieving martial arts enthusiasts realize, they're about to play an insignificant role in the coming zombie-apocalypse, in which they'll basically put themselves and others in danger by continuing their shallow thinking ways as they contend with hordes of the undead. Tokyo Zombie inhabits an ugly world. Fujio and Mitsuo commence the action when they bludgeon their boss as a response to his criticism of their lunch break jujitsu rolling and Fujio's baldness. Then, the pair takes the body to be buried in Dark Fujio, a mountain of waste (appliances, corpses, still living nuisance relatives) that everyone hopes will quietly go away. When the apocalypse rolls in, it finds a population of people in the midst or preying on each other, looking the other way, or both. With its askance view of the species, the film paints zombies as a byproduct of, and an excuse for humanity's nasty, angry, opportunists behavior, then sardonically fight them off with the grappling, twisting, choking art of jujitsu. Why jujitsu? Speaking, more than likely with a bit of the author's voice Mitsuo puts it... "It may look dull, but Jujitsu is powerful. In addition, it is an interesting and even artistic sport. Jujitsu is the best fighting method." Narratively speaking, Tokyo Zombie is an intentionally dirty movie. Not dirty in the sense of blue or risqué, but odd; not clean in its plot or philosophy. It is almost reverent about jujitsu while being irreverent about everything else. The demeanor is deadpan for the most part, but deadpan in such as way that it's barely hiding its smirk. While it is possible to imagine a movie that is more extreme, more outrageous or even more coherent with Tokyo Zombie's premise, watching the film roll with its contradictions does constitute a dark pleasure. Hopefully, if you read this column, you've checked out the original Tokyo Zombie manga. Even written and directed by Sakichi Satô, the talent behind the screenplay for the infamous Ichi the Killer, a live action adaptation of Tokyo Zombie is inevitably going to mediate the spirit of Yusaku Hanakuma's viciously sketched jujitsu versus the undead heta-uma, or "good-bad," manga (covered here). The results could still be called a "dark comedy." In fact, its deadpan misanthropy is pitch black at times. There's a great chain sequence exemplifying that attitude that starts when a clean cut teen couple try to rob a tired businessman as he drags himself through a park. The salaryman disarms the knife wielding girl, and as the boy runs off, the man begins to hold the girl threateningly. A zombie shambles into the confrontation. The next morning, the girl is lying dead in a curbside pile of trash bags. An old man stumbles on that scene and takes the opportunity to look up the girl's skirt. As she springs to unlife, and begins snapping into grandpa, a heavy set, fitness gear clad morning walker spots the attack, and simply changes direction. That said, the movie is a far broader work than its punk elder. Personally, I'm disinclined to phrase this film's broadness as a criticism of how it adapts the manga. While Hanakuma definitely fathered this work, I can fit his original manga and the movie in my head as parallel treatments of the same material. A back and forth differentiation of how the two engage memorable scenes highlight the fact that, objectively, the manga and the movie closely mirror each other. Because I can imagine them as branching as much as derivative, I will say that I have a strong preference for one handling of the subject, and that the manga definitely wins out. Both feature a zombie on gym teacher oral castration in one particularly memorable scene. The abusive teacher is on Dark Fuji to burry a victim of a punishment that went too far. Teach finds a stash of porn abandoned on the hill. While he has his pants down, a female zombie emerges from the black earth. He accepts what he believes to be an invitation and puts something where he thinks it belongs. Chomp. Spray. Man down. The movie changes the gym teacher's sexual orientation, and makes a plot point out of his abuse. The manga features male and female nudity, where the movie keeps everything covered or off screen. Despite this, the movie faithfully lifts the structure of the manga's scene, down to the muching and blood smeared mouth. Other than perhaps the nudity, you can't hold up the movie next to the manga and say that the movie omitted or airbrushed anything. Yet, there's difference in the texture of a CG movie versus Hanakuma's no BS roughness. Subjectively, it's the difference between watching a sporting event and seeing a mishap result in a sprained joint versus seeing a compound fracture. Both will make you wince. One is going to leave a more lasting impression. Beyond distinctions inherent to the media and the style of the two Tokyo Zombies, the movie broadens the work by addition. Besides the love interest who you'll spot in any trailer, Fujio and Mitsuo both pick up single factor background motivations, and more exercises in stupidity. An example of the kind of scene added to the movie is Fujio and Mitsuo running to their van to escape zombies, then realizing they forgot the key to start the van - Mitsuo fights off zombies while Fujio runs back to retrieve the key - then Fujio returning after realizing that the keys were in the van the whole time. This sort of sequence would be alien to the manga. It would probably be a laborious effort at odds with the heta-uma technique, but beyond that, it's arch and predictable. The movie is force to commit to Fujio and Mitsuo as being certain kinds of people, while the manga can just spiritedly sketch them out. The film also subtracts some nastiness. There are no pigs and no dismembered pig keepers. Yet, its the additions that substantially alter the work. Because it is more defined, it might be messy, but it doesn't quite unspool the way Hanakuma envisioned his manga "I made sure to give fans what they wanted (or at least I tried). I crammed in zombies, trucks, pro wrestling, martial arts, factories, Mt. Fuji, pigs, intense battles, wealthy people, slaves, porno, gym teachers, a little dog, Calipis, tonkatsu, a prince, a professor and so on, to try and create a comic that was a sort of fin de siecle celebration of manliness." I can't imagine being devoid of affection for a movie that marks its allegiances by featuring manga's mischievous horror legend Kazuo Umezu the way that Tokyo Zombie does. I also grew fonder of Tokyo Zombie's cheeky misanthropy with distance from my first viewing and fonder still on subsequent viewings. It's not the Platonic ideal Tokyo Zombie movie, but it is a unique film with brilliant moments of comedy bleakness. Those who haven't read the manga will likely find the movie distinctive and surprising, but regardless if it's new material, Tokyo Zombie's harsh charm and misanthropic mischief are worth experiencing.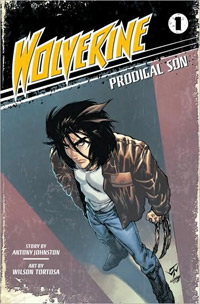 OEl Manga Spotlight: Wolverine: Prodigal Son Story by Antony Johnston Art by Wilson Tortosa Released by Del Rey
Prodigal Son is the right Wolverine for a very specific audience. A reader can't come into the work with proprietary sentiments toward either traditional Marvel Comics representations of the feral anti-hero or manga as a medium. Read too much Wolverine and the parent X-Men comics or read too much manga and paging through Prodigal Son is apt to become an exercise in comparing the work to the traditions that inspired it. Instead, the person who should be reading Prodigal Son is someone who is vaguely familiar with Wolverine and with manga. It's someone who has seen the X-Men movies, maybe the cartoons too, and that's the extent of their exposure to Wolverine. It's someone who read a few of the popular Shonen Jump manga, Naruto, Dragon Ball, and that's the extent of their exposure to manga. What Prodigal Son delivers is a handsome, rebellious young Logan, aka "Wolverine" in an action movie paced scenario. This is more Hugh Jackman Wolverine than the stubby wildman portrayed by some comic artists. Yes, he's bad tempered and bellicose, willing to get a leg broken to win a pointless sparing match, but his dark nest of hair frames a clean featured face and when not wearing a fashionable leather jacket, he's showing off his guns, posing or gesturing while shirtless or sleeveless. If Prodigal Son's creators had in mind the kind of shounen action fair whose attractive male characters draw in a cross-over female audience, they hit the mark. The story follows young Logan as his time at the remote martial arts dojo/school for trouble teens named "Quiet Earth" expires. On one hand, his ego and abilities have almost outgrown the place. On the other, intervention by an antagonist force is about to curtail his stay anyhow. The chapters progress in blocks that are connected likes scenes from action movies. Pulling memorable bits of other fight media, the creators are smart in their mixing of familiar ingredients. A dojo battle is followed by a quiet, character moment, followed by another dojo fight, this time armed with martial arts weaponry (with a selection that seems inspired by Teenage Mutant Ninja Turtles - Wolverine's specialty is the nunchucks), with is capped by a forest quest reminiscent of Naruto's well regarded Chunin Exam. That just comprises the book's first third, which should give some indication of its churn. Prodigal Son opens with a storm of speed lines that rarely abates. The panels that capture fight scenes, and even tense moments, are packed with radiating vectors. Because of this the intensity of the action does not modulate, but given the staccato beats of the plot, the constantly full-bore action is not to the book's detriment. However, speed and kinetic impact are being sold at the expense of clarity. Someone who regularly reads comics and manga should not have much difficulty following the action, and, in fact, there is an admirable logic to how the fights are laid out. While comics/manga can cheat in the sequence of actions between panels, Prodigal Son generally manages to account for space and position as its fights progress. Yet, there is a danger that the barrage of lines might overwhelm a reader who only dabbles in comics/manga. Page progression is left to right oriented, which might help, but the visual complexity might still be a bit too much. Fans of Wolverine comics might be bothered by how Prodigal Son departs from established history and depictions of the character. Manga fans are liable to hold it up against the titans of shounen action. Yet, if you give the book to someone who likes the idea of Wolverine and likes the idea of manga; who doesn't have an extensive background in either, Prodigal Son will likely give them what they want. Its look, structure and action may just be exactly what that audience is looking for.
Upcoming in Japan
Previews Oblivion Island: Haruka and the Magic Mirror Oneechanbara Vortex Wolf and Spice II Anime The rumored adaptation of the Gundam Unicorn novels has been confirmed by the Monthly Gundam Ace magazine. The story, set in year 0096 of the continuity established by the original Mobile Suit Gundam will be scripted by Yasuyuki Muto (Afro Samurai: Resurrection, Le Chevalier D'Eon, Persona -trinity soul-) with Kazuhiro Furuhashi (Le Chevalier D'Eon, Rurouni Kenshin, Zipang) directing. Character design will be Kumiko Takahashi (Card Captor Sakura, Ouran High School Host Club, Witch Hunter Robin) the character design that was established by Yoshikazu Yasuhiko (first Mobile Suit Gundam, Venus Wars, Arion) for the novels. Hajime Katoki (Mobile Suit Gundam 0083: Stardust Memory, Mobile Suit Victory Gundam, Gundam Wing Endless Waltz Special Edition), Yoshinori Sayama (Birdy the Mighty Decode, Mobile Suit Gundam: Char's Counterattack), Junya Ishigaki (Mobile Suit Gundam Wing, Macross Frontier), and Nobuhiko Genba (Fullmetal Alchemist: The Movie - Conqueror of Shamballa animator) are attached on mecha design. The anime is scheduled to hit this winter. A look NewType's converage can be seen here

*

Anime Vice notes that Tezuka Productions will be producing anime adaptations of Osamu Tezuka's fictionalized biography of Buddha (the manga of which is released in North America by Vertical) and proto-shoujo fairy tale Princess Knight.

*

Fashion house Louis Vuitton and pop culture artist Takashi Murakami will be collaberating again on second short Superflat First Love as port of Louis Vuitton's Multicolor Spring Palette line. The video will premiere on a Japanese mobile website.

*

British rock band Oasis is currently featured in the theme song of Production I.G's new anime Eden of The East, and Production I.G is returning the favor will an animated music video to be packed in the limited initial edition of the "Falling Down" CD single. The disc will ship in Japan on May 27 Manga Via Anime News Network Monthly Shonen Sunday's inaugural issue, set to hit Japanese stands on May 12, will feature new Azumanga Daioh manga by Kiyohiko Azuma. Azuma will be creating three 16-page installments that be be featured in Monthly Shonen Sunday and in the revamped 10th anniversary edition of the series. Live Action Nunoe Mura's essay collection GeGeGe no Nyobo (Spooky Wife), concerning her life with Shigeru Mizuki will be adapted into a film by Takuji Suzuki and a television drama. Shigeru Mizuki is gained fame as the creator of horror shonen manga GeGeGe no Kitaro. The film will shoot this fall for a release in summer 2010

Shinobu Kaitani's manga Liar Game will be adapted into a second TV drama staring Erika Toda and Shota Matsuda in addition to a theatrical movie.
The Business
VIZ Media Europe has launched a new business to business site at www.vizeurope.com for managing the development, marketing and distribution throughout Europe of Japanese animated entertainment and graphic novels (manga).

*

Yaoi Press on the finances of printing doujinshi

*

FUNimation presents suggestions for finding a place in the anime industry Gia Manry presents an essay on future on the anime industry
Digital Distribution News
Viz has started posted chapters of Rumiko Takahashi's Rin-ne

As a child Sakura Mamiya mysteriously disappeared in the woods behind her grandma's home. She returned whole and healthy, but since then she has had the power to see ghosts. Now a teenager, she just wishes the ghosts would leave her alone! At school, the desk next to Sakura's has been empty since the start of the school year, then one day her always-absent classmate shows up, and he's far more than what he seems!

*

FUNimation Entertainment is partnering with Japanese production company Media Factory for the U.S. digital distribution of the 26-episode action anime "Requiem for the Phantom" which debuted on Japan's TV Tokyo network April 2nd and airs Thursdays at 2:15 a.m. The first four episodes were delivered on April 23rd. Anew episode will be available each week as it airs in Japan. Each episode will be high-quality, free, with the original Japanese dialogue accompanied by professionally created English subtitles and will stream via www.funimation.com/video. Rhe Bee Train produced series is an adaptation of the "Phantom of Inferno" visual game software from the game production company Nitroplus and its original script writer Gen Urobuchi ("Blassreiter"). The story centers around a mysterious organization called Inferno and its "Phantom," the organization's most elite assassin. This assassin's true identity is compromised by an unwitting witness. Witnesses are usually killed but this witness is brainwashed into become Inferno's newest assassin and enters a world of intrigue and violence. "Requiem for the Phantom" is directed by Koichi Mashimo (Blade of the Immortal, Noir).

*

In case you haven't caught it yet... Astro Boy is legally available on YouTube; not the original series, but the 1980 and 2003

*

Sunsoft producer Tomohiro Seki announced that Leiji Matsumoto's (Space Battleship Yamato, Space Pirate Captain Harlock, Galaxy Express 999) digitally distributed manga Out of Galaxy Koshika will be adapted into anime. The manga, which is available on the Wii Shopping channel will be offered for iPhone/iPod touch.

*

The pricing model for the digital distribution of Shuho Sato's New Say Hello to Black Jack, Umizaru, and The Isle of TOKKOU manga has been revealed to 30 yen (about US$0.30) per chapter for a one-year period. Older works will go for 10 yen (US$0.10) per chapter .

*

Anime News Network is now hosting embedded Crunchy Roll episodes of Dear Boys (Hoop Days) Eyeshield 21 Fairy Musketeers (Otogi-Jushi Akazukin) Gintama Glass Mask (2005) Hayate the Combat Butler Kaasan - Mom's Life (Mainichi Kaasan) Natsu no Arashi! Natsume Yuujinchou Neo Angelique Abyss Neo Angelique Abyss -Second Age- Ristorante Paradiso Saki - The Player Shugo Chara! Skip Beat! Viewtiful Joe Web Ghost PiPoPa The availability and resolution of the content is subject to Crunchyroll's subscription service.

*

Crunchyroll and Marvelous Entertainment have partnered up to stream School Days on the digital distribution site. Title Synopsis: It was at the entrance ceremony of Sakakino High School that Makoto Ito met Kotonoha Katsura for the first time. Kotonoha was in the class next to Makoto's, lived along the same railway line, caught the same train to school every morning read a book. Although Makoto had a little crush on her, she was to be looked at from a distance...that was all she was. Then, a message on Makoto's cell phone appeared: YOUR ROMANCE WILL COME TRUE IF YOU KEEP YOUR LOVE INTEREST'S PHOTO ON YOUR CELL PHONE SCREEN FOR THREE WEEKS WITHOUT ANYONE KNOWING. As ridiculous as Makoto thought it was, he took a shot of Kotonoha on the train and made it his wallpaper, only to be discovered by Sekai Saionji, his classmate at the next desk, right the next day. Though the portent seemed to turn out to be of little consequence, Sekai volunteered to play matchmaker between Makoto and Kotonoha to make up for sneaking a look at his cell phone. From that day on, Makoto's ordinary life started to take a new turn... On the live action front, Crunchyroll has picked up more Korean drama and Japanese horror. These Korean drama titles from Munhwa Broadcasting Corporation (MBC) are free for all users in the U.S., Canada and U.S. provinces. BEHIND THE WHITE TOWER Brilliant and ambitious, Jang Joon-Hyuk (Kim Myung-Min, The Immortal Lee Soon-Shin) will do anything to become the next chief surgeon. But his new rival, Roh Min-Gook (Cha In-Pyo, Star in My Heart), is more than willing to give Jang a taste of his own medicine. Committed to the well-being of his patients, fellow doctor Choi Do-Young (Lee Sun-Gyoon, Coffee Prince) is prepared to risk his career in order to do the right thing. Find out what really goes on BEHIND THE WHITE TOWER. DR. GANG DR. GANG follows character Kang Dal-go, a man hunted by gang members, trying to stay alive. Fronting as a doctor for safety, Kang Dal-go must keep a low profile. Knowing full well that if he's found, it will mean his own death; however keeping a low profile is harder than it seems for Kang Dal-go as this phony doctor can never quite keep quiet inside the hospital. Co-starring next to Kang Dal-go is Kim Yoo-nah, an independent and strong character, but can oftentimes seem like an outrageous "princess." As she learns about Kang Dal-go's identity and tries to have him reveal it, her emotions get in the way... H.I.T. A story about men and women who have different values in their profession, who each go through their personal conflicts and doubts, but in the end, come to understand each other. This series challenges the stereotype of a male dominated work place, that prosecutors are rigid and always play by the book, and only men can be homicide detectives. This series is based on a real-life prosecutor representing his new generation and the first female chief of homicide. It will deliver their challenging spirit to the viewers and satisfy their needs for something new as well as entertain through the portrayal of a life of a woman in a man's world. JUMONG part 4 The epic JUMONG saga comes to a thrilling climax! After years of valiant struggle and painful sacrifices, JUMONG, is closer than ever to his goal of uniting the rivaling factions of ancient Korea against the Han Chinese forces. Born from these turbulent times, the legendary leader must now face his final battle to bring peace to the land and forge a new day for his people. ONE FINE DAY When does love begin? Starring Korean TV drama favorites Gong Yoo (Coffee Prince) and Sung Yu-ri (The Snow Queen), and co-starring Mangoong Min and Lee Yeon-hee (Emperor of the Sea), One Fine Day presents a heartrending, bittersweet love story amid the beautiful vistas of Australia and Korea. Orphaned as children, step-siblings Gun (Gong Yoo) and Ha-neul (Sung Yu-ri) are adopted into very different lives. Ha-neul grows up in Korea with a wealthy, loving family, while Gun becomes a small-time thug in Australia. Reunited after 15 years, they have nothing in common but painful memories. As the two grow closer, however, Gun and Ha-neul realize their feelings run deeper than that of brother and sister. QUE SERA SERA Kang Tae Joo is an ordinary employee in a department store. Shin Joon Hyuk's got a bit of baggage, but on the exterior seems to have things together. They both fall in love with the heroine of this story: Han Eun Soo. Cha Hye Lin is the daughter of a rich shopping mall executive and is an aspiring fashion designer. Independent, strong and spoiled, she is hopeless and careless in front of love. After an emotionally traumatizing first relationship, Hye Lin stops believing in true love, and then chooses to "buy" herself new boyfriends by paying them money and forcing them to sign contracts. QUE SERA SERA delves into a messy and complicated web of love, lies and relationships amongst the four of these characters.

*

Netcomics' Age Called Blue is available online. Chapter one is free. Two and three are $0.25 each

*

Yaoi Press is offering manga on iTunes. Yaoi Press aps will sell for $.99 and will be available to IPhones worldwide. Young adult titles will be presented in their entirety. Mature readers titles will be modified as little as possible to adhere to ITune's content policies. A 120 page manga is turned into a 500+ page ap for the IPhone.

*

The Independant looks at How mobile phones are changing the way that art is enjoyed and created The supremely fun IRrelevant Astronomy, NASA's Spitzer Space Telescope education animation series, is back with "Robot Astronomy Talk Show: Gravity and the Great Attractor" In this episode, George Takei is "interviewed" by robot IR-2, who is now voiced by Ed Wasser (Mr. Morden from Babylon 5). Mark Hamill has a voice cameo at the very end. As with previous IRrelevant episodes, the focus is on discussing recent astronomy science in a comedic way.
New and Upcoming in North America
CMX THE BATTLE OF GENRYU: ORIGIN VOL. 1

Written and illustrated by Shouko Fukaki CMX/FLEX COMIX. Jin's a happy, irresponsible high school kid with extraordinary powers. The problem is, they only show up once a month. He's got a great group of friends, including the attractive Fusano, who takes her own fighting skills way more seriously than Jin does. But that all changes when some tough guys challenge him on one of the days when he isn't powered up. Turns out they were hired by his estranged brother Soichiro, who is after something that Jin possesses. And when Soichiro later attacks Fusano, the war between brothers is on. sale August 12 • 5" x 7.375" • 162 pg, B&W, $9.99 US • TEEN + MUSASHI #9 VOL. 16

Written and illustrated by Miyuki Takahashi Resolicited; on sale August 5 • 5" x 7.375" • 192 pg, B&W, $9.99 US • TEEN CRAYON SHINCHAN VOL. 9

Written and illustrated by Yoshito Usui sale August 26 • 5" x 7.375" • 128 pg, B&W, $7.99 US • MATURE ASTRAL PROJECT VOL. 4

Written by marginal and illustrated by Syuji Takeya CMX. In this final volume, Masahiko's dead sister possesses another girl, but the results might prove deadly to her host. The mysterious jazz CD gets played on the radio, causing a whole outbreak of astral projections and upsetting the Painted Man and his monstrous friend. And the true reason behind Asami's untimely death is finally revealed.Will Masahiko at last find peace? sale August 19 • 5.5" x 8" • 248 pg, B&W, $12.99 US • MATURE TEARS OF A LAMB VOL. 6

Written and illustrated by Banri Hidaka sale August 5 • 5" x 7.375" • 192 pg, B&W, $9.99 US • TEEN VENUS CAPRICCIO VOL. 2

Written and illustrated by Mai Nishikata sale August 19 • 5" x 7.375" • 192 pg, B&W, $9.99 US • TEEN DokiDoki LIVING FOR TOMORROW written and illustrated by TAISHI ZAOU Rated M+ (Ages 18+), 5" x 7.2", MSRP: $12.95 US Yaoi Manga, Available In Stores: May 20, 2009 High school student Tasuku Mizuochi has a secret he knows and a secret he doesn't. Even though he punches, kicks, and otherwise abuses fellow karate team member, Ryouta, on a daily basis, Tasuku has hidden feelings for his childhood friend. When Tasuku's mother died, Ryouta was always there to comfort him, and these emotions grew over time to become something else. Confused and embarrassed by his secret crush, Tasuku takes his frustrations out on Ryouta to keep him from ever knowing the truth. When Tasuku learns that his late mother may have been an "ageman" (ah-gay-man) – a woman who brings men good fortune – he starts to believe he's inherited these powers, too. Can having the ability to influence luck give Tasuku and Ryouta a future together? Or will all the people crawling out of the woodwork wanting to use Tasuku's power cause him to run screaming for the hills?! BRILLIANT BLUE VOL. 1 written and illustrated by SAEMI YORITA Rated YA+ (Ages 16+), 5" x 7.2", MSRP: $12.95 US Yaoi Manga, Available In Stores: May 6, 2009 When Shouzo Mita left home, he thought it would be for good. Although he followed his father's career path as a construction manager, Shouzo never wanted to enter the family business – that is, until dad got laid-up with an injury. Forced to return home and oversee his father's company, Shouzo finds that a lot of things haven't changed, but some things have. Nanami, a childhood acquaintance, has gone from being an awkward fatty to a sparkling pretty-boy straight out of a shojo manga. As an electrician contracted to work for Mita, Nanami's simple, naive charm and healthy appetite manage to flip Shouzo's switch. With the choice between remaining independent and accepting responsibility for his family even more complicated, what will Shouzo do? TAISHI ZAOU is the pen name for MIKIYO TSUDA, creator of PRINCESS PRINCESS and THE DAY OF REVOLUTION for all her BL (boys love) manga. SAEMI YORITA is the creator of various shonen-ai and yaoi manga in Japan, and BRILLIANT BLUE is her first US english release.

The latest DokiDoki promotion give away of fukuseigenga is online at www.dokidokibooks.com To receive the promotional item regist for the DokiDoki newsletter and purchse the book from Akadot Retail (www.akadot.com) checkout for purchase of the book of your choice with the promo item. FUNimation Season 1 Part 1 of baseball anime Big Windup! (Ookiku Furikabutte) is scheduled for August 18th. Lasp Gasp Same Hat! presents evidence and receives eye witness response to Lasp Gasp - Junko Mizuno sightings Junko Mizuno's 172 page Little Fluffy Gigolo PELU is scheduled for a September 2009 release.

More from Patrick Macias here Right Stuf Anime producer and distributor Right Stuf, Inc./Nozomi Entertainment and Kadokawa Pictures USA announced the licensing of RENTAL MAGICA, plus plans to release the 24-episode television series as two DVD box sets – with Japanese audio and English-language subtitles – starting in Fall 2009. Each DVD collection will offer fans the option to view Rental Magica in their choice of "broadcast order," as it aired on Japanese TV (and appeared on the Japanese DVD release), or "chronological order," according to the timeline presented in the novels that served as the anime series;s inspiration. Additionally, each box set will include a book that features well over 100 pages of background information about the series and its mythology. (These supplemental materials were originally included with the Japanese limited-edition DVD releases.) A supernatural action-adventure, Rental Magica is set in a world where magical organizations – staffed by specialists wielding both Eastern and Western disciplines – vie for work, prestige and power. When Itsuki Iba inherits the position of president for the Astral "magic-for-hire" service, he and his colleagues find themselves battling dangerous rivals in a fight for their company's very survival. Will Itsuki be Astral's final president? And is he really as powerless as he seems? Rental Magica's anime adaptation features direction by Itsuro Kawasaki (Sengoku Basara, Tsubasa: RESERVoir CHRoNiCLE: The Movie), series composition by Mamiko Ikeda (Emma: A Victorian Romance), animation character design by Minako Shiba (.hack//SIGN, Tsubasa: RESERVoir CHRoNiCLE), and animation production by ZEXCS (Chrome Shelled Regios, Mushi-Uta). VIZ Media Viz has announced plans to release Rumiko Tahashi's history comedy adventure Inu-Yasha in the 3-volume-in one VizBig format $17.99). Unlike the previous release, the book will be published in the original right to left layout. VIZ Media will publish Rumiko Takahashi's Inuyasha in a VIZBIG edition, collecting three volumes in one, in the right-to-left reading orientation, in an oversized format on quality paper with select color pages, for $17.99. The first volume will release in November 2009 and subsequent volumes will release quarterly. AND....More news! Regular volumes of INUYASHA will be released monthly in their original right-to-left reading orientation starting with Volume 38 in July 2009. We have been releasing the series quarterly until now.

*

VIZ Media launched a special NARUTO Shippuden promotional campaign with Trans World Entertainment where customers who purchase $20.00 worth of NARUTO Shippuden merchandise at any participating FYE and Suncoast stores will receive a free NARUTO Shippuden Sampler DVD, while supplies last. The special Sampler DVD features the entire first episode of the new NARUTO Shippuden story arc, along with a video game trailer for Namco Bandai's NARUTO Shippuden Ultimate Ninja 4 and a variety of colorful downloadable NARUTO Shippuden wallpaper designs that allow fans to customize their computer desktops.
Cool Figures (and Merch) News
Not new, but new to me and a must see" Toy Box DX Brog

*

Dark Horse announced a San Diego Comic-Con International exclusive variant of the upcoming Domo "Qee" toys. This special version will only be available at this year's event, held in San Diego, from July 23-26, 2009. The special 2" version of the lovable mascot turned iconic viral superstar from Japan's NHK television network is growing in popularity in the United States. The Domo Qee program, to be launched nationwide in August, is Dark Hotranslucentrse's first try at the popular "blind box" or "mystery box" format. Individual figures are packed in small boxes; the only way to know which particular figure is inside a particular box is to purchase and open the box. In the Domo blind box assortment, figures are sold in counter displays of 15, and each display box of 15 figures is further packed into a master carton of four cases. In addition, the boxes each contain one component of a "Build-A-Domo" clear transparent figure. When the correct six components are accumulated, the buyer can put together the complete bonus Domo. There will not be a "Build-A-Domo" component in the Comic-Con Exclusive figure.

*

Ripple Junction is now carrying shirts based on NARUTO: Shippuden, the chapter of the popular ninja anime/manga featuring an older version of the characters.

*

Digital Blue has announced a line of electronics based on the spinning top game/anime Bakugan, scheduled to be available at Toys R Us this summer. The line includes a $19.99 digital camera, as well as alarm clock radios, walkie talkies and accessories

*

A look at Bandai's Mari Illustrious Makinami figure from Evangelion 2.0

*

On CollectionDX Tokyo 2009: Kusou Fancy Goods Toy Store Origin of Valkyrie VF-1A Super Valkyrie (Hikaru Ichijyo ver.) Origin of Valkyrie VF-1A Super Valkyrie (Maximilian Jenius ver.) VF-25F Alto Custom Capsule Chogokin Voltes V

*

Hello Kitty Wizard of Oz plush toys Upcoming figures from Hobby magazine, along with Evangelion 2.0 designs. Tara McPherson's Gamma Mutant Space Friends Dolife Gurren Lagann Yoko

*

Figures.com/Cool Japanese Toys reviews Kotobukiya's Kannagi Nagi 1/7 PVC Figure To Aru Majutsu no Index Kaori Kanzaki PVC Tears to Tiara Ermin PVC Figure

*

On the custom front... 5 Star Stories Dunny Lego Musou Gundam Shockwave Transformers Usagi Yojimbo Dunny Photos from the IWG custom show
Print Magazines
Anime Vice notes one-shot anime magazine "Future Anime" has sit stores shelves with Gundam 00 and a July 2008 date. Gary Steinman, former Editor in Chief of Newtype USA and EiC of Future Anime told Anime Vice "We produced a second Future Anime because the first one sold so well for us. We're very proud of this second issue, so if we continue to see strong support, we'll definitely consider producing more!"

*

Otaku USA representatives has confirmed that the anime/Japanese media enthusiast magazine has been delisted from Diamond Distributors, the primary source of products to specialty comic shops. The magazine is hoping to negotiate a return.

*

80's animation fan magazine cereal:geek has shown signs of life. Issue five is being targeted for a June/July release, with six and seven intended for the end of the year.
Anime x Games
Dynasty Warrior Gundam 2 for the Playstation2, Playstation 3 and XBox 360 hit North American stores this week Shonen Jump spin-off V Jump is promising a game collaborations with Square Enix. A magazine teaser indicates "Square Enix [and V Jump] begin 'Project V', which will create a next-generation blockbuster! Perhaps your ideas will become reality?!".

*

Japanator notes a certain prominent characteristic of Super Robot Taisen OG Saga: Endless Frontier

*

Kojima Productions is suggesting that Metal Gear Solid creator Hideo Kojima may be returning to his mecha franchise Zone of the Enders. Metal Gear Solid Integral podcast asked "How many people really want Zone of the Enders a sequel?" Aki Saito added, "If there's so many people wanting to see Zone of the Enders, why not put the priority on top, a little further up, you know, but we just want to know."

*

The amazing looking Wii game Muramasa: The Demon Blade switch publishers this week with Ignition Entertainment taking over for XSEED. The release is planned for September 2009.

*

via ICV2 The Amsterdam Court of Appeals ruled in favor of Konami Digital Entertainment B.V. in an appeal proceedings against Upper Deck International in the suit concerning Konami's termination of the Yu-Gi-Oh! Trading Card Game distribution deal with Upper Deck. The ruling overturns the December 24th, 2008 injuction against the termination. Konami Digital Entertainment will be brought back the Shonen Jump Championships for the Yu-Gi-Oh! TCG. The first Shonen Jump Championship run by Konami was held April 25-26 at the Anaheim Convention Center, where a new Yu-Gi-Oh! 5D's Shonen Jump Championship prize card was revealed for the first time.

*

Privateer has announced an upcoming Voltron set for the Monsterpocalypse CMG, scheduled for early 2010.

*

Anime inspired online collectable card game Alteil is offering a Spring sale April 22-May 5th, as well as the new site feature Point Card Redeemer

Spring events include: Chibi Madness, free wallpapers, sigs, icons and animated gifs of Chibi Alteil Characters! Spring Avatars More Spring of Youth Info More Point Card Redeemer info

*

The Magic Box has screenshots of Kamen Rider: Climax Heroes - PlayStation 3 Armored Core 3 Portable BlazBlue: Calamity Trigger - anime inspired fighting game - very strange mix of shooter with King of Fighters characters
Going Hollywood
Tsuyoshi Kusanagi from the idol group SMAP is in bit of trouble after being arrested for indecency after allegdely running around naked in Hinokicho Park near Tokyo Midtown. Reportedly, Kusanagi defied police officers, saying "What's wrong with me being naked?" According to police, a breath analysis test taken 5 hours after Kusanagi's arrest detected a BrAC of 0.8 mg/L, well over the legal limit. SMAP were mentioned as potentially being cast in the Hollywood adaptation of Ninja Scroll. Mecha Mecha Media presents some analysis

*

The Last Airbender set pictures
Anime and Animation on TV (and Lack There Of)
Bleach's Arrancar story has begun a with two back-to-back episode on Cartoon Newtork's Adult Swim block. For scheduling, see here.

*

Musical talent Andrew W.K. has signed on with Cartoon Network to host Destroy Build Destroy, a reality show in which teams of teens will destroy something and build something else out of it. Cartoon Network is boasting that the premiere of Scooby-Doo & The Samurai Sword (Sunday, 7 p.m.) scored double and triple-digit delivery and ratings gains over the same 2008 time period across all key demos, including 79% delivery growth among kids 2-11, 90% growth among kids 6-11 and 89% growth among kids 9-14. Boys earned even stronger delivery gains with 75% increases among boys 2-11, 93% increases among boys 6-11 and 109% increases among boys 9-14. Adult Swim claimed the #1 ranking among basic cable networks for total day delivery of adults 18-34, adults 18-24, men 18-34 and men 18-24. Over the previous year, the programming block delivery among young adults increased by 6% while ratings improved by 17%. Delivery of adults 18-24 also rose by 2% while ratings remained unchanged. Adult Swim telecasts accounted for 14 of the top 50 telecasts of the week (more than any other network) on ad-supported basic cable among adults 18-24, with four telecasts of Family Guy among the top 10—Monday, Tuesday, Thursday & Sunday, 11:30 p.m
Event News
White on Rice (covered here) will screen in LA on May 3rd (Sunday) at 6:30 at the DGA theater. Cast and Crew will be present for the 35mm screening For tickets, see here

*

New York-Tokyo announced that "Nippon Eiga" Series: Part 18 will be a special advance premier of Academy Award winning - Best Foreign Language Film Departures. The screening will feature a with guest appearance by director Yojiro Takita and main cast Masahiro Motoki. After the screening, New York-Tokyo will conduct a Q&A session with the the director and actor for all attendees. Fore more information, see here. Friday. May 01, 2009 Door 6:15pm, Film 7:00pm Chelsea Cinemas: 260 West 23rd Street, NYC

*

France's 10th Japan Expo, July 2-5, will feature shoujo greats Ai Yazawa (Paradise Kiss, Nana) and CLAMP (Card Captor Sakura), as well as musical guest AKB48.

*

The Godzilla & The Monsters Of Mass Destruction will run August 21-23, 2009 at San Francisco's Castro Theatre. 10 films will be shown along with an appearance by the man in the Gdozilla suit Haruo Nakajima

*

The Japan Intl. Contents Festival (CoFesta) will launch a series of 18 events under its banner this fall including Tokyo Game Show (Sept. 24-27), the Ceatec Japan 2009 digital tech show (Oct. 6-10), the Japan Anime Collaboration Market (JAM, Oct. 10-15) and the Tokyo Film Festival (TIFF, Oct. 17-25). CoFesta aims to promoting Japanese IP to global markets.

*

Anime Expo, July 2-5, 2009 at the Los Angeles Convention Center, announced that pop music group Morning Musume's "3,2,1 Breakin' Out!" will be the theme song for the event. Morning Musume will also be a guest of honor at the event. A preview can be heard on JapanFiles.com's MySpace page

*

More on the Tezuka desk exhibition
Worth Checking Out...
Insight It was Yomiuri Shimbun recently spoke to Miyazaki Hayao about "the god of manga" Tezuka Osamu. Ghibli World offers an English summary Before the start of the new Tezuka exhibition, which is currently held Edo-Tokyo Museum, Miyazaki told about his Tezuka experiences. In his words, I felt his respect to the great senior, but also a sense of sparkling rivalry. Miyazaki noted, "I've been wrestling with Tezuka. So I'm kind of obliged to him. However, it isn't easy to tell it simply." There is a famous episode between these two maestros of animation and manga. When Tezuka died in 1989, Miyazaki caustically criticized him in a magazine which commemorated Tezuka, referring him to be just like an "Ooya no gidayu" animation creator. The Ghibli Blog talks Love and Theft and Goro-San about Goro Miyazaki and his work on Tales From Earthsea Bono has this great line from Achtung Baby, "Every artist is a cannibal, every poet is a thief." And that's true of just about everyone. But it's doubly true of the young and growing artist. Also on, the live action Grave of the Fireflies adaptations Finally, archival Animerica on Porco Roso Yoshihiro Tatsumi's A Drifting Life continues to generate plenty of discussion Anne Ishii at Publishers Weekly David Goodwin at Eastern Standard PRI's The World spoke to Adrian Tomine about the book, and on NPR's Books We Like Shuchaku East reacts to the New York Times coverage The Hooded Utilitarian tales a detailed look at Helter Skelter

And Helter Skelter feels like a very personal work. If it were "about" celebrity, then it would be seriously dated by real-life stars' ever bizarre meltdowns. If it were just groundbreaking, it would look weak, since latecomers always finish the excavation. Since it's about whatever on earth goes on inside Kyoko Okazaki, it's still fresh. Rather like Iggy Pop, slathered in burning wax, no pants, reminding all the youngsters they have no idea what punk is right before the saxophone (the saxphone!) kicks in. also Fruits Basket 1, Take 2 and Pink Psycho's Tokyopop published In The End The Department of Alchemy presents Advice from Henry Jenkins, MIT Comparative Media Studies Professor The homage manga pays to Art Nouveau We Remember Love on steps in anime production

The site also has an interesting piece on the behavior of "real robot" pilots The episode 91 of the Anime Today podcast features a look at voice action with excerpts from the following actor interviews over the years: Greg Ayres, Luci Christian, Crispin Freeman, Kyle Hebert, Rich McNanna, Vic Mignogna, Anna Morrow, Liam O'Brien, Chris Patton, Sam Regal, Monica Rial and Sean Schemmel. The Anime World Order podcast is back with # 79a - Kittens Without Perception Are Spiritually Useless And, Ninja Consultants is also back with Show #69 - The Wedding Episode David Welsh talks to Katherine Dacey-Tsuei about manga them CLAMP Newsarama spoke to Drew Rausch, whose work include the Tokyopop published Lovecraft noir The Dark Goodbye Manga Punk spoke to Becky Cloonan The article that gave rise to the passed around Pluto/Astro Boy comparison chart Reverse Thieves on the spring anime season

Anime3000 previes the Guin Saga anime

Deb Aoki at About.com:manga says Future Diary Mashes Up Haruhi and Higurashi and Orane Technicolor Teen Angst Colony Drop on 1997 two-episode erotic thriller OAV called Tokio Private Police People are calling Production I.G.'s Kenji Kamiyama, director of Ghost in the Shell: Stand Alone Complex and Minipato, the successor to Patlabor's Mamoru Oshii. What a crock; people, I have found your man and the daring unofficial Patlabor sequel to prove it. Speaking of older anime, Lost Anime Review: Explorer Woman Ray And on the manga side Confessions of a Retconned Fangirl's Psychic Girls and Superdimensional Fortresses Erica Friedman has a very quotable review of risque fantasy anime Queen's Blade Andrew Wheeler on manga for kids Tim Maughan lists Ten anime films you should see before you die Joseph Luster at Otaku USA on Tokyo Gore Police Melinda Beasi on the VIZ Big release of Hot Gimmick, along with an interesting response conversation Agent Of L.I.B.R.A.R.Y. on the unusual manga Firefighter! Daigo of Company M Warren Peace Sings the Blues looks at what's going on in Shojo Beat Snow Wildsmith on More Shojo Bang for Your Buck Tasha Robinson on the interested non-anime, animated film Azur & Asmar: The Princes' Quest Media Catsuka Player has hosting the Louis Vuitton + Takashi Murakami Superflat Monogram GhibliBlog has posted a host of Ghibli ad spots for frozen food, beverages, Lawson Spirit Away promos and the like Umacha Commercials Follow aicnanime