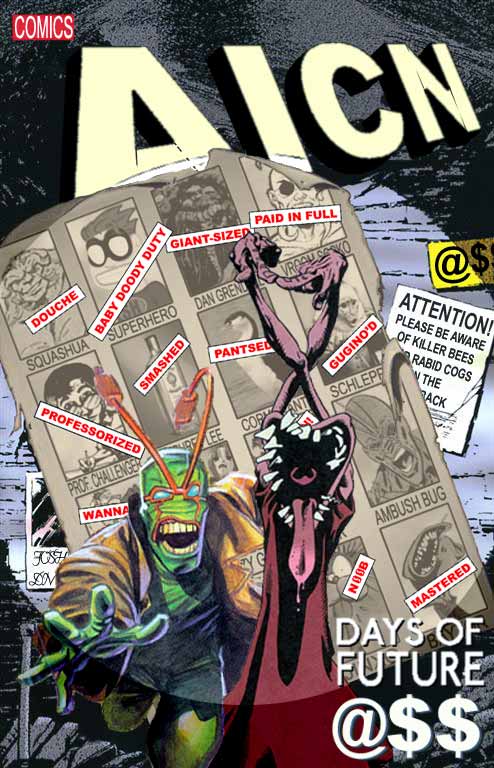 ---
The Pull List (Click title to go directly to the review) SECRET IDENTITIES ANTHOLOGY VOL. 1 100 BULLETS #100 AMAZING SPIDER-MAN #591 G.I. JOE: COBRA #2 LOVE IS A PECULIAR TYPE OF THING TPB DOCTOR WHO: AGENT PROVOCATEUR TPB X-FACTOR #42 THE STRANGE ADVENTURES OF H.P. LOVECRAFT #1 AMERICAN MCGEE'S GRIMM #2 BENNY & PENNY HC GN dot.comics presents SPY6TEEN Online Comic Big Eyes For the Cape Guy presents WOLVERINE: PRODIGAL SON V1 Indie Jones presents… CHEAP SHOTS!
---
SECRET IDENTITIES ANTHOLOGY Vol.1
By various writers and artists Published by: The New Press Reviewed by: Ryan McLelland
Count how many Asian superheroes you know. Yeah, you can stop already – there's no real point to it. The world already knows that comic books are filled with Anglo types who run around and save the day. That's not to say that Marvel and DC don't have minority characters but it isn't every day we see new multicultural superheroes joining THE AVENGERS.
SECRET IDENTITIES is a massive undertaking coupling Asian-American artists and writers to create fun, interesting, and amazing stories. Does that mean this anthology will only interest those in the Asian-American community? Of course not, man – this book is a page-turner for every comic book fan and has something for everyone. Course, it helps when you get some 'brand names' contributing including Greg Pak (INCREDIBLE HULK), Bernard Chang (WONDER WOMAN), Christine Norrie (BLACK CANARY) and a slew of others working in film, television, and comics.
A favorite of mine is a story by Gene Yang and Sonny Liew titled 'The Blue Scorpion & Cheung.' This story is not really an intro to some great new characters but is perhaps more of a biting satire on how Asians are portrayed in media and film. The Blue Scorpion is a Green Hornet rip-off who seems to think he is the mighty fighting force that can defeat bad guys. Swigging from a bottle, he jumps down to take out some minions only to find himself in a headlock by a rather large baddie who is not going to take any of Blue Scorpion's crap.
It's Cheung that jumps down to save the day and, as anyone who has ever read, seen, or heard the Green Hornet knows, comes in to save the day just as Kato always did. But what are Kato's motives? Why would someone drive around as a chauffeur to some idiot, always saving his life, and continually playing the second banana? The story suddenly turns into a phenomenal character study and looks at why a superhero does what he does and goes through what he does. Is it better to quit and do you own thing? Or is playing second fiddle enough when you are actually doing some good? It's a twelve page story of pure genius that stuck with me long after I finished the entire anthology.
But the entire trade is fully of great, gripping stories that feature some phenom concepts – Greg Pak and Bernard Chang's The Citizen should be immediately put out as a miniseries to satisfy my deep cravings. The editors set out to do something that would give some Asian-Americans their own voice and what they got in the end was a lion's roar. SECRET IDENTITIES VOLUME 1 is a monumental achievement in bringing a huge group of new characters to life not just because these characters are Asian-American but because they are amazing on their own merits. The book easily attains a '4 star rating' and deserves to be picked up – an incredible price for a massive amount of great stories.
Ryan McLelland has worked in movies and comics journalism for the past several years before joining the @$$holes here at AICN. Ryan's comic work has already graced comic shelves with Arcana's PHILLY, WISE INTELLIGENCE, UPTOWN GIRL, and THE SENTINELS ANTHOLOGY. He rarely updates his blog but when he does it can be read at www.eyewannabe.com. The first issue of his new WISE INTELLIGENCE miniseries can be found here.
---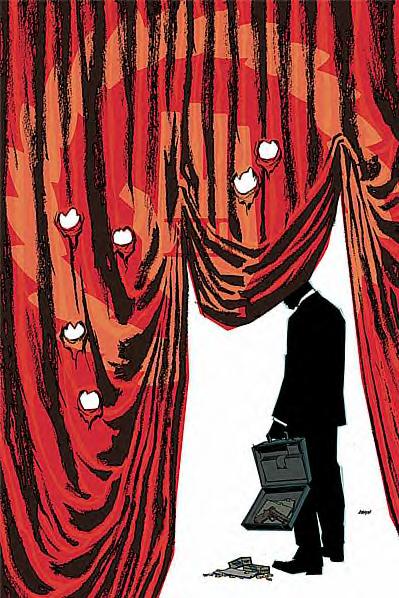 100 BULLETS #100
Writer: Brian Azzarello Artist: Eduardo Risso Publisher: Vertigo/DC Comics Reviewed by Humphrey Lee
Every year now it seems like I'm finding myself typing up one of these "Farewell" pieces. Even sadder, it keeps feeling like each time I do say goodbye to a 100 BULLETS here, or a Y: THE LAST MAN last year, there seems to be less and less books like them:,the finite ongoings, rising up in their place. But that's a whole other tangent and here I am to pay my respects. One hundred issues and nearly a decade since I first laid my eyes on it, 100 BULLETS (along with a ton of the players that have been spawned from its pages) is being laid to rest. It's been a long and goddamn brutal ride, but it's been worth every shell casing.
Obviously I'm just here to bring the book its just praise, so don't worry about spoilers or anything. I know this is one of those books whose TPB audience far outweighs us that have stuck with it (mostly) monthly for pretty much the entirety of the '00's so far so I'm just going to be broad with my comments. Mainly, I'm just here to say "Oh how far we have come". What started as a book that seemed to be about various people's quests for revenge has gone to conspiracy theory to insidious power grab and now devolved into a complete bloodbath. A glorious, glorious bloodbath.
The issue itself was a bit of a revelation. The last gasp at explaining the events that led us to this point is satisfying, even despite the nefarious nature of this book when it comes to devouring it in the mini-bites known as issues when it reads so much better in chunks on the whole. Remembering exactly how the pieces fit together right now, without the reread I know I should have done up to this point, is a little daunting, but with the broad themes and plot points of the series even just somewhat at the forefront of my brainspace, this wrapped itself up fairly nicely. And did I mention the bloodbath? I hope so because it was fantastic. I somehow naively convinced myself that a good bit of these characters had to survive this, either they were "too cool to die" or they were somehow still a little "innocent" if that word can even apply to any aspect of this book, but there's a lot more graves to be filled with this finale and really, I wouldn't have it any other way.
As he has for the entirety of this run, Eduardo Risso proved with every last panel and line of this issue that he's been one of the best visual storytellers in the business, if not the best. Azzarello, in pursuit, worked his minimalist and gritty best to bring it all home. It might not be up at the very tip top when it comes to finales of this ilk - it's not quite up there with the PREACHERs or LUCIFERs or Y: TLMs when it comes to wrapping up - but it's damn close and, to be honest, probably just has to do with the level of complexity and, again, that lack of refreshment on my part given said intricacies. But, despite that little oversight on my end it was still phenomenal. It worked in and of itself for the story it has been telling for nearly ten years now, it worked in a genre that doesn't really get much attention in this medium, and it worked the medium as it milked it for all it's worth in how the format tells a story. It was called 100 BULLETS, and it made every one of them count.
Humphrey Lee has been an avid comic book reader going on fifteen years now and a contributor to Ain't It Cool comics for quite a few as well. In fact, reading comics is about all he does in his free time and where all the money from his day job wages goes to - funding his comic book habit so he can talk about them to you, our loyal readers (lucky you). He's a bit of a social networking whore, so you can find him all over the Interwebs on sites like Twitter, The MySpaces, Facebookand a Blogger Account where he also mostly talks about comics with his free time because he hasn't the slightest semblance of a life. Sad but true, and he gladly encourages you to add, read, and comment as you will.
---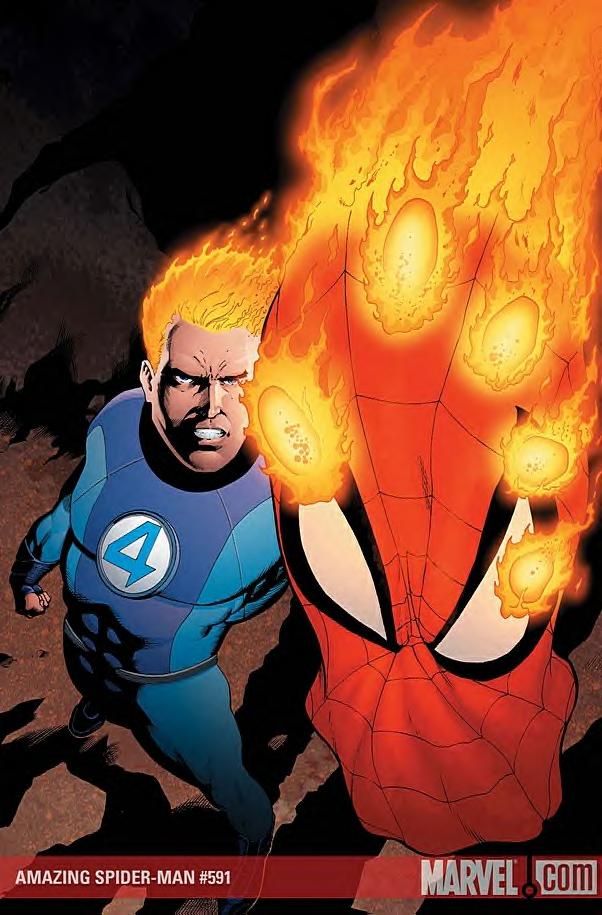 THE AMAZING SPIDER-MAN #591
Writer: Dan Slott Artists: Barry Kitson, Jesse Delpergang ad Dale Eaglesham Publisher: Marvel Comics Reviewer: Liam 'The Kid'
Note: 'The Kid' is 8 years old and has been doing reviews on his own site since August of 2008.
This is the second part of the story with Spider-Man teaming up with the Fantastic Four on an alien world and the Human Torch is really angry because Spider-Man made them all forget what his real identity was. The Torch set fire to Spider-Man's mask so that he could find out who he really was and this issue starts with Spider-Man's head turned invisible because of Mrs. Fantastic. I thought it was a great way to make Spider-Man's secret stay the same. I thought that his face would look like a monster or something because they didn't show it so having Mrs. Fantastic use her powers to help Spider-Man keep his secret was a good idea.
There is a lot of fighting in the comic with the Fantastic Four teaming with Spider-Man and one of the alien warriors to battle other warriors. I liked how all of the superheroes were using their powers and the Thing was one of my favorite guys in the book. He's really strong and had some funny parts, too, because he was getting really mad at Human Torch and Spider-Man for fighting all of the time. There was a good battle scene when this alien dinosaur thing was trying to squash or eat Spider-Man and the warrior that was helping them just blasted the creature. The alien guy who was helping the good guys looked a little bit like Iron Man.
All of the people on the Fantastic Four keep telling Spider-Man and Human Torch that they are a family instead of just a team and they want everyone to stay friends. Thing gets mad again and tells those guys that there is no 'I' in Fantastic Four even though there is and then he tells everyone to put their hands in to team up. It was really funny because when Human Torch put his hand in it was on top of Spider-Man and he burned his hand. Spider-Man and Torch were going to fight again but they had to go battle the alien warriors first and I liked the part where Thing breaks down the door where all of the warriors are staying and they help the good guys win.
I liked how even when everyone was back on the ship and ready to go home finally that Mr. Fantastic wanted to know how Spider-Man made everyone forget his secret. I thought it made a lot of sense for Spider-Man not to take off his mask because he said that if he told his friends they could get captured and tell bad guys but Mr. Fantastic says he'll make a way so they can't reveal his secret. I think it's a good idea that Spider-Man told the Fantastic Four who he is because they won't tell and the team is like a family and families don't keep secrets from each other.
When Spider-Man gets back home he's upset because even though they were all in space for a couple days in real time on Earth two months went by. When he gets back he finds out that J. Jonah Jameson is the new mayor of New York and he's so upset that he smashes into a pole. It's kind of funny that one of the guys who hates Spider-Man the most is going to be running the city just like Osborn is in charge of all the superhero teams. And because he was away for so long his boss and all his friends are mad at him.
---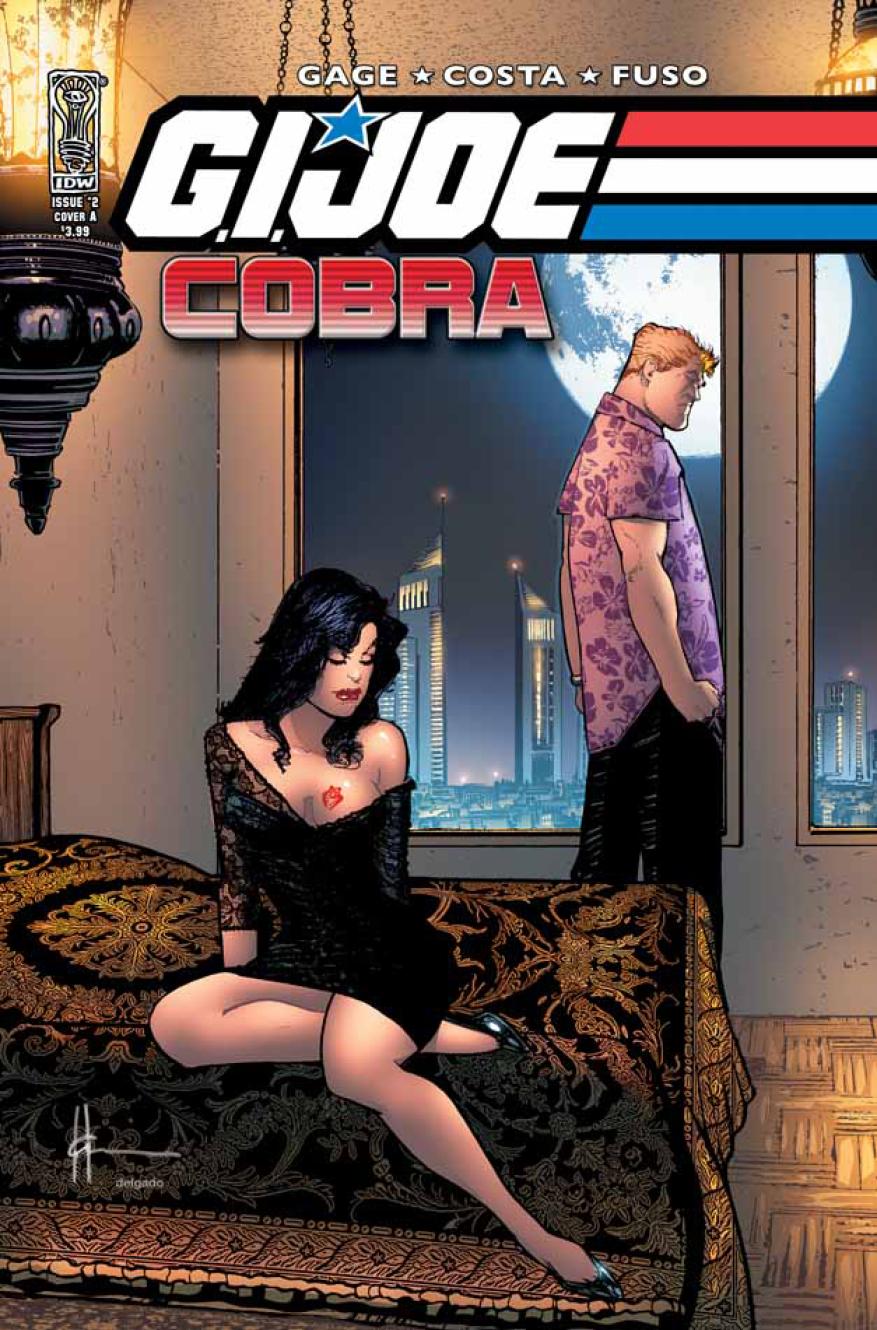 G.I. JOE: COBRA #2
Writers: Mike Costa & Christos M. Gage Artist: Antonio Fuso Publisher: IDW Publishing Reviewer: Ambush Bug
I'm as surprised as you are. Believe me. When I cracked open the first issue of G.I.JOE: COBRA #1 I was expecting a mildly entertaining side story about one of my least favorite G.I.JOE characters. Maybe a little better than most JOE stories since it's written by one of the writers out there that perks up my ears when I hear he's taking over a new project; Christos M. Gage, but given the way G.I. JOE has been comic booked in the last ten years, I wasn't expecting anything other than your typical military yarn.
G.I.JOE: COBRA is not your typical anything.
It's a perfect storm comic book where a pair of talented writers (in this case, Christos M. Gage and Mike Costa), a gifted artist (Antonio Fuso), a cool franchise (G.I.JOE), and a Hercules-strong premise (Joe agent goes deep undercover to infiltrate COBRA in its first stages of development) all intersect. It's not a bunch of hard nosed soldiers racing across a battlefield against unusual bad guys. It's not Polly the Parrot shouting unfunny lines as he pecks Baron Bludd's good eye. It's not a metal headed tyrant or a swamp family that can blend into the background when sunlight hits them or a professional football player shoved into a military figure line for no apparent reason. G.I.JOE: COBRA is the unholy offspring of an all-nite horizontal hokey pokey between a tough as nails noir yarn and a deep cover espionage sizzler.
Issue one sealed the deal that Chuckles, the Joe's deep cover agent, is the shit. He's an imperfect mess that seems to get the job done and has the bruises to prove it. He's Cal MacDonald, Sam Spade, Holden from SLEEPER, and James Bond all in one. He somehow manages to piss off both his bosses and the bad guys. He's the guy who nails the girl you've been trying to sleep with for a year in your bed and to add insult to injury, he tries to high five you the next morning. And dammit, he's so likable that you end up high-fiving the bastard because…well…just because.
Issue two shows more of Chuckles' likeability as he inches up higher in the COBRA food chain. He gets to show his stuff in an ambush and ends up being the intended dessert of the main squeeze of the big boss (a chick who is yet to be named but looks an awful lot like the Baroness). All the while, he's trying to squeeze out intel to Joe Headquarters via an archaic microchip implanted in his skull.
The temperature of this comic is high. The pace a feverish race. The tone is sarcastic and witty but never evoking any doubt that the threat is deadly serious. And in the middle of it all is Chuckles in that damn Hawaiian shirt.
Anotnio Fuso's art makes this book a must read due to the vivid angles and the gritty water-colored panels, a look that is right at home with the grey-area realm that Chuckles inhabits. This comic is better than it should be and I'm savoring every page. Something like this doesn't come along often. Do yourself a favor and check it out. It's highly, highly, highly recommended.
Ambush Bug is Mark L. Miller, reviewer and co-editor of AICN Comics for over seven years. Check out previews to his short comic book fiction here and here published in MUSCLES & FIGHTS 3 and MUSCLES & FRIGHTS on his ComicSpace page. Bug was interviewed here and here at Cream City Comics. Look for more comics from Bug in 2009 from Bluewater Productions, including the just-announced sequel to THE TINGLER for their VINCENT PRICE PRESENTS ongoing series.
---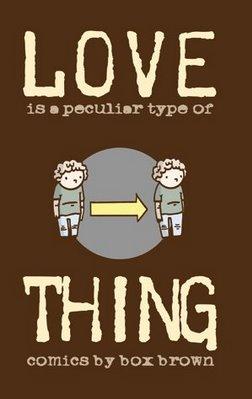 LOVE IS A PECULIAR TYPE OF THING TPB
I'm always astounded by those individuals in the comic book world who win a Xeric grant to publish their work. It's a monumental achievement and I love finding books published by those who receive the Xeric because it is usually an extraordinary labor of love. Does that mean that from the get-go I'm slightly skewed to like a Xeric book? Probably not. Good is good and crap is still crap no matter who publishes it and how. It's just more times then not you get a great book like LOVE IS A PECULIAR TYPE OF THING rather than a steaming pile.
Box Brown put together this collection of his stories which features himself as a character as well as an offshoot of himself, a character named Ben. What is real in the book and what is not is blurry but one doesn't read LOVE IS for an in-depth of biography of everything Box. With a Charlie Brownesque look and a mature look at life in the large city of Philadelphia, Box touches on subjects that are very close to him. He (and/or Ben) go through being just a friend when all he wants is to be the boyfriend, the drugs, the friendships, the drinking, and most importantly those thought/feelings that no one ever wants to put down on paper. Fictional or not sometimes it is just very hard to get out some things and Box isn't afraid to talk about anything.
Perhaps this is where, as a cartoonist, it is easier to swallow. Seeing a character in any comic strung out on drugs is one thing, but one can't help to laugh when you see the strung-out Ben wide-eyed dancing the night away. I snicker but swallow the tale much easier. Box hasn't had the easiest life but it is a life that I can truly empathize with. But beyond that, even if you can't empathize with one single thing, it is still a great comic to kick back and read.
Sure this isn't a book for those who just read X-MEN. It has a great independent feel and easily ranks up there with a true favorite of mine - Daniel Clowes. LOVE IS A PECULIAR TYPE OF THING is a wonderful book full of heartache, love, and the everyday routines you find in life but brought together wonderfully in such a way that a bitter pill is almost sweet to swallow.
---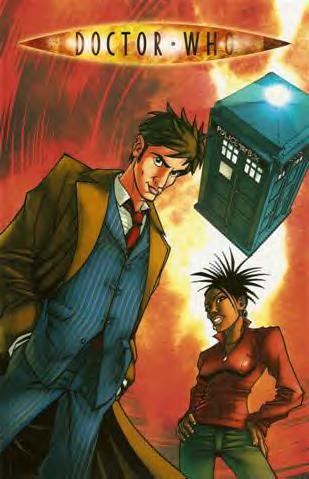 DOCTOR WHO: AGENT PROVOCATEUR TPB
Story by: Gary Russell Art by: Nick Roche, Jose Maria Berdy, Stefand Martino, Mirco Pierfederici Published by: IDW Publishing Reviewed by: Baytor
I've found that it's nearly impossible to judge licensed comics without resorting to a curve. There are exceptions, but they usually exist to be as inconsequential as possible, while giving the fans a bit more of what they fancy. As long as you dial down your expectations a bit, they can be a hell of a lot of fun. But even with the most generous curve, AGENT PROVOCATEUR falls short.
The first two chapters are my favorites and come really close to making the grade. It's not brilliant, but it's about what I expect of a DOCTOR WHO comic: a couple of one-off adventures where an innocent quest gets derailed by the usual danger The Doctor finds himself in. One deals with the quest for the perfect milkshake, while the other starts off as a shopping expedition in the 70s. I know it sounds silly (and it is), but I'm sure there's more than a few of you out there who, if given the chance to travel anywhere in time & space, would choose to go back to the 1930s to read ACTION COMICS #1 fresh off the spinner rack or back to 1960s England to watch those lost episodes of DOCTOR WHO on the telly.
Gary Russell focuses a bit too much on the dialogue and exposition dumps, so the plot beats often get lost beneath the sheer weight of verbiage. The heavy dialogue also causes some poor word balloon placements, so you'll end up reading a number of them out of order. The stories don't quite work (I had to re-read a few passages to figure out the story logic), but there are some funny exchanges and seeing the 10th Doctor sporting his Jon Pertwee-era duds in the 70s adventure brought a smile to my face. Simple charm gives it a passing grade.
The third tale ups the stakes with an entire planet in danger (populated by New Earth's cat people). Again, it mostly works, but the missing plot beats are becoming more noticeable. A part of The Doctor's plan is introduced on the very panel that it becomes undone, which makes it a bit confusing. I wondered if I had missed a bit of dialogue earlier. Quick check; nope.
The remaining three chapters are one big, universe shattering threat; and this is where the book slowly goes from seriously flawed but charming to shockingly bad in the final chapter. To demonstrate how badly, I'm going to spoil the plot for you. Okay, so there are these aliens who have set themselves up as gods, who somehow managed to rip a hole in space and they have to fix it up before something really nasty slips through. So, these guys start abducting the entire populations of planets to fuel the device they need. Only they leave behind one person to attract the attention of The Doctor, because they need his sonic screw-driver. The gods hire a guy to take care of the details, who hires another guy who decides to steal the device they're building for his own, ill-defined nefarious ends, which seems to involve shooting random people with it.
Did you follow that? Well, don't worry, the final chapter explains all that to you about three times and it never makes any more sense. It's just a bunch of plot complications piled on top of plot complications that completely fails to come together in a coherent plot. The final chapter is just one big exposition dump after another as Gary Russell tries in vain to make the plot work, completely obliterating the ample charm of the earlier chapters. Matters are not helped by a rather dramatic art shift. The book starts off cartoony, but as the main plot takes hold, it goes to a more realistic style, which never quite works.
This is not a good comic. Even without the charm-sucking final part, this isn't a good comic, although it does show some potential. Gary Russell is a DOCTOR WHO writing vet, but I don't think he's written a lot of comics, and if he's willing to take a bit of advice from a lowly @$$hole, I'd suggest that he simplifies his plots a bit, stick his plot points clearly, dial back the dialogue by about a quarter, and avoid the universe-shattering stories that have brought down many a comic story before his. Just because you have an unlimited special effects budget in comics doesn't mean these sorts of stories work incredibly well here.
---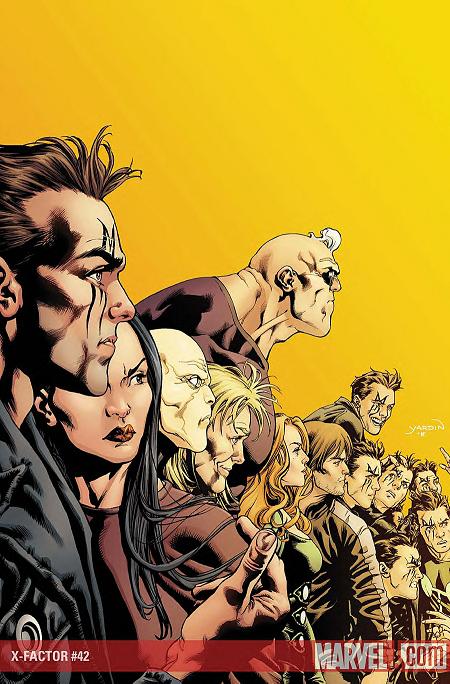 X-FACTOR #42
Writer: Peter David Artist: Valentine DeLandro Publisher: Marvel Comics Reviewer: Optimous Douche
I couldn't find one moment of this book that wasn't simply spectacular. There are very few, if any, other books I can heap such gushing praise upon since I can usually count on my Douchedar to ferret out even the miniscule chinks in a story's armor. Take for instance the highly praised "dupe baby absorption" X-FACTOR issue. I could see how some might have found things a bit talky and light on action up until the big reveal. You know, sort of like the "Sixth Sense"-- good, but not great until the A-HA moment.
However, this issue relies on no such parlor tricks or grand reveals. Instead it simply delivers rapid-fire Sci-Fi time travel, action, romance, budding bromance, and a hatred that has been festering since the early 90s -- all wrapped inside David's signature witty, but never snarky dialogue.
David affords every member of the team just the right amount of page time, never lingering too long in the present day minor characters' stories, nor getting too lost in the dystopian future of the Summers Rebellion. A few pages of Guido and the Homo Sapien dead wood of the team, Rictor, following an internet lead for Jamie Madrox was perfect set-up for a future buddy issue. A sprinkling of Monet and Siryn questioning the motives of former government team handler Val Cooper was a grand blend of history and the selling out of XF Investigations to the all mighty dollar. I have never been a fan of the probability defying Mojoverse exile, Longshot, until David shifted the focus of the character from his good luck to his animal magnetism with women. The few pages where he chooses chivalry instead of giving into the temptations of the paranoid cougar under his watch were probably the weakest part of the book, but still damn entertaining.
The longest amount of time and also the juiciest part of this issue was most certainly the "back to the future" travels of Jamie "Multiple Man" Madrox and Layla "I Know Stuff" Miller. I'll admit that in the early days of this latest iteration of X-FACTOR I had grave concerns about then teenager Layla's premonitions of her and middle-age Madrox one day being man and wife. I applaud David for deftly avoiding any Pedobear moments by leaving Layla 80 years in the future after her one-shot special, then having her age to womanhood before coming back to the present. I was also ecstatic to see the two warp back to tomorrow to aid in the Summers Rebellion. Like "Days of Future Past," mutants are being hunted to extinction. The only thing saving the mutant race from being completely wiped off the map is a very old Ruby Summers, the daughter of Scott and Emma, and a very very old cybernetic Scott Summers.
X-FACTOR continues to be the platinum standard of marching meticulously in step with the progress of time while still embracing the past. I won't call it "continuity", because in this day and age it is the true C Word of comics, shackling a book or forcing writers to toss it away with reckless abandon. Yes, X-FACTOR plays off every story thread with surprise and palpable drama, but it achieves the much larger feat of staying true to the soul of each character and every relationship that's been established going all the way back to the 1990s titles of X-FACTOR, GEN X and X-FORCE (yeah I thought Rictor was dead wood even when he had his powers).
For anyone that dropped this title during the dark days of Stroman's stroke-inducing strokes, please come back; DeLandro is an artistic force to be reckoned with, capturing every scene perfectly. If you haven't given X-FACTOR a try, why not? This is not just a great mutant book, it's one of the best damn comics being published today.
When Optimous Douche isn't reading comics and misspelling the names of 80's icons, he "transforms" into a corporate communications guru. "What if the whole world had superpowers? Find out in the pages of Optimous' original book AVERAGE JOE. Read the first full issue on Optimous' New Blog and see original sketches by fellow @$$hole Bottleimp. If you are a publisher or can help these guys get AVERAGE JOE up, up, and on the shelves in any way, drop Optimous a line."
---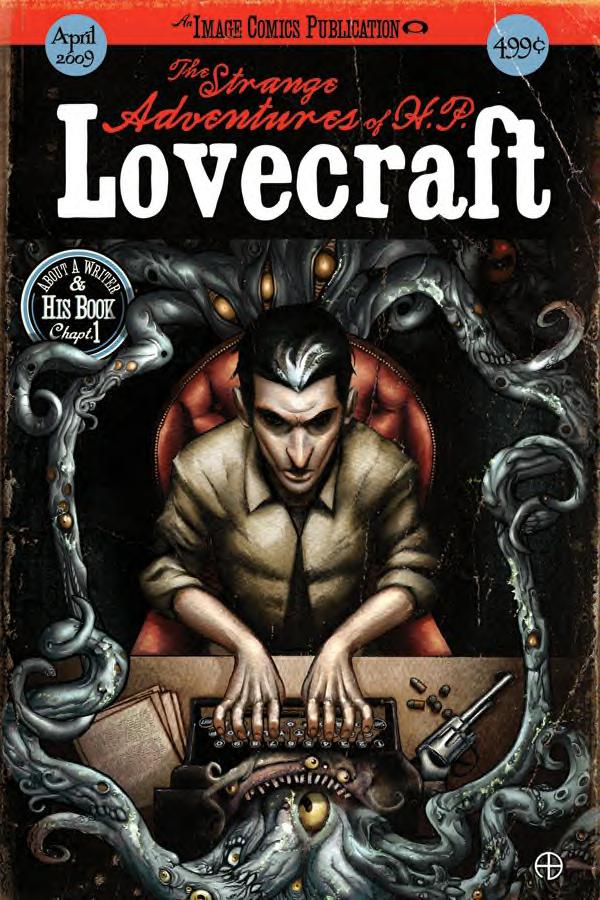 THE STRANGE ADVENTURES OF H.P. LOVECRAFT #1 (of 4)
Writer: Mac Carter Artist: Tony Salmons Published by: Image Comics Reviewed by: BottleImp
What is it about H.P Lovecraft—both the stories and the man himself—that continues to fascinate us? His writing style tended to be overfull of elaborate, mannered descriptions that bordered on archaic, his protagonists were for the most part bland and uninteresting, and even in his better works Lovecraft's plots became repetitive and predictable. But when the Old Gent was really, really cooking, he managed to bring forth a quality in his writing that elevated his monsters far above the run-of-the-mill ghosts and ghouls. Lovecraft brought a sense of cosmic horror to readers that could not be easily put aside. After all, the more we learn about the vastness of the universe, the smaller and more insignificant we feel… and the more likely it seems that the black gulfs of space could be inhabited by the inhuman monstrosities that Lovecraft created. Maybe it's that horrible sense of possibility that continues to entrance readers while inextricably binding the creator to his creations. Because even though it's well-known that Lovecraft's so-called "Cthulhu Mythos," his pantheon of cosmic beings, was fabricated piece by piece by himself and his contemporaries (including Robert Bloch, Henry Kuttner and Robert E. Howard, to name a few), there is a persistent, nagging little voice in the back of many a skeptic's head that insists that Lovecraft's descriptions of Cthulhu, Azathoth and the rest didn't come from imagination, but experience. Later contributors to the Cthulhu Mythos would often include H.P. himself in their tales, both in oblique reference or as an outright character taking part in dealing with these extradimensional creatures.
Such is the case with THE STRANGE ADVENTURES OF H.P. LOVECRAFT, which, following a prologue depicting the death of Necronomicon author Abdul Alhazred (the Necronomicon being, for the uninitiated, the bible of Really Bad Shit in Lovecraft's work), dives right in to Lovecraft's world of the 1920s. There are some real details of Lovecraft's life presented here--his two elderly aunts with whom he lived, the lackluster reaction his strange stories would receive from the pulp magazine publishers--and then there are the invented bits: a love triangle with a vivacious librarian and a wealthy bachelor, an encounter with the famed Necronomicon in a university library, and Lovecraft's inevitable realization that the monsters he thought were fiction are all too real.
As I said, putting Lovecraft in the middle of his stories is nothing new, and it's a shame that Vertigo published the similarly-themed (thought more Freudian and psychosexual) LOVECRAFT hardcover only a few years ago—the comparison between these two works will be inevitable, although it seems as if Carter is going for more of a "men's adventure magazine" feel with this series rather than anything so cerebral. Despite the familiar set-up, I really liked this book—Salmons' loose, somewhat scratchy artwork reminds me alternately of Matt Wagner and Teddy Kristiansen, and fits perfectly with the slow-building tension and sense of horror that Carter builds up through this issue. Colorist Adam Byrne's muted palette adds the final touches of gloom to the Providence streets, as well as the horror that is only beginning to emerge through Lovecraft's mind.
I picked up this comic from the creators' booth at last year's San Diego Comic-Con, and I'm glad to see that it found a publisher for wide circulation. It's almost like reading one of Lovecraft's own stories; there's nothing particularly innovative or unexpected here, but still entertaining. Here's hoping that the rest of the series keeps up the quality—I'd like the Lovecraft-iness more like "Dreams in the Witch House" and less like "The Terrible Old Man." Those in the know will get what I'm talking about.
When released from his Bottle, the Imp takes the form of Stephen Andrade, an artist/illustrator/pirate monkey painter from the Northeast. You can see some of his artwork athere. He's given up comics more times than he can remember. But every time he thinks he's out, they pull him back in.
---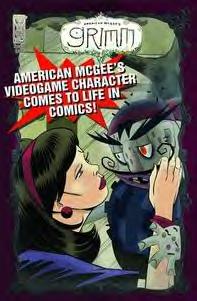 AMERICAN MCGEE'S GRIMM #2
Written by: Dwight MacPherson Art by: Grant Bond Published by: IDW Publishing Reviewed by: Ryan McLelland
I dug the hell out of the videogame-to-comic book AMERICAN MCGEE'S GRIMM #1 and have been looking forward to the second issue to see what fairy tale world the malicious Grimm was going to invade and tear apart at the seams.
The latest world for Grimm to launch himself into is that of romantic comic books – the ones where a geeky character like Larry looks at his dream girl from afar, hoping that one day he'll muster up the courage to ask the beauty to marry his spineless ass. Of course Susan, the woman Larry is looking at, looks over at the nice man on the bridge and thinks that he is too good for her, only wishing she could go and talk to him.
Ah, romance. Ain't it grand and sort of ironic? Well, if you are like Grimm (and me) you are ready to puke at the mere thought of these two wannabe love birds. Larry finally gets the stones to walk up and talk to Susan but this is the wrong day to do so. Grimm creates horrible monsters to kill the duo, thus prompting wimpy Larry into action. Yes, the romance comic genre has never really seen killer ducks yelling "MEAT" as they snap at their prey. Grimm, happy about where this tale is going, is all too eager to make sure these two don't live happily ever after.
That's what is great about this book. It doesn't even stop there by a long shot as Susan and Larry find themselves delving deeper into what is truly a dark fairy tale of old. Grant Bond's work mixing a videogame-looking Grimm with that of a romance comic comes out truly top-notch. MacPherson is on his game and continues to work his magic creating these fun and sick modern day tales. This series is some of the better stuff I've read lately and I look forward to the next issue the second I finish the last page.
---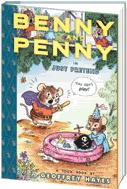 BENNY AND PENNY HC
Writer and Artist: Geoffrey Hayes Publiser: Toon Books Reviewer: Liam 'The Kid'
Note: 'The Kid' is 8 years old and has been doing reviews on his own site since August of 2008.
BENNY AND PENNY is about two mice who live in the woods who are brother and sister. Benny likes to dress up and play pirates and Penny is always following him around, asking where he is and trying to catch up to him so she can play with him. He wants to play by himself and thinks that she's pretty annoying so he never tells her where he is and she just follows him on her little mini scooter.
I liked when Penny hits the box that Benny is pretending is a pirate ship and she is coming up the other side of the box and it tips over and they both fall off a hill and land in the leaves. Benny yells for him mom and starts running away from Penny but she chases after him. He hides in a tree and runs away again when she gets close and then hides in a cave until a big spider comes along. My favorite part was when he was hiding under a hat and says that he's just an old man. When Penny finds Benny he says she's a dumb little sister and she starts to cry. He doesn't want to get in trouble with her crying so grabs another box and tells her to play in that one and when she gets in he leaves her by herself and starts to play his pirate ship game again.
When he gets finished playing he goes to find Penny but she isn't in the box anymore. He looks everywhere and can't find her. Finally he does find her and she says she left to go pee-pee. Then she says they should both hide but he's worried if they could get lost. She tells him that he shouldn't worry because they won't get lost and he feels better but then a giant mosquito comes along and scares them both. Penny becomes brave and chases the giant bug away and that makes Benny really happy.
They run back and go to the pirate ship together and become friends and Benny tells Penny that he was just pretending that she was dumb. The lesson is that you shouldn't call your sister or brother names because it's not nice. They could get bigger and beat you up if you tease them when they're little and it's also not good to be mean to people you care about even as jokes. I think the art in the book was pretty good and the guy draws the things in the forest well. I like how he makes their little house and the trees and all of the nature stuff. I think that the mice should have been colored a bit different, though. I think their fur would have been easier to see if it wasn't so dark and maybe colored gray. I like how he drew Penny's scooter and the giant mosquito, too.
It's a good story that is made out to look kind of like a kids book but it can be a comic book as well.
---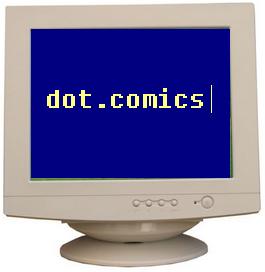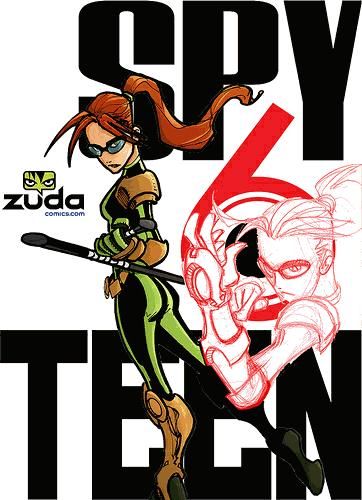 So, April is a month with five Wednesdays in it, and as is likely to happen in that case I find myself on the end of a week where I didn't even have double digits in comics. And even though I tend to be a busy chap, I still like to get my proper time and fix in of my comics for the week so I got drawn to this, the first Zuda comic I've ever read and something that got put smack dab in front of me during my usual Forum jaunts. Call it verisimilitude, call it good self-promotion on the part of the writer of this little ditty, whatever, I just call it a pretty entertaining little distraction that is worth a look see if you're into these New Fangled Digital Comics.
It's only eight pages, but this was pretty engaging for what little of it there was. Basically, SPY6TEEN is the story of an orphaned high schooler that has a bit of a super secret spy life going on. Yes, it's a little derivative in that "Kimpossible" sense (I barely know what that is, but the fact that I know it exists means apparently there's a genre at play here of some sort) but it makes up for that in heart. There's some good emotion at play as Cally Calhoon, our lead, gives a little insight into her life and mindset as she goes through an adventure that seems to be pretty much the norm to her now. Again, some of these elements may be a little overdone, but it still gets the job done admirably. Same goes for the art, which seems to live in a realm somewhere between realistic and "cartoony". Overall it's got some great elements to it - it's pretty detailed, very lush, fits a lot of content into the panels - but could probably use a bit of tightening up in the lines, maybe reign in the exaggeration in the limbs and what have you, but otherwise very competent indeed.
But this was fun, y'know? A nice little eight page ditty that did a good job introducing me to a character that seems to have a lot going on for her, there was some fun action bits, a tongue-in-cheek turn of events at the end that seems very in tune with the kind of story we're seeing here. At the least this has put me in the midset that maybe I need to be checking out more stuff of this ilk (though please, don't inundate me with entries, like I said, I am usually teh busies). I guess this is a part of a competition of some sorts too, so there's a bunch of other material from other creators to check out here. I haven't read any of the others, so by no means am I endorsing this over anything else there, but I am endorsing this as a pretty fun way to burn a few minutes and, if you're like me, kind of get savvy to comics books via the Internets and its series of tubes. Cheers...
---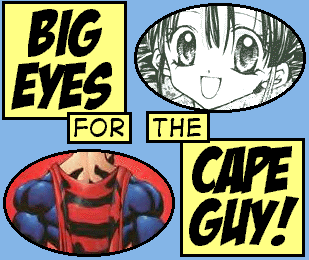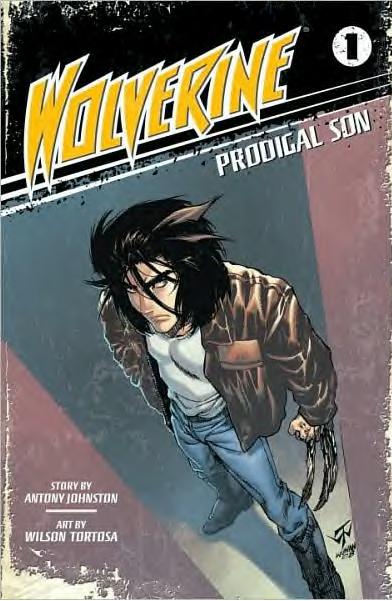 WOLVERINE: PRODIGAL SON VOL 1
Story by Antony Johnston Art by Wilson Tortosa Released by Del Ray Reviewer: Scott Green
PRODIGAL SON is the right Wolverine for a very specific audience. A reader can't come into the work with proprietary sentiments toward either traditional Marvel Comics representations of the feral anti-hero or manga as a medium. Read too much Wolverine and the parent X-Men comics or read too much manga and paging through PRODIGAL SON is apt to become an exercise in comparing the work to the traditions that inspired it. Instead, the person who should be reading PRODIGAL SON is someone who is vaguely familiar with Wolverine and with manga. It's someone who has seen the X-Men movies, maybe the cartoons too, and that's the extent of their exposure to Wolverine. It's someone who read a few of the popular SHONEN JUMP manga, NARUTO, DRAGON BALL, and that's the extent of their exposure to manga.
What PRODIGAL SON delivers is a handsome, rebellious young Logan, aka "Wolverine" in an action movie paced scenario. This is more Hugh Jackman Wolverine than the stubby wildman portrayed by some comic artists. Yes, he's bad tempered and bellicose, willing to get a leg broken to win a pointless sparing match, but his dark nest of hair frames a clean featured face and when not wearing a fashionable leather jacket, he's showing off his guns, posing or gesturing while shirtless or sleeveless. If PRODIGAL SON's creators had in mind the kind of shounen action fair whose attractive male characters draw in a cross-over female audience, they hit the mark.
The story follows young Logan as his time at the remote martial arts dojo/school for trouble teens named "Quiet Earth" expires. On one hand, his ego and abilities have almost outgrown the place. On the other, intervention by an antagonist force is about to curtail his stay anyhow. The chapters progress in blocks that are connected likes scenes from action movies. Pulling memorable bits of other fight media, the creators are smart in their mixing of familiar ingredients. A dojo battle is followed by a quiet, character moment, followed by another dojo fight, this time armed with martial arts weaponry (with a selection that seems inspired by TEENAGE MUTANT NINJA TURTLES - Wolverine's specialty is the nunchucks), with is capped by a forest quest reminiscent of Naruto's well regarded Chunin Exam. That just comprises the book's first third, which should give some indication of its churn.
PRODIGAL SON opens with a storm of speed lines that rarely abates. The panels that capture fight scenes, and even tense moments, are packed with radiating vectors. Because of this the intensity of the action does not modulate, but given the staccato beats of the plot, the constantly full-bore action is not to the book's detriment. However, speed and kinetic impact are being sold at the expense of clarity. Someone who regularly reads comics and manga should not have much difficulty following the action, and, in fact, there is an admirable logic to how the fights are laid out. While comics/manga can cheat in the sequence of actions between panels, Prodigal Son generally manages to account for space and position as its fights progress. Yet, there is a danger that the barrage of lines might overwhelm a reader who only dabbles in comics/manga. Page progression is left to right oriented, which might help, but the visual complexity might still be a bit too much.
Fans of Wolverine comics might be bothered by how PRODIGAL SON departs from established history and depictions of the character. Manga fans are liable to hold it up against the titans of shounen action. Yet, if you give the book to someone who likes the idea of Wolverine and likes the idea of manga; who doesn't have an extensive background in either, PRODIGAL SON will likely give them what they want. Its look, structure and action may just be exactly what that audience is looking for.
Scott Green has been writing for AICN ANIME for over seven years. If you like what you see here and love anime & manga, be sure to check out his latest AICN ANIME column here.
---
Hey folks, here's another dollop of indies for those not too afraid to strat away from mainstream fare. Enjoy.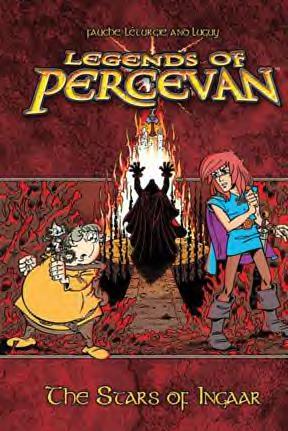 LEGENDS OF PERCEVAN: VOL 1 - THE STARS OF INGARR HCGN Fantasy Flight Games
This book reminded me of a cross between GROO THE WANDERER and THE LEGEND OF ZELDA. Maybe it was the cartoonish supporting characters or the fantastic Middle Agey setting or the fact that the lead character, Percevan, looks an awful lot like Link from the old Nintendo game. Created by the European trio of Fauche, Leturgie, & Luguy over 20 years ago, this tale of lost gems and errant knights still holds up. The art is crisp. The storytelling takes the material seriously despite the whimsical characters and had quite a few dire and unexpected turns. I'm not really big into the gaming/sword and sorcery stuff, but this book held my attention where others like it have failed. This is Book 1 of three from Fantasy Flight Games. If knights and magic are your thing, you'll want to seek out LEGENDS OF PERCEVAN. –
Ambush Bug
More of a coffee table book than a graphic novel, but pretty damn funny anyway. This collection of warning signs of douche-baggery is not only nicely drawn (by artist Shawn Farrell) and well described (by writer Colin Nissan), but it's pretty accurate too. From the guy who is a little too comfortable walking around naked in the gym showers to the guy who wants you to make you take a look at the ginormous shit he just took, you are going to know at least one of the gents described in this book. Funny because it's funny, but funny because its true too. –
Ambush Bug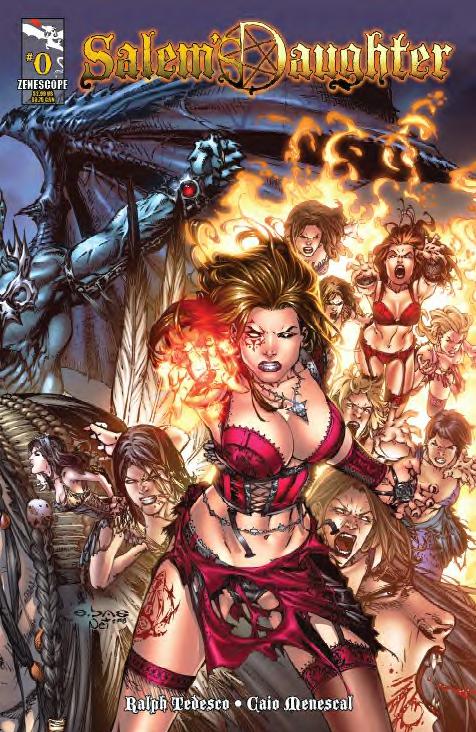 Zenescope puts out a zero issue with a cheaper-than-usual price tag to introduce the world to SALEM'S DAUGHTER. Does it have everything one can expect from a Zenescope product? Great artists drawing large breasted women with some bloody violence? Check, check, and check here as we launch into the comic seemingly set somewhere around the 19th century. There's backstabbing, blood, boobs, evil possessed witch vampire devil girls, and lots of shooting with six shooters. Yeah – what is not to love about the book, especially with such a cheap price tag? -
Ryan McLelland
---
R.E.B.E.L.S. #3 DC Comics
This is my new favorite DC book. In continuity but not mired down with rainbow rings or undecipherable Morrisonian wonk--just Tony Bedard and the whole universe as his playground. Bedard is not making this final team line-up something easy. All hints to members in past issues don't seem to be joining up and the ones that do are complete and joyous surprises. Wildfire's transformation in this issue is inspired, as is the reintroduction of an old L.E.G.I.O.N. member. This book is filled with surprises and twists while peppering in one cool idea after another. It's one of those hidden gems that won't get a lot of attention, but deserves it. One of the best DC books on the shelves right now. Don't kick yourself for missing it. Check out the cosmic fun now. -
Bug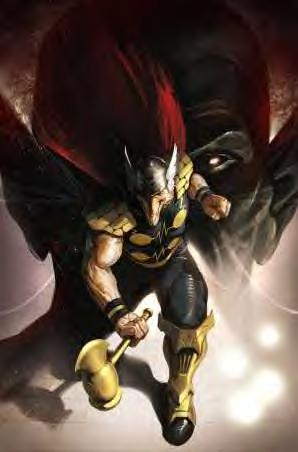 BETA RAY BILL: THE GREEN OF EDEN #1 Marvel Comics
Y'know, Beta Ray Bill is one of those kooky characters that, under the right circumstances, can be just so damn cool. He's some kind of horse alien thing wearing a Thor costume and swinging a sleeker version of Mjolnir at outer space baddies. I can't help it. To me, that image rocks! Thinking about someone coming along, harnessing that cool, and removing Bill out from under Thor's shadow had me giddy with excitement. That's what i was hoping for in this one-shot. So imagine my disappointment when I read the plodding plot and sifted through the dismal art of this one-shot which attempts to pick up the story where the pretty darn cool THOR: SECRET INVASION left off. Something about a leftover Skrull threat and some other outer spacey mumbo makes up the plot. Dan Brereton, who I normally like, chicken scratches his way through the art chores, making Bill look varying degrees of lame and lamer. All in all, this one-shot is best left missed. Looks like there's another one shot on the horizon starring B.R. Bill. If this team is on board, you can most assuredly count on me not picking it up. –
Bug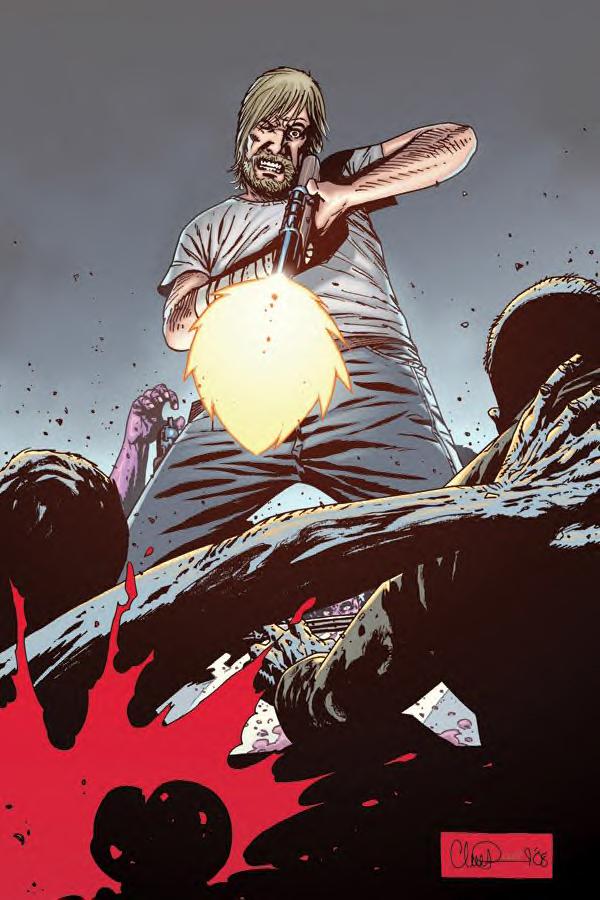 THE WALKING DEAD #60 Image Comics
Another fantastic issue which actually covered a lot of ground. Not a whole lot of sitting and talking in this one, which is appreciated (although there's a nice back and forthing going on while some young children show that the trauma they've been experiencing is beginning to show up in their casual play--poor kitty...). Rick and the rest of his group of adventurers who decided to split from the main group a few issues back have sparked the interest of a zombie herd--a tidal wave of chomping id, unstoppable and unavoidable. As they flee the herd, the rest of the group struggle with the need to find roots. The feeling of urgency is palpable in this issue. Adlard's panels of reaching dead have never been more toe-curling as Rick and Co. flee on foot to stay ahead of their grasp. This series has been moving at such a pace that even the slower issues tend to whiz right by. More than a comic. THE WALKING DEAD is more like an emotional rollercoaster as you tend to love and hate the characters within sometimes in the same issue. Looks like dissention in the ranks is on the menu for next issue. Can't wait to see what Kirkman and Adlard have for us. It hasn't failed to please for over a year now. -
Bug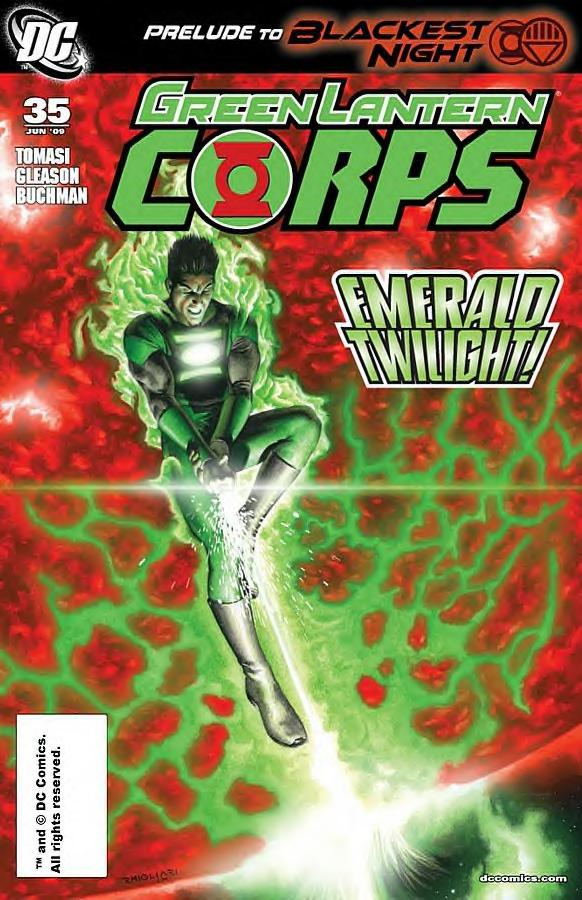 GREEN LANTERN COPRS #35 DC Comics
HONK!
Just wanted to sound off from last week's talkback asking us to honk if you're getting sick of "The Blackest Night" build-up. I'm sure Johns will deliver, but this painstaking set-up has been just that. But without those issues after issues of setting up the various ring hues, we wouldn't get the delicious cluster-fuck of an issue that this issue of GLC is. A berserker Red Lantern is loose going apeshit in the GLC's prison holding quite a few yellow-ringed Sinestro Corpsmen. As the Green Lanterns swoop in for the rescue, Yellow and Green ring alike is torn asunder by the bloody red rage. This issue has a ton going on, but Peter Tomasi juggles all of these balls as if he's got some arms to spare. With Patrick Gleason drawing alien races like no other, GLC gives GL a run for its money as king of the DC books. Seeing Guy and Kyle riff off of one another makes this more interesting than boring old Hal any old day. And if Tomasi keeps this pace up, even though the build-up has been lengthy, I still have faith that it'll be worth the wait. –
Bug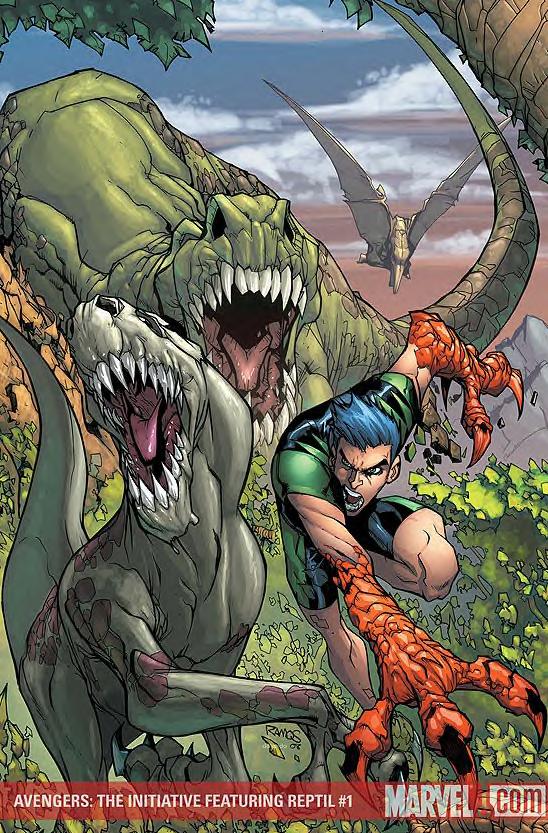 NEW AVENGERS: THE INITIATIVE FEATURING REPTIL #1 Marvel Comics
Now, I know this came out a few weeks ago, but I just got to it and although I found it to be a fun read, it is a bit of a stretch story construction wise. So Stegron The Dinosaur Man is attacking government facilities and getting away. Instead of kicking this second-rate Spidey villain's @$$ big time, the Initiative program chooses instead to recruit an untrained kid with dino-powers and put him through an intensive training program so that he can specifically fight Stegron because it's kind of cool to see a dino-powered kid fight dinosaurs. And it is fun to see that, but the roundabout way common sense is played with (more like mauled, as in a rottweiler does to a pig's ear) in this book is comic book logic at its worst. Sure it's cool that a new dino-powered character is born, but writer Christos M. Gage went around the world and back again to make it relevant to the story. Looking at the timeline of the story itself is enough to make one's head spin. Everyone is just waiting around for Stegron to attack and for dino-boy to be trained. Check all common sense at the door if you plan on reading this one. The art from Steve Uy helps and the character has some pretty cool powers, but doesn't save this one from massive plot-hole-age. -
Bug
---
Editing, compiling, imaging, coding, logos & cat-wrangling by Ambush Bug Proofs, co-edits & common sense provided by Sleazy G
---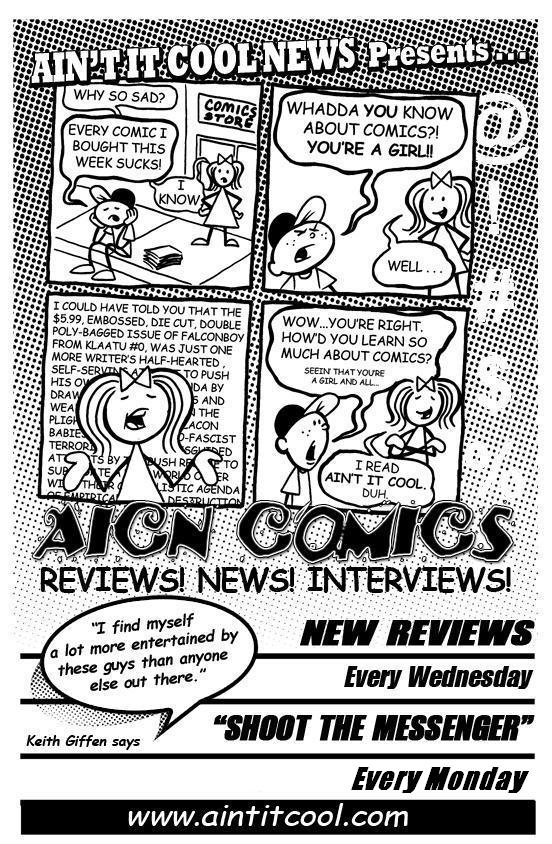 Ad by Prof. Challenger
Remember, if you have a comic book you'd like one of the @$$holes to take a look at, click on your favorite reviewer's link and drop us an email.
Check out the @$$oles' ComicSpace AICN Comics page here for an archive and more @$$y goodness.