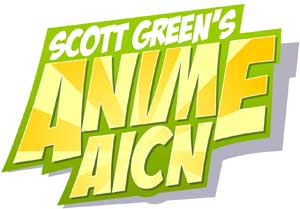 Logo handmade by
Bannister
Column by
Scott Green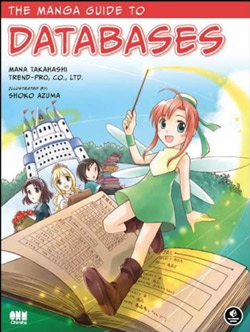 Manga Spotlight: The Manga Databases By Mana Takashi, Shoko Azuma and Trend-Pro Co., LTD Released by No Starch Press
Like the previously reviewed Manga Guide to Statistics, The Manga Guide to Databases offers the spoon full of cuteness to help the tech tutorial go down. The difference this time around is more a function of what I bring to the examination than it is the subject of the review itself. Unlike stats, a topic that I occasionally think about on a rudimentary level, I actually work with databases with some regularity and degree of sophistication. What I find telling about this series of Manga Guides is that my familiarity with the covered material did not alter my appreciation for the book. The strengths and disappointments noted in Statistics also apply to Databases. This time around, we're dealing with Princess Ruruna, who, in the absence of the king and queen, is left to manage the Kingdom of Kod's key fruit industry. Overwhelmed by the demands of synchronizing fruit commodity prices across different departments, Princess Ruruna turns to a locked book containing a secret technology known as a "database." Once the book's seal is broken, the fairy Tico appears and sets about introducing the fundamentals of working with databases. The apparent goal of the book is to build a rudimentary understanding of databases and their use. Chapters introduce the fundamental concept of what a database is, how to design the schema for organizing data within a database, the SQL language used to retrieve and act on stored data, best practices for operating on a database and other applications for database beyond Ruruna's fruits biz. Most prose database books are going to run more than two hundred pages. As such, while The Manga Guide does cover a respectable amount of ground, it is not exhaustive. Like the Statistics book, Databases has a visual metaphor for when a particular topic builds upon itself, becoming something of a slog to get through. In this case, the illustration is Ruruna scrambling up a wind swept mountain top. This comes into play when discussing "database normalization" - practices for designing a database to effectively manage data integrity. It starts with first normal form, dividing data so that it logically represents the relationships described by the data, and works its way up to third normal form, "a table that does not allow any non-primary key to determine values in other columns." Fourth normal forms and higher exist. While these are more often discussed in an academic context than in business practice, many database books at least introduce them. Here, third stretches the format. The manga side of the Manga Guide to Databases is made up of Princess Ruruna, Tico, and Ruruna's cohorts literally sitting around a conference table discussing databases, interspliced with diagrams and some more symbolic imagery employed for gags. The illustrations are not present to offer a graphical vocabulary for phrasing the concepts. Instead, they're making the concepts easier to spend time with. Rurana and company serve as a light veneer of something else painted over the core subject matter. It's the siding on the functional building that makes the otherwise spartan structure nicer to live next to. There's still an assumption in North America that pastel manga with female characters and a focus on relationships are automatically "shoujo" for a female audience. In fact, plenty of those cute-girl manga are for a male audience with an interest in that aesthetic. There are anthologies that specialize in that material, the best example of which is Dengeki Daioh, the anthology for older-teen males that features Azumanga Daioh (a comedy of between-classes moments following a group of girls as they move through high school), Di Gi Charat (featuring a tiny green haired cat girl in a maid dress, often assumed in North America to be for children), Strawberry Marshmallow (about four girls in elementary school) and Venus Versus Virus (loligoth dressed girl friends versus monsters). The Manga Guide to Databases looks like the kind of work that is erroneously called "shoujo." As with those manga, the intension here is to offer a male audience, with a preference for cute, something to rest their eyes on. The Manga Guide to Databases is not a book that is going to teach through osmosis. The general concepts will rub off on a quick reading, but if you want to understand and remember the details, you'll need to engage the material. Because it's example driven, some work is needed to separate the general rule from the specific application. Beyond that, there's the speed to contend with. On one page the book will be introducing the idea that certain data in a database cannot be empty, and a few panels later, it's discussing hierarchical models of data. I'm assuming that this is not too fast to follow as an introduction to databases, but if you want to know the material and not just feel familiar with it, you'll probably need to comb through the book. As with the Manga Guide to Statistics, Databases is a light, impressively non-oppressive read, especially considering the technical nature of its subject. While falling short of being an educational comic classic, it has something offer a reader looking for their first book on the subject or a refresher.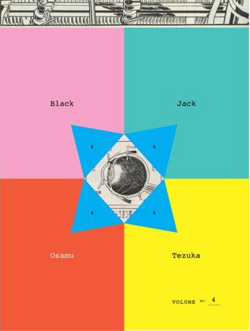 Manga Spotlight: Black Jack Volume 4 By Osamu Tezuka Released by Vertical Inc.
Black Jack continues to justify the adoration expressed among manga wonks. Yet, while I stand by my assessment that Black Jack is one of manga's great pleasures, that I recommend to any audience, regardless of genre or medium attachments, this volume highlights every reason why a North American adult reader might want to skip Osamu Tezuka's parables of a renegade surgeon. Ultimately, the manga fires intellectual and emotional responses as much for these liabilities as it does despite them. Black Jack's first challenge relates to the fact that it's a manga written in the mid 70's for Japanese boys, read now, mostly by older audiences of both sexes. Volume four opens with "False Image," concerning an inspirational teacher who might not be the paragon his now-adult former students fondly remember, and from there works through a parade of unusual patients from pick pockets to yakuza to Black Jack's "daughter"/"wife" Pinoko. The allegories are expressed through precisely detailed sequences of the titular unlicensed surgeon going into the organs of the afflicted with a scalpel in his hand and sweat on his brow. Despite a graphic verisimilitude to the surgery scenes that will put most readers on edge, the stories in general, and this set in particular, feature plenty of cartoonish elements. There's Tezuka's arsenal of sight gags, such as his gas expelling gourds. There are plots driven by the likes of a mischievous, flea bitten old dog. And, there are elements that are, from an adult perspective, off-putting. Pinoko, the character who think she's adult but looks and acts like a young child is the creepy, chief example of this. Tezuka's command of the medium allows him to guide the audience's reaction. This precision helps to insure that the stories do not become trite or childish. Beyond that facility, there is Tezuka's position of relating morals in which he strongly believes, without talking down to the audience. These aren't reductive or sweet fairy tales, and as much as Tezuka puts a value on life, he doesn't depict it as something pretty. It's not just the specter of a charred body or an amputation that underscores the stories. It's that cost is a central pillar of the philosophy that holds up Black Jack. While this is true of both the character and the manga, the character himself stands as Tezuka's avatar in this regard. Black Jack's scarred features are the consistent reminder of the painful tenacity to cling to life, while the exorbitant fees he charges are the reminder of its value. Throughout the manga, we see families physically and fiscally sacrificing to save loved ones. While this is perpetually extravagant, Tezuka labors to make sure that the struggle to preserve life never loses its potency. After four decades, there is a resonance to the struggles depicted that will still ring true to a current, adult reader. The second challenge is that Black Jack does not conform to what North American readers expect from manga. Sales charts suggest that North American manga readers are drawn to extended, serialized stories. While the argument is not bullet proof to all scrutiny, the long standing presence of Naruto (41 volumes in), Fruits Basket (22 volumes) Bleach (26 volumes) and Berserk (28 volumes) at the top of graphic novel sales lists looks like it supports the theory. Along these lines, Sporadic Sequential recently opened a conversation about addictive manga, that provokes obsession. Again, the theory was that local readers love a manga that grows, builds and shifts. It appearance that from volume one of Naruto or volume one of Berserk, the manga lays out a progressive ground. Those best selling manga then kindle that excitement for 10's of volumes. Though Tezuka's 17 volumes of Black Jack stories are comprised of stand alone narratives that run about twenty pages each, the MO is not entirely distinct. As with most mainstream manga, Black Jack is anchored by the reader's attachment the focal character. Yet, the nature of that character points to how this manga is distinct from what most North American readers expect from manga, and how that difference would seem to be a liability for the title. As soon as he appears on panel, Black Jack is a defined character. You see his scarred features and supremely confident manner. You read about his reputation as a superlatively talented surgeon. As such, there is the dark charisma of a hyper-competent, judgmental personality. At the same time, it's evident that the stories are not going to watch this character further shaped. He's already an adult and already the best. He's doing what he wants to do, how he wants to do it. He's a scalpel, not a block of clay. Tezuka will illustrate how he got to that point, not how he gets beyond it. And. while he tests and shapes others, he is not further shaped by the tests. This sets him in a position more recognizable among episodic TV than long running manga. This format is not always to Black Jack's benefit. There's no momentum to raise the low moments. Produced on a weekly basis, there are a few stories that might have been the product of Osamu Tezuka struggling a bit to ready his contribution for Shonen Champion. His introductions to the stories in the collected edition of Astro Boy make it clear that Tezuka was not entirely satisfied with everything he produced, and occasionally there will be a Black Jack story where a subtle aspect like how shirt sleeves are rendered, or lack of plot clarity suggest the story might not be featuring the "God of Manga" at his best. Yet, those iffy stories are the exception, and the stand alone nature does afford the manga a great deal of flexibility. Tezuka has the platform afforded by this stage. Erected on his own medical training and his humanistic philosophy, the structure evidently allows this seminal figure in development of manga to pursue an expanse of inspired ideas. As such, Black Jack is perpetually surprising. You never know what idea will drive the next story or even where the current on will take Tezuka's prodigious imagination. Unlike the stories in other volumes, this one does not feature many of Black Jack cursing humanity or the limitations of medicine. In that sense, these aren't Black Jack's big moments. This set features a tendency to explore branches of the manga's themes and events. Several relate back to Black Jack's decision to pursue a career in medicine without a license, more through the perspective of others who have worked under similar circumstances than through the title character's tribulations. A character that made a memorable appearance in a previous volume facilitates a story in this one. Characters that Black Jack aids in one story affect another. Skin grafting, a procedure that had a significant effect on Black Jack's unforgettable face, has a role in a number of the volume's stories. Pinoko receives the attention of several stories, including at least one particularly great moment: having set up a funhouse mirror in her room, she poses such that her stretched reflection looks like a shapely young woman, then turns her head and becomes a frog faced monster. There's no mistaking this for anything approaching a running narrative, but the volume works to shade the themes that Tezuka has been developing. The author is working from ideas that he fully believes in, with characters for which he has a genuine affection. With this thorough foundation to work from, Tezuka can enlarge any facet into an effecting story. A favorite expression of the freedom that the story format gives Tezuka is his ability to weave in references. First and foremost, there is the Tezuka Star System, his idea of reusing character designs as if they were a troupe of often type cast actors. The semi-villainous Acetylene Lamp (based on a Tezuka aquentainence with a handle-holder-like dent in his head) and Shunsuke Ban (Astro Boy's mustachio-ed teacher) see interesting twists to their general niches. Beyond that, Tezuka weaves a host of pop culture references. Vertical foot notes the mentions to celebrities in the conversations, but doesn't explain the visual references. I caught the Moonintroll gag, but I wonder about a yakuza with a particular cartoon oni tattooed on his back with a child who as a "W" sculpted in his hair. This is reminiscent of the modern animated movies that pepper themselves with pop-culture references, but at times these gags strike me as being as much for the author's benefit as the audience. Honestly, I'm not sure of the extent to which these gags and references enhance the experience of a casual reader, but they're gold for a committed Tezuka follower. I'm certainly familiar with the collector's urge to ensure no gaps in a run of books, but if you see any volume of Black Jack in a store, I'd advise picking it up. All of these collections of stand alone stories feature rich, moving, amazingly strange works by one of manga's truly great minds. Even if you can't line up the volumes numerically, Black Jack is manga that's a great addition to a book shelf.
Going Hollywood
MTV's Splash Page blog heard from Zac Efron that it looks unlikely that the Highschool Musical star will be featured in Mandalay Pictures' life action of military/high school action/relationship comedy Full Metal Panic. From the post: Efron told MTV's Joshua Horowitz that it was still "very early" to discuss the project — "to the point where it's more than likely not going to happen." "That's usually the case," continued Efron. The actor did confirm, though, that he "had a meeting on something" related to the adaptation. So for those holding out hope for this one, it looks like there's something to take from the chat. Pressed for more info on his tastes in comics and manga, Efron called himself "a huge comic book and manga fan," but said there were "far too many" to name a favorite.

*

Dragonball: Evolution has dropped from #8 to #11 in the American box office in the second week of its release. For the April 17-19 weekend, it took US$1,575,000 on 2,181 screens.

*

Margaret Cho responds to the Last Airbender casting controversy
Anime x Games
The trailer for PS2/PSP game Evangelion: JO Mobile Suit Gundam Senki U.C. 0081 screenshots

The Namco Bandia game for the PlayStation 3 will support online play with up to 8 players.

*

Tezuka Game Boy

*

Nippon Cinema reports that "dead wet girl" franchise Ju-on (the Grudge) with two new movies on June 27th for its 10th anniversary. "Ju-on: Shiroi Roujo" and stars Akina Minami. "Ju-on: Kuroi Shoujo" and stars ex-Morning Musume member Ai Kago. There will also be a Ju-on game called Kyôfu Taikan: Ju-on for the Wii.

*

Anime News Network reports that Ryukishi07, makers of the game on which murder mystery anime Higurashu - When They Cry and Peach-Pit, creators of DearS and Rozen Maiden, are teaming up on PSP game mystery adventure novel software Okamikakushi. From the teaser Is it a god (kami)? Or a wolf (okami)? A secret law in the old part of town … brings together dread and mystery. It is the summer of 1983. 10 stories, intertwined by the idle thoughts of people caught in repeating nightmares … what could possibly be the truth therein!? A review of Ouran High for the Nintendo DS
Event News
The Go Nagai Wonderland Museum, tribute to the creator of piloted mecha, combining mecha and transforming magical girls, is set to open April 25th in Wajima Japan

*

San Jose, California's FanimeCon (May 22-25) will be hosting Gainax (Evangelion, The Wings of Honneamise) co-founder Hiroyuki Yamaga and voice actresss/singer Halko Momoi (Nurse Angel Komugi).

*

The C3 (character, culture and content - of Japanese animation) will present a Japanese Character and Hobby Exhibition in Hong Kong's Kowloon Bay International Trade and Exhibition Centre from April 24 to 26 The event is expected to attract about 100,000 visitors and will also feature performances from Japanese pop stars.

*

FUNimation will be releasing six hours of anime at the The Los Angeles Comic Book And Science Fiction Convention April 26. This includes premieres of new FUNimation releases such as D.GRAY-MAN, ROMEO X JULIET, and HEROIC AGE. Films run from 11:00 A.M.-5:00 P.M. FUNimation will also be providing free give-aways such as posters to attendees.

*

Anime Street Pavilion will again be part of San Francisco's Asian Heritage Street Celebration on May 16, with a daylong program including an anime theme runway fashion show, an anime cosplay contest and masquerade, and Japanese rock performances. For more information see here

*

The New York Anime Festival announced its 2009 mascot contest has gone live on partner website theOtaku.com. The 2009 New York Anime Festival, an anime, manga, and Japanese pop culture convention from the creators of New York Comic Con, will take place September 25-27, 2009 at the Jacob K. Javits Center in Manhattan, and it is now accepting original character designs from fans and attendees, with the winning art to be featured as NYAF 2009's official mascot throughout the show. Contest prizes include tickets to the New York Anime Festival and 50 manga from sponsor Del Rey Manga.

*

The Kalamazoo Animation Festival International (KAFI) is scheduled to start May 14. Programming to be presented include: INSTANT FILMMAKING: HOW THIS YEAR'S KAFI ATTENDEES WILL MAKE A MOVIE WITH AUDIENCE PARTICIPATION Besen and her illustrator, Bryce Hallett, will lead the presentation, "Animation Unleashed," in which she will draw on the principles in her book, Animation Unleashed (Michael Wiese Books, January 2009, paperback) to lead the audience in a creation of a 20-30 second film. The audience will be invited to help choose the cast, location, conflict, action, and other elements. Besen will screen the film they create at the end of the presentation. RIDICULOUSLY GREAT ANIMATED SEQUENCES & EXTRA-SPECIAL STORYTELLING TECHNIQUES With all the cutting-edge technology available to animators today, story often gets lost among the visual wizardry. Besen is on a mission to change that. She will explain how to make a story come alive by using expert storytelling techniques and showing key sequences from a variety of animated films to illustrate them. Besen will explain how animation offers unique possibilities for innovative storytelling and lead a lively audience discussion about how tension, exaggeration, rhythm, and other devices can be used to make animated films that succeed both on the visual and plot levels. Joining her will be animator and professor Aubry Mintz. FAMILY FUN Animation is part of almost every American kid's world and at this year's KAFI they'll move from passive viewers of it to active creators of it. The "Animate By Hand" workshop offers them a chance to create animation by working directly on strips of film. Using this direct-on-film method, they'll scratch, draw, punch holes, and paint directly on to the surface of film to create their very own piece of animation. FILM SCREENINGS This year, KAFI will present 5 programs of new films in competition, a retrospective of pioneer animator, Winsor McCay, new award winning animation from India, 20 years of Animation from Toronto, the best of acclaimed animator Janet Perlman and lots of wonderful classic cartoons which offer fun for the whole family. Also on hand to show and talk about their work are cameraless animator, Richard Reeves, abstract animator, Karen Aqua and more.

*

Conversations on Ghibli points out that Hayao Miyazaki's Howl's Moving Castle is making the rounds at Landmark Theaters

*

Anime Expo announced that producer and artist Toshimichi Mori and composer/producer Daisuke Ishiwatari will be guests at the convention held July 2-5, 2009 at the Los Angeles Convention Center. More information can be found on the website . Mr. Mori is currently working on the Aksys Games title BLAZBLUE as its director, lead artist and designer. Mr. Ishiwatari created the Guilty Gear game series is currently working on the Aksys Games title BLAZBLUE as its composer. Toshimichi Mori and Daisuke Ishiwatari join Morning Musume as official Anime Expo 2009 Guests of Honor. Anime Expo will also present a reunion of the Power Rangers • Karan Ashley-Aisha, the Mighty Morphin' Yellow Power Ranger • Steve Cardenas-Rocky, the Mighty Morphin' Red Power Ranger • Walter Jones-Zack, the Mighty Morphin' Black Power Ranger • Catherine Sutherland-Kat, the Mighty Morphin' Pink Power Ranger • Johnny Yong Bosch-Adam, the Mighty Morphin' Black Power Ranger • Robert Axelrod-Lord Zedd Anime Expo and localization studio Bang Zoom! Entertaiment will be bringing singing/voice acting competition "AX Idol" back for this year's event. Producer Tsunku?, of Morning Musume fame, will appear as a special industry guest judge.

*

VAMPS, the band featuring HYDE (L'Arc~en~Ciel) and K.A.Z. (Oblivion Dust) will be turing the US this summer, opening at the Fillmore in New York City on July 11th and close the tour at the historic Wiltern Theater in Los Angeles on August 1st. VAMPS US TOUR 2009 July 11th (Sat) New York NY The Fillmore New York at Irving Plaza July 12th (Sun) Hartford CT Warped Tour New England Dodge Music Center July 14th (Tue) Columbia MD Warped Tour Merriweather Post Pavilion July 16th (Thu) Baltimore MD Sonar Baltimore July 19th (Sun) Seattle WA The Showbox at the Market July 20th (Mon) PortlandOR Hawthorne Theatre July 25th (Sat) San Francisco CA Regency Grand Ballroom July 27th (Mon) Las Vegas NV Wasted Space at Hard Rock HOTEL PRIVATE PARTY July 29th (Wed) San Diego CA SOMA August 1st (Sat) Los Angeles CA The Wiltern Theater

*

Deb Aoiko looks at Hawaiia's Kawaii-Kon AnimeVices runs downs the doings at Sakuracon Roland Kelts (Japanamerica) also addressed the Seattle event. FUNimation files there's here Robot 6 reports from Anime Masterpiece's TekkonKinkreet screening
Cool Figures News
Kotobukiya has announced a number of upcoming releases. X-MEN CLASSIC CHAPTER: WOLVERINE YELLOW COSTUME FINE ART BUST A KOTOBUKIYA Japanese import Sculpted by master artist Takeshi Kimura, Wolverine stands approximately 9 inches tall atop his Marvel X-Men Classic Chapter series base, complete with a relief sculpture of Logan's face. Each Fine Art Bust is constructed of cold cast porcelain and bears a unique serial number on a special metal plate.

srp $79.99 Available in AUGUST Marvel, Wolverine: TM & © 2009 Marvel Entertainment, Inc. and its subsidiaries. Licensed by Marvel Characters B.V. www.marvel.com. All rights reserved. EVANGELION: 1.0 YOU ARE (NOT) ALONE REI AYANAMI IN PLUG SUIT ANI*STATUE A KOTOBUKIYA Japanese import The 8", 1/6th scale PVC figure is sculpted by Tsukuru Shirahige

srp $55.00 Available in AUGUST ?GAINAX•??? TO HEART 2 –ANOTHER DAYS- TAMAKI KOUSAKA "SEDUCTION" ANI*STATUE A KOTOBUKIYA Japanese import Sculpted by Masato Abe, Tamaki stands over 8 inches tall (1/6th scale) and is constructed of PVC plastic.

srp $79.99 Available in AUGUST ©2007 Leaf/AQUAPLUS ARMORED CORE ROSENTHAL CR-HOGIRE NOBLESSE OBLIGE FINE SCALE MODEL KIT A KOTOBUKIYA Japanese import Noblesse Oblige stands approximately 7 1/2 inches tall (1/72nd scale), and is comprised of more than 400 individual pieces. Approximately 20 points of articulation and polycap joints give it extreme poseability.

srp $59.99 Available in OCTOBER ©1997-2009 FromSoftware, Inc. All rights reserved. ARMORED CORE VANGUARD OVERBOOST FINE SCALE MODEL KIT A KOTOBUKIYA Japanese import The 200 part, 7 inches long (in 1/72nd scale with all Armored Core robots), and comes with special connector pieces to mount on any of Kotobukiya's "Next" series Armored Core robot.

srp $29.99 Available in OCTOBER ©1997-2009 FromSoftware, Inc. All rights reserved. SUPER ROBOT TAISEN: GESPENST MK-II KAI MODEL FINE SCALE MODEL KIT A KOTOBUKIYA Japanese import The Gespenst MK-II Kai is composed of more than 300 pieces cast in different colors, eliminating the need for painting. The fighting unit stands 6 ½ inches tall (1/144 scale), and has multiple points of articulation.

srp $49.99 Available in OCTOBER ©SEGA, 1998, 1999 CHARACTERS ©SEGA/AUTOMUSS CHARACTER DESIGN: KATOKI HAJIME

*

Go Hero now has the Buck Rogers Atomic Disintegrator: Limited Gold Deluxe Edition available for $175.00

*

Remember when dissing Macross' Minmei has a favorite topic of conversation amoung anime fans? Other interesting pages on CollectionDX G Muscle Kinnikuman figures from Romando (of MUSCLE fame) Ultra Fight Icarus from Atelier G-1 - kaiju Macross Frontier 1/72 VF-25S Armoured Messiah Valkyrie kit VF-1D Valkyrie S.H. Figuarts Kamen Rider Agito Brave Gokin Time Mechabuton - bug mecha Vintage Astro Boy Virtual On + Maid Haruhi painted GM Not what you expect from a Harlock figure
Upcoming in Japan
Previews St. Seiya: The Lost Canvas Isekai no Seikishi Monogatari - the fantasy Tenchi Muyo spin-off the Munto movie Taisho Era Baseball Girls Cencoroll Gokusen - live action movie Anime If you noticed the extra character who did not appear in the origin TV series in the poster for the Evangelion: 2.0 You Can (Not) Advance, there's now information about the mysterious Makinami Mari Illustrious. Singer/voice actress Maaya Sakamoto (Escaflowne, Gundam SEED Destiny, Hellsing Ultimate, Gunbuster 2) has been cast in the role. (rumors about the character)

Plans for Yuko Miyamura to reprise the role of Shikinami Asuka Langley have also been confirmed. Via Revoltech figures, there are suggestions of what the Evangelion Unit-05 may look like

*

Gainax co-founder and victim of the notorious Gurren Lagann flamewar Takami Akai indicated during his photography exhibition that he is involved in a new animated work, in addition to a Gurren Lagann game.

*

Sega Toys President Isao Kokubun has announced that a third season of the toy tops based Bakugan Battle Brawlers anime is the works.

*

The eighth and final volume of the Clannad After Story DVD release will feature a direct to DVD Another World: Kyou Arc episode of the anime adaptation of the popular relationship game.

*

Hong Kong director John Woo will voice a role in the Romance of the Three Kingdoms inspired anime series Soten Koro.

*

Zan Sayonara Zetsubo Sensei, a third season of the anime adaptation of literate school comedy Sayonara Zetsubo Sensei will debut on Japanese TV in July. The manga series has released premiered in North America from Del Rey. Is the next Gundam anime going to be the rumored Universal Century (continuity of the first series) Gundam Unicorn? An announced may be in the next issue of NewType See Justic ACE for more evidence

*

The anime adaptation of Hetalia - Axis Powers, a controversial historical/political comedy where countries are embodied by bishonen (cute guys) will receive a second season. Manga Lone Wolf and Cub will is coming back via eBookJapan's Katana. While writer Kazuo Koike returns, Hideki Mori will be handling the illustrations for Soshite Kozure Okami: Shikaku no Ko, which will resume the storyline from Shin Kozure Okami. Anime News Network notes a Zakzak piece that mentions an anime adaptation of the samurai manga is still "in the tentative planning stages" but "within sight." Young Animal Magazine will launch a new manga based on Go Nagai and Ken Ishikawa's original combining robot Getter Robo. Gisho Getter Robo Darkness will be created by Hideaki Nishikawa. Speaking of Young Animal, Kentarou Miura's violent fantasy manga Berserk returns from its latest hiatus on April 24th. Yuuki Obata's We Were There (Bokura ga Ita) will resume in the July issue of Betsucomi. MangaCast notes Felipe Smith's (MBQ) Peepo Choo volume one goes on sale April 23
Upcoming in North America
Media Blasters Anime 7/7

TWELVE KINGDOMS - TV Series Eps. 1-45, 10 Discs - $69.99 7/21

VOLTRON - Volume 8 of 8, Eps. 37-52 - 3 Discs

STRAWBERRY PANIC - LiteBox - Volumes 1-5, Eps 1-26 - 5 Discs $49.99 7/28 VOLTRON FLEET OF DOOM Live Action 7/7

ONE MISSED CALL III - Final 7/14 DEATH TRANCE (Blu-ray) 7/28

SAMURAI SCHOOL

TALES OF TERROR - LITE BOX

ICHI THE KILLER - Special Edition Manga 7/22/2009 AKIHABARA@DEEP - Volume 5 of 6 STRAWBERRY PANIC Nagisa Aoi has just transferred to a prestigious all-girls' school that happens to share dormitory facilities with two other academies for young ladies. The new surroundings are a lot to take in, but she quickly adapts to life in Strawberry Hall with the help of newfound friends. However, when Nagisa catches the eye of Shizuma Hanazono, the respected representative of all three schools known as the Étoile, both their lives are forever changed. Bonds beyond mere friendship develop between the two and those around them amidst a school year of heated conflicts, petty jealousies, and crossed boundaries VOLTRON FLEET OF DOOM In a bid to destroy the Galaxy Alliance, evil King Zarkon joins forces with the leader of the Drule Empire, Viceroy Throk. They create the largest armada of destroyers that has ever been seen in space. When this Fleet of Doom begins obliterating one key Galaxy Alliance outpost after another, they realize the threat is too great even for one of the mighty Voltron units to deal with. Therefore, they send the call both to the stellar ship Explorer and to the Castle of Lions. Keith, Princess Allura, Hunk, Lance and Pidge fly into battle in their robot lions, alongside Commanders Jeff, Krik and Cliff with their vehicle teams. When Prince Lotor arrives as the head of a super Robeast made of five united Robeasts, Keith and Jeff give the order to form both Voltrons! Haggar targets Keith and Allura with a curse, and the Fleet of Doom is closing in on Galaxy Garrison. The ultimate giant robot team-up is Earth's last hope! Starring: Neil Ross (GI Joe, Transformers, Jack Angel, Spiderman), Michael Bell (GI Joe, Peter Cullen Transformers), BJ Ward (GI Joe), and Lennie Weinrib (H.R. Pufnstuf). VIZ Media Bobobo-Bo Bo-Bobo is on its way out of the Shonen Jump anthology. Stan Lee and Hiroyuki Takei's Ultimo is on it's way in Yen Press The ISBs and schedule for upcoming Yen Press releases of Yotsuba&! are #6 – 9780316073240 (September 2009) #7 – 9780316073257 (December 2009) #8 – 9780316073271 (April 2010)
The Business
The "TwitterFail" delisting of GLBT books on Amazon has explained as a "ham fisted catologing error"

*

For the first time since the site began tracking comic sales through Diamond Comic Book Distributors in 2001, ICV2 is reporting that no comic sold more than 100,000 copies in March of 2009. While sales of periodical comics were down 7% in dollars for the month, the decline in units sold was greater, considering the rise in cover prices of key titles versus their cost in March, 2008. Graphic novels rebounded sharply in March posting a 6% gain aided greatly by Watchmen. ICV2 has also listed the Top 300 Graphic Novels Actual--March 2009 Manga in the top 50 (Rank - Index - Title - Price - Pub - Est.Qty) include 5 - 4.32 - FRUITS BASKET GN VOL 22 (OF 23) - $10.99 - TOK - 3,96 7 - 4.21 - NARUTO TP VOL 40 - $7.95 - VIZ - 3,856 8 - 4.20 - NARUTO TP VOL 38 - $7.95 - VIZ - 3,852 9 - 4.19 - NARUTO TP VOL 41 - $7.95 - VIZ - 3,836 12 - 4.00 - NARUTO TP VOL 39 - $7.95 - VIZ - 3,666 13 - 3.94 - BLEACH TP VOL 26 - $7.95 - VIZ - 3,609 20 - 3.49 - BERSERK TP VOL 28 - $13.95 - DAR - 3,194 31 - 2.95 - NARUTO TP VOL 36 - $7.95 - VIZ - 2,704 50 - 2.11 - NARUTO TP VOL 37 - $7.95 - VIZ - 1,93

*

Christopher Butcher follows up on his explanation of the New York Time graphic novel best seller list

*

Comic rumor column Lying in the Gutters reported on Prime Minister Taro Aso's promising to create half a million jobs through support of "Cool Japan" cultural exports, and notes some international friction that this may be causing. One major concern for some. however, is that manga exports from Japan are going to be government subsidies As American comics get more expensive, expect Japanese comics in America to get a whole lot cheaper. And a lot more competitive.

*

Via Canned Dogs, Satou Shuuho's continuing explanation of the business of manga works It costs about 150 yen, including the royalties to the author, to print a 500 yen tankoubon. Satou has the full details for the costs involved for printing a certain tankoubon. Selling price: 515 yen Print run: 50,291 Total sales: 17,352,910 yen Paper costs: 1,725,210 yen Printing plate cost: 12,800 yen Letterpress cost: 1,100 yen Photocomposition cost: 28,700 yen Printing cost: 853,705 yen Binding cost; 1,081,256 yen Processing and cost for supplement materials: 201,629 yen Manuscript fee: 8,000 yen Royalties: 2,584,837 yen Labour costs: 989,682 yen Total: 7,486,919 yen 150.30 yen per book

*

Anime News Network reports that former 10 employees have filed a law suit against ImaginAsian Entertainment (owner of ImaginAsian TV and formerly two movie theaters) for unpaid wages amounting to $250,000. Most employees were laid off between October and December of 2008, when the company shed over 75% of its workforce. ImaginAsian TV is currently airing English dubbed episode of the Kurokami The Animation (the animated adaptation of Black God).

*

Comixology quotes Carl Horn on the state of the manga industry.

*

Rocket Bomber presents thoughts and data on Rethinking the Box: Books vs Comic Books and Rethinking the Box: Numbers Let me phrase it another way: If you have room for 1000 manga in your store, and the turnover ratio on manga is 3.6, then you sell on average 300 manga a month — which you then have to reorder to replace. (Reorders that will cost additional money). Turnover is not so much an indication of sales, rather it shows how well inventory performs. Knowing this ratio, particularly if you break it down by category, can help an owner in determining how much shelf space and floor footprint to allocate to each chunk of her business.

*

Robert's Anime Corner Blog notes that FUNimation has discontinued several 4-Kid's properties like Cabbage Patch Kids and Ninja Turtles, along with Spiral and Yu-Gi-Oh - effective April 14th.

*

Tiamat reports that the UK edition of the Yen+ anthology has jumped in price from £6.99, from £3.99
Digital Distirbution
VIZ Media announced that Rin-Ne, the new from Rumiko Takahashi (creator of Inu-Yasha, Ranma 1/2) will be launching simultaneously April 22nd exclusively in Japan in WEEKLY SHONEN SUNDAY magazine and online for North American audiences on www.TheRumicWorld.com, the new official North American web site for Rumiko Takahashi-related news and information. As a child Sakura Mamiya mysteriously disappeared in the woods behind her grandma's home. She returned whole and healthy, but since then she has had the power to see ghosts. Now a teenager, she just wishes the ghosts would leave her alone! At school, the desk next to Sakura's has been empty since the start of the school year, then one day her always-absent classmate shows up, and he's far more than what he seems!

*

VIZ Media, LLC. also announced the availability of English dubbed uncut episodes of NARUTO anime on Joost.com and Hulu.com. The first five episodes of NARUTO (English dubbed) launched on April 15th with a new English dubbed episode launching every Wednesday thereafter. Each episode will stream on both Joost (US and Canada) and Hulu (US) for approximately 5 weeks then rotate off the site making room for the next new episodes. NARUTO subtitled versions launched on both Joost and Hulu in September 2008. For more information on NARUTO and to view free episodes of NARUTO Shippuden animation (English Subtitled) see www.Naruto.com VIZ has indicating plans to offer streaming and download to own episodes of Honey and Clover in the future.

*

Say Hello to Black Jack author Satou Shuuhou will be posting the manga online a month after they're published in Big Comic Spirits magazine. Vistors will be asked for micropayments in return for reading the manga Canned Dogs elaberates on the model

*

Digital Manga Publishing's Hideyuki Kikuchi's Vampire Hunter D is now available for the iPhone/iPod Touch via uClick. The new Vampire Hunter D manga apps present volume one of the DMP series in six downloads, available now for $.99 (US) cents each.

*

Crunchyroll has announced new Anime and live action content. On the anime from, Crunchyroll has a new agreement with Bandai Entertainment to bring Code Geass to the site CODE GEASS Lelouch of the Rebellion (25 episodes) will be available to viewers in the United States and Canada and will be immediately available in its entirety, featuring both English dubbed and English subtitled versions, to all visitors in these territories, free of charge and featuring advertisements. Title Synopsis: On August 10th of the year 2010 the Holy Empire of Britannia began a campaign of conquest, its sights set on Japan. Operations were completed in one month thanks to Britannia's deployment of new mobile humanoid armor vehicles dubbed Knightmare Frames. Japan's rights and identity were stripped away, the once proud nation now referred to as Area 11. Its citizens, Elevens, are forced to scratch out a living while the Britannian aristocracy lives comfortably within their settlements. Pockets of resistance appear throughout Area 11, working towards independence for Japan. Lelouch, an exiled Imperial Prince of Britannia posing as a student, finds himself in the heart of the ongoing conflict for the island nation. Through a chance meeting with a mysterious girl named C.C., Lelouch gains his Geass, the power of the king. Now endowed with absolute dominance over any person, Lelouch may finally realize his goal of bringing down Britannia from within! The 2005 anime adaptation of Suzue Miuchi's theatre based shoujo manga Glass Mask is also now streaming on Crunchyroll. Crunchyroll also announced a new partnership with Kadokawa Pictures USA to bring horror titles Nurarihyon, Peony Lamp, Shadows Of The Wraith, She-Bear and Yamaba to the streaming site bring hours of endless horror and fright to online fans with the highly popular TOMIE Trilogy and the Japanese Horror Anthology which include titles: beginning April 16, 2009. More information can be found at: Title Synopsis: TOMIE Based on a manga by Junji Ito. Following some trauma in her past that has since been repressed, a young woman is trying to recover her memories with the help of a psychiatrist. During her hypnosis sessions, she repeats the name "TOMIE" but is unable to recall where she knows it from. Meanwhile, a police detective is investigating a string of brutal murders, where he also runs across the name "TOMIE." How are two connected? TOMIE: REPLAY A young girl looking through her father's notes finds something written about the last experiment he worked on before he went insane. Everything in his notebook looks ordinary until near the last page, at which point his handwriting deteriorates and the name "TOMIE" is mentioned several times. From that point forward his notes are written in what looks like blood. At the same time, another young girl escapes from a hospital. Who is she, and what does she have planned? TOMIE: ANOTHER FACE Another movie about TOMIE, the girl who just won't stay dead. This film is split into three separate stories in which TOMIE is at different times in her life, first as a high school student, then as a young woman who falls for a photographer, and finally as a woman engaged to be married to her true love. In each story, she is murdered after her unusual secret is discovered, but she somehow manages to come back from beyond to take her revenge. JAPANESE HORROR ANTHOLOGY Summary PEONY LAMP A Japanese maverick samurai, Shinzaburo, receives a surprise night-time visit of his former lover, Otsuyu, who is supposed to have died of a disease. She says the story about her death is a ploy made up by her father to break the couple. They spend the night together, but Shinzaburo's colleague cannot believe his eyes when he sees Shinzaburo is holding in his arms. SHE-BEAR Schoolgirls Mima and Rika saw a poster in a tunnel that warns, "If you see a woman with a teddy-bear doll you should run for your life." Mami feels something disturbing, but Rika dismisses it as just another hoax. YAMABA Magazine writers are sent out to an outback village to report on anecdote of old mountain hag. They get suspicious as every villager appears to be trying to hide something. They get the answer as a local bonze tells an age-old story. NURARIHYON A boy happens to see a specter known as "Nurarihyon" sneaking into his house to cause mischief. The boy tries to be good to the specter, but only gets the cold shoulder. But, at one night, when he is almost attacked by burglars, he learns good intentions are to pay off. SHADOWS OF THE WRAITH Ryoji and Kazuhiko are two brothers embroiled in a mystery of paranormal implications, tormenting them while drawing them towards a horror that will not be denied. At first, Ryoji thinks that the obsessive Asaji is just a little over the top in her pursuit of him. Professing her love, she begins to stalk Ryoji, as well as his girlfriend Mariko; they feel her presence wherever they turn. When people close to Ryoji begin to die mysteriously, he has reason to suspect Asaji, but he has nowhere to turn for help or escape. Ryoji's brother, meanwhile, has become involved with a young girl, Naoko, whose new condominium has a history of horrible accidents. As Naoko begins to experience ever-stranger phenomena, she must come to terms with what lurks in the closet. center>* Yappa has announced that it will be distributing Osamu Tezuka manga work including Astro Boy, Dororo, Princess Knight and Phoenix via applications for the Apple's iPhone and iPod touch. The Japanese language application and the weekly issues will be free for six months

*

YouTube is working to its vide and movie content through deals with anime provides Bandai and Anime Network in addition to Sony, Lionsgate, the BBC, Starz, Discovery, National Geographic, Cinetic Rights Management, Current TV, Documentary Channel, First Look Studios and IndieFlix. YouTube plans to sell advertising during commercial breaks in TV shows. It may eventually charge for the premium content. According to a Credit Suisse report, Google is expected to lose $470 million this year on YouTube.

*

ADV Nation notes that the Anime Network's site is now hosting episodes of Get Backers, Pet Shop of Horrors, Parasite Dolls, BASTof Syndrome and the Korean Live Action movie, Conduct Zero.

*

Digimon Adventure 02 has gone live from FUNimation's Toei streaming agreement

*

TMS Entertainment has launched a YouTube Channel, and the feature attracting is an English dub of Sherlock Hound (3,4,5,9,10,11). The Sherlock Holmes with canines features six episodes directed by Hayao Miyazaki.

*

FUNimation began streaming the second episode of Fullmetal Alchemist: Brotherhood Tuesday 4/14 The second adaptation of the popular manga is directed by Yasuhiro Irie ("Kurau: Phantom Memory", "Soul Eater"). Romi Paku and Rie Kugimiya will reprise their roles as Edward and Alphonse, though some of FMA's original cast have been replaced. Roy Mustang will now be voiced by Shinichiro Miki (Asato Tsuzuki, "Descendants of Darkness"). Winrey Rockwell will now be voiced by Megumi Takamoto (Mahou Sensei Negima!) and Riza Hawkeye will be voiced by Fumiko Orikasa (Bleach, RahXephon, Vandread)

*

JLIST.com has announced that i will be offing adult doujinshi from the popular Japanese artist circle LINDA Project J-List founder Peter Payne said, "We're excited to bring these amazing books to fans in a way that preserves the artist's original vision, and is uniquely accessible to non-Japanese speakers. With the amazing value and reasonable price, along with the files being available in DRM-free formats like ZIP, CBR and PDF, we believe this is the right path to take to make more of these excellent comics available to fans." Books are priced at $6 each, and have been translated from uncensored illustrations. J-List hopes to use this new venture as a springboard and get the works of other artists available, soon. LINDA Project have been outspoken critics on internet piracy of their works.

*

Fullmetal Alchemist creator Hiromu Arakawa's four panel gag strips are being posted online.

*

'If Shakespeare were alive now, he would be a mobile phone novelist," the author Tadashi Izumi asserts.' Independent News on mobile media.

*

Reverse Thieves runs down the experience and value of subscribing to Crunchyroll

*

It looks like Hulu may be coming to the iPhone Why would Apple and AT&T approve this app, which will use up a lot of bandwidth and compete with Apple's iTunes video store? Because it will help sell iPhones, iPod touches, and AT&T subscriptions. And that's the whole point of the App Store. (And if we were Hulu, we'd offer Apple and/or AT&T an ad revenue-sharing deal, too.)
And The Award Goes To...
Via Anime News Network, the winners for the 13th Annual Tezuka Osamu Cultural Prizes have been announced Grand Prize Ooku: The Inner Chamber - alternate history concern the shogun's harem of men Fumi Yoshinaga Hakusensha To be released in North America by Viz Media A Drifting Life (Gekiga Hyoryu) - autobiography of gekiga innovator Yoshihiro Tatsumi Seirinkogeisha Released in North America by Drawn & Quarterly Short Work Prize Saint Young Men - Jesus and Buddha as urban room mates Hikaru Nakamura Kodansha New Artist Prize Panorama Tokitan Suehiro Maruo Enterbrain

*

The organizers of T-con 2009 have announced on April 6 the preliminary list of nominees for this year's Seiun Awards. From ANN Best Media Award are the following titles: Real Drive Original creator: Production I.G/Masamune Shirow in cooperation with CROSSROAD Director: Kazuhiro Furuhashi Production I.G Macross Frontier Original creator: Shoji Kawamori/Studio Nue Chief Director: Shoji Kawamori Director: Yasuhito Kikuchi Satelight Kamen Rider Den-O Original creator: Shotaro Ishinomori Scripts: Yasuko Kobayashi, Shoji Yonemura Toei Code Geass: Lelouch of the Rebellion R2 Director: Goro Taniguchi Sunrise Released in North America by Bandai Entertainment The Dark Knight Director: Christopher Nolan Legendary Pictures Released in North America by Warner Brothers Fireball Director: Wataru Arakawa Jinni's Animation Studio Library War Original creator: Hiro Arikawa Director: Takayuki Hamana Production I.G In the Comic category, the following are nominees: Omoide Emanon Art: Kenji Tsuruta Story: Shinji Kajio Tokuma Shoten Ryu Comic Special [Note: The image is of Omoide Emanon's sequel, Sasurai Emanon.] Eden - It's an Endless World! Story & Art: Hiroki Endo Kodansha Afternoon KC Released in North America by Dark Horse Comics Trigun Maximum Story & Art: Yasuhiro Nightow Shounen Gahousha Young King Comics Released in North America by Dark Horse Comics Kazoku Hakkei Story: Yasutak