---
What's SHOOT THE MESSENGER?
Well, AICN COMICS: SHOOT THE MESSENGER is your weekly one stop shop for comic book -EWS. What's comic book –EWS? Well, it's our hodge podge of everything not reviews here at AICN Comics. Sure you can find out the @$$Holes' critical opinions of your favorite books every Wednesday at AICN Comics. But here, you'll find special reports such as previews, interviews, special features, and occasionally news gathered here from our online brethren at Newsarama, CBR, Wizard, etc. Sure those guys are the best at reporting news as it breaks. Click on the links for the original stories. This column cuts the crap to run down all the vital information for those of you who don't follow it as it comes in, and serves it all up with that special ingredient of @$$y goodness.
---
Elston Gunn interviews LONE JUSTICE: CRASH's Robert Tinnell & Mark Wheatley!
Hey folks, Ambush Bug here with a special interview with LONE JUSTICE: CRASH's Robert Tinnell & Mark Wheatley by the one and only Elston Gunn. It's a pleasure having the AICN Legend here on Shoot the Messenger. This looks to be a very cool project. Interspersed are some video links and preview pages of LONE JUSTICE: CRASH. Take it away, Mr. Gunn.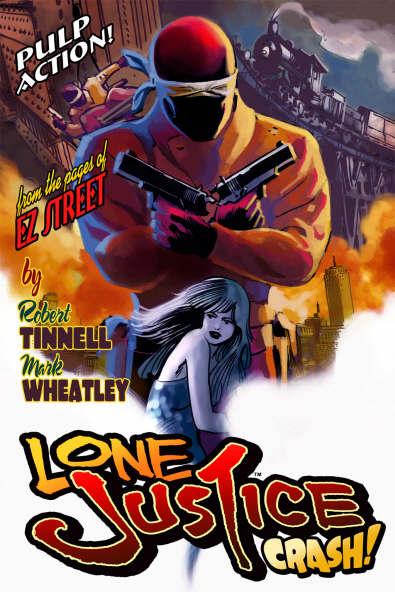 Hello. Elston Gunn here.
Writer Robert Tinnell (THE WICKED WEST, THE BLACK FOREST, Eisner-nominated FEAST OF THE SEVEN FISHES) and artist Mark Wheatley (FRANKENSTEIN MOBSTER, HAMMER OF THE GODS, THE BLACK HOOD) collaborated last year on Comicmix.com's Harvey-nominated EZ STREET about two boys working on a comic book featuring their character, Lone Justice. Tinnell and Wheatley have reunited to tell a Lone Justice story themselves, LONE JUSTICE: CRASH, with the hero learning first-hand the tragedies of the Great Depression as he himself falls victim to the Crash of '29. Sometimes even superheroes aren't immune to tough economic crises.
Comicmix.com premiered the series in January and by the time this interview is posted issue eight should be available on their site for you to view for free.
Tinnell and Wheatley took time to answer some questions for AICN about LONE JUSTICE, their process, influences, projects and thoughts regarding online comics.
ELSTON GUNN (EG): Fascinating premise for LONE JUSTICE: CRASH. I suppose you could've pitched this as "BATMAN meets GRAPES OF WRATH." What specifically inspired this story beyond the idea that it's the comic created by the characters in EZ STREET? And was it simply coincidence the subject matter is so timely?
MARK WHEATLEY (MW):
Okay, I've just done a complete sweep of the studios and I can find no evidence of your listening devices! But I know they must be here somewhere because Bob and I came up with this plot originally as a Batman pitch. And "BATMAN meets GRAPES OF WRATH." was bandied about verbatim. Bob and I got as far as pitching the idea to several people at DC where we got a favorable response and then about 24 hours later they started a policy of "no more Elseworlds graphic novels." The story went on the back burner.
The more I thought about it the more I wanted to make it a pure pulp story with our own pulp hero - someone who owed more to DOC SAVAGE, THE SPIDER and THE SHADOW than to BATMAN. So the basic idea was lurking around when Mike Gold approached me to do online comics for ComicMix. But Mike was very clear that he was looking for one of my "insightful" ideas rather than one of my self-indulgent ideas. So I grabbed Bob and we put together EZ STREET. And a core component of EZ STREET was that we could "preview" a few of our pet comic ideas and pick one for the sequel to EZ STREET.
As for the economic aspect of the story, one of my buddies here at Insight Studios is Allan Gross. Al is the co-creator of CRYPTOZOO CREW. And in addition to keeping an eye on the world wide cryptid situation, he also monitors the financial markets. For about 10 years, every time we would be hanging out the conversation would turn into one of his rants about how deadly the mortgage situation was getting. He was predicting bank collapses and, well, End of the World scenarios. So I started asking other finance brains that I knew what they thought. A few of them were cautiously in agreement with Al's predictions of doom and gloom. So that put a potential economic downturn on my radar and I began paying close attention. At some point Bob and I started talking about it and the entire situation eventually became the background for endless conversations. When I suggested the original idea of a pulp hero story to Bob, I think I was talking about the need to create a great villain. And Bob said something like, "If we set the story just a few years earlier, the Great Depression could be the greatest villain of all time." The rest is history. In fact, it is all history.
ROBERT TINNELL (RT):
For various reasons I found myself volunteering at a homeless shelter a couple Christmases ago. The whole experience got me thinking. Personally, I think for a very long time I'd been too apathetic about the situation. And my wife is in grad school studying public history and had gotten really interested in West Virginia labor history - specifically the coal mining industry - and the labor abuses that occurred and the way those that worked in the mines were treated so badly by the companies. All of which makes me sound like some sort of mad "fellow traveler," I suppose, which is no way the case. But it's undeniable that some folks are so driven by greed or so out of touch due to their elevated financial status that they just don't care or don't relate to the less fortunate.
Primarily, and I can only speak for myself on this, though I'm certain Mark would agree, I was also channeling my disgust at the general state of American society. Prior to our real-life crash, many Americans had become such materialists, defining their very beings by what they owned and drove and could show off. It just made me sick. I wish I could say we were being prescient about the story but truthfully we were just creating a comic with some issues we took to heart.
EG: What has influenced LONE JUSTICE: CRASH?
MW:
I'm a fan of the pulps. When I was a kid I found a beautiful dust jacketed copy of TARZAN AND THE JEWELS OF OPAR in my grandfather's library. I had seen the old TARZAN movies and those always seemed to hint at something a lot more cool and interesting. When I read that book I knew I had found the real thing. Fast action, lurid adventures, mystery, exotic locations... I was hooked! In fact I went right out into the swamp behind my house and built my first tree house because of that book. And I kept building tree houses until I built one so cool that I was able to live in it for my senior year of high school. And I kept finding more books and pulps to read. THE SPIDER is my all time favorite pulp hero and I was fortunate enough to do an official SPIDER graphic novel ("Burning Lead for the Living Dead") years ago as part of our TITANIC TALES pulp revival at Insight Studios. That led directly to me creating FRANKENSTEIN MOBSTER. But FRANKENSTEIN MOBSTER became unique and not so tied to the pulps. I was in the mood for something that evoked the real pulps and I knew that if I worked with Bob on the script I could count on cranking up an exciting pulp story into an action tale with real characters and emotional punch.
For the art, I felt a classic illustration and comics style was called for--something that would look at home in the period, the 1930s. So I'm channeling bits of Alex Raymond, Frank Godwin, N. C. Wyeth, Edd Cartier, Raffel DeSoto, J. Allen St. John, Milton Caniff, Noel Sickels, Dean Cornwell, Herbert Morton Stoops, Dan Smith and the list could go on forever.
RT:
Mark is driven by his obsession with the pulps. Me, not so much. I guess I'm pursuing an ongoing deconstructionist streak. I love taking these things apart and seeing what makes them work. Being a masked hero would not be dangerous, it would be expensive! It's fun to explore that. And I'd be lying if I didn't acknowledge the work that went on before that influenced me. WATCHMEN, obviously. DARK KNIGHT RETURNS. I think Mike Oeming and Neil Vokes did a great job in that arena with PARLIAMENT OF JUSTICE. Beyond those I have a track record of taking characters and archetypes and genres apart. Plus, I do enjoy exploring these sorts of societal issues. I don't pretend to have any answers, but it's rewarding to at least shine a light on these situations.
EG: EZ STREET was a somewhat personal tale for you. What are you drawing from personally for LONE JUSTICE: CRASH? I suppose a lot of people can relate to going from having money to not having as much money, and how one may or may not adapt.
RT:
My parents went through a terrible financial period my freshman year of college, so I can relate there. But it really does more stem from an awakening awareness of how bad things were in West Virginia during the Depression. And again, that's thanks to my wife Shannon's scholarship in pursuit of her master's degree.
MW:
I've been fortunate to have squeaked by and never quite reached bottom. Came close once or twice in the early years of trying to make it as an artist, but something would always come through at the last minute to keep me paying the bills. On the other hand, being an artist is being an outsider. And I've watched people I've known who were on the skids become instant outsiders when they hit bottom. So I can identify with the emotional truth of the story from that perspective.
EG: We can see there are two different villains at work here. Three, if you want to get deep: Scion, the comic book villain; the socio-economic villain in The Crash; and Lone Justice's internal villain. Without giving too much away, what kind of things are you going to explore with this series?
RT:
Wow, you're good. Where are we going? I think we're balancing all three. But the big villain for me is the sociological one: society's indifference. Society's desire to sweep the unpleasant realities under a rug!
MW:
Visually, we will be exploring everything from small two-fisted adventures to epic, James Bond level conflicts. That kind of "City-destroyer" epic disasters is the hold-over from the SPIDER pulp tales.
EG: Was the entire script written before the first panel was drawn or is it ongoing? Mark, do you begin sketching as soon as you are pitched an idea?
RT:
We knew the arc in its entirety, but Mark waits for no man. The script is finished and he's still drawing, but there was a moment there he had me worried.
MW:
Yeah, we had gotten the script in shape a little over half way when I started in on the art. And the script got stuck there for quite a while when Bob started working at the film school. I was creeping closer and closer to, well not the end of what was written, but to points in the script that would become CONCRETE and lock in any potential changes later on. So it was important that we get it all locked down. Not that we aren't still tweaking things along the way.
And I've been drawing all along during our development process. Working out costumes and characters. I sat in a financial seminar and doodled the logo design about a month before I ever drew a comic page. By the way, they were insisting that the stock market was a safe investment at that point in time.
EG: Issue Seven just came out. How long is the series going to run?
RT:
Uh, Mark?
MW:
It will run as long as it takes to get to the end. And that's not me being flip. This is a luxury of working for ComicMix. If I come into a scene and suddenly see potential to open it up - I always go for it. And the pages pile up. I'm almost through the first 100 pages of the graphic novel at this point. And I can estimate the final page count will be in the same neighborhood as EZ STREET - that will make it about 240 - 250 pages total.
EG: Bob, anyone who knows your work -- whether it's TERRY SHARP, LONE JUSTICE: CRASH or even your contribution to the Eisner-nominated POSTCARDS -- your love of old mediums is evident. Hammer Films, radio shows, journalism of yesteryear. What is it about these ideas that keeps you coming back?
RT:
You know, I've been thinking of going to a shrink to get them to explain it. Part of it, I guess, is that I love those worlds so much that by writing these stories I can re-visit or re-inhabit them. Particularly FRANKENSTEIN, which I just can't seem to stop exploring. I like to say that for that one I'm drawn by the creation metaphor, but I have no idea if that's true. Taking these things apart, as I said earlier, gives me pleasure. On the other hand, stuff like FEAST OF THE SEVEN FISHES appeals to me, too. Writing about real life without a monster or genre-smash-up in sight. But I'll never stop. I can't see the reason.
MW:
Bob is just a Fanboy. Hell, we both are!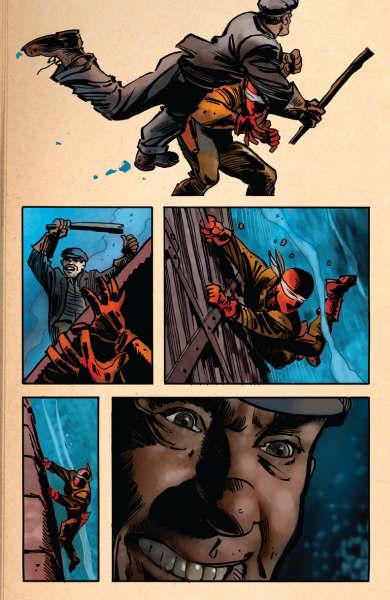 EG: Mark, when you work on period stories like this how much research goes into making it look historically accurate?
RT:
He has to do a lot because I'm lazy as hell.
MW:
I usually do a lot of research. But I've never done as much as I have for LONE JUSTICE: CRASH! Part of the reason is that we knew for a long time that this would be our next project. All during the nearly two years of production on EZ STREET we knew that I would be drawing a 1930s pulp adventure next. So I got in the habit of grabbing any photos from the depression years, absolutely anything. And I went for any movie made from about 1927 up to 1934. I watched good ones and bad ones. I was glued to TCM for days and weeks. I watch these period films not only for the details but for the unique body language of those days. People not only dress different from year to year, but there are typical gestures and facial expressions that seem to dominate an era. Just as an example, a guy playing a banjo in a film about the depression that was made in 1976 does not move and interact with his listeners in the same way that someone does in a film made in the 1930s. In general, people were less conscious they were being watched. They were more likely to be themselves. Modern people have developed more of a public persona that they project. And for me, that always stands out as an anachronism. So I try to pre-load my visual memory with body language of the period.
After all my research though, Bob dropped a steam shovel into the opening scene that gave me all sorts of problems finding reference. Let me tell you, you can burn through weeks of drawing time looking for reference.
EG: How did the two of you decide to work together and what is a typical day or week of working together like?
RT:
We had met many, many years ago but didn't even remember it. I met Mark again at ComicCon around 2002 or 2003 when Todd Livingston, Neil Vokes and I were shopping The Black Forest to Image. And we just hit it off. Mark really mentored me through my early years in comics. He still does. But we discovered we had the same driven work ethic - neither of us knows what to do with down time - and we found that we really seem to bring out the best in each other when we collaborate.
MW:
I think Bob is having a memory lapse here. The details don't match. Bob tells me we met at the old QUESTAR magazine offices in Pittsburgh way back in the late 1970s. I had stopped by to deliver a comic strip that Marc Hempel, my partner at Insight Studios, had done for them. I was only paying attention to Bill Willson, the publisher, and have no real memory of Bob. I think we really connected when Neil Vokes introduced us at one of the Pittsburgh Comic Cons. It would have been 1999, 2000 or 2001. I don't know that we really hit it off that day, but I had offered to help Bob navigate the comic book industry. And from about that point on we started talking on the phone. And it slowly became clear that we were on similar creative wavelengths.
RT:
We talk on the phone at least once a day. We talk about the work we're doing and the work we'd like to do. When we're at conventions we try to squeeze in as much brainstorming as is possible under the circumstances. When we're plotting we usually have several conversations and both of us make notes. Then the emails start bouncing back and forth. Then the actual typing of the story begins!
MW:
I usually am in the studio between 7 and 8 in the morning. I use my early hours to do the most important work: plotting, layouts and pencils. I'll take a break around 10am for breakfast and then I'll be back at work by 11am. In the afternoon session I will ink and color and letter the pages. I'll break for dinner around 5:30 - cooking for my wife and me. After she goes to bed I'll often return to the studio for a final hour of work. But that last hour can be music recording, rather than comics work. I've got to do something to relax.
I average about 5 complete pages a week. I do final edits on the script, rewrites and additions while I'm lettering the rough pencilled pages. I'll show those to Bob and if he has any comments I'll usually try to make changes to fit his request. Every once in a while I'll hang onto what I was aiming for. And half the time when that happens, Bob will continue to make his case for his version until I finally see the light and do it his way. This is all very conversational and engaging for us. We probably enjoy talking a little too much and can get far afield from what we were attempting creatively. So it can take weeks to work out a detail like that. And that only works because we've already worked out where we are going with the big beats. And those rarely change.
EG: Bob, in the extras from SIGHT UNSEEN we can see some of your back-and-forth notes with Bo Hampton and we can see the collaborative relationship behind the scenes. You've directed films before, do you see comics as co-directing with the artist? Mark, do you see it that way as well?
RT:
Absolutely. I can't think of a comic wherein the artist hasn't put their own spin on my words. Which does make the film director in me feel a little superfluous. I battle the ensuing depression by pretending that I make meaningful contributions to their art!
MW:
Oh yeah. I think this is Bob's punishment for being a film director for all those years. Now he has to hand over a script and watch as artists do whatever they want with it! Bwahahahahahahah! Honestly, I don't know many other creative people I could work with who are confident enough of their material to allow me to "shoot the film the way I want." The cool thing about Bob is I can head down a side path with the scene and deliver a Mirror Universe version of it. And then Bob will look at you like I've mangled the script and he will actually get behind it and add a line of dialogue or suggest an art element that augments what I was aiming for. It is just a super-gratifying way to work.
EG: Now that you've worked with Comicmix for a while, what has the experience with the company been like for both of you?
MW:
They are great people to work with. But I knew that going in. Mike Gold and I have been working together for over two decades. Mike was editor on my MARS series at First Comics, he was editor on BREATHTAKER at DC Comics as well as THE BLACK HOOD at DC Comics. And he was my PR person for the FRANKENSTEIN MOBSTER project through Image. We also have had a number of development deals behind the scenes over the years. We like and respect each other.
I also knew Glenn Hauman from my DC Comics days. So when Glenn and Mike said that Brian Alvey was the real deal I took them at their word. ComicMix is the best.
RT:
Great supportive people. Mike Gold is a prince - a smart man with good taste and an eye for the future. Brian Alvey has been a great support. Top to bottom a tremendous group of people. And I really like the immediacy of the feedback you get from an online comic.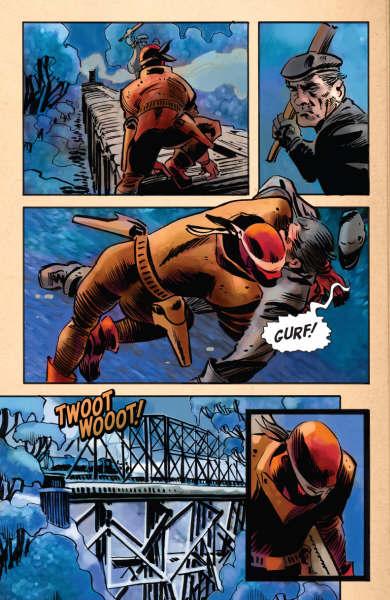 EG: The 150 year old Denver newspaper, Rocky Mountain News, just shut its doors. Anyone who works in print is chewing their nails down to the quick. However, when it comes to comics, people like the tangible item, the smell of ink, having something to sit on their shelves. I know you've been asked this a lot, but now that a little bit of time has passed what are your thoughts about online comics vs. print in general and where do you see the industry headed?
RT:
Five years ago it was unimaginable to me that people might someday abandon paper for the web. Now, I'm not so sure. I'm trying to go with it and not get depressed - because I love books - but I look at my daughter and how hard we have to work to rip her away from the computer. Hell, when I go in a house and don't see any books I get nervous.
MW:
I have a large home. Over half the house is a library of old books. I've been working in some aspect of printing and publishing since I was in high school. I love books and I think ink has blended with my blood. But around the turn of the century we started to run web comics on the Insight Studios web site. It quickly became obvious to me that we were easily reaching much larger audiences on the web than in the comic book stores. Ever since I have expected and seen the trajectory that is leading us to the digital model for publishing rather than the analog one. The internet is the future of comics. As soon as there is a large format KINDLE with a color E-Ink display - maybe the Plastic Logic platform - I think you will see the last of print make a quick migration.
Meanwhile, I think the free comics at ComicMix are about the perfect way to read graphic novels. The presentation looks exactly like my final pages look in Photoshop on my studio computer. You're seeing my work the way I intended to look. And this is almost the only time in my career that THAT has happened. And it is free. What's not to like?
On the other hand, ComicMix is about to announce the details of their new print publishing deal. And I'm just enough of a Luddite to get excited over that prospect. At the very least it will be nice to have hard copies of my graphic novels at conventions. It is always hard to sign the internet when I meet my fans at these things.
EG: Speaking of print, Bob, you self-published your graphic novel FEAST OF SEVEN FISHES and it was nominated for an Eisner, attracted interest in Hollywood; and was the springboard for an annual festival in your hometown. What did putting that book out mean to you, where did it lead and where is it going?
RT:
FEAST OF THE SEVEN FISHES made me finally start trusting myself when it came to picking subject matter. So many people thought it was a stupid idea... until it came out. It's been an overwhelmingly positive experience and it's not finished. I'm currently working on a prose novel sequel (not because I'm leaving comics, it's just something I want to try). If this credit crunch thing ever gets untangled we should be going into production.
EG: What are you guys working on next? For Comicmix and/or other projects?
RT:
Too much. I'm writing a six issue mini-series that Neil Vokes is drawing with a working title of ELEGY. Heading back to the well, the series imagines what a monster rally might have been like had a company like Hammer Films attempted it, the way we did it with the Golden Age of Horror in THE BLACK FOREST. I'm writing a werewolf graphic novel with Bo Hampton. I just produced a documentary on pioneering UFO journalist Gray Barker and am now writing a dramatic screenplay on the guy. He fascinates me. I just finished a big spec script that Don Murphy has prodding me along on for years. It's in his hands now. The most fun I'm having? Tom Savini and Jeff Imbrescia talked me into taking the directorship of the new digital film program they launched. It works alongside Tom's make-up effects school just south of Pittsburgh. Honestly, it's the best thing that ever happened to me professionally. They put in a complete movie studio - sound stage, post-facilities, equipment - and all we do is shoot. The students are doing really nice work and I'm getting to play in this big toy box everyday. At some point I'm planning on shooting a digital feature there. We've even discussed doing Terry Sharp there - live action against Adrian Salmon's crazy-ass art work.
All in all, I'm really enjoying my life.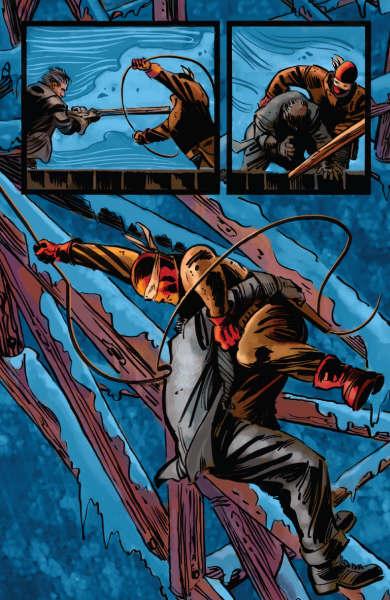 MW:
LONE JUSTICE: CRASH will be keeping me busy well into the summer. After that I've got a new FRANKENSTEIN MOBSTER graphic novel that I've written with M. J. Butler. That's also scheduled for ComicMix. In the old days I would list two titles of projects and I'd be talking about a few months of work. These days that list above is about two years of work and close to 500 pages of comics. Also, Marc Hempel and I had a show of our BREATHTAKER work at the NORMAN ROCKWELL MUSEUM called LITGRAPHIC that included Will Eisner, Frank Miller, Dave Sim, Terry Moore, Peter Kuper, Robert Crumb, Lynd Ward, Harvey Kurtzman and others last year. And that show is now going to be touring four more museums over the next several years. It is an impressive show, even if you include our work! I highly recommend you check it out if it comes to your town. This is the current list of museums :
Toledo Museum of Art, Ohio September 2009 through January 2010
Huntington Museum of Art, West Virginia February 20, 2010 through May 23, 2010
James A. Michener Art Museum, Doylestown, PA. November 13, 2010 through February 13, 2011
Fitchburg Art Museum, Massachusetts September, 2011 through January, 2012
Thanks, Robert, Mark & Elston Gunn, for the damn fine interview. Mr. Gunn is welcome to stop back anytime!
---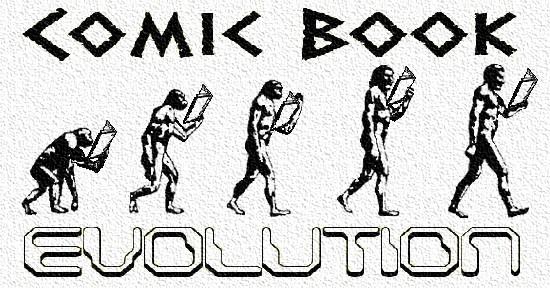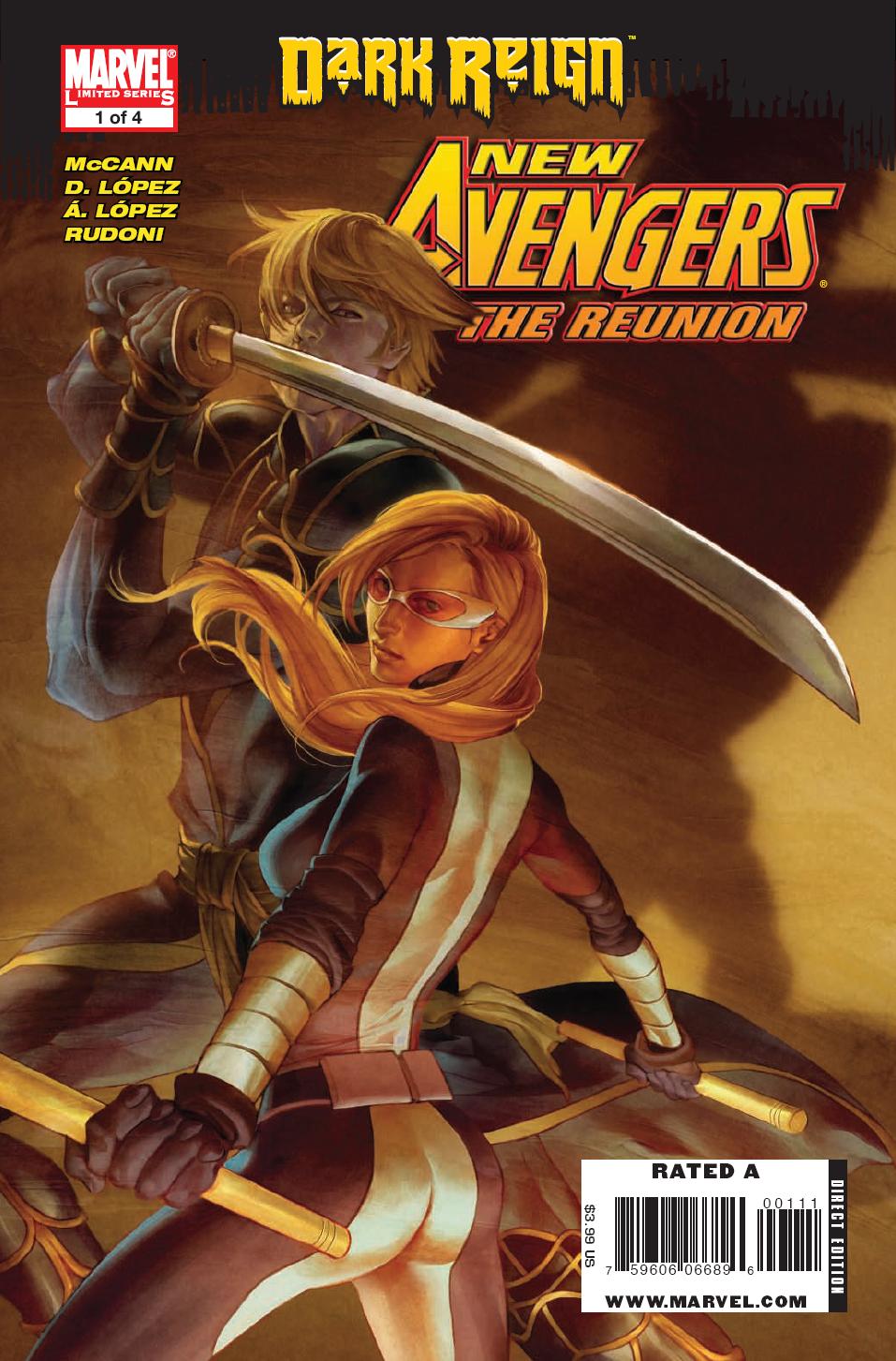 Hey folks, Ambush Bug back with an extra special Comic Book Evolution/Q & @/Preview mix. This time around we talk with Jim McCann, the writer for the upcoming NEW AVENGERS four issue miniseries THE REUNION starring Clint Barton AKA Ronin AKA Hawkeye and his estranged wife Mockingbird. This is Jim's first writing gig at Marvel and I had a chance to ask him a few questions about the miniseries and how it came to be. After the Q & @ Jim was kind enough to offer up a commentary to a few of the pages of the first issue. Let's hear what Jim has to say about NEW AVENGERS: THE REUNION.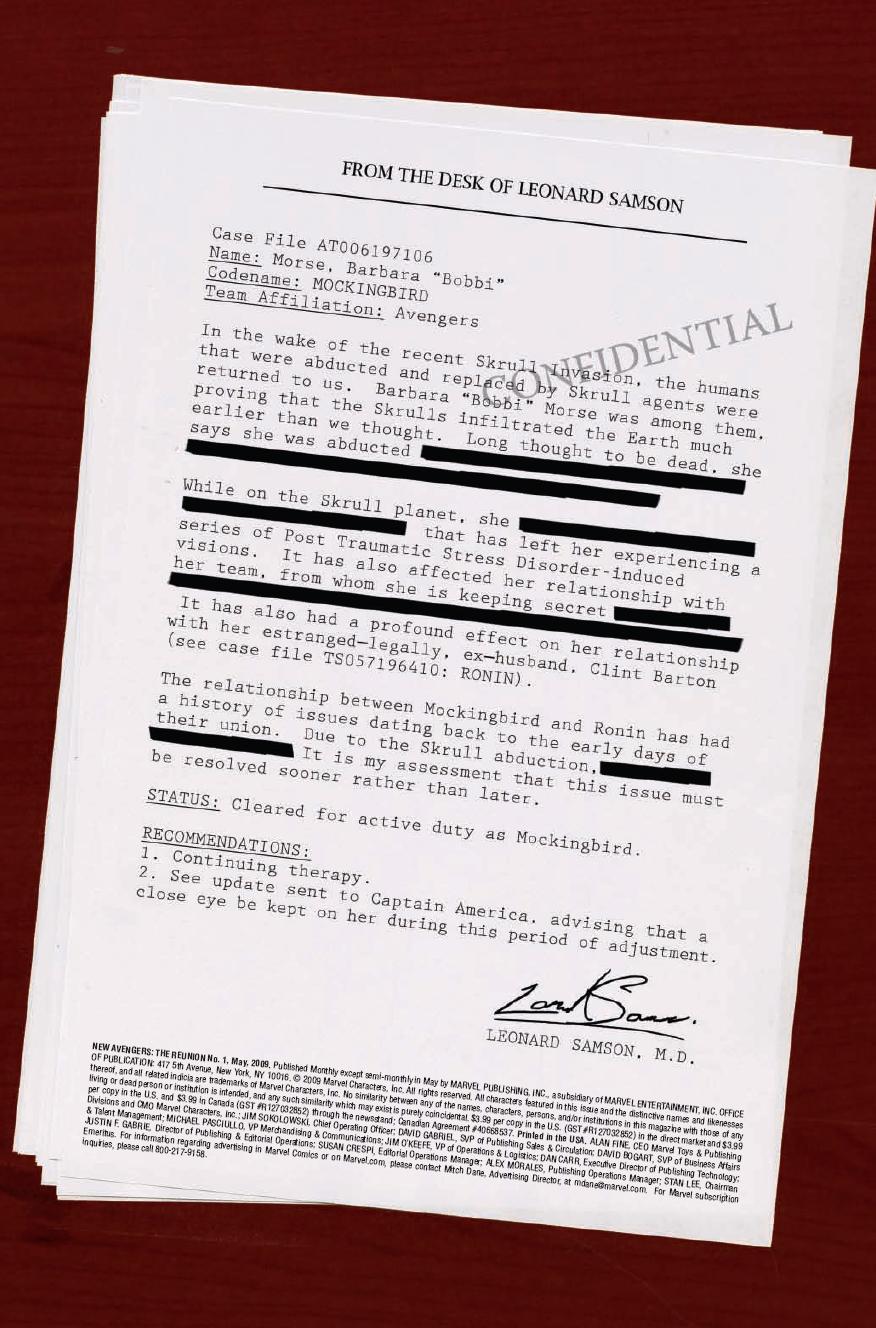 AMBUSH BUG (BUG):First things first. Tell us a little bit about what we can expect from NEW AVENGERS: THE REUNION.
JIM MCCANN (JM):
NEW AVENGERS: THE REUNION is a high-octane, high drama spy thriller that reunites the couple of Clint Barton (aka Ronin, aka Hawkeye) and Bobbi Morse (Mockingbird). It comes out of SECRET INVASION, where it was revealed that she didn't die years ago, as Clint thought, but was abducted & replaced by a Skrull. What they've both been through since, and their future holds for them is at the center of this. They are both very different people now, and while they may appear to be happy to see each other again, things aren't always what they seem on the surface. This is NOT a romance comic, that's for sure!
BUG: You've been acting as a PR & Marketing guy at Marvel for quite some time. Now you're writing a miniseries. How is the transition from the PR to the creative side treating you, and how did it come to pass that you got to write NEW AVENGERS?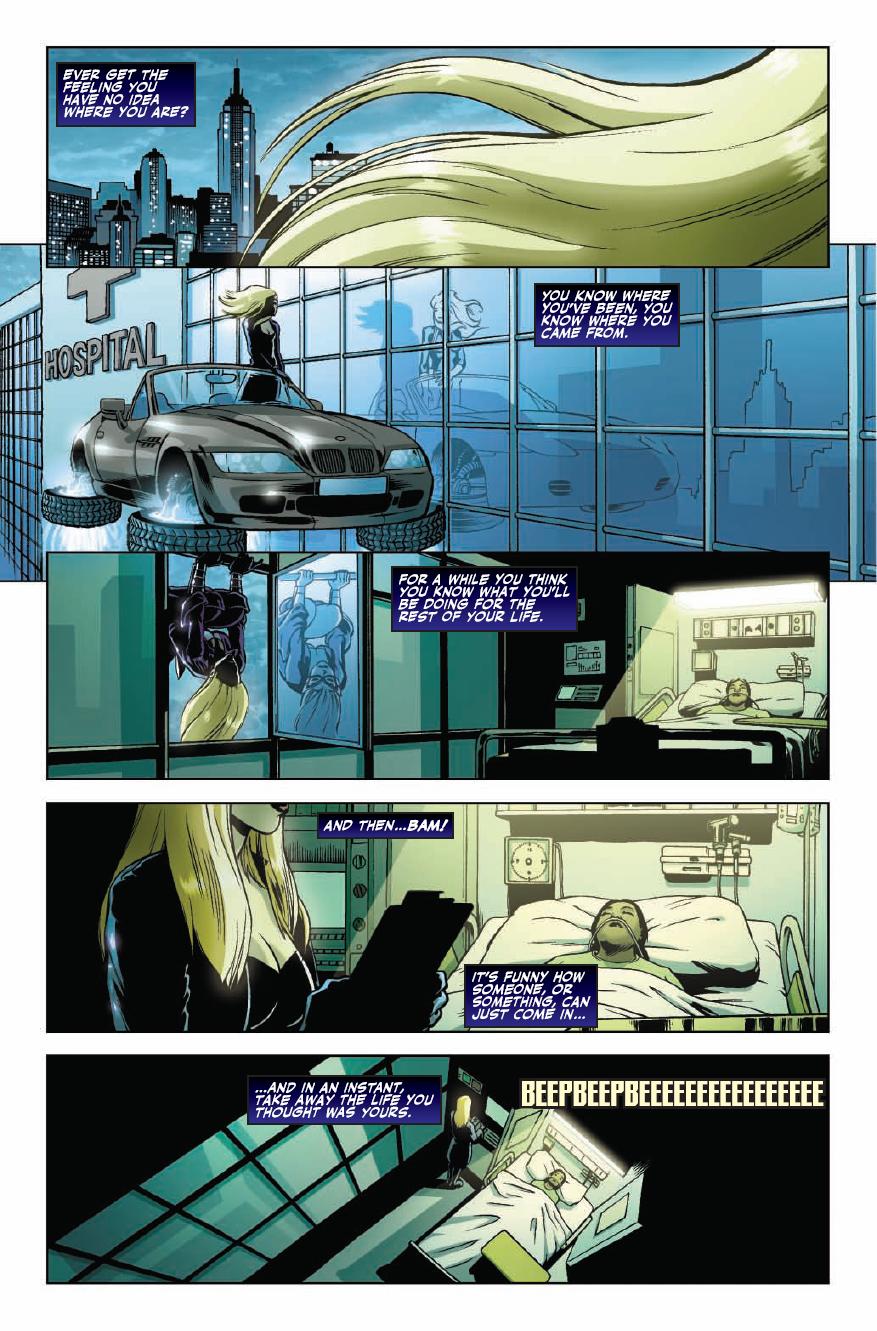 JM:
The transition has been interesting. It's still a learning process, as I am doing a balancing act. I'm still PR & marketing but I am ALSO a writer, so I have to find ways of balancing my schedule and also balancing the two roles. Everyone at Marvel has been amazing in helping this go smoothly and supporting my move from staff to consultant and freelance writer. As for how I got this gig, same as anyone - I had to pitch for it. As soon as I heard that we were thinking of bringing Mockingbird back in SECRET INVASION, I spoke up that it would be perfect for her to come back because they are like the Mr. & Mrs. Smith of the Marvel Universe Both are action couples, bickering, high sexual chemistry, keep secrets from each other, hot-headed, you see where the comparisons can go. Except Clint & Bobbi came first (20 years ago!). Brian Bendis loved that idea and supported it by bringing her back. I then pitched the story that would set up what Mockingbird went through while abducted, what her return means to the Marvel Universe, and what the future holds for her & Clint. Apparently, it was good enough to print, because here we are!
BUG: Did your role in PR help you in any way in making the leap to writing?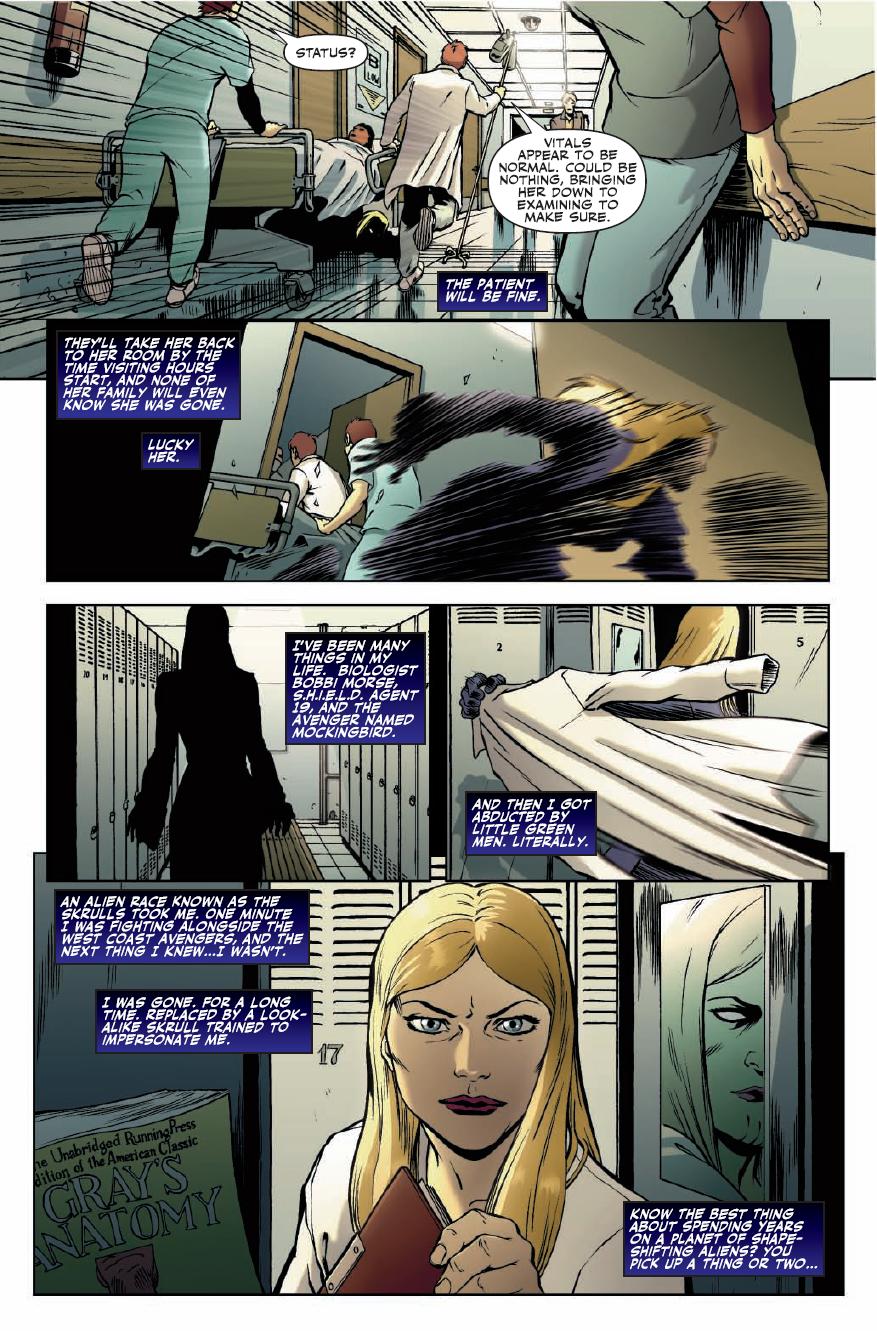 JM:
If by "help" you mean did I have a leg up? Nope. I have to work at pitching stories just as much as the next freelancer. But working at Marvel has certainly helped me learn how great comics are made, and THAT is what I hope comes through in my making the leap. I can only hope that having watched the best writers, artists, and editors in the business craft stories has rubbed off on me a little.
BUG: After reading the comic, it appears that there's a definite respect for both characters' past lives in HAWKEYE's miniseries and WEST COAST AVENGERS. Are you a fan of those series?
JM:
100% yes. I read them as they came out & loved them. I have always had a tremendous amount of respect and love for both couples. It's my "pinch me, I'm dreaming" scenario - here I am with my first mini-series, writing my favorite couple in the comic book world! It's my goal to tell a compelling story that respects their histories while moving them forward.
BUG: There aren't too many happy couples in comics. Will Hawkeye and Mockingbird be one of them or will it get worse before it gets better for this duo?
JM:
"Reunion" can mean many things. They had their fair share of issues BEFORE she was abducted and "died," so it wasn't always hearts and rainbows. But that's what I love about them - no matter what, they were (and are) a REAL couple, dealing with REAL issues, be it married, separated, or apart. That tradition will continue in that what they are facing, they are facing together.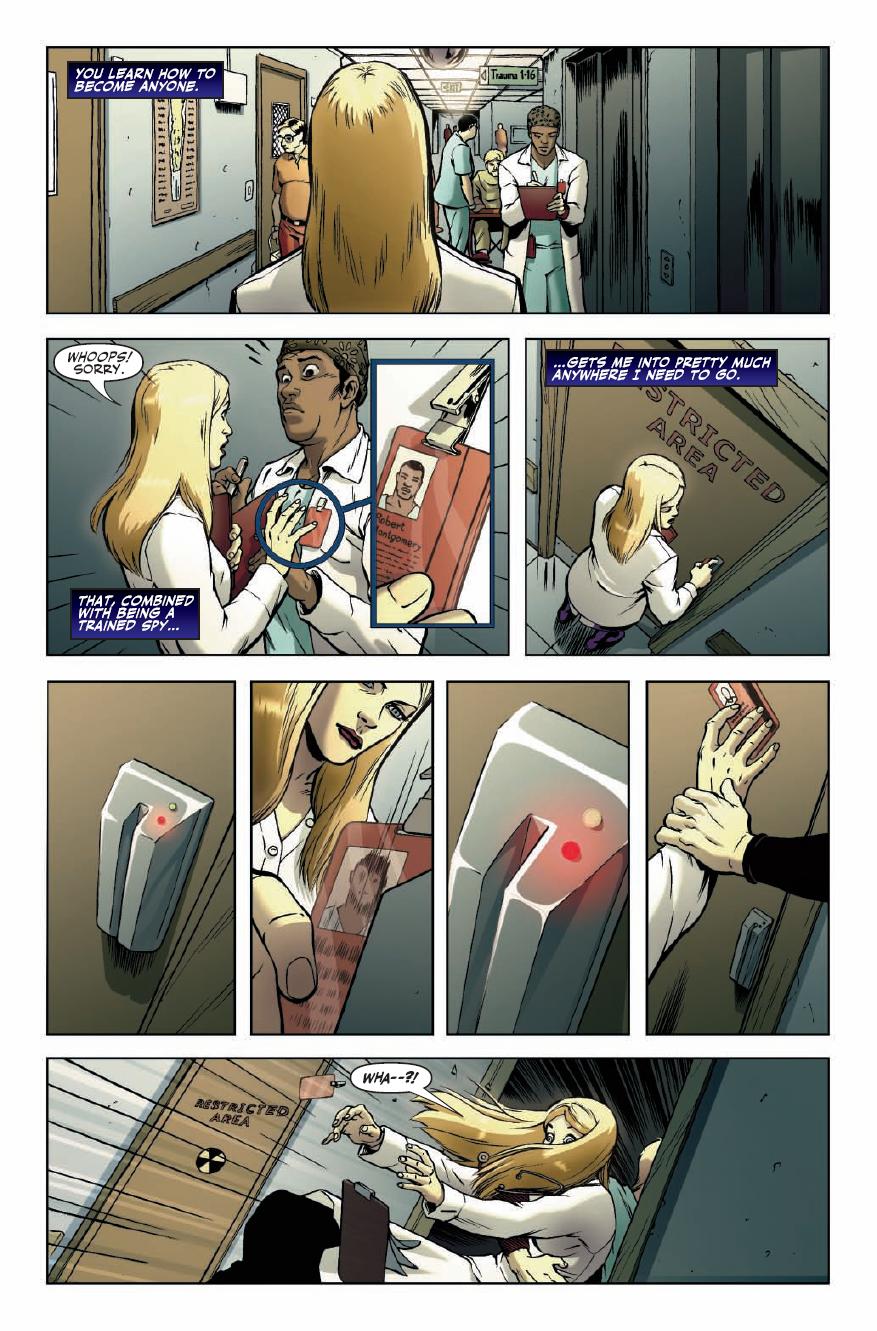 BUG: Similarities to DC's archer/martial arts couple are inevitable. How are Clint and Bobbie different than Ollie and Dinah?
JM:
I know people won't believe me when I say this, but I never saw or thought of the comparisons before people started bringing them up recently. Maybe because I see them as such different characters. Also, most Green Arrow and Black Canary stories I read, they were not together. I read BIRDS OF PREY (which I loved) and I read old Green Arrow/Green Lantern BRAVE & THE BOLD. I never saw Dinah as any sort of comparison to Bobbi because I saw Black Canary as more a "super hero with powers" and Mockingbird as a spy turned Avenger but still more human. Ollie is a rich guy, like Batman with a bow and more snark, where Clint is a carnie still trying to get respect and self-confidence, ok, and he's snarky too. That's where the similarities end for me, though.
BUG: The first issue focuses a lot on Mockingbird. Would you say this is her miniseries or both her and Hawkeye's?
JM:
It's both theirs. Bobbi has the momentum in this first issue. She is proactive while Clint is more reactive, by the nature of the story. But once he gets a chance to catch up, he has his focus. We have to reintroduce Mockingbird, so she gets some more face time up front, but by the end it is clearly their mini. And at the heart, regardless of who is in the spotlight, internally it is about the both of them.
BUG: When will Clint finally drop the neon ninja suit and start wearing the costume that everyone in comic bookdom wants him to wear? I'm talking about Captain Ultra's costume, of course. But really, when will the fans get their real Hawkeye back?
JM:
Well, someone else is in the purple & blues right now and calling himself Hawkeye, so you'll have to keep watching that story unfold. But honestly, whatever he calls himself (Hawkeye, Goliath, Ronin), Clint Barton is Clint Barton, and that's who I am writing here. Hopefully fans will feel that this is the character they love!
BUG: Now that you've got one miniseries under your belt, are you planning on more writing projects at Marvel?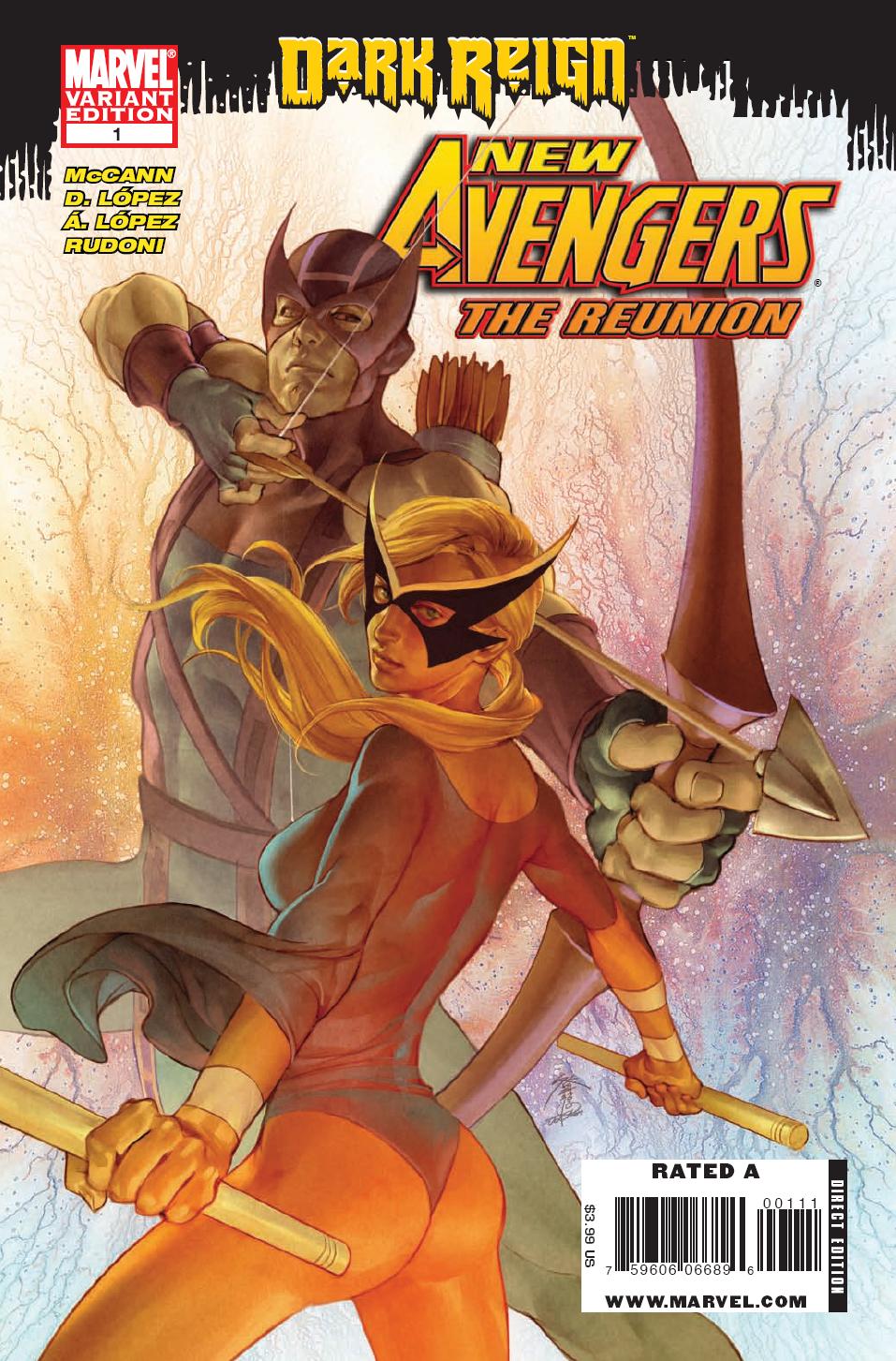 JM:
I have some irons in the fire and just turned in a pitch today. If I could, I'd be happy writing these two for the rest of my life, but we'll see if that happens. In the meantime, I am focused on this miniseries and wrapping it up in a way that does the characters justice and leaves fans satisfied (but wanting more)!
Thanks, Jim, for taking the time to answer our questions. Now let's see some of Jim's favorite pages and panels from issue one and what he has to say about them. Take it away, Jim!
JIM MCCANN (JM):
From Pg 1, we see that a lot of this issue will be introspective, from Bobbi and also from Clint. But right now, we are in Mockingbird's head. I had suggested the use of reflective surfaces as a visual metaphor to emphasize the internal monologue that she is having as she looks back on her life. Something cool to notice - not only does David Lopez (the AMAZING artist on this book) draw her reflection in her old SHIELD uniform, but the hover car shown is an old model in the reflection as well. I LOVE that!
JM:
We wanted to keep the reveal of her new costume until later in the book, so David really had to play with angles and shadows in these early pages. On page 2, you notice things like her hiding under the hospital bed in panel 1 and the speed lines covering her costume as she darts into the room in panel 2.
Carrying with the theme of reflections, David found another chance to do this visual metaphor in the last panel on page 2. When Bobbi is thinking about how she was replaced by a Skrull, there is a reflection of a Skrull in the mirror. Some fans who saw this in a preview were worried when they saw the art that we were hinting she's still a Skrull, but rest assured, this is the real thing, NOT a Skrull.
JM:
In a confrontation scene between Bucky (Captain America) and Clint, I really wanted to play up that Clint has a history with Cap, but not Bucky. The same is true for Bucky - he has a history with Steve Rogers, but not Clint Barton. But now Clint sees someone new in the Cap costume, this kid basically, but he still needs his help. Also, he's trying to see what Steve saw in Bucky to want Bucky to take on the mantle of Cap. In one panel, David shows us that Bucky has a LOT of Steve in him, especially the Steve Rogers that Clint used to but heads with:
JM:
Pg 14 - I just wanted to point out how awesome David did on this panel as well in the fight scene. As you can see from the script, I thought it would be tricky to do, but David went above & beyond. It took me a bit in the pencil stage to see it but then when the colors came in, I realized what he had done. He has put us (the reader) INSIDE the helmet of the A.I.M. soldier. I am impressed every time I see that at how uniquely David interpreted that panel in the screen!
Well, there you have it. NEW AVENGERS: THE REUNION looks to be a fun project. Can't wait to see it when it hits the stands this Wednesday.
---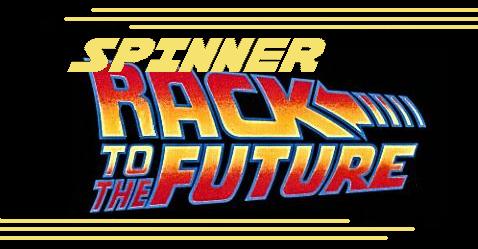 Let's take another whirl on the ol' Spinner Rack to the Future, shall we? This week, we've got a whole mess of previews for you. First off is the second issue of Reggie Hudlin's BLACK PANTHER relaunch. This time around we've got a female Black Panthress in the title role. And while I was betting it would be Rudy Huxtable under the mask, it looks like I was wrong. Check out this preview to see who will be the new Black Panther…
Wakanda mess has T'Challa gotten himself into this time…?
*krickets*
OK, while I ponder not quitting my day job, I'll just say you can buy this book this Wednesday and move on to the next preview…
---
Next up is a preview of Kevin Smith's BATMAN: CACOPHONY. This book is filled with the type of stuff that made Kevin Smith Kevin Smith. Check out the first few pages of issue 3.
Jeepers, did Batman just die again?!?! Find out on Wednesday!
---
Next up we have a preview of what looks to be a really cool Hulk project called HULK: BROKEN WORLDS which brings us up to date on how some of the Hulks in alternate dimensions are doing. Check out this preview.
Man, I love the art by Diego Latorre from that HULK 2099 segment. Bill Sienkiewicz, eat your heart out. Check out the big, mean, green goodness on Wednesday.
---
Next we have something indie flavored called THE SPAGHETTI STRAND MURDER from Alterna Comics. This 72 pg graphic novel is written and illustrated by Bret M. Herholtz and looks to take inspiration from some of the finest mystery stories story-wise and from Edward Gorey artistically. Delve into the mystery below.
Very cool stuff. Be sure to check out Alterna Comics website for more information about THE SPAGHETTI STRAND MURDER.
---
Barreling through all of the clutter on the shelves is one of my favorite comics being published right now. Jeff Parker brought back a band of misfits with his AGENTS OF ATLAS miniseries a while back and finally they have a new series that all of you should be reading since it's got a cool cast, strong writing, and damn fine art. Check out what I mean in this preview of issue 2.
Damn fine monkey/robot/spaceman/siren/Atlantean princess/rejuvenated SHIELD agent action there. Check out AGENTS OF ATLAS #2 on Wednesday.
---
Next we have a preview of Peter Tomasi and Keith Champagne's classic in the making THE MIGHTY. This story is definitely worth your while for the fantastic art by Peter Snejbjerg and an equally engrossing read. Check out the first few pages of issue #2.
Don't be that guy searching for this one six months down the line when you can't find copies of this book. Pick THE MIGHTY #2 up on Wednesday.
---
Every time I come home, my dog meets me at the door with a mouth full of slobber and whatever he's chewed up that day. Every. Single. Day. Now, that's consistency. I wish I could say the same about comics. Next up is a preview of one of comic-bookdom's least consistent titles--a book that was going for the Kevin Smith SPIDER-MAN/BLACK CAT Award. Not sure who won in the race, but while this book is super late, it still looks pretty cool. Check out this preview of ULTIMATE WOLVERINE VS HULK #3.
Take ULTIMATE WOLVERINE VS HULK #3 off the milk cartons, it's here Wednesday!
---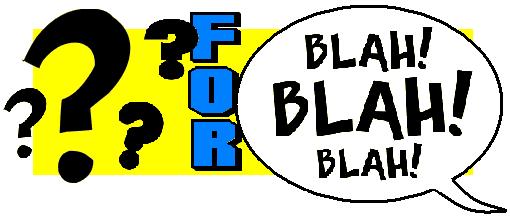 A few more days till WATCHMEN is released to the masses. Are you doing anything in preparation for the big event?
---
Editing, compiling, imaging, coding, logos & cat-wrangling by Ambush Bug Proofs, co-edits & common sense provided by Sleazy G