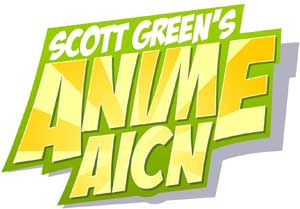 Logo handmade by
Bannister
Column by
Scott Green
From Larry Carroll's piece:
MTV's Movie Blog recently spoke to Keanu Reeves about plans for the Hollywood adaptation of popular (in North America at least) sci-fi western anime Cowboy Bebop. According to Reeves, Cowboy Bebop currently revolves around expanding the anime's first episode, "Asteroid Blues," into a two hour movie, with producer Erwin Stoff minding the project at 20th Century Fox. "We've got the rights, we've got a writer," Keanu explained. "He's putting together a scene outline." "Oh yeah, cool," he said when I asked him about the flick recently. "We're trying to do that." As fans of the Japanese classic TV series know, "Bebop" follows a crew of bounty hunters traveling around the universe in the year 2071. Reeves hopes to play Spike Spiegel, one of these futuristic cowboys forced to pick up the slack after a population crash and hyperspace gateways have left law-enforcement unable to capture many of the galaxy's most ruthless criminals. "It's got a Western quality, a Western film noir aspect to it," Reeves said of why he's such a big fan of Shinichiro Watanabe and Keiko Nobumoto's groundbreaking series. "It's got so much style to it, and that's part of its appeal. That kind of Old West, bordertown, low-tech science fiction aspect." Take a look at this clip and you'll get an idea of why Reeves is not only a perfect-looking fit for Spiegel, but also why he thinks the most important person on the set will be the one trying to translate the series' unique look. "I think that would be a production designer's dream," Reeves said of the flick. "I think you just need a good production designer."

The 26 episode Sunrise tv series and BONES movie followed a hard luck cadre of bounty hunters in the waning days of wild west period of solar system wide colonization: haunted but slick ex-gangster Spike Spiegel, grizzled veteran ex-cop Jet Black, gambler/femme fatale Faye Valentine, incorrigible hacker Ed, and data dog Ein. Combining artful homages to Western media, inventive direction from Shinichiro Watanabe and eclectic music from Yoko Kanno, Cowboy Bebop won over many fans when it was released on DVD by Bandai Entertainment and aired on Adult Swim.
If you're a fan of Cowboy Bebop looking for something simular in anime, check out Baccano