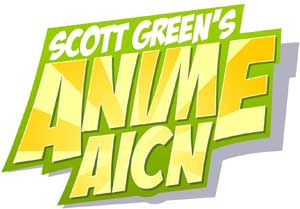 Logo handmade by
Bannister
Column by
Scott Green
Given all the apocalyptically bad news of the last week, it seems like an appropriate time to lighten matters with a few humorous animated projects that recently found their way into the AICN Anime mailbox.
Max the Hero
Max the Hero is not exactly brand new, but it did recently screen at Atlanta's Dragon Con, where it one the award for 'Best Animated Comedy.' So, there's this super hero, who's kindof a twit, this mad scientists super villain, who's also kindof a twit, and this geek who's wowed by seeing his comic book ideals play out in front of him... and they're house mates together in the same rundown bachelor den. Cow throwing octo-clowns ensue. It's tempting to be won over by Max the Hero upon seeing its credentials. The Project Meatball production is written and performed by Bill Corbett, Kevin Murphy and Michael J. Nelson of Mystery Science Theater 3000. Personally, though I was predisposed to an animated short by the MST3K folks, I was not exactly enamored from the first frame. Its characters are intentionally abrasive, and it's immediately full bore. With the he mad scientist being sprayed in the face with drinkable cigarette spit before the 30 second mark, the short initially seems to be trying too hard. Then, before you know it, your mindset has adjusted to the nitroglycerine infused raccoons and magical cloaks with the power of Odin, Mars and Santa Claus... and it becomes grin worthy, then laugh out loud funny. For fans of absurdism and geek-referential humor, Max the Hero hits the mark.
Bana Panic
It's cute... it's city crushing kaiju... it's Bana Panic! The Highlander Productions short can be seen on Metacafe
Bana Panic!
-
For more funny videos, click here
IRrelevant Astronomy
If you're the type of person who sends around links to images of star clusters and advanced representations of exotic space phenomena, you'll be delighted by the IRrelevant Astronomy shorts produced by NASA's infrared space telescope Spitzer (get it, infrared, IR ...) program. But, regardless of your degree of scientific wonder, IRrelevant Astronomy is one of the most (intentionally) hilarious series of educational films you'll find. The premise for the shorts vary enough to wander into remarkablely weird territory, such as Dub'ya: Mountie Martin and the Space Diamonds, a re-dubed, re-edited, re-purposed black and white film discussing diamanoids. However, the majority, or at least the plurality of shorts play off Robots Astronomy Talk Show (RATS), in which Producer Bot, Tuba Bot, Gaffer Bot and the host IR2 put together a low rent talk show, mostly chattering about their intensions to rule the universe. While recoding activities like filling out Absolute Rulers of the Universe applications, the robots call up astronomers to ascertain answers to questions such as where to find water in space, the likelihood of an asteroid destroying Earth, or the conditions under which live develops on a planet. Shorts are occasionally lead off course by their premise. When the RATS robots go on strike, leaving the astronomer to talk into their answering machine, less, in this instance, is actually less, and not more. When the shorts hit their mark, and they generally do, they capitalize on the irreverence hinted at in "IRrelevant Astronomy." They dance on the fine line between utilizing characters who are aggravating (such as the IR2 host robot who lacks any concept of his own absurdity), and becoming aggravating themselves. Staying on the correct side of that divide more often than not, the pieces carry a Muppets-esque charm. To view the shorts or subscribe to the RSS feed see here
Heart Attack
A few years ago, this column featured a recommendation of Chris Mais' Smile, an animated short offered on iTunes. Not exactly funny per se... you know what they say about the subject matter... but Mais' new animated PSA "Heart Attack" is worth a look. The short is part of the Stolen Dreams Short Film Competition, sponsored by Divided We Fail and the UCLA School of Theater, Film and Television.
Over The Hill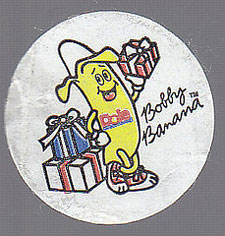 Unlike the above mentioned works, Over the Hill, is been shown at festivals rather than online. The Peter Baynton directed, Split Second Films produced film has accumulated recognition, including the McLaren Award at the Edinburgh International Film Festival, the Animated Short Jury Award at the Austin Film Festival and the RTP2 Award at the Cinanima Animation Festival. Split Second is also submitting the short for 2009 Oscar consideration. Life in Over the Hill Rest Home is rosy and slow, until one particularly cunning trio of grannies discover a secret so sinister that their lives are changed forever! It's anti-establishment grannies versus the system in a short reminiscent of Fantasia 2000's Rhapsody in Blue/Al Hirschfeld segment. Not to say that the short pulls from the specific stylization of that Fantasia segment, but color tone cues and animated caricatures hit some of the same notes and succeed for some of the same reasons. The brilliant twist to Over the Hill is that the lively simplicity of its (mostly) 2D animation seems like it should be at odds with a subject that is generally dealt with in an almost depressingly subdued manner. With floral wallpaper backgrounds and pastel colors, Over the Hill initially looks like it's going to bow to that expectation, but the delight in the short is watching its trio of elderly women literally breaking out.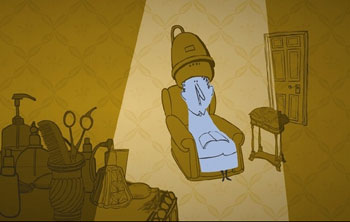 The following licensing announcements were made at the New York Anime Festival Bandai Entertainment Bandai Entertainment has picked up the rights to sola and true tears, series that were planned to be released by Bandai Visual. The series will be packaged in complete set for $44.98 and $39.98 respectively. Bandai Ent. will also be releasing Kotaro Mori's manga adaptation of Gurren Lagann. Del Rey (Manga) Amefurashi - manga by Atsushi Suzumi (Venus Versus Virus) From Del Rey's description Atsushi Suzumi brings her talent to the Del Rey Manga lineup again with AMEFURASHI, a new shôjo manga. A small Japanese village's fortune is dependent on the whims of the Amefurashi, the rain goddess. Gimey, a village resident, ends up meeting Amefurashi on his own and discovers that she's actually a cute little girl! Gimey must now try to persuade her to save his village—by keeping this somewhat temperamental, demanding goddess happy. Suzumi is a co-creator of Haridama: Magic Cram School, published this summer by Del Rey Manga, and is also known as the creator of the popular series Venus vs. Virus. AMEFURASHI will be published in July 2009. Maid War Chronicles - manga by RAN From Del Rey's description RAN is a rising talent in the manga world, having worked with superstar Ken Akamatsu on Mao-chan, which goes on sale from Del Rey Manga in November. Del Rey will publish MAID WAR CHRONICLE, written and illustrated by RAN, in May 2009. Playing into "Maid culture" with a sense of zany, non-stop action and humor, MAID WAR CHRONICLE starts by following Cacao, who has landed her dream job as a live-in maid for the Prince of the Urbansberg Kingdom. However, the kingdom finds itself under siege and the Prince and his five maids make their escape. In order to win back his kingdom, the super-cute maids need to be the warriors that the Prince needs—and be ready to save the day! Moyashimon (Tales of Agriculture) - Tezuka Osamu Cultural Prize winning manga by Masayuki Ishikawa From Del Rey's description Take a look at the world of bacteria through the lens of manga! MOYASIMON: TALES OF AGRICULTURE, by Masayuki Ishikawa, follows Tadayasu Souemon Sawaki, a first-year college student at an agricultural university in Tokyo. Tadayasu has a one-of-a-kind talent that may just come in handy at school: the ability to see and communicate with adorable bacteria and microorganisms! While this series showcases the author's zany sense of humor, the series is so scientifically accurate it's legitimately educational, too! The cute creatures have been a merchandising hit in Japan. A hilarious comedy and fantastical drama, MOYASIMON: TALES OF AGRICULTURE is otaku-friendly and filled with scientific facts, making for a unique manga experience. Del Rey Manga editor Tricia Narwani says, "Del Rey Manga has always ventured into new territory with our list, but this time, we've licensed something that has a true claim to total originality: the wholly unique and irresistibly charming Moyasimon: Tales of Agriculture." The manga will make its North American debut in Fall 2009. FUNimation FUNimation will be releasing the live action adaptation of Mushi-shi aka Bugmaster in 2009. MUSHI-SHI is an award winning film from Director/Writer Katsuhiro Otomo. Cinematical says, "You'll love this film," and Variety says the film is "an eclectic mix of melancholy and magic." The film has played at prestigious film festivals such as the Sundance Film Festival, the Toronto International Film Festival, the Sitges International Film Festival and received its world wide premiere at the Venice International Film Festival. Resembling Yuki Urushibara's manga, MUSHI-SHI follows the journeys of Ginko, a quite, peculiar, traveler. He lives his life going from town to town helping out people with unique problems of an eerie nature. Ginko is a "Mushi-Shi," a Bugmaster. "Mushi" are neither good nor evil, they are life in its purest form. With extraordinary special effects by Nobuaki Koga, who worked on NEON GENESIS EVANGELION, MUSHI-SHI is an ethereal and yet chillingly beautiful story of mystery. Yen Press (manga) Hero Tales - manga by Hiromu Arakawa (Full Metal Alchemist) Spice and Wolf - novels by Isuna Hasekura and Ju Ayakura's Spice and Wolf Welcome to Wakaba-soh - manga by Chako Abeno

*

ADV is refusing to confirm to deny that company representative Matt Greenfield announced that the company had licensed moe-romance Clannad at South Dakota's Sogen Con 2008
GodMars DX sent in an update, noting that Macross Frontier ended its 25, final episode, with the announcement that the latest entry in the popular franchise will be continued in the upcoming movie "Macross F Theatrical Edition Start."

Iwa no Hana translates Michiko to Hatchin character info (from the makers of Samurai Champloo From Anime News Network Anime/manga Yomigaeru Sora - RESCUE WINGS - will be adapted into a Masaaki Tezuka live action movie Level5 announced that a theatrical anime movie based on the Professor Layton games is in development. Sunrise will be launching Sora o Kakeru Shojo [Sora Kake Girl or "The Girl Who Leapt Through Space (the Heavens)"], an apparent play on the title of The Girl Who Leapt Through Time. Bandai Namco announced that Tales of Symphonia: Tethe'alla Chapter, based on the game, is going into production. An OVA based on Koihime†Muso, the adult game moe retelling of the Romance of the Three Kingdoms will go into production. A TV anime recently ended. Trailers/Previews Macademi Wasshoi! Tytania
FUNimation has announced the voice cast to be used in their Zach Bolton directedEnglish localication of BONES' Darker than Black. Produced by studio BONES, the animation studio behind Fullmetal Alchemist, Darker than BLACK is a enigmatic story about a new and deadly breed of covert agent now walking the streets. Known as "contractors", these spies and assassins wield supernatural powers to carry out the dirty work of others. The cast, directed by , features voice actors from the best of FUNimation Entertainment series including Beck, XXXHOLiC and School Rumble. Jason Leibrecht - Hei Brina Palencia - Yin Kent Williams - Mao John Swasey - Huang Kate Oxley - Misaki Kirihara of the Public Security Division Christopher Sabat - Yasuke Saito Todd Haberkorn - Yutaka Kono Troy Baker - M16agent November 11 Nazia Chaudry - April Cherami Leigh - July Laura Bailey - Amber and Chuck Huber - Nishijima FUNimation Entertainment is set to release the first volume of Darker than BLACK on DVD on November 25, 2008.
Media Blasters has notified retailers that the sixth Voltron: Defender of the Universe has been delayed to December 23rd, while volume has been pushed back accoredingly.
Digital Manga Inc. announced that its online content service eManga digital manga rental service has completed its beta stage and is now open for business. On eManga, content is not downloaded, but is streamed through the Adobe Flash player, which means that users can access their library wherever they have an internet connection. The customized reader also supports extra features, such as a panel-by-panel mode that helps users easily follow the flow of a story. Additional features and performance improvements are constantly being added, and users are encouraged to shape the development process by providing feedback and suggestions. For a limited time, the standard rental price has been lowered to 300 points for 72-hour access. Users can also "keep" their favorite titles by re-renting them at a discounted price, which means that they have unlimited access to that content. Currently, eManga offers points in four different packages. The standard package costs $10 for 1000 points, but higher packages come with free bonus points. New titles are being added on a regular basis, and the site will feature not only manga and novels, but also will introduce original creator content. For a limited time, L'Etoile Solitaire by Yuno Ogami is being offered for free in its entirety.
Kotaku has posted screenshots for the Level 5/Studio Ghibli Nintendo DS collaberation here via Majoria News, "Endless Frontier," the name of the Orignal Generation Super Robot Wars side story was was registered as a trademark by Namco Bandai in the US. Tatsunoko vs Capcom: Cross Generation of Heroes Yattaman for Wii
Bandai Entertainment Inc. announced that it will release the Akira Blu-ray under the "Honneamise" label on February 24, 2009 for at the SRP of $49.98. The AKIRA Blu-ray will feature visuals from a new Hi-Def transfer made from original materials and include English and Japanese audio and with optional English and Japanese subtitles. In an industry first, the disc will also contain a 192 KHz 24 bit audio stream. Additional specs are as follows (subject to change): --Blu-ray Disc /Color/124 min. / Japanese & English audio tracks* / Japanese & English subtitles *Japanese audio for main feature only will be 192 kHz 24bit --Dolby True HD (5.1ch), Linear PCM (Dolby Surround) / AVC/BD50G / 16:9 <1080p High Definition> --Bonus Material: Teaser No.1, Teaser No.2, TV Commercial, Trailer No.1, Trailer No.2, Storyboards --Bonus Item: Special 20p Booklet
Via Anime News Network Radix mobanimation file a law suit against production company Micott & Basara for unpaid projection costs on Appleseed Genesis. Radix states that Micott & Basara ordered a halt in the production at the beginning of July without explanation or payment. The overall profits of Japanese satellite channel WOWOW has fallen $39% in the current fiscal versus the previous one, due to weakness of the dollar against the yen. Overall profits fell 39% to US$19.8 million (2.1 billion yen) in overall profits and a 45% drop in operating profits to US$28.3 million (3 billion yen) . WOWOW has focused on mature audience anime, including Afro Samurai, Cowboy Bebop and Paranoia Agent. Via Animation Insider Toei Animation Co., Ltd. issued a report on that reveled that the production group also earned a substantially less net profit through Fiscal Year 2008, which ended in March 2008, in comparison to it's results for FY2007. From Animation Insider's coverage The company reportedly recorded revenues of JPY ¥21.148 billion, for FY2008, a gain of +4.9% over the 2007-year. Although sources have cited Toei as having revised their earnings forecast both last fall as well as just this past spring (for the rest of 2008, into FY2009); the anime production company's emphasized interaction with international broadcasters beyond domestic, consolidated efforts may or may not prove helpful in the immediate future. Over the past year and a half, the group has sold millions of shares to corporate partners, some domestic, some of them international, and often in great bulk of several hundred thousands. Additionally, the cartoon producer's difference between revenue and the costs of operations -- operating profit -- for this past fiscal year, was estimated at JPY ¥2.726 billion; a sizeable decrease of -17.6%, in a fiscal year to fiscal year comparison, according to Dataminor. Toei's "ordinary income" -- the highest amount of taxed profit -- saw a drop of -22.1%, to JPY ¥2.938 billion. There was however, an even heavier of a difference with Toei Animation Co., Ltd.'s final, net profit, post-deductions -- "net income" -- which was recorded at JPY ¥1.685 billion; a decrease of more than half, of -54.1%, in comparison to the previous year. Total assets were down -03.1% to JPY ¥32.758 billion; while net assets, as shareholders' equity, was down -03.7% to JPY ¥27.231 billion.
Del Rey Manga, an imprint of Ballantine Books at the Random House Publishing Group, in collaboration with Cartoon Network Enterprises, announced a new manga publishing partnership that will launch with original manga based on two of Cartoon Network's Bakugan Battle Brawlers and Ben 10 Alien Force. This announcement marks the first partnership between Cartoon Network and the Random House Publishing Group's manga imprint. The first graphic novel, Bakugan Battle Brawlers: The Battle Begins will be released in December 2008. The release will incorporate full-color stills from the animated show in a manga-style graphic novel format. A second volume will follow in March 2009. Ben 10 Alien Force: Ben 10 Returns, utilizing the same format, will be released in April 2009. Original black-and-white, manga-style graphic novels based on Bakugan and Ben 10 Alien Force will release in Summer 2009 and Fall 2009, respectively.
Anime on DVD lists that ADV Films will be release the following in November 11-4 MAPS (2008 Edition) - 100 mins - $19.98 Saiyuki: Complete Collection (2008 Edition) - 1250 mins - $99.98 11-11 Best Student Council: Complete Collection - 650 mins - $49.98 Nadia, Secret of the Blue Water: Complete Collection 1 (2008 Edition) - 500 mins - $49.98 11-18 Chrono Crusade: Complete Collection (2008 Edition) - 650 mins - $89.98 Evangelion, Neon Genesis: Platinum Collection (2008 Edition) - 705 mins - $109.98 11-25 Area 88 OVA - 195 mins - $19.98 Bubblegum Crisis - Tokyo 2040: Complete Collection (2008 Edition) - 650 mins - $49.98 Guy: Double Target - 65 mins - $29.98 Happy Lesson: Complete Collection (2008 Edition) - 425 mins - $39.98
Via Anime Nation and Tokyograph, Oricon has published the results of survey of 14-19 year olds who named the most interesting manga that they read: 01. One Piece 02. Slam Dunk 03. Dragon Ball / Death Note (tie) 05. Gintama 06. Love Com / Nodame Cantabile (tie) 08. Detective Conan 09. Hana Yori Dango / Fullmetal Alchemist (tie)
Insight Patrick Macias' Podcast: Hot Tears of Shame - Episode Twenty-Eight Matt Thorn quantifies Just how much do those Japanese read manga? Production I.G presents A Golden Light in the Dark: The Making of Reideen CG Animation (2) Toonami Jetstream features an interview with the creative directors who originated Toonami, Sean Akins and Jason DeMarco. An older interview with MeMarco can be read here ToonZone has posted indepth reports from the New York Anime Festival's panels Vertical had interesting things to say at NYAF, making ANN and a geek by any other name's reports worth reading. The Advocate talks about yaoi and yuri Viz's Mike Montesa on Black Lagoon manga Roland Kelts on SOFT POWER, HARD TRUTHS / Japan's global power: soft or wilted? ADV spoke to Publishers Weekly on the impact pf Hurricane Ike The question is being raised again, what's the resolution for NewType USA/PiQ conscribes who had subscriptions when the magazine was shuttered? Mecha Mecha Media Comics Worth Reading DC's Minx label looked like a reaction to the success of shoujo graphic novel collections. Now, it's been cancelled. Christopher Butcher weighs in Round-ups of perspectives on Comics 212 Newsarama Comics Worth Reading The Beat Worries for DC's CMX label 4Kids never managed to do anything with their licensed of Pretty Cure. Ogiue Maniax on what this means. Anime Alminac compares Yen Plus to the defunct anthology Raijin 741.5 Comics analyses Dororo IVC2 has posted a four-part interview with Gonzalo Ferreyra, Viz Media Vice President of Sales and Product Marketing here, here, here and here Episode 76 of Right Stuf's Anime Today podcast features an interview with om Flinn, ICv2.com's vice president of content. A long-time industry observer who writes the regular "Anime on American TV" column for the ICv2 Guide to Anime and Manga, Flinn provides a historical perspective on the effect television has had on the North American anime industry. Also, Flinn discusses the impact television trends have had on "Region 1" licensing decisions and the introduction of new fans to anime. And he shares his thoughts about the current state of anime on television, the most recent programming trends, who is driving these trends, and how fans can constructively voice their opinions to decision makers. Part 4 of Patrick Macias' look at Individual Fashion Expo Fall '08 anime season preview in haiku On the non-anime animation front, via Cartoon Brew, Seth McFarlane's work dissected. Only the moving pieces in McFarlane's Cavalcade of Cartoon I'd offer this contrast, when anime was cell animated.... Media Check out Ralph Niese's awarding winning Vampirella ReVamp The Street Fighter IV animation is surprisingly lifeless Kazuo Umezu Orochi shirt here and here Speaking of the Same hat! side of things, Same Hat! Same Hat! looks at spacecoyote's Death Note/Simpsons parody. An Urasawa monument of sorts For those who remember when caring around Megatron could get you shot by a copy Otaku USA reports from the NinjaTown preview at Double Punch via Awesome Engine Gasaraki and Noh Alt Japan posts terrifying Star Wars karuta Misc Harlock rumors The Onion invokes Voltron