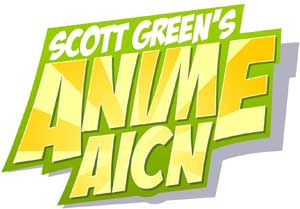 Logo handmade by
Bannister
Column by
Scott Green
Anime Masterpieces Preview
On September 27th, the Anime Masterpieces program will premiere their Grave of the Fireflies presentation at the UC Berkeley Pacific Film Archive. Panelists at the event include Roland Kelts: author of Japanamerica: How Japanese Pop Culture has Invaded the US, Lecturer at the University of Tokyo and the University of the Sacred Heart Tokyo, an editor of A Public Space literary journal, and a columnist for The Daily Yomiuri Susan J. Napier: Professor of Japanese Studies at Tufts University, author of The Fantastic in Japanese Literature: The Subversion of Modernity, Anime from Akira to Howl's Moving Castle, and, most recently, From Impressionism to Anime: Japan as Fantasy and Fan Cult in the Mind of the West Frederik L. Schodt: author of Manga! Manga! The World of Japanese Comics, Dreamland Japan: Writings on Modern Manga and The Astro Boy Essays: Osamu Tezuka, Mighty Atom, and the Manga/Anime Revolution Ian Condry: Foreign Languages and Literatures at MIT, author of Hip-Hop Japan: Rap and the Paths of Cultural Globalization

*

Grave of the Fireflies ©1988 Akiyuki Nosaka/Shinchosha Co. All rights reserved. Grave of the Fireflies is Isao Takahata's adaptation of Akiyuki Nosaka's semi-autobiographic novella concerning a pair of orphans in the wake of America's 1945 firebombing of Kobe, Japan. While Takahata's renown is eclipsed by Hayao Miyazaki's on the international stage, Takahata was never the less a vital partner throughout the history of Studio Ghibli, and Grave of the Fireflies marked his transition from directing Toei Doga adventures to the realist or reminiscing works that he would produce at Ghibli. The 1988 anime film was initially released in Japan as a double feature with Miyazaki's buoyant fable of two sisters encountering a fuzzy forest spirit, "My Neighbor Totoro." While Totoro would go on to become Ghibli's mascot, the rationale for pairing Takahata's animated requiem with Miyazaki's soon to be beloved pastoral was the commercial uncertainty surrounding Miyazaki's idea. The contrast between My Neighbor Totoro, in which the difficulties of real family dynamics are able to be glimpsed, but largely obscured beneath the wonder, and Grave of the Fireflies' irresistible insistence on facing reality is stark. As the Anime Masterpieces study guide states "Takahata has noted in interviews that the story in Grave of the Fireflies is brutally simple: two orphaned siblings try and fail to survive in postwar Japan." To quote Nausicaa.net quoting Takahata on the Central Park Media DVD release of Grave of the Fireflies. (CPM is largely dormant in terms of marketing/distributing anime, so while the DVD is not hard to find, it is getting scarcer) The film was very well received from the start because of its themes, of course. People thought it was a very meaningful work. It was a little awkward in a way, because it was double-featured with My Neighbor Totoro. The response was different depending on which film was shown first. My Neighbor Totoro would make them happy, then this Grave of the Fireflies... Those who saw Totoro first didn't want to see Fireflies to the end. Those who saw Fireflies first didn't have that problem, and stayed to the end. The double featuring was a problem, I'd say. Miyazaki and Takahata would cross trajectories at times during their careers. Miyazaki's Nausicaa manga would start with one of his undauntable female heroines swooping through danger as she glides into the fungal forests of a post apocalyptic world. When he finally completed the manga 14 years later, the character's defining heroism had turned from her bright eyes, open heart and quick thinking and become her ability to move forward no matter how much she wanted to weep for what she saw. Meanwhile, Takahata's works developed a fantastic resignation, as in the Que Será, Será closing musical number in My Neighbors the Yamadas or the final push as the shape changing tanuki lose their natural habitat in Pom Poko. Wikipedia notes that on Ghibli's Otsuka Yasuo no Ugokasu Yorokobi, the great animation director Yasuo Otsuka (Castle of Cagliostro) stated "Miyazaki gets his sense of social responsibility from Takahata and that without Takahata, Miyazaki would probably just be interested in comic book stuff." Part of the greatness of Grave of the Fireflies is that despite its origins as a personal story, it is also universal. The recent film The Boy in the Striped Pyjamas adapts John Boyne's novel of a boy who is the son of the commander general of Auschwitz. Speaking of the novel, Boyne wrote "For me, a 34-year-old Irish writer, it seemed that the only respectful way to approach the subject was through innocence, with a fable told from the point of view of a rather naive child who couldn't possibly understand the horrors of what he was caught up in. I believe that this naivety is as close as someone of my generation can get to the dreadfulness of that period." It's critical to note that Akiyuki Nosaka was not removed from the experience of post war Japan as depicted in Grave of the Fireflies and neither was Takahata. (Hayao Miyazaki was born into a family that made airplane parts and his experiences in the post war year informed a My Neighbor Totoro rather than a Grave of the Fireflies.) While Grave of the Fireflies was written and adapted from the perspective of personal experience, by artfully and convincingly relating its story through the vantage of children, Grave of the Fireflies can speak to an American audience a decade into the 21st century. Unlike the majority of anime, Grave of the Fireflies is not escapist entertainment. Works of its emotional impact often require extra motivation to seek out. Given that it is probably a fair generalization that the last thing most people gravitate to is a cause for lingering sadness, this is one of those DVDs that are libel to sit on a shelf unopened. Hopefully, the opportunity to hear from topical authorities offered by Anime Masterpieces will be a compelling factor that draws audiences to this important film.

*

Especially since its boom in the late 90's it's more or less always been an interesting time to follow anime. Depending on the vantage, it currently looks like watching a collapse. Hardly short on company these days, its economic woes are extensive. Long time distributors have struggled, gone dormant or gone out of business. The number of new productions to be licensed for distribution in North America has drastically shrunk, while the idea of releasing older anime is now largely viewed as an untenable proposition. Unauthorized digital distribution has replaced the recently cancelled Cartoon Network Toonami programming block as a primary channel for introducing to anime content. In contrast to the problems that anime production and distribution face in remaining viable, commercial enterprises, there is apparently no shortage of interest. One of the more noteworthy expressions of this enthusiasm is the continuing expansion and diversification of anime focused events. Recent or upcoming events include: UK's Barbican Film retrospective on Osamu Tezuka, marking the 80th anniversary of his birth Anime Weekend Atlanta (September 19-21) the 14th iteration of an anime convention with a reputation for attracting long standing, informed anime fans The annual "Schoolgirls and Mobilesuits" (SGMS) workshop at the Minneapolis College of Art and Design (MCAD) (September 26 - September 28), hosting speakers including Yoshitoshi ABe (Serial Experiments Lain, Haibane Renmei) The New York Anime Festival, (September 26 - September 28) a convention featuring a unique range of guests Yaoi-Con (September 26 - September 28), a special interest event dedicated to yaoi anime/manga NYTFGP2008 Festival Part One, (starting September 28th), showing Studio 4.C and the live action Grave of the Fireflies Providence Anime Conference (October 3-5), an experiment in tailoring the anime convention to a 21+ audience Anime After Dark (October 18th) in Somerville Massaschusetts, screening 12 hours of anime, including Grave of the Fireflies, Ghost in the Shell: Solid State Society, Project A-Ko, Tekkon Kinkreet and Millenium Actress Along with other assorted events As this list demonstrates, while the ability to sell anime DVDs might be dwindling, the ways in which interested media consumers can celebrate or explore anime are expanding. There is a notion of an "anime convention" as a calcified format, in which fans run discussions of popular topics and present their costumes and edited music videos, distribution companies promote their upcoming releases and retailers sell their wares. And many prominent events adhere to this framework, while differentiating themselves with the guests that they host or musical acts that they book. The limitation to the format, or at least how it has been widely implemented, is that it has become the domain of younger fans. At a large anime convention it is difficult to feel comfortable if you are older than legal drinking age and difficult to attract an audience for a panel on a topic like urban vinyls or black and white anime. To this young audience, anime itself and socializing at an anime themed event, is the new or exciting territory. As such, there is little motivation for horizon expansion. Anime Masterpieces is a program that will offer a format for exploring anime outside either a strictly academic or strictly fan focused context. As Roland Kelts explained "One of the things that attracts me to this project is an attempt to bridge the world of anime expos, anime festivals and so on, which are wonderful, but are often a combination of trade fair and fan celebration, with the academic or university based study of anime, which tend to proceed with academic conferences that are not necessarily accessible to the common fan. Academics, authorities and writers can reach out to audience directly rather than just talking amongst themselves."

*

The program is comprised of three components: A screening of the subject work - when possible this will be done with a film print, as intended for a theatrical run, rather than a projected video. A Seminar - lectures an panel discussions in which groups of topical authorities can speak to audiences outside a strictly academic format. A study guide - a collection of essays from academics and authorities providing a broader context to the subject by examining it through cultural, historical and academic lenses. For example, the 20 page Grave of the Fireflies study guide features essays by Kelts, Ian Condry, Susan J. Napier, Brian Ruh (Stray Dog of Anime: The Film of Mamoru Oshii), Frederik L. Schodt and Charles Solomon (Enchanted Drawings: The History of Animation). The guide also offers questions that educators, professors, and teachers can raise in the classroom for further discussion. Instructor's guides are on the program's agenda for future expansion. Host institutions will have an opportunity to select subsets of the components to fit their own anime programming or curriculums. Kelts notes that some universities have put in orders for the study guide exclusively, rather than immediately plan a screening.

*

Anime Masterpieces aims to engage a diverse range of audiences including academics and student, anime fans, or the simply curious. While that sounds like too many intentions to carry out in a single initiative, the Grave of the Fireflies study guide is a convincing demonstration of the widecast strategy's potential for success. Rather than supposing that the reader is approaching the program in with set of knowledge or interests, it just supposes that the reader is engaged. Editor in-chief Kelts' essay/introduction and overview "God is in the Details: The Subtleties of War" begins on the macro level, placing Grave of the Fireflies within context of intertwines histories of anime and manga, and the framework for these media as established by Osamu Tezuka. After laying out an overview of the other essays, Kelts transitions into giving the movie a power, personal context, ensuring that the reader the remembers that Grave of the Fireflies is a reflection of situations and events that did happen and did shape the lives of the survivors. Among probably almost any relevant topic in manga, Schodt is an authority on manga's adaptation into anime, especially as it pertains to the work of Tezuka. Here, he applies that understanding of process and the way that the thinking of the adapter may or may not overlap with that of the initial author to Takahata's adaptation of Nosaka's novella. Solomon addresses how Grave of the Fireflies fits within and stands out from the traditions of animated films in North American and Japan. These narratives that Schodt and Solomon relate should interest any appreciator of a major work of any medium Napier's discussion of postwar themes of emasculation in the movie and Condry's links between the movie and emakimono picture scrolls from the 12 century offer more scholastic avenues on which to discuss Grave of the Fireflies. Finally, Ruh's "Anime Perspectives: Transforming the Real" is an invitation to consider where Grave of the Fireflies fits into the scheme of anime. One of the defining characteristics of otaku/geeks is an obsession with categorization, and Ruh's essay opens up a number of gateways to that debate. Though it is possible to best-fit these essays to specific audiences in this way, the discussions do complement each other. Likewise, it is possible to foresee these threads cross-pollinated in a panel discussion. For example, it would be interesting to consider applying the gender studies questions raised in Napier's essay with considerations of categorizing anime raised in Ruh's. Print is only a facet of Anime Masterpieces, but it is telling how the program differentiates itself in that arena. It is possible to fill a shelf or two with scholarly anime books. While these are comprehensible to a lay person, they generally spend more time speaking about the enthusiasts than to them. Conversely, there are a host of anime fan, print resources, but these often approach anime through buyers guides or promotion/advocacy. At their best, these are insightful (Manga: the Complete Guide, various features in Otaku USA or Protoculture Addicts), but they are essentially special interest works. The books that are in-depth, approachable examinations of topics in anime, such as Ruh's Stray Dog of Anime and Andrew Osmond's Spirited Away (BFI Films Classics) have been rare. Yet, along those lines, the Grave of the Fireflies study guide succeeds in bringing together perspectives that could inform a range of audiences, whether they are academic, enthusiast or curious.

*

Anime Masterpiece's second program will look at Studio 4°C's adaptation of TekkonKinkreet. The study guide features essayw by Pulitzer Prize historian, John W. Dower (author of Embracing Defeat: Japan in the Wake of World War II), Susan J. Napier, and Roland Kelts, with additional commentary from Frederick L. Schodt and Charles Solomon as well as director Michael Arias, screenwriter Anthony Weintraub, and Japanese producer Tanaka Eiko. With TekkonKinkreet, Anime Masterpieces hopes to include the artists and creators if host institutions are interested. It takes two points to plot a line, and from a number of standpoints, the pairing of Grave of the Fireflies with TekkonKinkreet looks like the beginning of a course of progression for Anime Masterpieces. In terms of expanding the scope, it is an opportunity to delve into anime's sibling medium, manga. Unlike Grave of the Fireflies, TekkonKinkreet is based on manga, and as such, a discussion of how a serialized manga was adapted into a 110 minute movie should offer Anime Masterpiece a deep vein to mine. In reinforcing what Grave of the Fireflies says of the medium, the pair of movies have the ability to reach out to academic audiences , unfamiliar with anime's diversity and potential. Back when Osamu Tezuka opened Mushi Productions and started the industry of Japanese animation for television, he recognized that the work needed to be produced quickly and cheaply. By necessity, anime has largely been created as a product. That is not to say that it is devoid of artistic merit, but producing animation is seldom inexpensive or easy, as such, anime production often needs to concede to economics and market pressures. This is an important aspect of the story of anime and according to Roland Kelts, Anime Masterpieces hopes to address conventional anime television series with future discussion panels and screenings. Yet, both Grave of the Fireflies and TekkonKinkreet are exceptions in the anime tradition. If as hoped, Anime Masterpieces can run a double feature or weekend presentation of the two movies, the juxtaposition should prove fascinating. Hold up a still of Grave of the Fireflies, where the lineage of Disney and Fleisher is still evident, next to a still of TekkonKinkreet, which looks to the unidealized caricatures of Taiymo Matsumoto's manga, and an eyeball reaction would suggest that they couldn't be more different. Look at them from the philosophical angle, and the parallels begin emerging. They are movies in a tradition that has flourished with its serialized TV. As Kelt notes, both are "aesthetically challenging" works concerning "orphan kids fending for themselves in post apocalyptic, transforming worlds." Takahata with Studio Ghibli and Arias with Studio 4°C push the boundaries of anime and their own bodies of work with this pair of movies. Responding to questions as to whether Anime Masterpieces will address the potential for art in anime and how its chosen subject speak to that potential, Roland Kelts stated The medium can be discussed as an art form and as a reflection of historical moments. One of the reasons that Professor John Dower is getting involved is that he has a career as an authority on Japanese history and Japanese visual representations, but his knowledge stops at anime and manga. He wanted to learn more about what these specific visual representations tell us about Japanese post war history, Japan's images of itself and the world, and what these images tell us about Japan's images of the future. .... To reach out to those academics who may not be acquainted with anime and manga, [Anime Masterpieces] starts with a title like Grave of the Fireflies where there is so much that can be discussed... so much related to academic disciplines such as the study of history, the study of war, the study of cultural expectations in sociology and anthropology...

*

Even among the media junkie crowd of people who watch anime or are keenly aware of it, these conversations on the artistic dimension of anime, raised by Anime Masterpieces are far from settled issues. On one hand, anime comes in for some eye rolling among fans of other spheres of geek media. For example, in a recent 1up.com video game podcast, a commentator had to quickly preface his statement with a disclaimer that he wasn't an anime fan before crediting Grave of the Fireflies as a movie that made him cry. On the other, neither Grave of the Fireflies nor TekkonKinkreet is a beacon for fan enthusiasm in the manner of a lot of popular anime. TekkonKinkreet specifically was the subject of a remarkable amount of ambivalence and criticism within dedicated anime outlets (among user submitted reactions at Anime News Network, the movie is ranked 283 with a Bayesian estimate of 7.84046 out of 10; site founder Justin Sevakis reviewed it with a C- Overall grade, A+ in animation, C in Story). It is easy to spot trends and examples that can be held up as reasons why anime should be disregarded, and those trends and examples likely overlaps the reasons why fans become jaded. The point of Anime Masterpieces does not simply seem to be lending artistic credit to anime. What's interesting about anime is not just that you have cynically produced escapist lead and ambitious gold like Grave of the Fireflies and TekkonKinkreet. It's that the medium seeks out both extremes. There aren't many anime events that delve into questions like these. That Anime Masterpieces does exactly that serves to recommend the event to an audience looking to question the medium.

*

The Anime Masterpieces West Coast launch will take place September 27th in Berkeley, CA. Later events will be held at the Smithsonian in Washington DC on December 6 2008 and at the Boston Museum of Fine Arts February 11, 2009. Roland Kelts will be speaking at the New York Anime Festival September 28th and at The Clark Museum in Williamstown, MA on October 2nd. Kelts will also be conversing with Yomiuri Prize winning novelist Haruki Murakami following Murakami's reading at Berkley's Zellerbach Hall October 11th.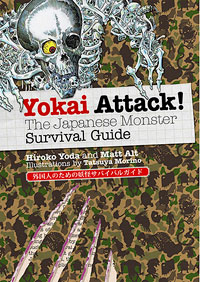 Resources Spotlight: Yokai Attack!: The Japanese Monster Survival Guide Written by Hiroko Yoda and Matt Alt Illustrated by Tatsuya Morino Released by Kodansha International
Yokai Attack! - The Japanese Monster Survival Guide is literally adorable, as in my reaction to reading or thumbing through the volume was "I adore this book." If anyone reading this is on my holiday gift list, there's a good chance that you'll be receiving a copy this December. Much of the following text is going to be from the perspective of propositioning Yokai Attack! as a delight and worthwhile resource to enthusiasts (AICN reader are enthusiastic, right?) but, it's worth noting that I'm convinced that lapsed or non-genre fan will find similar pleasure in Yokai Attack! Those people on my holiday gift list are largely in their mid-late twenties or thirties, many of whom are married, of which there is a good sized subset with children. Pop media luminaries from Osamu Tezuka to Kazuo Umezu to Takashi Miike have recognize the power of depicting a congress of yokai creatures... the subject of a story stumbles into the wrong moonlit forrest clearing and finds that it is crammed with animated heads floating in the air or rolling on the ground, animal-human hybrids who may be beckoning cat girls or ferociously judgmental crow-men tengu, cannibal hags, prosperity house spirits and other representatives of a psychedelic host. The Japanese spirit realm of yokai offers a perspective on the world that is missing from much of our own mythology. Modern American folklore tends to be very human: urban legends of serial killers and other super-predators or creature cryptozoology. In contrast Japan's millennium long yokai tradition tends towards the anthropophagic... closer to banshee, harpies or fauns than chupacabra or hook-hands. A good yokai story breathes life into a murky corner of perception. It takes the fright of a dark corner, the wonder of a natural phenomenon, some metaphor or word play that sticks in the mind and gives it semi-human form. It might take some ferreting out, but one of the fascinating attributes of yokai is that they generally trace back to some mental hang-up. (It makes you wonder when some culture will invent a personification of songs that get stuck in your head.) Coupling affection arresting illustrations by Tatsuta Morino (assistant to Shigeru Mizuki, the Auðumbla of yokai manga) with data and the stories of painfully OCD giants, infanticidal hags and lazy child tormenting "blister-peelers" that are both bizarre and relatable, Yokai Attack! does not require a topical predisposition to enthrall its reader. Yokai Attack opens its preface with "the yokai are the spookiest Japanese monsters that you've never heard of and it's high time that they got their due." At issue, if you're a watcher of Japanese pop media, especially genre media, you've probably SEEN plenty of yokai. Unfortunately, that they were yokai may not have been apparent.

The dead, wet girls of "J-horror" (not a great term, but as David Kalat's J-Horror: The Definitive Guide to The Ring, The Grudge and Beyond notes, it's the most useful of bad alternatives) have their roots in kaiden ghost stories, yokai folklore and kabuki plays. Some of the second tier, more urban legend based stories are more directly yokai related and feature creatures who are detailed in Yokai Attack! If you've seen Japanese TV horror anthologies, you've probably caught the Harry Potter-ish Toire no Hannako, a girl that haunts school rest rooms. The yong woman with a mouth of fangs hidden by a surgical mask who recently appeared in 2005's Kannô Byôtô: Nureta Akai Kuchibiru aka The Slit-Mouthed Woman or 2007's Kuchisake-onna aka Carved: The Slit Mouthed Woman (Toru Yamazaki's manga Octopus Girl has a darkly hilarious version of the character, but given that North American release was cancelled after three of the four volumes were released, presumably almost no one has read it), receives a full curriculum vitae published in Yokai Attack! On the anime/manga side of media, Ghibli fans have probably seen their share of classical yokai (Pom Poko) as well as invented ones (Spirited Away). Translation has frequently been unkind to these legends. The red and blue hulks in athletic outfits that tormented Goku during his trip to the Home for Infinite Losers in Dragon Ball Z were in pre-localization fact, the oni brutes of legend, guarding the kimon demon gate to hell. Try to pass that through your nervous network exec. Speaking of oni, before Inu-Yasha and before Ranma 1/2, Rumiko Takahashi started her first full length series with a humorous repurposing of yokai. The initial gag for Urusei Yatsura was that during an alien invasion, unlucky, lecherous teen guy Ataru Moroboshi was given the opportunity to save humanity by winning a game of tag against a green haired, horned girl, clad in tiger striped gogo boots and bikini. In this case, the tiger motif clothes and horns pointed to the gag that the girl was an original generation Star Trek-style alien version of an oni. Later, Takahashi packed her fairy tale adventure inu-Yasaha with countless yokai, from the animal "demons" of its core cast, to the various shape shifters, imps, and monsters that the heroes encounter. Coincidentally, but worth noting, it's these two yokai centric Takhashi works that won the manga creator her Shogakukan Manga Awards. If you've seen the 2007 hit, Karas, you've seen plenty of yokai. Not to belabor a seemingly purist sentiment, but in genericizing the "demons," these specific creatures of folklore lose some of their charm. In an age where viewers have probably seen other yokai related anime, in which resources like Wikipedia (and Yokai Attack!) exist, more is subtracted in stripping an anime like Karas of its folklore roots than is gained by simplifying. Especially when introduced quickly, as in Karas, a bowl headed, "water imps" lured out of bathrooms by a promise of cucumbers, is a seemingly random collection of attributes and bewildering MO. Call it a "kappa," pull out Yokai Attack! and without demystifying the odd being, a context can be established. Call the collective oddities "yokai" and not "demons," present the viewer with the utterly bizarre one eyed thing, that hops on one leg and spins its canopy and the goofy oddity can be identified as a "kara-kasa," an umbrella species of the tsukumo-gami, "ninety-nine gods" or human artifacts that gained sentience and mobility after their ninety ninth year of existence, often disgruntled for being discarded. Fairy tales have rules. That's part of the fascinating charm. As such, when localizing stories from one culture where the rules are known, to another where they probably aren't, giving an information savvy audience a clue as to where to find these if curious can hardly be considered a detriment. Once you're armed with Yokai Attack!, go back to Karas and see what you notice.

Yokai Attack! is presented as a scrapbook collection of curiosities. (Graphically, there are sheets "stapled" in, samples "pasted" on, annotations in red pen, ect) Yokai entries are categorized into "Ferocious Fiends," "Gruesome Gourmets," "Annoying Neighbors," "The Sexy and the Slimy" and "The Wimps" tabs. Then, each of the 42 yokai entries is blocked into cards cataloging the data (how to pronounce its name and what the name means, what to watch out for and where to watch out for it) as well as detailed descriptions of the yokai's "claim to fame," "the attack!," "surviving an encounter" as well as explorations of topics relevant to the specific ghoulie, such as why fork tailed cats are (or were) given to licking up lamp oil, lucky tanuki testicles or reports of black bubble-like umi-bozu mating phenomena. Continuing the scrap book metaphor, the pertinent bits are highlighted. For example, the "bridge princess" hashi hime is "essentially an anti-Cupid, a super-stalker." The bewitching full page Morino illustrations are joined by classical prints, context photos and images of yokai related human artifacts, such as masks, shrines, karuta cards and even dvds. As that list suggests, the book transitions in and out of the conceit that yokai are actually beings that you might stumble onto at the wrong isolated spot on the wrong night. Dorotabo, the three fingered, one-eyed rice-paddy mud-man exemplifies this. "The Attack!" details what you'd hear if you crossed into Dorotabo territory and the likelihood of the mud man causing physical harm. "Claim to fame" relates the various tales in which dispossessed farmers gave birth to the sloshing Cyclops. A third approach offers a scholarly look into the origins of the Dorotabo: that woodblock print artist Sekein Toriyama invented and/or popularized it as part of a metaphor for a set of brothels. The scrapbook metaphor gives Yokai Attack! the look a of a meticulous hobbyist's labors. The metaphorical collector, who did all the stapling, highlighting, and note typing, grabbed all the yokai facts, regardless of whether they were working off the supposition that yokai exist or from an anthological study of the yokai's background. That feed of a condensed, rounded look at the lore makes Yokai Attack! an ideal coffee table book. You can flip through, skim the images and data column then spend five minutes reading about the akananame "filth-licker" or futakuchi onna "woman with two mouths." The best endorsement of the spooky and/or goofy legends is that they'll take permanent residence in the part of the brain that catalogs camp fire tall tales, Halloween songs, and Scary Stories to Tell in the Dark. At the same time, the text offers enough cultural insight as to come away with some understanding of the yokai. An element of the book's charm is the interesting patterns that emerge from the dense collection of yokai lore. There is the common ground that yokai seem to stem from things that people, perhaps irrationally, give to much thought to, from the potential for food poisoning to dirty bathrooms. Then, there is the issue of how one is to deal with yokai meetings. Officially, its through caution and etiquette. Unofficially, a number of stories pivot on Ulyssian trickery. However, if you flip through the book and look at the Morino illustrations and the classic prints, people seem to be in the habit of throwing caution to the wind. Like the kid who proclaims "I'd fight the Gremlins!," there is always some samurai grabbing a tengu by its nose or shooting the nue with an arrow or wrestling a kappa. It could be a skyscraping skeleton and some guy's still ready to whack at it with a sword. With plenty of this sort of human dimension complementing the world of the weird and wondrous, regardless of whether the book is an introduction to yokai or expansion upon one's familiarity with the subject, Yokai Attack! is an absolute pleasure to read. For more Yokai see the Alt Japan blog, YokaiAttack.com and the Facebook group Matthew Penney has recently posted a translation of Mizuki Shigeru's "War and Japan," commentary on World War II employing the yokai from GeGeGe no Kitaro here
Coinciding with their panel at Anime Weekend Atlanta, Cartoon Network announced they would terminate their Toonami programming block as of September 20th. Toonami, which premiered March 17, 1997 anime series and was credited as a key factor in popularizing the medium. Many observers have sighted that the block fell out of favor with the network for attracting audiences that skewed too old for the intended advertising sales and for featuring IP not owned by the corporation. Online content will continue to run through the Toonami Jetstream page. The network has a slate 15 unaired episodes of Naruto that they will schedule, but the network would not address plans for the series beyond that slate. According to Bandai Entertainment, Code Geass R2 will air on Cartoon Network's Adult Swim programming block following the completion of the first season in October. The new character Rolo will be voiced by Spike Spencer in the English localization. Cartoon Network mentioned that the political mecha series has not performed as well in ratings as the network would have hoped. The Powerpuff Girls Z anime series will air next year. MTV's Splash Page blog notes that the Batman: Gotham Knight anime anthology will on the Cartoon Network Saturday, October 4 at 9 p.m Variety has recent taken a look at the upcoming battle between Disney XD and Cartoon Network for the 9-14 year boy audience
According to GhibliWiki, VAP announced that the Castle of Cagliostro Blu-ray edition of Hayao Miyazaki's Lupin III action anime will be released on December 3. Lupin the 3rd: BD Boxset of the 1st and 2nd TV series will be released on December 12. Via Anime News Network The second anime series adapting Peach-Pit's magical girl Shugo Chara! will be titled Shugo Chara!! Doki and run on Japanese TV starting October 4th. Aoi Nakamura of idol group Morning Musume will star in a live-action television adaptation of Motohiro Katou's detective manga Q.E.D. AnimeNation notes that Madhouse's adaptation of Hiromoto Sin-Ichi's horror comedy Hells Angels, will be a movie rather than an OVA. The feature will premier at the 21st annual Tokyo International Film Festival next month. Trailers/previews Michiko to Hatchin has its own YouTube Channel Lucky Star OVA Macademi Wasshoi! Switch OVA
Summit Entertainment announced the they will be releasing the Imagi produced CG Astro Boy in North America on Friday, October 23, 2009 The will bow on over 3,000 screens across North America. International release dates for the film are to be announced soon. Astro Boy'scast features the voices of Nicolas Cage, Donald Sutherland, Nathan Lane, Bill Nighy and Eugene Levy with Freddie Highmore in the title role. David Bowers (Flushed Away) is directing Astro Boy from a screenplay written by Timothy Harris (Trading Places, Kindergarten Cop), with Maryann Garger producing.
ICV2 reports that 4Kids Entertainment has let the rights to magical girl anime Pretty Cure expire and revert back to Toei. 4Kids, who programs blocks on the CW network and Fox, never scheduled the show to air on North American TV. The Daisuke Nishio (Dragon Ball Z) direct anime is available in subtitled versions via IGN's Direct2Drive Website.
The schedule for NYTFGP2008 FESTIVAL: Part One is as follows Ticket Information Price $10/ Film Ticketing online: www.inticketing.com Phone : 1-866-55-TICKET Confirmed guests: Jun Kawaguchi (77BOADRUM director), Izuru Kumasaka (ASYL director), Shogen (BLOODY SNAKE UNDER THE SUN main cast), Anji Matsumoto (KAMACHOP director) and more. FILMS & SCHEDULE 9/28 Sun 6:00pm NYU Cantor *Special Video Greeting by Actor Before the Screening *CORAZON DE MELON (Makoto Tanaka) International Premiere 10/07 Tue 7:00pm Tribeca Cinemas *ASYL – PARK AND LOVE HOTEL(Izuru Kumasaka) North American Premiere *Q&A with Director Kumasaka 10/08 Wed 7:00pm Tribeca Cinemas * DEATH OF DOMOMATA (Shutaro Oku) International Premiere *Q&A with Director Oku or Video Message (TBD) 10/09 Thu 7:00pm Tribeca Cinemas *THE CHASING WORLD (Issey Shibata) US Premiere 10/12 Sun 2:00pm Anthology Archives *GENIUS PARTY (Atsuko Fukushima, Shoji Kawamori, Shinji Kimura, Yoji Fukuyama, Hideki Futamura, Masaaki Yuasa, Shinichiro Watanabe) NY Premiere 10/13 Mon 7:00pm &9:15pm Anthology Archives (1) *77 BOADRUM (Jun Kawaguchi) International Premiere *Q&A with Director Kawaguchi (2) *Introduction by Director Kawaguchi *77 BOADRUM International Premiere (2nd Screening) 10/14 Tue 7:00pm Anthology Archives *BLOODY SNAKE UNDER THE SUN (Yu Nakai) International Premiere *Q&A with Main Cast Shogen and producer Yamashita 10/16 Thu 7:00pm Tribeca Cinemas *KAMACHOP (Anji Matsumoto) International Premiere *Q&A with Director Matsumoto

*

Professor Ian Condry has announced the '08-'09 events for the MIT/Harvard Cool Japan research project. This year's theme is "Virtual Worlds, Real Politics," through which we explore various ways Japanese popular culture and media are intertwined with contemporary political issues. Topics include youth violence, election campaigns, digital/mobile media and youth politics, and the linkages of gender, animation and robotics design in Japan. All events are free and open to the public. Oct. 1 (Wed.), 6:00 – 9:30pm Panel discussion; anime screening, Tekkon Kinkreet Tsai Auditorium, CGIS South, 1730 Cambridge St., Harvard University, Cambridge, MA * 6pm panel discussion, 7-8:45pm screening, 8:45 – 9:30pm Q/A and discussion (seating limited to 150; first come, first served) * Panelists: Susan Napier (Tufts), Markus Nornes (U Michigan / Harvard), Anthony Weintraub (screenwriter, Tekkon), Ian Condry (MIT) * The R-rated film Tekkon Kinkreet (2006, Dir. Michael Arias) features stunning visuals and a hard-boiled story of youth violence and corrupt capitalists. It is also the first feature-length Japanese anime to be directed by an American. It won the Japan Academy Prize for Best Animated Feature in 2008. Oct. 21 (Tue.), 7:00 – 10:00pm Film screening, Campaign, then Q/A with director Room 32-141, Stata Center, 32 Vasser St., MIT, Cambridge, MA * The documentary Campaign (2007, a.k.a. Senkyô, Dir. Soda) follows the 2005 local election campaign of a political neophyte caught up in the big party politics of Japan's ruling Liberal Democratic Party. The screening of this black comedy will be followed by a discussion and Q/A with the director Kazuhiro Soda, moderated by Prof. Ian Condry. * Meet-the-Director Reception will be held 6 – 6:45pm; please email condry@mit.edu for info and to RSVP. Nov. 6 (Thu.), 12:30-2pm, Seminar: Prof. Yoshitaka Mori (Tokyo U of the Arts) "Digital/Mobile Youth in Japan: New Cultural and Political Movements" Room 14N-304, 160 Memorial Drive, MIT, Cambridge, MA * The seminar will examine emerging subjectivities of Japanese young people immersed in new digital media and mobile phones. At a time when 'freeter' (temporary/part-time employees) face the challenges of neo-liberalist and post-Fordist ideologies, the talk will address how young people use new technologies and social conditions to create new styles of cultural life and even to organize new political movements. March 5, 2009 (Thu.), Seminar with Prof. Jennifer Robertson (U Michigan) "Gendering Robots: Posthuman Sexism in Japan" Time and location will be announced soon.

*

The Cinefamily @ The Silent Movie Theatre in LA will present Jerry Beck's Animated Spooktacular Tuesday, October 21st @ 8:00pm Animation historian Jerry Beck returns to the Cinefamily with a special show of the horrific characters, monstrous motifs and the creepiest concepts in classic animated cartoons from the 1930s to the 1960s. Frankenstein's Cat, Casper the Friendly Ghost, and Milton the Monster join forces with the groovy ghoulies, screaming skulls and bloody best of animation's past. Beck will also present several brand new "monsterrific" cartoons and special guest animators to discuss their ghastly influences. Rare 16mm and 35mm prints will be screamed -- err, screened.

*

Anime News Network lists their New York Anime Festival panels
Go! Comi and Wendy Pini will present the world premiere of the first volume of Pini's highly-anticipated graphic novel "Masque of the Red Death" this weekend at Yaoi-con in San Francisco. In re-imagining the classic Edgar Allan Poe short story, Pini has infused "Masque of the Red Death" with elements of science fiction, horror, and yaoi-inspired erotica. "Masque" began as an innovative, highly cinematic Flash-based webcomic on Go Comi's website (www.gocomi.com), where it continues to be hugely popular. Fans have been eagerly awaiting the print edition, which will be unveiled on Friday, September 26th at 11:00 a.m., at a panel in Main Events Room B of the Marriott San Mateo-San Francisco Airport Hotel. The panel will be hosted by Go! Comi's Creative Director, Audry Taylor. Pini will give a presentation on the story and answer questions from the audience on all topics. Immediately after the panel, Pini will have an autograph session in the Lobby. In addition, Go! Comi will have an industry panel immediately preceding the "Masque" panel at 10:00 a.m., and fans are encouraged to attend for new announcements and manga previews, including a presentation on Go's first yaoi title, "Days of Cool Idols."
Ignition Entertainment announced that they will be releasing Blue Dragon Plus for Nintendo DS across North America and Europe in March 2009 Directed by Hironobu Sakaguchi, Blue Dragon Plus features character designs by Akira Toriyama, and a soundtrack by Nobuo Uematsu. Blue Dragon Plus Features Include: * Single Player Campaign With Over 30 Hours of Game Play * Legion vs. Legion o Control up to 16 humans and Mecha Robos to fight against a horde of enemies o Equip your units with items and alter their composition to bolster their strength * Exciting Real-Time Battles and Shadow Fights! * High Quality Dual Screen FMV's Showcasing More Than an Hour of Story Events! * Exciting RPG Elements Such As Item Collection, Character Progression and Robot Customizations Currently a top-rated show on Cartoon Network in the U.S., the story of Blue Dragon centers on a young boy named Shu and several of his friends who possess the ability to control phantom shadows that mirror the actions of their masters. In Blue Dragon Plus, one year has passed since Shu and his companions defeated the tyrannical remnant of the Ancients, Nene. In the midst of the battle, the world split in two and now consists of a myriad of "cubes" that exploded from its depths. King Jibral notices a mysterious cube in the distance suddenly start to move violently, and from it he sees the Shadow of a Balaur, a three-headed dragon, emerge. The enormous and sinister Shadow is just the beginning of the new turmoil and devastation to come. VIZ Media has begun releasing the Blue Dragon anime on DVD. The five episode first volume was priced at 14.98 (U.S.)/$19.99 (CAN).
Kotaku notes that Japanese game developer Level 5 (Professor Layton, White Knight Chronicles) will be working with Studio Ghibli on its "10th Anniversary" game, Ninokuni: THE ANOTHER WORLD for the Nintendo DS. Ghibli will be providing animation for the game. The King of Fighters XII has a trailer Tekken 6 will have a Mecha girl Mobile Suit Gundam: Gundam vs Gundam Next for the arcade, scheduled for Spring 2009 Wangan Midnight Maximum Tune 3 Deluxe for the arcade, scheduled for Winter 2008
VIZ Media, LLC. (VIZ Media) has announced that Joost, will carry the original Uncut (Japanese version/English subtitled) episodes of the hit animated series NARUTO, DEATH NOTE and BLEACH in the United States. Episodes will be made available for free at www.joost.com with new installments being added regularly. Danny Passman, global head of programming for Joost, said, "Our goal is to be the leading online destination for premium, legal anime – and VIZ Media is a key partner in this objective. NARUTO, BLEACH and DEATH NOTE have great fan bases because of their amazing artistry and compelling storylines, and with Joost's social features, these shows will be introduced to an even larger audience." Viz anime on Joost can be seen at here These shows supplement Joost's existing anime library, which includes news, reviews and interviews from AnimeNewsNetwork.com and imagine-nation; dubbed and subtitled versions of Ikki Tousen, Gun Frontier and Saiyuki; subtitled versions of Izumo; and dubbed versions of Astro Boy, Avatar, Blue Dragon, Cosmo Warrior Zero, Mär, Naruto, Samurai Jack and Zatch Bell.

*

Online video service Hulu, has announced a new channel dedicate to anime. The Hulu Anime Channel will offer series from three major Anime providers, Viz Media, FUNimation and GONG. Users can currently watch Naruto, Death Note and Mushi-Shi, and in the coming weeks, Hulu will debut Ikki Tousen and a number of other cult favorites including Bleach, Basilisk, Black Blood Brothers, Kiddy Grade, MoonPhase, Peach Girl and School Rumble. Hulu is focused on providing a high-quality user experience by streaming videos in high resolution and offering additional tools to the user, including a full-screen view option, a pop-out window and much more. Hulu also offers features that enable users to easily clip, share and embed videos on other Web sites, including blogs and social networking sites.

*

Online media distribution site Crunchyroll, and DIRECTIONS, Inc. announced a comprehensive digital media partnership with official availability of acclaimed director Yasuhiro Yoshiura's 2008 episodic anime masterpiece TIME OF EVE episodes 1 and 2 on October 2, 2008. More information can be found at www.crunchyroll.com Each TIME OF EVE episode will be available on Crunchyroll through its advertising-supported streaming and DRM-free download-to-own (DTO) platforms. In addition to the video offerings on its media platform, Crunchyroll will also be offering limited-edition Crunchyland virtual goods to users who visit the Crunchyroll TIME OF EVE official online group. Title Synopsis: The future, probably Japan. Robots have long been put into practical use, and androids have just come into use. Influenced by the Robot Ethics Committee, it's become common sense for people to treat androids like household appliances. Their appearance - indistinguishable from humans except for the ring over each android's head – has lead some people to empathize unnecessarily with androids. Known as "android-holics," such people have become a social problem. Rikuo (Jun Fukuyama), a high school student, has been taught from childhood that androids are not to be viewed as humans, and has always used them as convenient tools. One day Rikuo discovers some strange data in the behavior records of his family's household android. Rikuo and his friend Masaki (Kenji Nojima) trace Sammy's (Rie Tanaka) movements, only to discover a mysterious café that features a house rule that "humans and robots are to be treated the same" . . . Streaming: Free. Download-to-own: $2/episode only for PC; $3/episode for PC plus badge bonus; $5/episode for PC, iPod, PSP plus virtual item and badge Cast and Staff Rikuo - Jun Fukuyama Masaki - Kenji Nojima Sammy - Rie Tanaka Nagi - Rina Sato Akiko - Yukana Koji - Michio Nakao Rina - Miki Ito Shimei Motomu Kiyokawa Chie - Miyuki Sawashiro Setoro - Tomokazu Sugita Naoko - Yuko Mizutani Dr. - shimori Yuriko Yamaguchi Story, Script, Director - Yasuhiro Yoshiura Character Design, Key Animation Supervisor - Ryusuke Chayama Assistant Directors - Nobuyuki Ando, Shuichi Akui 3D Modeling Assistance - Osamu Ono, Yasufumi Matsumoto Art Direction Assistance - Kodama, Kazuhiro Hotchi Color Design - Akiko Inoue Key Animation Check - Kumiko Ohtani Animation Assistance- Code Painting Assistance - Wish Music - Tohru Okada Sound Effects - Kazumi Ohkubo Sound Mixing- Masashi Furuya Production Supervisors - Yuya Maie, Yuji Abe Producer - Tom Nagae Animation Production - StudioRIKKA Production - DIRECTIONS, Inc.
Anime News Network and Hyrule.net report that after the October and December release of Akira Himekawa's two volume adaptetion of The Legend of Zelda: Ocarina of Time, VIZ Media will be releasing the one-volume The Legend of Zelda: Majora's Mask on February 3, 2009, and The Legend of Zelda: Oracle of Seasons (Zelda no Densetsu: Fushigi no Kinomi Daichi no Shou or The Legend of Zelda: The Mysterious Nut, Earth Chapter), on April 7. The latter volume has a sequel called Zelda no Densetsu: Fushigi no Kinomi Jikuu no Shou (The Legend of Zelda: The Mysterious Nut, Space-Time Chapter), but there is no English-language release scheduled for that yet.
Sideshow Collectables has a limited number of the 12" Real Action Hero 25th Anniversary Version Fist of the North Star Kenshirou Figure in story. the figure retails for $249.99.

Medicom Toy's vinyl collectible Gohan is available for pre-order at Sideshow Collectables. The figure will be released 2nd Qtr 2009 for $64.99.

Organic Hobby, Inc in conjunction with Happinet will be releasing SMC "Ekitoku Chouhi" Ikkitousen in December with a SRP of $110.00. Based on the manga by Yuji Shiozaki, Ikki Tosen blends action and Chinese legend. The anime is released in the US by Geneon Entertainment. TOKYOPOP publishes the manga in English as Battle Vixens. The powerfull "Ekitoku Chouhi," is being introduce in her highly detailed outfit and comes in a window box with her weapon of choice. The figure is 8" tall fully painted and comes in a window box with a custom base for display.

*

CollectionDX coverge that is especially worth a look Shin Seiki Gokin ATRAGON from Aoshima / Miracle House L-Gaim 1-meter long Anguiras sofubi from Skynet SRW Dygenguar Model kit from Kotobukiya Dygenguar's a rather impressive mech

*

SD Snake Eyes Darth Vader Knuckle Bear My Little Pony Stormtrooper Animated style Cy-Kill
Media The Minisode Network abridges Voltron Via Robot Japan Designer Nagi Noda's (Honey and Clover opening) final music video More of her work here Devil Man fan art Shintaro Kago t-shirt Dr. Slump socks A very strange Golgo13 cellphone strap Gurren Lagann boota plush Miman Renai looks creepy Miman renai is a manga by Takashima Hiromi running in Comic High! about a 29 year old guy who's working as a programmer in a eroge company who falls in love with a real middle school girl. iDOLM@STER gets creepier Totoro in clock form In college, there was a friend's girlfriend who absolutely refused to watch anime. At one point, the girlfriend's sister visited and the topic of anime came up. When the sister asked what anime was, the girlfriend responded "you know... like Jem and the Holigrams. That's one reason why I love this Ghost in the Shell, Warhammer 40k: Batou and the Major/a> Speed Racer Gas and Go-Go-Go! Fall anime fashion part one and part two Matt Thorn posted Follow aicnanime