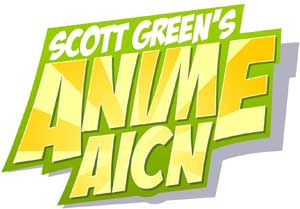 Logo handmade by
Bannister
Column by
Scott Green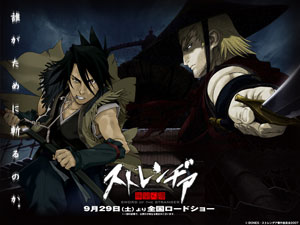 Anime Spotlight: Sword of the Stranger To be released by Bandai Entertainment Screening at the The ImaginAsian in New York and ImaginAsian in LA starting July 18
Skipping past act one, scene one, which reveals that, unfortunately, the kids and critters quotient of the movie is going to be driven up by plenty of onscreen time for a boy and his dog... Sword of the Stranger closes in on a preying mantis as it lingers on a rain soaked tree branch before panning over a ravine to spy on the convoy of red-cloaked strangers about to move their guarded cargo across the gap. A scout, hiding below that branch-perched mantis stirs, and reports back to a haunt full of sketchy folks, who had been keeping dry by sharpening weapons, gambling, or otherwise killing time in a den of vice. And the ambush is on... The movie is set during the Sengoku or "Warring States" period of Japanese history. This was the height of the samurai's role as a battlefield presence rather than social enforcers. Marked by large scale power-contests, as well as natural disasters, media, especially genre media, remember this period as a desperate time of chaos. Think Kurosawa's Seven Samurai and Ran, or Osamu Tezuka's Dororo. In keeping with that tradition, this ambush is muddy, and desperate. In its opening instants, the convoy's guide is shot through the throat with an arrow. Horses bolt. Cattle fall into the ravine. Then, the script is flipped. An order is issued in Chinese. A tall, blonde man from among the group in the red cloaks begins advancing, redirecting the volleys of arrows by spinning his cloak. He gets to the fallen guide, grabs the body, and uses it as a shield as he starts running to the attacking bandits. It's still a gray, grimy Sengoku-jidai period piece, but all of the sudden, there is a wushu hero who has wandered into the piece, a red streak of Shaw Brothers in the mess. Given the quantity of parties and agendas involved, the movie's plot appears complicated. There's this red-cloaked group, who, in modern parlance could be called a Ming ambassador and his attached special forces team. Within that group, there is the blonde gentleman heavy, whose philosophy does not entirely conform to the Ming party line. There's the local daimyo lord who is working with and against the Ming. There's the lord's sword master, whose ambitions might outstrip his loyalty. There are the Buddhist temples, with similarly divided allegiances. There's a boy and his dog, who are the subject of the search by the Ming and their proxies. And, finally, there's the titular, nameless, money chasing Sanjuro figure who wanders in with a sword bound into its scabbard, who finds himself protecting the boy. Sword of the Stranger is at its best when these parties are contesting their wills with their swords drawn. In terms of animation that has been well received in North America, there is a considerable track record behind the creators who are setting these fights in motion. Sword is the latest feature released by Bones, the studio that launched with Cowboy Bebop: Knockin' on Heaven's Door, and subsequently produced RahXephon, Fullmetal Alchemist, and Eureka Seven. Director/key animator Masahiro Ando was a key animator on the Cowboy Bebop movie, Fullmetal Alchemist, and Ghost in the Shell, as well a storyboard artist on the Fullmetal Alchemist movie, and an episode director on Rahxephon and Fullmetal Alchemist. Other animators with recognizable styles, such as Yutaka Nakamura (animator of the scene from Blood: the Last Vampire in which the base guard gets gobbled, and a number of the Cowboy Bebop movie's fights) contribute to a feature that is punctuated with fight scenes with distinct style, intricacy and fluidity that will leave an impression. The fights of Sword of the Stranger look more towards the fluid exchanges of Spike versus Vincent in the Cowboy Bebop movie or Ed versus Greed in Fullmetal Alchemist than they do to the slash and gush of anime modeled after live action chambara. Rather than two forces charging at each other like bucks, the nature of the fights are that the opposing parties try to maintain there own, clear, ordered view of the battle, while throwing the other party into chaos. One of the red cloaks squares off in a hovel. He tosses throwing dagger, while positioning himself to draw his whip. Once snared, he uses the whip to slam the opponent into a support beams. Once slammed, he charges the opponent with a knife. Like Wilson Yip's new generation of MMA influenced martial arts movies, such as Saat po long/Kill Zone or Dou fo sin/Flash point, there is an attention to and exaggeration of fight dynamics. Even if it is not realistic, there is evident mindfulness of foot work, weigh distribution, and how the combatants work dynamically to push and receive the attack. There are moments of superhuman leaping ability, strength and ability to absorb damage, but there is also discernable athleticism in the dancing out of the range of an attack or sinking weight to hold ground. Feet bounce, grind, and push. Bodies, weave, twist and change level. It's a fight rather than shorthand for a fight. Through the complex exchanges between the two combatants and their environment, the movie spells out the story rather than a more effect driven exchange of distinct attacks. At the same time, Sword of the Stranger maintains its overlap of wushu and Sengoku-jidai, in which grace and brutality slosh around in the gritty wash. As in Tezuka's historical epics, the hero factor of fiction is cancelled out. Someone can perform dazzling feats, springing through a crowd of faceless soldiers with an exotic weapon, loping off heads and limbs without breaking stride. But, with a single unexpected blow, from another, unseen hero or a faceless combatant, that hero can be the next fatality on the battlefield. In concept and in execution, this is a captivatingly fresh approach to bringing the adjacent genres together. Script writer Fumihiko Takayama has previously written for anime (the Raxephon movie, Rescue Wings), directed it (Gundam 0080: War in a Pocket, some Bubblegum Crisis), and carried out both duties on the same title (Patlabor WXIII). He has not previously worked on what would be called an action movie, which might explain why the narrative does not move nimbly or forcefully. Keeping all the pieces on this board moving in a logical order is probably a sufficiently complex task. That there are no disappearing/re-appearing figures in the movie is probably an accomplishment worth noting. In terms of channeling them towards the construction of an exciting action movie, Takayama and Ando accomplish it with mixed results. In terms of doing more than building towards exciting martial confrontations, like many action movies, Sword of the Stranger has a complex relationship with nationalism, but while it doesn't entirely eschew implications beyond its own events, the movie does not seem written with much interest in exploring those ideas either. At one hour, forty minutes*, Sword of the Stranger runs long for an anime action movie. Getting through that 140 minutes is not a problem. It gets to a fight or the brink of a fight often enough that it wards off watch checks. Yet, Even if that run time includes a gargantuan climax, in retrospect, the question, "why that long?" crops up. While the complexities of the whole host of actors in the movie's conflict is intriguing, the crowded complexity ultimately seems to be its own justification. If all of the secrets, McGuffins and crosscurrents are going to amount to is "let's you and him fight", it's a good thing that Takayama and Ando do their fight booking well; that it establishes reasons for anticipating the fights between different match-up selections of characters and teasing those battles. The excess does not spell disaster for the movie, but a terser Sword of the Stranger probably would have been more potent. Evaluating Sword of the Stranger for how it will be received, these are valid points. Evaluating Sword of the Stranger on its own terms, the American concept of an action movie may not be the correct model for judging it. On the commentary track for Appleseed Ex Machina, animation expert/Streamline Pictures founder Jerry Beck and Appleseed Ex Machina producer Joseph Chou touch on how the expectations that a Japanese audience bring to an anime feature differ from those that an American audience bring. While the American audiences insist on a strict structural coherence, Japanese viewers are more likely to appreciate distinct set pieces. For example, if the script introduces an extravagant tower into the final act of the feature (something that both Ex Machina and Sword of the Stranger do), the Japanese audience will evaluate the design and, if done well, appreciate it, while the American audience will question its introduction. Accept that generality for what generalities are worth, but Sword of the Stranger is notably set-piece driven. Not all pieces join in favor of a coherent movie. It will spend time in one of its numerous sentimental scenes of the stranger and the boy, in which they are bonding, sharing experiences, and complementing the missing pieces in each other's lives. Then, it will immediately cut to a searing torture scene. The only reason to put the sweet male relationship scene next to the torture is for plot chronology. As much as it is a jump in tone, it is not a meaningful juxtaposition. Anime movies are tricky. Far fewer are made than anime TV series, so, maybe the reason why so few are unequivocally, successfully entertaining is due to the gap in experience? Yet, Sword of the Stranger demonstrates the reason to watch these films despite their flaws. The budget of the film allowed its animators to craft scenes far beyond those that could be produced, even in an exceedingly well budgeted TV series like Samurai 7. And in this case, it results in a display of the kind of spectacle that draws fans to anime. For an American audience, Sword of the Stranger might be missing the transgressive thrills of Ninja Scroll or the excitement of celebrity and the inclusion native pop culture of Afro Samurai, but compared their fights to the fluid dynamic between the warriors of Sword of the Stranger, and Sword notches its place in the pantheon of great samurai anime. Correction: previously, Sword of the Stranger's runtime was listed as 140 minutes. The correct length is one hour, forty minutes.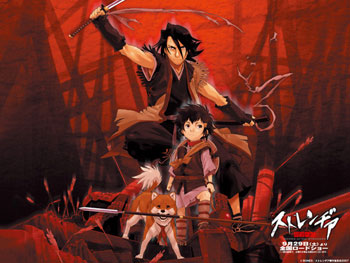 December Dark Horse Releases
BLADE OF THE IMMORTAL VOLUME 20: DEMON LAIR Hiroaki Samura On sale Dec 10 b&w, 280 pages $19.95 TPB, 8 1/4" x 5 3/8" A massive, 280-page volume brings readers back into the "Badger Hole" with Rin and Doa, as they make some shocking discoveries and finally find their missing companions.

GANTZ VOLUME 3 Hiroya Oku On sale Dec 24 b&w, 224 pages $12.95 TPB, 5 1/8" x 7 1/16"

MPD-PSYCHO VOLUME 7 Eiji Otsuka (W) and Sho-u Tajima (A) On sale Dec 3 b&w, 208 pages $12.95 TPB, 5" x 7"

OH MY GODDESS! VOLUME 31 Kosuke Fujishima (W/A) On sale Dec 31 b&w, 152 pages $10.95 TPB, 5 1/8" x 7 3/16"
More Black Lagoon?
a geek by any other name reports that there is Japanese buzz on MoonPhase that the third season of Black Lagoon will adapted newer chapters of the ongoing heroic bloodshed manga.
AICN Figures Report-Buck Rogers at Comic-Con
To celebrate 80 years of Buck Rogers, Go Hero will offer 80 hand-made "proto" mini Atomic Disintegrator Pistols Each plastic mini-gun is a perfect 1:6 scale of the original pistol, literally cast from soft prototyping molds, assembled with clear red chamber window, and painted gold + black by hand. Each gun is packaged and hand numbered for $25 each.

Go Hero will be special guests in the Rocketworld booth #4633, where attendants can see Buck Rogers' ' prototypes, Sinbad w/ Homunculus and the debut of Perseus w/ Bubo. Go hero will also be taking pre-orders for Buck Rogers figure and Atomic Disintegrator Pistol at the show. Official online preorders will begin when they return from SDCC. Final prototype images of Buck Rogers 1:6 Figure and the Atomic Disintegrator can be sen at www.inthe25thcentury.com See more here
Cancellations
AnimeNation reports that ADV Films has informed them that its domestic DVD releases of Best Student Council, Five Centimeters Per Second, Innocent Venus, and Robotech have been discontinued. The titles in question were not included in the list of titles assumed by FUNimation in their deal with ARM. AnimeNation states that ADV did not provide an explanation. Update: ADV Films later clarified that Best Student Council are still available and will be re-released in a collected package in November. Single DVDs of Robotech are out of print, but the Protoculture Collection is still available. The Beat notes that TOKYOPOP has canceled the following releases: Beyond the Beyond Volume 5 Blazin' Barrels Volume 11 Karma Club Volume 2 Kat & Mouse Volume 4 Kindaichi Case Files, The Burial Francs Lagoon Engine Volume 6 Lagoon Engine Volume 7 Nosatsu Junkie Volume 7 Queen's Knight, The Volume 13 Queen's Knight, The Volume 14 Saver Volume 7 Citing Musicland's bankruptcy and heath issues, Jean-Binh Valente of anime-branded bag merchandiserMythwear has confirmed that the business as ceased operations. I am now healthy again and want to do what I can for you, our supporters. The future lies ahead and I will endeavor to bring the same quality you came to expect from Myth to any future projects. Erica Friedman at Okazu has learned that Seven Seas' Strawberry yuri line has not been cancelled, as evidence by the new release of Strawberry Panic Light Novel, Volume 2
'Otaku USA Magazine' Celebrates 1st Anniversary with Full Metal Alchemist
Publisher Sovereign Media Inc., announced that the new August / September issue of OTAKU USA, marking the specialty magazine's first anniversary, will boast a special feature on perennially popular Fullmetal Alchemist. "We've had a tremendous amount of success with this magazine," says Mark Hintz, Chief Executive Officer of Sovereign Media. "The American market was hungry for a Japanese anime/manga magazine they could call their own." Carl Gnam, OTAKU USA's Publisher and Editorial Director believes, "While there is talk that the U.S. anime industry is experiencing some fallout related to distribution channels, it is clear that fan interest in anime, manga and j-pop is just as strong as ever." Issue Volume 2, Number 1 features a Full Metal Alchemist cover story along with a free FMA pull-out poster. Contributing writer Daryl Surat of the Anime World Order podcast looks at the lasting appeal of this hit series from Japan's studio BONES that has defined a generation of fandom. Other highlights include a 32 page manga sampler insert that includes excerpts from the action-packed Black Lagoon, the comedic Steel Fist Riku, and Osamu Tezuka's medical drama masterpiece Black Jack. Its preview DVD will feature episodes of Aquarion, To Heart, Maria Watches Over Us in addition to assorted trailers. Also inside the August / September issue * 30+ manga reviews * Batman: Gotham Knight * Exclusive interviews with Stan Lee, Bruce Timm, and Koichi Ohata * Multiple anime features including: Gurren Lagaan, Code Geass, and Burst Angel * Reviews of all the latest toys, video games, and live-action film releases
Worth Checking Out
Bruce Timm on Gotham Knight Newsarama's The Kodansha Fallout II: The Manga Landscape Animation Insider's detailed report on Anime Expo Batman Gotham and classic DC cartoons are on iTunes Deb Aoki at About.com Guide to Manga offers a first look at Yen Plus Manga Anthology Magazine's Debut Issue Yaoi Press' blog of manga's niche in American media ICV2 talks to Marc Weidenbaum about Viz's original comics program Roland Kelts talks Will Hollywood gild the Japanese lily? on The Daily Ymiuri There's cool Shotaro Ishinomori creations, like breast machine gun armed 009-1, then there's Mechanical Violator Hakaider Haunting Samura and Iwaaki on Kotonoha Ghost in the Shell 2.0 Impressions One Piece tops the pirated TV charts Jog digs into Cat-Eyed Boy Mecha Mecha Media's The Final Frontier of Japanese Media - Part II Obama dopplegangers invade Oh!great's Air Gear Deb Aoki of About.com Guide to Manga interviews Surt Lim and Hirofumi Sugimoto, Manga Creators of Kasumi Iwa ni Hana on The Chinese illustrator Hansey and his illustrations for the PRC edition of 'The Legend of Galactic Heroes' novels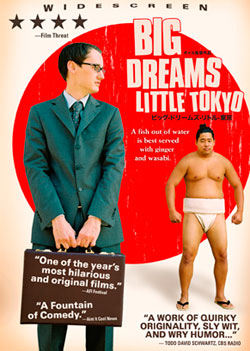 Big Dreams Little Tokyo Give-Away
Echo Bridge Home Entertainment will be releasing Big Dreams Little Tokyo, (reviewed here) on DVD July 22nd. To mark the release, AICN has three copies of the DVD to give away. If you'd like to win one, send an e-mail with your postal address and the subject line BDLT to animecontest@gmail.com. Entries will be accepted through 12:00am GMT-5 on July 22nd, 2008.