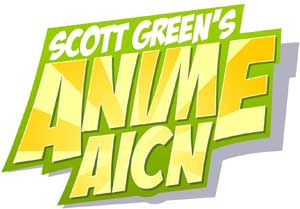 Logo handmade by
Bannister
Column by
Scott Green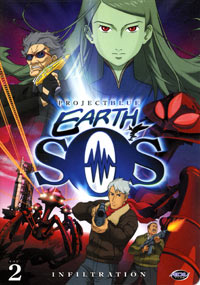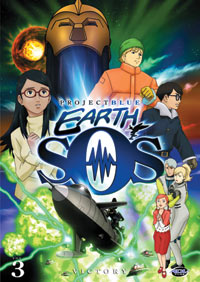 Project Blue Earth SOS Volumes 2 and 3 Released by ADV Films
This column's review of the first volume of Project Blue Earth SOS stated that the anime was either "incredibly smart or accidentally provocative." The results suggest more the former, but over the other two thirds of the series, it proved to be both gratifying and disappointing. What started as a e retro-future sci-fi homage to all the media in which science saves the day from Tom Swift to ID4 transformed into a mulligan for the transition into the new millennium. After closing out a 20th century in which we horrifically redefined war and atrocity, the human species began commencing a new age in which we seem set on further eclipsing prior infamy. Project Blue Earth SOS, a 2006 series composed of six 45 minute episodes recalls the millennium as it might have been envisioned in the 60's, where apart from super-science rocket ships and James Bond cars, technology was largely based on radio waves and transistors. Rather than computer bugs, fireworks and retrospectives, Project Blue Earth looks back and projects an event that is so globally calamitous that it forces humanity to come together abandon nations and ideologies in favor of a new era of scientific cooperation. Initially, Project Blue Earth SOS set itself up as the story of two rival teen geniuses, rich industrialist heir Billy Kimura and hard scrabble orphan son of tragically killed explorers Penny Carter versus invading aliens. In that respect, as much as the anime's characters credit the power and potential of science to overcome any obstacle, it is disappointingly light on applying successfully method to problem solving. When the characters do labor towards some solution, the results are consistently the product of predictable accidental discovery rather than verified hypotheses. If everyone is searching for something that might clear away an alien substance, of course the solution will be found when someone knocks over a simple household item onto the sample of the alien material. When searching for a crucial formula, of course it is going to show up when an object that had been in plane sight catches the light in such a way as to reveal the needed information. As much as Billy and Penny try to solve the problems with their intellect, the anime insists on utilizing them for their sentiments rather than their agency. Most substantial counter-alien weapons are revealed to rather than produced by these characters. Even if Billy and Penny are at core focus of the anime, Dr Brest and his Labyrinth Alliance as well as air force pilot James are far more instrumental in waging humanity's defense. Ironically, given how they are presented as boy scientific wunderkinds, Billy and Penny prove to be the heart rather than the head of the anime. For a ray guns and flying saucers action with bombastic moments of heroic sacrifice and the kind of rousing speeches that are probably long antiquated, Project Blue Earth SOS is surprisingly adept at raising relevant implications. Starting with the "Tom Swift versus the ID4 aliens" high concept for the series, the anime is insistent on provoking comparison with external points of reference. The pop media parallels never quite go away, the second and third volumes still introduce rocket packs, Buck Rogers style radio drama, Antarctic towers and drill tanks, but the bounce from one recognizable trope to the next does slow down after the first volume. However, if not pinging movie references as frequently, it is drawing in concerns of the 20th and 21st century, whether it's climate change, unidentifiable insurgents, factionalism, controversially opening talks with an enemy or the potential for capitalists to sacrifice the people who carry out a job. Billy and Penny's chief role is to serve as the face for these problems. They see the full scope of the struggle. When someone carries out a suicide bombing, they are the ones who know the circumstances of the bomber and the victims. In an ideal world, the expectations for an engaged anime series would be above what Project Blue Earth SOS offers. Anime would be a far more intellectually healthy medium if other productions took a series like this as a challenge to produce speculative fiction with a sharper view on relevant topics. As the tradition stands, few anime series offer a more considered handling of the nature of modern conflict. Project Blue Earth SOS is more frustrating than most Gundam series, because its almost concrete. It's almost willing to deal with incendiary issues in a way that is not abstract, with the morality and the effectiveness of its decision open for debate. However, it fails to live up to its potential because raising an issue is not enough. It is able to draw a reaction, and it is moving to see the protagonists realize that they are responsible for something terrible or see that there is no clean solution to a problem. Because the anime jumps from one charged issue to the next, nothing is thoroughly developed. Ultimately, the series does not seem willing to fully address what the concerns that it raises, up to and including the central thesis. When the series bows out, all the upheaval and woe have been exhausting, and while it is welcome to see science and technology as a tool of salvation rather than a threat, the only thing more troubling than opening a new millennium with what looks like a science oligarchy in control of humanity is that within the context of the anime, no one is questioning whether Dr Brest and his cadre should be the ones controlling the world.
Connections Drawn Between Akihabara Slayers and Anime
International mainstream and enthusiast press, as well as blogs, has not failed to identify Tomohiro Kato, whose knife attack left seven dead in Akihabara , a "manga fan" or "otaku" (obsessive geek). On June 8th, Kato allegedly drove a truck into a crowd of shoppers before exiting the vehicle and attacking pedestrians with a knife. Given the Akihabara district's reputation as hot spot for electronics and pop culture enthusiasts, many online outlets immediately began questioning whether Kato was an otaku himself, as well as the implications his attack might have on public perception of otaku and ongoing character of Akihabara. English language commentators brought up the name Tsutomu Miyazaki, a pedophile murderer whose crimes hardened the negative connotations of the moniker "otaku." As details developed, it was revealed that Kato posted messages on an online bulletin board declaring "I Will Kill People in Akihabara." Reporting/Historical Notes remembrance of the victims Early coverage form Japan Today CNN's report The Sydney Morning Herald talks about the "Comic Book Killer" and how Japanese press have begun identify Kato as an anime/manga fan Metal Gear Solid 4 launch event cancelled due to event AP comments on "Tokyo's comic book and anime youth culture," reporting "Mourners, some weeping, piled 'manga' comics, flowers and other items in honor of the dead at the intersection in the Akihabara district" JapanProbe's coverage The policy of closing certain Akihabara streets to vehicle traffic is suspended On A Thoughtful Note Patrick Macias' An Eternal Thought in the Mind of Godzilla reactions on the day of the event, and thought on how the crime may effect Akihabara. Also reactions his online posts. Matt Alt refutes some of the sensationalism Of Salacious Interest arrest footage Kato's fantasy RRG style yearbook sketch Hachi-One Diver Ep 2 prefigures the event The Kato moe connection connections between Kato and Dragon Quest and other games/anime 2channel vigilantism regarding innappropriate crowd reaction in the news coverage
Media Blasters Licenses Comedy Dokuro-chan
Media Blasters' John Sirabella posted on Anime on DVD's forum that company licensed comedy Bokusatsu Tenshi Dokuro-chan ("Beat to Death Angel Dokuro-chan"). The anime follows a teen coinhabitating with an angel from the future whose regularly bludgons or decapitates him before resurrecting him. Sirabella also commented "I predict in 2-3 weeks you will hear an announcement you never expected in the industry…because I heard it today and if true will blow some people away."
Event News
Bandai Entertainment Inc. and Kadokawa Pictures USA announced today that the first 50 people at the June 13, 7pm showing of The Girl Who Leapt Through Time at the ImaginAsian Center Los Angeles and the 6pm showing at the ImaginAsian Theater in New York will receive a free theatrical sized poster of the film. The ImaginAsian Center Los Angeles is located at 251 South Main Street Los Angeles, California 90012. The ImaginAsian Theater New York is located at 239 East 59th Street, New York, NY, 10022. The Girl Who Leapt Through Time (also known as TokiKake) was directed by Mamoru Hosoda with original character designs by Yoshiyuki Sadamoto (Evangelion) and features animation from Studio Madhouse. A continuation of the novel The Little Girl Who Conquered Time by Tsutsui Yasutaka, the film centers on a high school girl, Makoto, who gains the power to go backward in time after a near-death accident at a train crossing. Bandai Entertainment and American Cosplay will be promoting Lucky Star and Gurren Lagann at Anime Expo 2008 in Los Angeles (July 3 ­ 6, 2008; Los Angeles Convention Center) with a performance of the LUCKY STAR Cheerleading Squad, featuring members of American Cosplay Paradise (ACP) and Gurren Lagann cosplay at Bandai Entertainment's booth. AnimeExpo 2008 and Intermixi Japan Tours announced a contest where one holder of a premium ticket holder at the convention's Jyukai Concert will win a trip to Japan from Intermixi Japan Tours. Winners will be able to choose from the following seasonal tours (as available): • Kame Hame Kansai Tour • Neo Tokyo Tour • Tokyo Game Show Tour To mark the release of Bang Zoom! Entertainment's ADVENTURES IN VOICE ACTING -Volume One DVD, the localization studio will be offering one hour anume dubbing classes at Anime Expo. The workshops will be held throughout all four days of the convention with limited spaces available for attendees. Convention attendees can pre-register and obtain more information at Bang Zoom! Entertainment's Exhibit Hall booth (#811) at this year's Anime Expo 2008. The Adventures in Voice Acting DVD, featuring Tom Kenny (Sponge Bob Square Pants), Michelle Rodriguez (Lost), Lance Henricksen (Aliens), Wendee Lee, Steve Blum amoung other actors, will be available for purchase at Bang Zoom's convention booth. If you're reading this from Japan, Roland Kelts' (Japanamerica) band is performing as part of an Amnesty International Japan benefit in Tokyo
TOKYOPOP Follow-Ups
TOKYOPOP publisher Mike Kiley spoke to ICV2 about TOKYOPOP's cut backs. Mike Kiley's letter to creators Following the TOKYOPOP restructuring David Welsh's efforts to interview laid off employees has hinder by a non-disclosure agreement, but he was able to correspond with Trond Knutsen and Keila N. Ramos. Andrew Cunninghan on the works he translated, noting Gosick, Missing, and the Chibi Vampire have been discontinued Freelancer Lianne Sentar has been told that Fruits Basket, Saiyuki, Tactics, and Rave Masters are among the titles that the publisher will proceed with Queenie Chan on the fate of the "The Dreaming" Writing Competition The Lying in the Gutters rumors column gave a yellow light to the following Oh dear. Refocusing as a "comics to movie" company when the existing division responsible for that activity is derided in Los Angeles... Digital-distribution-only set to kill off all number of original titles... Was the warning nailed to the church door, when "Wired" ran a big article about TokyoPop and the "manga revolution" the same month that certain Borders stores pulled out all their titles due to poorer than expected sales? And Viz shall inherit the Earth.
Kodansha Follow-Ups
The TOKYOPOP restructuring coversation resulted in insistence by anonymous poster "Cthulhu" that Kodansha has pulled the manga that it had licensed to American publishers in favor of launching its own North American manga division. Simon Jones (Icarus), Christopher Butcher (Comics212) and Heidi MacDonald were not able to conclusively confirm or refute the news. Japanatar was satisfied by what they heard from Del Rey as evidence that the rumor was untrue. AWN reports Big Tent Ent., the New York-based branded entertainment company, has been appointed the worldwide licensing agent of record for manga publisher and global pop culture brand TOKYOPOP. Through the long-term agreement, Big Tent will represent the master brand as well as their sub-brands including PRINCESS AI, BIZENGHAST, I LUV HALLOWEEN, DRAMACON and VAN VON HUNTER. Big Tent plans to developing fashion and sub-brands for collectibles and toy as well as other merchandising rights including stationery, food and beverage, footwear, gifts and novelties, gift cards, health and beauty products, hobby and model products, home decor, house wares, paper products and sporting goods.
Toei Digital On Demand
Toei has begun offering their anime work, starting with Slam Dunk and fist on the North Star through the Direct2Drive service.
Upcoming in Japan
An enhanced "Ghost in the Shell 2.0" version of the original movie with new digital effects will screen in Japanese theatres starting July 12. Yoshiko Sakakibara will record new dialog as the puppet masters, and the film will feature a new mix of Kenji Kawai's soundtrack. Comparison images can be seen here. Media is collection here

A third Bleach movie is scheduled for Japanese release this December Katsu-Aki, the creator of Futari H aka Manga Sutra will start a new manga called Doku×Koi or "PoisonxLove" in Super Jump. Karin/Chibi Vampire's Yuna Kagesaki will begin new manga series Hekikai no AiON in Monthly Dragon Age. Anime on DVD reports Full Metal Panic: The Second Raid, including all thirteen episodes plus the OVA and the lengthy Hong Kong location reports, will be getting a Japanese Blu-ray release on 09/20/2008 Sadao Abe has joined the cast for Takashi Miike's live-action adaptation of the 1970's cartoon series Yatterman. A trailer for kaiju film "Guilala's Counterattack: The Touyaku Summit One-Shot Crisis The trailer for the live action Detroit Metal City
Manga Scandal Sheet
Via Canned Dogs He Is My Master writer Mattsuu announced to the 2Channel message board that he has divorse his wife, and series illustrator Tsubaki Asu, who is no longer willing to work on the manga. Mattsuu has stated that he hopes to enlist artist Ishikei to continue the series. Anime News Network reports Mayu Shinjo, the creator of Sensual Phrase (Kaikan Phrase) explained that she Shogakukan's Shoujo Comic (Sho-Comi) magazine due to stress caused by her editors demands and demeaning treatment. Additionally, editor threatened to take her earlier works out of print if she left.
Inu Yasha Ending
After over 11 and a half years, Rumiko Takahashi will ended Inu-Yasha in the next issue of Weekly Shonen Sunday . This marks the conclusion of the Ranma /12 creator's longest reguarly running work. Viz Media has been releasing the manga in North America, and it has also released the 2000-2004 television anime adaptation.
AICN Figures
The English Tamashii Web, the web presence of Bandai high end figures line, has launched Organic Hobby, Inc in conjunction with Happinet will be releasing SMC "Belldandy" Ah! My Goddess (Fighting Wings Version) in September with a SRP of $120.00. "Belldandy" is a fictional character in the popular anime/manga Oh My Goddess! (OMG; also know as Ah! My Goddess) created by Kosuke Fujishima currently serialized in Kodansha's monthly Afternoon magazine. It was first published in 1988-08-25 (the September issue). Originally a typical magical girlfriend romantic comedy, over time it has grown to feature more action and the latest variant has had a greater focus on developing the mystical aspects of the world in which it is set. There are also four anime offshoots. The title is a pun on the common phrase "Oh my God." "Belldandy" one of three Goddesses (loosely based on Norse mythology) comes to Earth to reside with Keiichi Morisato (as well as his love interest). She is depicted as a beautiful and powerful young woman, with strong nurturing tendencies, a trusting and innocent character, and an extremely kind heart. The figure is 8" tall fully painted and comes in a window box with a custom base for display.

Organic Hobby, Inc in conjunction with GDH/TOPCOW will release Witchblade "Reina Soho" n September'08 with a SRP of $55.00 "Reina Soho" is the secondary character of "Witchblade," an anime series based on the famous American comic book by the same name. Instead of an adaptation of the original story, the producers decided to create an entire new setup, with all new characters. The anime is being directed by Yoshimitsu Ohashi (director of Galaxy Angel & Galaxy Angel Z) and the character designs are done by Uno Makoto (character designer of the Gravion TV Series & Stellvia). She is a Neogene cloneblade who works as a Forensics Medicine Specialist in the NSWF (National Scientific Welfare Foundation). She is a strong and intelligent woman. The figure is 12" tall comes equipped with accessories (such as one blade and a custom base for display) and its part of "Organic USA" original product.

A KOTOBUKIYA Japanese import of the Hulk Movie Fine Art Statue will be released in Januart 2009. The 14 inche tall, Junnosuke Abe designed statue will retail for $175.00. Its base will interlock with the Abomination Fine Art Statue to form a diorama scene – each sold separately – look for more info on the Abomination in the coming months as the collaboration between Marvel Studios and Kotobukiya continues.

© 2008 MVLFFLLC. TM & ©2008 Marvel Entertainment, Inc. All rights reserved. Patrick Macias presents Lots of LEGO mecha Revoltech Haruhi A sneak peak of Sideshow's release of Pop Culture Shock's Dark Stalkers: Morrigan Monstrous Robot Spider Barbie and other robots made out of random parts by Mario Caicedo Langer CollectionDX on Raideen Saint Seiya's Pandora Shin Getter 2 (Anime-Export Weathered Version) Yamato's 1/60 VF-1A Hikaru Ichijo Valkyrie
Requests Delisting on Fan Translations
Kadokawa USA sent a notice to Anime Suki, an aggrogator or English language fan translations of anime that had not be licensed for released in North America, asking the site to remove the listing for 11 anime series including Canvas2 ~Nijiiro no Sketch~, Demonbane Goshuushou-sama Ninomiya-kun H2O ~Footprints in the Sand~ Junjou Romantica Mamoru-kun ni Megami no Shukufuku wo! Mushi-Uta Okami to Koshinryo (Wolf & Spice) Rental Magica Shuffle! Memories Wagaya no Oinarisama
T.O Entertainment Promoting Egg Man on Crunchyroll
Asian content streaming site Crunchyroll and T.O Entertainment, a Tokyo-based media production and literary management company, have entered into a strategic partnership to showcase the upcoming computer animated, EGG MAN on Crunchyroll's service. In July. a trailer for Egg Man will debut, , a computer animated film based off of story in the book, " Monologues of Universal Transverse Mercator" will debut on T.O Entertainment's digital channel on Crunchyroll. During the rest of the Summer, T.O will continue to release clips, trailers, and behind the scenes footage, leading up to the Fall where T.O will make the entirety of EGG MAN available outside of Japan on Crunchyroll along with exclusive merchandise just for Crunchyroll.
Upcoming Dark Horse Releases
APPLESEED VOLUME 4: THE PROMETHEAN BALANCE 3rd Edition Shirow Masamune (W/A) On sale Nov 26 b&w, 216 pages $14.95

BERSERK VOLUME 26 Kentaro Miura (W/A) On sale Nov 26 b&w, 224 pages $13.95

BLOOD+ VOLUME 4 Asuka Katsura (W/A) On sale Nov 12 b&w, 208 pages $10.95

BLOOD+ VOLUME 3: BOY MEETS GIRL (NOVEL) Ryo Ikehata (W) On sale Nov 12 b&w, 288 pages $8.95 Featuring eighteen pages of illustrations by series character designer Chizu Hashii.

TRIGUN MAXIMUM VOLUME 13: DOUBLE DUEL Yasuhiro Nightow (W/A) On sale Nov 19 b&w, 224 pages $9.95
DrMaster Releases
DrMaster Publications announced that volume 6 of Lunar Legend Tsukihime popular horror action series by Sasakishonen and TYPE-MOON will be released in February 2009. Lunar Legend Tsukihime is based on the video game by TYPE-MOON's well-known video game Tsukihime, which has also spawned an anime series. Lunar Legend Tsukihime vol. 6 will be available February 2009, and will be priced at $9.95. Lunar Legend Tsukihime volumes 1-5 are available now.

DrMaster will also be commencing Divine Melody in January 2009. The series has six volumes and will be released bi-monthly, priced at $9.95 a volume

From DrMaster's description: Divine Melody is a fantastic tale set in mystical ancient China, where fairies and demons secretly coexist with humans. I-Huan, the popular author of Real/Fake Princess, creates another splendidly enchanting series that weaves swoon-worthy romances, heart-wrenching drama, and mystifying exhilarating action and adventure into her divinely beautiful tapestry of artwork that will leave readers entranced in her fantasy world. Divine Melody follows the in a Cai-Sheng is a young celestial fox demon being raised by a bevy of wild fox demons, who hope that she will someday master the celestial ability to transform into a male demon and save them from extinction. One day, she sneaks out of her room and ventures to the nearby village, where she befriends a little boy and girl. When the boy and girl save Cai-Sheng from a dog attack, her caretaker marks them with special symbols that will not disappear, even if they are reincarnated, until Cai-Sheng returns repays her debt to them. Two hundred years later, Cai-Sheng has grown up and secretly mastered the ability to transform into her male form. She inadvertently meets the reincarnated boy and girl again, who still have the special symbols marked on their bodies. The boy has been reincarnated into a somewhat ineffective exorcist's apprentice, while the girl is the town's beauty and the precious daughter of a rich man. Cai-Sheng decides to repay her debt to them by trying to match-make the pair, who initially seem to be attracted to each other… But things get complicated when the girl falls in love with Cai-Sheng's male form! Adding more drama to the love triangle, a powerful deity-in-training appears and confronts Cai-Sheng, claiming that he was ordered to cleanse her of her demon life-style and return with her to Heaven, meanwhile an old enemy of hers appears and seems to have very sinister plans… You don't want to miss out on all the romance, drama and action in this delightfully divine series!!!
Shout! Factory Announces Sonic Underground 2
Shout! Factory will release Sonic Underground: Volume 2 in a 3-DVD set for $29.99 SRP on June 17th, 2008. From Shout! Factor's description: The triplets—Sonic, Sonia and Manic—are back, armed only with their collection of rebellious tunes and an undefeatable will to be reunited with their long-lost mother. Together they continue to take on their archnemesis, Dr. Robotnik, and his henchmen. Sonic Underground is the third animated series based on the popular Sega video game character, featuring Family Matters' Jaleel White as the voice of Sonic and Sean Connery as the voice of Great-Grandfather Athair. Each of the episodes in the series also featured a Sonic Underground song in music video form.
Worth Checking Out
Gia's summer anime preview Patrick Macias on what Toei was doing in 1978. Also, sibling pieces on Harajuku Kiddyland and Yamato Crew Member Kit Matt Alt previews some reactions to his upcoming Yokai Attach! The Japanese Monster Survival Guide. The writer/translator also details his run-in with Kazuo Umezu Episode 68 of Right Stuf's Anime Today podcast features an interview with AnimEigo founder and C.E.O. Robert Woodhead. Newsarama talks to Adrian Tomine about Yoshihiro Tatsumi gekiga work and Drawn and Quartly's release of that work. In this new, two-segment interview, Woodhead discusses AnimEigo's upcoming release of Yawara – a fashionable judo girl, the anime adaptation of Naoki Urasawa's manga. Additionally, he talks about how AnimEigo got its start, its affinity for releasing series with high episode counts (such as Urusei Yatsura), and their "patron/pre-order" approach to releasing anime. Finally, he shares his recommendations from AnimEigo's anime and live-action catalogs, including their recent releases of Wakeful Nights and the Palme D'Or winning film The Ballad of Narayama. On Publishers Weekly, Anne Ishii talks medical manga Deb Aoki at About.com:Manga talks Eisner nominated manga GhibliWorld has images of the cast of Miyazki's upcoming Ponyo AKon 08 AMV contest winners An interesting Serial Experiments Lain essay/rant Gurren Lagann staff interview from the Fanime convention An odd image of the roles performed by voice action Minoru Shiraishi A defense of OEL Manga An arguement against emphasizing early manga creators such as Osamu Tezuka and Haggio Moto in acedemic discussion Queenie Chan talks In Odd We Trust Demystifying Motion Capture Shinto Lucky Star Ikki Tossen PSP Fighter A sample of Megumi Hayashibara returning to Slayer's for the new series' theme and ending On the other extreme, bad English dubbung English subtitle Evangelion 1.0 on DVD as well as Takeshi Miike's Crows 0 manga adaptation