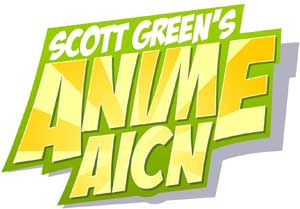 Logo handmade by
Bannister
Column by
Scott Green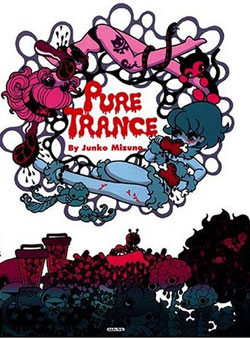 Manga Spotlight: Pure Trance By Junko Mizuno Released by Last Gasp and jaPRESS
There's something dismissible in Junko Mizuno's work, as if it invites viewers to presume to "get it" or "not get it" at a glance. Falling into the latter, her work can be uncharitably reduced to Sanrio/Hello Kitty cherubic puff spliced with Hideshi Hino style nauseating grotesque...a concept for a line of t-shirts or merchandise. To the disinclined, it looks like a confection, liable to melt during consumption and liable to melt if left out. While I never took the reaction to that extent, during the first wave of Junko Mizuno manga releases, when VIZ put out her fractured fairytale versions of Cinderella, Hansel & Gretel and Princess Mermaid, to be honest, her work largely left me cold. I was willing to accept the position of those who found merit in her work, but I wasn't about to advocate it myself. Since then I've come around. Pure Trance was originally serialized across the booklets from a line of CD releases. Like music, sometimes when taking another pass at an artist to whom you where indifferent the first time, the work clicks during the latter attempt. In particular, while reapproaching her manga again after a few years, the way in which she engaged the consumer context of her work started to highlight its poetic depth. Not all manga or comics are ephemera, but most are. Like the majority of television, it is written with the understanding that most people will only consume it once. As such, like the "Mystery Tales" comic in Lost, it's eerie when it hangs around or reappears years after its intended "consume by" date. There is something disconcerting, almost pathological about shelves of Shonen Jump. For example, 20th Century Boys, Naoki Urasawa's follow-up to Monster, uses this as a haunting manifestation of the past. Symbols and ideas from all the catalog of pop fiction are inevitably going to rattle around into adult life. On one hand, holding onto some of the idealism of children's media is presented a a virtue. Yet, Urasawa also goes back to the troublesome imagery of hoarding and meticulously cataloging mountains of manga periodicals. While it isn't a primary theme for 20th Century Boys or Pure Trance, both point to the horror of being burried under a mountain of pop culture brick-a-brack. Mizuno's work runs with the concept of manga as a cheap medium. There's chotske in Pure Trance's DNA. The ability to succinctly present an idea that is both eye catching and shocking looks ready made to be copied onto a t-shirt or realized as a three dimension vinyl figure. Then, Pure Trance is packed down with recursive complexity. The margins of its wild, dense story is packed with a wild, dense host of fairies, exotic flora and fauna, artificial life forms and so on. Playing to that geek/otaku obsession with defining and cataloging, the book its punctuated with about 140 "Pure Trance Trivia" items explaining the role of these oddities. The counterpoint to the appeal of marveling at it all is the boogeyman of rampant consumption. Within the context of its story, the "Pure Trance" of the title is an artificial food substitute used by the subterranean dwellers of an apocalyptic future. Saintly nurse Kaori Suzuki is dedicated to preserving the many women who have harmed themselves through Pure Trance related eating disorders. By contrast, the manga finds hospital director Keiko Yamazaki lounging on a sex toy strewn bed, thumbing through an upside porn mag, arms bleeding from sloppily injected syringes of drugs stolen from the patients. Mizuno specifically presents the white-nurse's capped suffering savior versus the black capped voracious heel. The Director rips the throw back to paragons of classic shoujo with whips and razors. In its shirtlessness, sadomasochistic thrashing and excess, the fight takes on the look of a uberfemiminist bizarro Robert E. Howard Conan, barbarian story. Gushing with a throw-down "taste and sensibility be damned, here's how I'll define a world," images such as a doll-like form showing off her naked, scarred body aren't just ironic, they're belligerent. The second "Pure Trance Trivia" describes "Ma-chan Baby Bears" Best-selling stuffed animals that come in a great variety of colors and shapes. While they attract crazed collectors who have never even seen a real bear, the designer keeps working on new ones without knowing what a real bear looks like either..." In a post-Hot Topic world, kawaii kewpies vomiting and bleeding and self-aware materialism isn't intrinsically novel. However, even though it's been a decade since Pure Trance was turned into a graphic novel, a read rather than a glance of Mizuno's manga finds that it has a verve that punches you in the chest and tries to start something. If a Silence of the Lambs serial killer story basks in the dangerous allure of a predator, Mizuno's work basks in the dangerous allure of artificial flavor and over-consumption. Reading Mizuno's work is a distinctive experience. Manga experts have frequently compared the structure of her work to Osamu Tezuka and Pure Trance does evoke some of the sentiments of Tezuka's epics. Compared to a work like Phoenix, there is a similar sense of an encompassing scope in how Pure Trance's characters pursue their lives, especially when the manga diverts its gaze. Those moments that establish the richness in the characters or the full extent of their tribulations are powerfully moving. Yet, as a story arc, Pure Trance is a challenge. The way it pursues themes, mutates, and builds its climax is almost more musical than narrative. Rather than read the manga cover to cover trying to track a coherent story, Pure Trance lends itself to a detailed, attempted interpretation or staring at the page until it blurs out of focus.
Filming Starts on Live Action Adaptation of Tezuka's MW
CinemaToday.jp reports that Hitoshi Iwamoto will be directing a live action adaptation of Osamu Tezuka's confrontational thriller MW, based on a script by Death Notes Tetsuya Oishi and Haruo Kimura. Hiroshi Tamaki and Takayuki Yamada will star in the film scheduled to be released in Japan in 2009. MW is Tezuka's Third Man, spawned by the literal fallout of Vietnam. In this caper/chase, Hiroshi Tamaki will star as Yuki, an amoral master of disguise and seduction/Tom Ripley character, who begins the story with a chain of kidnapping, extortion, and quickly child-murder. Opposite him, Yamada will play tormented priest Father Garai. In the 60's Yuki's confessor Father Garai was part of a radical association known as The Crows. On the island of Kagoshima, near Okinawa, the Crows found a man and a boy on a yacht. Garai took the boy to the gang's hideout in a nearby cave, and while he was raping the young Yuki, an accident happened. "Nation X" had been housing the chemical weapon known as "Mw" nearby, and overnight, a leak killed everyone on the island except Garai and Yuki. As Garai explains to his bishop, since then, Yuki has been stripped of any moral limitation and Garai himself has been unable to resist Yuki's psychical allure.

The original manga was released in North America by Vertical. A preview of their release can be read here AICN's review of the manga can be read here
American Death Note In the Development
Shock Till You Drop reports that frequent adaptors of Asian cinema Vertigo (The Departed) are working on a Hollywood adaptation of Death Note, produced by Doug Davison and written by Vlas and Charles Parlapanides. Based on a manga by Tsugumi Ohba and Takeshi Obata, previously adapted into anime by Madhouse and live action by Shusuke Kaneko, Death Note follows the battle of wits between teen geniuses Light and L. Bored model student Light stumbles onto a tool for carving an impression into the world when he finds a Shinigami/Death God's notebook, with which he can prescribe the time and circumstances of the death of any named individual. After Light uses the book to kill a host of criminals, L is given the case of tracking down the responsible party, which in turn pushes Light toward desperate tactics.
Looking Forward To Tokyo Zombie
Same Hat! Same Hat! has begun showing off the goods for Jiu-Jitsu versus zombies manga Tokyo Zombie. Pre-order it from Previews at your local comic shop this month.
Ponyo Voice Cast Announced
According to Ghibli World the voice cast for Hayao Miyazaki's Ponyo on a Cliff by the Sea is comprised of nteresting names: Sosuke - Doi Hiroki Ponyo - Nara Yuria Sosuke's mother Lisa - Yamaguchi Tomoko Sosuke's father Koichi - Nagashima Kazushige Ponyo's mother Gran Manmare - Amami Yuki Ponyo's father Fujimoto - Tokoro Joji Toki - Kazuko Yoshiyuki Yoshie -Naraoka Tomoko Nausicaa.net notes that Ghibli's Toshio Suzuki's called attention to North American desire for Ponyo screenings during a Japanese podcast.
Big Dreams Little Tokyo YouTube Previews
More can be found here Echo Bridge Home Entertainment will be releasing Big Dreams Little Tokyo, a live action comedy concerning the interaction of American and Japanese culture, on DVD July 22, 2008. The disc, priced at $14.99 features * DVD Commentary from Director/Writer/Star Dave Boyle and Co-star Jayson Watabe * Pipe Dreams Little Tokyo Featurette: Behind the Scenes Interviews and "Making of" Footage * Yamamoto and Company Featurette: Raising Money for Production * Deleted Scenes with Commentary * Storyboard to Film Comparison * Web Spots * Trailer * Stills Gallery Synopsis Boyd, a self-proclaimed businessman convinced he's Japanese, and his roommate Jerome, a sluggish but affable Japanese-American sumo wrestler, have big dreams for themselves. Together, the two travel door-to-door by tandem bike, giving flyers and sales pitches to anyone who listens…but Boyd's Japanese clients aren't buying his "Translation Services," and no one will give Jerome—a paltry 200 pounds—a chance in the ring. When they meet Mia, who is unfazed by their oddities and offers a hand, Boyd and Jerome discover that in a world where cultural identity is seldom what it seems, there's a place for everyone. The DVD is listed on Amazon. A review can be read here
Worth Checking Out
Toypunks Vol. I has recently been released on DVD