Hey, everyone. "Moriarty" here. Simply put, Paul Prischman's one of the good guys. Here's a letter I got from his good friend Christopher Drake today, a gentle prod that reminded me that I needed to get an article together about an upcoming screening:
Hi Guys, At 12 noon Pacific time today (Wed the 28th), tickets will be available to the general public for the Paul's Brain Trust screening of BLADE RUNNER with Ridley Scott. If you could all post an alert on the main page of your respective sites at that time, it would be a great coordinated effort to send awareness and traffic to the site. Click there to see what Chris is talking about. Included is the approved graphic for the event, as well as a press release for you to adapt to your needs. On behalf of all of us at the Brain Trust, Sincere thanks, for all your efforts in promoting help for our man Paul. Your pal, Christopher Drake
I met Paul many years ago. He was one of the occasional members of AICN's Jedi Council. He's a hardcore film nerd, but he's also a guy who worked on films as a storyboard artist (his HELLBOY stuff was gorgeous) and turning out some of the best DVD special editions in the history of home video. Think I'm exaggerating? Paul was part of that amazing ALIEN QUADRILOGY box. And he was also a major contributor to the BLADE RUNNER set that we all flipped out over this past Christmas. But his real contributions are the kind that are hard to quantify. Paul is the kind of guy who will literally do anything to help a friend. Anything. Paul worked tirelessly on everything he's ever been associated with, and I'm amazed at how unflagging his enthusiasm and energy has always been. Paul's also a dad and a husband, devoted to his family and enormously proud of them. I love his kids and his wife... they're just as big-hearted and wonderful as he is. So when Paul was diagnosed with brain cancer earlier this year, it was a shock to a huge network of people, and now that Paul is struggling with both ongoing treatments and recovery, that network has kicked into action, and they're doing what they can to give back some of that same enthusiasm and energy to him and his family. I'll let you read the press release for yourself. If you've never seen a film at the Steven J. Ross on the Warner Lot, you should buy a ticket for this benefit screening. It's an awesome theater, and this is going to be one hell of an event. It's also just the first of many that Paul's friends are going to be organizing to help him, and I'm sure we'll have details on each of these events as they come together in the months ahead. For now, consider this my most passionate endorsement: if you have the means, and you're remotely inclined, buy a ticket for this event. And if you can't, at least visit Paul's official site and see if there's anything else you can do to help this exceptional guy during a moment of extreme need.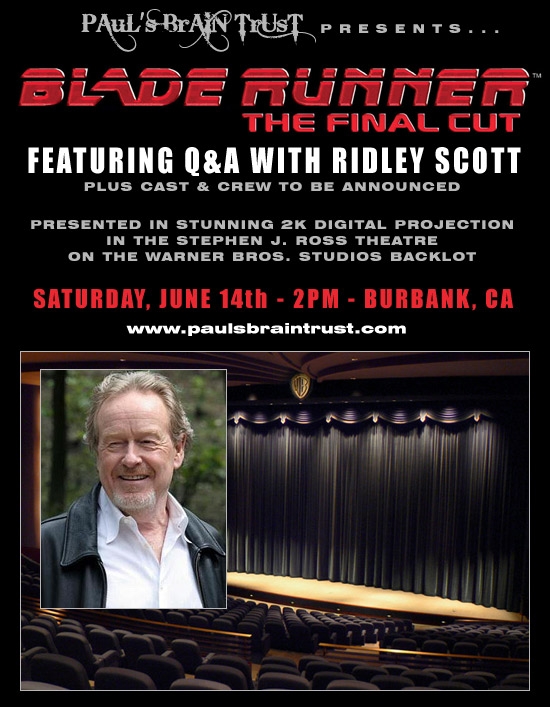 May 28, 2008: PAUL'S BRAIN TRUST LAUNCHES NEXUS 6 LEVEL FUNDRAISING EVENT New Series of Charity Events to Include Special Screenings, Online Auctions of Rare Movie Artifacts and Memorabilia BURBANK, CA – Paul Prischman, unquestionably "one of the good ones" – dedicated husband, father, and friend; DVD producer; gifted artist; comic book lover; musician; and worshipper at the altar of all things film – was recently diagnosed with grade IV brain cancer. Paul's Brain Trust, an effort to fundraise for our friend Paul and his family during this difficult time, has put together our first major event: a screening of BLADE RUNNER: THE FINAL CUT, attended by several cast and crew, and followed by a Q&A with director Ridley Scott, at the Steven J. Ross Theater on the Warner Bros. lot, Saturday, June 14th at 2:00 pm Attendees will receive a limited edition BLADE RUNNER collectible courtesy of Warner Home Video. Additionally, we will be auctioning off ten premium passes for a private walking tour of the BLADE RUNNER locations on the Warner Bros. backlot hosted by one of our special guests from the film, as well as an opportunity to win a one-of-a-kind piece of BLADE RUNNER history. BACKGROUND Raised in the 60's and 70's on Universal Monster movies, Edgar Rice Burroughs, comic books, Tolkien and STAR WARS, Paul and his wife Cristin moved to Los Angeles from Chicago in 2000. Paul began working at the now-legendary Laser Disc/home theater specialty store "Dave's Video." While at Dave's, Paul met respected DVD producer Charles de Lauzirika, who, in the spring of 2003, hired Paul to assist in the finishing stages of the comprehensive ALIEN QUADRILOGY boxed set. Later that same year, Paul was hired by Guillermo del Toro to do storyboard work on HELLBOY: a dream project for Paul (whose devotion to HELLBOY is documented in Frank Darabont's introduction to the HELLBOY: ODDER JOBS short story anthology). Paul went on to focus professionally on DVD production at the Lauzirika Motion Picture Company (his list of credits as producer include THE FLY II special edition as well as MONSTER HOUSE. He was the associate producer of such titles as AMERICAN GANGSTER, SPIDER-MAN 2, GLADIATOR: EXTENDED EDITION, KINGDOM OF HEAVEN and the recent REVENGE: DIRECTOR'S CUT), culminating in his associate producing what many believe to be the holy grail of DVD boxed sets: 2007's BLADE RUNNER Ultimate Collector's Edition. Paul and Cristin currently live in Los Angeles and are the proud parents of two beautiful little girls, Michaela (4) and Abigail (2). In February of this year, an MRI revealed that Paul had a golf ball sized brain tumor in his brain stem. On March 18th, Paul underwent brain surgery. Although the tumor was successfully removed, the pathology revealed it to be Grade 4 brain cancer – Gliobastoma Multiforme (GBM) – a particularly aggressive cancer with a very low survival rate. Paul is currently rehabilitating from surgery while undergoing radiation, chemotherapy, and other costly treatments. The outpouring of support from countless individuals who know and love Paul has been amazing. PAUL'S BRAIN TRUST is a group of Paul's friends who have come together to coordinate fundraising events to help Paul and his family. Our first planned event will be a screening of BLADE RUNNER: THE FINAL CUT, where it belongs: on the big screen. Saturday, June 14th at 2:00 pm in the state-of-the-art Steven J. Ross Theater on the Warner Bros. lot. That's right: the same Burbank backlot where BLADE RUNNER was produced more than a quarter century ago. Director Ridley Scott will be on hand for a rare Q&A, along with many of BLADE RUNNER's original collaborators. Attending cast and crew members will be announced soon but it will be an extraordinary event not to be missed. All who attend will receive a limited edition BLADE RUNNER collectible courtesy of Warner Home Video. We will also be auctioning off ten premium passes for a once-in-a-lifetime opportunity that no serious BLADE RUNNER fan will be able to pass up: A private walking tour of the BLADE RUNNER locations on the Warner Bros. back lot hosted by one of our special guests from the film. Walk the very streets where this science fiction classic was filmed and hear fascinating inside stories from the set, firsthand. The identity of the BLADE RUNNER tour guide will be revealed soon, but rest assured, it will be a truly amazing experience. Premium pass holders will also receive a BLADE RUNNER gift bag, including a rare collectible item not available elsewhere, and our top bidder will win a one-of-a-kind piece of BLADE RUNNER history. More details to come! Visit www.paulsbraintrust.com to buy tickets, keep posted on our latest events, and contribute to Paul and his family. CONTACT Trisha Gum 310-994-8795 paulsbraintrust@gmail.com