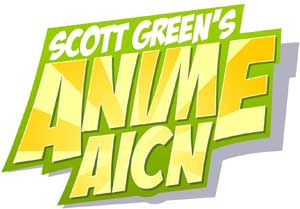 Logo handmade by
Bannister
Column by
Scott Green

Anime Preview: Shin Chan Season 1, Part 1 To be released by FUNimation May 13, 2008
Once upon a time in the 90's, Crayon Shin Chan ran on KIKU-TV in Hawaii (English subtitled with Japanese audio). If you were a tape trader back in the day, you could get blocks of episodes recorded onto VHS. The thing to do with one of these prizes would be to spring this series on unsuspecting viewers. It started off as a slightly odd domestic comedy concerning a five year old, who for some reason sounded like an old man when he spoke. Then, invariably, this precociously vulgar kindergartener would start showing off "Mr. Elephant" or proclaiming that he was about to "ski half naked". Generally, the results were a room full of people with their jaws on the floor. Yoshito Usui's original Crayon Shin Chan manga ran in Weekly Manga Action, a seinen anthology for older teenage/young adult males that ran Monkey Punch's Lupin III, the story in which the notion of a gentleman thief is devolved into a Mad Magazine inspired gag comedy full of attempted rape and attempted murder, Kazuo Koike and Goseki Kojima's pulp samurai fiction Lone Wolf, and even the introspective look at the atomic bombing of Hiroshima a decade after the event and a generation after the event, Town of Evening Calm, Country of Cherry Blossoms. According to Clement and McCarthy's Anime Encyclopedia, when Shin Chan was adapted for television in the 90's, airing on a 7:00pm time slot, 68% of its viewers were under age 12. Here's a comedy about a child whose perpetually dropping his pants for attention and asking his teacher "if you're a single woman, why are you so tired every morning?" that being watch a lot of children. It's one thing to hope that kids aren't going to imitate frog baseball. It's another to hope that kids aren't going to imitate an inventively obnoxious character. That won Shin Chan the role of perennial antagonist for the Japanese PTA, which sited the show as a cause for a generation of rude children. For example, it 2003, Shin Chan scored the top spot on The Japanese National PTA Conference list of shows that should not be watched by children based on a 2002 survey of 5,000 parents of fifth-grade primary school students and second year high school students. Of the respondents who voted for the selection, 37% said the content of the show was stupid, 20% referred to the lack of common sense and morals, 17% to the language and 10% to the many scenes which "promoted bullying and prejudice". Ironically, Shin Chan has also appeared in social studies text books as an example of a nuclear family in contrast to the traditional model of generation living together, and the 2001 Crayon Shin Chan movie The Adult Empire Strikes back has been widely praised for its artistry and discussed for its message. In the wake of South Park's success, those viewers who traumatized with or where traumatized by those Hawaiian bootlegs asked, why no on was bringing over Shin Chan to the continental states. Vitello Productions did in fact produce an English language version, which did air in the UK, but in that case, it wasn't aimed for a South Park niche. The content was adjusted for American children's TV standards. In that version, Shin Chan's inflammatory vulgarity was shifted to "coolness". FUNimation has stretched the humor in their localization of Shin Chan by inserting button-pushing barbs about sex, politics, religion, drugs and so on. And, when it is not wildly out of character, a good Dee Dee Myers name-drop serves the comic banter well. Yet, for the most part, the funniest material is inherited from the original animation and character interplay. If there is one black mark on FUNimation's release of Shin Chan, it's that only one episode on the 2 disc DVD set features the original Japanese audio. Shinosuke Nohara, aka Shin Chan, is cared for by his stay-at-home mother, along with his infant sister and fluffy white dog, while his father labors in a corporate sales position. Saying that Shin Chan is the fool who sends-up middle class composure might be overstating the case, but there is an element of satirical subversion in this dervish who upends polite social order by introducing sex and bodily functions into any situation. On one hand he's a ravenous consumer of material excess and a devout media junkie who can't separate fiction from reality, on the other, he's often quicker to see through BS than others. Part of what makes Shin Chan a uniquely amusing comic device is that he'll speak loudly to demand attention, but he rarely yells out due to emotional outbursts. Nor does he snicker or otherwise sadistically acknowledge his mischief. Instead, he'll nonchalantly introduce himself with a "yo" and then commence the trouble making. As such, he pushes other people to cross the same social boundaries that he tramples over. Whether it rage, vanity or lust, he drags the flaw into the open. Some of the best running gags in the series concern the fits that people throw in response to Shin-related stress. Not only does the cultural context contribute to the humor, given that the franchise has been running so long with the same premise, the implications have mutated. In 2008, part of the joke seems to be that it is clinging onto an old fashion, if not antiquated family arrangement. Shin Chan's ability to inflame social situations proves to be a bottomless well for wrongness. The series 25 minute episodes are divided into shorter, title card introduced segments. Most of these stand on their own, but others do accumulate into longer running narratives: housing situations change and that stress fuels a chain of shorts, new characters are introduced, relationships and rivalries are perpetuated. Apart from some diversions that bend the rules to parody pop-culture, the nature of the segments and stories don't spread across an especially wide diversity of formula variants. That leads to a merry-go-round of escalating tempers that circles every seven minutes or so. Because there are so many social situation to set into disarray and so many way to upend them, these rotations do not tire quickly. In other words, if you enjoy Shin Chan's antics, it takes a lot of them before the joke gets old. The style of animation complements this sentiment. FUNimation is releasing episodes of the series from the middle of its run (post 1997 introduction of Shin Chan's baby sister). Two years ago, AniPages Daily posted an illuminating look on the Stylistic evolution in Crayon Shin-Chan. "Generally speaking, there appears to be a basic trend of moving away from the rounded look of the early episodes, presumably based closely on the original comic, to a more angular and individualistic approach where individual style is more prone to being expressed." This has been a canvas for animators with a more freeform approach to character design. For example, the episode ending animation on the FUNimation disc features the work of Masaaki Yuasa, whose fluid shaped work can also be seen in Cat Soup, Kaiba, and Mind Game. It's been called crudely drawn, but that label suggests an imprecision that isn't true of the anime. Instead, there is an irregularity in how it is abstracted and expressed that is fittingly non-literal. While the sophomoric tone of the FUNimation localization is consistent, the execution is not. There is some leeway to accentuate the characters. Shin Chan's well dress, proper peer can easily harden into a Young Republican. It is quiet disturbing and darker than the natural tone of the series, but the running bit with Shin's female classmate and her mother living in fear of physical abuse can be integrated without using a sledge hammer to pound in a mismatched piece. However, problems crop up when conversations bow to the impulse to thread barbs into every comment. When going for a constant stream of provocative statements, the dialog often falls back on identity digs (race, religion, politics) and drug references, especially the latter. Characters like Shin's parents have their quirks. They're far from type A people. His father has his every-guy letch moments. His mother has her vanity. As such, they can be irreverent or dirty in their own right. Yet, when they start peppering their comments with mentions of crystal meth, crack and so on, it's not in character, and the conscious effort to make a show with a sick sense of humor even sicker becomes too evident. It's difficult to work up a purist rage about the treatment of Crayon Shin Chan. It's not exactly a mortal sin to take some liberties with a piece of pop fun like this series. It's not a case of using close caption for the font of Ghost in the Shell 2, or turning Card Captor Sakura into Card Captors, or producing a 4Kids version of One Piece. Nor is the experience of watching Shin Chan hamstrung by the English language voice work. Like the translation, the voice acting introduces gags that weren't in the original. Yet that's part of an approach in which the actors effectively give voice to very specific characters. The fact remains that it is unfortunate that the viewer can't have it all... that there's only a sample episode offered in its original Japanese audio. YouTube is packed with Crayon Shin Chan shorts in the original Japanese without any translation. Even if you don't understand the language, they're still funny. In part, that's due to the visual nature of the humor, and in part that is due to the unusual voice work in the Japanese recording. Laura Bailey works as Shin Chan, and if there was no point of comparison, her performance would be quite impressive. Yet, Akiko Yajima, who usually plays cute kids and feminine characters (R. Dorothy Wayneright in Big O, Berserk's Rickert, Diva and Riku in Blood+, Relena in Gundam Wing), is incredible in giving Shin Chan his drawn out child meets old man voice. Simple phrases become hilarious, not just because Shin misuses them, but because of the delivery. It's a small favor that the chosen episode features Shin Chan's classmates and teachers, because it offers a taste of a wide selection of the cast. Like the visual style, there is a roughness to the speech. The students are strange, but the teachers, including Michie Tomizawa as Matsuzaku (Sailor Mars, C-Ko in Project A-Ko), Yumi Takada as Yoshinaga (Aeka in Tenchi Muyo) and especially Kotono Mitsuishi as Ageo (Misato in Evangelion, Excel in Excel Saga, Mink in Dragon Half, Sailor Moon in Sailor Moon ) are strange and awkard, with a weird, un-voice-actor quality to them that's funny in its own right. Shin Chan passes the comedy test of providing material that you can remember laughing at. It also has the benefits form the fact that that unlike many recent anime comedies, it isn't parody or narrow cast to initiated audience. Hopefully FUNimation will see the light and offer the next set with complete Japanese audio, but as it stands, being to get 300 minutes of Shin Chan in one page is a welcome prospect.
Big Dreams Little Tokyo DVD Scheduled
Echo Bridge Home Entertainment will be releasing Big Dreams Little Tokyo, a live action comedy concerning the interaction of American and Japanese culture, on DVD July 22, 2008. The disc, priced at $14.99 features * DVD Commentary from Director/Writer/Star Dave Boyle and Co-star Jayson Watabe * Pipe Dreams Little Tokyo Featurette: Behind the Scenes Interviews and "Making of" Footage * Yamamoto and Company Featurette: Raising Money for Production * Deleted Scenes with Commentary * Storyboard to Film Comparison * Web Spots * Trailer * Stills Gallery Synopsis Boyd, a self-proclaimed businessman convinced he's Japanese, and his roommate Jerome, a sluggish but affable Japanese-American sumo wrestler, have big dreams for themselves. Together, the two travel door-to-door by tandem bike, giving flyers and sales pitches to anyone who listens…but Boyd's Japanese clients aren't buying his "Translation Services," and no one will give Jerome—a paltry 200 pounds—a chance in the ring. When they meet Mia, who is unfazed by their oddities and offers a hand, Boyd and Jerome discover that in a world where cultural identity is seldom what it seems, there's a place for everyone. The DVD is listed on Amazon. A review can be read here
Akira Live Action Remake 'Teaser': An Asian Man's Quest
As a reaction to the Hollywood like action remakes of Akira, as well as Ghost in the Shell, and Battle Angel Alita, Jae Chae has put together a proof of concept to demonstrate that "the major roles can be just as compelling and appealing being played by Asian Americans as much as Caucasian Americans," and as a bid for play a part in the film.
Coming Up... a More Efficient Place to Buy Evangelion Re-Releases
In the wake of the websites for ADV Films and digital distribution channel ADV Universe going offline due to transaction logs overflow errors, Anime on DVD determined that ADV Films will be outsourcing their online retail to Right Stuf ADV representative Chris Oarr had told Anime News Network that ADV Films will be rolling is into the main advfilms.com website in January and February. Oarr also said to ANN that, "ADV is really great at a lot of things and pretty good at most everything else, but when it comes to fulfillment, Right Stuf certainly is one of the best. We're getting out of the online fulfillment business, and we're looking forward to improving the service received by our customers via this partnership with Right Stuf." On a related note, Anime on DVD recently posted a critcisim of the marketing efforts made by anime companies, ADV specifically.
Figures News
Organic Hobby, Inc in conjunction with Beagle will be releasing the Renji Murata "PSE CDB Chair" in June with a SRP of $88.00. "Renji Murata PSE CDB Chair" was created once again by the famous illustrator, artist and designer, Renji Murata. Renji "Range" Murata is a Japanese artist and designer, known for his unique style combining Art Deco and Japanese anime elements. He is best known for his conceptual design work on anime series Last Exile and Blue Submarine No. 6. "Renji Murata PSE CDB Chair" is a 1/10 scale PVC figure and comes in a window box. Organic Hobby, Inc and Happinet will be releasing "Cobra & Lady Armaroid" this July with a SRP of $265.00.

"Cobra & Lady Armaroid" is based on a sci-fi manga created by Buichi Terasawa, later turned into an anime movie and a TV series. The series features the infamous space-pirate Cobra who was once forced to hide from enemies by surgically altering his face and erasing his own memory. "Cobra & Lady Armaroid" is an 11 ½" PU fully painted statue and comes in a window box with a custom base for display.

Organic Hobby will also be releasing "Hellsing Collection Figure – Search & Destroy (Vol. 2) Reverse Cross (Arucard) and Bayonet (Anderson)" in July with for $25.00 each. "Releasing Control Art Restriction to level 3, level 2, level 1. Situation A. The Cromwell approval is now in effect." The characters "Arucard & Anderson" are originated from "Hellsing," an anime and manga series created by Kouta Hirano. It chronicles the efforts of the mysterious and secret Order of the Royal Protestant Knights (also known as the Hellsing Agency) as it combats vampires, ghouls, and other supernatural foes who threaten the kingdom of England. Kouta Hirano's Hellsing world is in your palm with this highly detailed 5 ½" collectible PVC figures. The figures "Reverse Cross (Arucard)" and "Bayonet (Anderson)" come in a clear box and this second long-awaited phase captured Arucard and Anderson preparing for the fight of their life.

Organic Hobby, Inc in conjunction with GDH/TOPCOW will be releasing Witchblade "Masane Amaha" in July'08 with a SRP of $50.00. "Masane Amaha" is the leader character (and blade wielder) of "Witchblade," an anime series based on the famous American comic book by the same name. Instead of an adaptation of the original story, the producers decided to create an entire new setup, with all new characters. The anime is being directed by Yoshimitsu Ohashi (director of Galaxy Angel & Galaxy Angel Z) and the character designs are done by Uno Makoto (character designer of the Gravion TV Series & Stellvia). She is being introduced in her VERY SEXY uniform (or what's left of it). The figure is 8" tall comes equipped with accessories (such as one blade and a custom base for display) and its part of "Organic USA" original product. Organic Hobby, Inc. will release two additional figures as part of Witchblade's anime series: - Rihoko Amaha (August.,08) & Reina Soho (September.'08).

Organic Hobby, Inc with CM's Corporation will be releasing "Sunrise Mecha Action Series-Might Gain" in July with a SRP of $62.00. "Sunrise Mecha Action Series-Might Gain" character is from the famous Japanese TV mecha action anime series "King of Braves Gaogaigar Final (Grand Glorious Gathering)." The figure is a 6" tall PVC/ABS/POM fully articulated and comes equipped with accessories/weapons.

Sideshow Collectables has previewed their release of 1:6 scale Real Action Heroes (RAH) Figures by MEDICOM TOY Dragon Ball Z Goku and Super Saiyan Goku. The figures will be released in 3rd Qtr 2008 and 4th Qtr 2008 respectively

According to Robotech's Harmony Gold, Toynami will begin distributing classic 1/55-scale VF-1 transformable toys based on the original Japanese molds designed by Takatoku. Long time Transformer fans may remember that the VF-1 was the figure used as the G1 Jetfire toy. This release will mark the first time that these toys will be offered officially outside of Japan under both the Robotech and Macross brands. Toynami plans to release anniversary editions of 1/55 VF-1S and VF-1J variants with VF-1A Super Valkyries as seen in Macross: Do You Remember Love scheduled for all. 2009 will mark the release of 1/55 Veritechs from the Robotech television series, with plans to eventually release all known 1/55 Valkyrie toys, including rare and exotic variants. CollectionDX on Great Mazinger Danny Choo on Nida Schuetlich from the Shuraki series by Good Smile
New and Upcoming in Japan
Anime News Network notes Madhouse Haruo Mizuno's cult, Hitchcockian suspense film series Siberian Express (Siberia Chotokkyu). An OVA based on cute girl geek comedy Lucky Star will be released this summer a long side a drama CD. The anime TV series was recently released in North America. (NewType scans) Evangelion manga artist and character designer Yoshiyuki Sadamoto and his manga creator wife Mako Takaha will release a two-installment manga called Archaic Smile in Kadokawa Shoten's Comic Charge magazine this month. Arina Tanemura (Full Moon wo Sagashite) will be concluding her Gentlemen's Alliance Cross manga in July issue of Ribon. The same issue will commence her new manga Mistress Fortune. The Ochi community of southwestern Japanese has funded a 100-minute anime feature based of the local legend a deposed 12th century child emperor Antoku after his when he was believed to have by drowned to death. The local residents contributed to the 3.2-million-yen (about US$31,000) budget, and about 30 citizens and elementary schoolchildren volunteered to voice the character roles. a geek by any other name translates MoonPhase rumors stating that Slayers REVOLUTION will air in July on TV Tokyo in a late-night spot. The story will features Rook and Mirina as well as the return of Prince Phil and Sylphiel According to Anime Nation, an animated adaptation of the classic Romance of the Three Kingdoms, produced by Chinese studio Beijing Glorious Animation Co. Ltd. will air on Chinese and Japanese television beginning this June. According to ComiPress, Shueisha announced that PEACH-PIT's popular seinen manga Rozen Maiden, which was last year in Gentosha's Comic BIRZ, will resume serialization in Young Jump. On the non-anime front, Minoru Kawasaki (Calamari Wrestler) will be making a kaiju monster featuring Guilala of The X From Outer Space fame.
FUNimation on Zune
FUNimation and Starz Media (Manga Entertainment) along with Comedy Central, FUNimation, MTV, NBC Universal, Nickelodeon, Turner Broadcasting, Ultimate Fighting Championship and VH1 have be added to the Zune online store for play on the Microsoft portable media device. Each show will be priced at 160 Microsoft Points per episode (approximately $1.99) at launch.
Australia Getting Mysterious Cities of Gold on DVD
Australia's Umbrella Entertainment Studio Pierrot's children epic the Mysterious Cities of Gold on a disc DVD set in August. Features in the set include Deleted Scenes English dubbing cast documentary with the 4 main cast The dubbing cast recreate a scene featurette Production documentary with the director Bernard Deyries, the producer Jean Chalopin and the composer Shuki Levy Phillip Schofield Broom Cupboard Singalong Clip Karaoke Theme Tune Singalong Crew Biographies Dubbing Cast Biographies Character Biographies Series Synopsis Episode Synopsis Original Storyboards Original Production Drawings 32 Page Collectors Booklet 12 Page History Booklet The show aired on American TV on Nickelodeon in starting in 1986.
Crunchyroll and THINK Corp. Announce Anime Innovation Tokyo Digital Content Showcase
Crunchyroll and THINK Corp. of Japan, have entered into an agreement to showcase Anime Innovation Tokyo properties via Crunchyroll's website. THINK Corp. set up the project "Anime Innovation Tokyo ", backed by Tokyo Metropolitan Government. The launch will include several videos and digital channel dedicated to Anime Innovation Tokyo's content. The "Anime Innovation Tokyo" digital channel will be seeded with a variety of trailers and clips from its extensive portfolio of titles, as well as feature several social networking elements, including polls, discussion boards, and group membership. The creative design of Anime Innovation Tokyo's channel was done directly by its creative team, while the technical side was handled by Crunchyroll. The channel launched here.
Dark Horse Clover Release Plans
According to ICV2, Dark Horse will an omnibus collection of CLAMP's Clover next January. TOKYOPOP previously released in the manga in 2001. Dark Horse will publish all four tankobons of the Clover manga unflipped in one 512-page omnibus edition with 32 pages of color and a cover price of $19.95.
International Gundam Society
According to Gunota, International Gundam Society will be examining the socioeconomic perspective of Mobile Suit Gundam as part of Hiroshima Animation Biennale 2008 (August 7 through 26). Participants include Professor Shinya Hashizume, Dr. Etsuko Yamaguchi, and lecturer Mikio Sugiura will speak about The feasibility of the Universal Century (the possibility of space emigration due to overpopulation) Human conflict on Earth and in space (a historical look at elitism) The social psychology of spacenoids (the emergence of the Newtype) Love of the Earth and home (the praxiology of being away from one's hometown) The Zeon revolution (concerning the perpetuity of fascism) The politics of the technocrat (Earth Federation) The possibility of reforming human consciousness in the battlefield The international spread and economic effect of Gundam 400,000 people are expected to take part in the various Biennale events, the main program for which is the Robot Anime Expo.
Worth Checking Out
Takashi Murakami's Little Boy: The Arts of Japan's Exploding Subculture can be read on Google Books. Same Hat! Same Hat! hosts a translation Tokunan Seiichiro's The Human Clock Nausicaa has posted the handbill promotion for Hayao Miyazaki's Ponyo on a Cliff by the Sea Malaysia's English-language newspaper, The Star talks Kaiba Kaiju Shakedown points out previews of TOKYO GORE POLICE, starring Eihi Shiina (Audition) 40% down of the site for anthology Ribbon, check out the strange re-stylization for Hello Kitty Peace!! David Welsh's Flipped looks at at 2008 Eisner nominated manga. Canned Dogs looks at how the live action version of Higurashi-When They Cry is being panned AnimeCons.com has launched a Twitter feed Battletech on Wired's Geed Dag blog, via Empires Crumble, But Giant Robots Are Forever Okazu talks to translator Anastasia Moreno Golgo 13 coffee A gyaru ("girlie") version of a Gundam figure goes on auction Iwa ni Hana on Bestselling Book: 'Otaku Is Dead' by Okada Toshio Cartoon Brew points out the existence of The Journal of Cartoon Over-analyzations A trailer for the Mushrambo (aka Shinzo) film. This might have been referenced before, but a look at Gyagu Manga Biyori aka Good Day for Gag Manga After a kafuffle with a misused song, an official trailer for Wolverine and the X-Men has gone online Via Anime Hell Speed Racer Goes Crazy And Via Japanamerica Go Speed Go