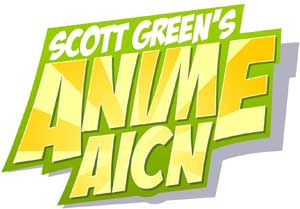 Logo handmade by
Bannister
Column by
Scott Green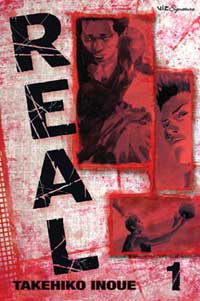 Manga Preview Real Volume 1 By Takehiko Inoue To be released by VIZ Media July 15, 2008
In Real, Takehiko Inoue, creator of huge-in-Japan hit Slam Dunk and the iffy-er sci-fi basketball series Buzzer Beater, turns his award winning talents toward wheelchair basketball. The sports manga introduces the subject through the perspective of Nomiya Tomomi, a problem student who drops out of high school due to the guilt of walking away from a motorcycle accident that cost his passenger her ability to walk. Desperate to repent and find a way to convince the young woman to open up to him, he takes her out as he tries to explain his motivation for leaving school. While regaling her with the story of the scatological final mark that he left on the school grounds, he hears someone shooting baskets. Ducking into a gym to find out who's playing, he meets Togawa Kiyoharu, a wheelchair athlete whose passion for basketball and competitiveness matches his own. Takehiko Inoue's illustrations are heavy on the blood, sweat and tears aspect of basketball. Nothing looks effortless or natural, and that is presented as a function of the game of basketball rather than the fact that the manga is principally dealing with the wheelchair variant on the game. Whether it is sneakers or wheels, on court exchanges are punctuated by the screech of rubber. One volume in, without any defined goals, Real is already one of the sweatiest, most intense sports manga to be released in North America. Inoue's approach to his characters more closely resembles Vagabond, his fictionalized biography of genius swordman Miyamoto Musashi, than it does most sports manga. The intension is to capture the mindset of the subject rather than present the progress of an everyman who the reader can cheer on without any ambivalence. As they are introduced, the protagonists of Real are established as people who are difficult to deal with, if not infuriating. In his more endearing moments, Nomiya Tomomi is either being painfully indecisive or an obnoxious braggart. At his worst, he's a physically abusive bully: kicking the new basketball team captain behind the knee and in the liver during his campus exit. On the other hand, Togawa Kiyoharu wasn't above decking his own teammates if they did not perform to his expectations. It seems like the manga is going to be concerned with mastering the game of basketball to some extent. And, it seems like characters will be redeemed through the game. However, the real promise of the manga is that it will test these characters and through testing them, explore the depths of their personalities. Vagabond showcased big personalities who were great thinkers and great swordsmen. Real showcases big personalities, who might be excellent amateur basketball players, with older teen/young adult concerns. In either case, the manga provides a far from humorless look into the heads of credible characters who go to the brink of "larger than life." There are several hindrances that prevent volume 1 of Real from grabbing hold and establishing an imperative draw to the series. First, some of the material is stock. The silent girl who is the source of Nomiya Tomomi's guilt is not allowed to be anything but a catalyst. Takahashi Hisanobu is introduced later in the volume, presumablely to offer the perspective of someone who suffers a spinal injury then learns to live his altered life and play basketballs Unfortunately, Inoue does not introduce anything make Takahashi Hisanobu a believable person and not just the product of a story template. Inoue may and probably will flesh out both of these characters, but one volume in, these characters just seem present to make points and serve the plot without being interesting in their own rights. The other concern is that directionlessness might be part of the point of the manga at this early stage, but that quality still weakens the draw of the manga. It has mapped out these characters and their circumstances, but that chart is missing a compass. There are plenty of places that the manga could go, but it doesn't establish forward momentum. Nor is the manga being established as the kind of work that does not need a goal. Takehiko Inoue has a distinctive approach to exploring talent and the excursion put forward to develop and express that talent. Real is worth reading for that element, but sports manga often succeed by convincing a reader who might not be inclined to follow a sport to share some passion for the endeavor. Without marking a course, a volume in, Real has not organized the case to sell the sport to the reader.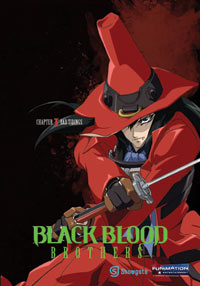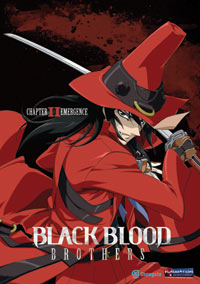 Anime Spotlight: Black Blood Brothers Volumes 1 and 2 Released by FUNimation
Considering Black Blood Brothers' staggeringly off-putting sight of a sword wielding knight errant vampire in a bright red overcoat and witch's hat... Considering Black Blood Brothers is directed/story boarded by first timer Hiroaki Yoshikawa and written by Yuu Sugitani, whose slim credits include the anime version of alien school girl relationship comedy The World of Narue and the second of the Giant Robo parody side project Gin Rei specials... Considering that Black Blood Brother's scenes of Universal horror attired vampire lords chasing busty ladies scratch the surface of parody without committing...Considering Black Blood Brothers features more than a preponderance of incessantly obnoxious, cute kids... Black Blood Brothers is a surprisingly effective action anime. This takes a form that approaches old Kawajiri horror action without the same distinctive atmosphere or intensity. Pre-anime boom, this is what many people equated anime with. Combatants leaping over buildings, knocking each other around with various fire arms or even steel girders. The tragic hero who is harder than he might appear gives the title a bit of Space Cowboy-Cowboy Bebop/Trigun vibe. The almost cowboy hat and almost duster go some way to establishing that impression. However, this leaves a lighter imprint on the anime than it might seem at first glance. Beyond those parallels, , the anime demonstrates that it knows how to hold the attention of a fan of the genre. Without pinning its structure to an overly predictable formula, the anime suggests that something will happen, it builds anticipation for what conflict when various parties meet again in battle, then it delivers on that promise. When Black Blood Brothers hedges towards originality, such as the look of its hero, the merits are sometimes questionable. However, when it is satisfied to take direction from the old genre playbook without following it slavishly, it's a well paced, energetic supernatural beat-em-up. Black Blood Brothers is based on a series of light novels. Consequently, as with other anime adapted from light novels, such as The Third or The Twelve Kingdoms, Slayers, Kino's Journey or Vampire Hunter D, the anime is heavy on concepts. Between factions, reincarnation and history, a great deal of text could be dedicated to laying out Black Blood Brothers' premise. In brief, the powers that be in the vampire ("black blood") world and the powers that be in the human ("red blood") world share control. In 1997, both sides faced critical danger from a strain of vampire known as the Kowloon Children, whose bite turned both humans and other vampires into thralls of the strain. A decade later, Jiro Mochizuki, aka Silver Blade or the Kinslayer, a chief hero in the Crusade against the Kowloon Children, shows up with his wide eyed younger brother Kotaro Mochizuki in tow. The pair arrive at Yokohama, hoping to find sanctuary in the vampire haven of Special City, tangling with old associates, the reemerging Kowloon Children, the human enterprise known as the Order Coffin Company, other renegade factions and so on. The history aspect of this stack of information crowds motivations into flash backs to earlier eras in Jiro's history. That leaves accumulated drama between Jiro and his departed lover Alice Eve, between Jiro and Cassandra Jill Warlock, a confidante who betrayed him in the Crusade and between Jiro and Mimiko Katsuragi, a human "compromiser" for The Company. The sum total of all the introduced concepts and character dynamics is neither badly convoluted nor directed enough to be intriguing. What it does accomplish is that the information fits together well enough to establish continuity between episodes. With something always happening or being revealed, there is enough forward momentum to mask shortcomings in originality. Black Blood Brothers is unlikely to land in any lists of favorite anime series, It is not anime that provides something new. However, delivering on the accepted fundamentals of action anime, it proves capable of provoking interest and even anticipation.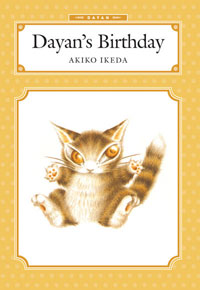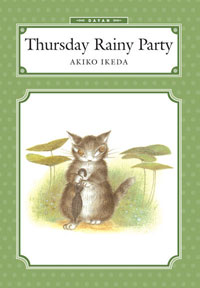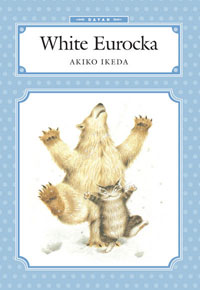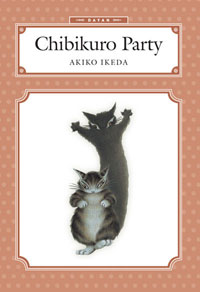 Dayan: Dayan's Birthday Dayan: Thursday Rainy Party Dayan: White Eurocka Dayan: Chibikuro Party by Akiko Ikeda Released by Dark Horse Books
Akiko Ikeda's Dayan series of picture books offers a sublimely lyrical world that is closer to the lighter hearted moments of Tolkein than Beatrix Potter. Like Potter's stories, Ikeda presents a world of animals that are anthropomorphized in behavior, but not particularly in form. Dayan is a mogwai-ish cat, who lives in a house, cleans himself in a basin of water, verbally communicates with a village of other animals, and so on. Except, there is an air of primordial legend to the stories, as if they were dealing with a world that had not been fully formed or defined. "Dayan's Birthday" concerns the cat taking up residence in the community of Wachifield without knowing his date of birth or realizing that he had his own birthday. After consulting his wise peer Jitan, he travels to Mount Cachigari to consult a trio of witches on the matter. The next book, "Thursday Rainy Party" hinges on Dayan marking stones on a ledge as an instrument by which frogs can learn and record the days of the week. In either case, the books aren't presuming to teach someone reading or hearing the story. Instead, the books suggest that concepts like dates, or geography are being fully introduced to Dayan's world for the first time. Dayan and friends might be meeting polar fauna that drift in on an iceberg or celebrating a picnic, but the sense of rolling out concrete formalization to the world give the stories an air like agriculture is being introduced or Thebes is being established. There is a spark to Ikeda's illustration. It's creative, such as the first person view of Dayan seeing Jiten through a piece of ice that Dayan holds up. And, it has and edge of personality. While the reader seems physically close to the characters, with a perspective to the illustrations that suggests that the reader is a few steps away from the subjects, the proximity seems to be on the characters' terms. Even if the stories often revolve around celebrations, these aren't perpetually happy critters with smiles permanently affixed to their faces. Part of what is endearing about the presentation is its touch of devilishness. Ironically, the stories concern Dayan, Jiten and company being patient and welcoming, but their look suggests that their patience is not unlimited, that they are happy to have guests around, as long as they don't intrude or overstay their welcome. This makes for an interesting dynamic in stories that read like gentle children's books. There's alcohol being consumed in a number of the stories, and that might be a red flag for some children's content governors. Beyond that, of the first four Dayan books, the most problematic is Chibikuro Party, in which Madame Moon gives the shadows a free rein for the night. The shadow of Noel crashes the party. Unfortunately, Noel lives in "Death Forest". As the book explains its premise: "The Satan of Death Forts had ordered him to come to Chibikuro Party to Kidnap the shadows." Reading the book to a younger audience, the trouble is not just the requirement to explain the concepts of a "Death Forest" or a "Satan of Death Forest," it's that the book offers little assistance mediating the tale for an inquisitive child audience. Even for a Dayan story, Chibikuro Party is surprisingly abstract, if not bewildering. Any of the other three would be a pleasure to read to a youngster, but Chibikuro Party as "fiasco" written all over it. Though, as the kind of gift an instigating uncle/aunt/godparent might give, it has plenty of potential.
First...
New York-Tokyo, which covers art, fashion, music, gaming, film, and ect from a Tokyo-centric perspective, has put together a look at the Soho launched of UNIQLO's manga inspired shirt line. Shirts include designs form Kazuo Umezu, Golgo 13, Rumiko Takahashi's Urusei Yatsura, Ashita no Joe, and more. VIZBLog has their look here. (Viz is associated with Shogakukan, the publisher whose works inspired the t-shirts).
Right Stuf Picks Up Aria
Anime producer and distributor Right Stuf, Inc. and Nozomi Entertainment announced plans to release ARIA on DVD – as box sets with Japanese audio and English-language subtitles – starting with the series' 13-episode first season, ARIA the Animation, on September 30, 2008. Based on the best-selling manga by Kozue Amano, the ARIA anime is helmed by Director Junichi Sato (Princess Tutu, Sgt. Frog, Sailor Moon/ Sailor Moon R), features animation by Hal Film Maker (Boys Be…, Pretear, Slayers Premium, Sketchbook ~full color'S~), and encompasses three television seasons, plus an OVA (original video animation). The franchise's third season, ARIA the Origination, completed its TV Tokyo broadcast in March 2008. Amano's 12-volume ARIA manga and its two-volume prequel, AQUA, are both published in North America by TOKYOPOP. In Japan, ARIA was originally serialized in Mag Garden's Comic Blade magazine. Hundreds of years in the future, mankind has transformed the harsh landscape of Mars into a world covered by water and has renamed it "Aqua." Refined gondoliers and tour guides, known as "undines," navigate the canals of Aqua's Neo-Venezia, a city that boasts both the architecture and the atmosphere of its Venetian namesake. ARIA follows the day-to-day adventures of Akari – a recent arrival to the planet and a gondolier-in-training with the prestigious Aria Company – as she works toward her dream of becoming an undine and explores her new home. Visit aria.rightstuf.com for more information about ARIA and to pre-order the ARIA the Animation DVD Collection now.
More Evidence that Wachowski Bros Film is Ninja Scroll
ICV2 reports Director James McTeigue (V for Vendetta) has begun shooting a live action movie known as Ninja Assassin at the same Berlin studio where the Wachowski Bros. (who are producing Ninja Assassin) directed Speed Racer. The site notes that descriptions of a cast that includes Korean pop idol Ji-Hoon "Rain" Jung bears a striking resemblance to the characters in Yoshiaki Kawajiri's classic anime Ninja Scroll.
Felipe Smith Work to be Published in Manga Anthology
Felipe Smith, the creator of the MBQ graphic novel series published by TOKYOPOP, will be serializing a new work in Japanese manga anthology Morning 2. Morning 2 will also be carrying Meng-Lin Yu's Fairy Tale, the recent, Taiwanese winner of the anthology's International Manga Competition.
New Batman Gotham Knight Images
Blog@Newsarama has posted images of the Batman versus Deadshot segement of the Batman Gotham Knight anthology.
Upcoming Sets and Premieres
VIZ Media 7/29 Inu Yasha Season 5 Box Set (also w/Deluxe Edition) - 600 minutes - $99.98/119.98 Naruto Movie 2 Ranma 1/2: Season 7 Box Set - 600 minutes - $49.98 8/12 Naruto Box Set 09 (also w/special edition) - 340 minutes - $49.98/69.98 8/19 Bleach Box Set 2 (also w/Limited Edition) - 500 minutes - $69.98/89.98 FUNimation 7/01 Desert Punk Complete Collection (Viridian Collection) - $49.98 Samurai 7 Complete Collection (Viridian Collection)- $49.98 7/08 Yu Yu Hakushuo Season 1 Collection - $34.98 07/15 Aquarion Season 1 Box Set 2 - $59.98 Dragon Ball Z: Bardock/Trunks Double Feature - $34.98 (Blu-ray) 7/22 Case Closed Season 1 Collection - $49.98 7/29 Beck Complete Collection - $69.98 YuGiOh! Season 3 Collection - $49.98
Event News
Digital Manga Publishing will be hosting Vampire Hunter D creator Hideyuki Kikuchi at Anime Expo. Saiko Takaki, who adapted Vampire Hunter D into the manga published in North America by DMP, will also be in attendence. Bandai Collectible Games will be running an official Naruto CCG Kage Tournament at this year's Anime Expo 2008, held from July 3-6, 2008 at the Los Angeles Convention Center in Los Angeles, CA. Anime Festival Orlando has begin taking pre-registration for the event taking at the Wyndham Orlando Resort August 15th, 16th and 17th. In its ninth year, "Florida's Favorite Japanese Animation Convention" will host Monica Rial (ADR script writer, voice of Simca in Air Gear, Sakura in Tsubasa Chronicle, Lumiere in Kiddy Grade) Colleen Clinkenbeard (ADR Writer and Director, voice of Riza Hawkeye in Fullmetal Alchemist, Éclair in Kiddy Grade) Christopher Patton (voice actor in Pretear, Evangelion, Kiddy Grade, Gravion and Fullmetal Alchemist) Jason David Frank (martial artist, the Green Ranger in Mighty Morphin' Power Rangers) Stephanie Yanez (singer, starring in Anime Pop an on-line series with CartoonMogul.com Richard Epcar (ADR director, voice in Ghost in the Shell, Yu Yu Hakusho, Mobile Suit Gundam, Serial Experiment Lain, Robotech, Lupin, Rurouni Kenshin, Transformers, Witch Hunter Robin, Samurai Champloo, and Bobobo-Bo Bo-Bobo) Ellyn Stern (voice in Armitage III: Poly-Matrix, Vampire Princess Miyu and Ghost in the Shell 2: Innocence, Masaki Kurosaki in Bleach) Doug Smith (Kintaro Oe in GoldenBoy, voice in Sorcerer Hunters, Dragon Knight, BubbleGum 2040, Those Who Hunt Elves, and Steam Detectives) Travis Willingham (Colonel Roy Mustang in Fullmetal Alchemist) This year, Anime Festival Orlando's theme is Role Playing Games. The staff has crafted an original story/game called "Swords of Orlandia" and will feature an interactive RPG story for our attendees to voluntarily participate in. Man-in-Suit monster wrestling troupe Kaiju Big Battel announced musical guests for their upcoming spring events.

What: Kaiju Big Battel with special guests from CHIKARA PRO Musical Guest: DJ Clashious Clay Where: The Roxy, 279 Tremont Street, Boston, MA. 02116 When: Saturday, May 10th. 7:00 Doors. 8:00 Show. Tickets: $20. Ticketmaster. This is an 18+ event. What: Kaiju Big Battel with special guest Chris Hero Musical Guest: Harry and the Potters and DJ Clashious Clay Where: The Trocadero, 1003 Arch St. Philadelphia, PA 19107 When: Sunday June 1 st, Doors 3:00PM. 4:00PM Show. Tickets: $19.50. Ticketmaster. All Ages. What: Kaiju Big Battel Musical Guest: Ronald Reagan and DJ Clashious Clay Where: Webster Hall, 125 East 11 th St. Manhattan, NY, 10003 When: Saturday, June 7 th. 6:00PM Doors. 7:00PM Show. Tickets: $25. Ticketmaster. This is a 16+ event. Currently, the Kaiju Universe maintains an active roster of approximately 50 monsters, including a factory-worker-turned-soup-can called Kung-Fu Chicken Noodle, a dirty hare-sage dubbed Dusto Bunny, a loser sea beast known as Call-Me-Kevin, and a despicable, square-headed mad scientist known as Dr. Cube. In addition to the Kaiju Commissioner, a few privileged humans also get a piece of the action, including Referee Jingi, a mustachioed official who enforces fairness and civility in the ring, Davio Salbino, an urban renewal expert who reconstructs crumbled cityscapes between Battels, and one tuxedo-wearing, mouth-running MC, Louden Noxious. Stone Bridge Press notes that The Anime Encyclopedia co-author Helen McCarthy will be speaking at a number of upcoming events including May 3: Kihachiro Kawamoto films at the Barbican Cinema in London. McCarthy will be joined by Midnight Eye Guide to New Japanese Film co-author (and Barbican Senior Curator) Jasper Sharp to discuss Kawamoto's work before the third program at 4:15 p.m. ) May 11: Bristol International Comic Expo. McCarthy leads a panel on Osamu Tezuka's impact on the anime and manga industries. () May 31-June 1: Dallas, Texas' A-Kon September 11-16: McCarthy curates a film season at the Barbican Cinema devoted to Osamu Tezuka to mark the 80th anniversary of his birth. Screenings will include titles previously unseen in Britain. A further short season in Spring 2009 will continue the celebration. .dot-anime's blog says that they've heard that GAINAX will be sending 46 people, mostly Gurren Lagann staff, to San Jose's Fanime Con. Cartoon Brew reports that the Pictoplasma conference on contemporary character design is moving from Berlin to New York City's Skirball Center for the Performing Arts at NYU. Speakers for the September 5-6 event include including Friends With You, Akinori Oishi, Aaron Stewart, David O'Reilly, Tim Biskup, Motomichi Nakamura, Fons Schiedon and Gangpol & Mit. See here for some Cartoon Brew commentary.
Figures/Apparel News
Early prototypes of the head sculpt and helmet for GoHero's Buck Rogers figure are online. KOTOBUKIYA has added a number of imported Japanese figures, scheduled for American release KOTOBUKIYA has reveiled the Batman "Dark Knight Bat-Suit" Artfx Statue, which will be available through DC Direct in October. Based on the Christopher Nolan films, the 14 inches tall, Batman is posed throwing his flowing cape to one side, posed dramatically on the destroyed Bat-Signal – emblematic of his place in the eyes of the GCPD at the end of the film. ARTFX Statues are 1/6th scale prepainted snap-fit model kits that can be easily assembled in minutes without any glue or modeling skill. any is known for, with the first release being BATMAN "DARK KNIGHT BAT-SUIT" ARTFX STATUE.

LITTLE BUSTERS! NOUMI KUDRYAVKA 1/8th STATUE A KOTOBUKIYA Japanese import Based on bishoujo Little Busters from KEY, the producers of Air, Kanon, and Clannad Noumi includes bonus parts so you can display her with or without her Hat and Cloak. Standing 7 inches tall (1/8th scale), this pvc statue has much to please the Moe collector with her cute pose, short skirt, and thigh-high socks.

BEAT BLADES HARUKA: TAKAMORI HARUKA 1/8th STATUE A KOTOBUKIYA Japanese import From adult game Beat Blades Haruka, the spiritual successor to Beat Angel Escalaye 8" tall (1/8th scale pvc statue has been sculpted by Toshinori Makio.

YOTSUNOHA: NEKOMIYA NONO ~NEKO-MIMI SUKUMIZU HIGH SOCKS STYLE~ 1/6th STATUE A KOTOBUKIYA Japanese import Based on the adult video game titles Yotsunoha (Four Leaf Clover), which will spin off in 2008 with a brand new PS2 game as well as an Anime Series.

SHINING WIND 1/8th SCALE STATUE SERIES BLANC NEIGE - WIND EDITION & ELWYN A KOTOBUKIYA Japanese import Based on the artist Tony Taka designs from the PS2 "Shining", sculpted by Hirotoshi Nakamura

Prototypes shown; Pending final licensors approval. AUSSENSEITER 6 inches tall, non-scale mecha Previously seen in his HORSE form in "PFERD" mode, now in robot combat mode with rubber wheels located on the bottom of the feet/

STREET FIGHTER PANSONWORKS DESIGNER VINYL FIGURES A KOTOBUKIYA Japanese import

Four 4~5" figure lines includes RYU

CHUN-LI

GUILE

SAGAT

AIR ANIME STATUE A KOTOBUKIYA Japanese import 7 1/2" tall AIR is an original Kotobukiya character, designed and illustrated by Ni? – also known as STUDIO THE EDGE, freelance mecha designers of Demonbane, Queen's Blade, as well as other anime series. The design was then sculpted by Tsukuru Shirahige and painted by Yukio Nishiyama especially for the Fuji Television program "Let's Make Plastic Model Kits Custom".

Shocker Toys has posted their New York Toy Fair flyer Shocker Toys's Indie Spotlight is a new action figure series from Shocker Toys presenting independent comic book characters in 6-7" super poseable figure form with a full size pack in comic (They debuted at Toy Fair 2008). The 6" Comic Book action figures Series 1 features (Jim Valentino's ShadowHawk, Rob Schrab's Scud the disposable assassin, Terry Moore's Katchoo of 'Strangers in Paradise', David Mack's Kabuki and MTV's The Maxx an 8" Mega Figure". Series1 will have an Isz packed in with each figure to complete a fight scene with The Maxx. The Maxx will be sold as a stand alone figure mega sized in the series and there will be a mail away figure Mr. Gone. Series 2 is set to consist of Dick Tracy, Zombie King (Deadworld), Jack Staff, Ignacia (Wildguard) and The Tick Mega Figure. Series2 will have different Tick related items like SPOON! with each character and an Arthur mail in figure.

Retail price is $13.95 per figure and $14.95 for each Mega Figure. They are due out July of 2008 and will be carried by Toys R Us and Local Comic Book shops as well as direct. Shocker Toys' other planned 2008 releases include Metalocalypse Dethklok action figures, GWAR action figures, Indie Spotlight Shockinis, Who wants to be a Superhero? Shockinis and 6" Feedback and the ever popular customizable, interchangeable, paintable mini shockini block figures. The Spotlight has also become a brand on its own such as Horror Spotlight, Anime Spotlight, Manga Spotlight, Movie Spotlight, Gamer Spotlight and more to come. Shocker Toys will be presenting at at the Chiller Theatre in Parsippany, New Jersey May2-4th at the Hilton, with giveaways and close ups of Series2 along with the product line discussions. Chiller Theatre is a horror themed toy, model and film festival with special guests Jason Mewes, Ernest Borgnine, Lindsay Wagner and Elvira and many more. Show hours are Friday from 6pm - 11pm, Saturday from 11am - 7pm, or Sunday from 11am - 5pm. Organic Hobby, Inc in conjunction with Kaiyodo proudly will be releasing "Revoltech Lazengann" and "Revoltech Toro (New Faces Limited Edition)" in the US with SRP's of $24.0 each. Lazengann is based on a Japanese shonen anime television series animated by Gainax and co-produced by Aniplex and Konami known as "Tengen Toppa Gurren Lagann (or Break-Through Heaven Gurren Lagann" or more loosely "Heaven Shattering Gurren Lagann). Meaning "Spiral Face", the Lazengann is Lord Genome's personal Gunman. It is very similar to the Gurren-Lagann and has the same abilities that the Lagann can use (by extension, it also proves immune to being controlled by the Lagann Impact attack). However, it is much stronger and can use more powerful drill techniques, as well as defend against the Gurren-Lagann's techniques with ease. The figure is 5-6" tall and has 38 articulation points with 11 joint parts (+ inner body joint gives facial expression to his chest face). "Revoltech Lazengann" comes equipped with interchangeable accessories and parts (1 long distance drill, 2 different chest parts includes for a normal & revealed version, 4 optional hands, 1 display base and a special bonus "Gurren Wings' pylon" for Revoltech Gurren Lagann). By buying this figure, you will be able to built & complete "Revoltech Gurren Lagann" flight mode.

Toro (New Faces Limited Edition) is a fictional character created by Sony Computer Entertainment. It first appears in July 1999 as the main character in the video game Doko Demo Issyo (also written as Doko Demo Issho, meaning "Together everywhere") on the miniature game console called PocketStation, produced by the same company. The figure is 5-6" tall and has multiple articulation points. "Revoltech Toro (New Faces Edition)" is being re-introduces with a compilation of brand new redesigned faces. The figure comes equipped with interchangeable faces & a display.

Right Stuf, Inc. and 2. Otaku Collegiate Hoodie – Navy Available: 7/31/2008 MSRP: $39.99 Available in sizes S-XL (Regular fit; 9.5 oz., 80/20 cotton/poly blend) - Small: Catalog #: 5530S - Medium: Catalog #: 5530M - Large: Catalog #: 5530L - XL: Catalog #: 5530X

AbbyShot Clothiers have released a leather jacket inspired by the classic anime film Akira. The 100% leather Pill Jacket is now available on the new AbbyShot website for $499.00 here Danny Choo looks at Haruhi figures CollectionDX looks at Yamato USA's Groizer-X Soul of Chogokin - Godmars King Kong TOYSREVIL'S I LIKE TOYS looks at Revoltech neca (Gears of War, Shaw Brothers, Conan) Kotobukiya (Dyzenger, Star Wars, Sexy Femmes, Super Robot Taisen Original Generation: DYZENGER Scale Model Kit) Good Smile Company (Melancholy of Haruhi Suzumiya) Speed Racer 1/6 RAH action figure by Medicom Toy Indiana Jones Kubrick from Medicom Toys Sweeney Todd from Medicom Toys World War Robot Bertie Appleseed Saga Ex Machina 1/6th Tereus from Hot Toys 1/20-Scaled Eswat Appleseed Saga Ex Machina snap kits from Hot Toys
Personnel Changes
Publishers Weekly has an article concerning Peter Mendelsund replacing book-design celebrity Chip Kidd as the cover designer for Vertical. Mendelsund will be in charge of the Vertical catalogue starting with the fall '08 releases. "Chip approached me about a year ago to design the Dororo series [by legendary manga creator Osamu Tezuka]," said Mendelsund, who is a senior designer at Knopf and has designed covers for scores of Random house titles. "He said Tezuka's [classic] manga really needed a fresh eye, and I was ridiculously excited. I knocked out all three volumes in a couple of weeks," Mendelsund said about his start with Vertical. According to Gunota, Mycom Journal reports executive vice president Kenji Uchida was promoted to president of Sunrise during a stockholder meeting on April 25. A production coordinator on Muteki Robo Trider G7, Uchida continued work at the company as producer of all the Gundam productions of the 1980's, participated on series aimed at younger viewers like SD Gundam and Zettai Muteki Raijin-Oh, and more recently had a hand in Zeta Gundam: A New Translation and Code Geass. Previous president Takayuki Yoshii, who held the position since 1994, was inaugurated as chairman & CEO.
Emma Preview Included in Otaku USA
Anime producer and distributor Right Stuf, Inc. and Nozomi Entertainment announced that the first subtitled episode of EMMA: A VICTORIAN ROMANCE is featured on Otaku USA's June 2008 DVD sampler, arriving in stores this week. The EMMA: A VICTORIAN ROMANCE - Season 1 DVD Collection — which includes the series' entire 12-episode first season – is scheduled for release on June 24, 2008. The box set for EMMA -Season 1 is currently available for pre-order at RightStuf.com and other fine retailers. (The Season 2 box set is also currently available for pre-order at RightStuf.com.) A historical drama set in late 19th-century London, the series chronicles the love story – and the complications that result – when Emma, an honest and hardworking young maid, and William, an earnest suitor and member of the "gentry" class, fall for each other. Spanning a total of 24 episodes between the two seasons, this anime adaptation of Kaoru Mori's manga features direction by Tsuneo Kobayashi (The Twelve Kingdoms, Glass Mask OAV, Super GALS!) and scripting by Mamiko Ikeda (Sgt. Frog, Fruits Basket, Princess Tutu). The original manga was honored with an Excellence Prize at the 2005 Japan Media Arts Festival and is available to North American readers via DC Comics' CMX Manga imprint.

An Eternal Thought in the Mind of Godzilla has a preview of the new Otaku USA
New and Upcoming in Japan
Anime News Network reports that "jigoku no purinsesu" ("princess from hell") aka "Digopuri", a new manga by Genshiken creator Shimoku Kio will start in the July issue of Kodansha's Afternoon magazine, which goes on sale on May 24. Afternoon's next issue will also launch three other series: the Kohi Jikan (Coffee Time) anthology by Tetsuya Toyoda (Goggle, undercurrent, Slider), the Moe-tai high school boxing manga by Iqura Sugimoto (Variante, Tales of Destiny, Cradle), and Tetsuya Imai's Hacks! — a story of a high school anime club's attempt to create its own anime. A animated adapation of fantasy manga Letter Bee will join the Dragon Ball and One Piece anime produced for the Jump Super Anime Tour. In addition to reprising her as Lina Inverse for the upcoming fourth series in the fantasy action/comedy series Slayers, singer/voice actress Megumi Hayashibara will be performing the vocals to the series' opening theme song. An anime based on Takashi Noguchi's manga Kurozuka, based on Baku Yumemakura's (Onmyoji) novel is produced for Animax. The supernatural romance novel follows the immortal brother of the first Shogun to rule all of Japa. Minoru Kawasaki (Calamari Wrestler, Everyone But Japan Sinks) will be directing a live action adapation of Kenji Sonishi's four-panel comedy manga Neko Rahmen, entitled Neko Rahmen Taisho (General Neko Rahmen. There are rumors of a third anime is the sci-fi Gatekeepers series
UDON Announces Street Fighter Tribute HC
UDON Entertainment announced that the publisher is accepting pre-orders for the the Street Fighter Tribute Hardcover Edition art book. This 280+ page book features hundreds of skilled artists' interpretations of Street Fighter, including top artists like J.Scott Campbell, Adam Hughes, and Penny Arcade's Gabe, UDON mainstays like Alvin Lee, Arnold Tsang, and Omar Dogan, and more Typically, UDON's hardcover editions are available only at conventions, but due to the huge demand, the publisher is giving everyone a chance to order the Street Fighter Tribute Hardcover.
Game/Toy Based Animation Projects
Kotaku notes that an 3-D animated TheLegend of Spyro is included in Velvet Octopus' five-picture deal with producer Ash Shah. Cartoon Network will be airing LEGO Indiana Jones and the Raiders of the Lost Brick within the Toonami programming block Saturday, May 10 at 9 p.m. The event, running over four minutes in length, will be hosted by Shia LaBeouf.
Studio 4°C Short at Cannes
Anime News Network reports that Toshiki Iwahori and Studio 4°C's (The Animatrix, Tekkonkinkreet, Genius Party) adapation of Mari Ishida's picture book Wolfie the Pianist has been announced as an Official Selection of the Cannes Film Festival's Short Film Corner. The short has already played at Spain's 2007 Sitges Film Festival, 2007 International Short Film Festival Berlin, 2008 Festival International du Court-Métrage de Clermont-Ferrand, 2008 Big Muddy Film Festival, and 2008 Philadelphia Film Festival (website). Japan's Rights Entertainment produced the work.
Koge-Donbo Changes Pen-Name
Digi Charat designer Koge-Donbo has reportedly changed her pseudnym to "Koge-Donbo*" "There's an asterisk at the end of her name now. More specifically, to the top right of her name."
Ponyo Soundtrack Details
According to Nausicaa.net the 40 track soundtrack for Hayao Miyazaki The Ponyo on the Cliff by the Sea is scheduled for release on July 16 by Tokuma Japan. According to an interview with composer Joe Hisaishi, he decided to make a lot of shorter pieces. For example, five seconds of music. His concept is, "The music that one can not understand where is the beginning, and where is the end."
Gundam Creator in Shaolin Girl
Gunota reports that Gundam creator Yoshiyuki Tomino makes a credited cameo "appearance" in Shaolin Girl, the Japanese-made spinoff of Stephen Chow's Shaolin Soccer. Tomino is shown in a photo as the late dojo master and grandfather of the film's main character, played by Kou Shibasaki. Previously, he's had cameos as a Japanese commanding officer in the 2005 WWII/sci-fi movie Lorelei: The Witch Of The Pacific Ocean and a monk in the 2006 disaster film Japan Sinks.
More Higurashi
A third anime based on the murder mystery game series Higurashi no Naku Koroni (released as "When they Cry" by Geneon USA before the company ceased North American distribution), entitled Higurashi no Naku Koroni, will be released as a direct to video OVA. A sequel to the upcoming live action movie has also been announced.
New DrMaster Releases
DrMaster Publications has announced that The King of Fighters Art Book by Wing Yan & King Tung, Puri Puri vol. 5 by Chiaki Taro, and the long-awaited return of Dark Edge vol. 7 by Yu Aikawa, are all available now. The King of Fighters Art Book is priced at $21.95, while Puri Puri vol. 5 and Dark Edge vol. 7 are each priced at $9.95. The King of Fighters Art Book Original illustrations produced by artists Wing Yan and King Tung for the long running comic series in Hong Kong

Dark Edge vol. 7 Dark Edge is back with more blood, gore and zombies! The coffin that bound Kurou is destroyed and he comes out alive, contrary to the Nosferatu's expectations. Shimizu gets injured during her rescue, but Sonobe's healing power effectively recuperates her. Due to Kurou's resurrection, the ambitions of each Nosferatu teacher had been crushed, except for the principal, who lures Mao into yet another sinister scheme. In the midst of all this, a group of students led by the honor student Kikuchi, becomes interested in the mystery of the academy and stays in school after sunset, only to be attacked and killed by zombie teachers. Kikuchi survives and tries to sue the school, but she is stopped by Yoshikuni and Nishiwaki and gets confined to the school grounds.

Puri Puri vol. 5 Kamioda has been entrusted to coordinate a Halloween gig for the community. He has found the right talent, but he has yet to face challenges of coping with a girl with a phobia of men from the sewing club, and becoming the mediator between the beautiful, yet unbending girls of the choir and the art club. Will he be able to produce a show worthy of representing admirable St. Sophia Academy on time?
Top Properties of 2008
According to genre retailer guide ICV2, the top properties of the year are Top Ten Manga Properties—Early 2008: 1. Naruto 2. Death Note 3. Bleach 4. Fruits Basket 5. Absolute Boyfriend 6. FullMetal Alchemist 7. Tsubasa 8. Pokemon 9. Ouran H.S. Host Club 10. Chibi Vampire (Karin) Top Ten Anime Properties—Early 2008: 1. Appleseed Ex Machina 2. Dragon Ball Z 3. Naruto 4. Devil May Cry 5. Death Note 6. Pokemon 7. Witchblade 8. Bleach 9. FullMetal Alchemist 10. Afro Samura
Worth Checking Out
Ghibli World features an interview with Studio Ghibli background artist Oga Kazuo Part two of the Hot Tears of Shame interview with Stan Lee See Kidrobot.com for coverage of the grand re-openning of Kidrobot NY at its new location: Kidrobot NY 118 Prince Street New York, NY Comics212 has an illuminating piece on VIZ Media's upcoming original content line. ComiPress has finished their translation of Manga Zombie, a survey of , "outsider" artists and figures of the sixties and seventies cultural underground., concludes with Interview with author Udagawa Takeo
Interview with translator John Gallagher VIZ Media has redesigned their retail site at store.viz.com. The site offers Viz anime and manga, as well as products based on their popular properties, such as Naruto, Bleach and Death Note. Same Hat! Same Hat! has Suehiro Maruo's Inugami Circus Troupe album cover and photos from Shintaro Kago exhibition opening in Amsterdam John Powers reviewed Death Note for NPR's Fresh Air (an amusing Death Note photo). Roland Kelts' SOFT POWER, HARD TRUTHS / Brooklyn agog at Takashi Murakami art show at the Daily Yomiuri. Kelts also writes about Studio4C's Genius Party Daily Yomiuri also has a piece on THROUGH OTAKU EYES / The expanding universe of Astro Boy Episode 65 of the Anime Today podcast (find it on iTunes) features an interview with SHIN CHAN Writers Jared Hedges, Joel Bergen & Alex Muniz. In this new interview, Hedges, Bergen and Muniz discuss the writing process for Shin chan – which currently airs on Cartoon Network's Adult Swim – and how their work on the show differs from the typical anime adaptation process. Additionally, they talk about how they got involved in the project, what pop culture inspires their writing for the show, and whether or not any topics are "off limits." A contrarian view of Tatsumi Yoshihiro's seminal gekiga The Push Man and Other Stories The U.S. Marine Corps' Dirty English: "If You Say It to Americans, for Sure, You Will Be Beaten if Not Killed" AniPages Daily offers an informed look at the animation of the Naruto movies, also Kaiba 3 A too biological Pikachu Robo Japan surveys Astro Boy through the years. Via a geek by any other name, New York-Tokyo.com has an article about a new exhibit coming to Kinokuniya in New York City: Gegege no Kitarou creator Shigeru Mizuki's woodblock carvings. The title is a pun of the ukiyo-e story called "Fifty-Three Stations of the Yokaido Road" (a pun on the Fifty-Three Stations of the Toukaidou, which was the main road through Japan in the feudal era, and the word "youkai," or demon). About.com:Manga preview Fanfare / Ponent Mon's The Quest for the Missing Girl (November 2008), The Summit of the Gods Volume 1 (Spring 2009) and the recently confirmed Distant Neighborhood (Summer 2009). Jog also wrote about Disappearance Diary Patrick Galbraith talks to Okura Atsuhisa about Moe USA Wired has photos of "manga superstore" Mandarake's new Akihabara branch Via Super Punch G-Force. by *SimpsonsCameos on deviantART the untold saga of Anime Hell flyers An almost Kazuo Umezu spotting Iwa ni Hana looks at Zankoku Bi: 'Shigurui' and the Strangely Seductive Beauty of Cruelty and 'Under Execution Under Failbreak ' by Araki Hirohiko : A collection of bizarre, outlandish and strangely philosophical short stories A free preview of COSMODE Online is available at www.cosmodeonline.com A preview of issue of 80's cartoon fan magazine cereal:geek